Shows
All Good 2009
July 9-11, 2009
at Marvin's Mountaintop in Masontown' WV
by Matt Solomon
|
photography by Matt Solomon
July 29, 2009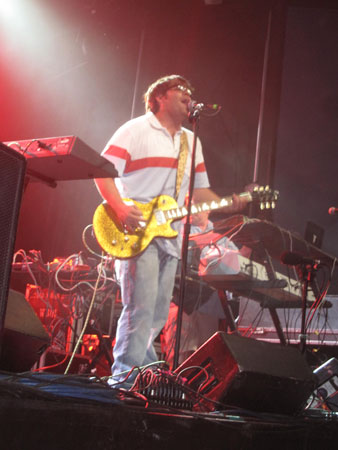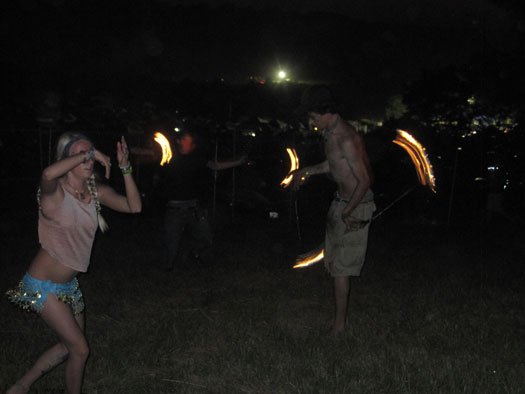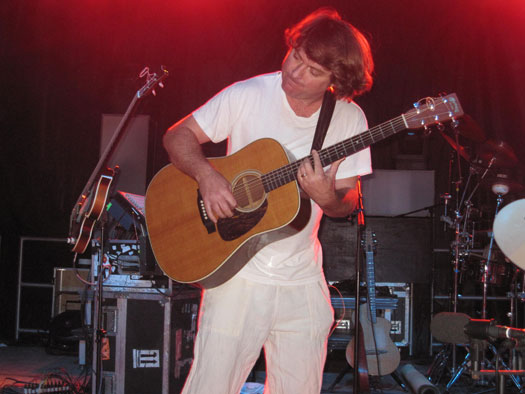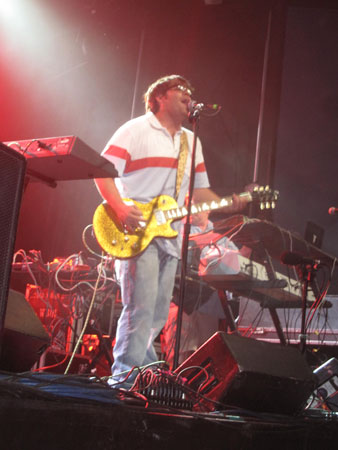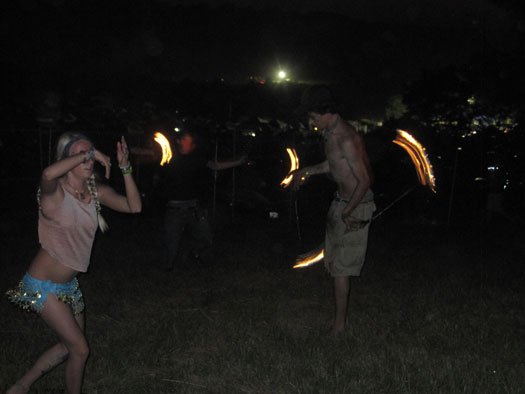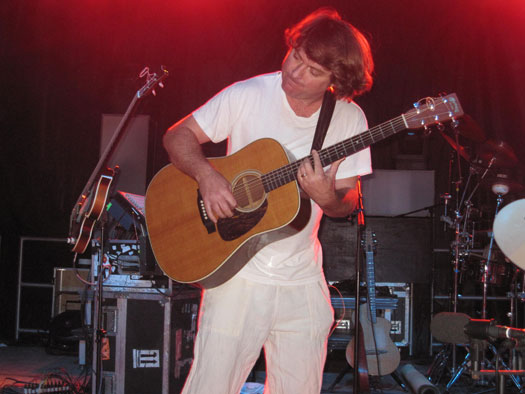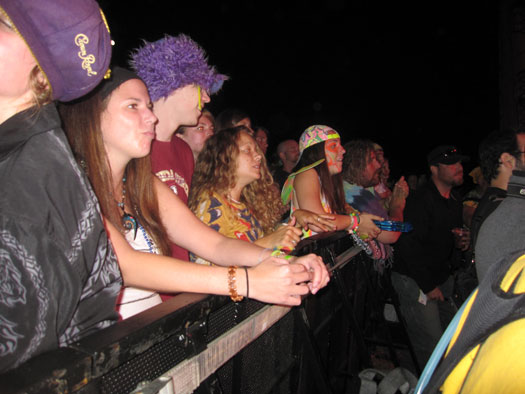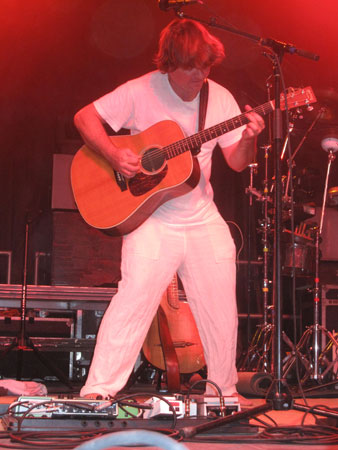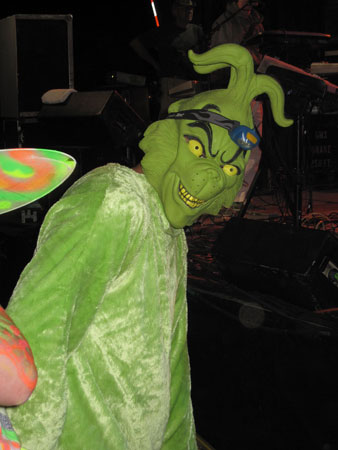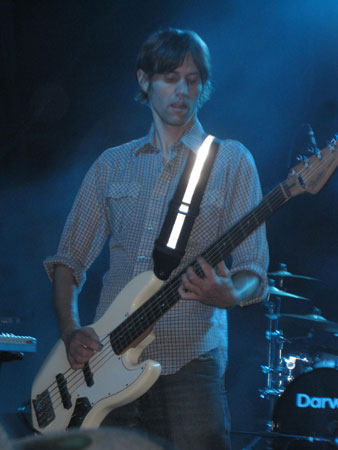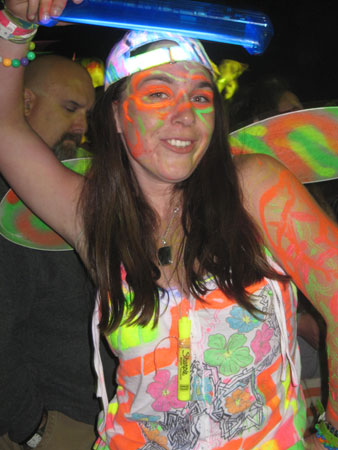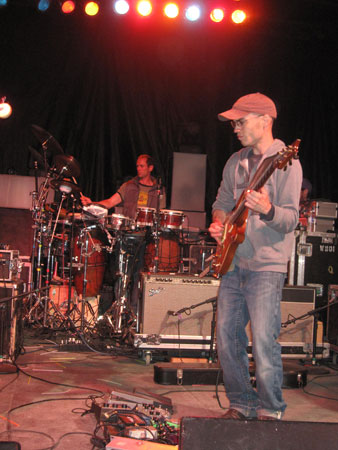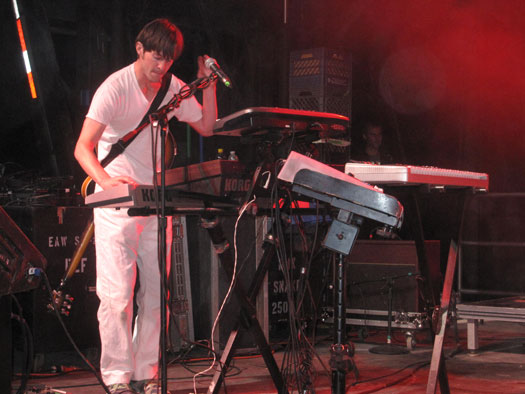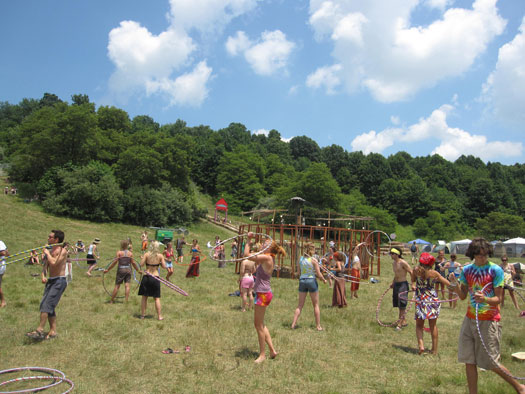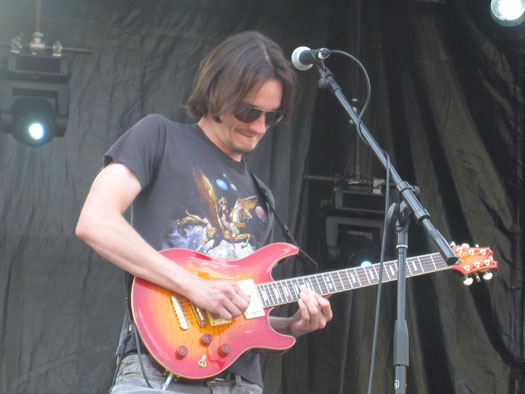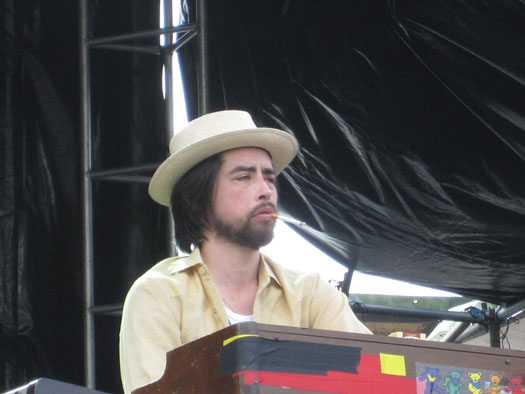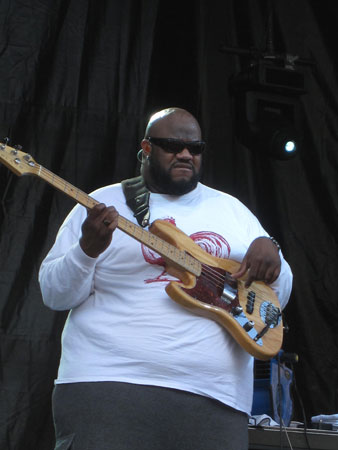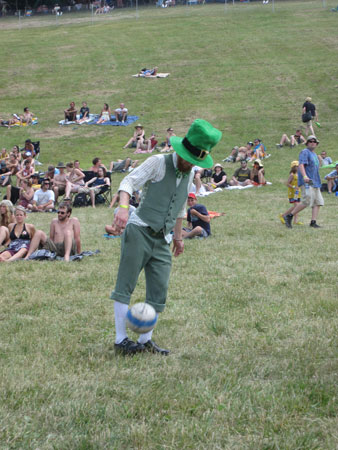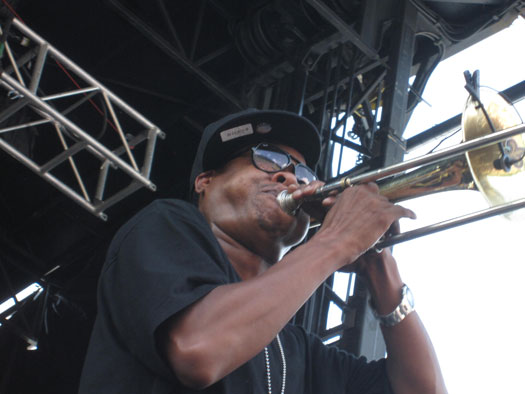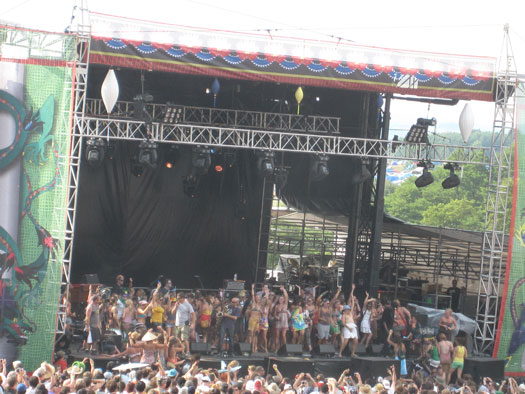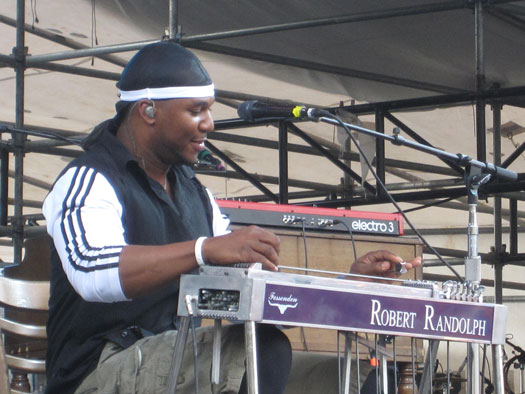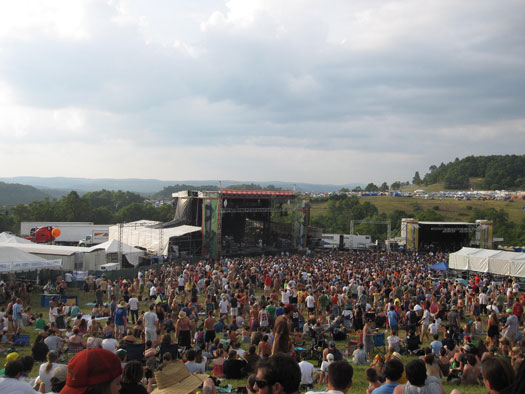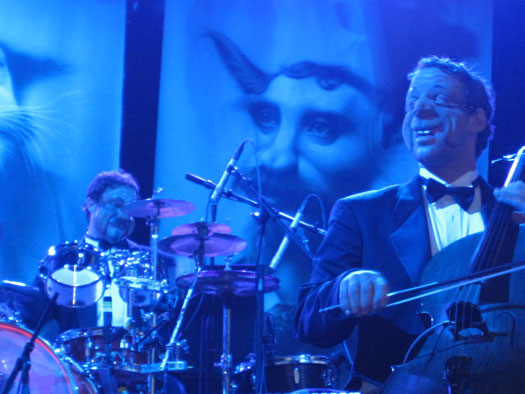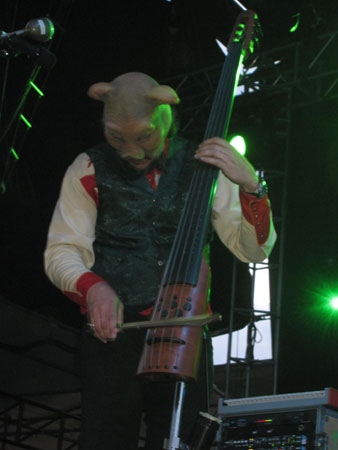 Tucked away deep in a tiny' backwoods crevice of West Virginia's luscious Allegheny Mountains' the fog gathered thick with warm' moist' morning-dew. Like a warped 3-D Appalachian dream' swarms of smiling faces and ramblin' hipsters took Masontown by storm just after dawn. By then there was little for the hospitable citizenry to do but sit back in a comfy rocking-chair and watch the freak show fly by like a bright' blurry orb bristling in the glow of the mid-afternoon sun. The awestruck feline population watched from the woods' backs arched' tails curled' neck hair aimed to the heavens as the invading force gathered last minute supplies. Beer' food' cigarettes' ice' etc. went like butta. In celebration of their annual financial stimulus package' many locals elected to light up their grills and crack a fresh brew. Others prepared tirelessly for the economic boom already underway as the wave continued to sheepishly surge by.
Thursday evening rolled around and a makeshift tent-city came together with natural ease. The sun set blissfully over the round bumps of the all-encompassing Allegheny's as the fuschia-blended clouds faded into darkness' sparkling with splattered intergalactic dust in the breathtaking country sky. A cool breeze dried the sweet sweat from our oily backs and tranquility set in… followed by complete chaotic disarrangement. It was on.
The All Good Music Festival opened Thursday night with an exciting' lively performance by SeepeopleS on the Grassroots stage. Next' the energetic duo' Boombox' (Producer/Engineer/DJ/Drummer Russ Randolph and Producer/DJ/Vocalist/Guitarist Zion Rock Godchaux) molded' layered and twisted a spacey version of the Grateful Dead classic "Shakedown Street" into an original' new-age tune. Out of San Francisco and Muscle Shoals' Alabama' Boombox' blends the spirit of classic rock & roll with fresh' funky beats' melodic adventures and jungle-esq rhythms. Their music is danceable and upbeat. Then came Keller Williams' who laid down his funky loop-station madness; playing classics like "Freaker" and pulling out rare gems like "Portapotty." To top off this sugary' sweet night of musical bliss came the heady sounds of the well-oiled musical machine' Lotus. With their blazing-hot grooves and soft' caressing melodies' Lotus proved their worth as one of rock & roll's best young bands on the rise.
There was no looking back now. Gone with the wind was conventional society. Love was in the air and for those bold enough to chase this hopelessly impossible dream' it bound us together into a heaving blob like electric kool-aide induced krazy-glue. It was all happening. And for the faithfully optimistic' worries were a thing of the past; this is what it's all about. Nothing but the good life from here on out… no more trouble' it 's all good.
Sleep was kept to a minimum for most as Friday morning rose gently in-between the smooth' topless Allegheny's and popped up thru the heavy fog. Opening the main stage for the weekend was Hill Country Revue' a southern-blues-roots-rock powerhouse founded by Cody Dickinson and Chris Chew of The North Mississippi All-Stars. This band is just plain diirty. Their lead singer' Daniel Coburn' is a timeless rocker with a photogenic style that keeps cameras clickin' literally nonstop. He shoots like he just stumbled out of an Allman Brothers recording session in Muscle Shoals' AL. His biker wardrobe was topped off by a dungaree vest sporting a giant Pabst Blue Ribbon beer patch on the back. Not only is this band ridiculously talented but they've also got the awards to prove it. Kirk Smithhart won The Albert King award for Best Guitarist by the Blues Foundation at the age of nineteen and Cody Dickinson has three Grammy nominated albums with the North Mississippi All-Stars. But surprisingly' this might be there most talented group yet.
Next' That 1 Guy took music to a whole new wacky level with his homemade magic-pipe; blending layers of strange sounds and even stranger lyrics into something truly pure and undoubtedly original. As Galactic took the stage around 4:40 P.M. they filled the air with a furious' static' brass energy that was so contagious they decided there was no choice but to invite "all the ladies up on stage." It was quite the site to behold (for all us guys) when nearly every inch of the stage filled up with an endless flow of throbbing torsos and flailing limbs. But nonetheless' Stanton Moore & co. blended their gut-thumping drums' earth-shaking saxophone' incendiary guitar' soul tickling keys and the bone-rattling trombone work of Troy Andrews (Trombone Shorty & Orleans Ave)' pounding us incessantly with glorious' unfiltered New Orleans funk.
Shortly after the mayor of Masontown (a cute lil' ol' southern lady) took the mic and said a few words' (which if my memory serves me correctly' ended in: "…now lets all crack another beer and get this party started") the torch was passed to Robert Randolph & the Family Band. A tough act to follow indeed but they juggled the scorchingly hot-potato with trained skill and precise accuracy. Robert started off on electric guitar but shortly sat down to his steel-pedal' tearing it up with style and grace. Like a spiritually moving church service they took us to a better' brighter world. The pinnacle could've very well been the "Billie Jean" instrumental' which was turned into a sing-along by the emotional crowd who seemed determined to bring the spirit of MJ back to life. Danyel Morgan held down the high vocals and low grooves on bass while Robert also invited his sister out for the occasion' making it truly a family affair.
The rest of the day blended into night as quick trips were made back to camp. There was little time to waste as we recharged with carrot sticks' mysteriously lumpy peanut butter sandwiches' and fruit filled pourage medley's. Then as the sun set' The New Mastersounds' (hailing from Leeds' England) impressed a lot of people with their crafty' flavorful British rock. When DJ extraordinar' Bassnectar' threw down' it was quite possibly the highest energy show of the weekend. It was a glow stick extravaganza and the crowd up front got quite rowdy indeed. You could say people were all good to party. Closing out the Friday night madness were the sweet' sweet sounds of the immensely underrated moe. A beautifully crafted "Buster" was one of the highlights and the encore included a head thrashing' limb flailing "Tubing the River Styx > The Pit". Playing just about till sunrise' moe. absolutely tore it up' helping many music lovers feel that feeling we forgot. There were moments when the world seemed to stop spinning and everything was trapped in time like a fossil. All I could do was put my hands to my heart' feeling it thump in my chest; close my eyes and tilt my head back to the sky in sublime ecstasy. It was an amazing feeling and they played for an incredibly long time but then the night was over… and it was time to wander off back to camp' through the nitrous mafia's web of trash and grime' past the portapotties' and into our warm' comfy tents.
Saturday morning rolled around with the glorious sounds of the up and coming Bluegrass sensation' Cornmeal' playing a surprise acoustic show right in the middle of Shakedown. Jeff Austin & Brendan Bayliss followed on the main stage with an acoustic hoedown of their own. It was a show filled with not only great music but also lots of laughs. Then' came the shredding guitar work of Buckethead' a man who seems to be able to fill more musical space then was previously conceived possible. Even if shred metal isn't your thing' this guy's got talent; check him out' it's quite impressive. Next' a nice' calm Yonder set' pinnacling with the heavy bass line of "Angel" allowed the crowd to kick back and unwind a bit. Then came an amazing but unfortunately short Sound Tribe Sector 9 set that knocked the socks off many a shoe. As night rolled around' Ivan Neville's Dumpstaphunk got the crowd down & dirty followed by an incredible Umphrey's McGee night capper. This band is at the top of their game right now. Jake Cinninger is undoubtedly one of the best guitarists out there with a style so unique it tickles the ear dums. Together' with a wide array of eclectic songs to choose from' Umphrey's McGee forms an impenetrable force of musical rapture. Then they left the stage and the wave finally receded' rolling back into the burly mountain darkness. Fire-dancers moved in to do their thing at the big metal slide (not to be mistaken for a water slide) as the night was still young. "Quaaludes and boobies!" yells a tall' friendly fellow. Another faint yell can be heard in the distance and then a booming response: "Buttscratcher!" Apparently all the crazies come out around dawn…
By Sunday' when everyone started to pick the sleep out of their eyes' everything was starting to wind down. Some of us took it easy' relaxing on the hill' listening to Trombone Shorty & Orleans Ave' Donna The Buffalo' The Rex Jam w/ The Bridge' Tea Leaf Green and BK3 feat/ Bill Kreutzmann. It was a bitter-sweet day as cars slowly started to filter away thru the mountains. The Dark Star Orchestra valiantly closed the festival Sunday evening' holding onto that feeling for as long as they could.
Driving away from All Good' thru the windy mountain roads' the potent smell of Mexican brick wafts thru the air… mm' stings the nostrils. The Sky is crying and the Earth moans like an old slave chant and then all is quiet on the Masontown front… reality sinks in… ahhhh' maddening isn't it? I guess everything peaks' but nothing can stop the fact that for a brief moment in time and space Marvin's Mountain was filled with good people' good vibes and good music. This is what it's all about. Living' loving' longing and achieving. I remember the feeling I forgot. It's all good. The spirit lives on.