Shows
moe.down 10
September 4-6, 2009
at Snowridge Ski Area in Turin' NY
by Mike McKinley
|
photography by Andrew Hill
September 21, 2009
page 2 of 2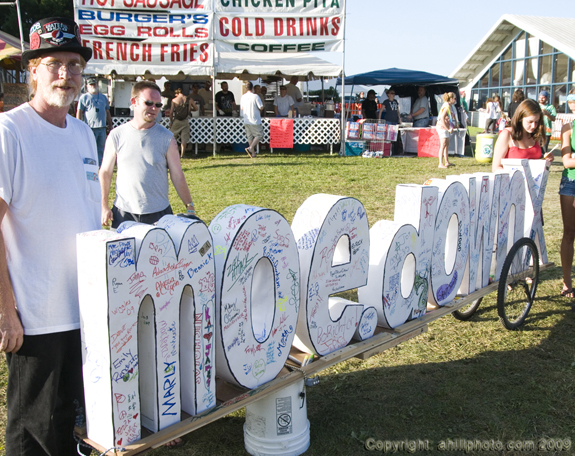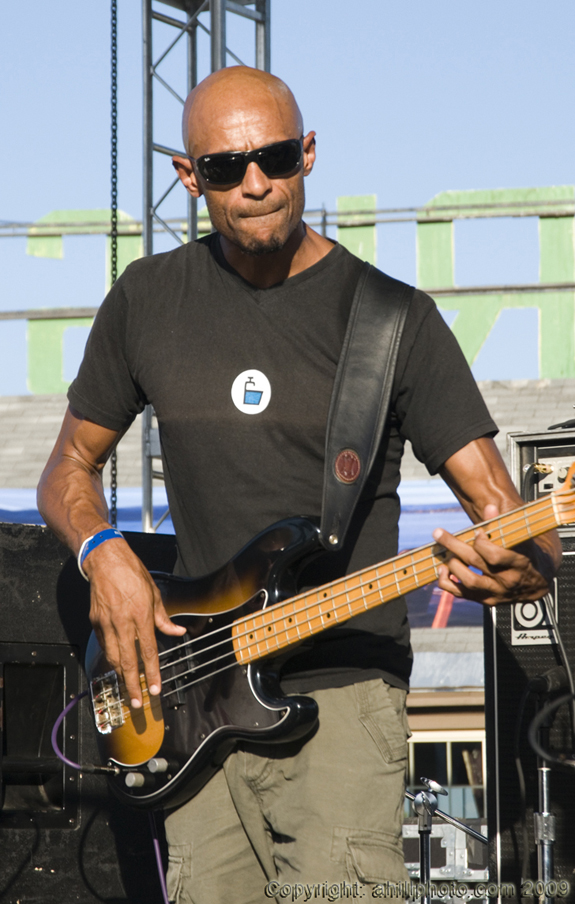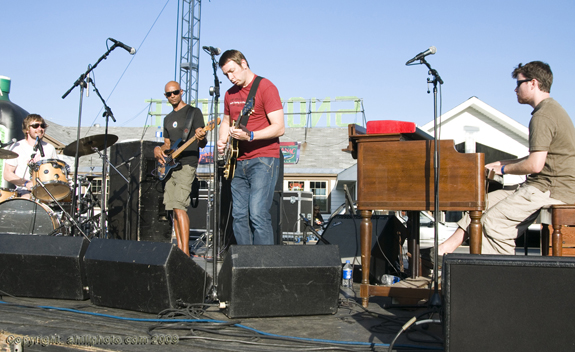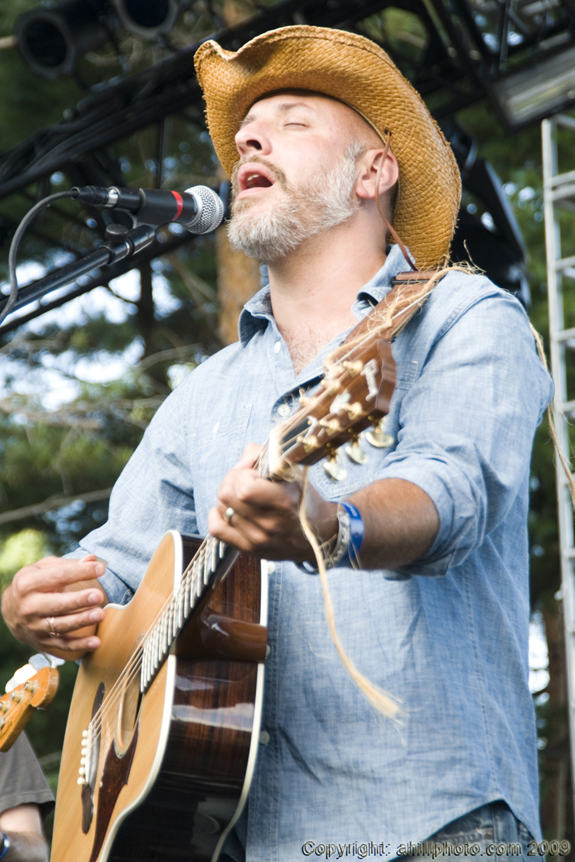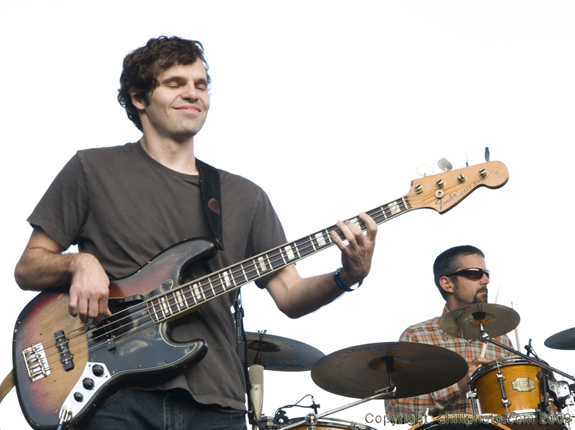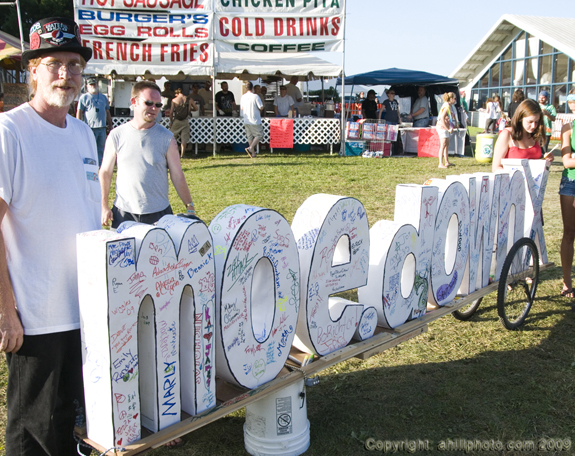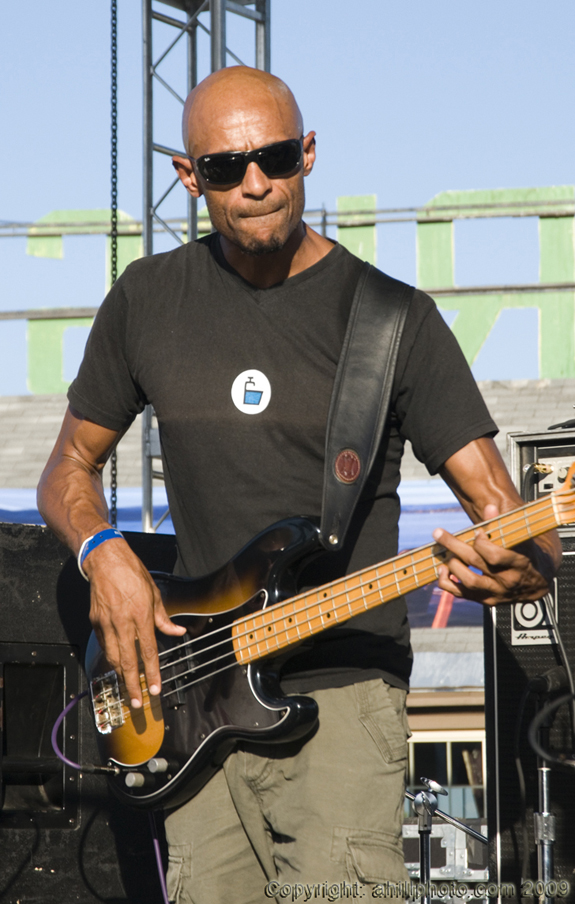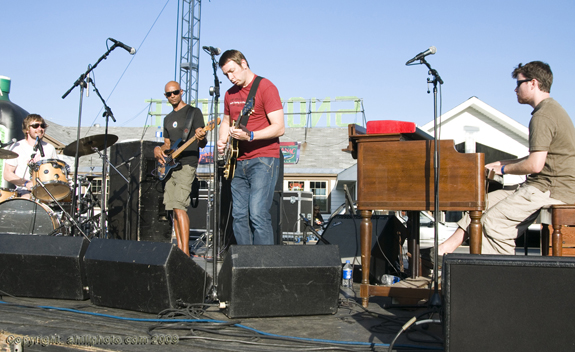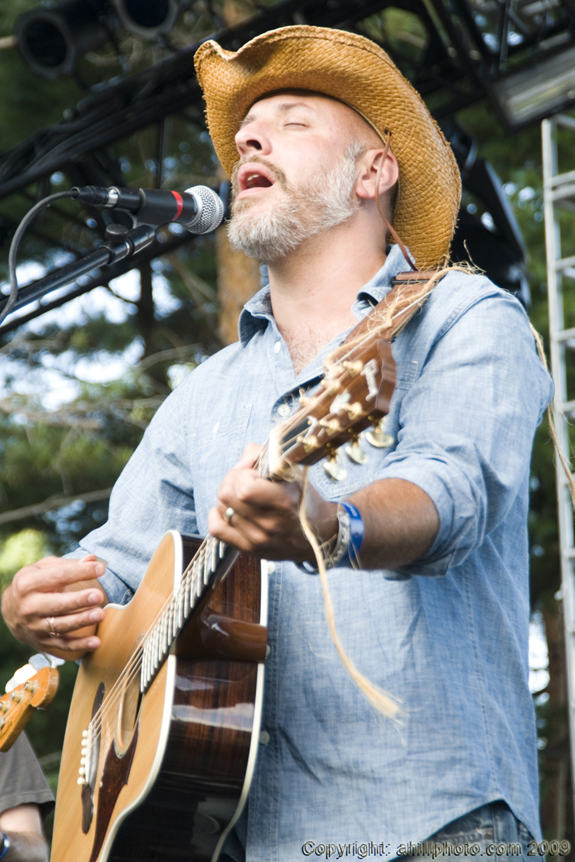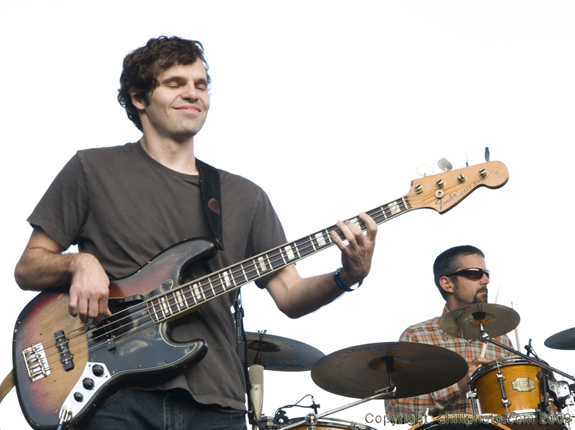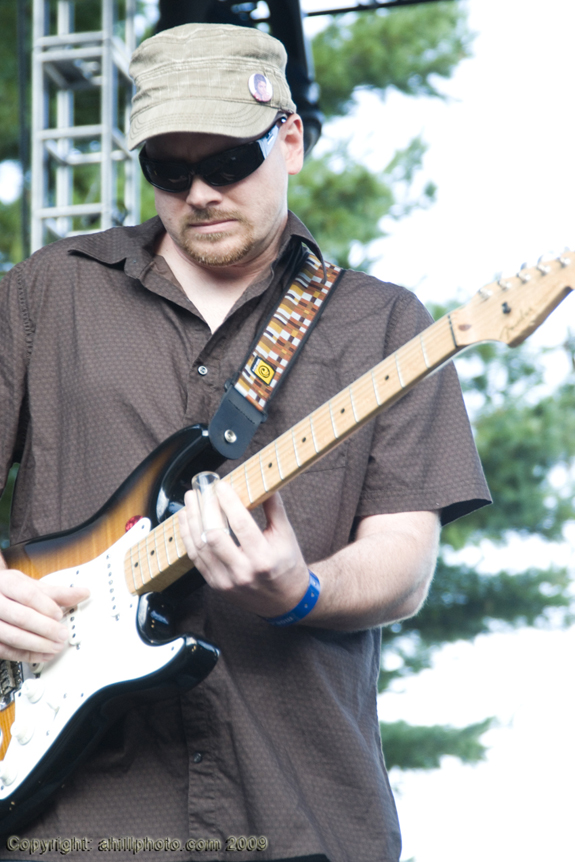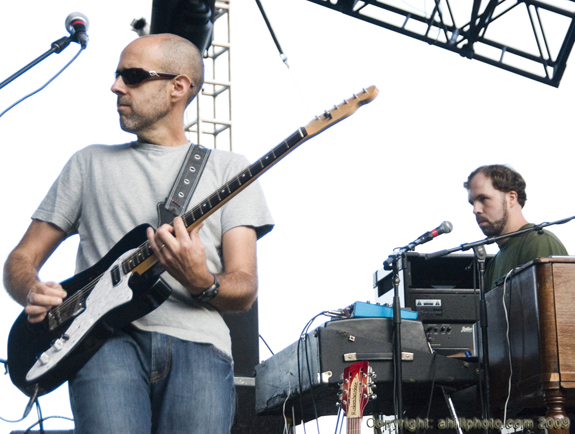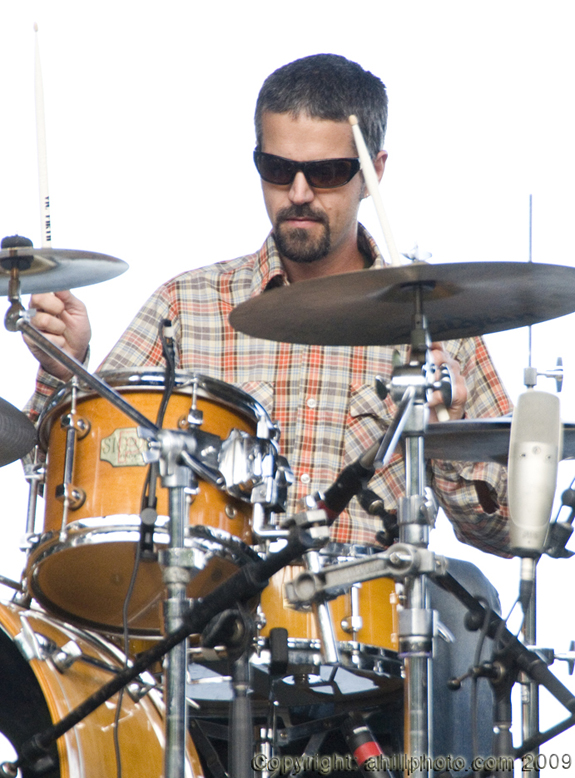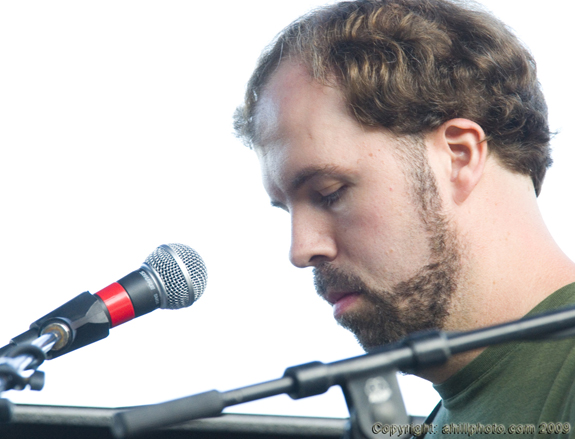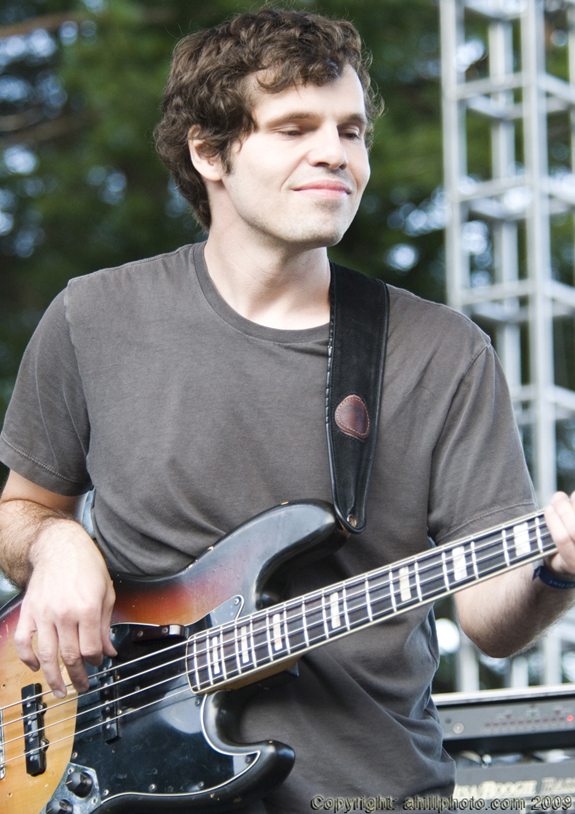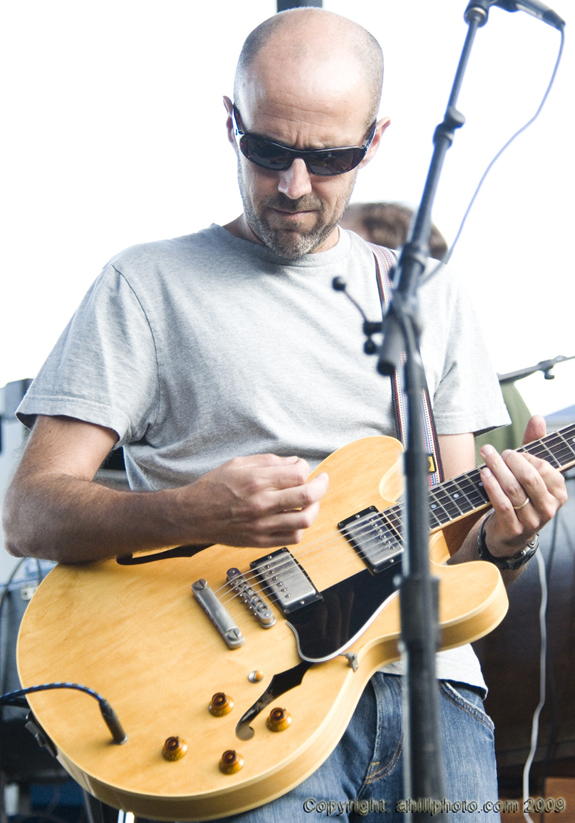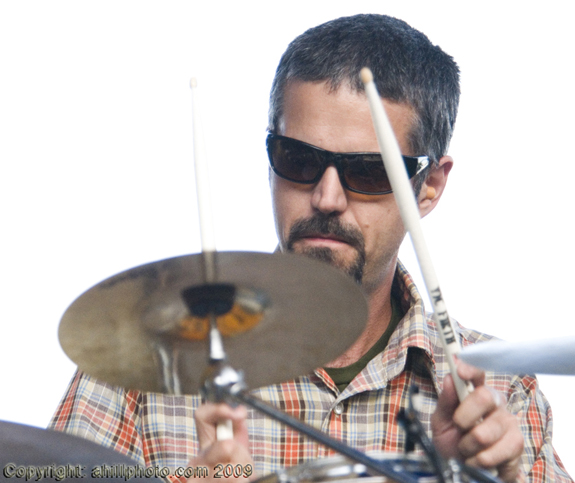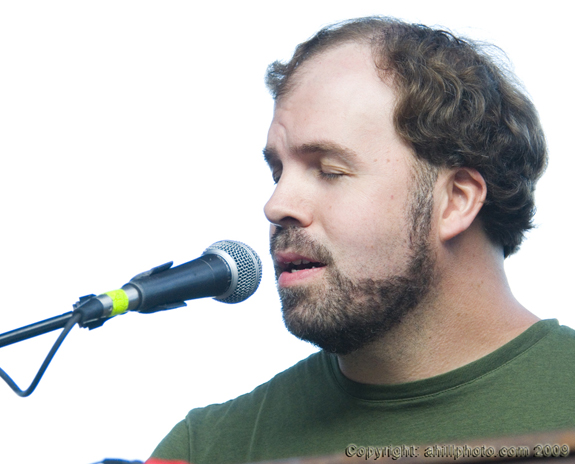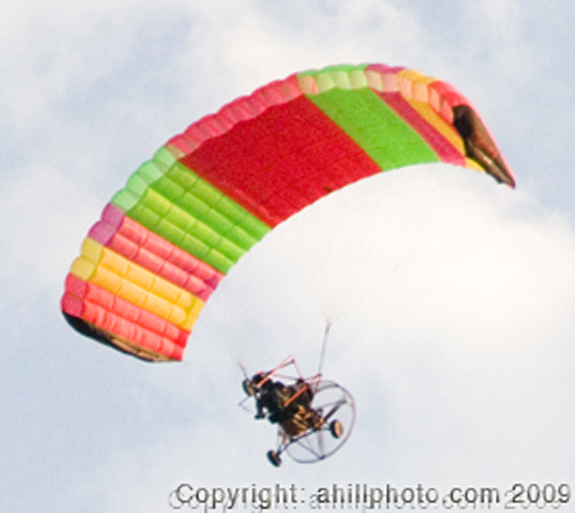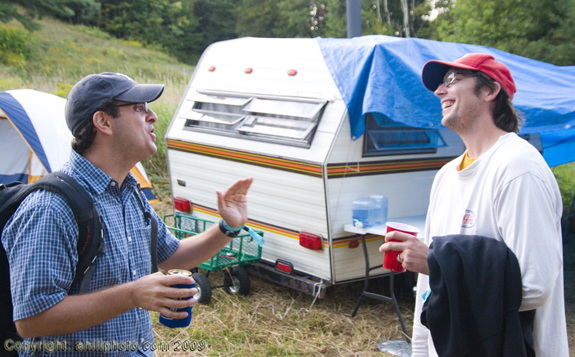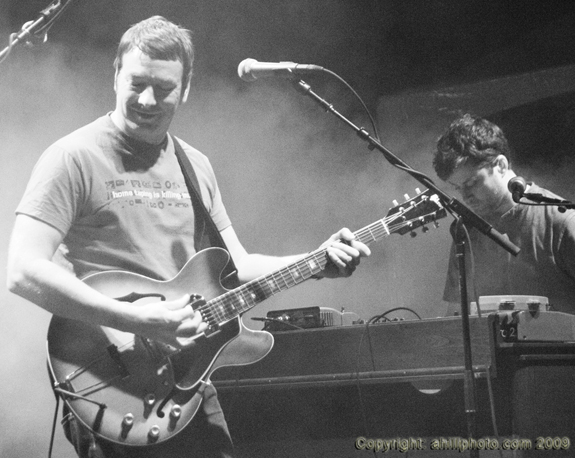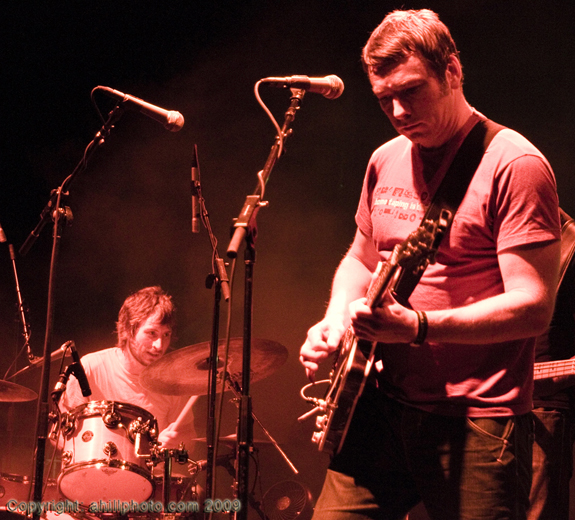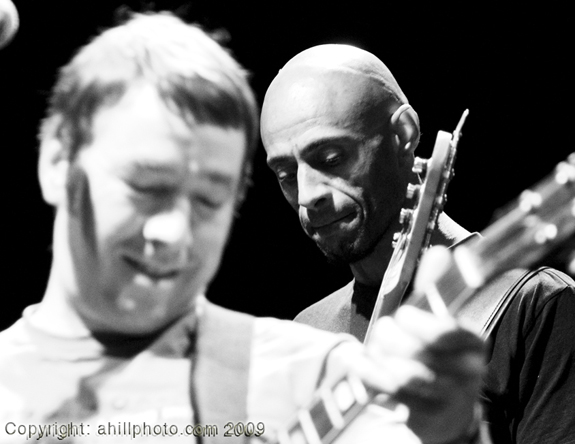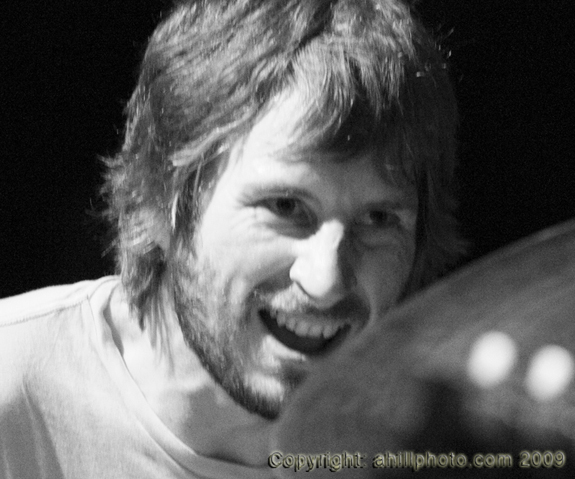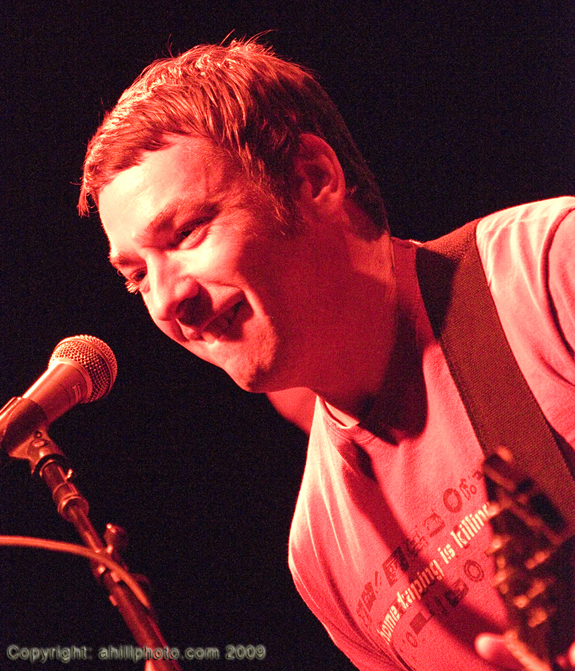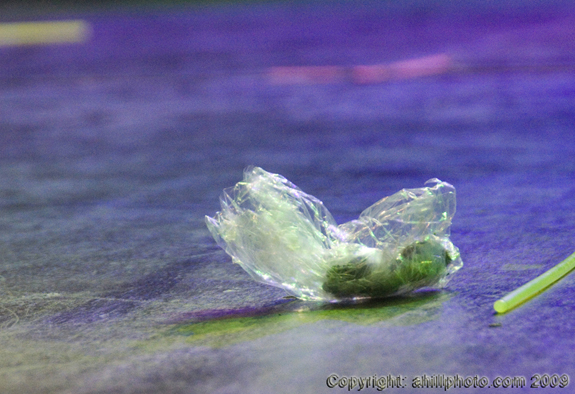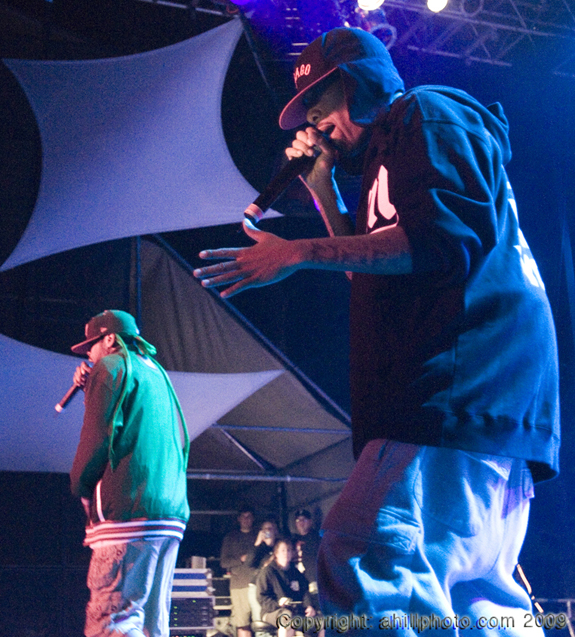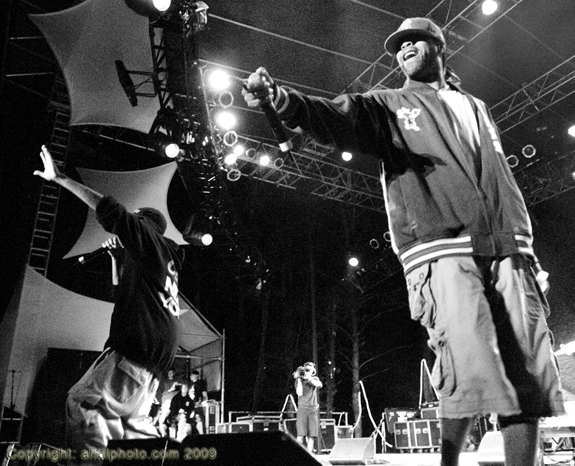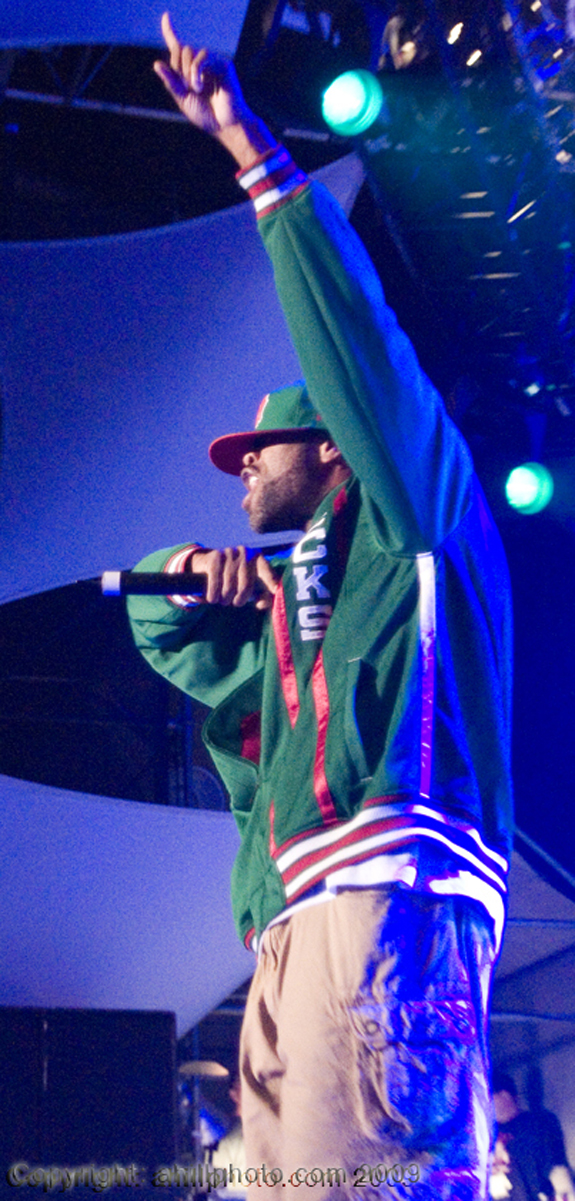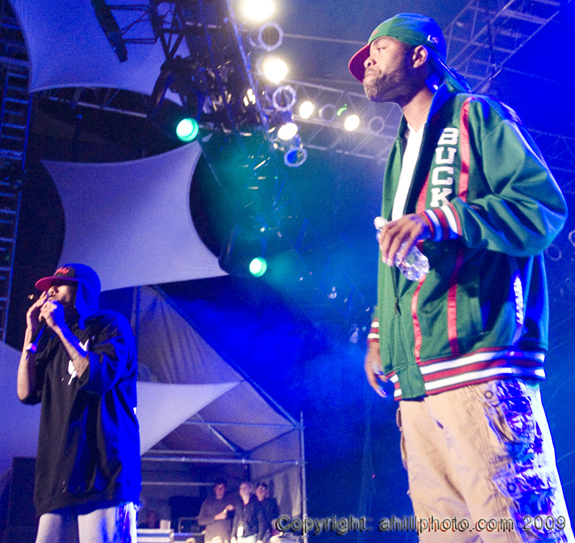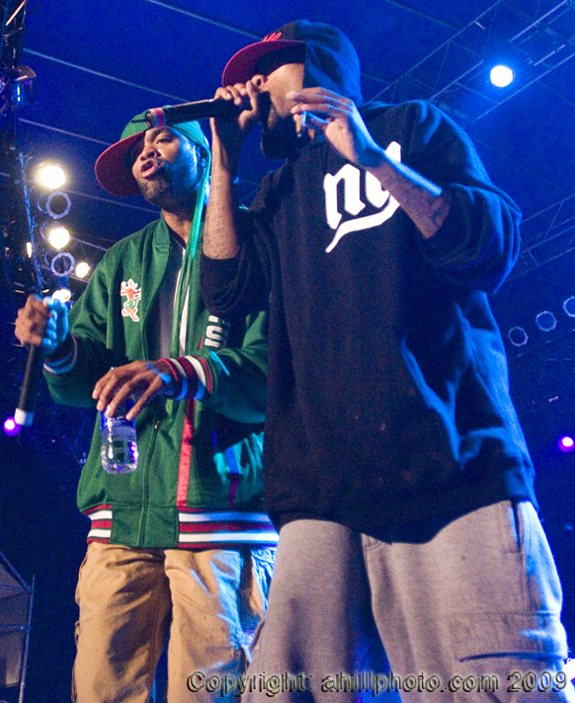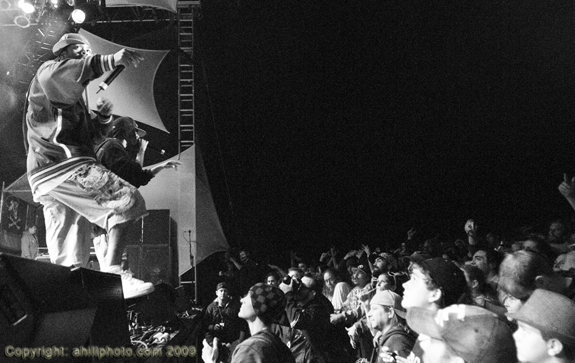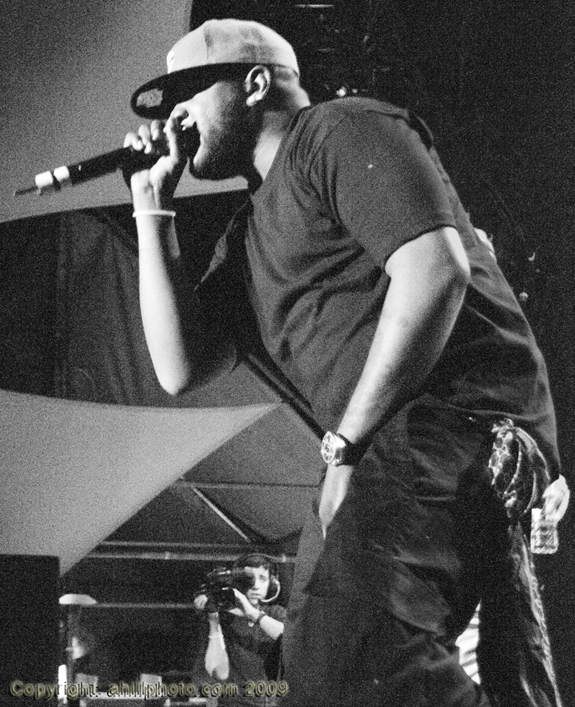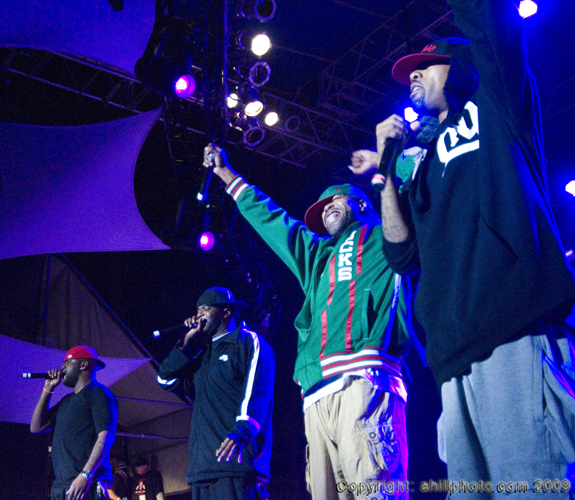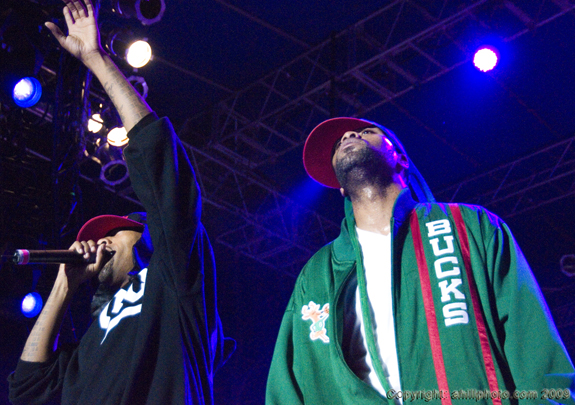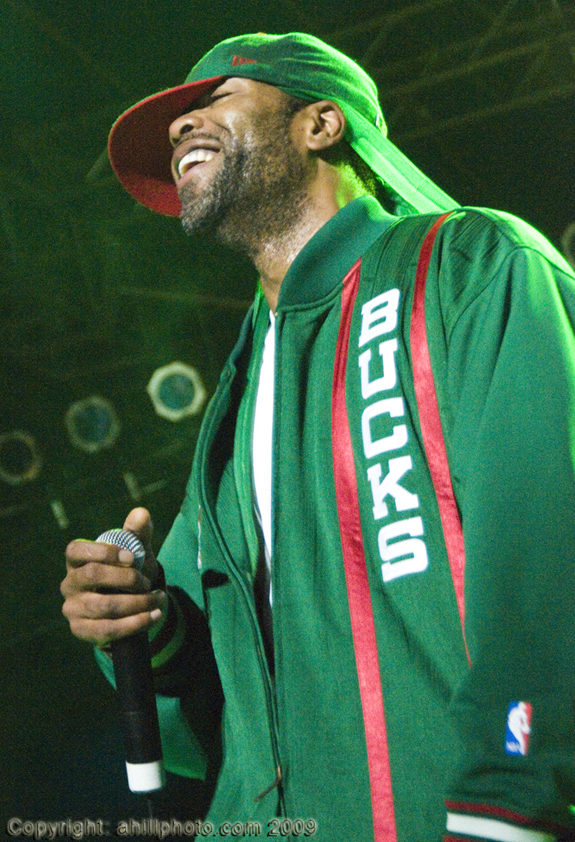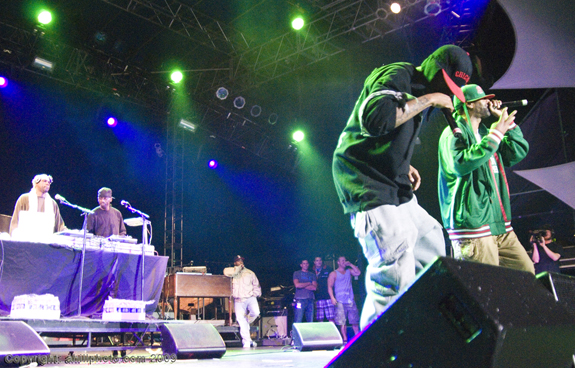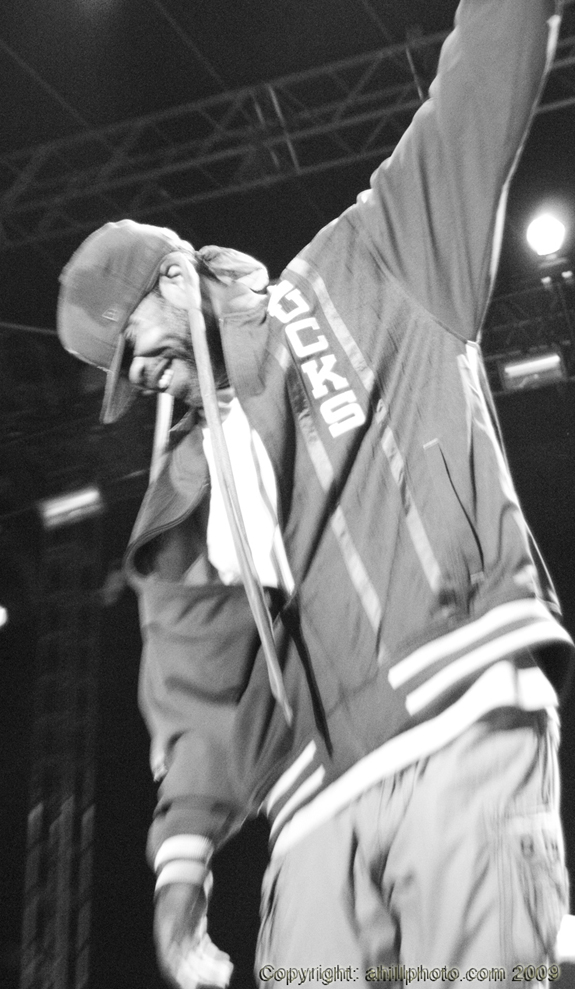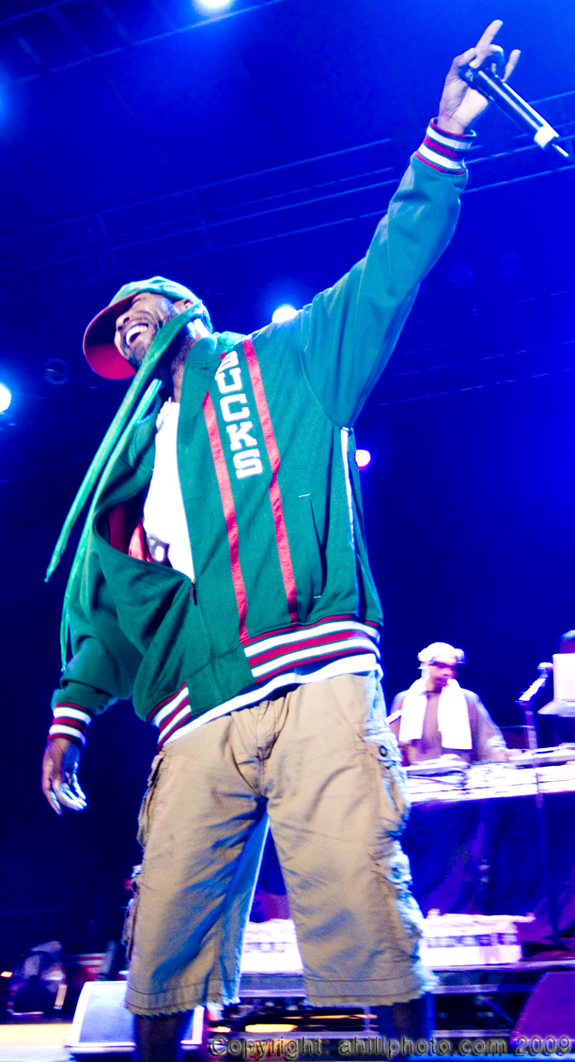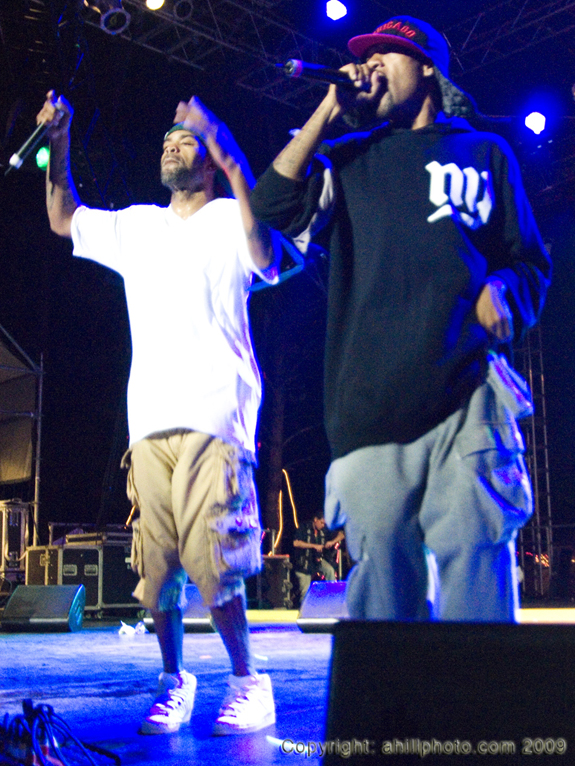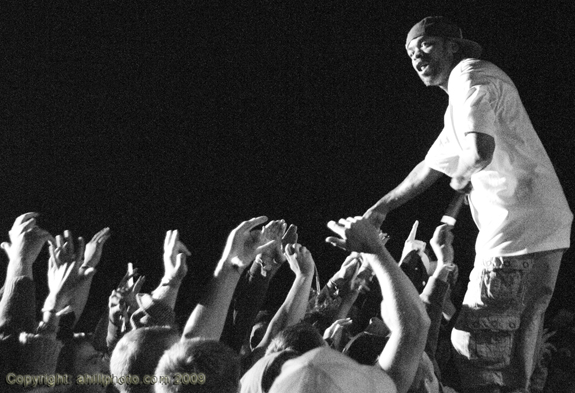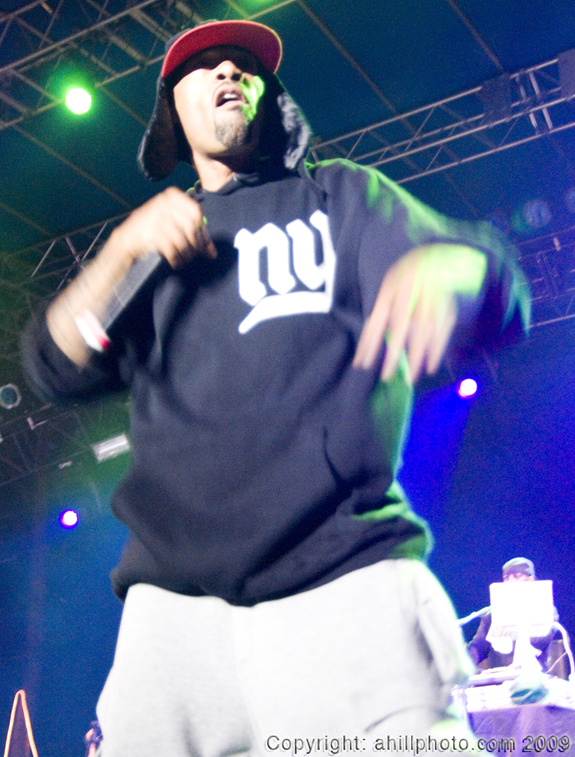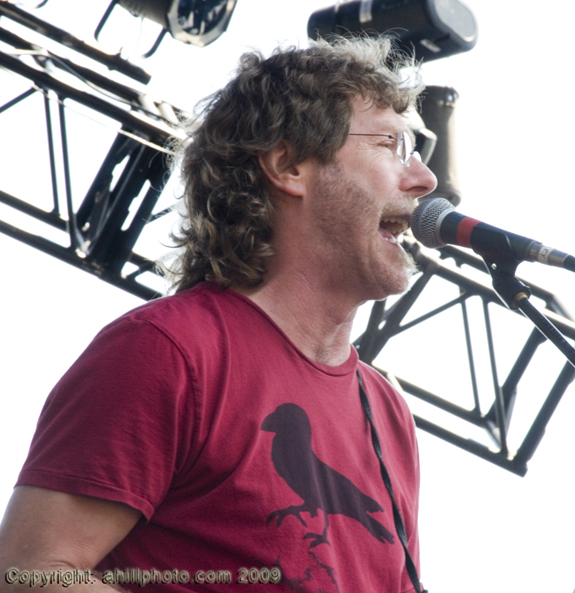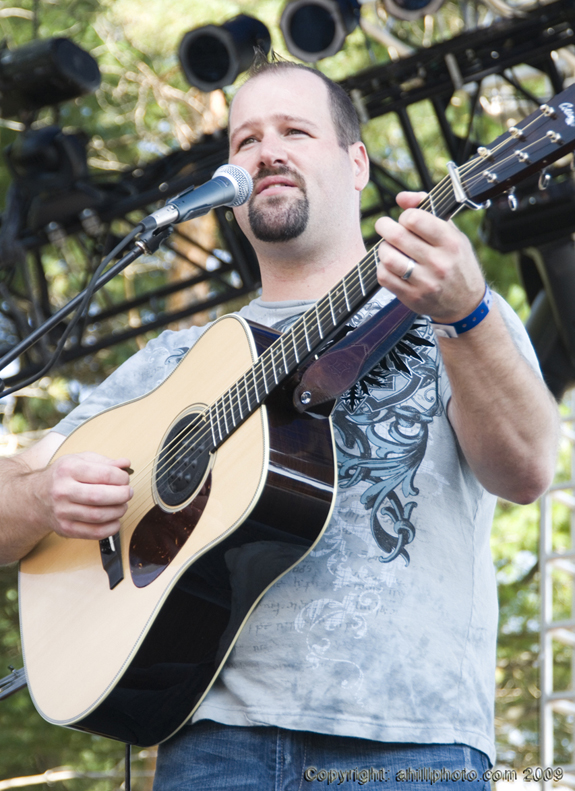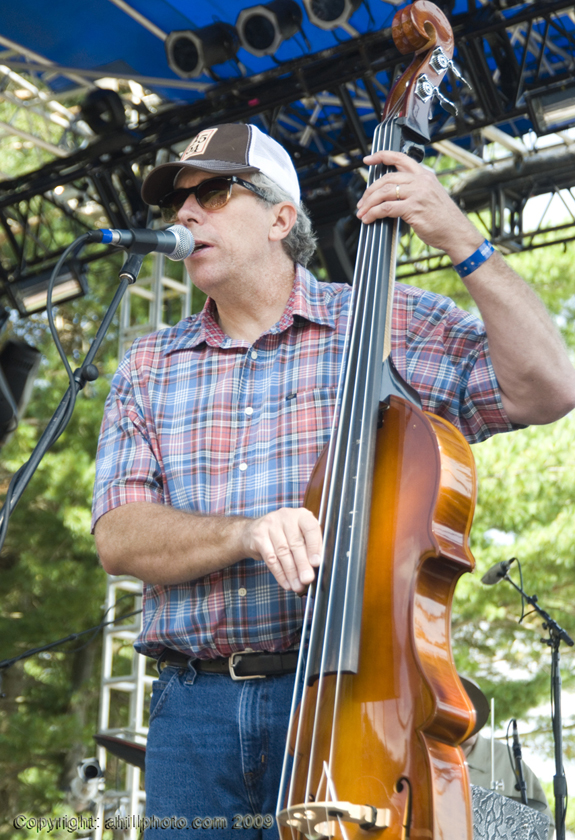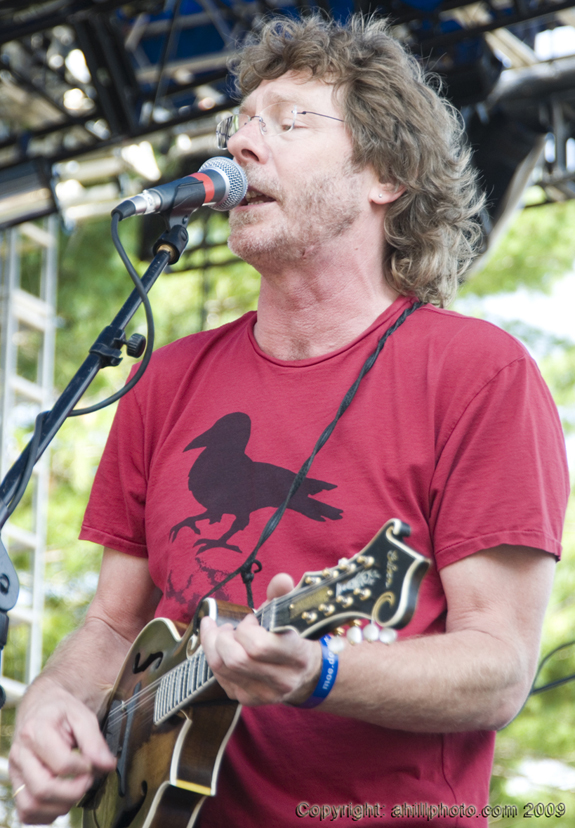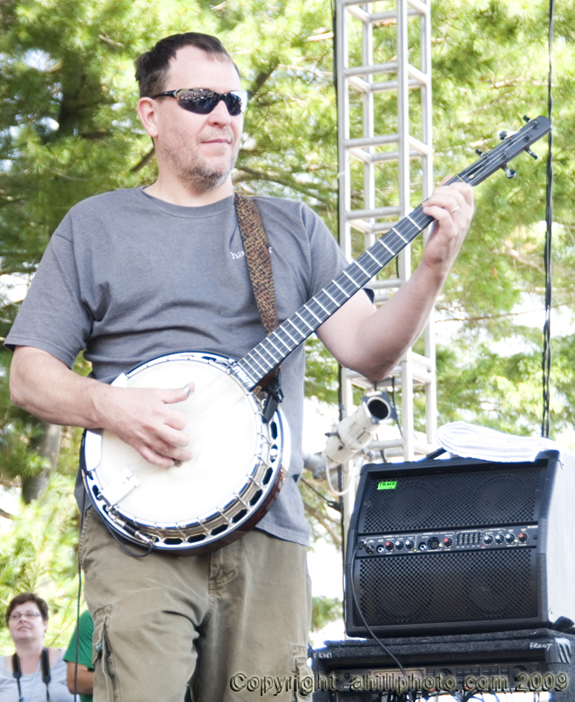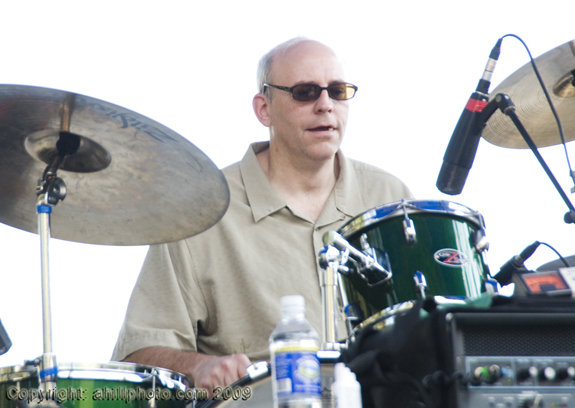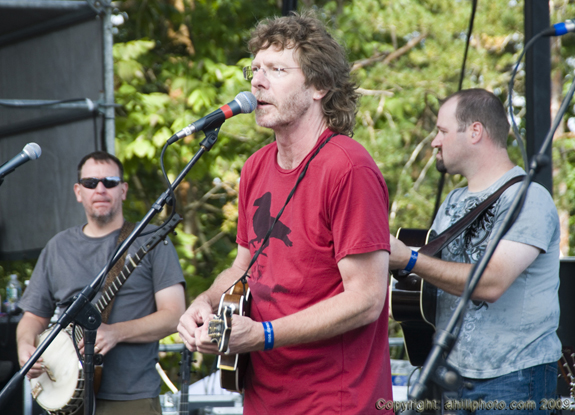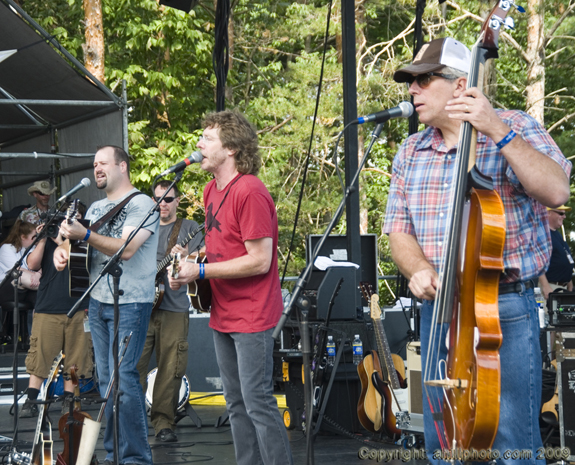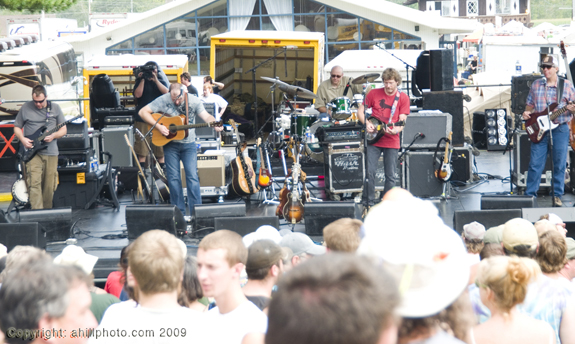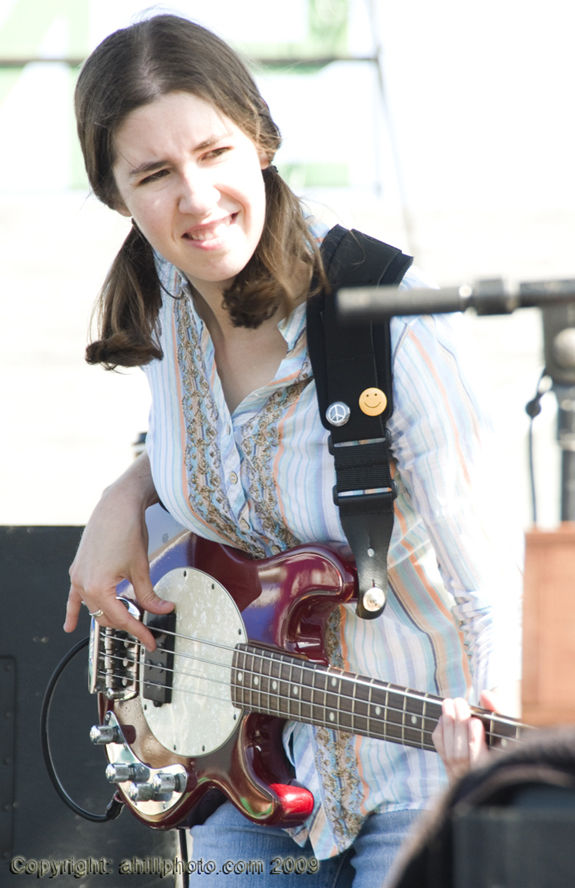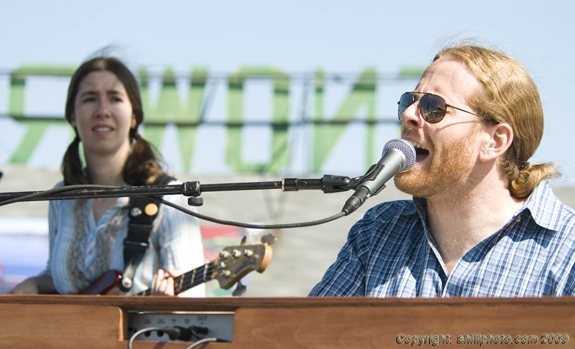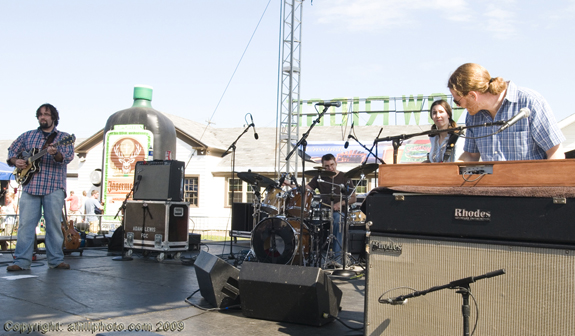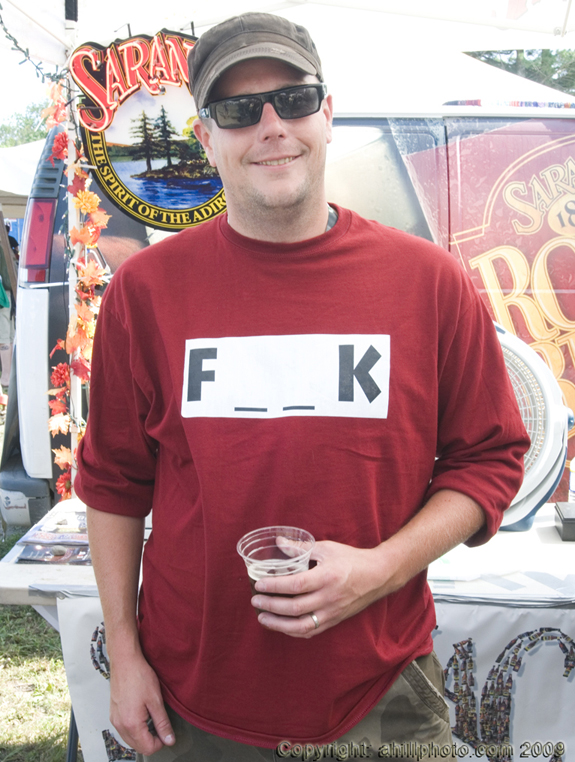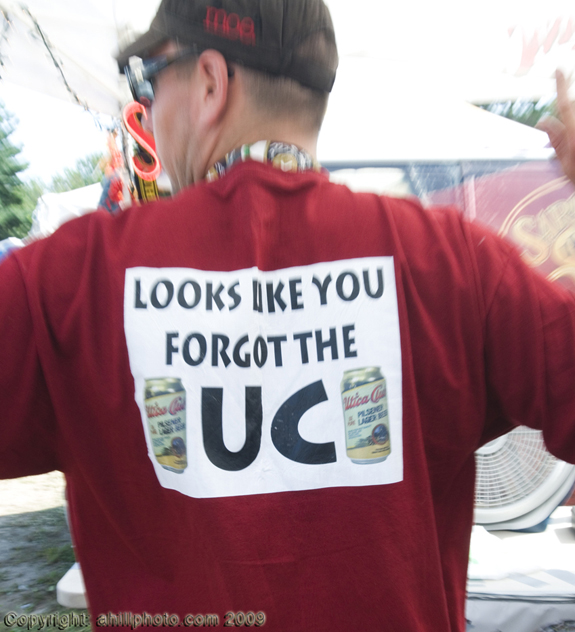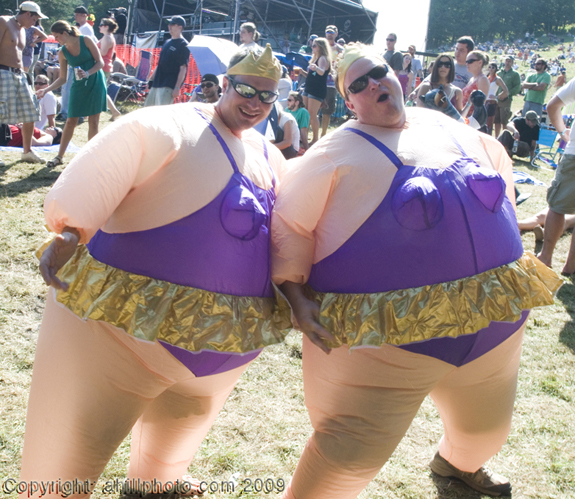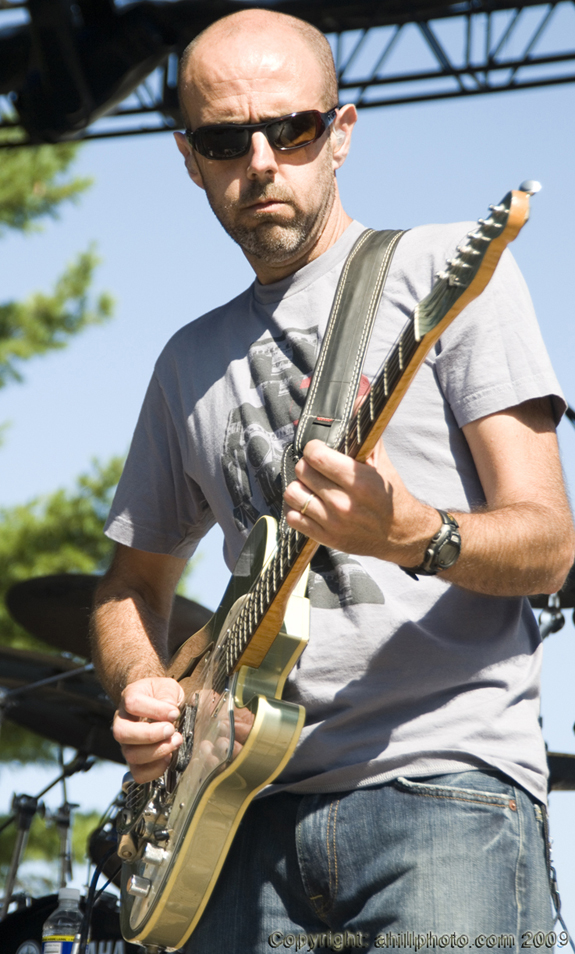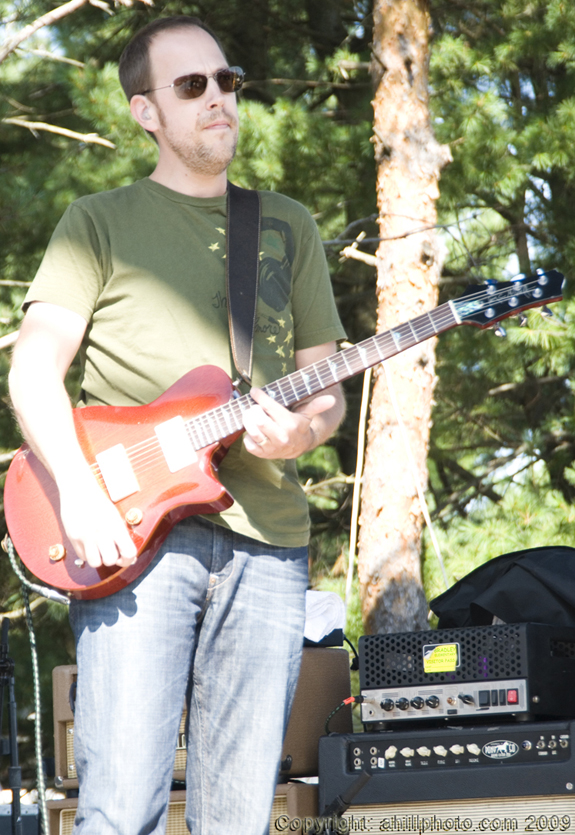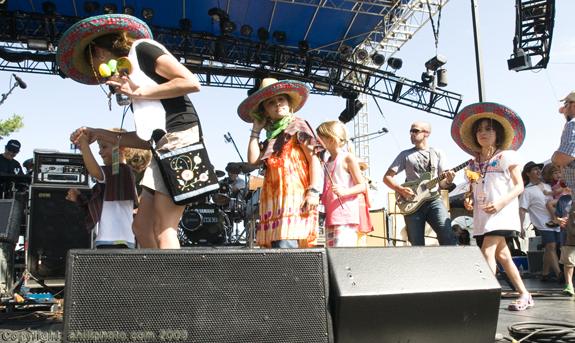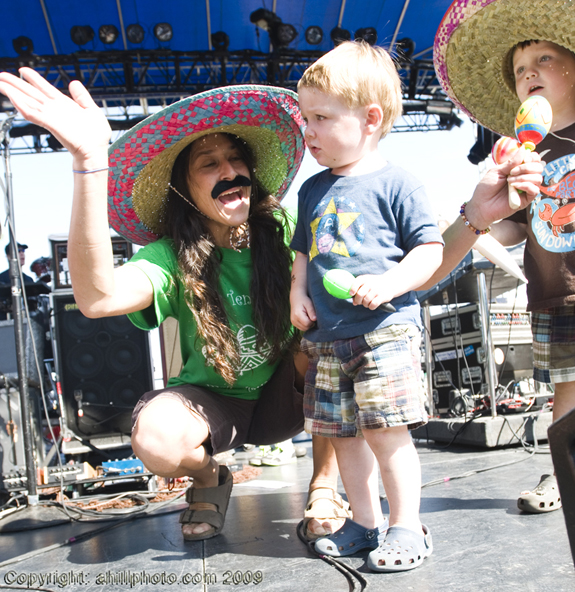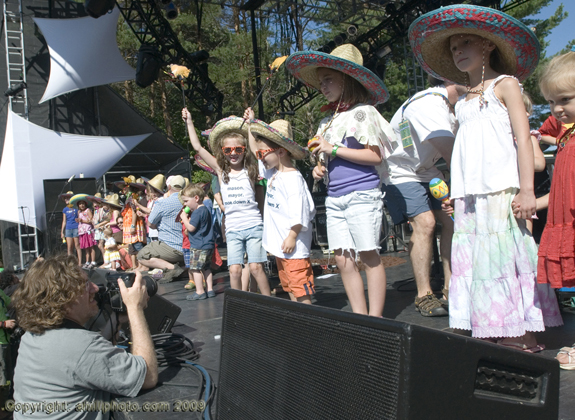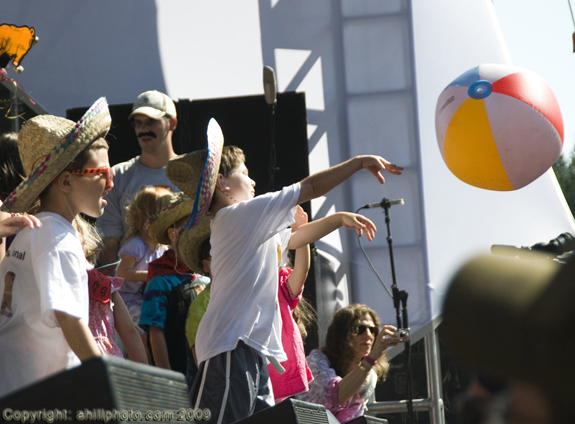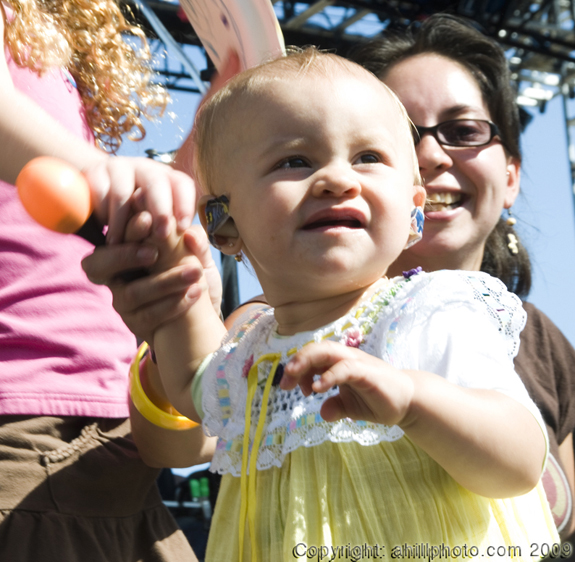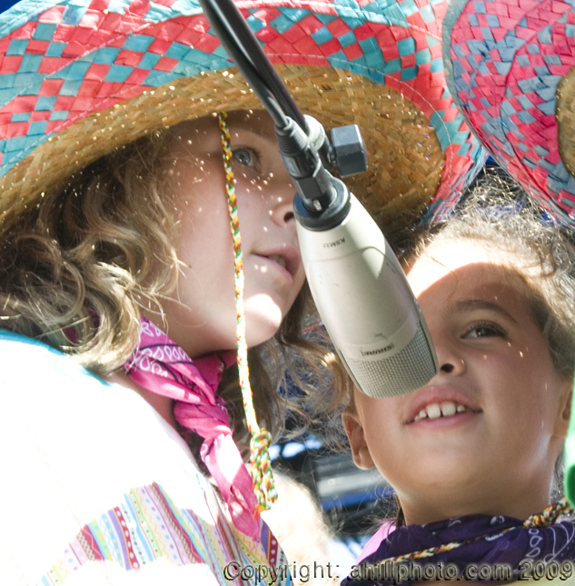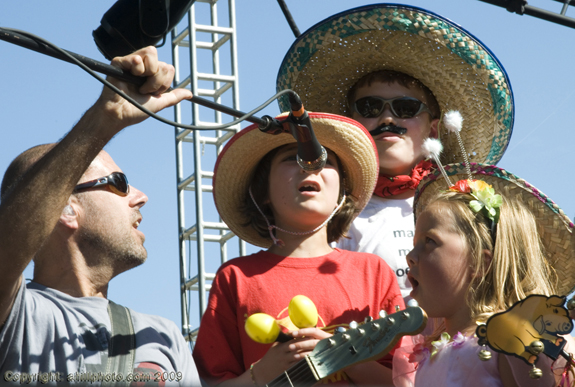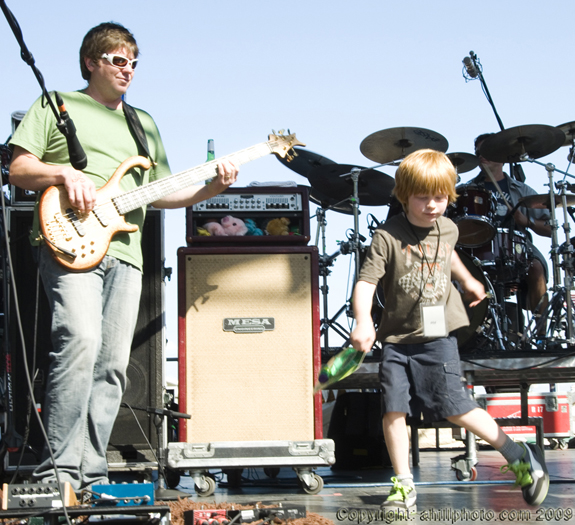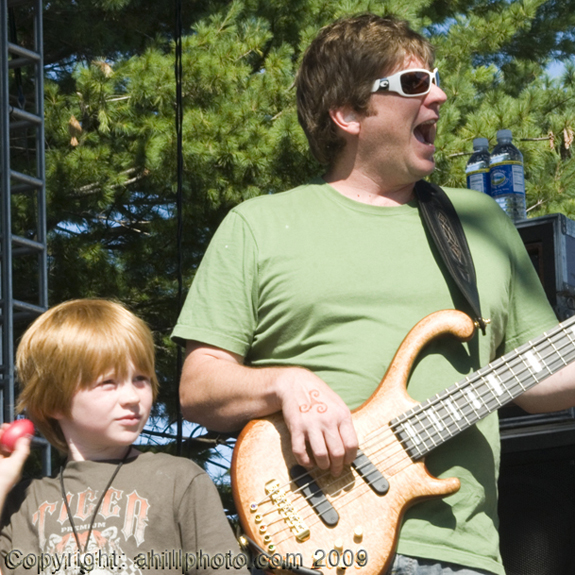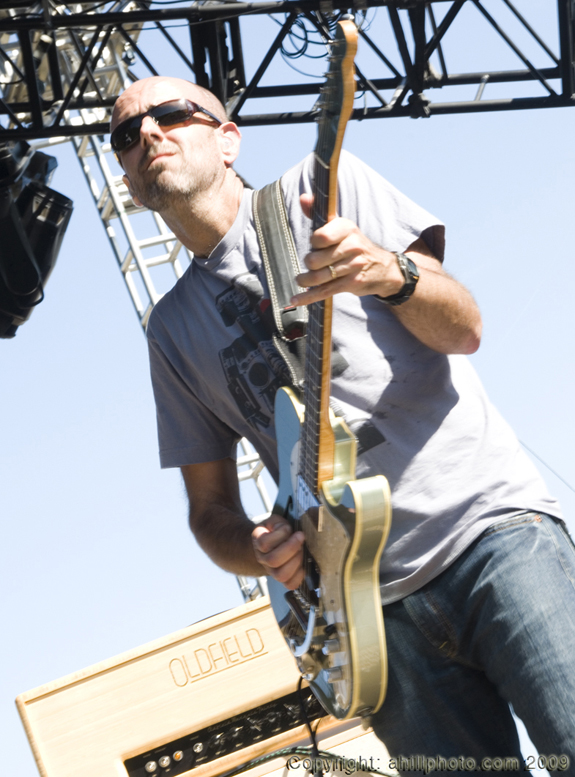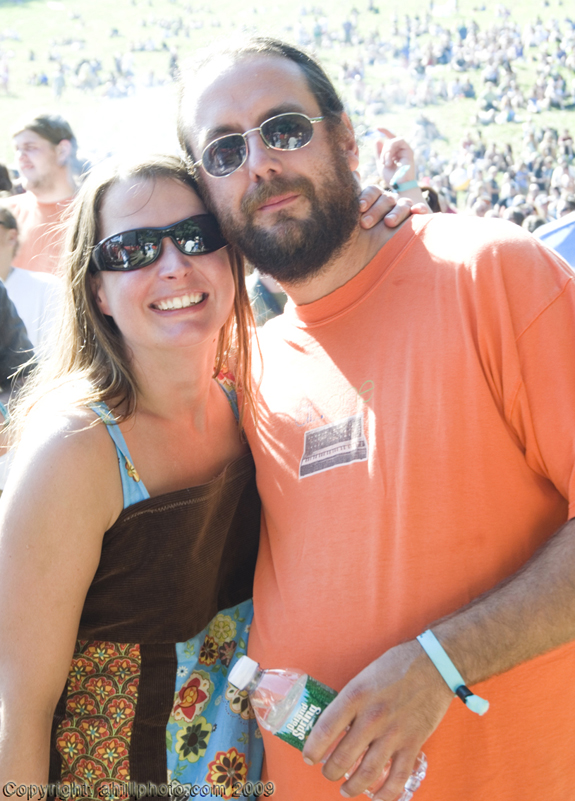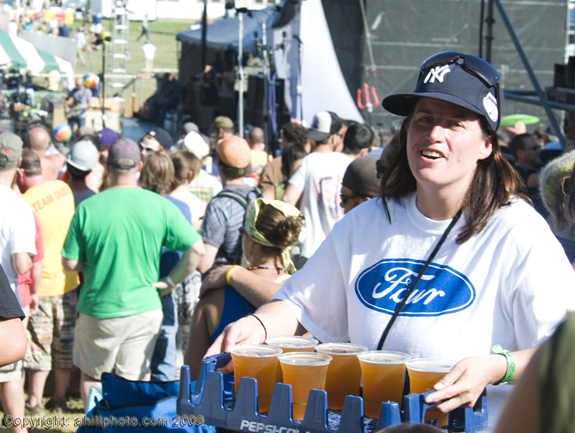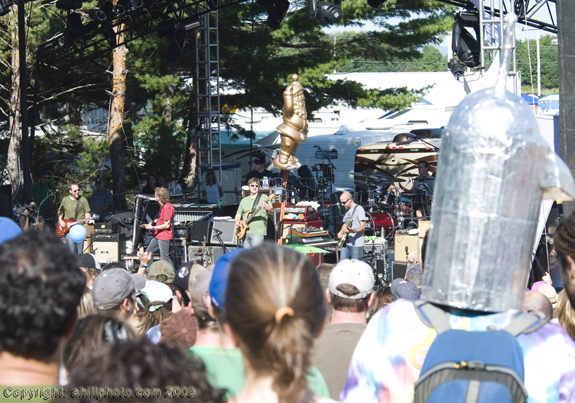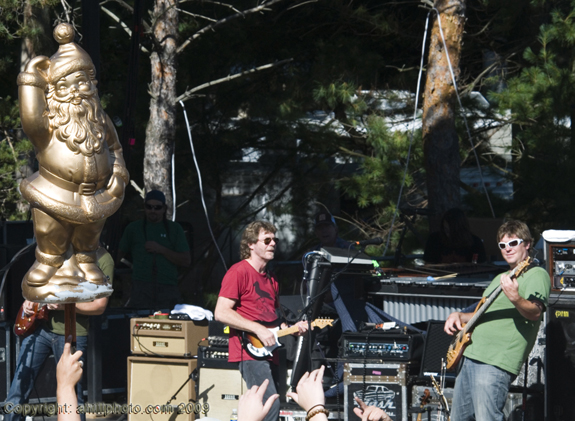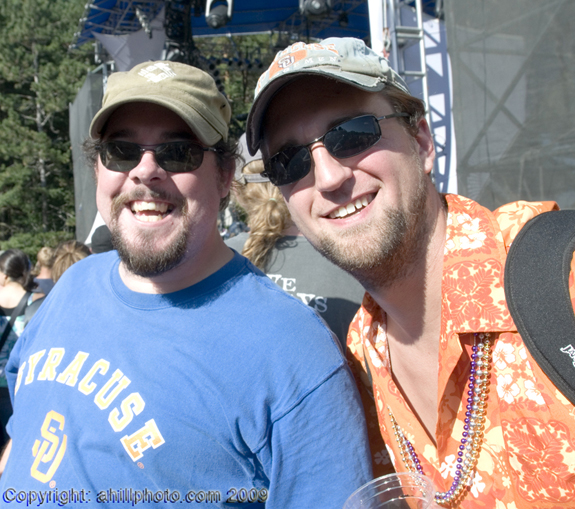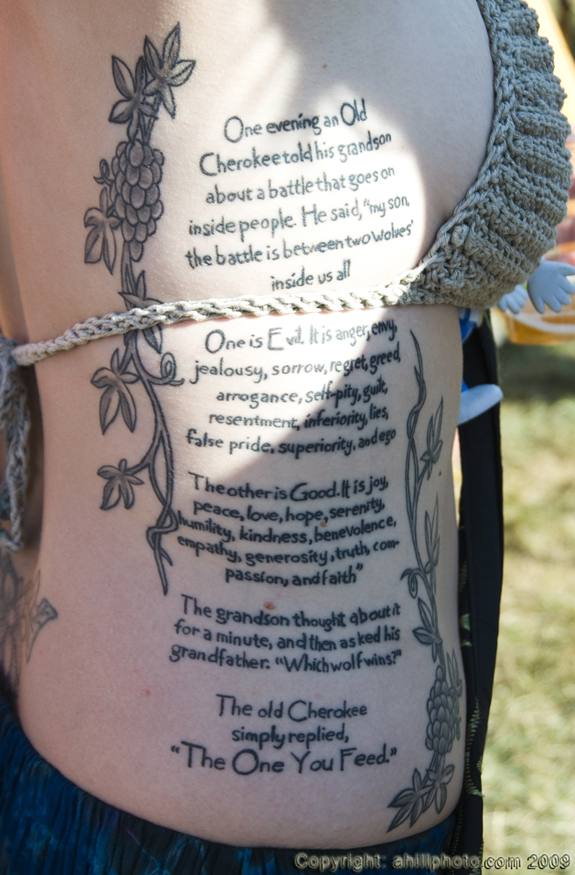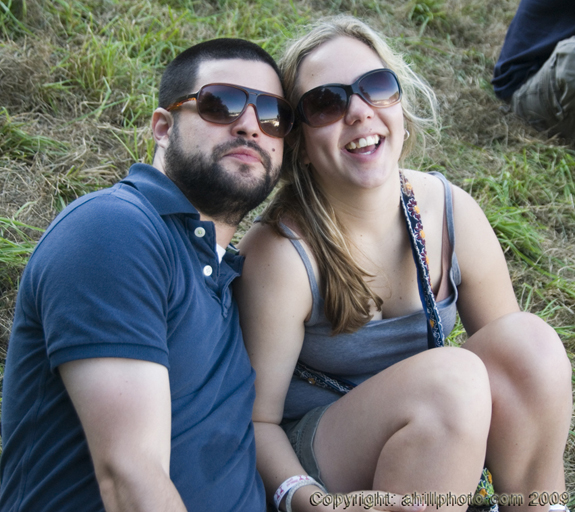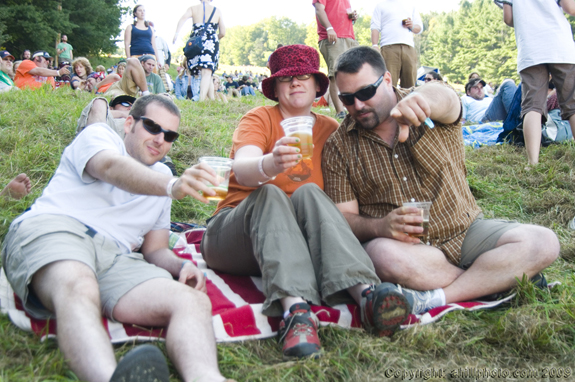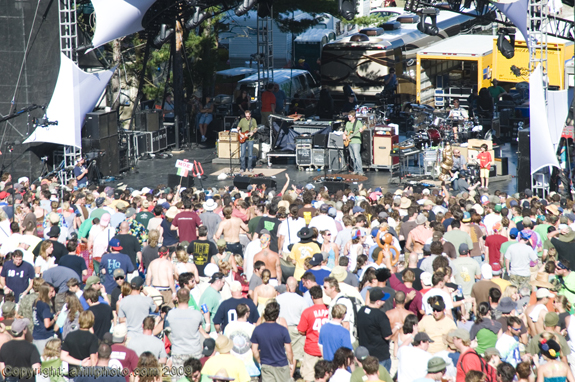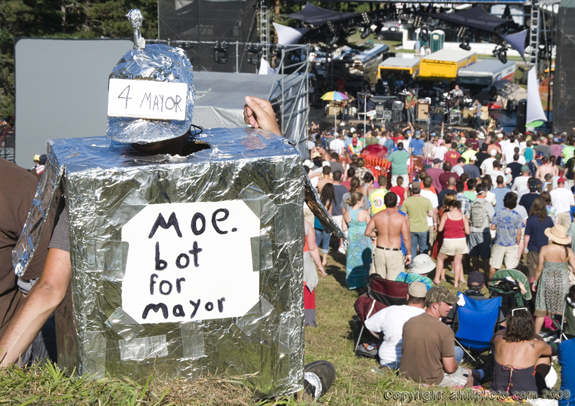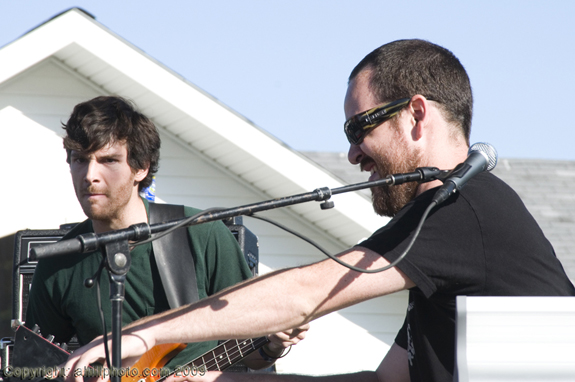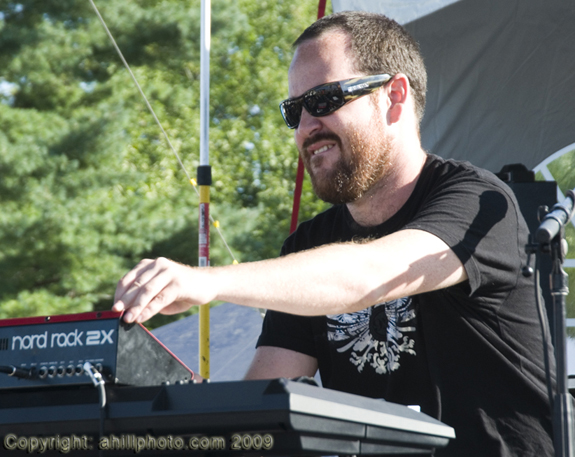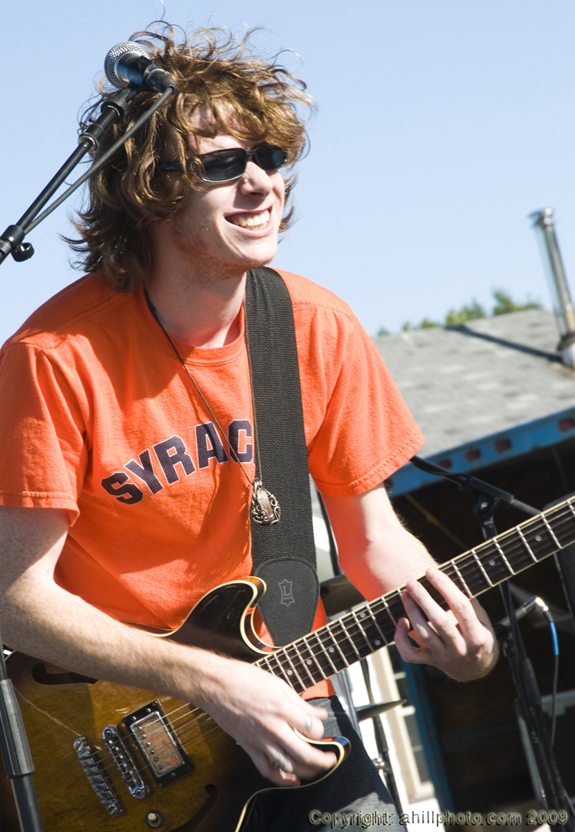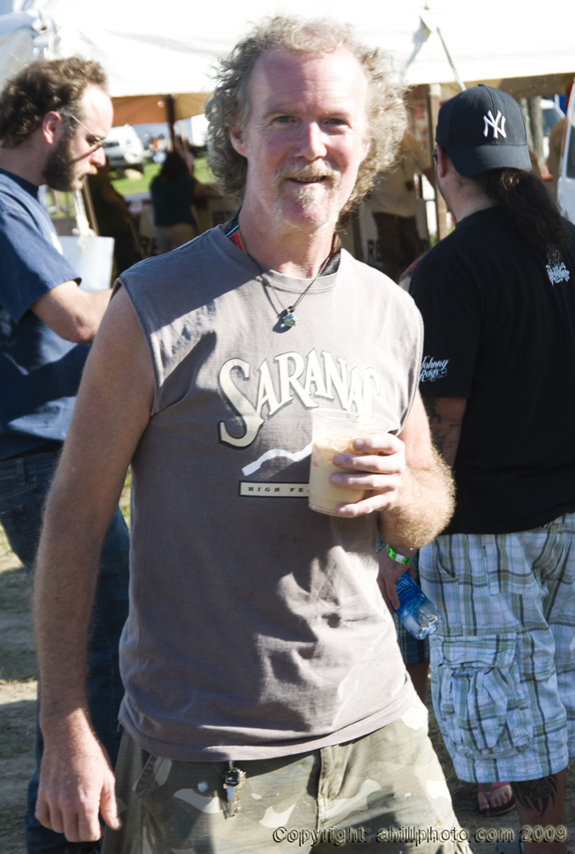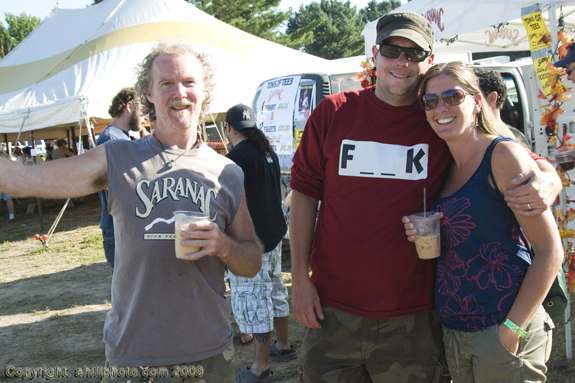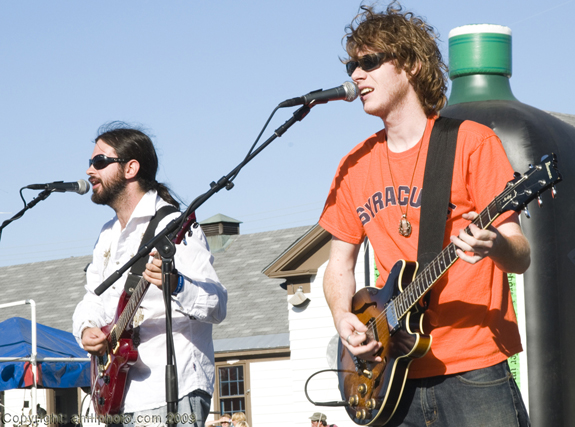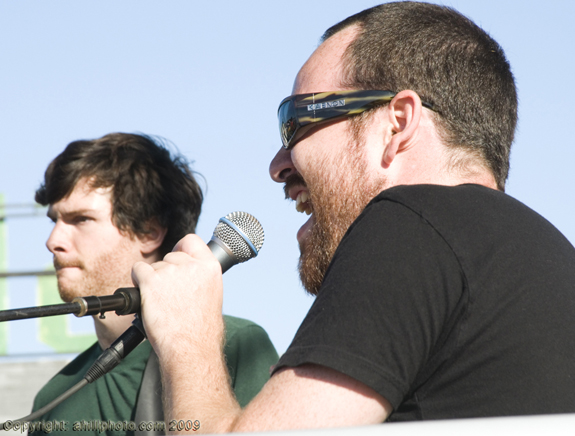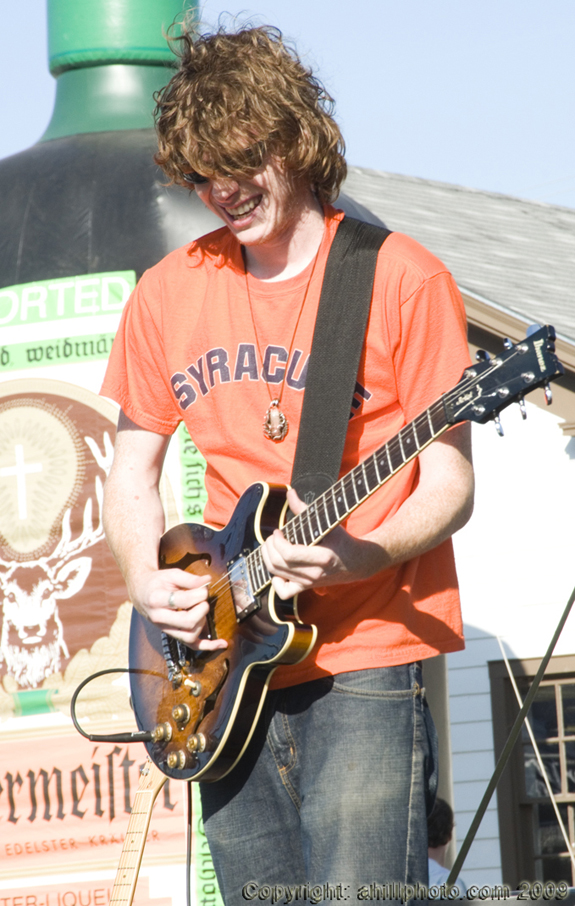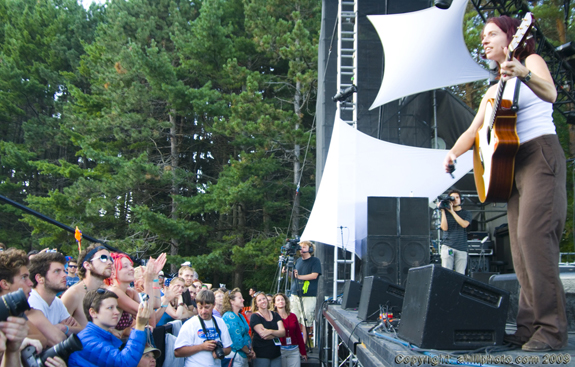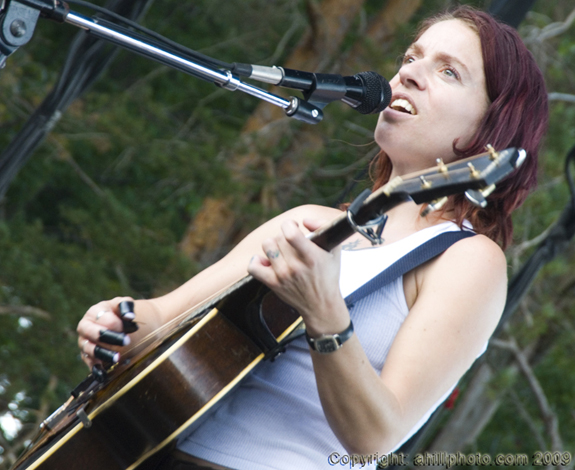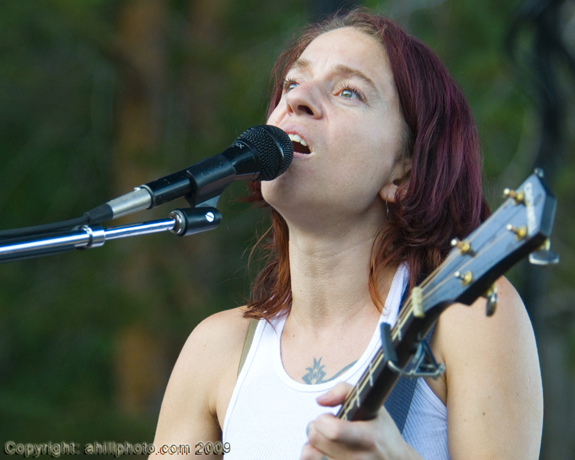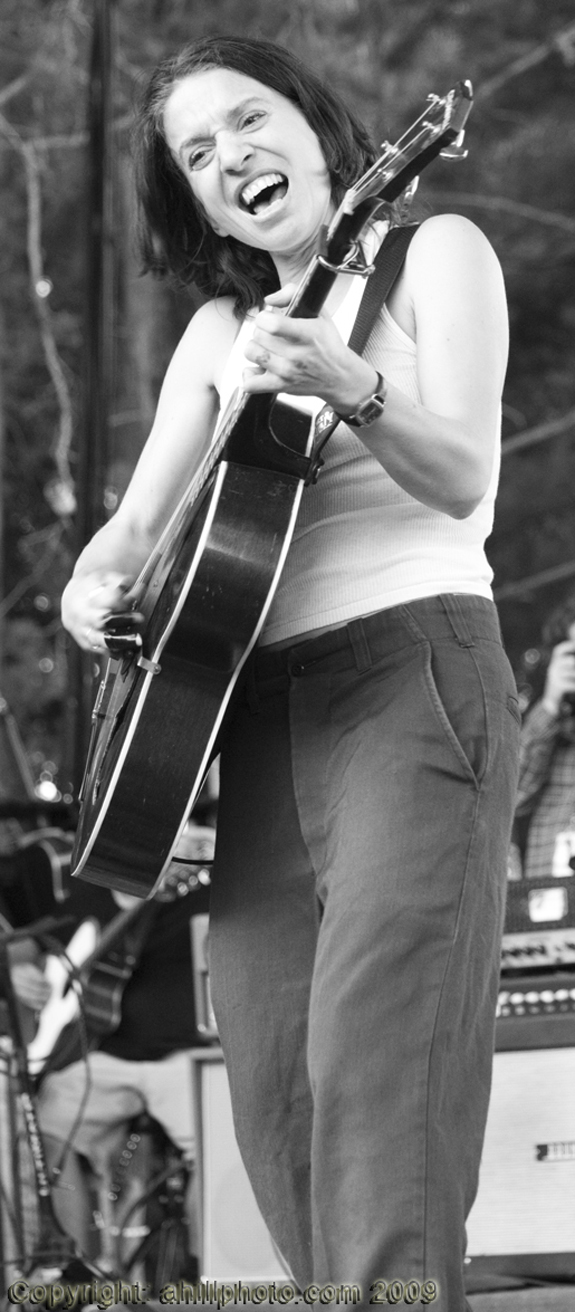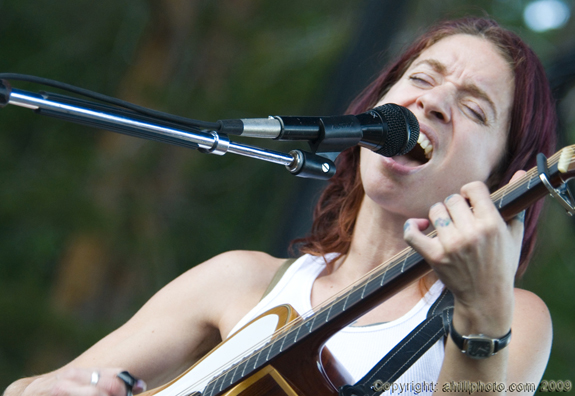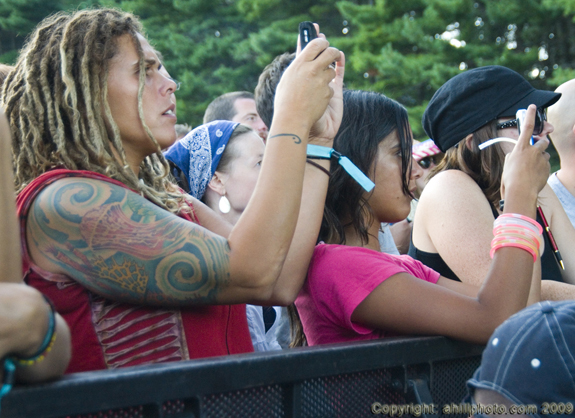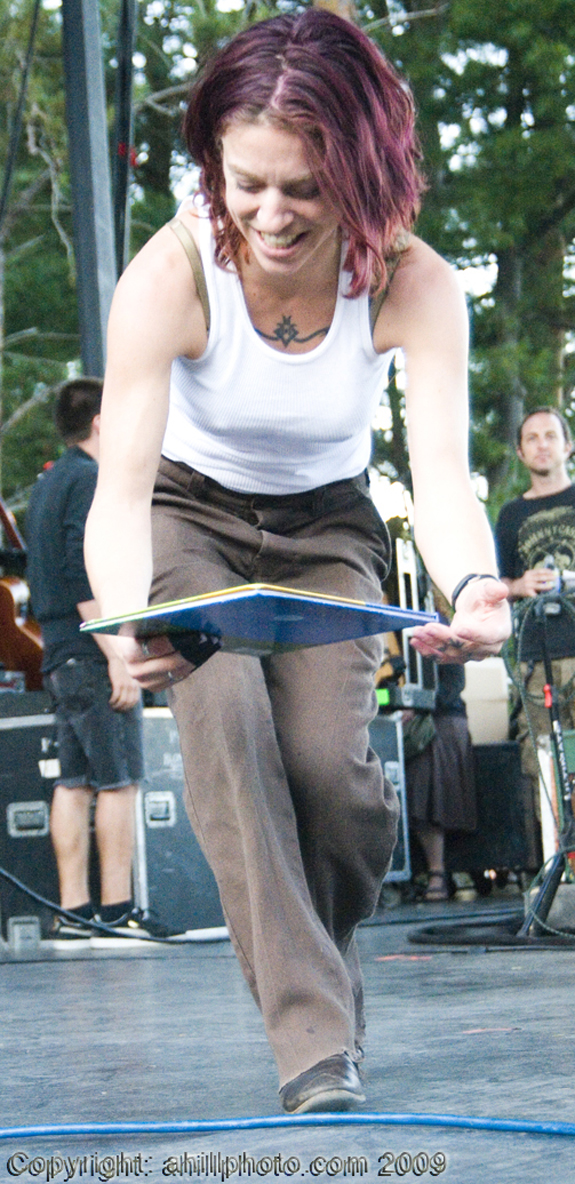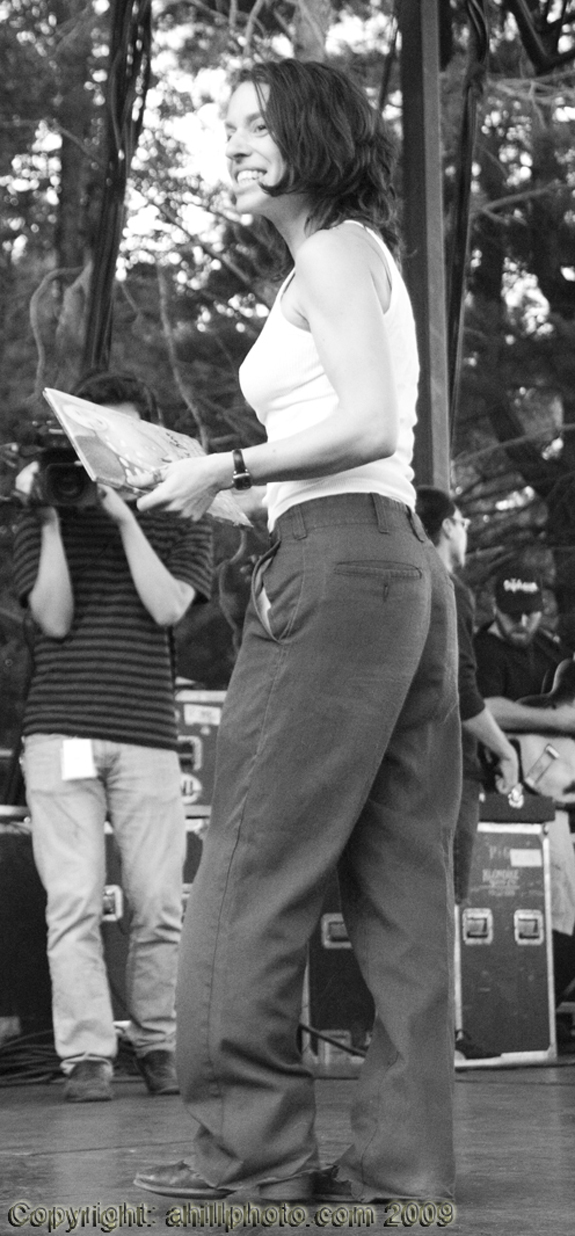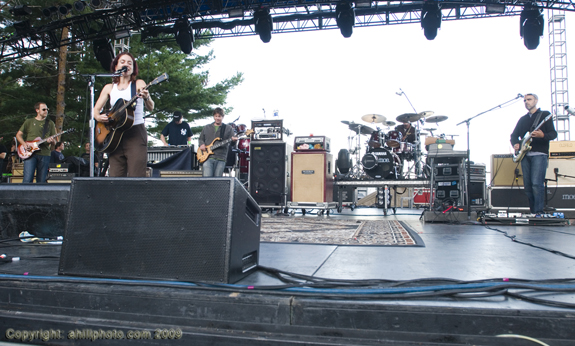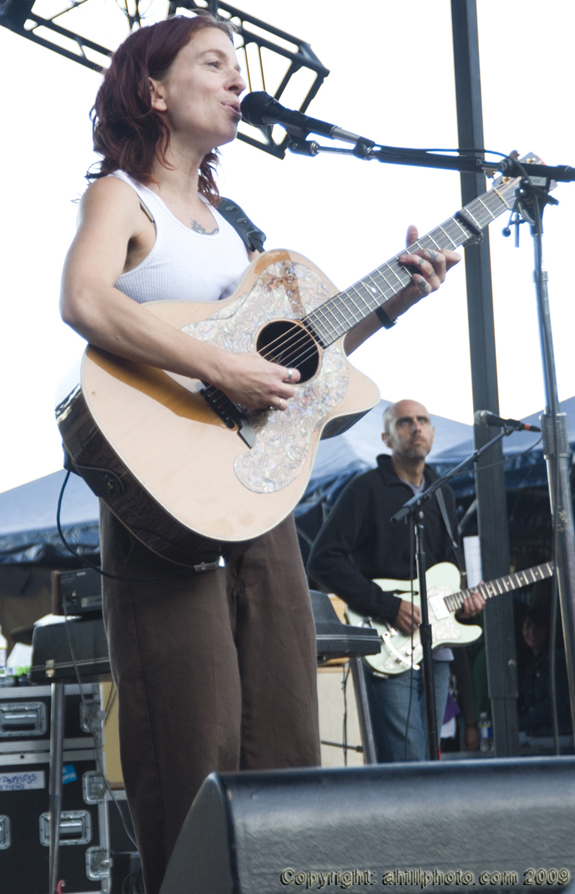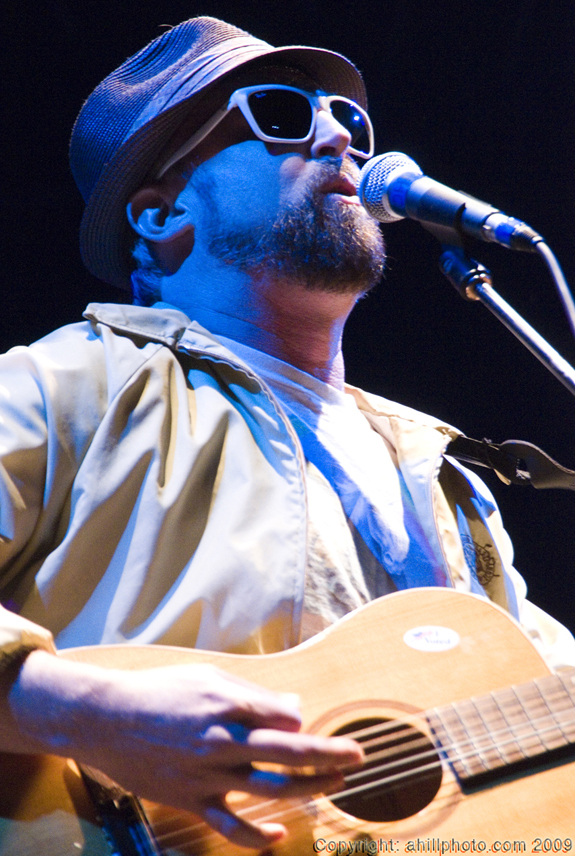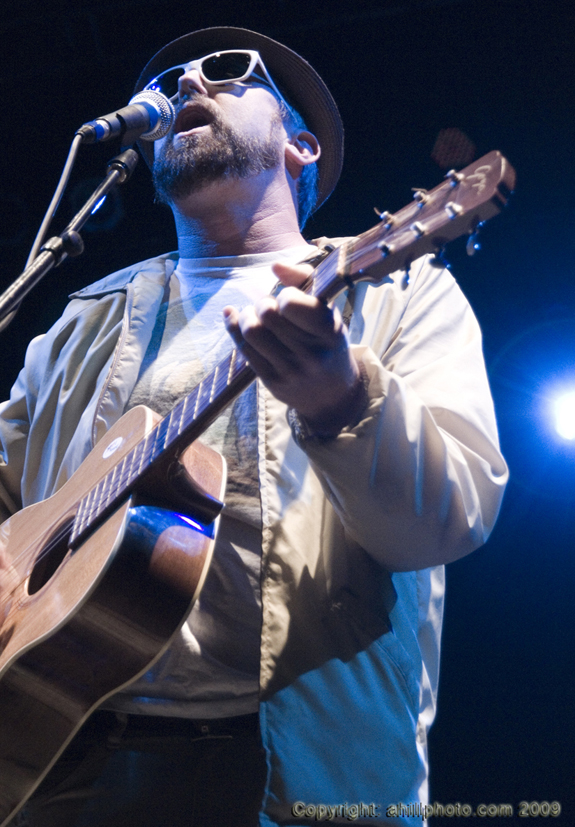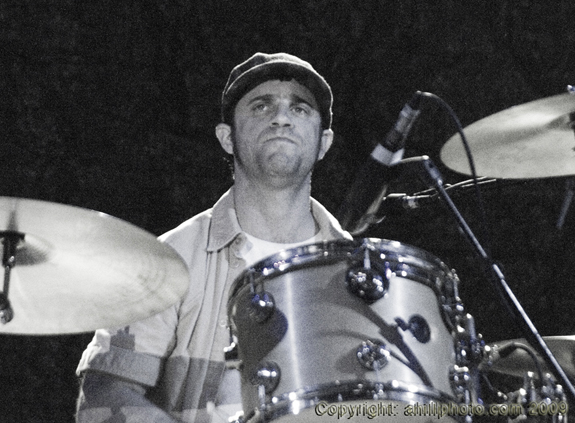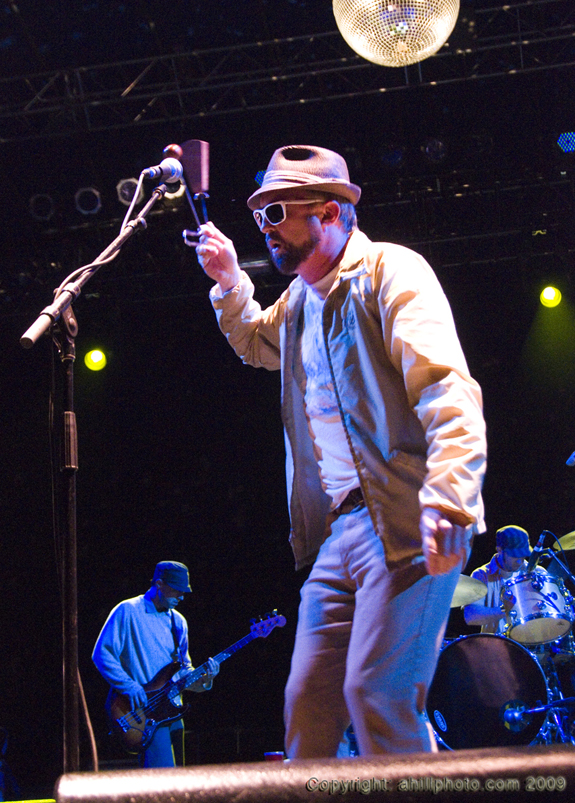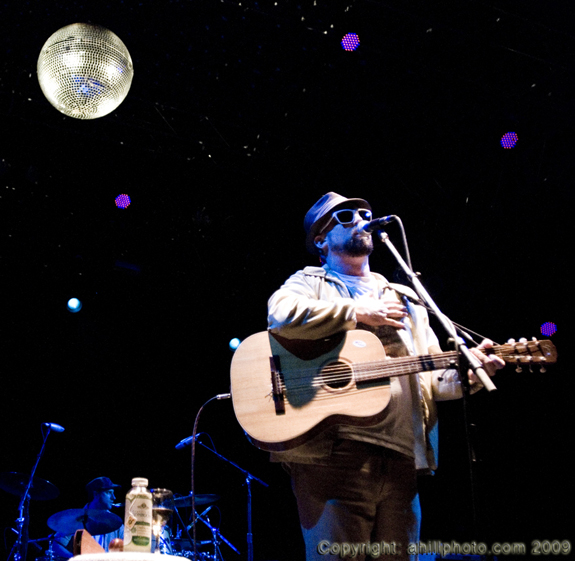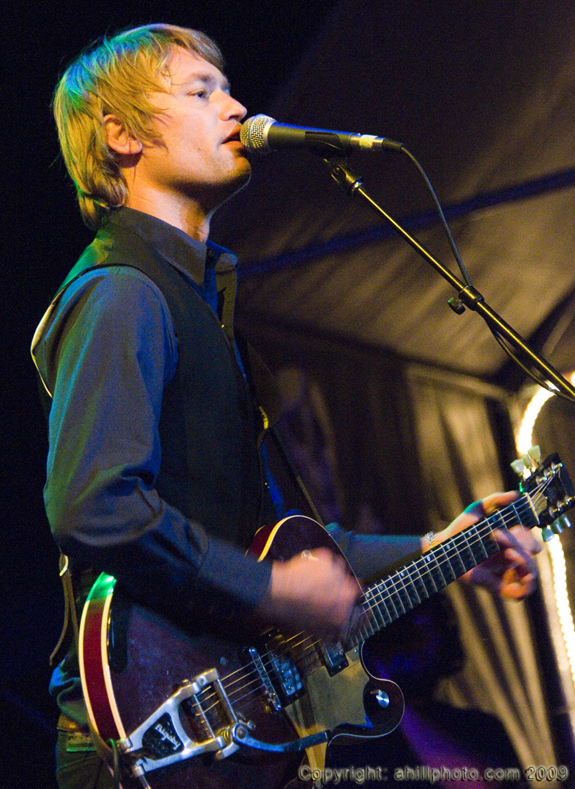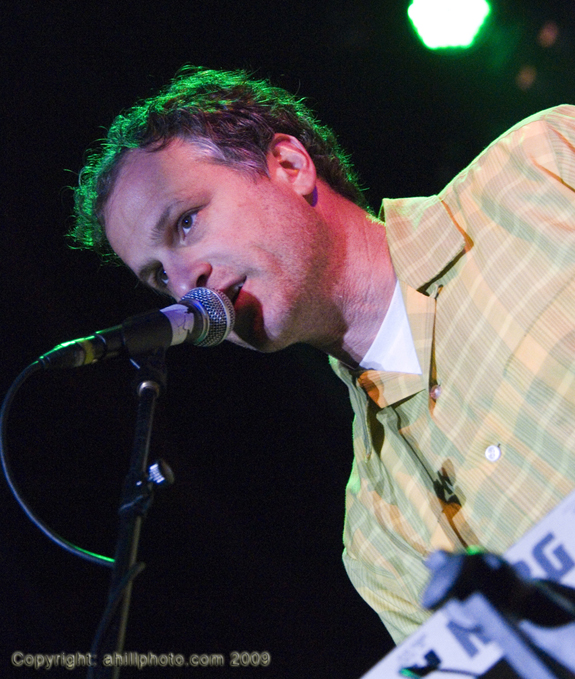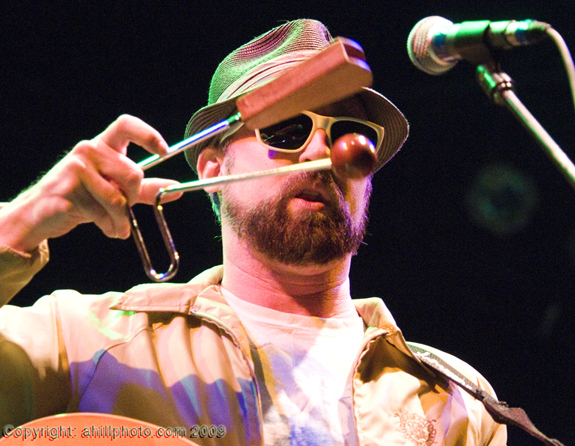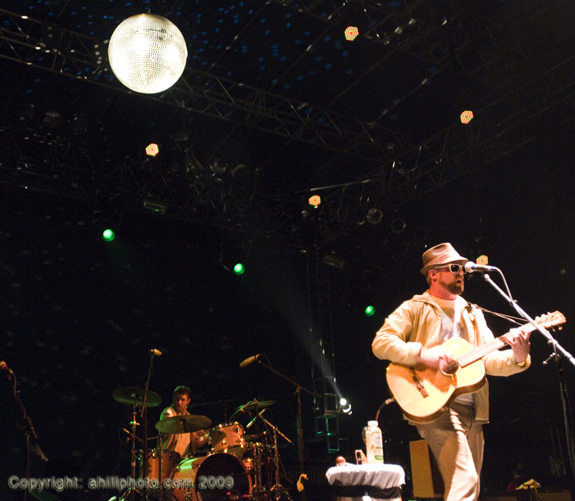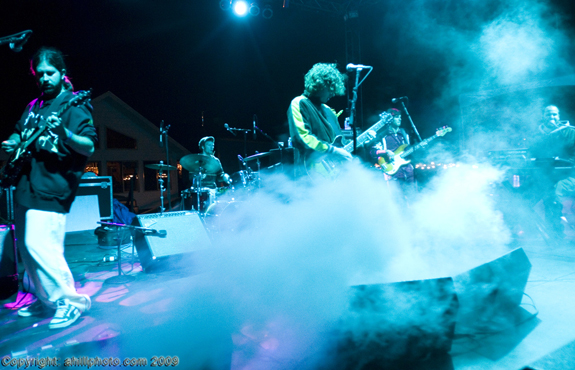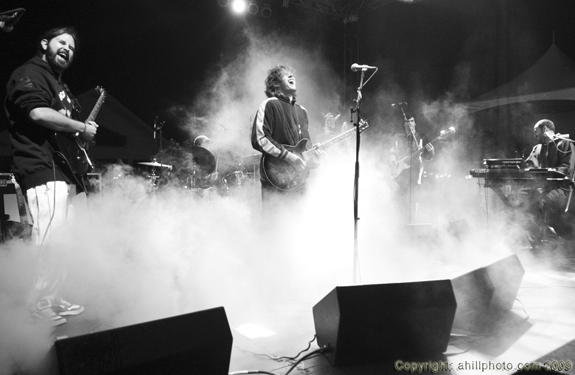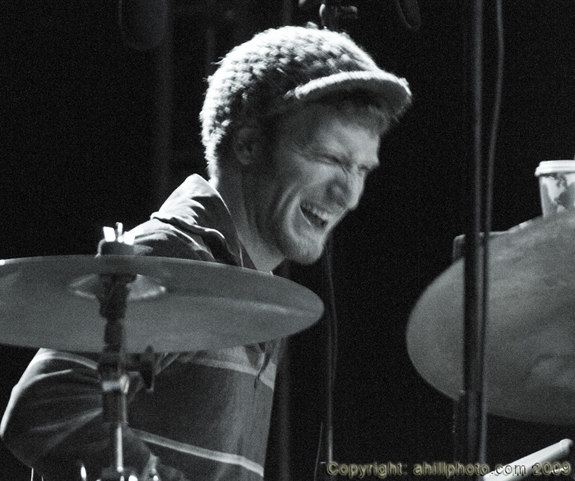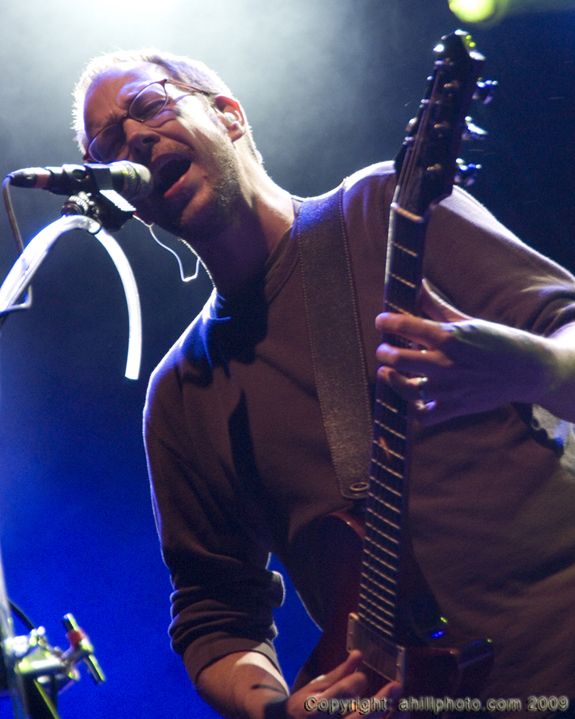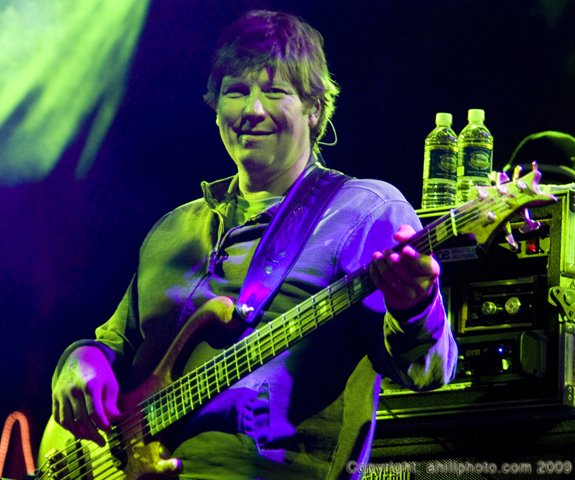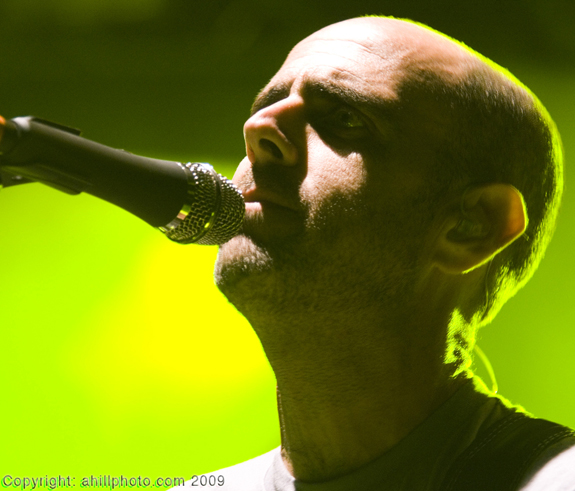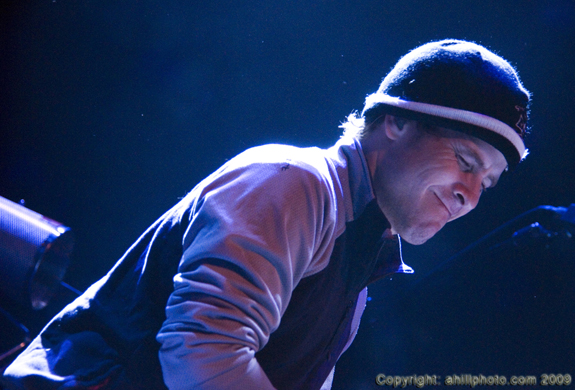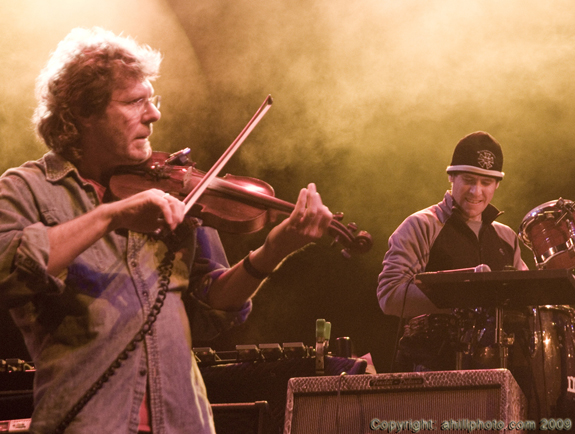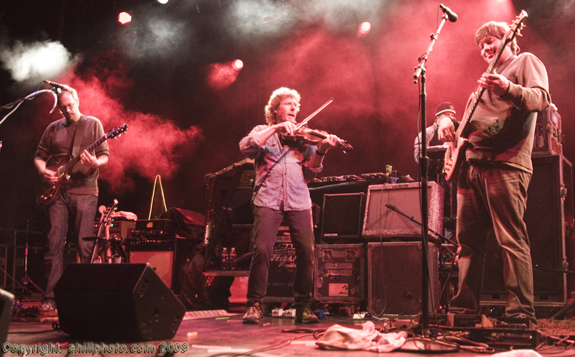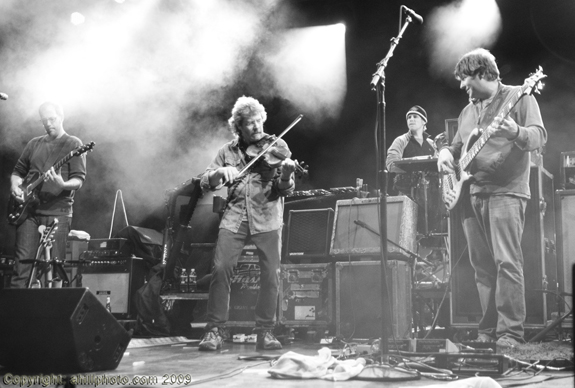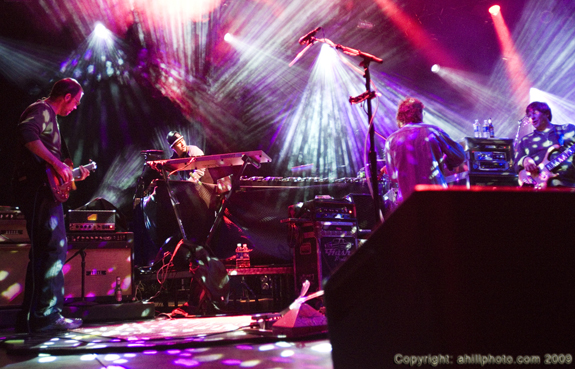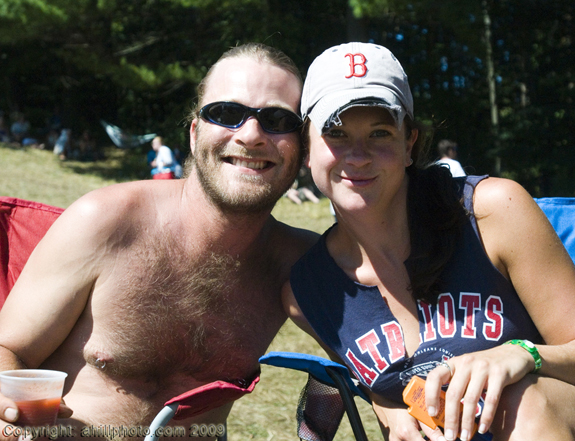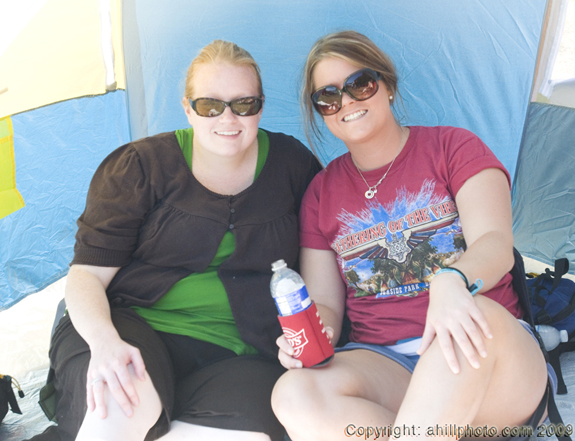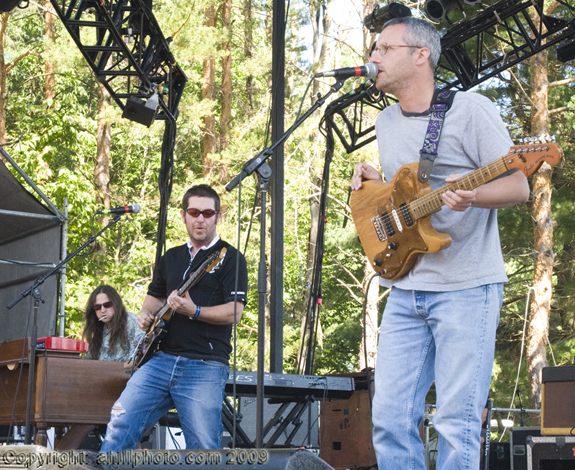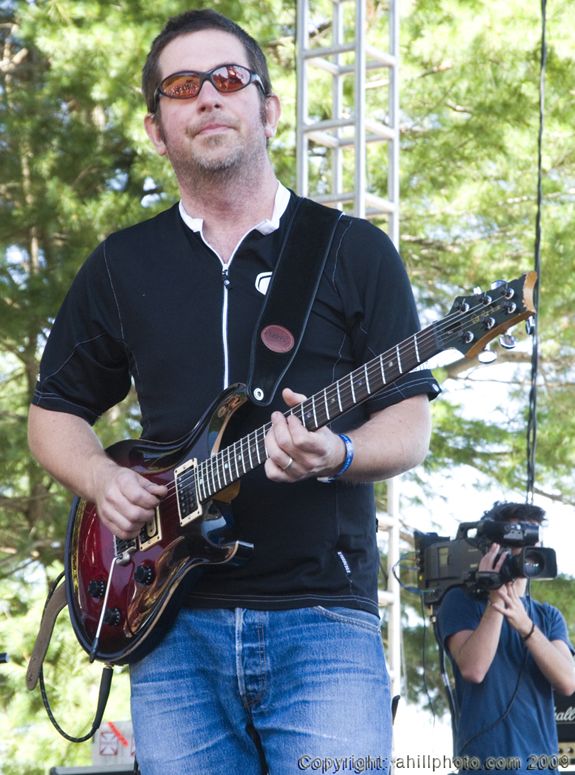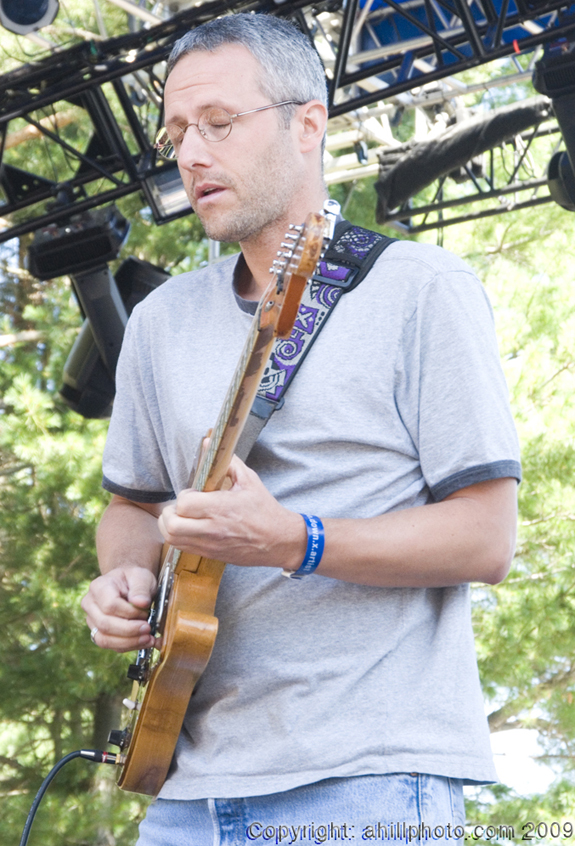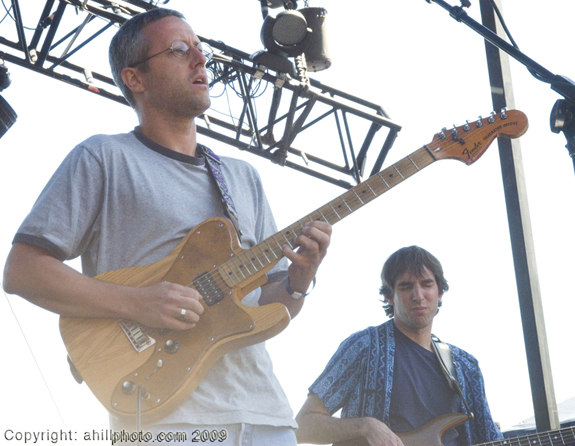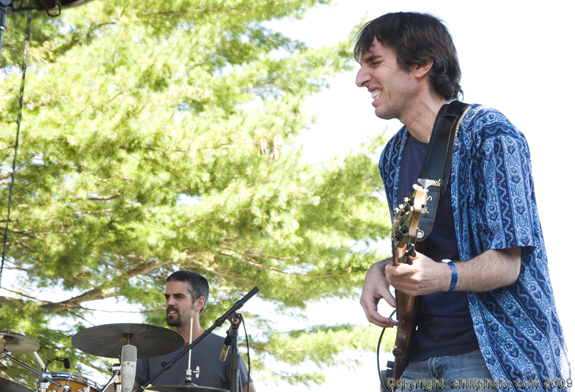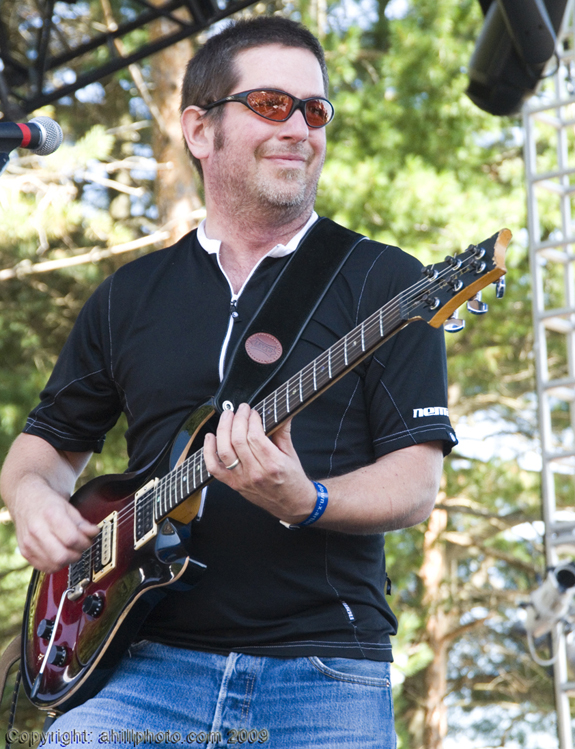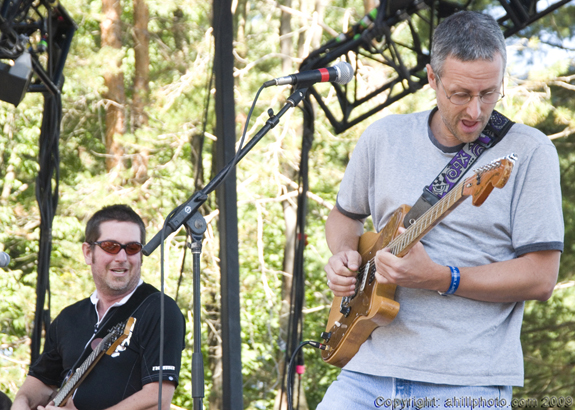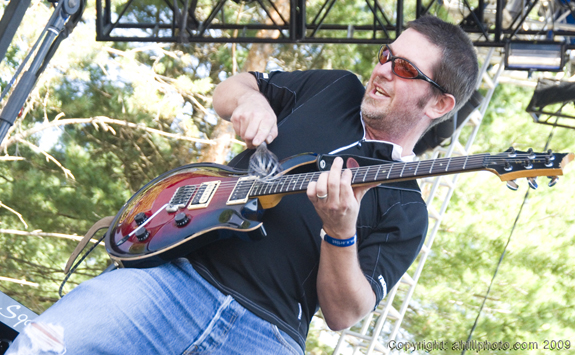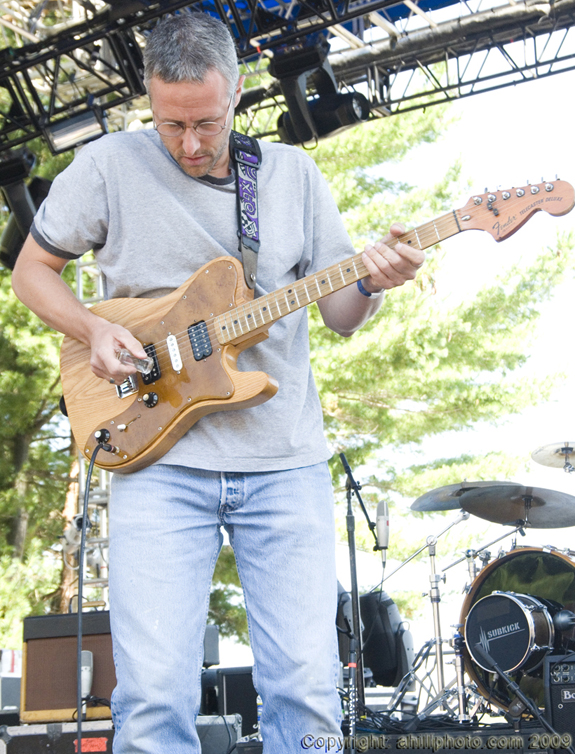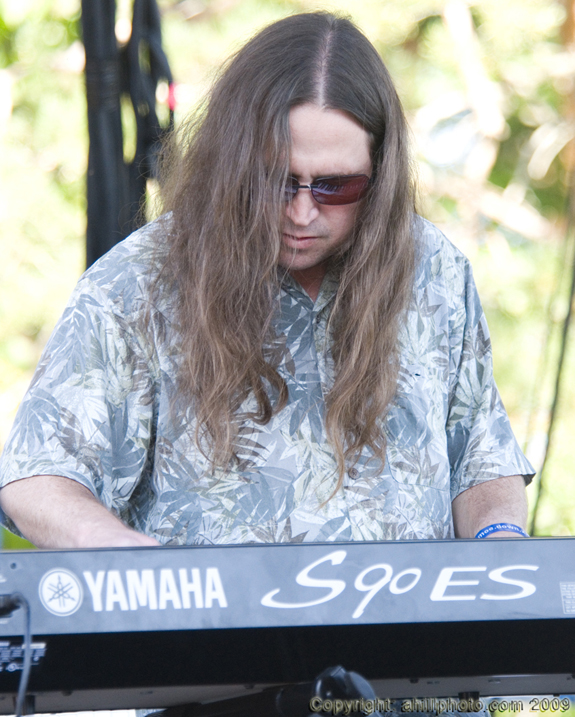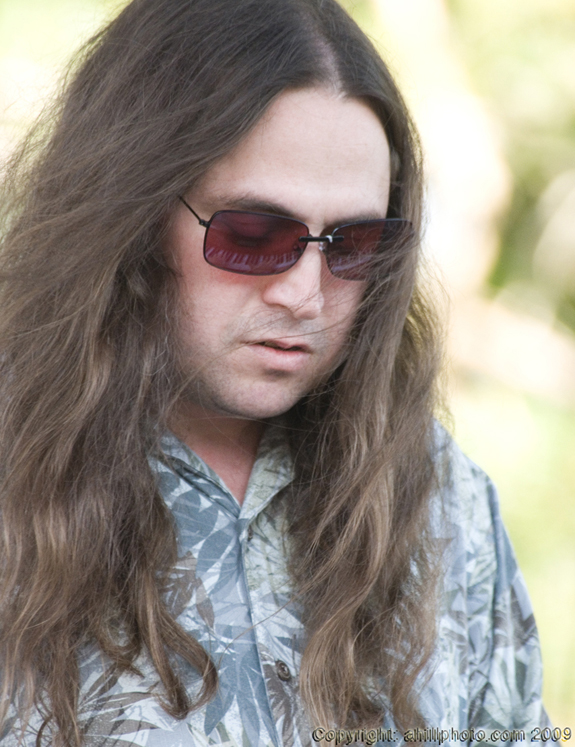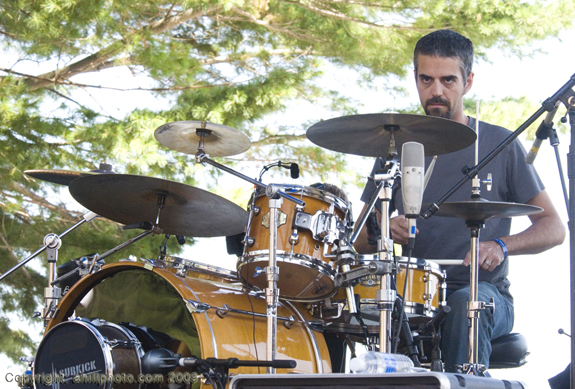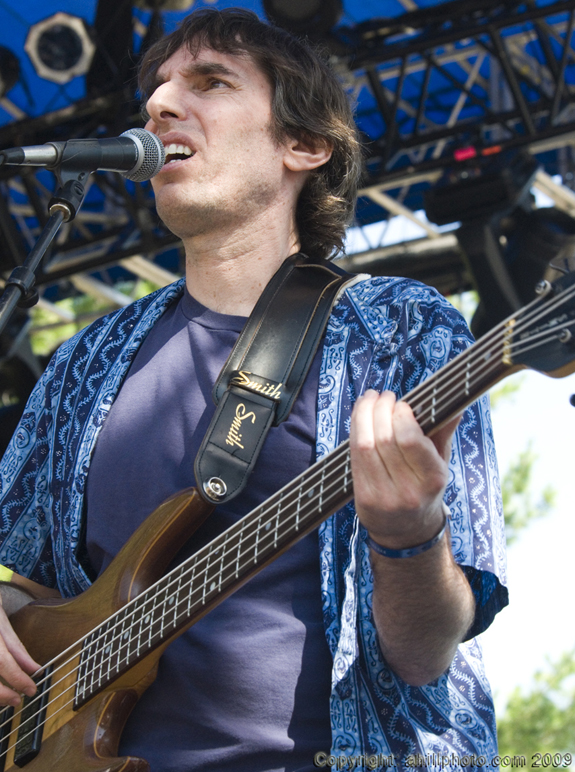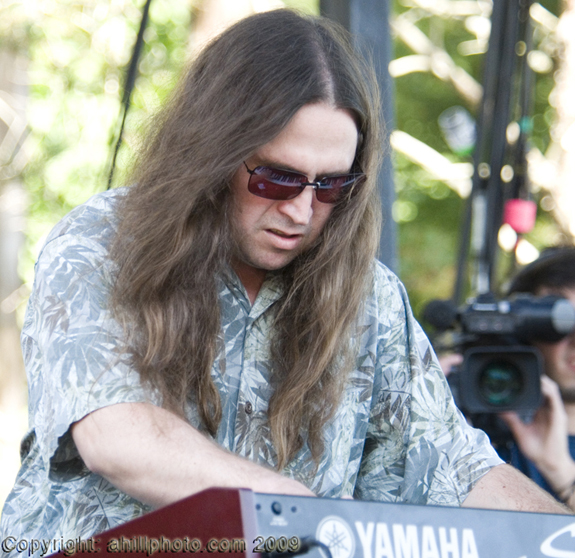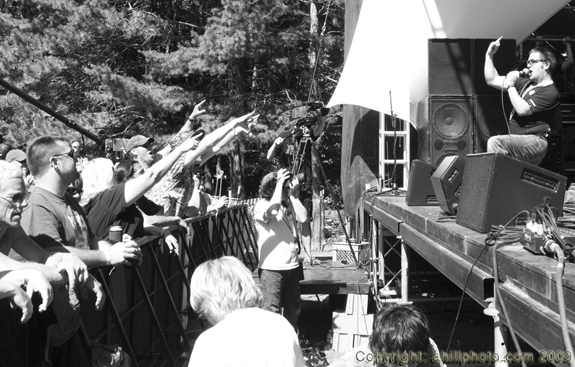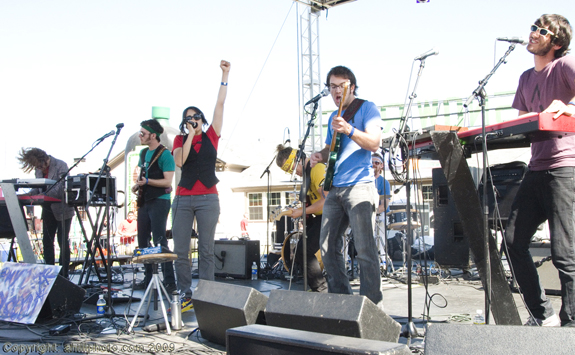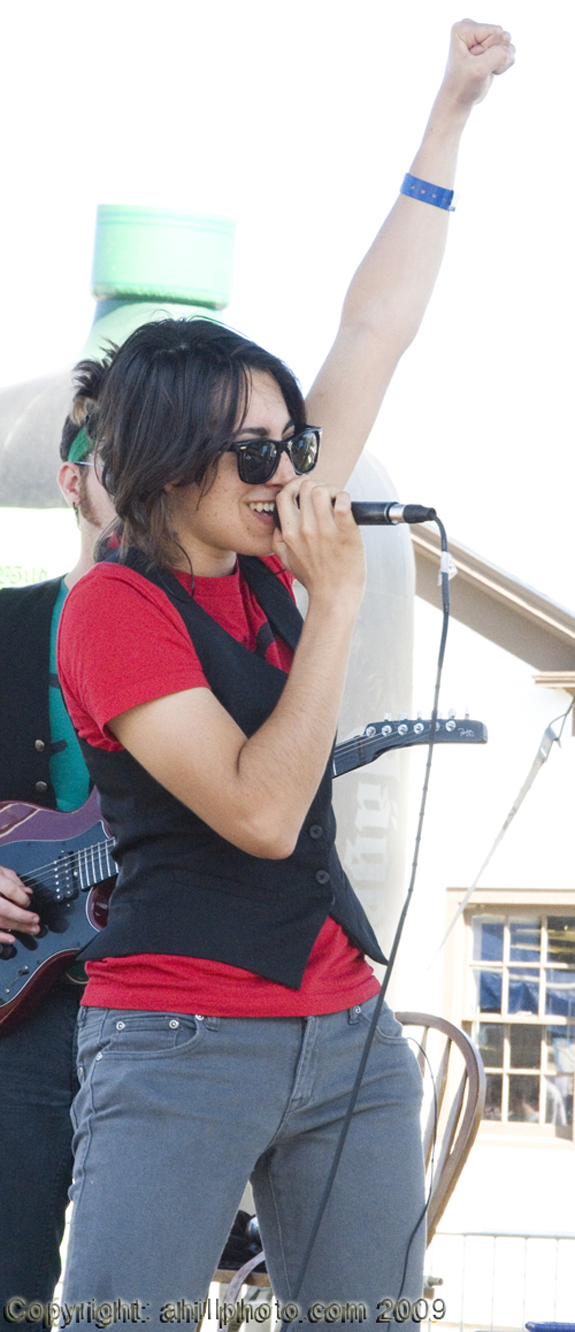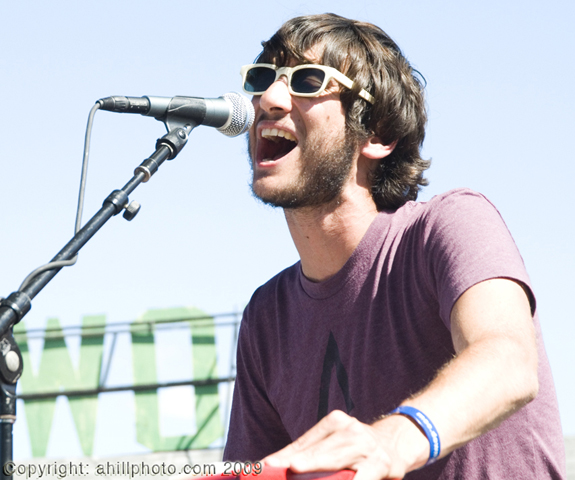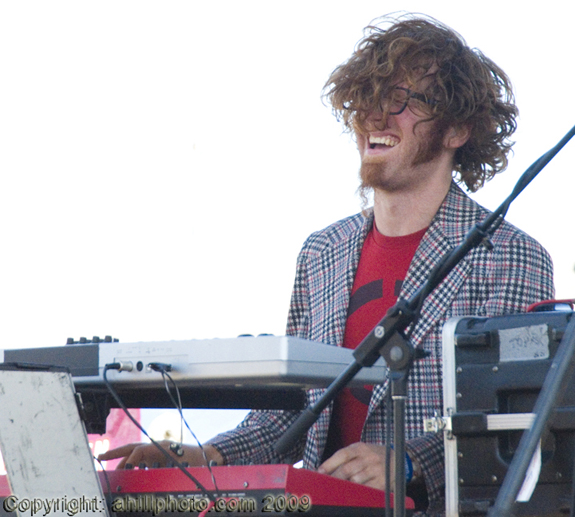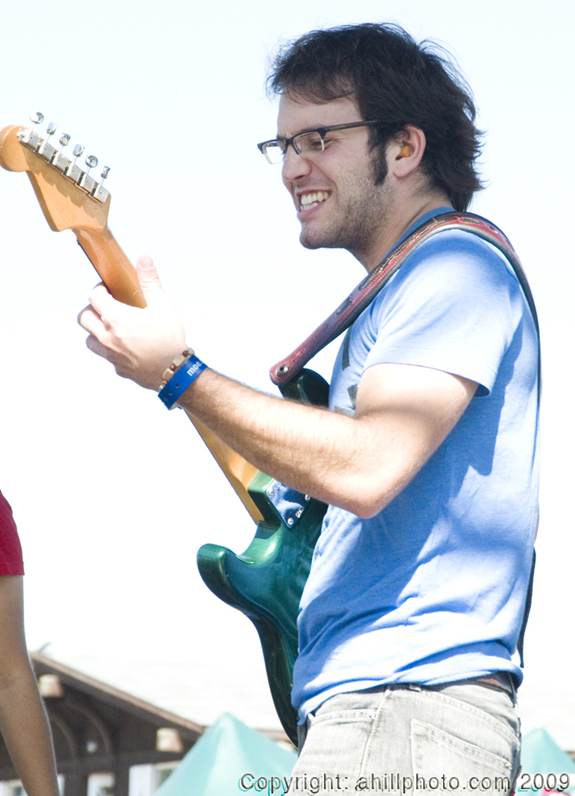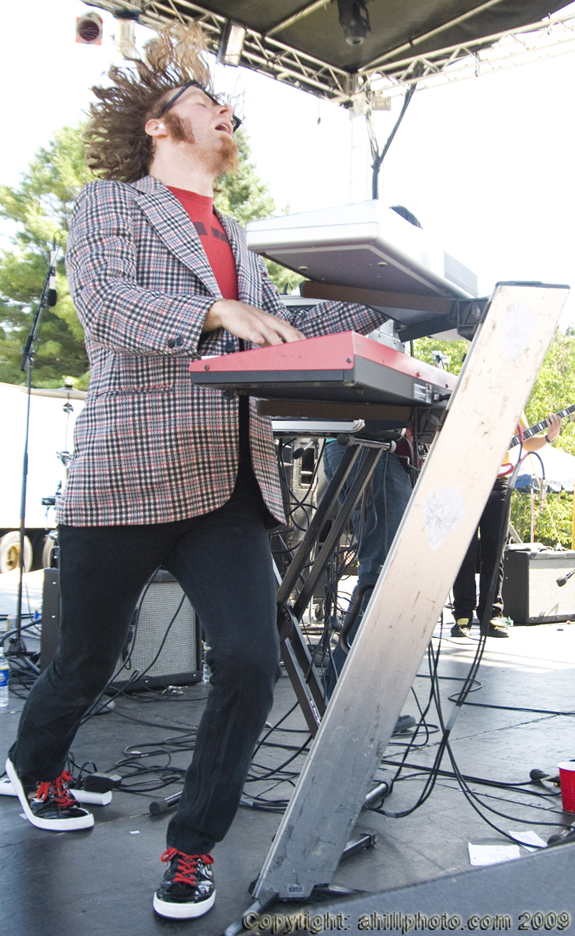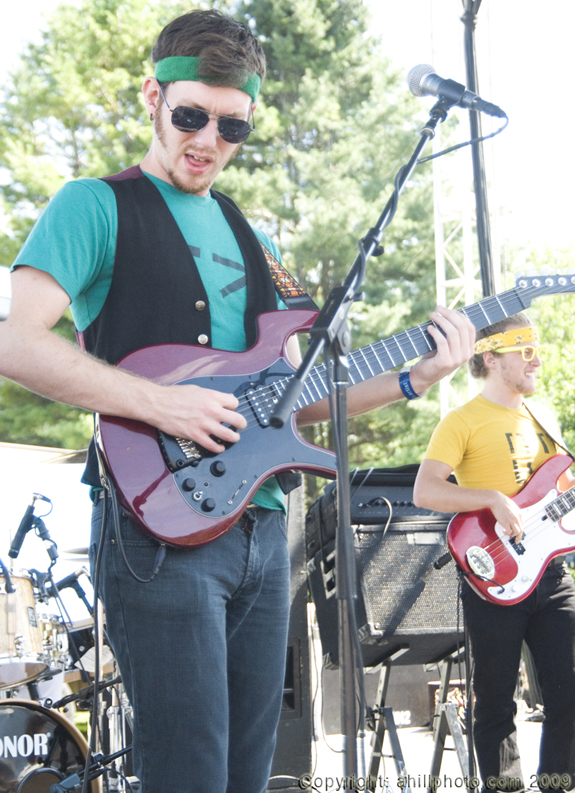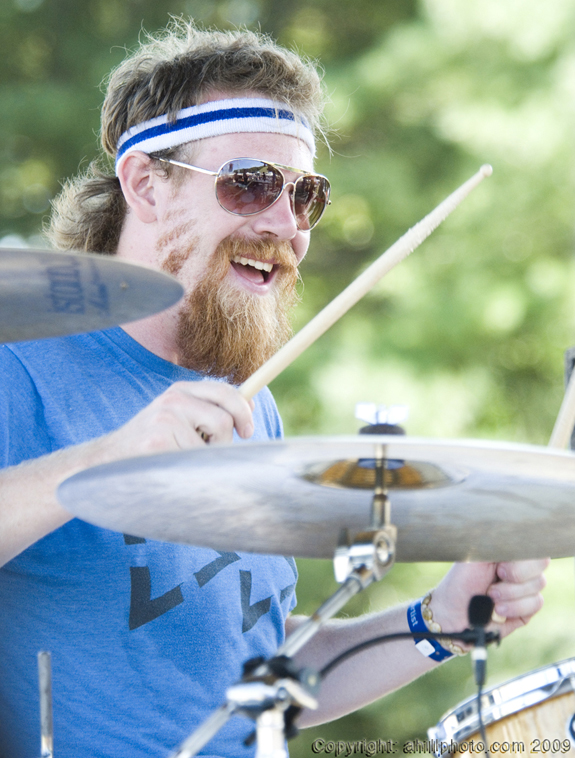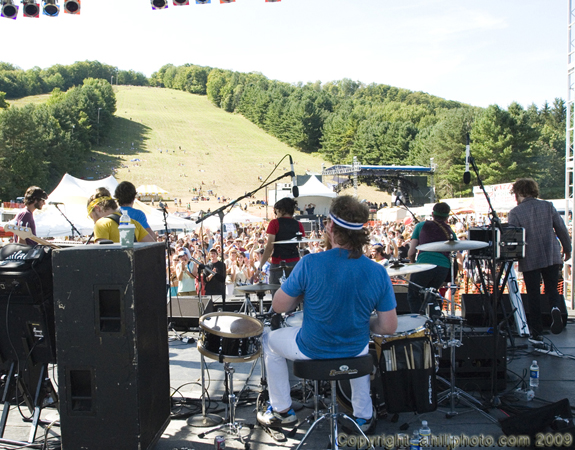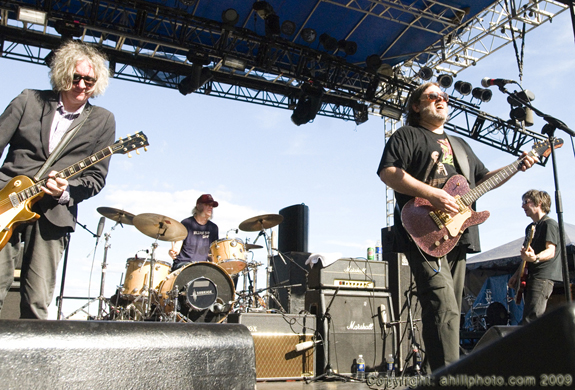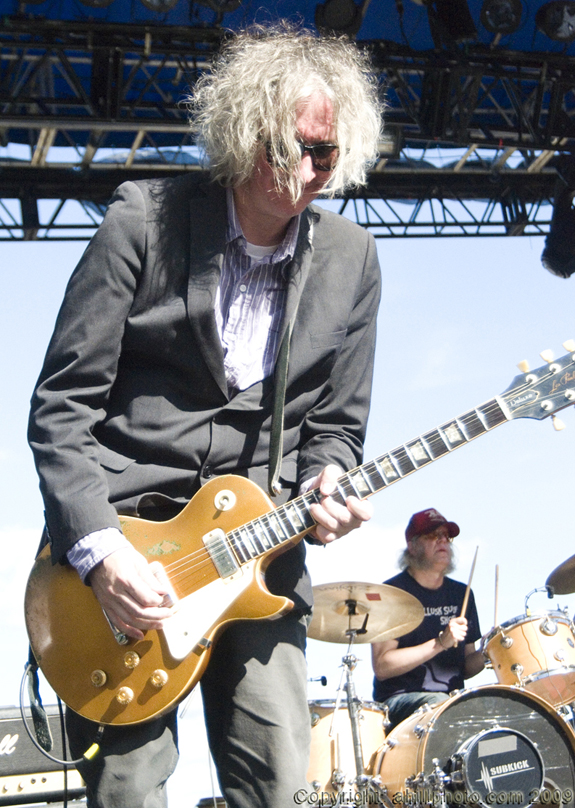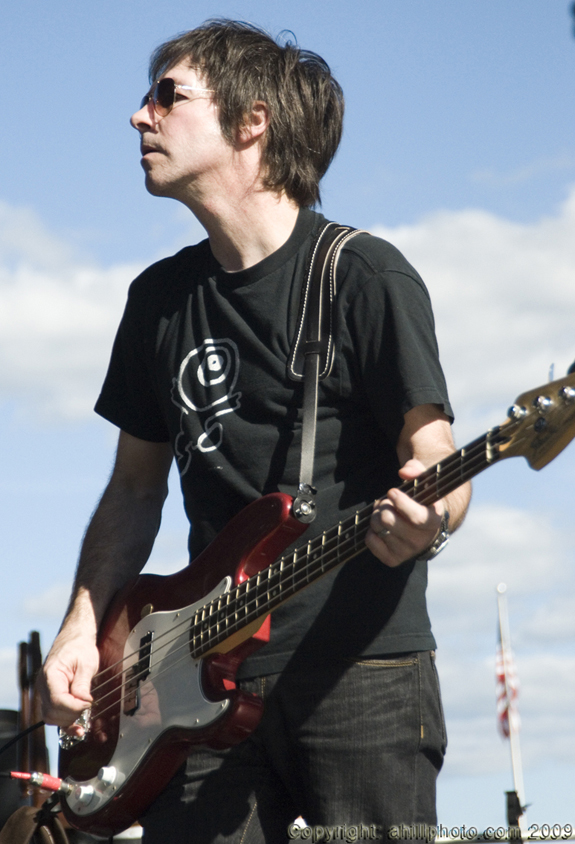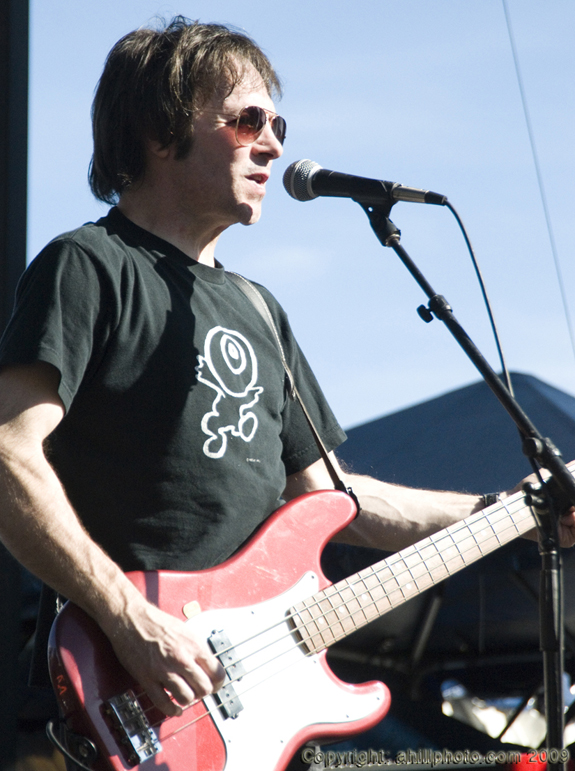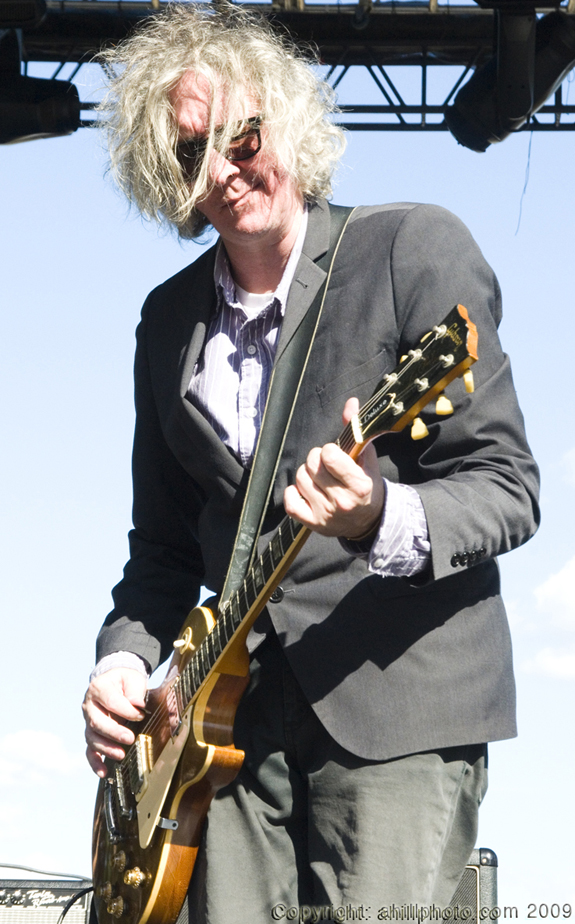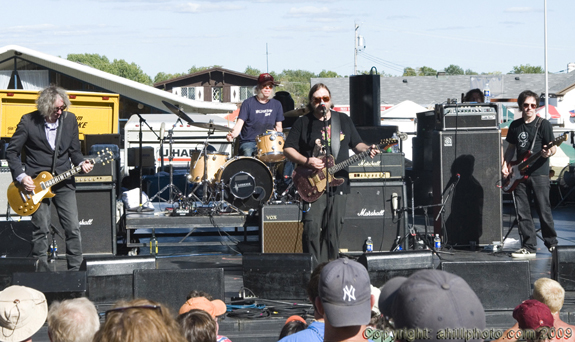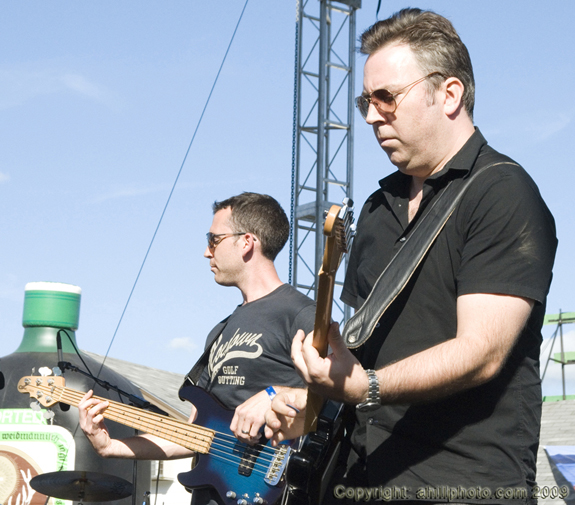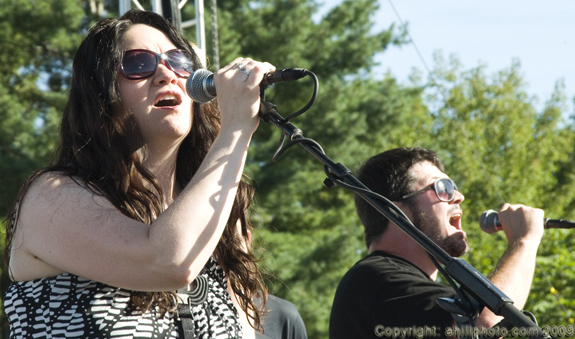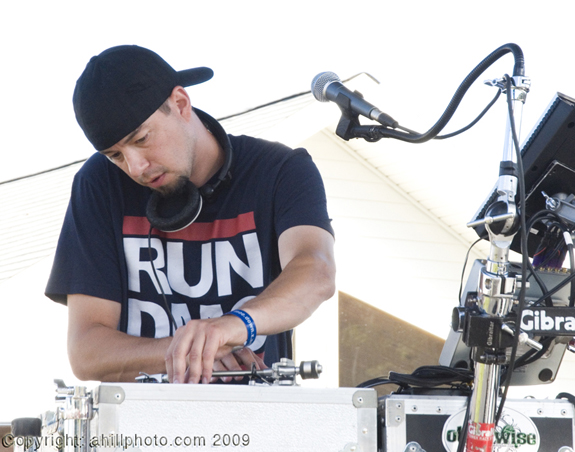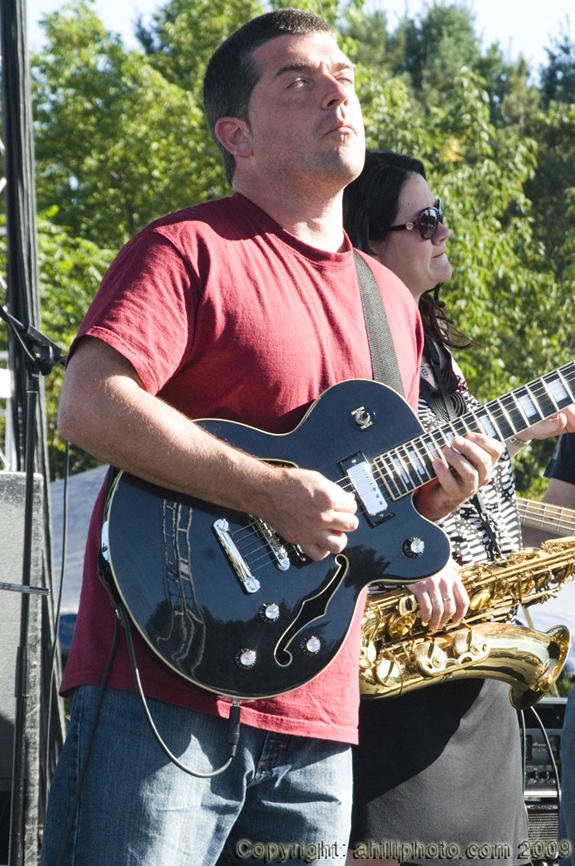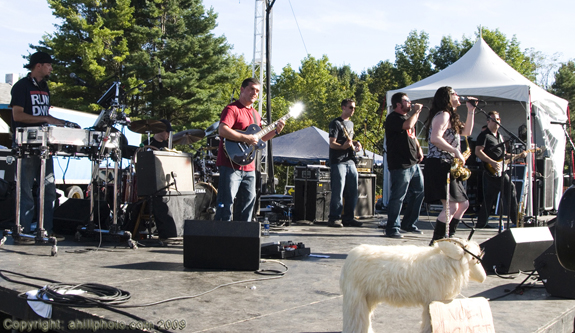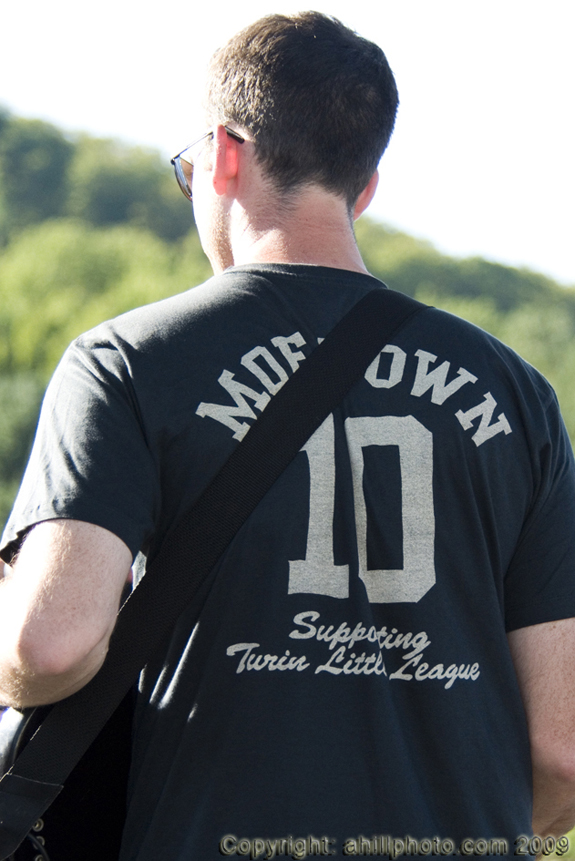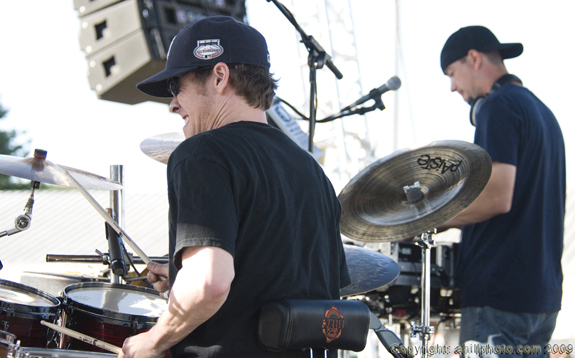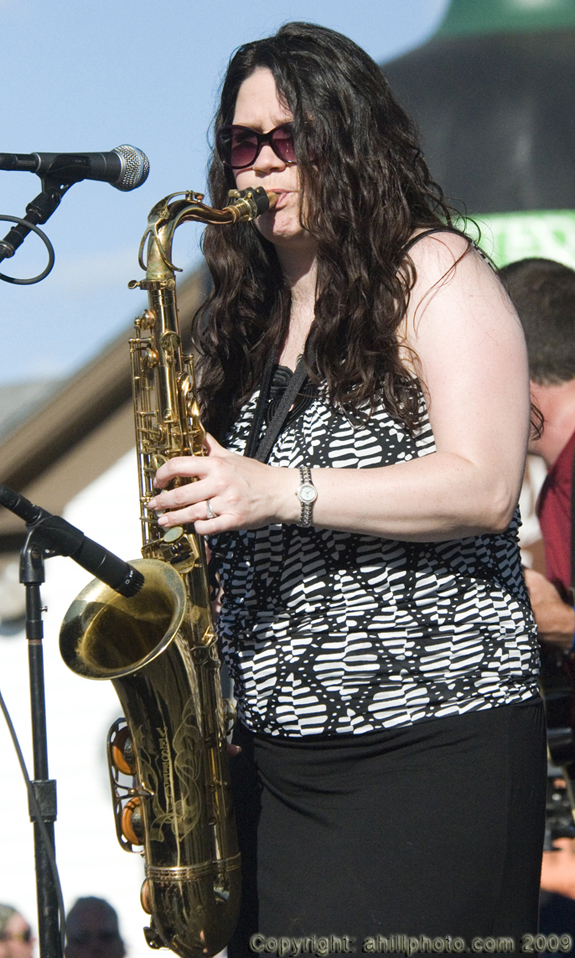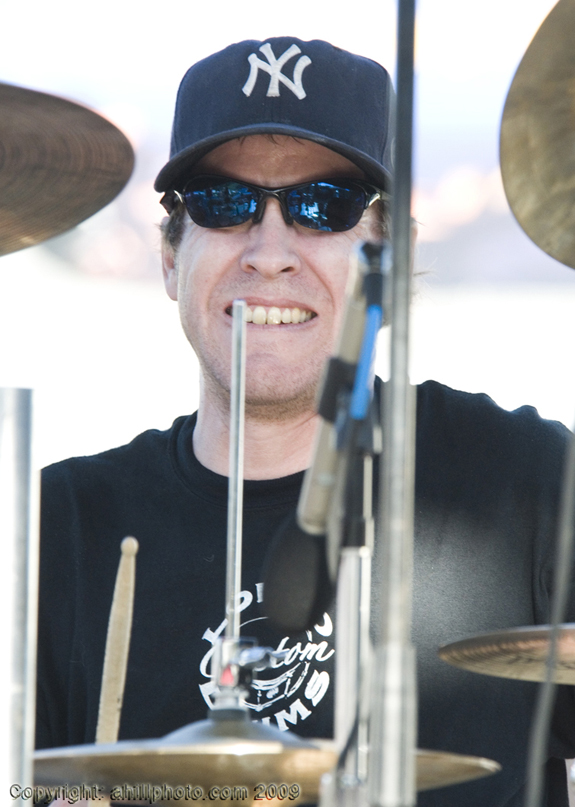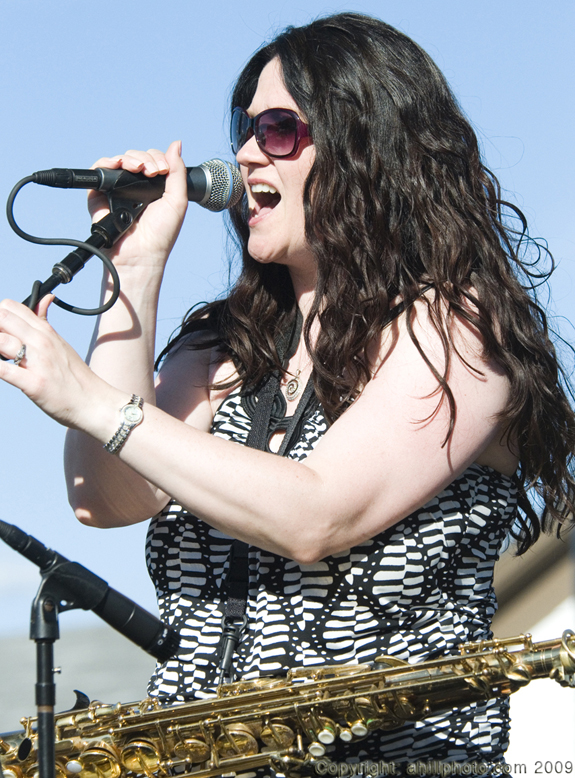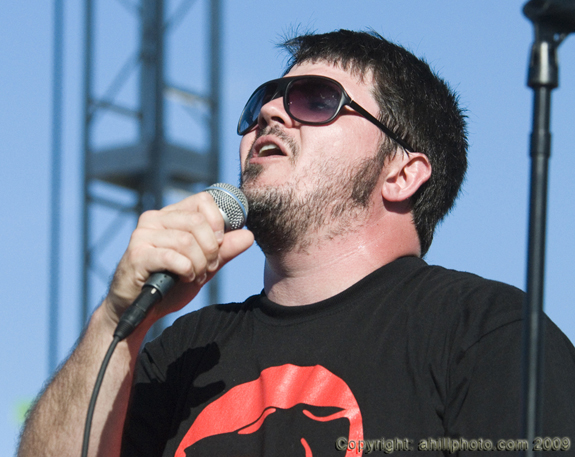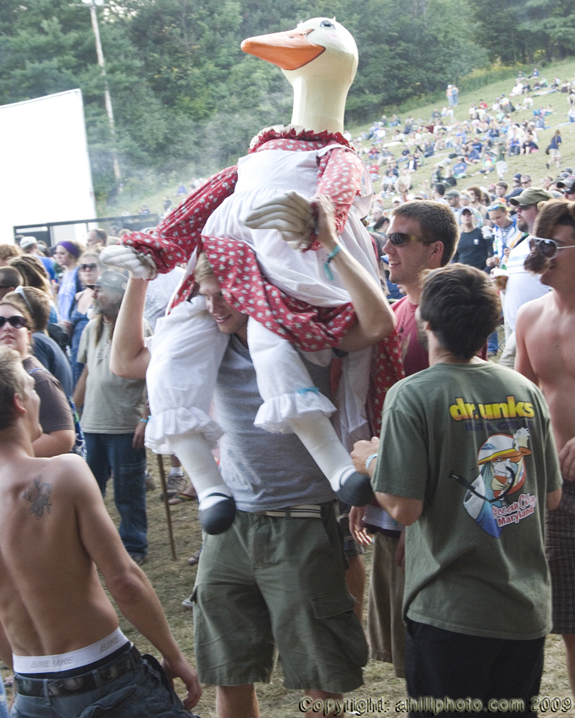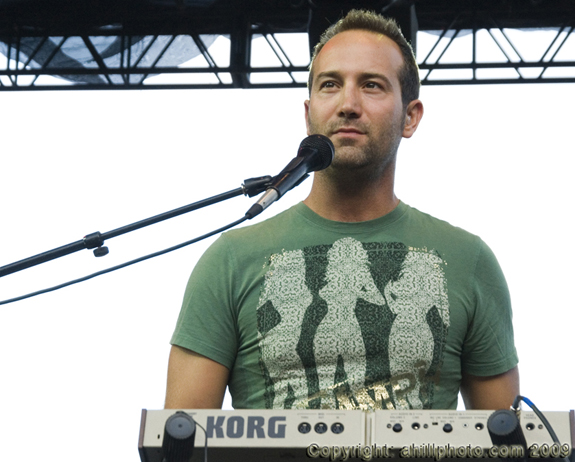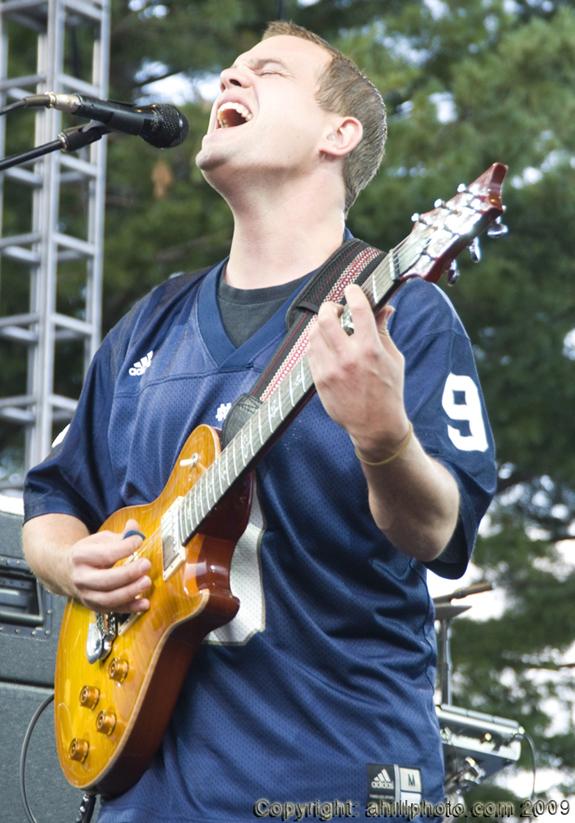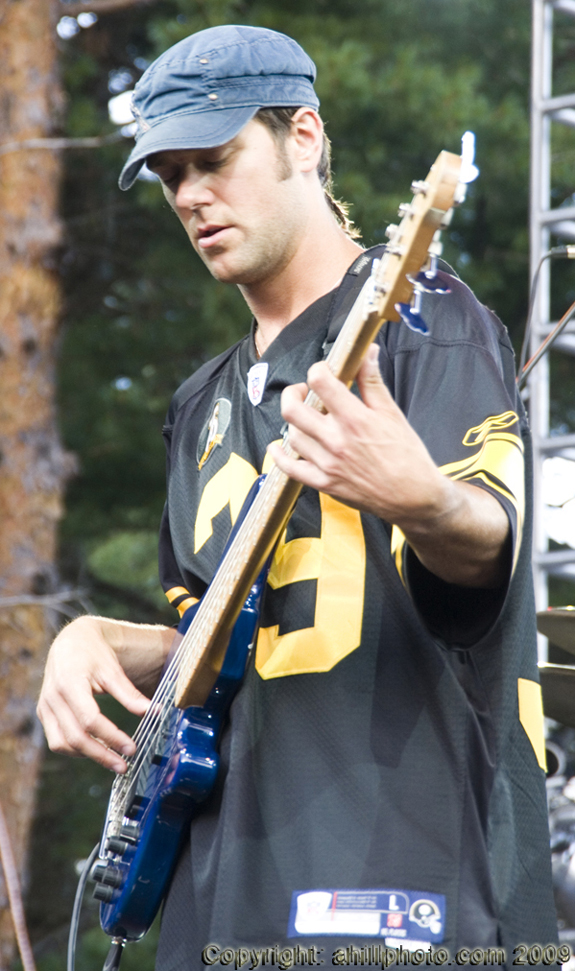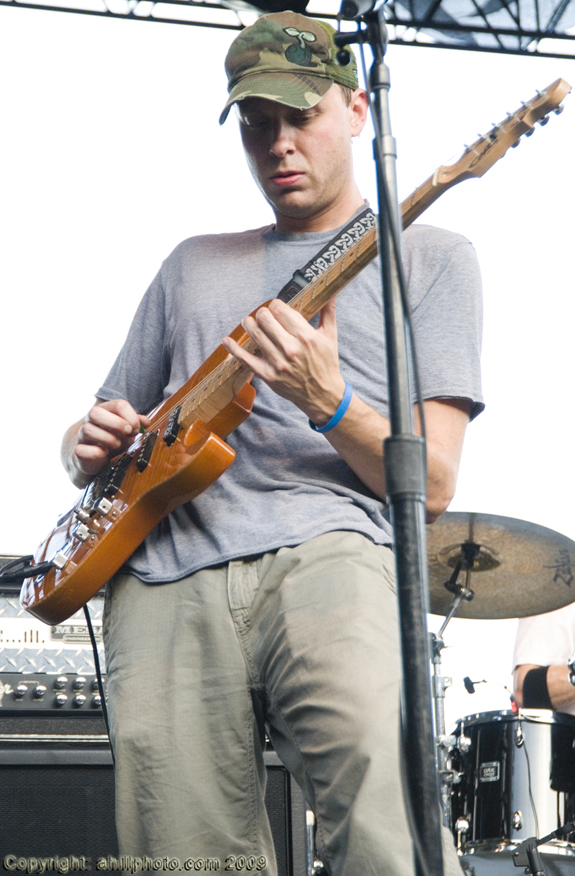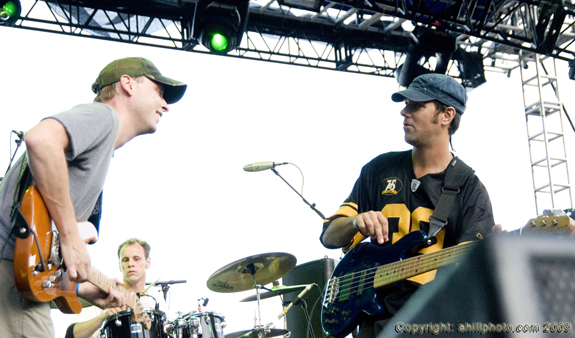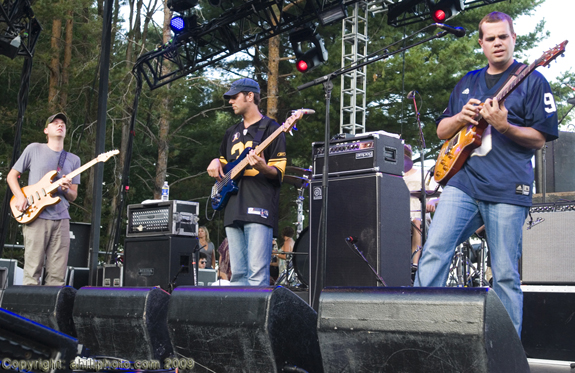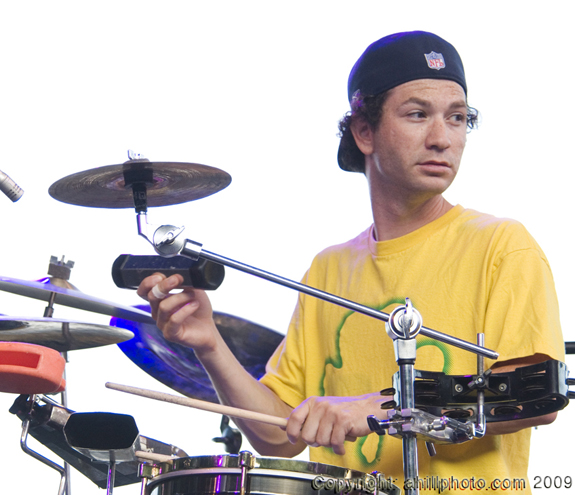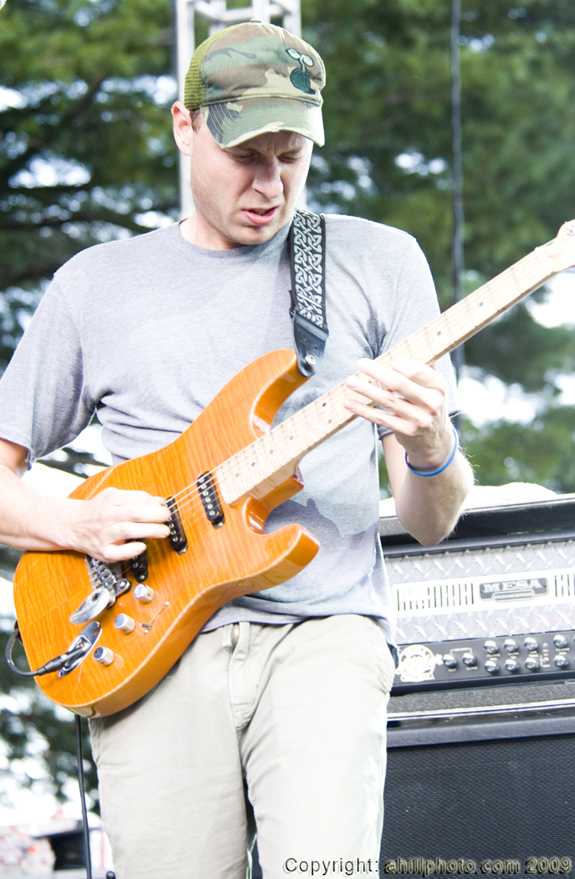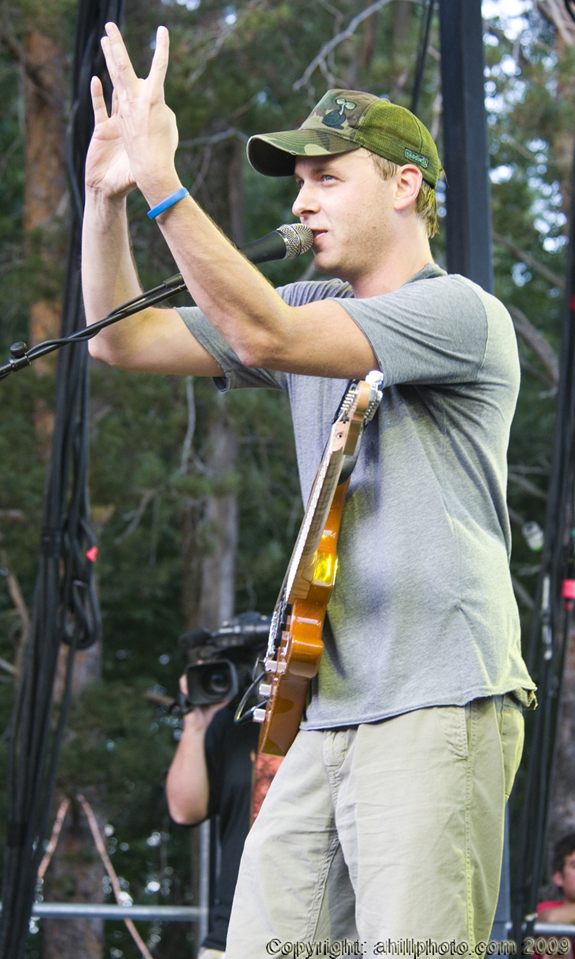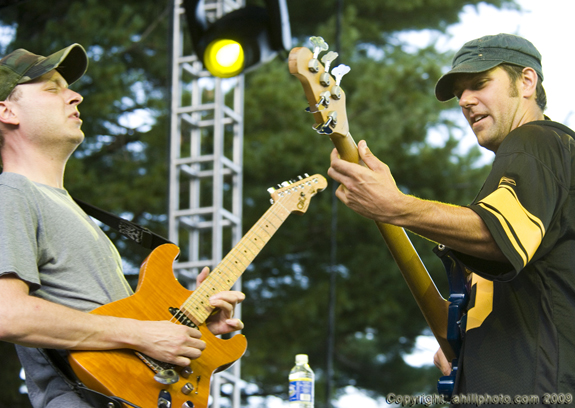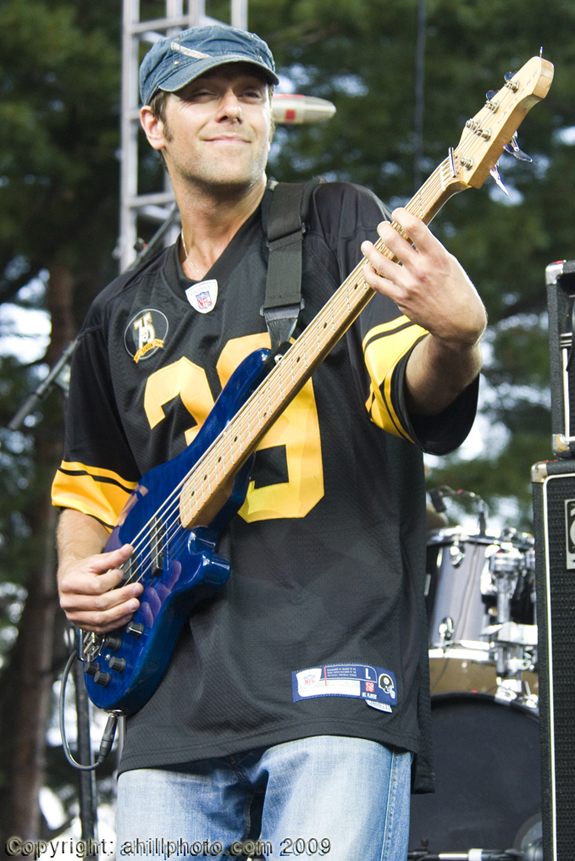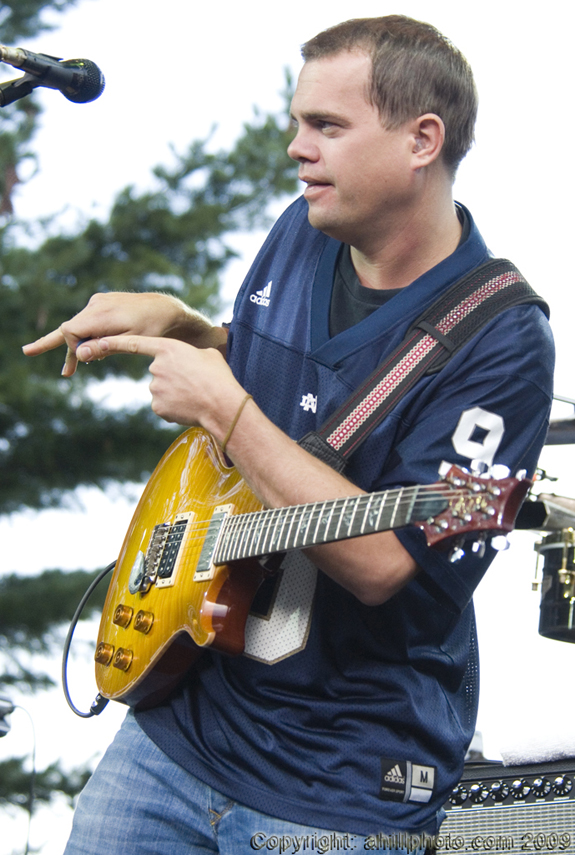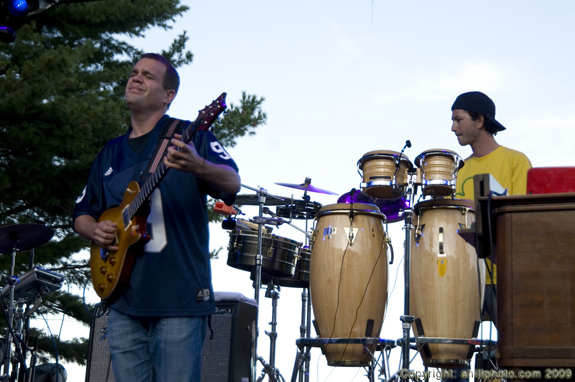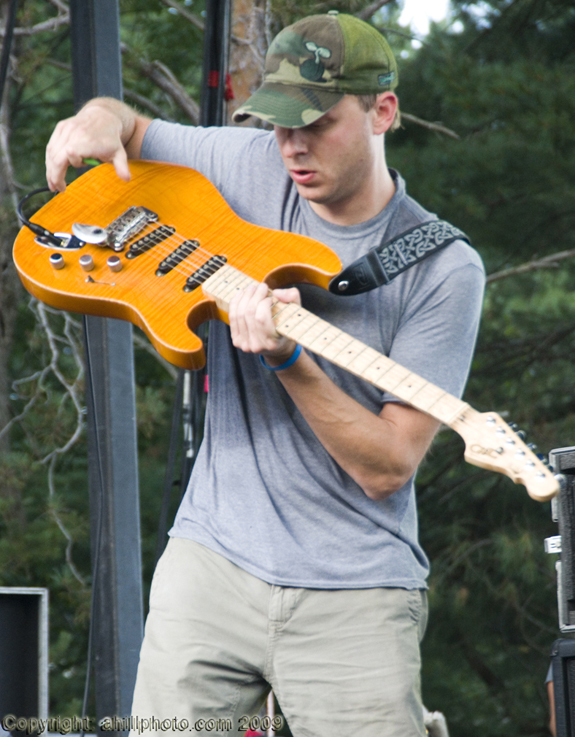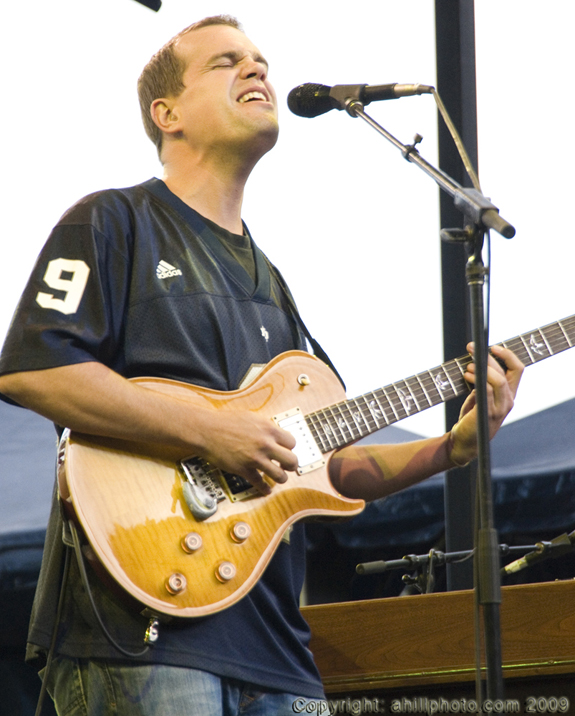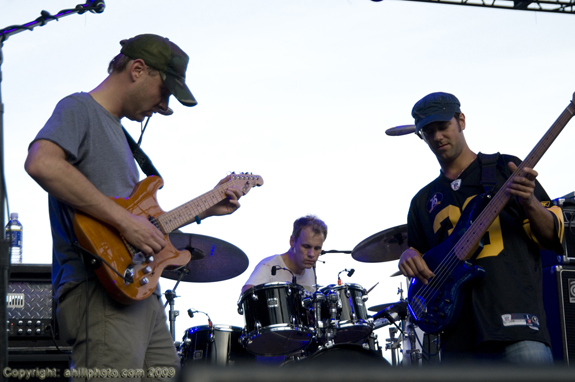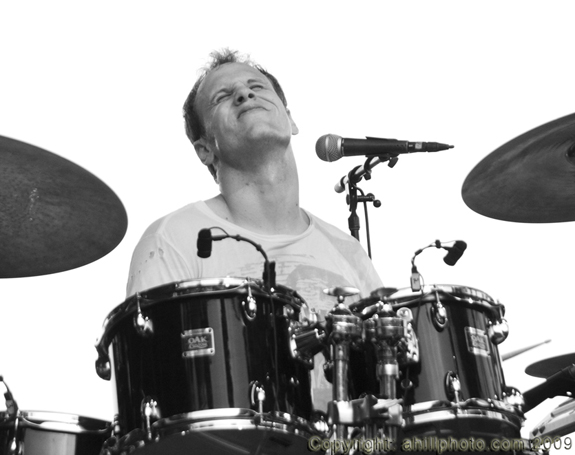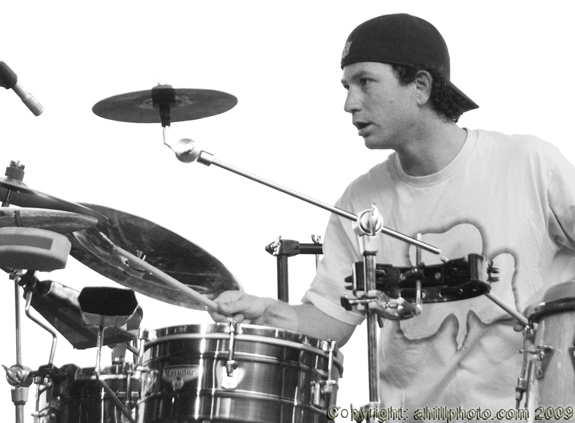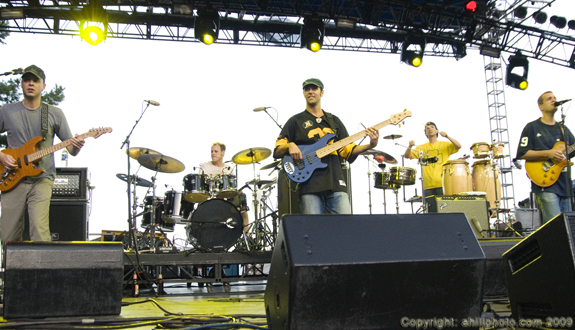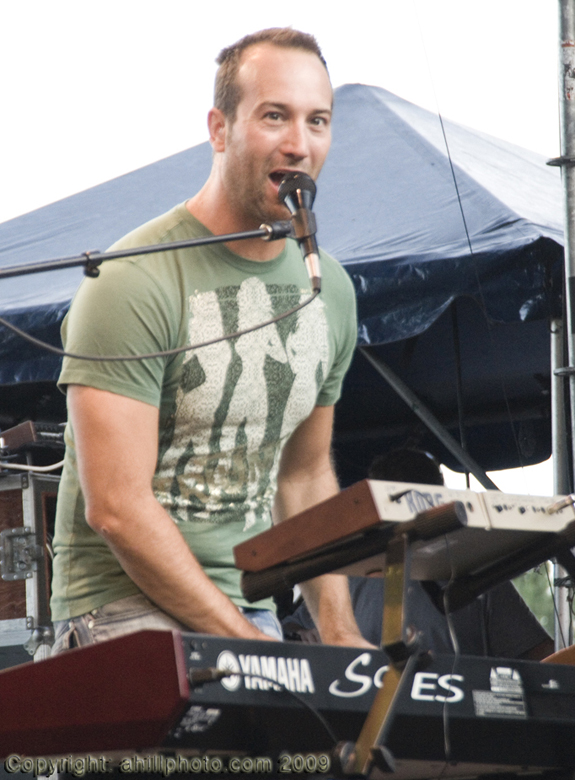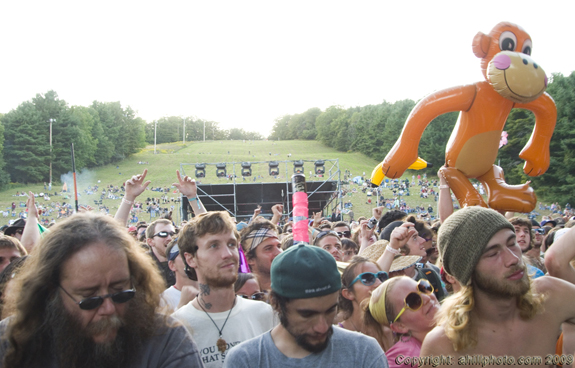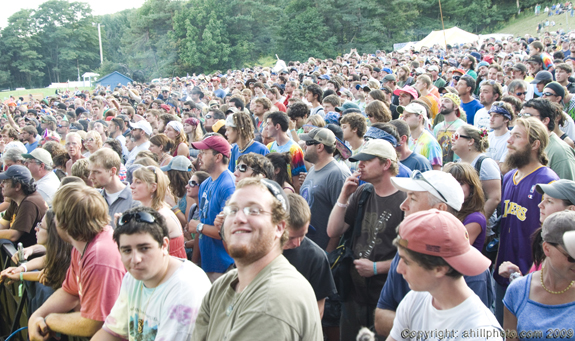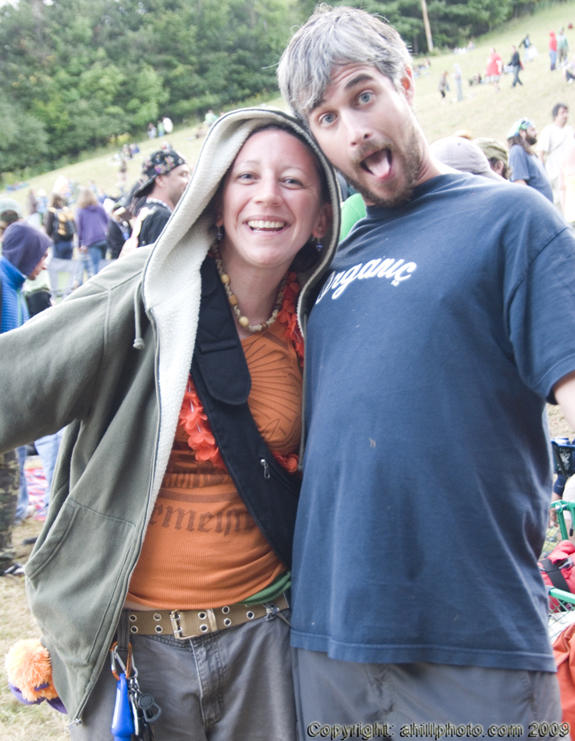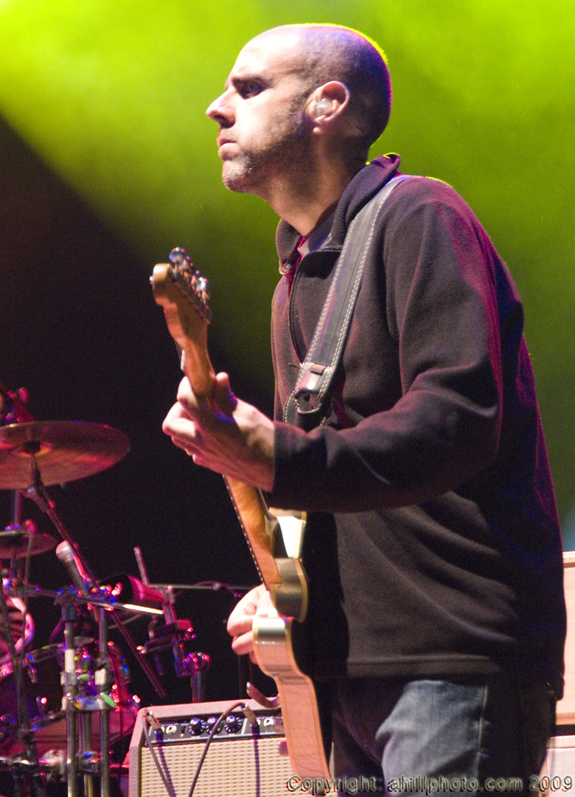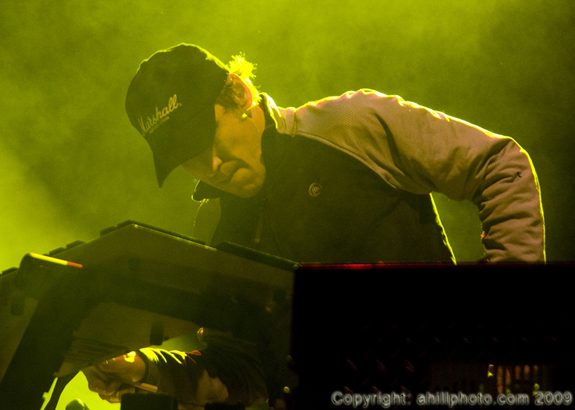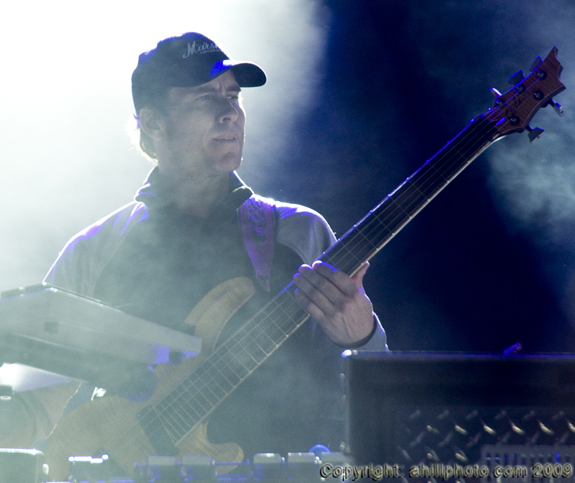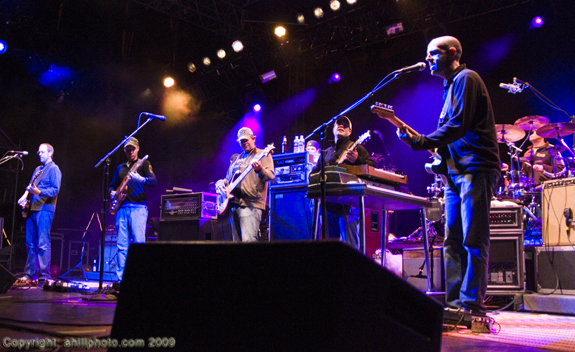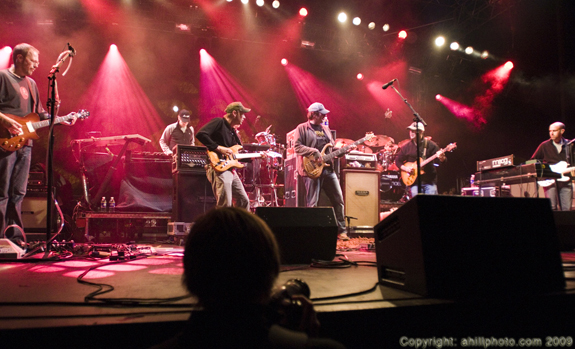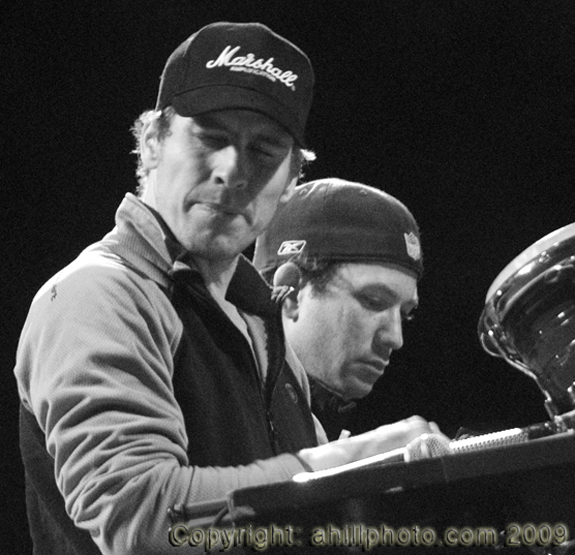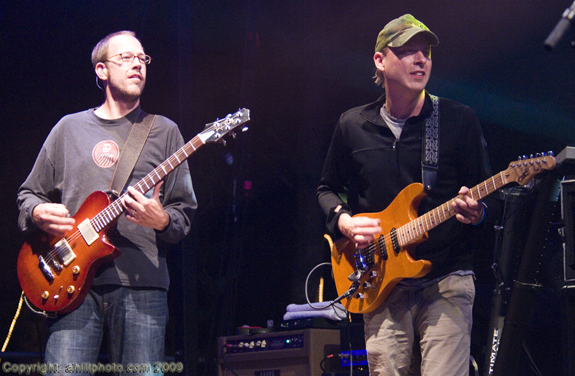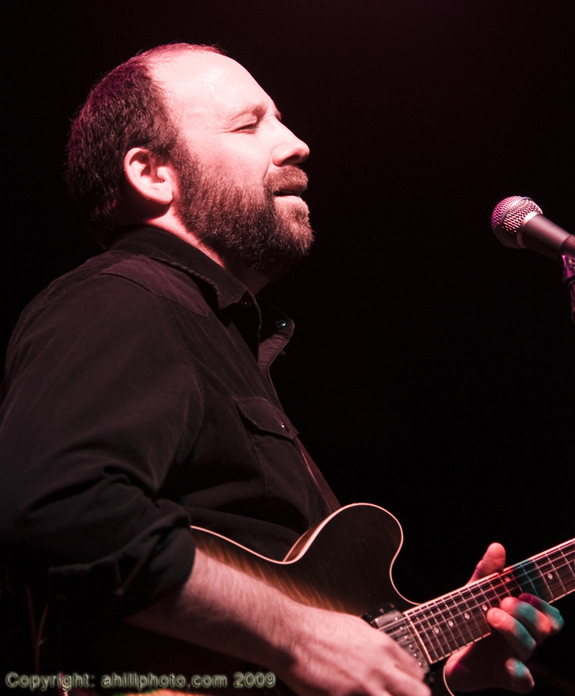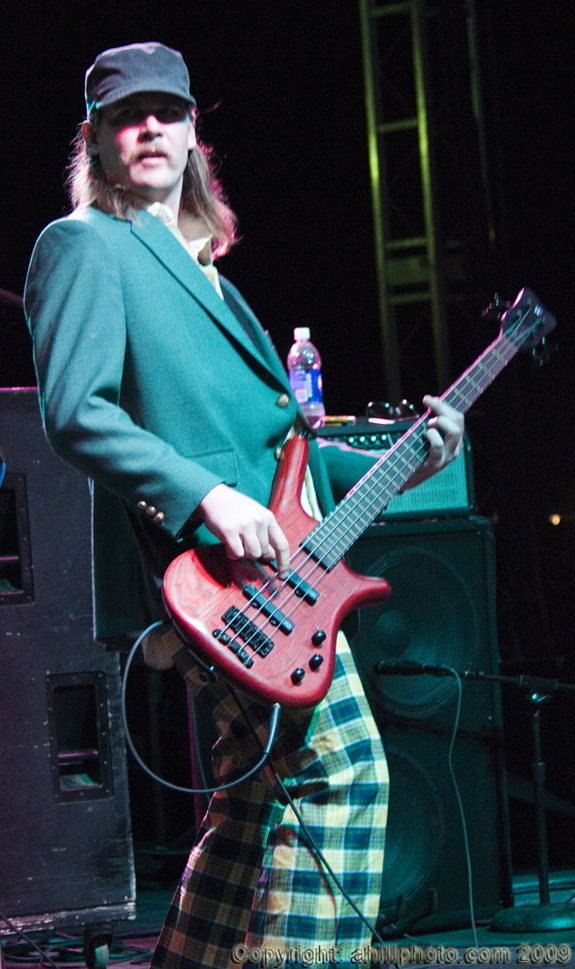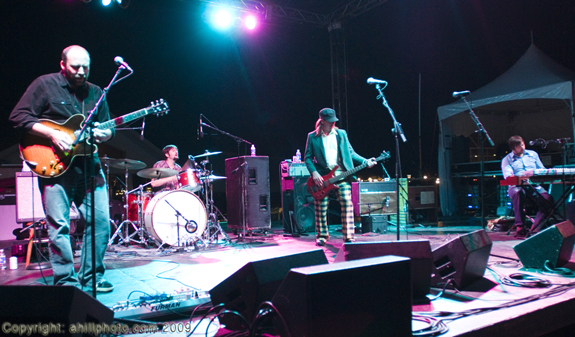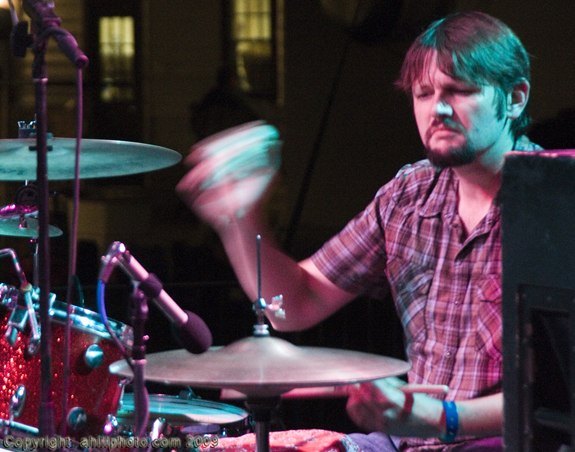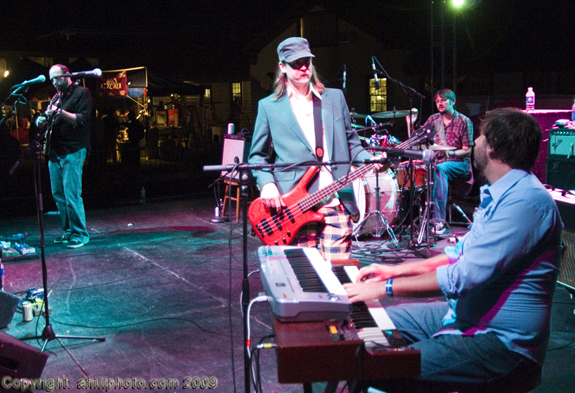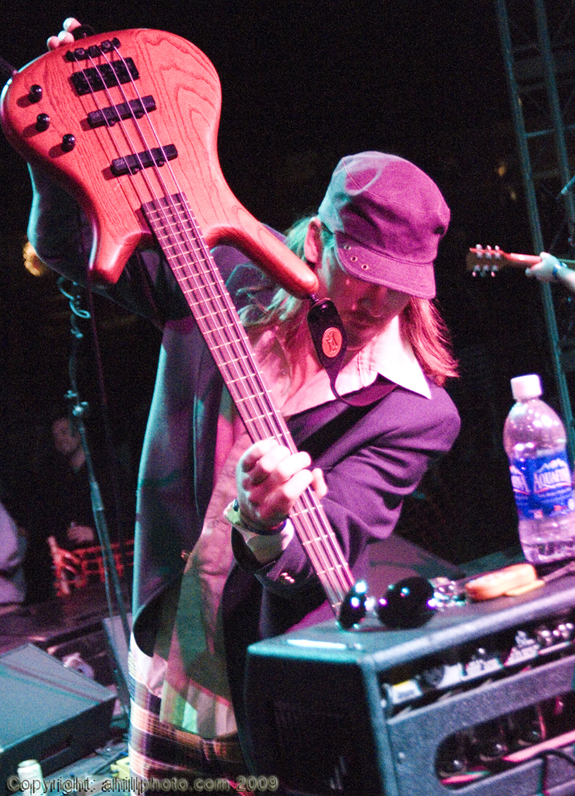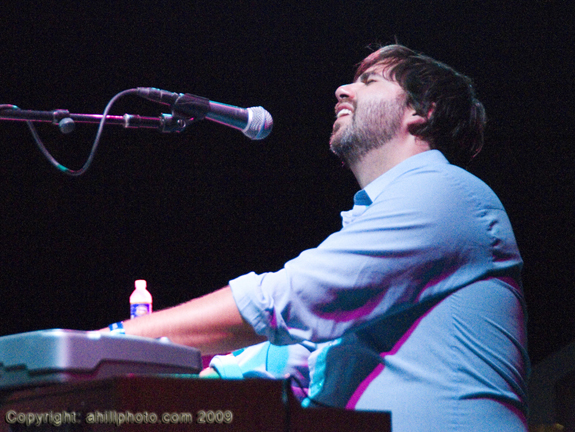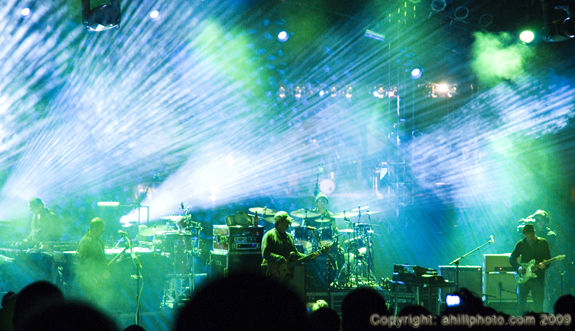 Sunday kicked off with the Ominous Seapods reunion -- with the original quintet (in other words' no latter day Seapods' guitarist Todd Pasternack this time around). The nice thing about the Seapods is that since they stopped playing in 2001' they've each improved as players. They sounded fantastic and their songs sounded fresh. This music still holds up and seeing them perform didn't feel like a nostalgia act. An hour and fifteen minutes just wasn't nearly enough time for them to get loose. I could a used another hour or two of them.
In the middle of "Michael Murphy 3" they went into Iggy Pop's "Lust for Life" with Dana Monteith putting down his guitar and handling the vocal and spectacle duties. He unzipped his shirt' touched his nipples several times' and stuck out his tongue and wiggled it around while he belted out the classic. Afterwards I spoke with Dana and he said' "I think we've cemented our legacy with our longtime fans that are here' and we repulsed the people seeing us for the first time." That's the Ominous Seapods.
The Seapods had a really strong showing for the first band on day three of the festival. Unfortunately' it thinned out significantly for Matthew Sweet. I love this about moe.down: when else are you going to be in this kind of environment and get to see Matthew Sweet? I haven't listened to him in years' but I was shocked at how many of his songs immediately came back to me. His band was loud--and hot--as hell. It's too bad more people didn't catch it--perhaps the sleeper set of the weekend.
Every time I see Umphrey's McGee play' my respect for them deepens. Pianist Joel Cummins announced that they flew in from Aspen' Co.' where they had a gig the night before. They got to moe.down and threw down' playing their asses off and doing it with smiles on their faces despite being road-weary. Not only in their set at moe.down' but every time I see them play' there's a fiery spirit. For a band that's constantly touring' they always give their all.
Nate Wilson Group fit the mood for Sunday night between moe. sets. His band demonstrated amazing patience in delivering slow' equally psychedelic and smooth rock music. And later on Nate Wilson sat in for a bunch of tunes with moe.' which was no surprise. moe. might be one of the most egoless and inviting bands out there--Sam Bush' members of Umphrey's' Suke Cerulo' Kirk Juhas and Nate all sat in during the weekend--and all were fine collaborations. moe. even backed Ani for a couple of tunes on Saturday. It's in the air at moe.down; you know you're going to get a lot of sit-ins every year.
And that's moe.: plenty of time to get comfortable' with a lot of playing and collaboration. Seeing Lynch's guitarist Suke Cerulo up onstage' tearing through "Recreational Chemistry'" reminded me of the countless times I lost my shit over the years seeing his old band Schleigho. When Lynch was playing Sunday afternoon with brother/sister team of Shannon and Terence Lynch' trading horn lines and vocals' it made me think about seeing them when they were kids in Conehead Buddha. Shannon' visibly pregnant' rocked out. Terance ended the set by taking a sip and saying' "I'm drinking for two!" We're certainly not growing up gracefully' but we have our moments. And that holds a special kind of truth that you hear in the music--both with moe. and their extended family. There is a nod to the past at moe.down' and there's enough happening that gives you a glimpse into the future. And of course' no matter what year it is' everyone is right in the present moment seeing what can happen.
I remember interviewing moe.'s Chuck Garvey a few years back and talking about the reflective quality of their music' and how when the band is on' they really take you on a journey. You might discover something about yourself--or like a lot of the best improvisational bands do' they can get you in a head space that makes you address the biggest things going on in your life while you're still having fun and not getting overwhelmed with existential mumbo jumbo.
When I explained this to Chuck' I was specifically talking about one of the New Year's shows that I went to. He was quick to respond with a laugh' "Relax dude' it's a party." It's true: moe. can throw one hell of a party. But they dig deeper than that too. When they blasted through "Lazurus" into "George" and took the audience on a psychedelic' wobbly mind-fuck kind of ride' then dropped into such an appropriate and beautiful sentiment as "Where Does the Time Go?" they convincingly told us that they wear their own modern day charm and talents with American storytelling--but with lots of guitar. It's easy for me to point in some direction toward the Grateful Dead' but it's a different language' a different sense of humor' and a character that is one-of-a-kind.
Each year there is a "race" for mayor of moe.down. It used to involve actual fans. Lately the race has escalated to a higher' more appropriate level of absurdity. This year's winner was a combination of two candidates--moe.vagina: a large vagina on a stick' and Butt Scratcher. The band chose them both and combined them into… Vagina Scratcher. You're not going to find that anywhere else (I hope). And while it's easy enough to completely venture off into escapism at moe.down' there's too much there that makes you have a few moments where you think about some important things in your life' share the fun with your friends' and hopefully take something new to bring home with you. Until next year.
related articles
Shows: moe.
Shows: moe.down 15
Shows: Umphrey's McGee
Shows: moe.
Shows: moe.
More on:
Family Groove Company
,
Okemah
,
Nate Wilson Group
,
Ominous Seapods
,
Lynch
,
moe.down
,
The New Mastersounds
,
moe.
,
Ani DiFranco
,
Cake
,
Method Man and Redman
,
Umphrey's McGee
,
The Heavy Pets