Shows
Osheaga Festival
September 2-3, 2006
in Montreal' PQ
by Mike Carney
|
photography by Mike Carney
September 15, 2006
page 2 of 2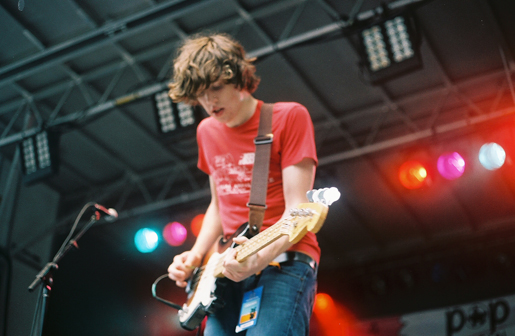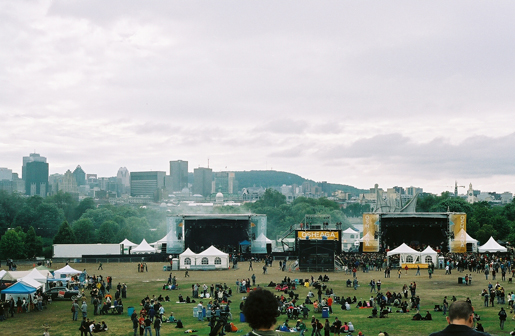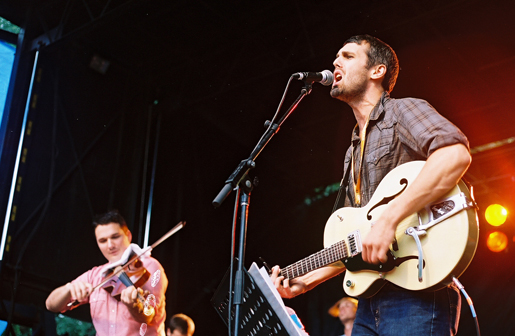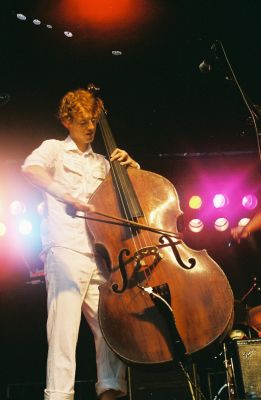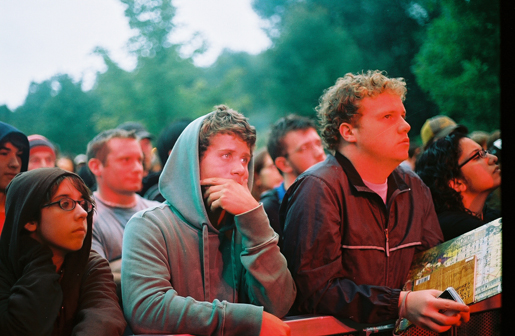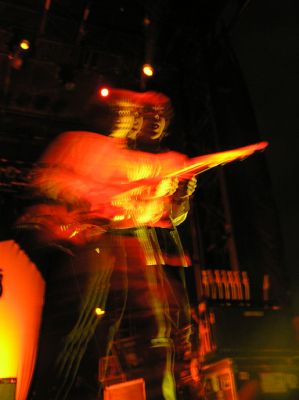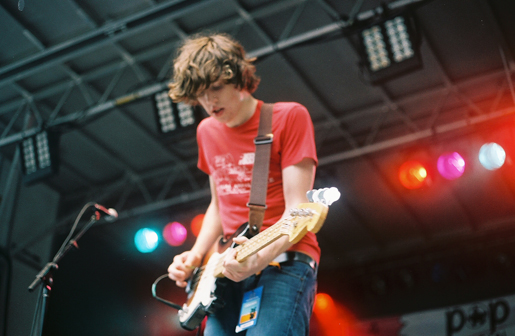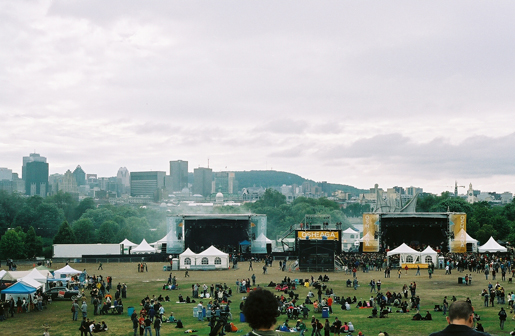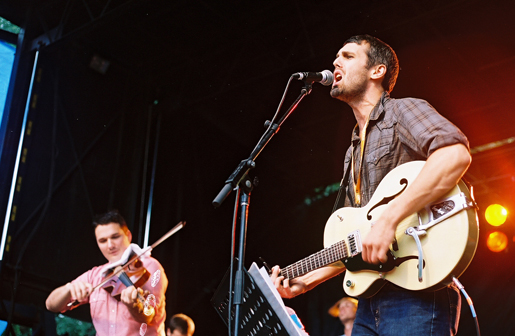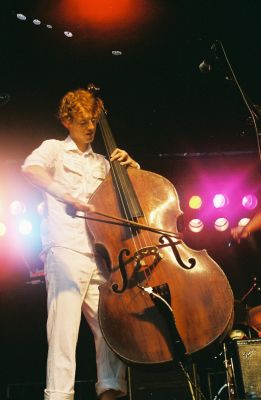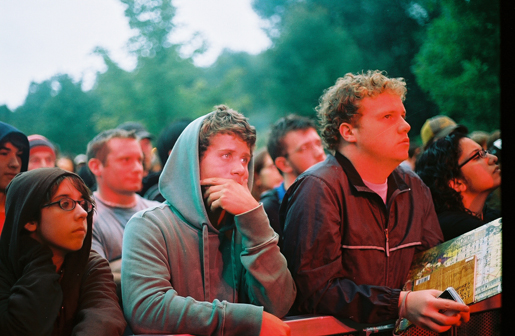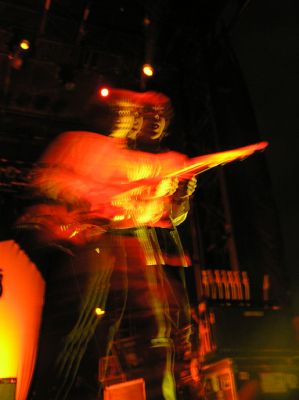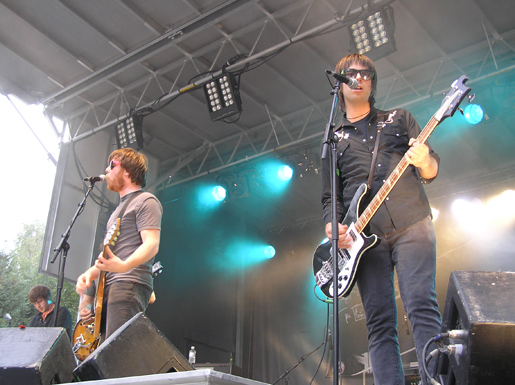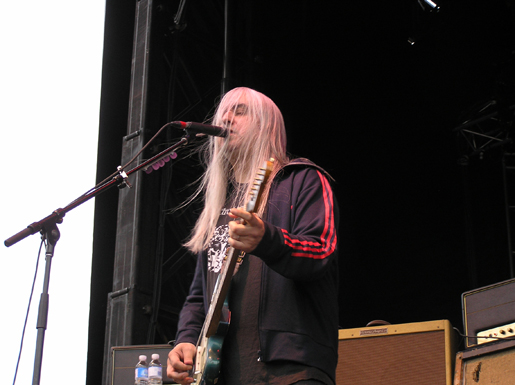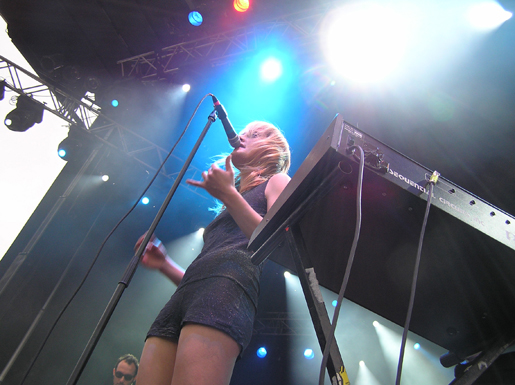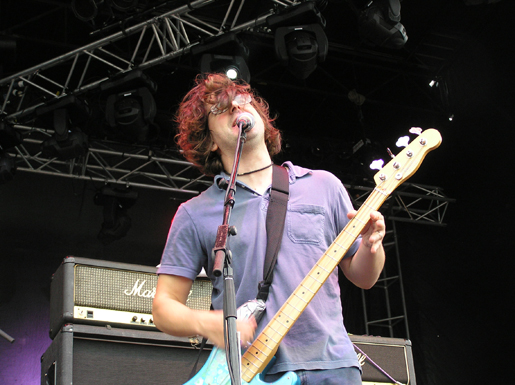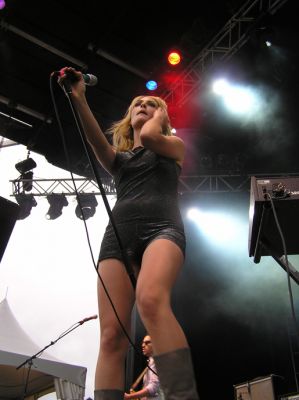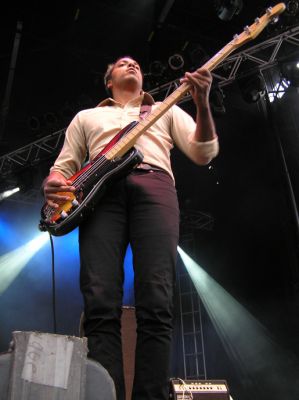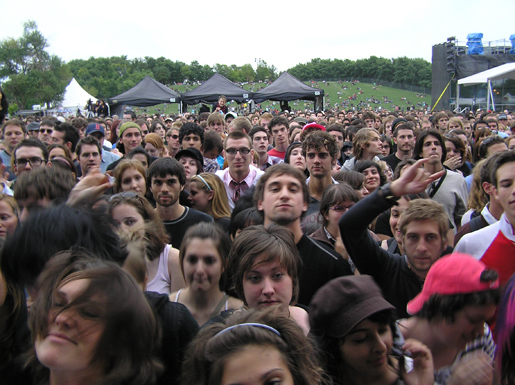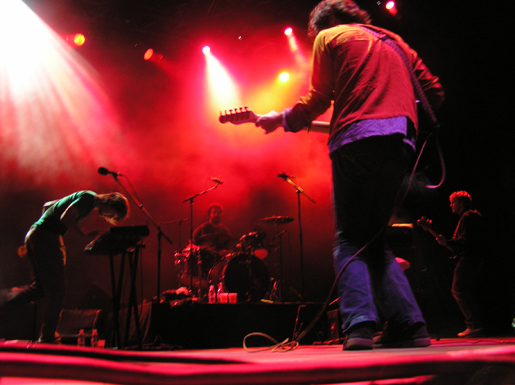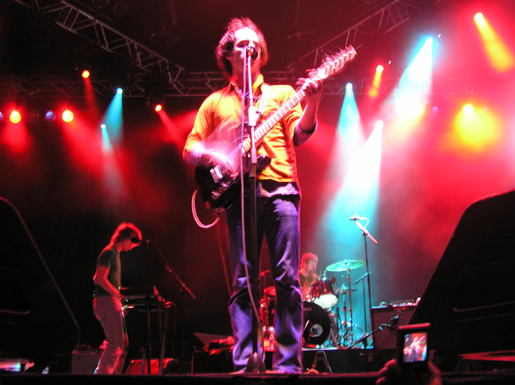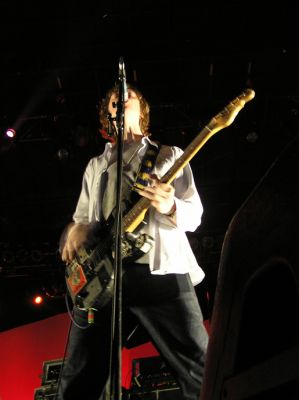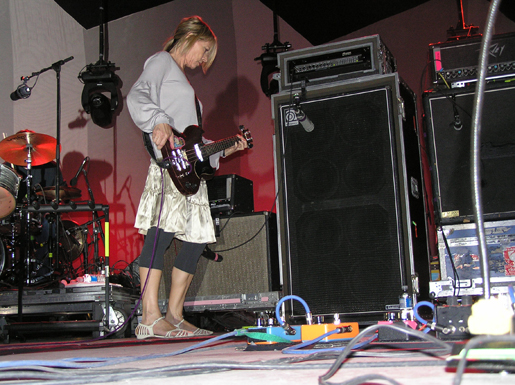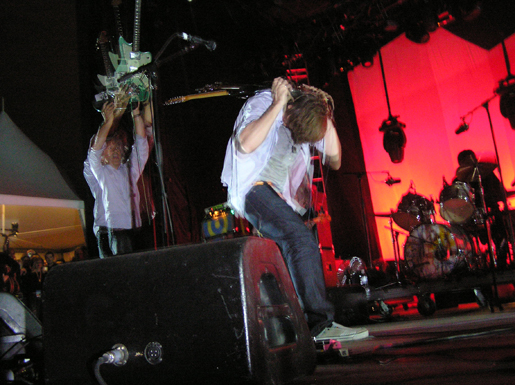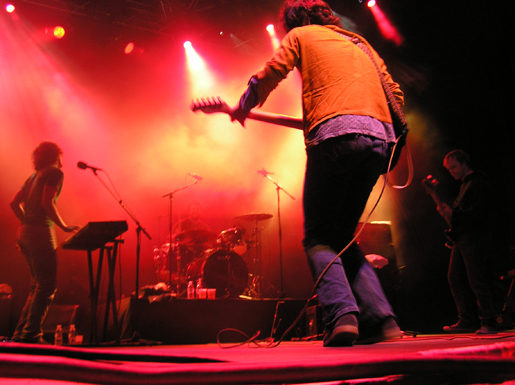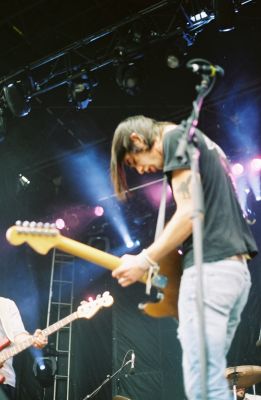 Towards the end of Marley's set' folks starting jostling for position in front of the Scene de la Montagne in anticipation of The Flaming Lips' arrival. The double-necked guitars were tuned' confetti cannons got their last test' and the Wayne-cam was dialed in on his mic stand. Not long after 8:15 the band finally emerged for what was hands down the best entrance of the weekend. At stage left' about ten flashlight-wielding Santa Clauses bounced on stage. About ten more gleeful Martians with flashlights in hand came onto stage right as the band picked up their instruments and started to play. This all happened as a public service announcement of sorts flashed up onto the huge on-stage screen telling us to more or less let ourselves have an "epic experience" with the Flaming Lips. However' there was still no sign of front man Wayne Coyne until he could be seen climbing into what looked like a giant balloon at the corner of the stage. With his balloon properly inflated and sealed up' Coyne was pushed out and onto the outstretched hands of the audience where he was able to walk across the crowd. After a minute or so of rolling across the tempestuous sea of hands' Coyne made his way back onstage and got the good ship Flaming Lips underway. The Lips' performance wasn't so much of a concert' but more like a euphoric party and sing along. The band picked a varied set from their extensive discography that included "Yoshimi Battles the Pink Robots'" "Do You Realize??'" and 1993 alt-rock hit "She Don't Use Jelly." No one else at the festival managed to bring the crowd together as much as the Flaming Lips did and it was a beautiful sight. Hipsters hugged teenie boppers' jocks high-fived nerds' and not one person that I saw wasn't at least smiling and nodding along. It's impossible to not feel good at a Flaming Lips show and if it were up to me I'd book Wayne and the boys to spread their good vibes on a tour of all the world's danger spots-a headlining trek from the West Bank to South Central' North Korea to Sudan and beyond.
Ben Harper & The Innocent Criminals were slated to follow The Flaming Lips Sunday night and bring the Osheaga Festival to a close. I must say that I felt pretty bad for Ben Harper. I am not much of a Harper fan and hadn't heard much of his music before the Osheaga show aside from that "Burn One Down" song innumerable times in hazy dorm rooms freshman year of college' but I genuinely felt bad for him because of how hard it was to top the Flaming Lips' performance as the headlining band. Despite having a talented backup band' a strong contingent of local fans' and a guest appearance from G. Love (sans the Special Sauce) Ben Harper just couldn't deliver. The man may be able to play a mean lap steel' but where were the balloons? The confetti? The animal costumes? As much as I love bass solos' I decided to beat the rush and head for the bars downtown thus ending my first Osheaga experience.
Certain shows or moments in music can take on a legendary status because of either something they helped launch or the one time "I was there' man" experience that excludes certain people just because of age' money' or geography. I find the latter to be just another example of musical snobbery even though it would have been cool to go to the original Woodstock or see The Ramones play at CBGB back in the day. The Osheaga Festival probably won't take on such a legendary status as that' but I do hope that it can be a definitive moment in the world of festivals. The Northeast/Quebec needed a festival like this and if it's handled right we'll have one for years to come. For two days I listened to post-punk' reggae' new wave' no-wave' house' pop' and more. I drank tasty local brews' ate my first poutine' stumbled upon a crazy art gallery' witnessed two fights outside the nightclubs' and learned a little French. While Osheaga may not reach Woodstock levels of notoriety' I'll remember it for hanging out in Montreal with my girlfriend' seeing some of my favorite bands' and finding new favorites.