Shows
snoe.down 2010
March 26-27, 2010
at Spartan Arena & Killington Resort in Rutland & Killington' VT
by Mike McKinley
|
photography by Andrew Hill
March 29, 2010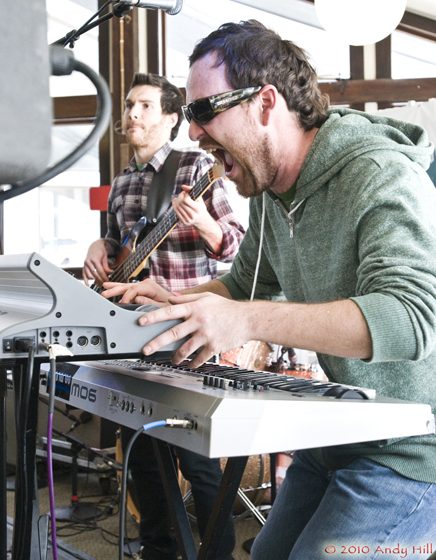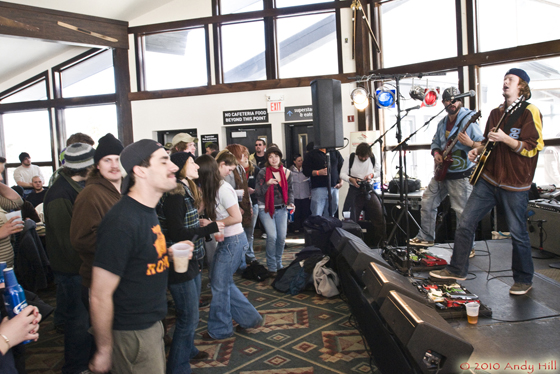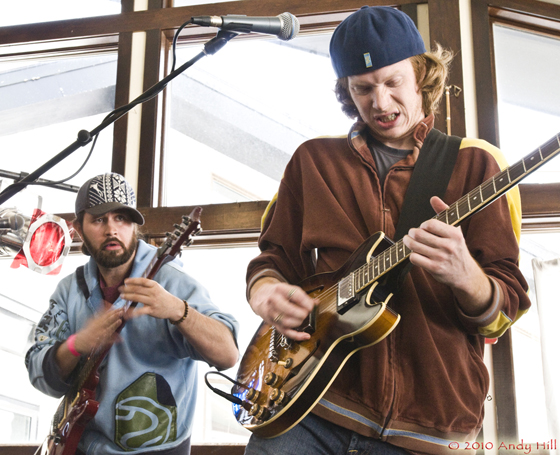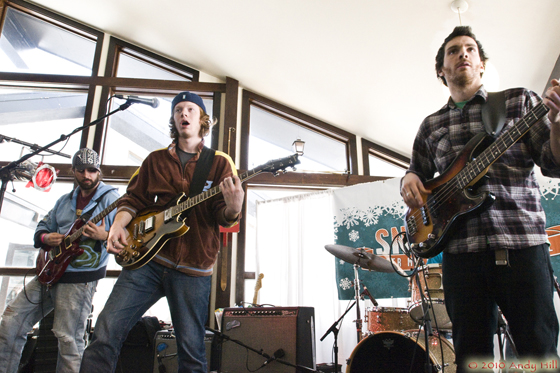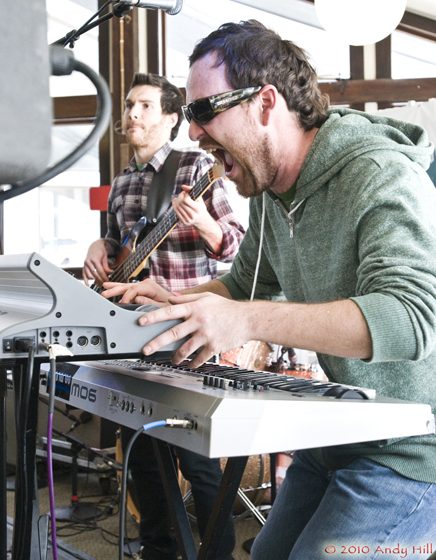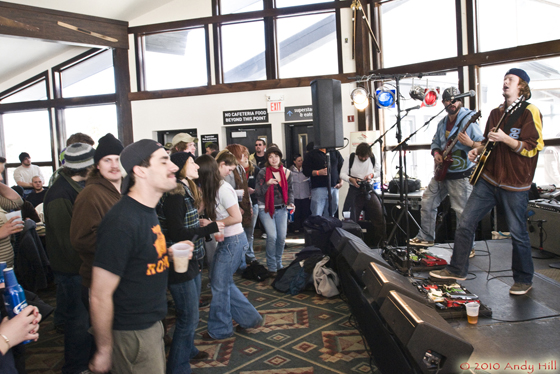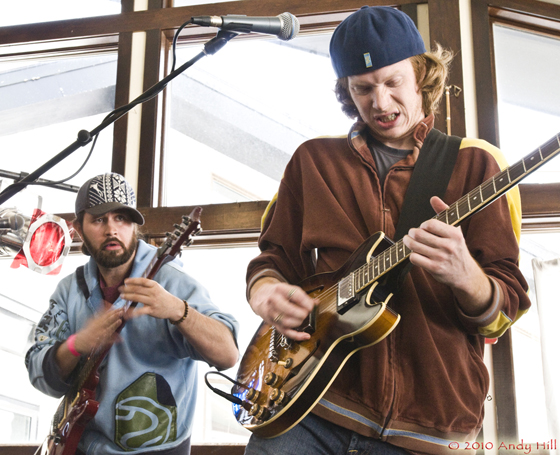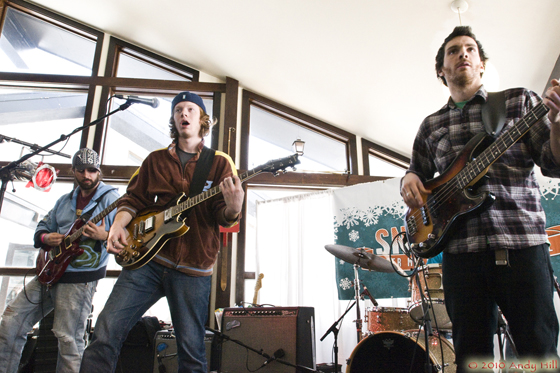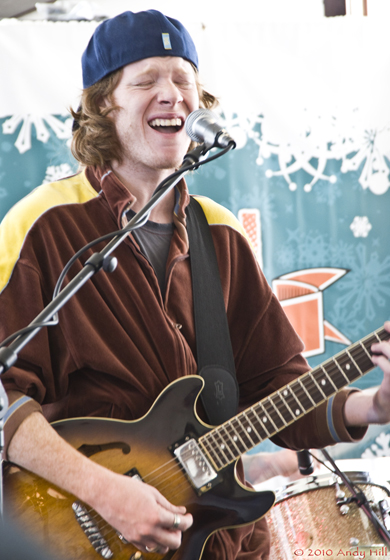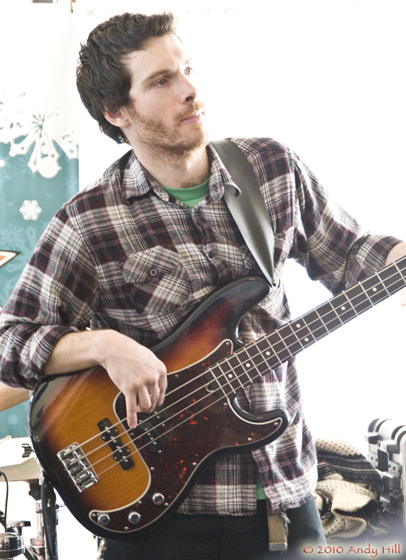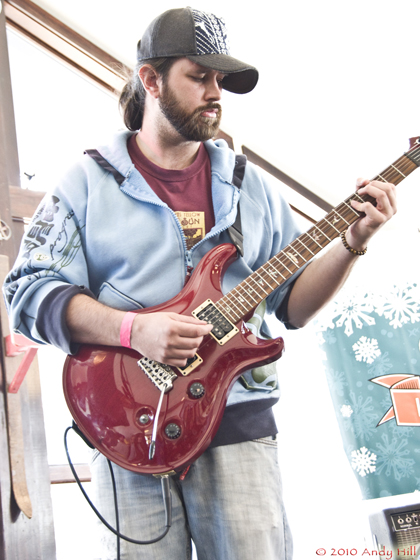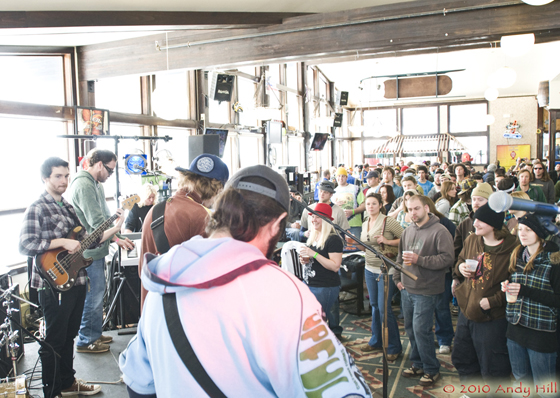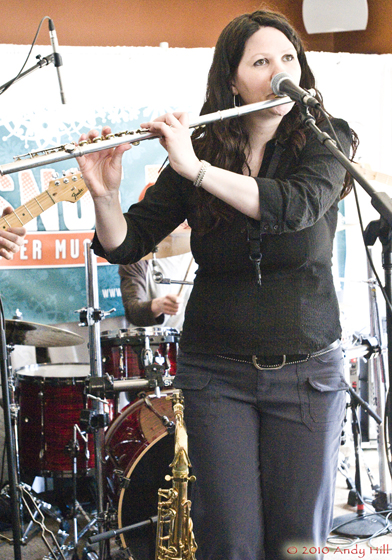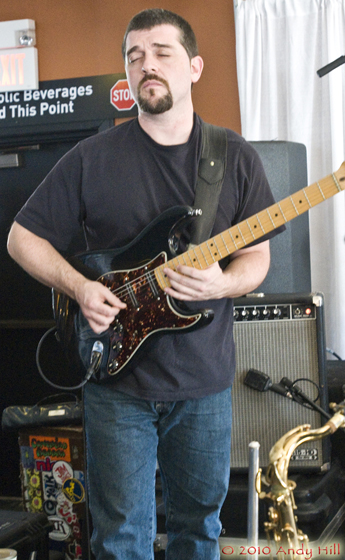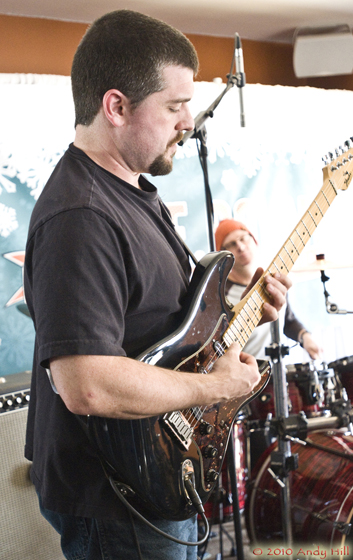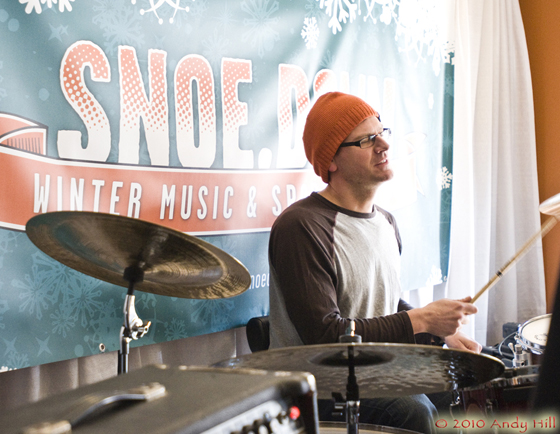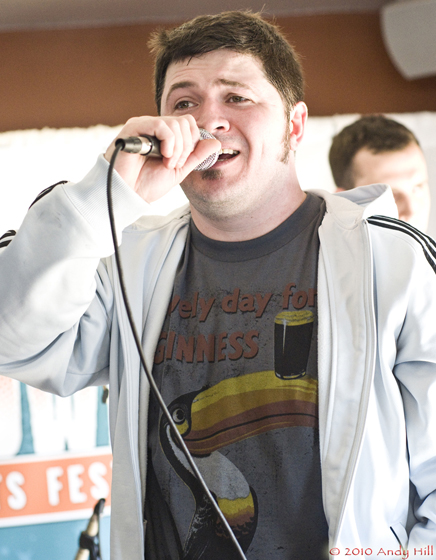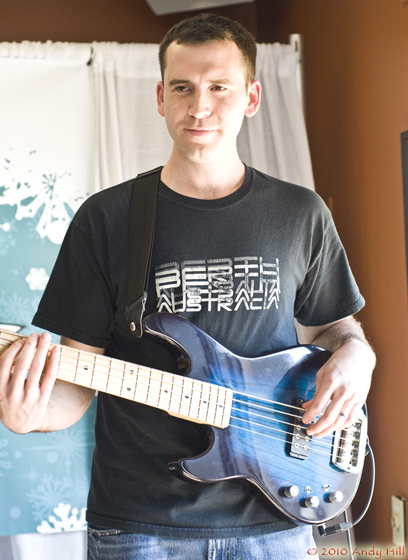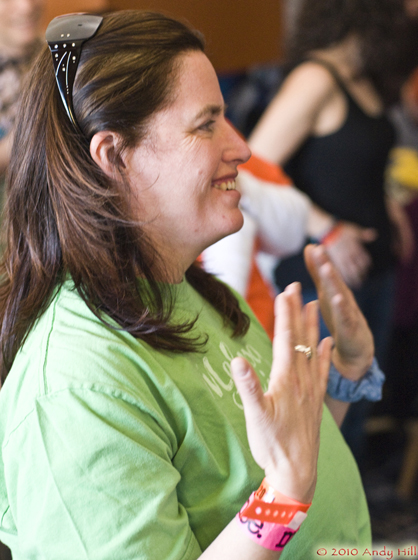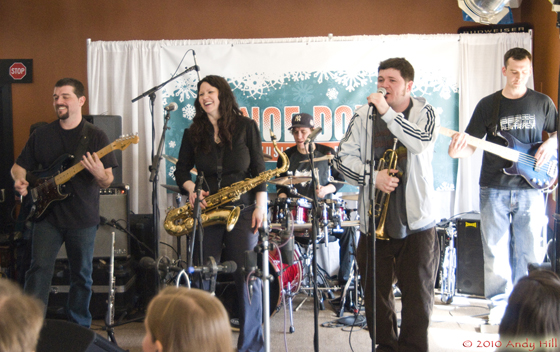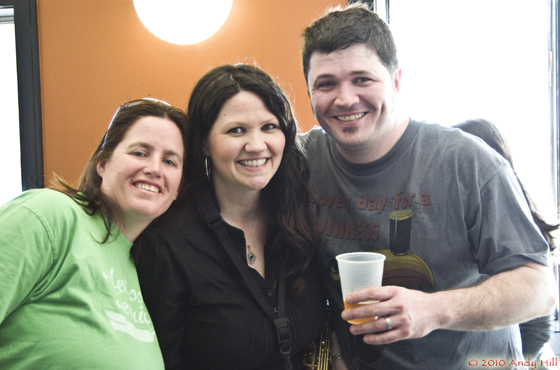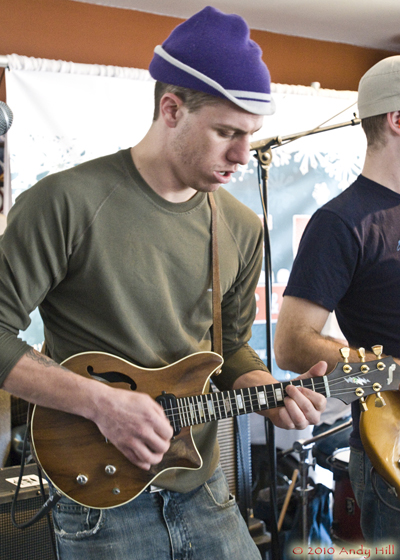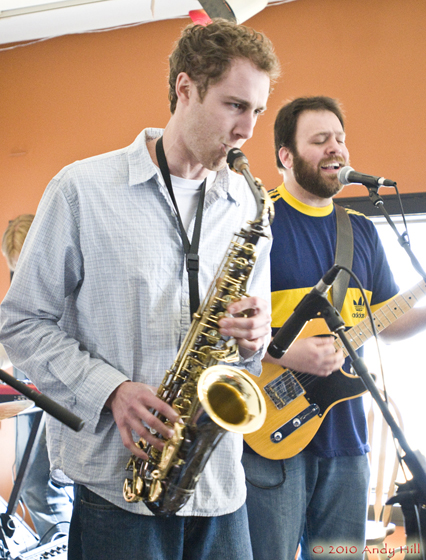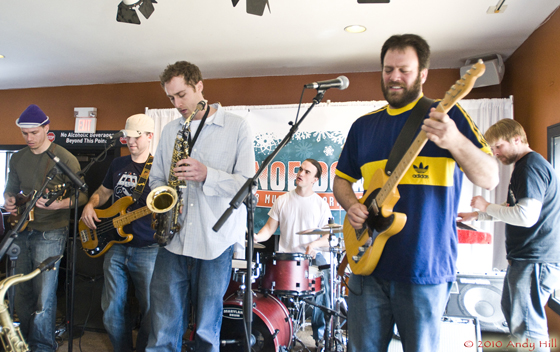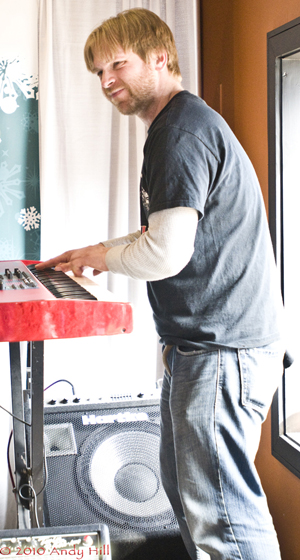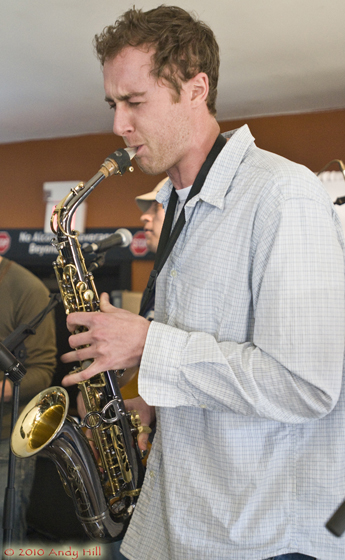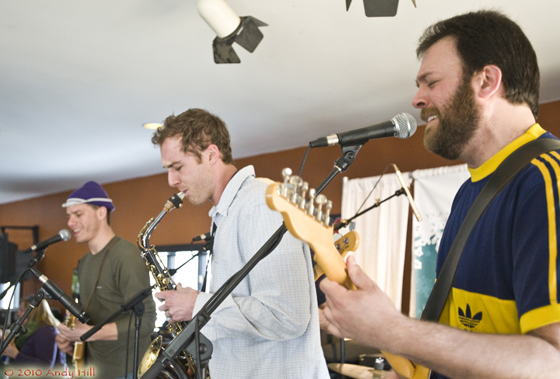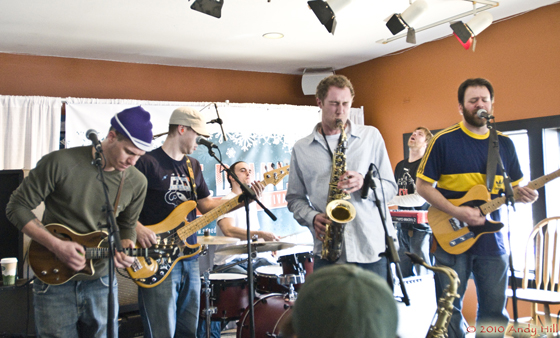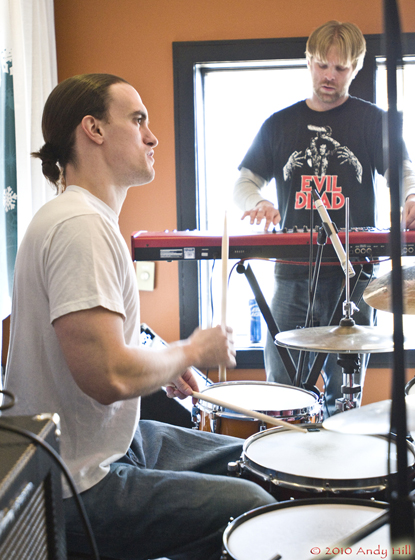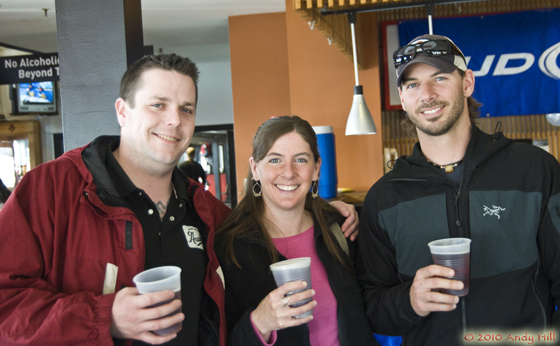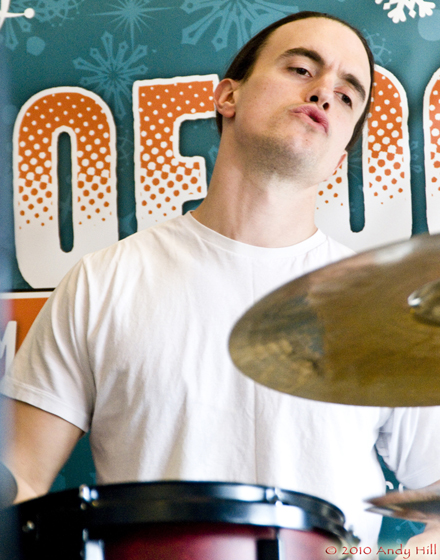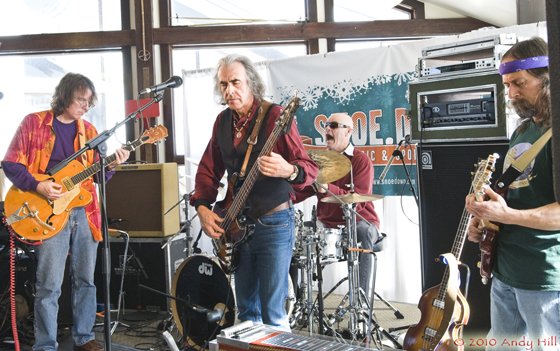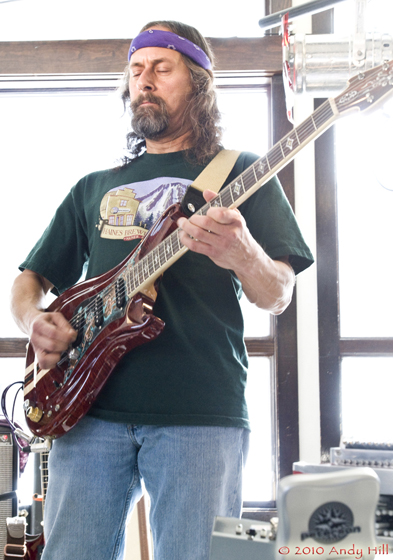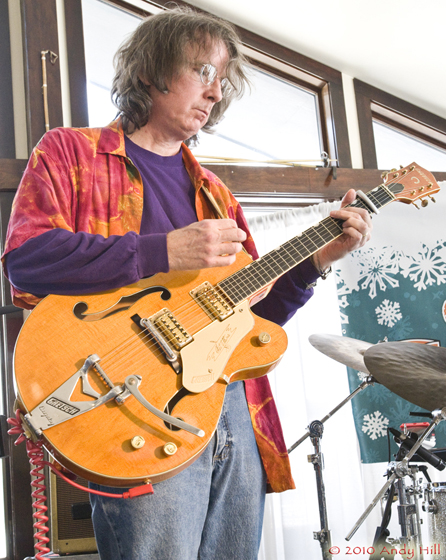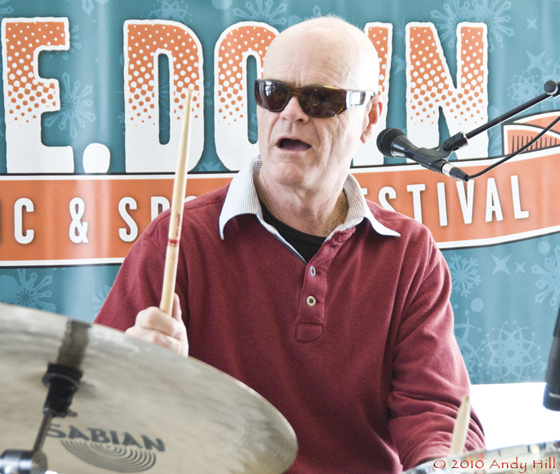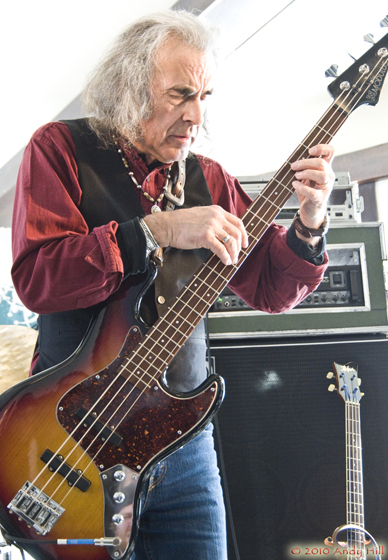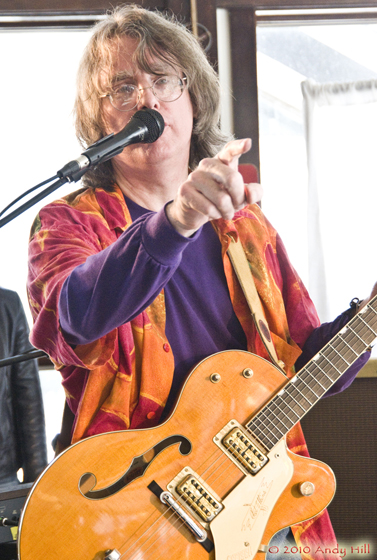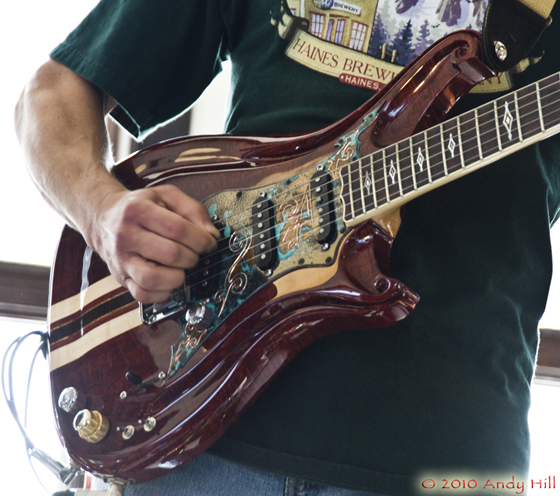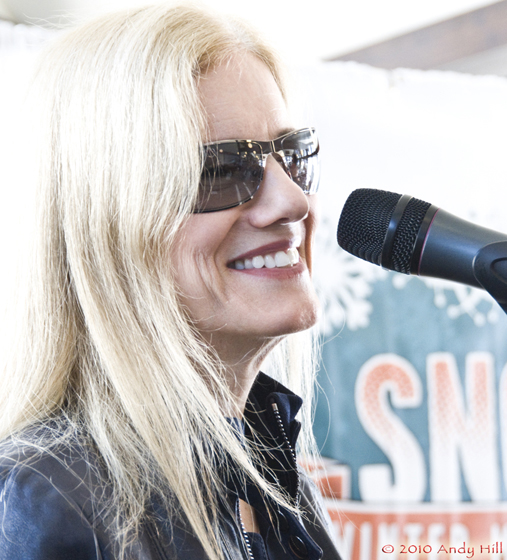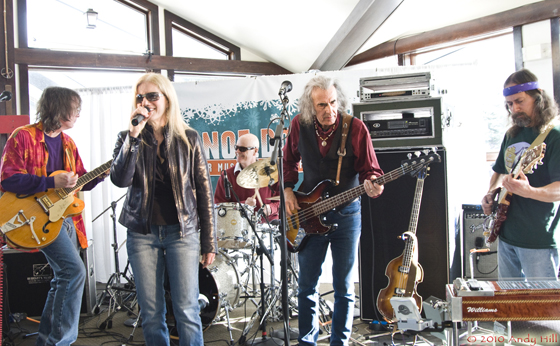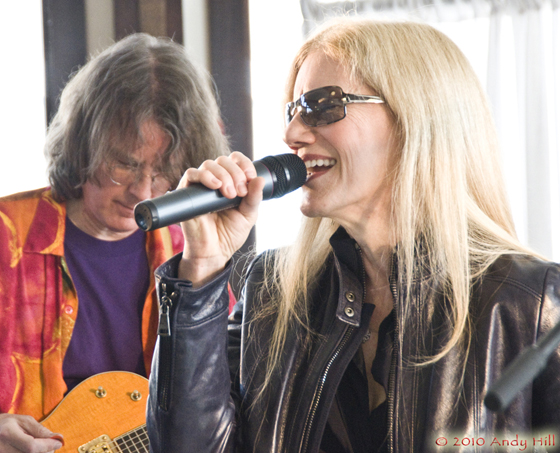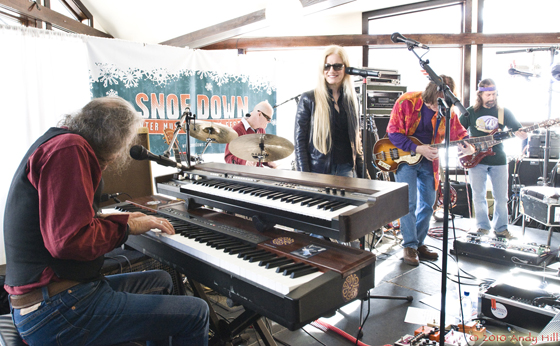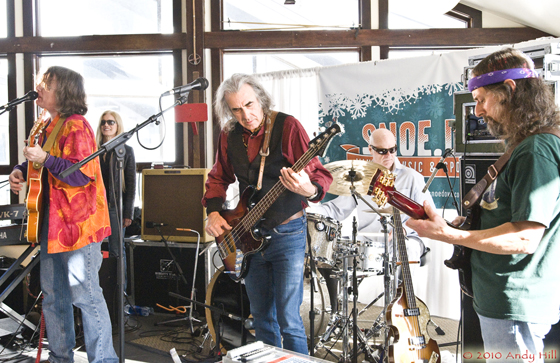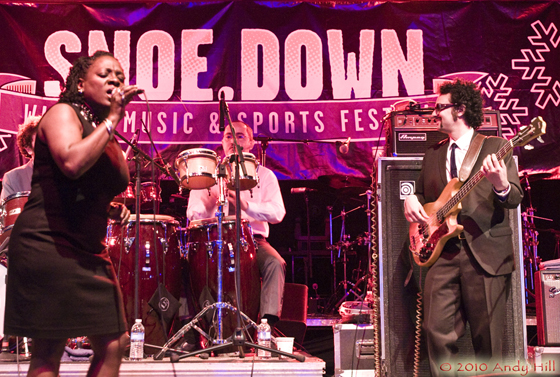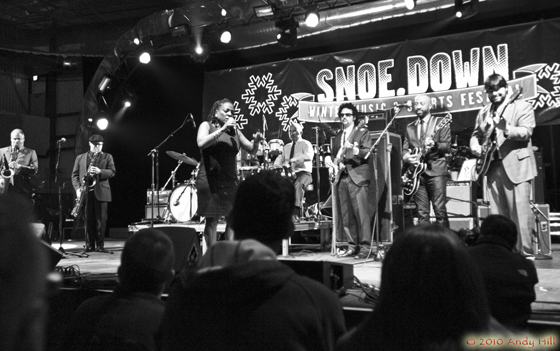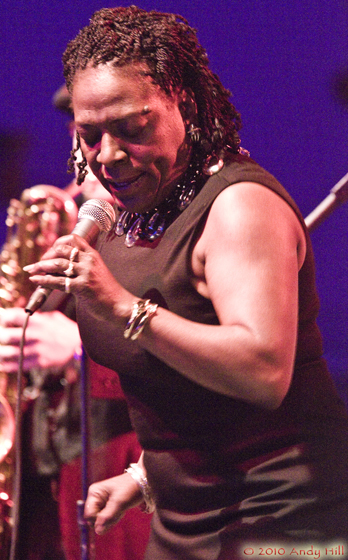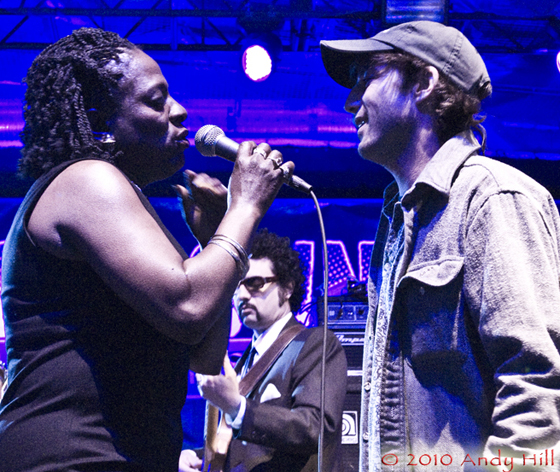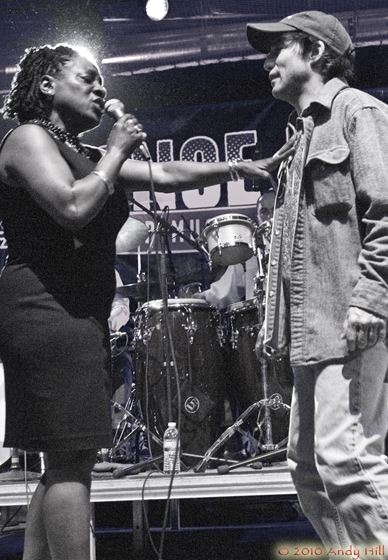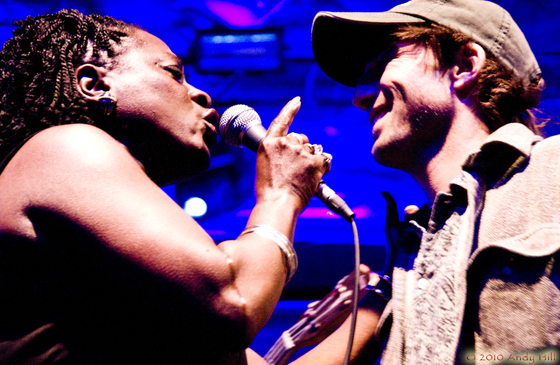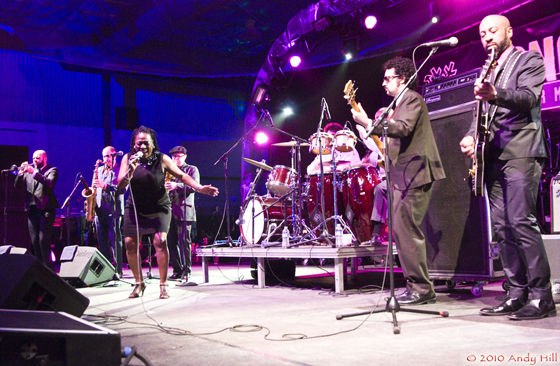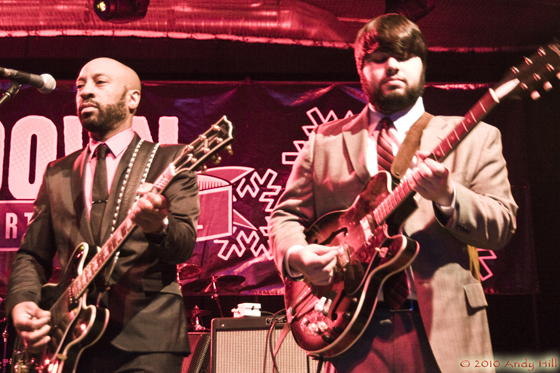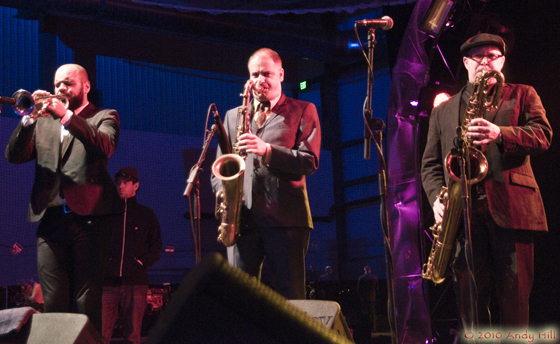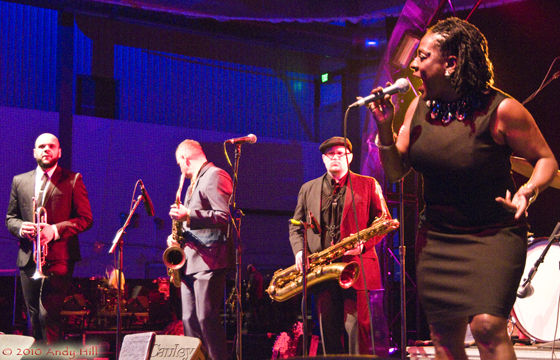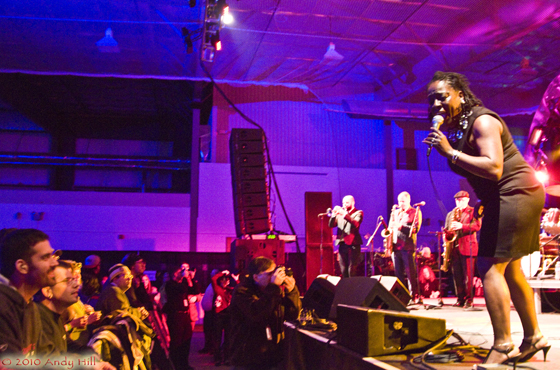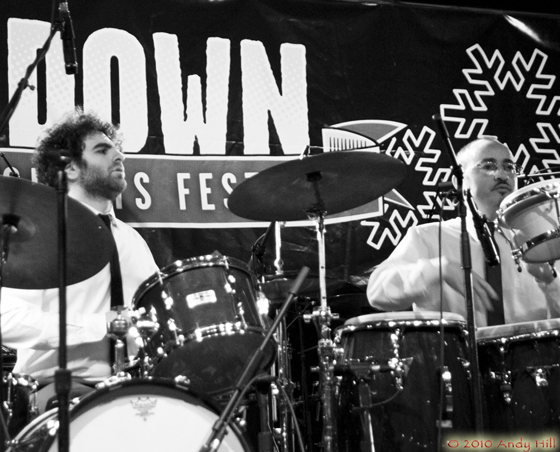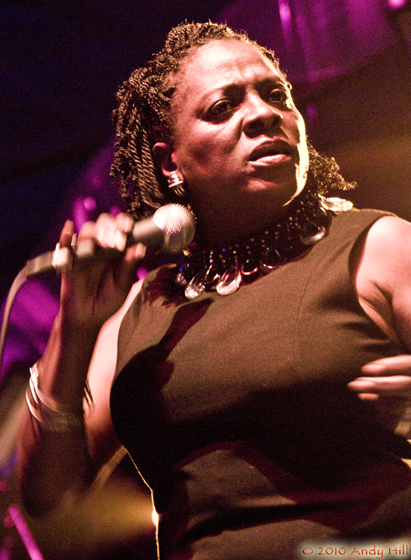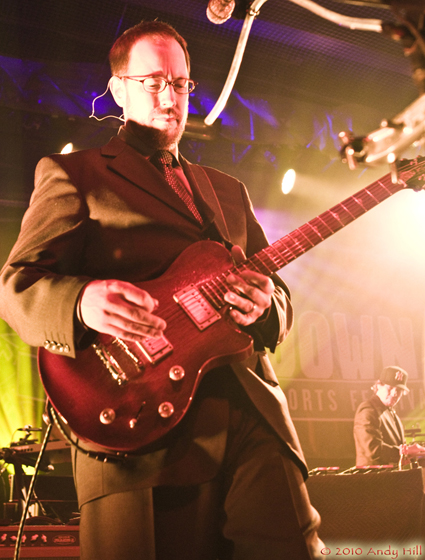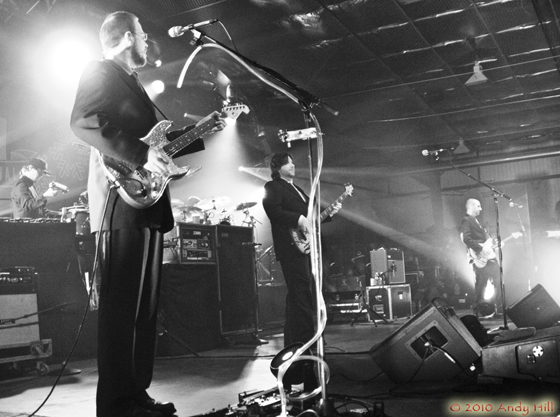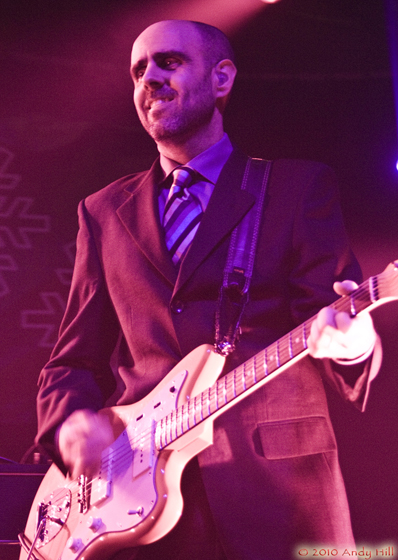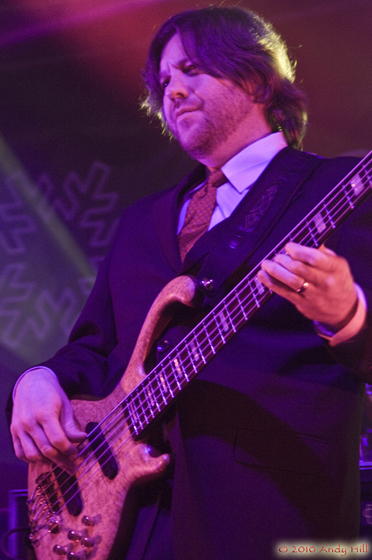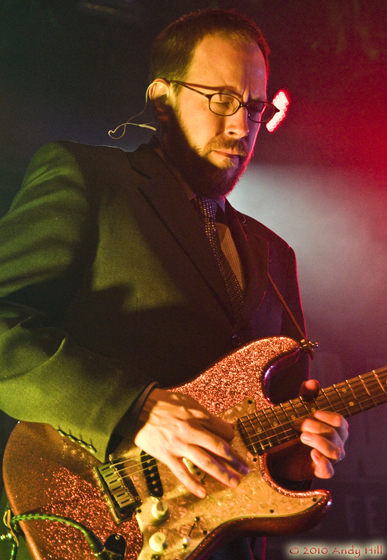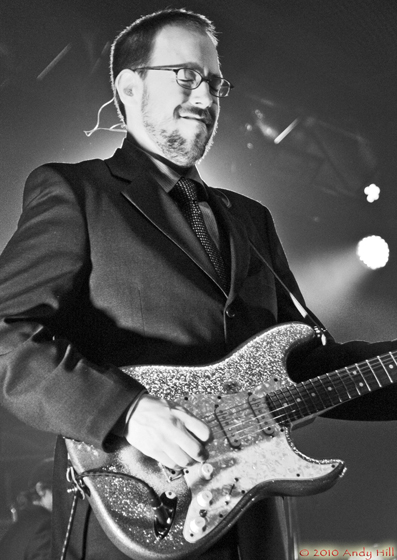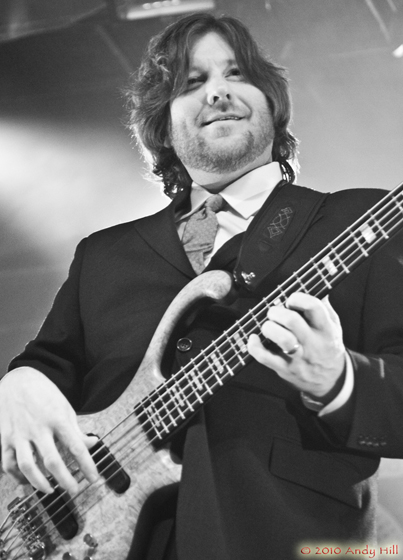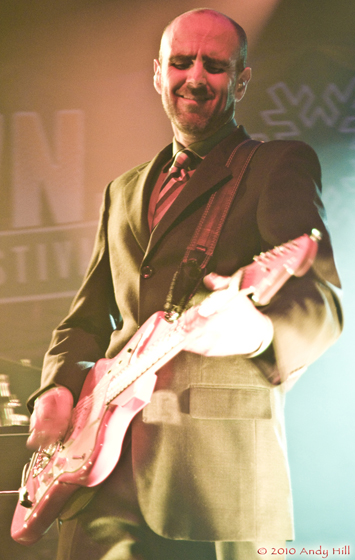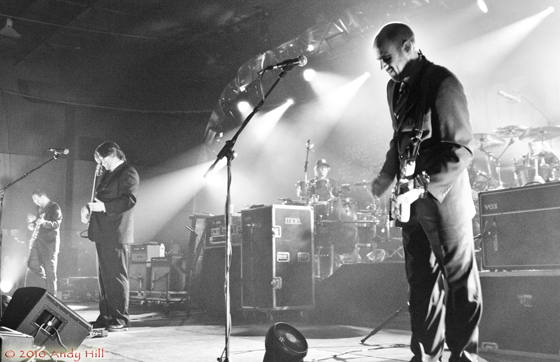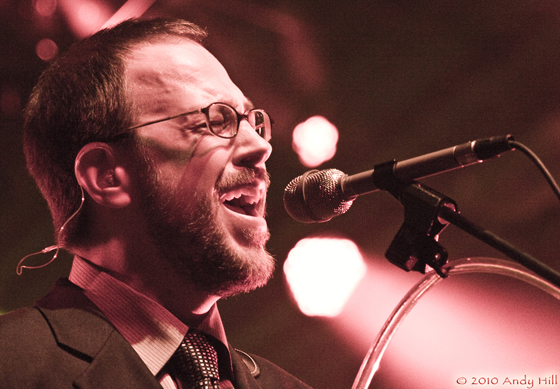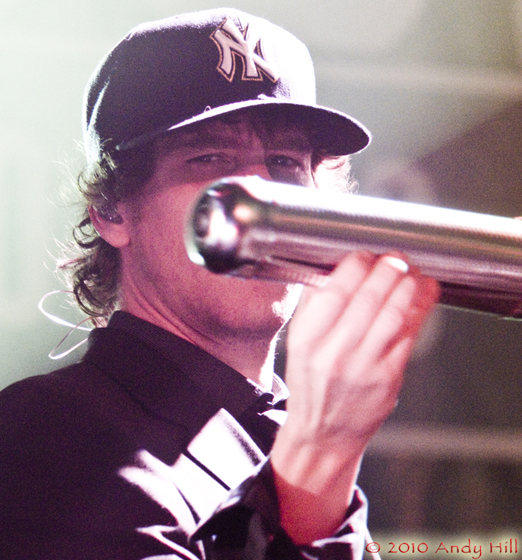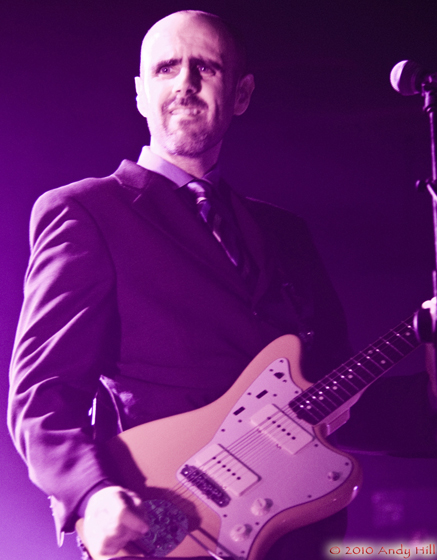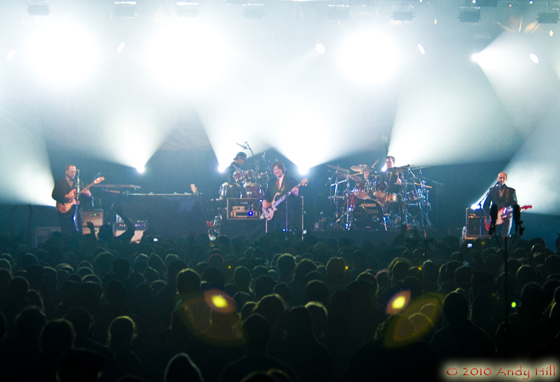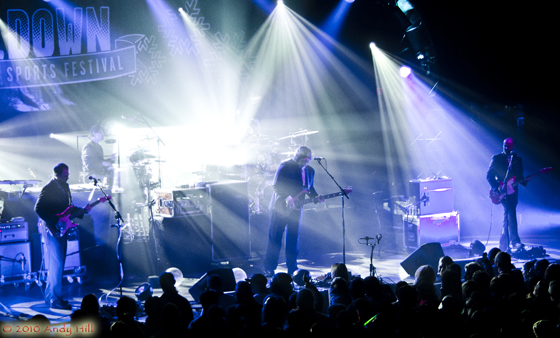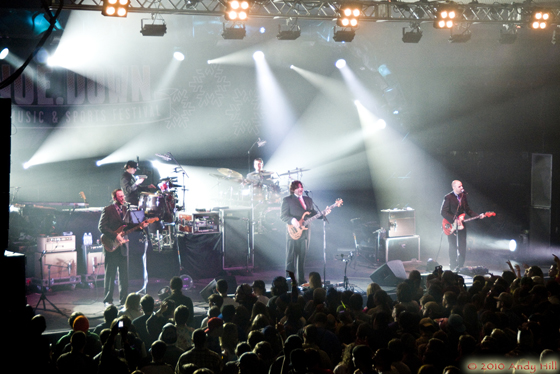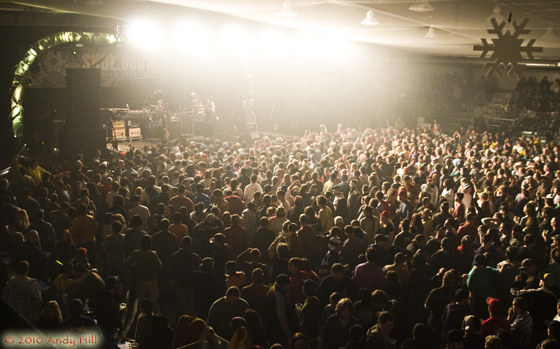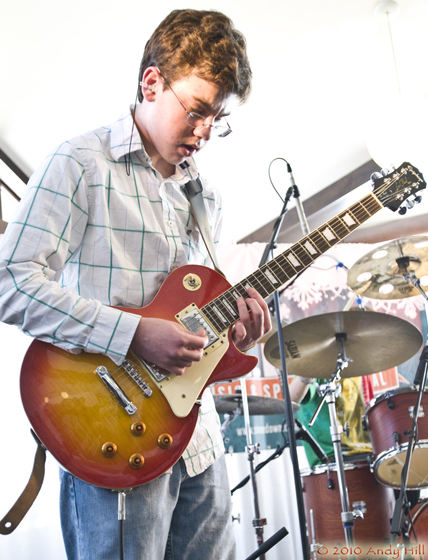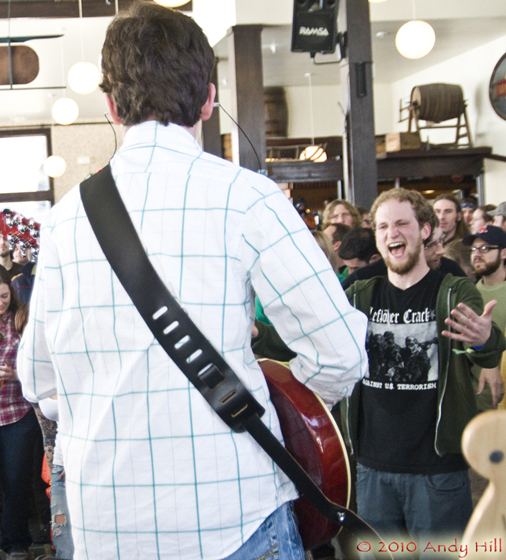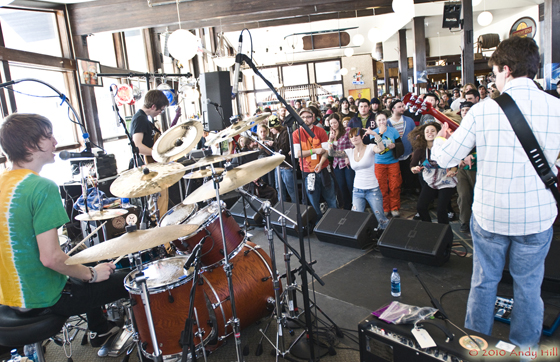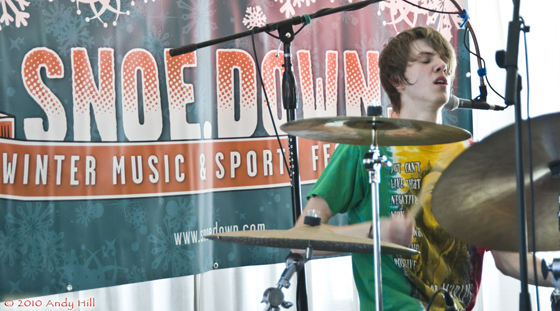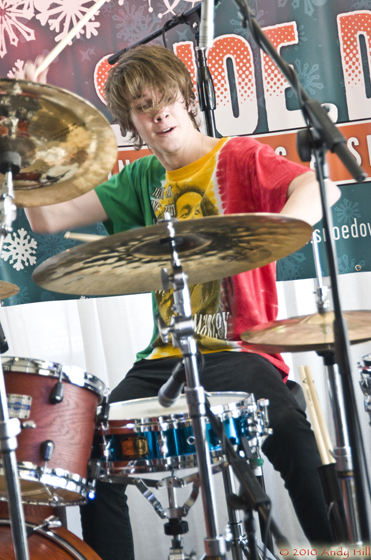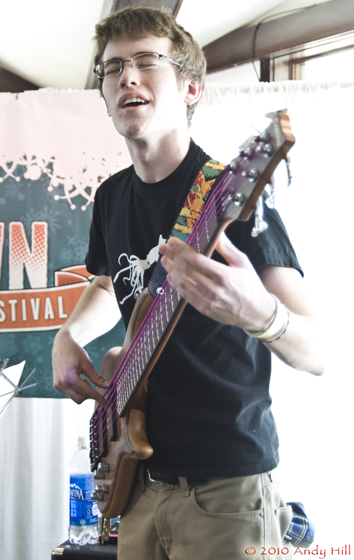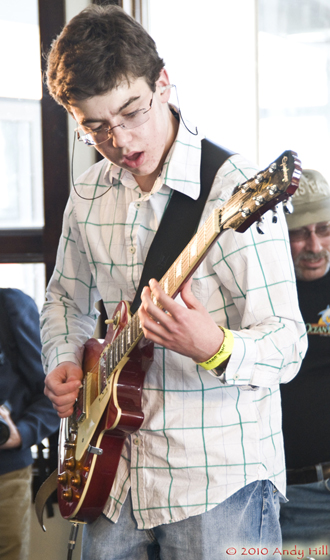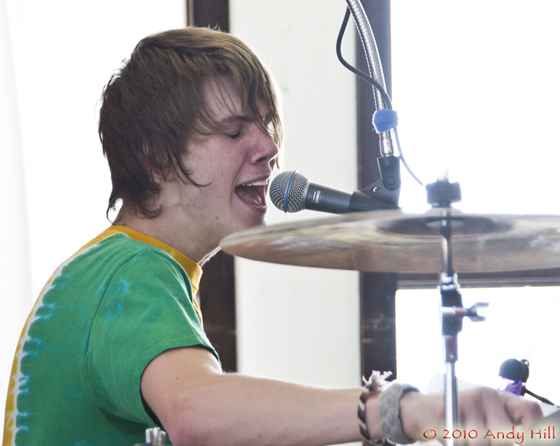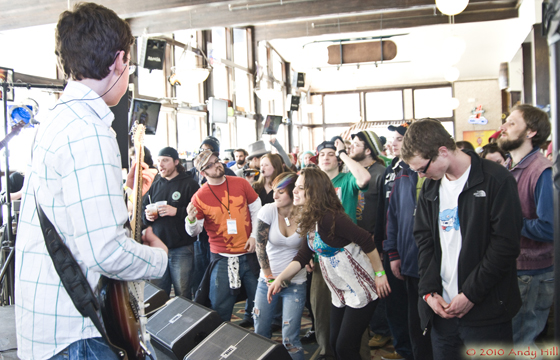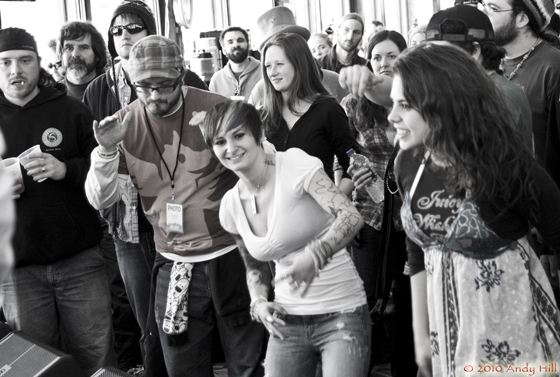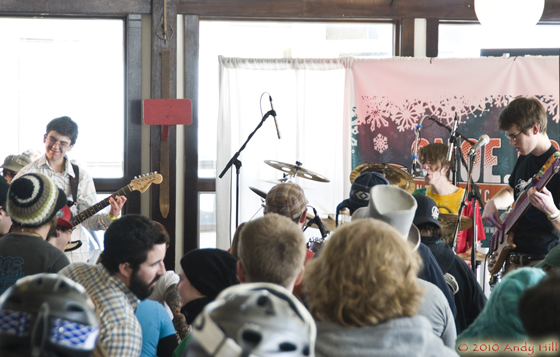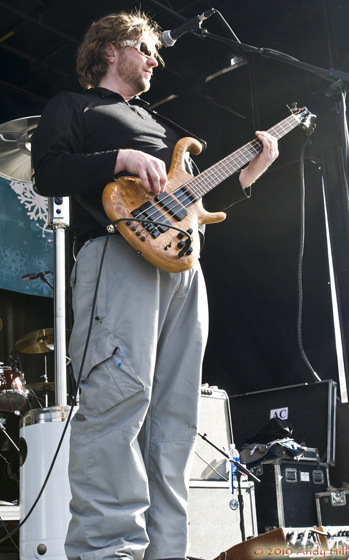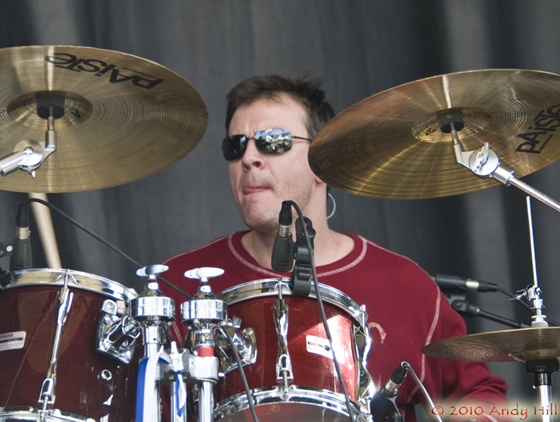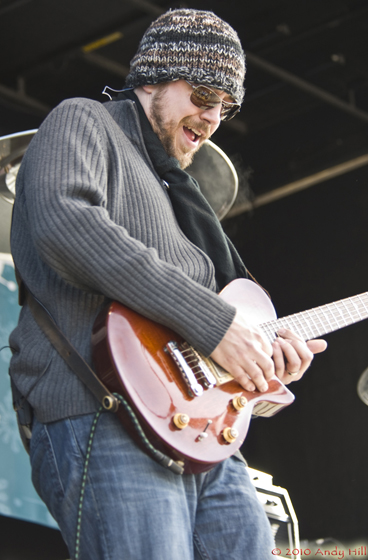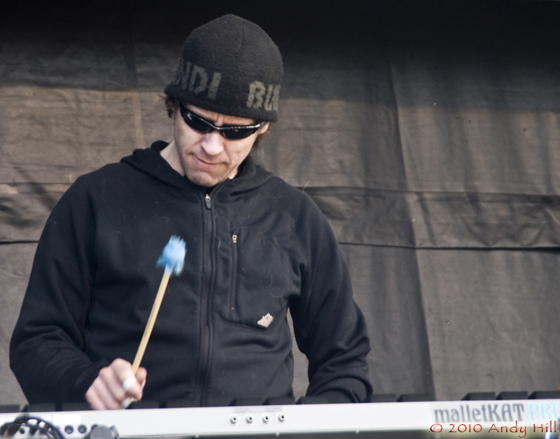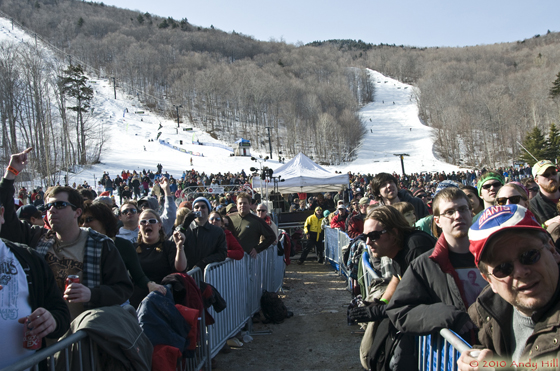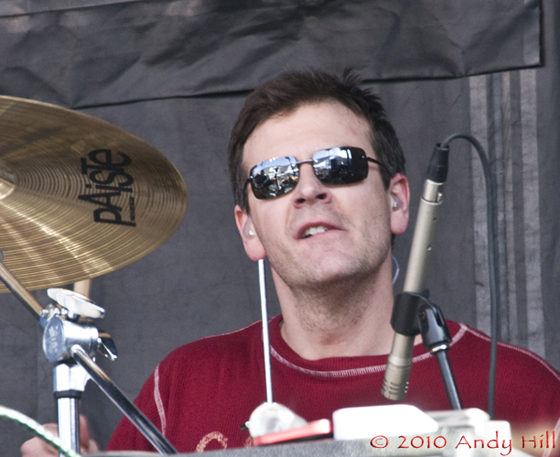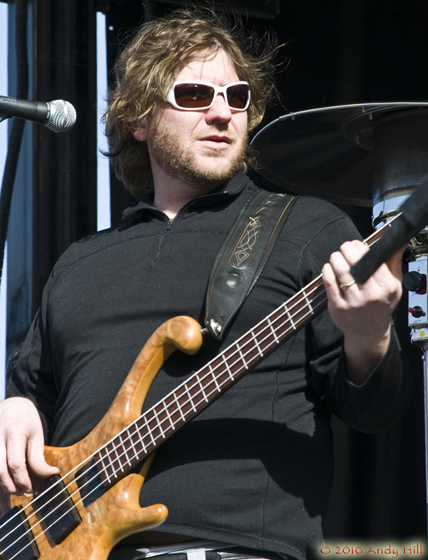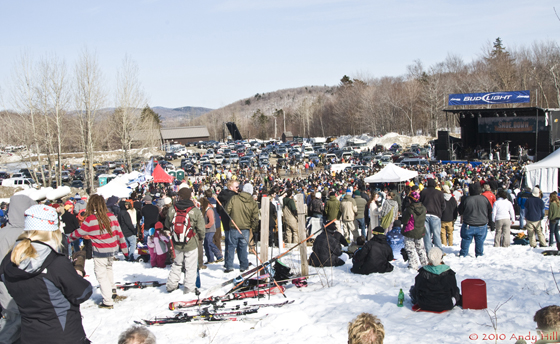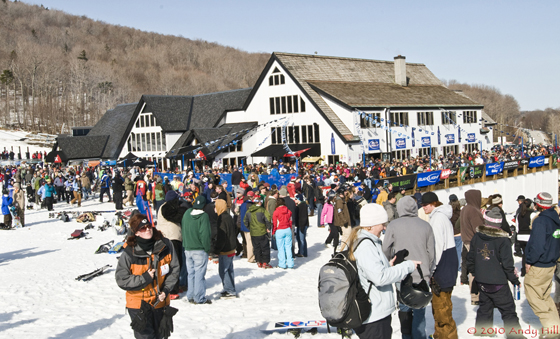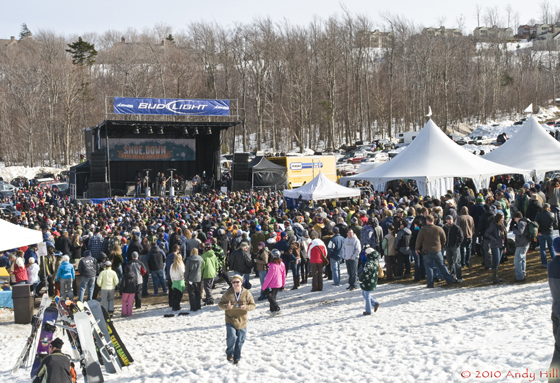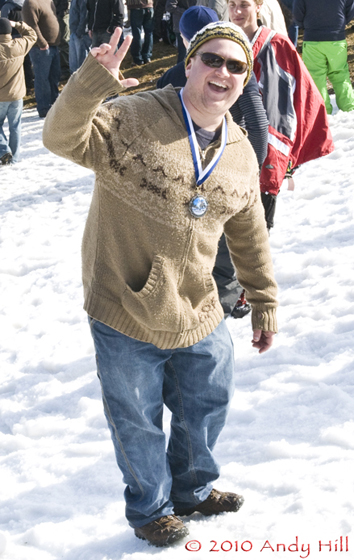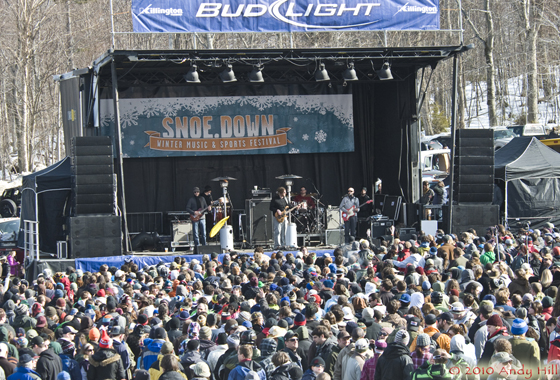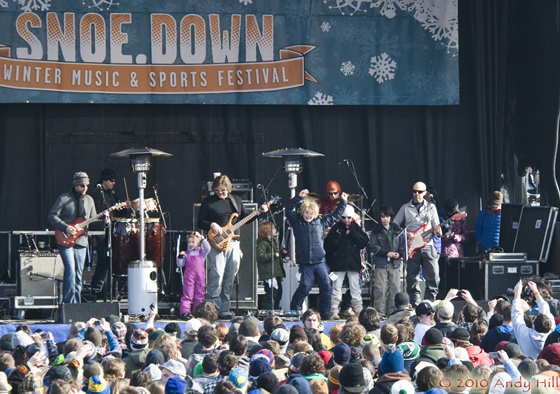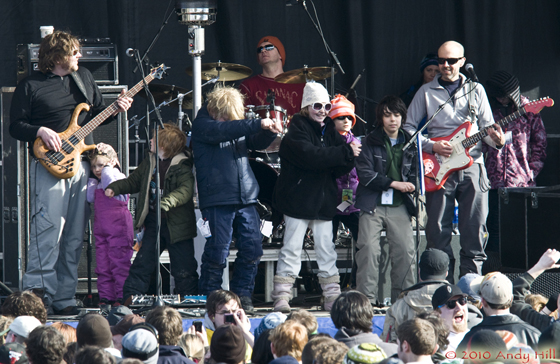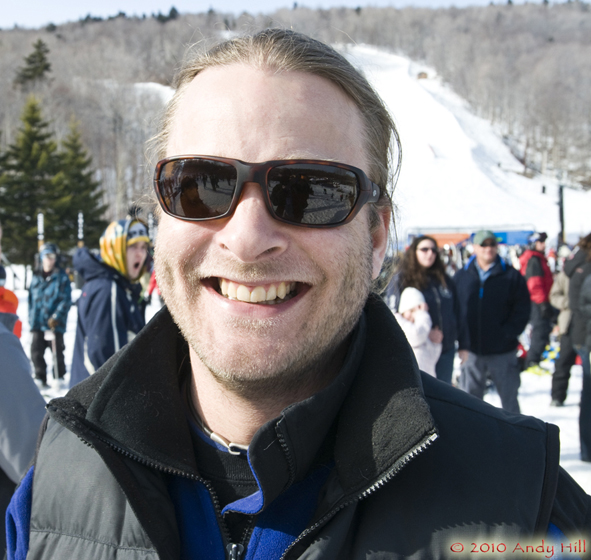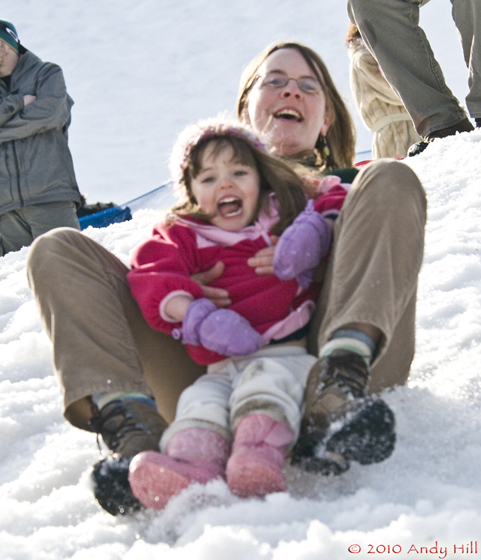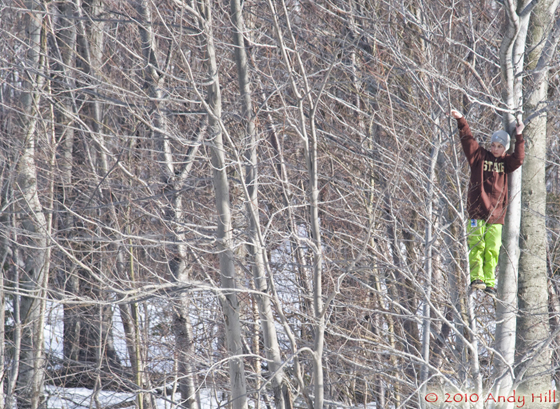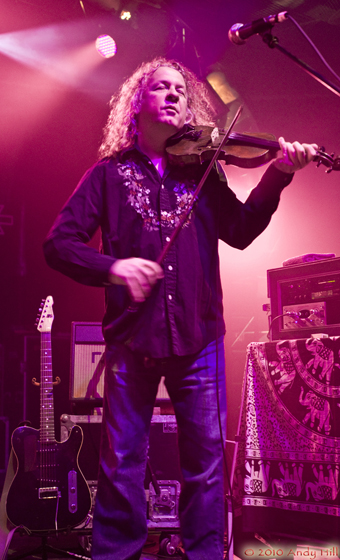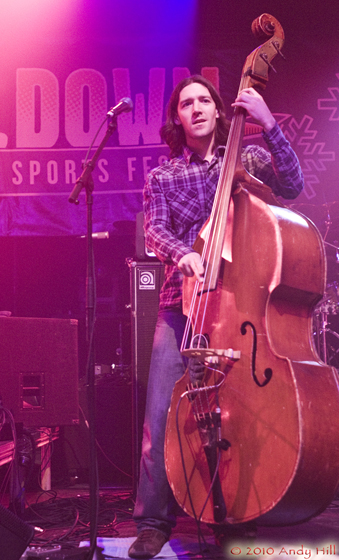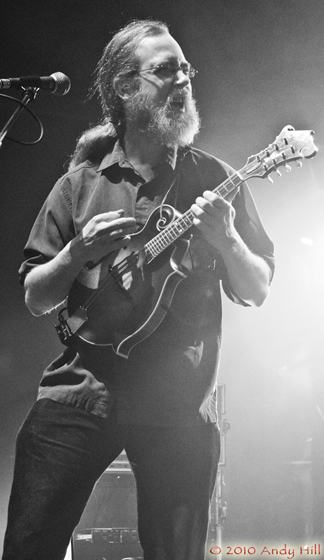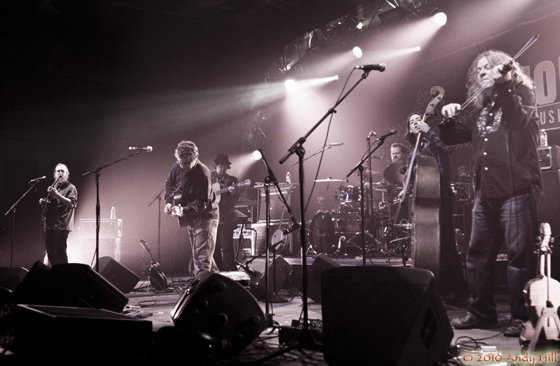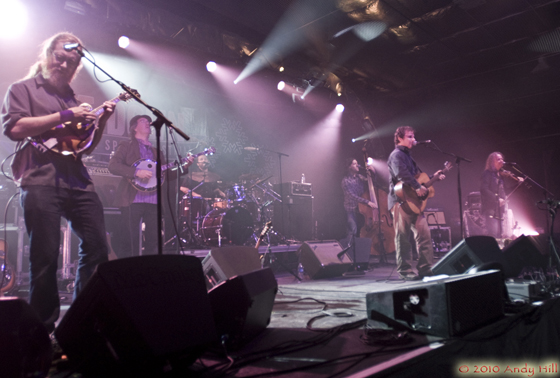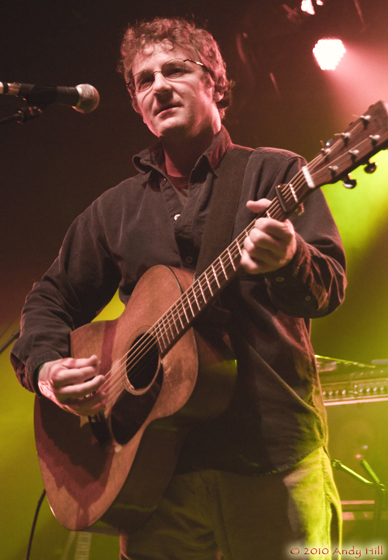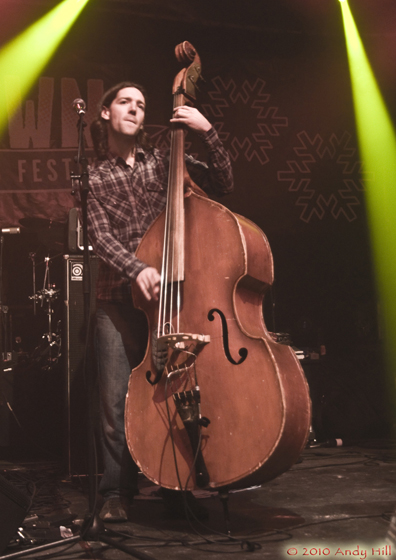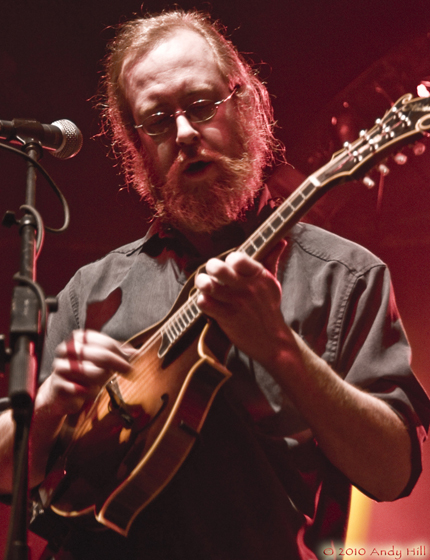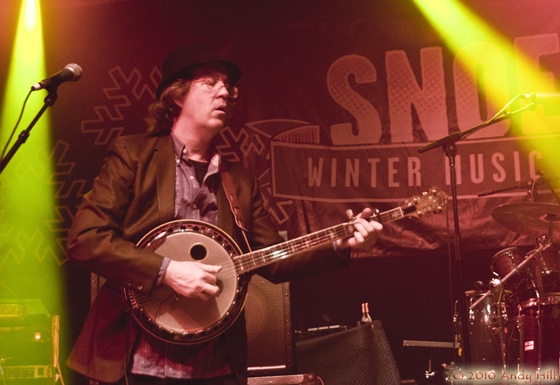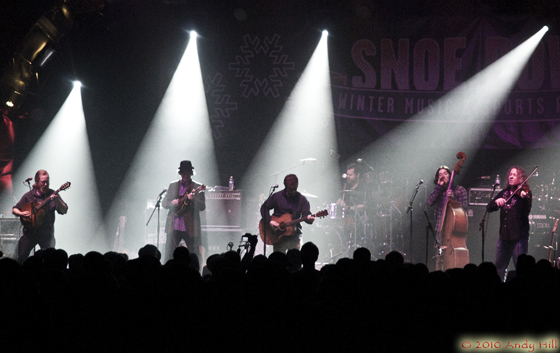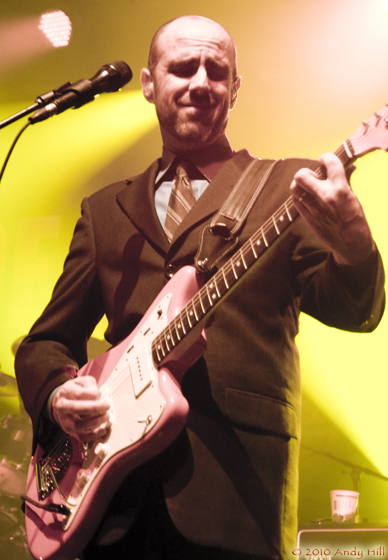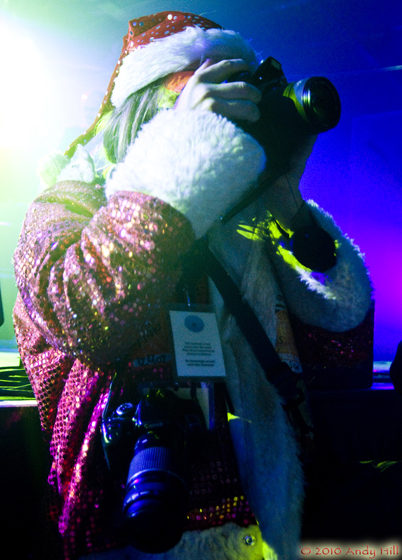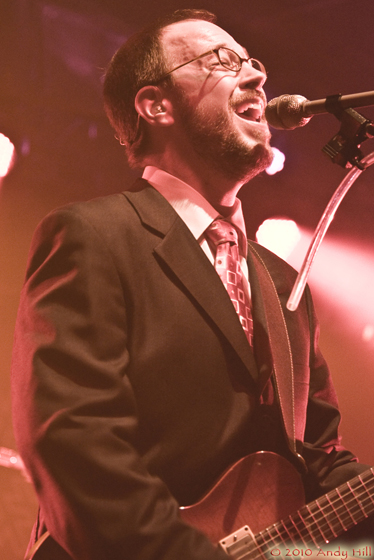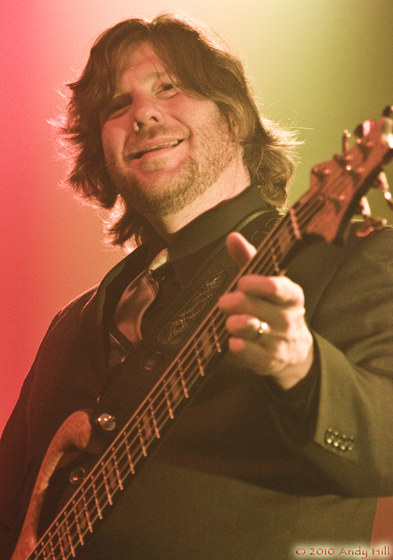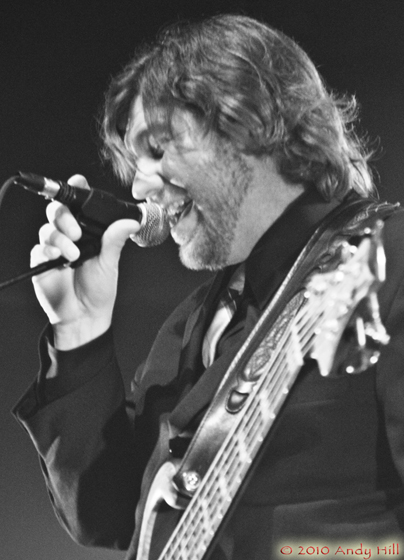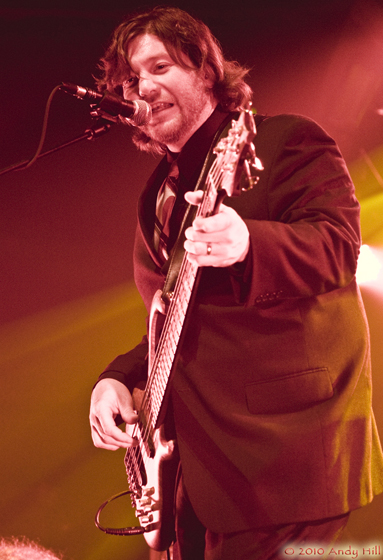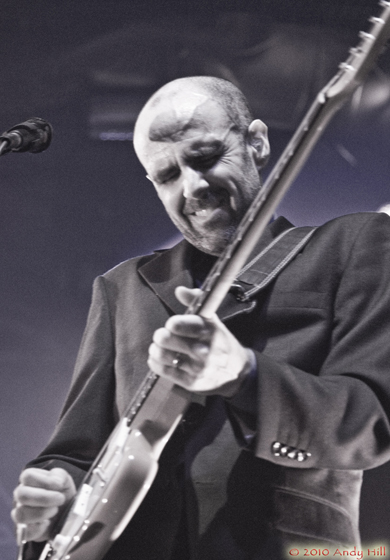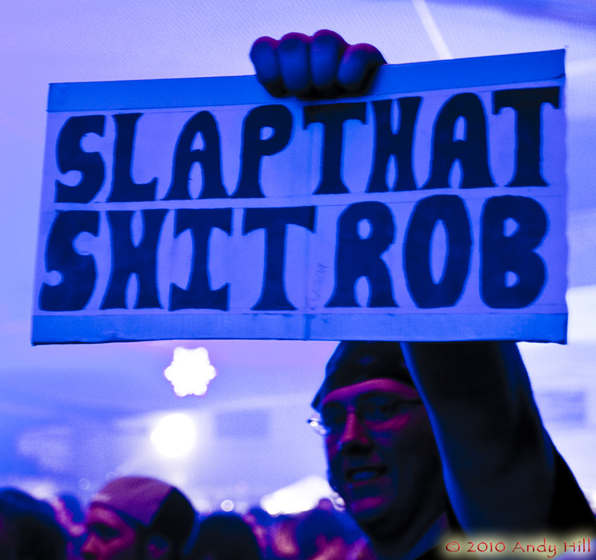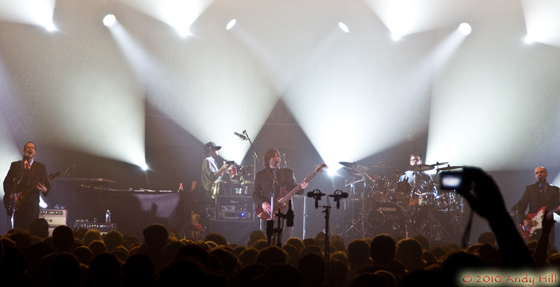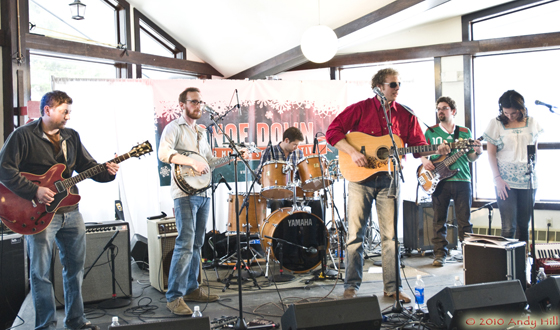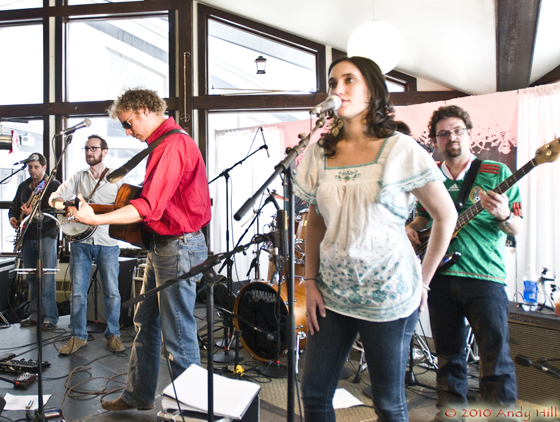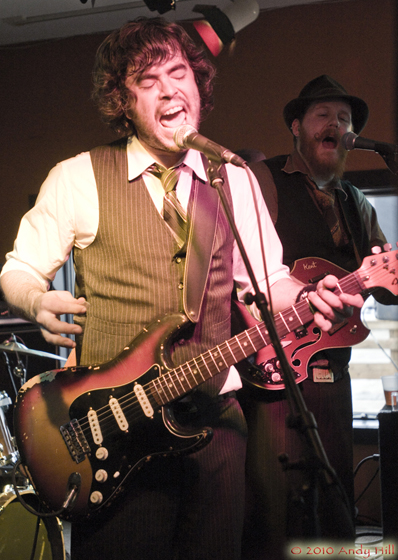 As part of their 20th anniversary celebration in 2010, moe. have been wearing suits at each gig. It has to be the first time in the band's career that they've had to deal with a dry cleaning expense. They looked dignified and professional over the two nights at Rutland's Spartan Arena, and they also played like it.
It felt appropriate that the winter festival snoe.down returned after a two-year absence from Lake Placid, N.Y. to Killington & Rutland, V.T. It's good for both the band and the fans to have a bigger weekend get together in the Northeast at right about the halfway point between moe.downs. It's moe., the moe. festival spirit (i.e. other bands play all weekend), and it's close to a mountain for daytime riding or skiing. It's a different kind of festival experience in that it's not centrally located -- the arena, which hosted moe., Sharon Jones and the Dap-Kings, Assembly of Dust and Railroad Earth was about 20 miles away from the mountain lodges where bands both young (The McLovins) and old (Moonalice) tore it up during the day.
But snoe.down was really all about moe. And to put it bluntly, they killed it all weekend long. Perhaps there is a certain amount of sophistication that comes with putting on a suit and tie and going to work. moe. delivered almost flawlessly on song execution; they had a few great moments of exploratory, blissed-out improvisation; and the material they chose to play led to a great ebb and flow to each set. It was a well-balanced moe. weekend.
The composed section of "Spaz Medicine" had the place bursting at the seams with intensity, while the first part of "Faker" into the second part did its job of getting a rise out of the crowd. "Bring It Back Home" bounced and popped as well as I ever remember. The quick transitions from song to song, for the most part, were executed tightly and provided the good kind of keep-you-on-your-toes element of surprise. When they dropped into "Bear Song" and "Hector's Pillow" and then "Timmy Tucker" all seamlessly, it jolted the system in the way that it should. It felt like perfection when they dropped into "Lazarus" from "The Road." Even the "Stranger Than Fiction" and "Cissy Strut" sandwich worked incredibly well even though Rob Derhak was dealing with some technical issues with his bass rig. And as expected, there was plenty of great guitar playing: Al Schnier's blistering shredding during "Moth" comes to mind, as well as Chuck Garvey's patient, tasteful slide playing in "Shoot First."
In the past couple of years, what has intrigued me the most about the moe. live experience is the way they improvise and the way they construct their sets. snoe.down didn't have the amount of exploring I would have hoped for, where the band really takes things out, spontaneously finding interesting music together. There were a few moments of lifting-off-into-the-stratosphere improvisation, though, like the night-one closer, "Timmy Tucker." It was a monster. It had both the intense tension and release crescendo, and a section where they let the space slowly develop into a Mallet Kat-driven waterfall of sound. The night-two "Opium" into "32 Things" jam was up there too, slowly transitioning from dreamlike, dark, sludgy blues to an up-tempo rapid fire of ideas. This is what you could call "serious grooving" if that didn't have generic or watered-down connotations attached to it. Then during "32 Things" they took the momentum up a notch, resulting in one of the most satisfying jams of the weekend. "Four" was also up there. The subtle, suggestive way they broke away from the tune's form, slowly swirling upward toward the heavens with such patience, made me think, "Yeah, maybe it does take 20 years of experience to reach this kind of level of communication."
And to top it off -- in addition to playing two shows -- moe. played outside at the base of the mountain at Killington resort on a beautiful, blue-skied Saturday afternoon. Despite it being a clusterfuck to get there -- loading people onto shuttle buses and having way more people than buses readily available -- it was worth it. It was surreal to turn around and see people riding or skiing down the mountain, landing among a few thousand people wiggling in unison when the band launched into "Akimbo." It felt as if time was about to stand still during the lazy, shuffling outro of "Happy Hour Hero." It was just so right, like there was a collective "there's no place we'd rather be" feeling in the air.
It's weekends like snoe.down that heighten my respect and admiration for what moe. does. It wasn't the over-the-top, best moe. that I've heard, but they really delivered and gave people their money's worth. I saw the catchphrase they've been using for their 20th anniversary: "20 years… and we're just getting started." It's easy to be cynical and say "that's cute" from a marketing perspective, but after the way they played at snoe.down all weekend, that phrase actually feels true and without an ounce of bullshit.