Shows
Al Di Meola's World Sinfonia
January 30, 2010 at Swyer Theatre at The Egg in Albany' NY
by J Hunter
|
photography by Andrzej Pilarczyk
February 6, 2010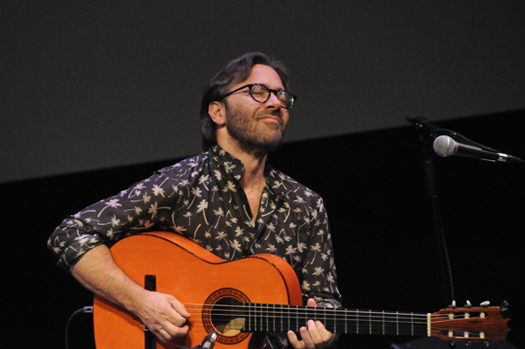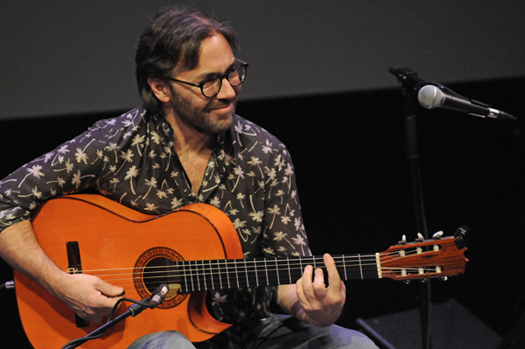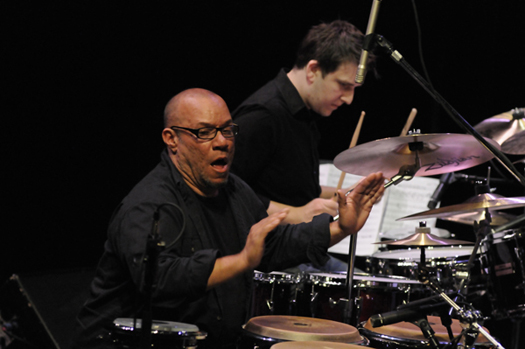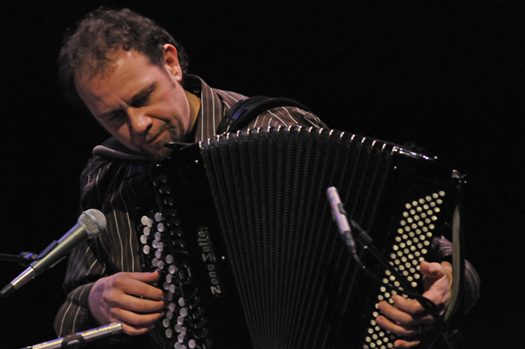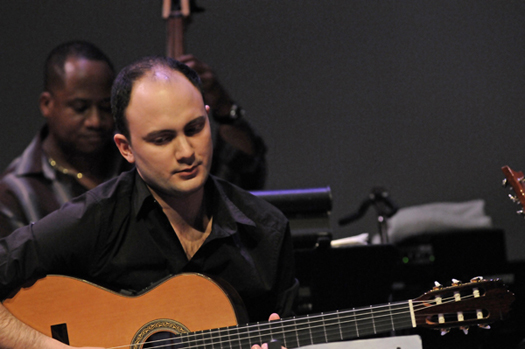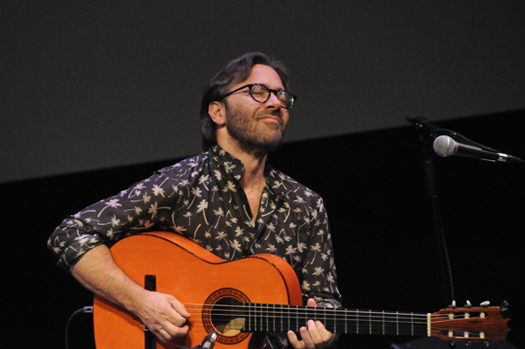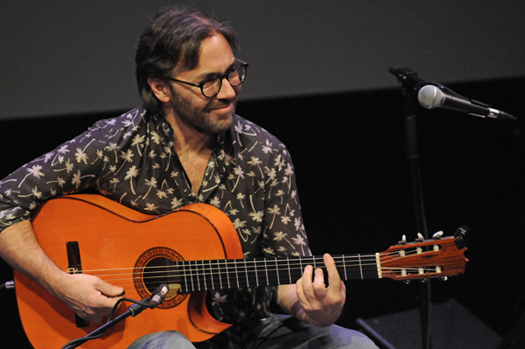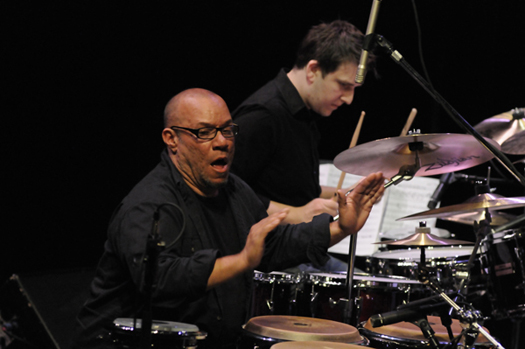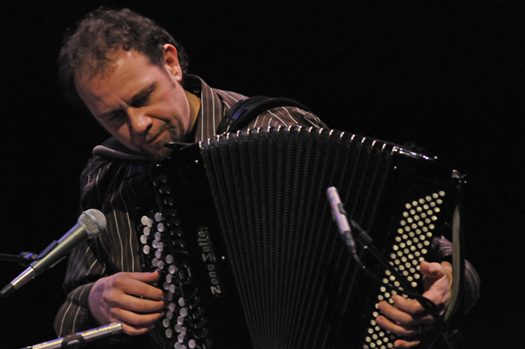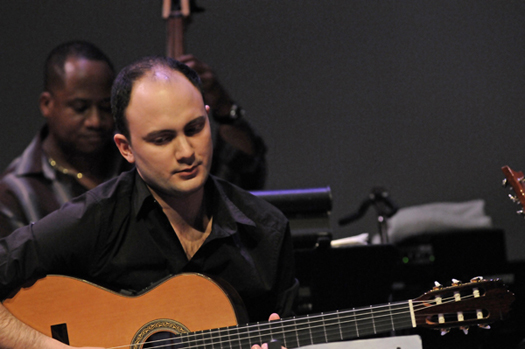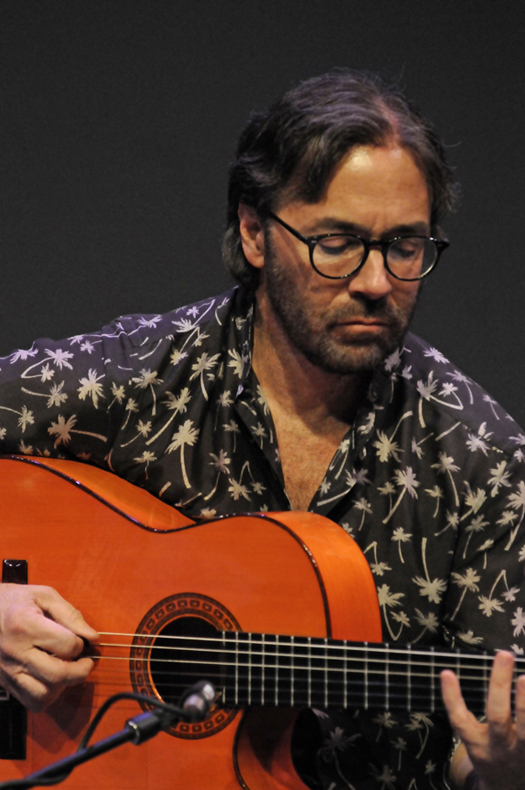 The last time Al Di Meola came through these parts' he and his partners in Return to Forever capped off the first night of the Freihofer's Jazz Festival by blowing the roof off Saratoga Performing Arts Center. As such' Seeing Al Di Meola World Sinfonia in a 300-seat theater was bound to be a lesson in contrast.
The crowd was inexorably drawn into Di Meola's musical web when the guitar icon -- sitting center stage' with accordionist Fausto Beccalosi to his left -- played the opening notes to "Siberiana'" a track from World Sinfonia's new disc Live from Seattle and Elsewhere. The piece had Latin and Middle Eastern elements' as well as a buzzing undertone from Beccalosi that suggested Django Rheinhardt's Le Hot Club Quartet. Whatever the influences were' it became impossible to understand how this band could remain seated' because this music rocked' swinging from flamenco to jazz to raga to something that can only be defined as "amazing." The changes and passages were extremely intricate' requiring faultless discipline from everyone onstage. When the sextet hit the last chord like a windshield hits a mosquito' the crowd felt like it had just run a mile. After Sinfonia topped that intensity with the blistering "Turquoise'" Di Meola cracked' "If you think that was fun… it was."
When an audience member yelled out Di Meola's first name' he laughed. "Years ago' there was a hundred guys yelling' 'AL!' Now there's just one guy!" That was false modesty' because there are not less reasons to cheer Di Meola on. Rather than having dropped a step' he seemed to have picked up some new ones: He roared through complex figures with unthinking ease' earning multiple howls from the crowd. Live from Seattle is dotted with Di Meola originals' all of them able to stand up to his earlier work. He also acknowledged his early influences when he played an affectionate take on tango master Astor Piazzola's "Double Concerto."
There was another guitarist onstage' but Kevin Seddiki's role was limited to keeping the foundation and letting Di Meola fly unfettered. Counting Seddiki' World Sinfonia had a four-man rhythm section' and they were utterly mesmerizing to watch as they gave every piece the motivation it needed' be it simple accents or tribal thunder. Di Meola had a stunning rapport with percussionist Gumbi Ortiz' the subject of the driving Di Meola composition "Gumbiero." According to Di Meola' they've worked together for 22 years "in about 32 bands." I'm not sure how often Di Meola's worked with Beccalosi' but their chemistry was undeniable as the accordionist was an ideal foil and a tremendous second soloist. "(The accordion) is really hip when he plays it'" Di Meola enthused before the show even began. Beccalosi also contributed titanic vocalese to "Turquoise" and "Umbras'" and added another harmonic by whistling with his own solos on "Michelangelo's Seventh Child" and a first-set-closing medley of two Di Meola classics' "Midnight Tango" and "One Night in June."
Although Di Meola played acoustic for most of the night' he had an array of foot pedals that made his acoustic guitar do anything he wanted -- from drizzling synthesized accents on top of the music to busting it loose with wailing rock power. When he brought out his trademark rainbow-colored electric guitar -- first for the medley' and then for a wonderfully warm encore of "Strawberry Fields Forever" -- the audience greeted it like a long-lost friend. The tricks were used sparingly' and all of it expanded the music's scope a little more' but purists still might have wrinkled their noses.
The effects didn't put me off. What did put me off was the multimedia spectacular that towered behind the stage. A huge screen alternated between still shots of Di Meola in earlier days' trippy loops that were (presumably) there to enhance the music' and live video of the group that was filtered through even more digital trippiness' it was a device that lost its charm early but stayed late. In a bigger venue' it might not have been so annoying' but in a small space like the Swyer' it felt like massive overkill. Then again' it was the only wrong note Di Meola played all night' so who am I to bitch up?