Blog

Marco Benevento's New DVD' Live in NYC (The Sullivan Hall Residency)
by Mike McKinley
November 11, 2009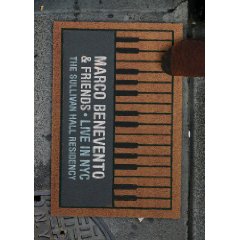 I just watched the trailer to Marco Benevento's new DVD'
Live In NYC: The Sullivan Hall Residency
' plus the sneak peak track "Megafauna" (see below)' and still' after years and years of listening to Marco (
and also, declaring April 17th national gay for Marco day
)' I find myself surprised by the music he's making and spreading.
Seeing these videos come on top of my first experience hearing
Garage A Trois'
-- Marco' Skerik' Mike Dillon and Stanton Moore -- new album
Power Patriot
last night. One listen and I know they made a great album. They really went for it' making some killer music. At one point' I found myself transported by one of Marco's organ runs -- dirty' playful' super intense' and above all' playing that's making a meaningful statement. I thought' "Ah' Marco! Nobody like him."
About a month ago I had
JFJO
sitting in my living room relaxing and listening to different records before they headed back out on the road to their next gig. They talked about different musicians and whether or not they have their own voice. It was really interesting to hear their perspective. When Marco's name came up there wasn't much discussion' just unanimously' "Yeah' Marco's one-of-a-kind. He definitely has his own voice."
He's been bringing Led Zeppelin' Sesame Street and a world full of new colors to jazz for a long time now' and man' it's been a wonderful ride aging with this cat. Oftentimes it feels as if music' especially jazz' forms a scene that becomes homogenized and stuffy sounding. Not with Marco though' he consistently walks along with his imagination leading the way' obliterating any notion of the norm when it comes to musical idioms and style.
Here are the musicians that appeared during his January 2008 residency:

Andrew Barr' Billy Martin' Bobby Previte' Brad Barr' DJ Olive' G. Calvin Weston' Reed Mathis' Joe Russo' John Ellis' Kaki King' Marc Friedman' Skerik' Stanton Moore and Steven Bernstein
"Megafauna"