Shows
The Royal Family Get Down!
September 12, 2009 at Pines Theater in Florence' MA
by Matt Solomon
|
photography by Matt Solomon
September 27, 2009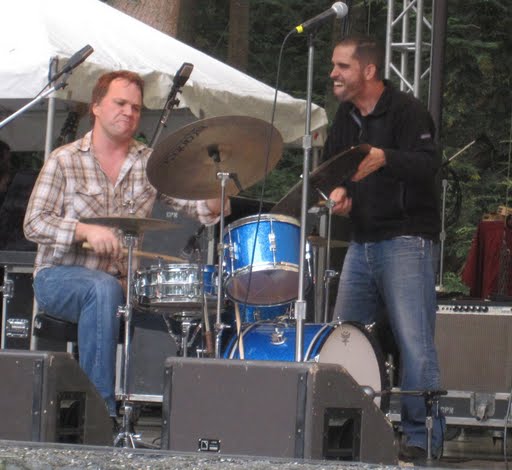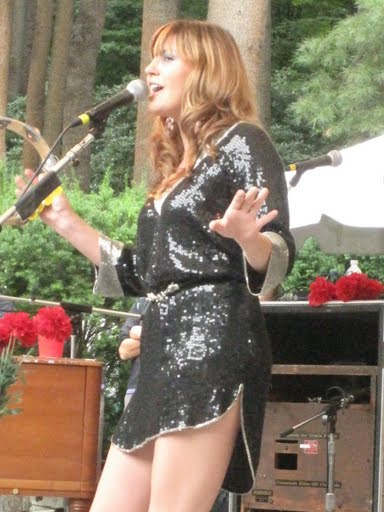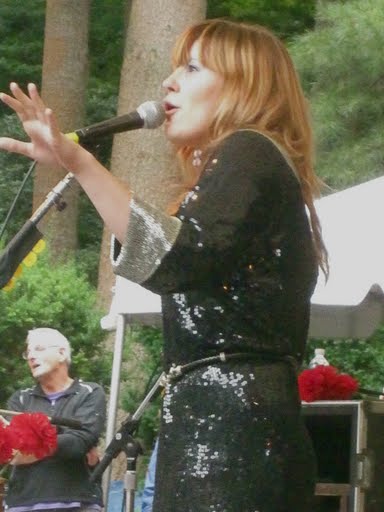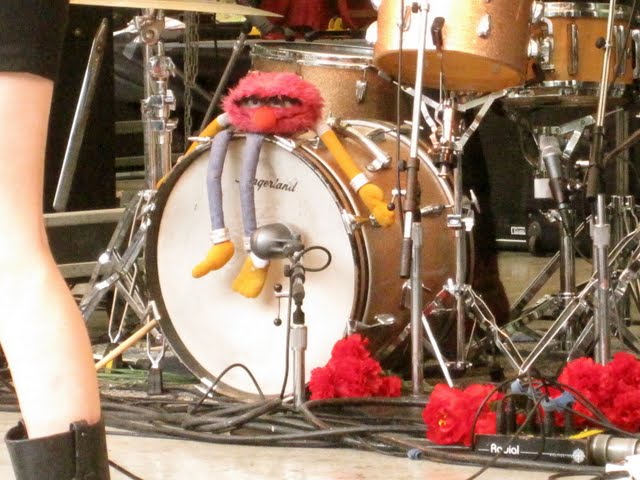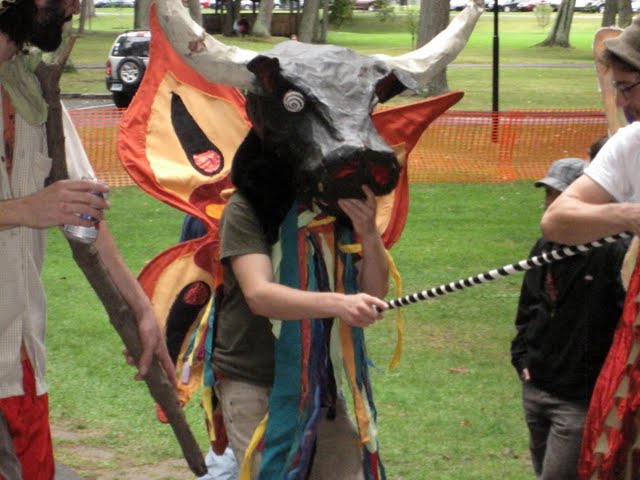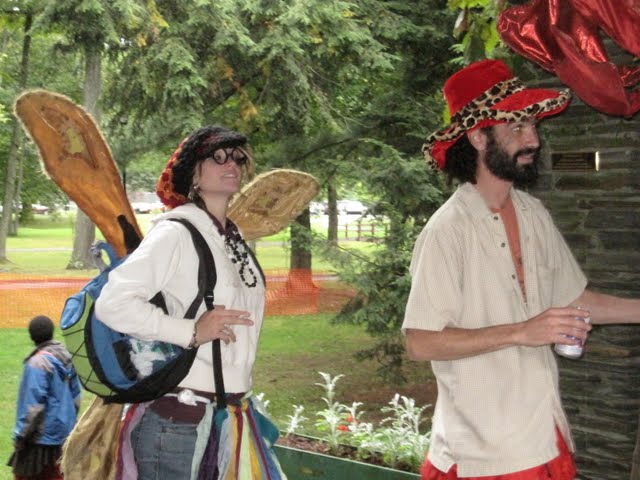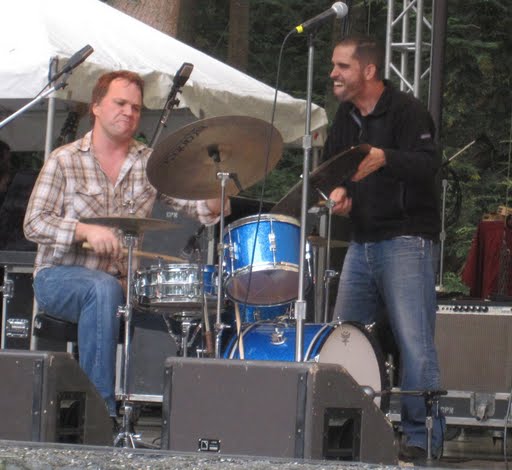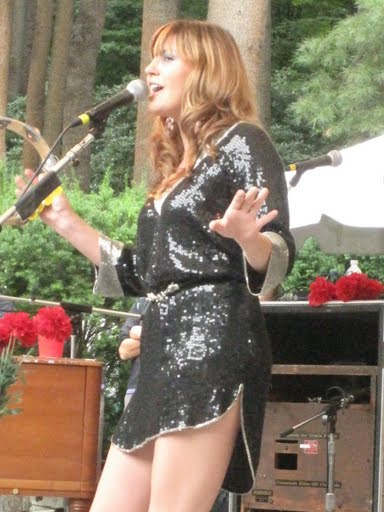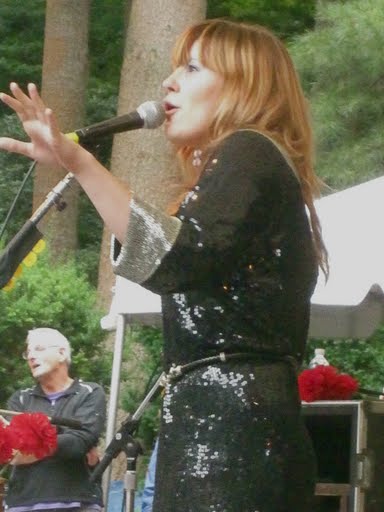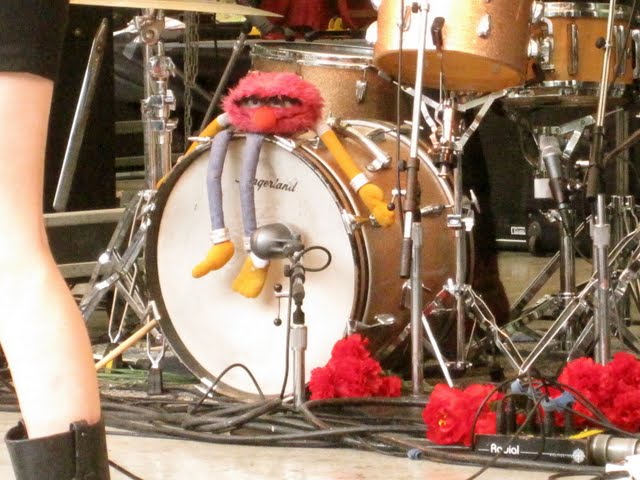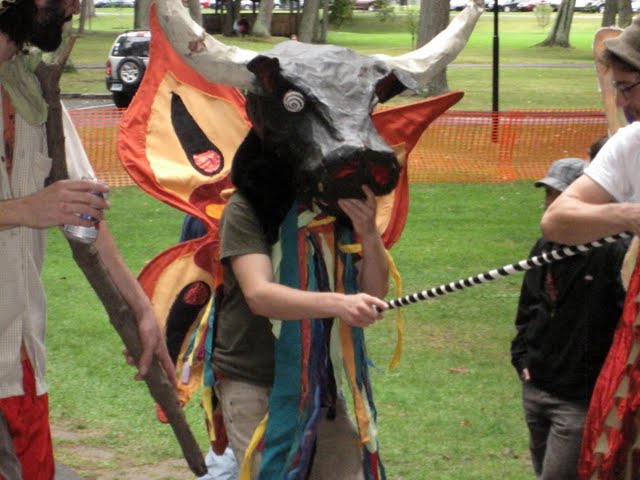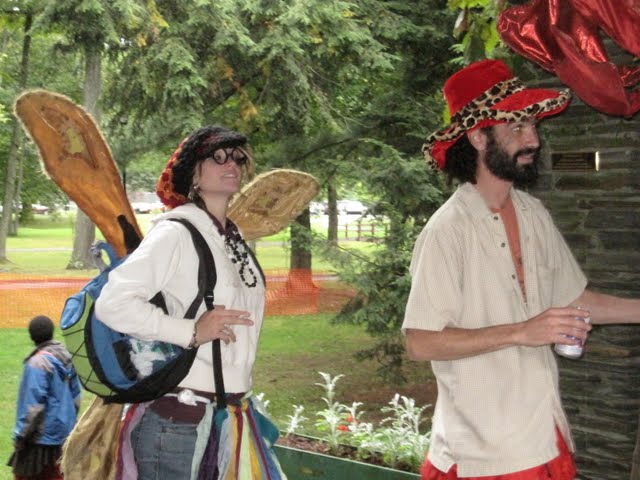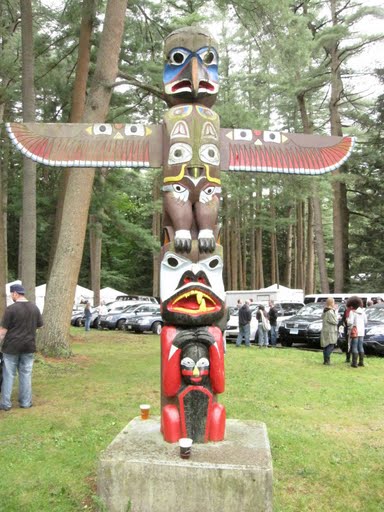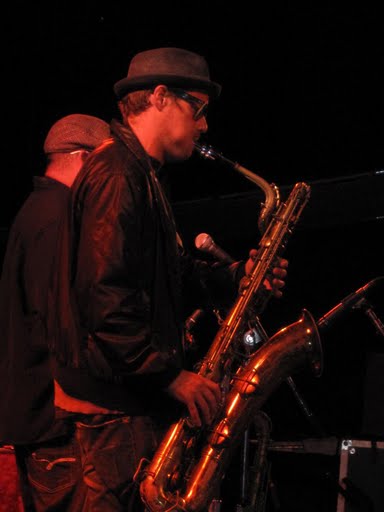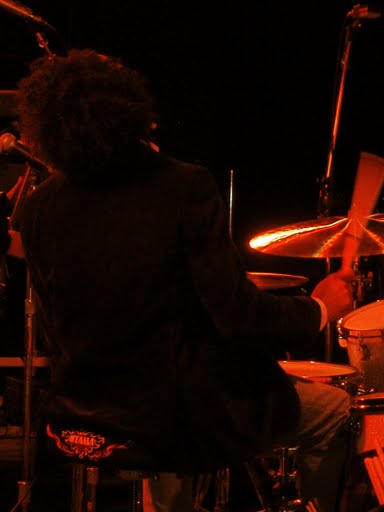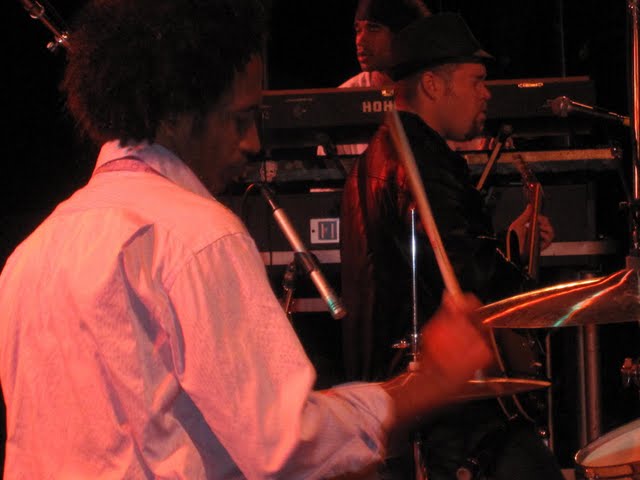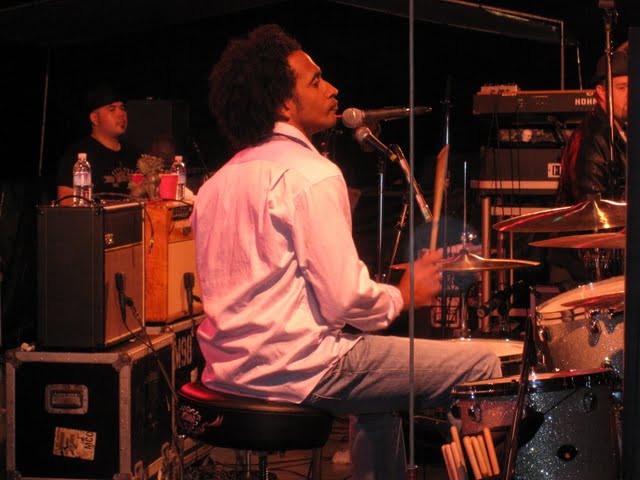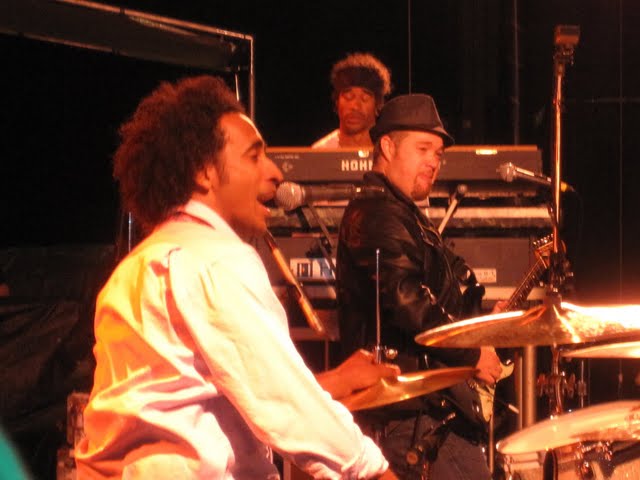 On Saturday September 12th a special gathering of musicians came together at the picturesque Pines Theater in Florence' Massachusetts. In celebration of their 10th anniversary and the launch of Royal Family Records' Soulive invited some of their closest friends including John Scofield' Sharon Jones & the Dap Kings' Grace Potter & the Nocturnals' Nigel Hall' and Charlie Hunter to perform at a one-day festival in the beautiful Look Park.
As the glorious sounds of funk' soul' rock and jazz leaked into the air' the first signs of a New England autumn could be seen in the trees. Impatient leaves radiated bright orange and red as a slow' light drizzle fell steadily from the sky.

Backstage' it was a tight-knit' family oriented' community atmosphere in which everyone seemed to know each other and musicians roamed freely' schmoozing with their fans. Kids hustled 'round tossing footballs' VIP laminates hanging from their necks and toothy smiles gleaming bright in the afternoon sun. Amidst the dark evergreen forest it quickly became apparent why the Pines was chosen for this special event.
Nigel Hall opened the festivities with his own band' proving to the rain-soaked audience why he's one of the most sought after vocalists in funk and soul. Nigel is an undoubtedly talented singer -- he attacks the mic with a ferocious passion while maintaining a cool' elegant style. He has honed his stage presence and knows exactly how to get a crowd on their feet. Nigel also made appearances throughout the night with Soulive' Lettuce and Break Science.
Charlie Hunter followed with his uniquely crafted' genuine brand of jazz-funk' utilizing his custom 8-string half-guitar/half-bass to stir up quite the strange brew of musical creativity. One of the most mind-boggling acts of the day' Charlie performed with Eric Kalb on drums. The way they improvise is pure and genuine to the moment. These guys are listening' reacting and searching for something special' not just laying down any old sloppy rhythm. And nobody plays like Charlie -- for one his dexterity is impressive enough' but on top of that is the expressiveness of his guitar playing all while holding down the bottom end in melodic fashion. It never gets old. An aesthetically pleasing' one of a kind performance with unexpected twists and turns' Charlie Hunter keeps one on the edge of their seat' ears perked to the sky in pure pleasure.
When Grace Potter & the Nocturnals plugged in' the rain suddenly stopped. The stage was soaking wet so the band decided to romp around in the pools for a bit' splashing each other and smiling merrily like little kids discovering puddles for the first time. Grace exclaimed' "It's not wet! It's hot!" Soulful dance music filled with powerful lyrics and funky grooves' Grace and the Nocturnals are proving that they're one of rocks best up and coming bands. The new lineup is well-honed and tight as ever' with Grace leading the way onward as a multi-faceted renaissance woman' writing' singing' as well as playing keys and guitar. Soul-cleansing music with a fresh country-rock sound' Grace & the Nocturnals make music like bees make honey and beavers build dams. Organically crafted songwriting' with sweet' heartfelt vocals and a sultry' soulful edge; this group can turn heads and perk-up ears like a gang of hells-angels riding down the freeway in 100 degree weather on the fourth of July.
The aperture of funk continued to build until it shot off the page and morphed into the unstoppable musical juggernaut that is Soulive. Closing the festivities' they ended the night on a high note with an unbelievably impressive collection of inspiring' improvisational jams and grooves. They shared the stage with the likes of John Scofield' Nigel Hall' Sharon Jones' Adam Deitch and Smeans creating an on-stage musical environment that was about teamwork' family and cooperation rather then a competition of who could shred the most impressive licks or hit the highest notes. Nonetheless' they practically busted out their seams' barging into new realms of musical experimentation and exploration. The all-star funk ensemble' Lettuce' briefly morphed with Soulive for a surprise song' pushing the funk meter through the roof. The Shady Horns (aka Ryan Zoidis and Sam Kininger) were impeccable all night' filling in the empty space with their distinctly dirty' low-down' finger-lickin' brand of brass-funk. John Scofield and Eric Krasno made a serious impression as the legend and apprentice traded licks and squeezed the funk out of their instruments until they were literally bone dry. The two guitar gods ripped endlessly' challenging each other to dig deeper and delve further into the abyss. It was a beautiful thing to watch these two genius' share the stage. As if they were passing on tribal stories from generation to generation in an ancient sufi ceremony they communicated through the art of music' connecting souls and healing wounds.
The late-night after party at the Pearl Street Theater in Northampton' Massachusetts was a royal family explosion of funk. It was billed as a Break Science gig but the guys from Soulive and Lettuce decided to come along and join in on the fun. The night consisted of multiple band-switches and some spontaneously funky jams with Adam Deitch & Borahm Lee of Break Science and the Soulive/Lettuce crew.
It was a beautiful way to end a spectacular day and night. Soulive's celebration of sweet' sweet music was a success. The greatest thing about it though was that even as it came to an end' it was only the beginning of Royal Family Records and a whole new generation of inspiring' soul-cleansing music to come. Ten years since Soulive (Eric Krasno' Alan Evans and Neal Evans) got together in a home studio near Woodstock' New York to record Get Down they're still doing what they do best' making spectacular music. Hopefully this will be the case for a long' long time to come. Thank you Soulive. Keep on keeping on.