Shows
Cotton Jones
September 14, 2009 at The Bait Shop in Jackson' WY
by Garret K. Woodward
|
photography by Andrew Wyatt
September 19, 2009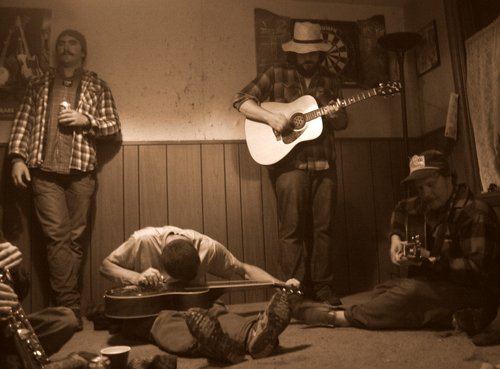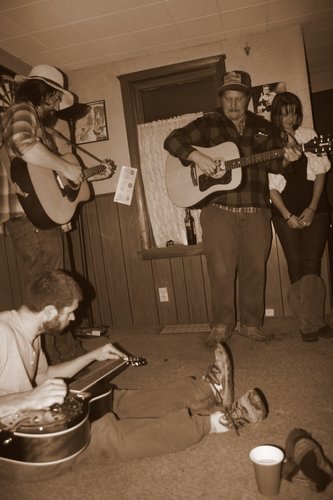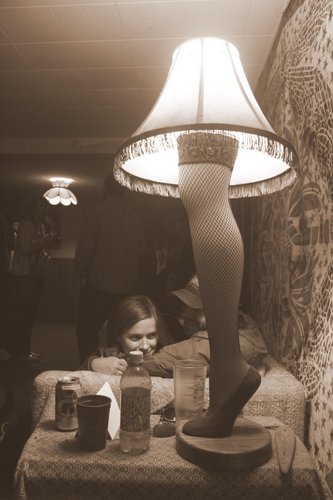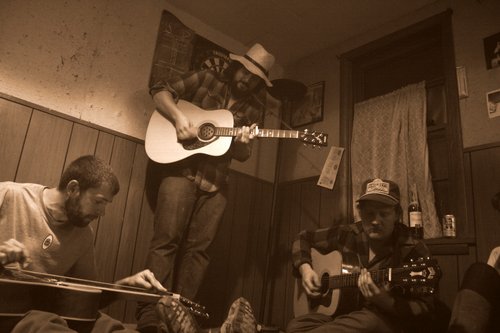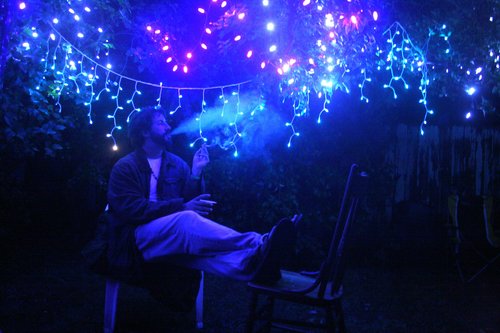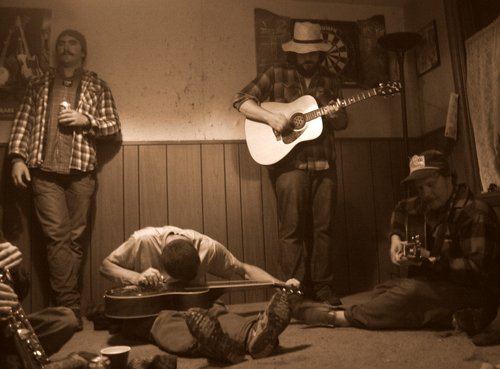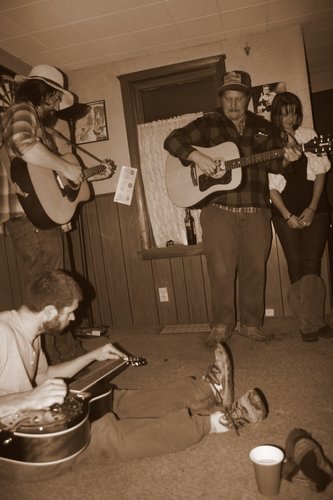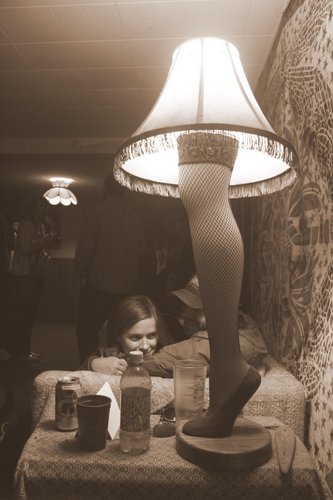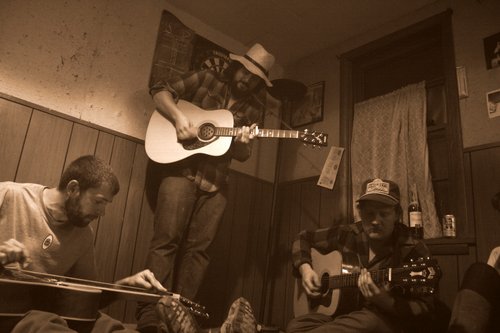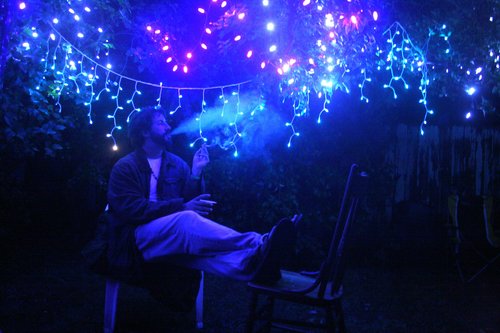 With muddied flip-flops and a pair of jeans soaking up every puddle, I parked my bicycle and questioned the whereabouts of the keg.

Scattered Christmas lights, tousled 12-packs of Pabst Blue Ribbon and flannel hunting jackets dotted the surroundings as cigarette smoke drifted through the few dozen patrons huddled under a disheveled popup tent- curious grins, bear hugs and casual conversation over the upcoming ski season filled the time between rain showers and equipment setup.
The North Millward Street front yard (the small house on the property was once a bait shop) has become a haven for booze and humanity within the Jackson Hole locale. A passerby out-of-state band situates itself in the corner of the lawn, amid low hanging tree branches or in the cozy living room due to inclement weather. And on this dreary, drizzly Monday evening, the Maryland group Cotton Jones (fresh from their appearance at the Monolith Festival) tuned up their instruments, took one last drag off their cigarettes and nonchalantly merged their melodies into the endless western sky above.
The psychedelic hipster version of Johnny and June Carter Cash, vocalists Michael Nau and Whitney McGraw radiate this Bonnie and Clyde persona as they carry the listener down a road of broken dreams, drunken optimism and melancholic isolation.

The damp crowd swayed in the midnight breeze to the hypnotic presence ("Gotta Cheer Up" / "Blood Red Sentimental Blues"). But the trance was soon shattered as the owner of the humble abode jumped on the microphone.
"Hey, everybody shut the fuck up!" he announced.

"The cops just came by and said we will get a noise violation if this show continues outside. So, we're going to move it all inside and have Cotton Jones play a few more."
Before the masses flocked inward, the group strapped on acoustic guitars and, over a hushed audience, quietly plucked through "I Don't Suppose", a four-part harmony piece, tugging at hearts and souls alike.

Packing into the sardine can living room, seats were rare, but the booze plentiful as it was passed around or pumped from the nearby keg.
Divvying up the last half-hour between unplugged selections and poignant offerings ("Foot of the Cross") from rhythm guitarist Joe Scott (his side project, White Pines, played the open-mic in town earlier), onlookers found a spot against the wall and sipped the last of their drinks before heading out the door with heavy eyelids during the wee hours of Tuesday morning.
Living in a ski town, one constantly hears the adage, "if you like it now, you should have been here 10 years ago, before all these people showed up." The funny thing is, in 10 years, I'll probably be saying the same thing about Cotton Jones and our encounter on a wet and chilly night in Wyoming.

Visit Cotton Jones