Shows
Burning Man 2009
August 31-September 6, 2009
at Black Rock City in Black Rock City' NV
by Garret K. Woodward
|
photography by Andrew Wyatt (warning: somewhat NSFW)
September 10, 2009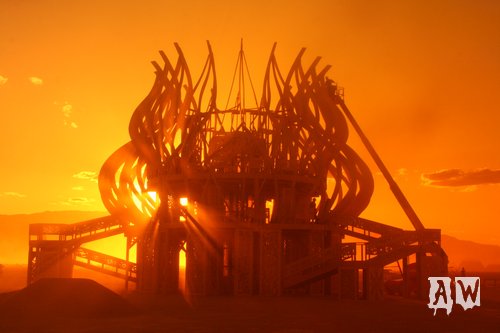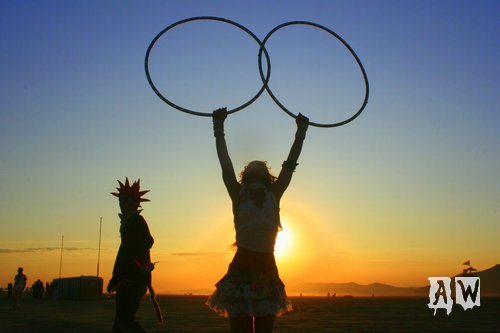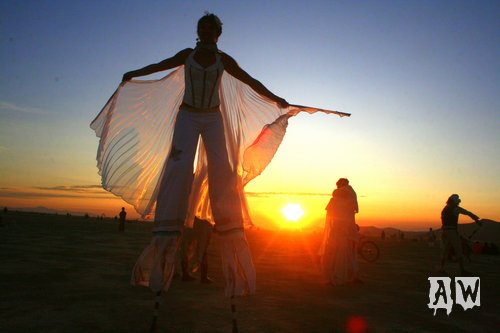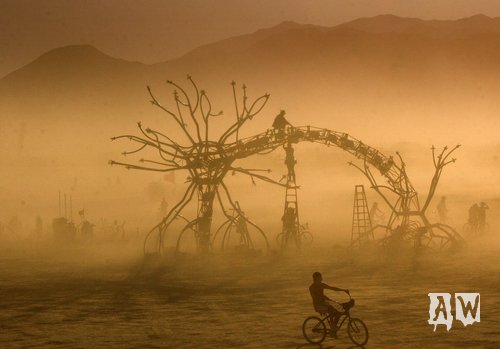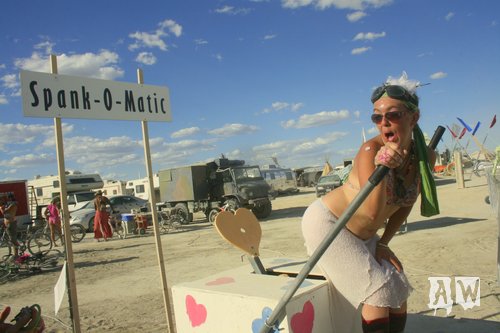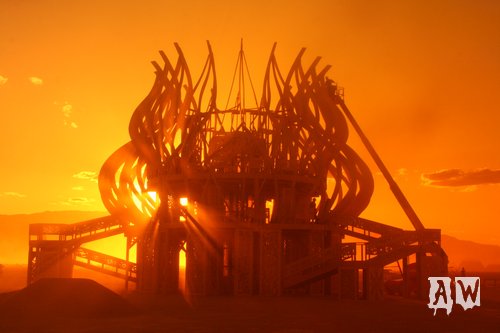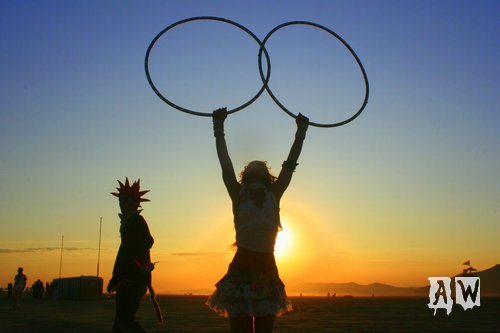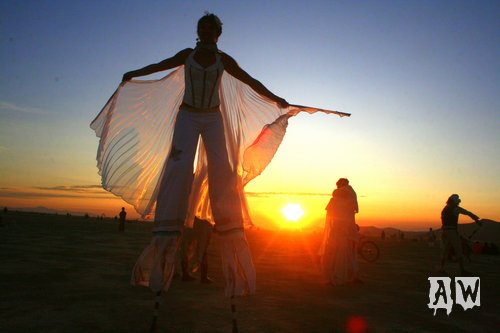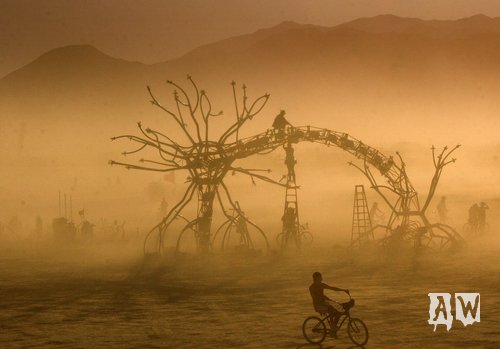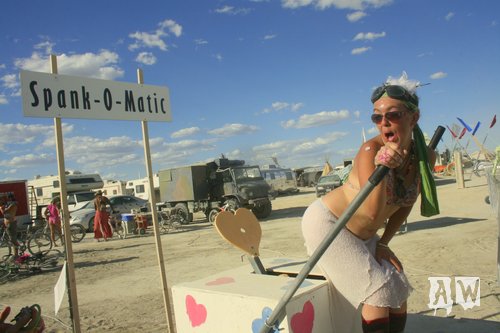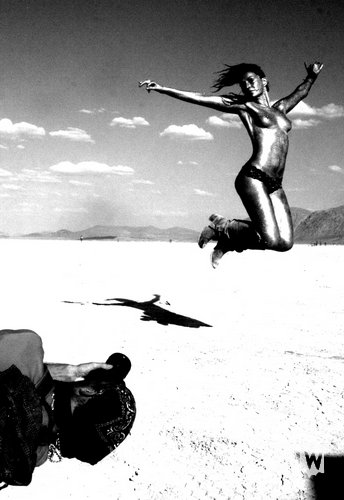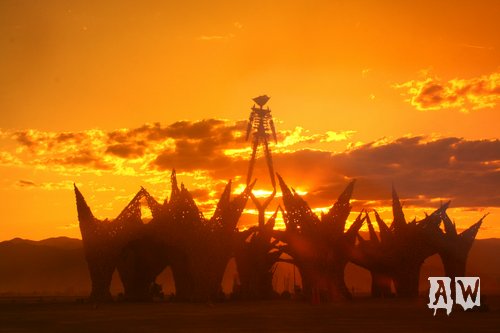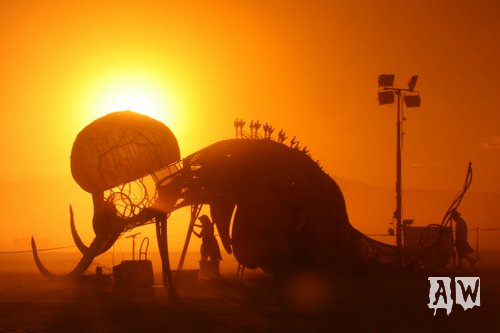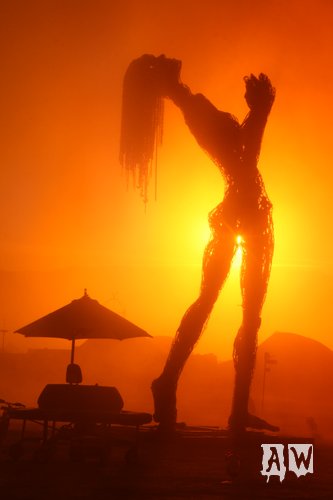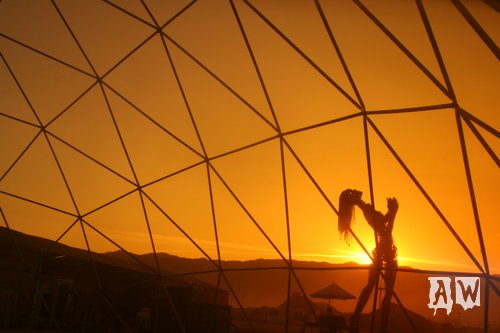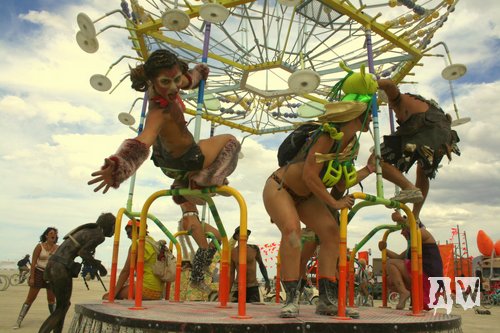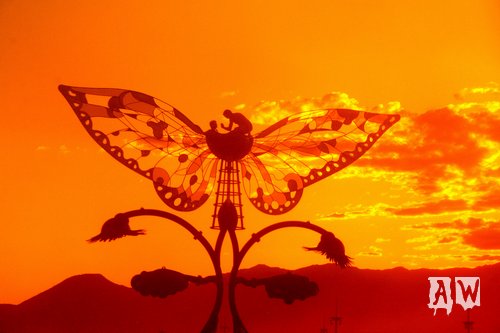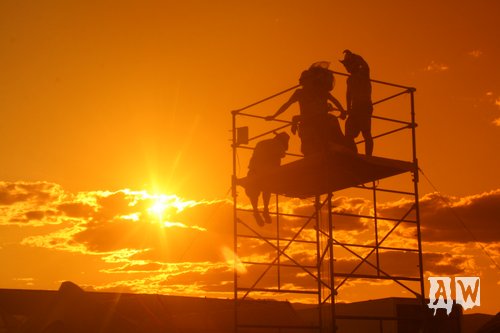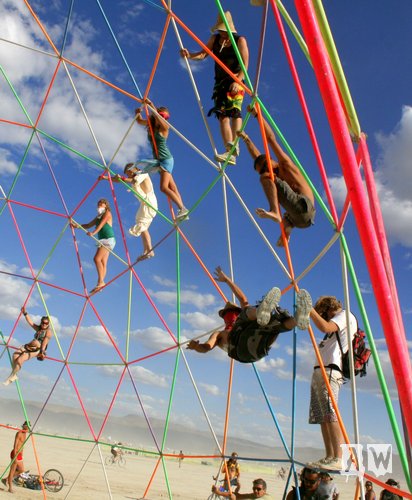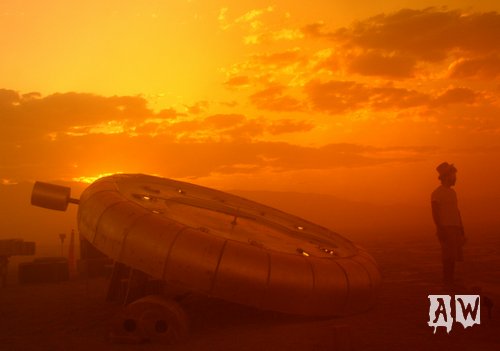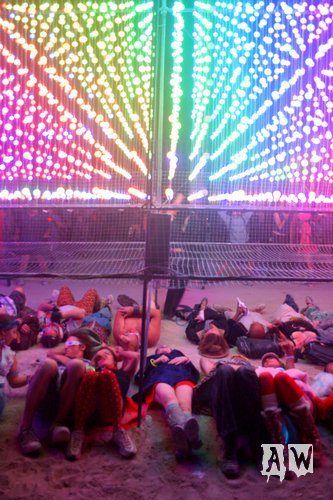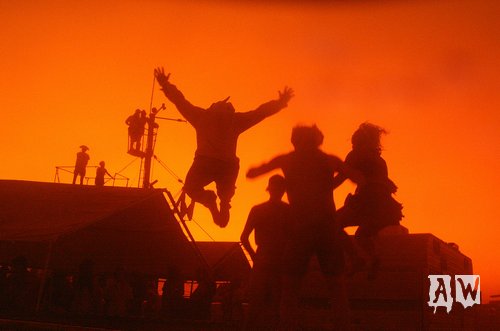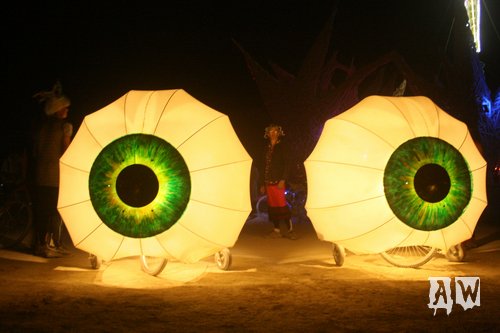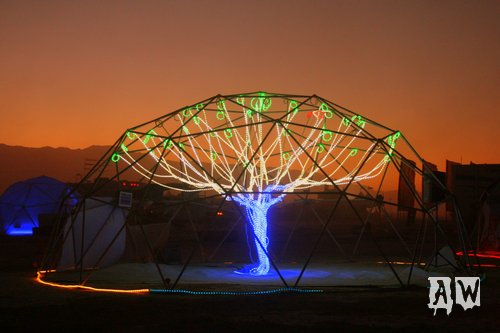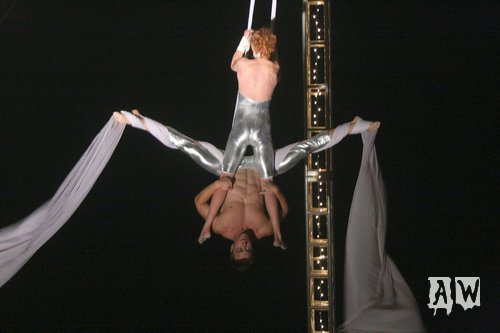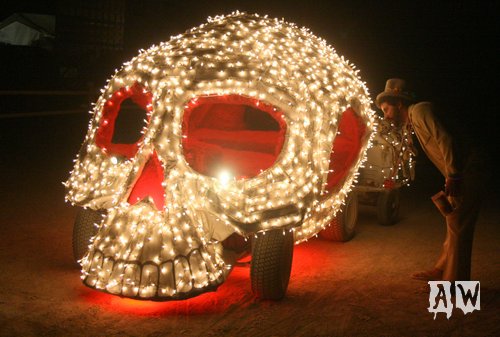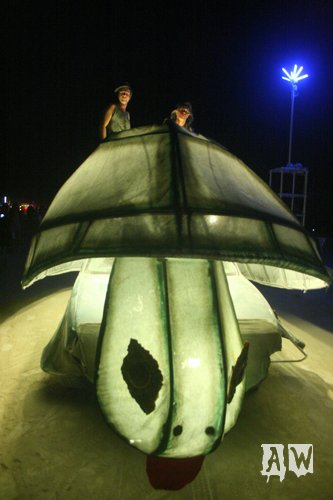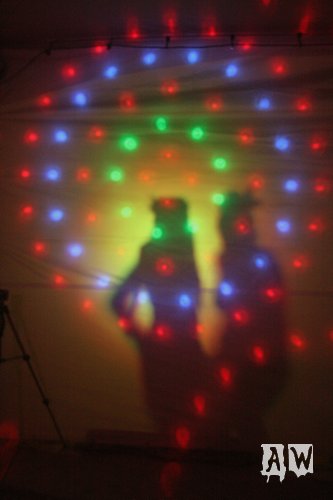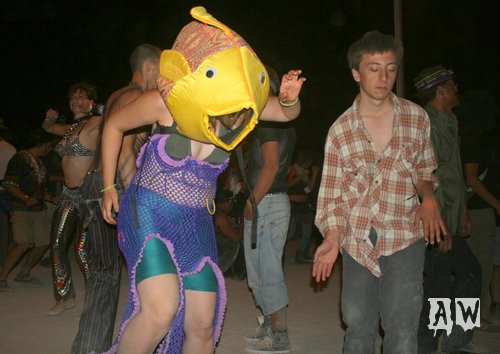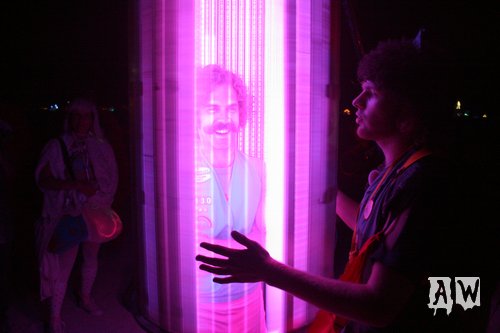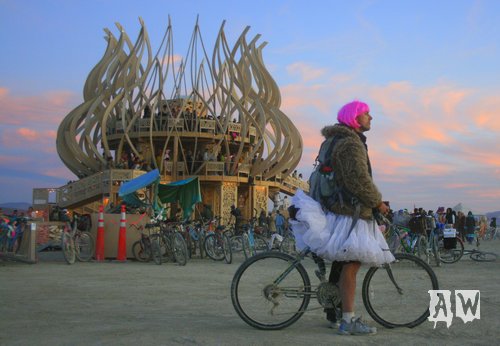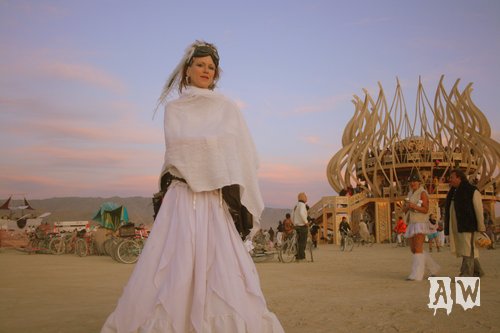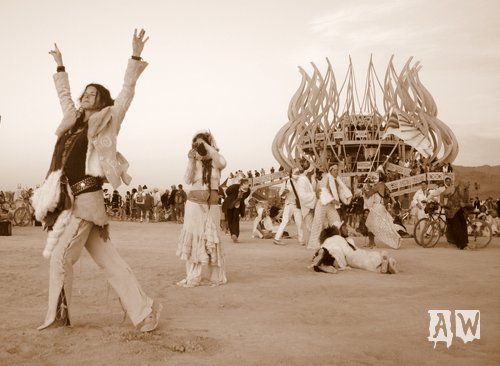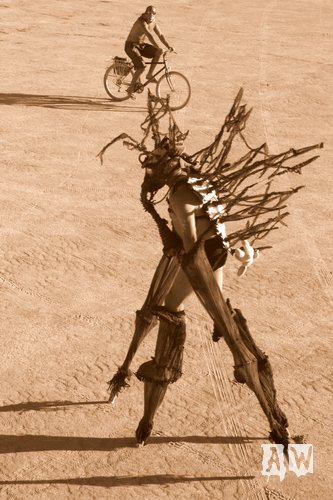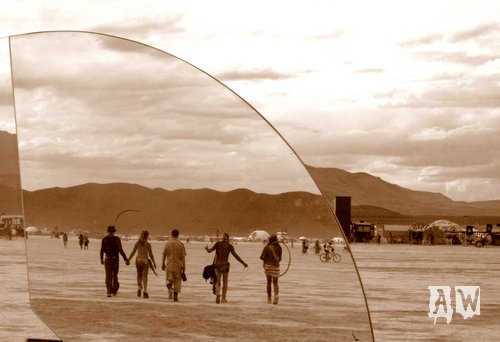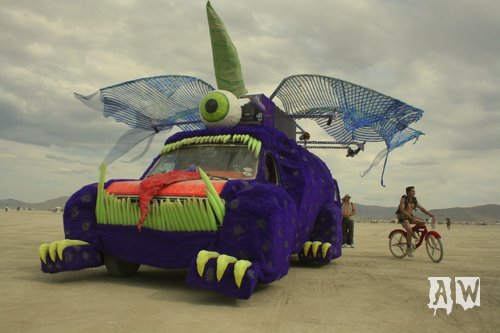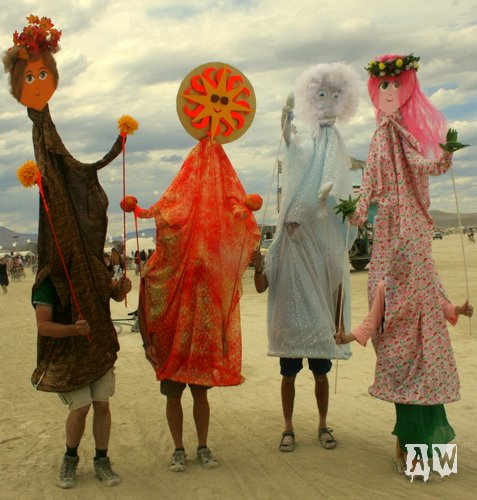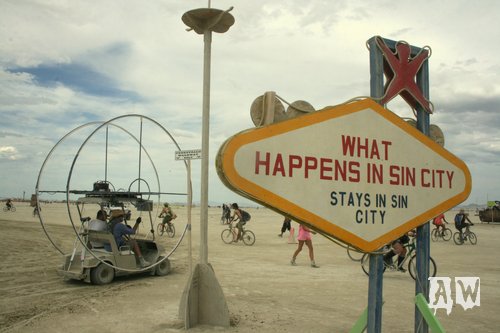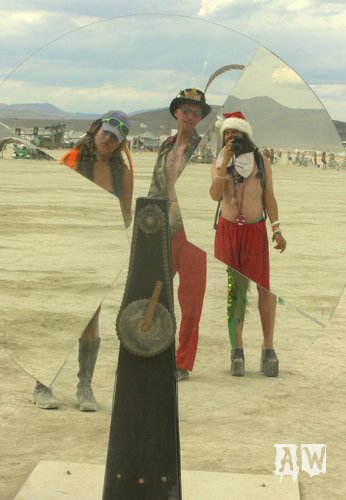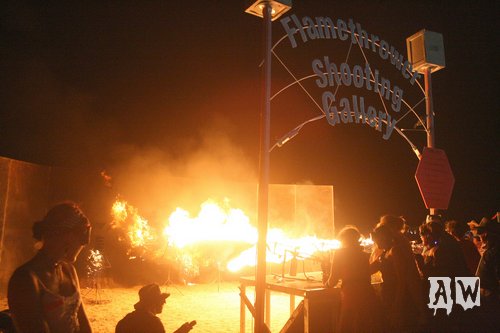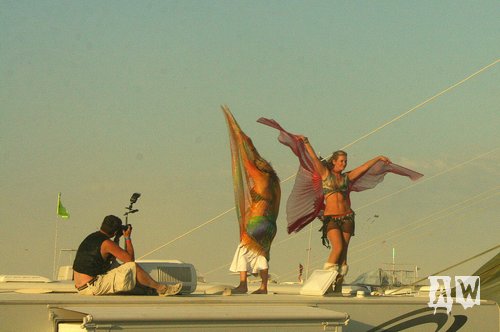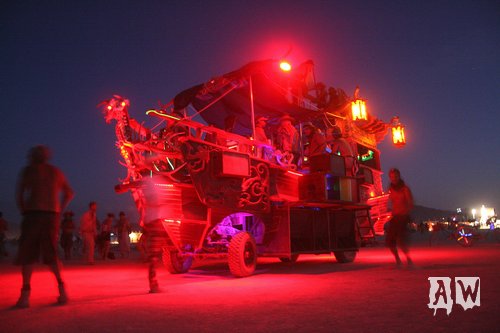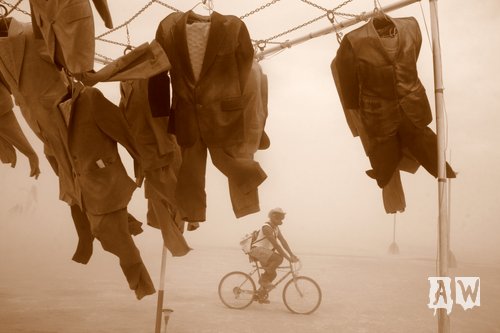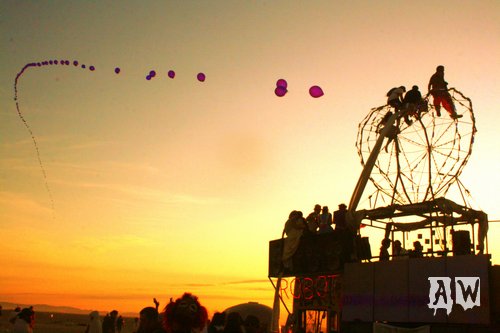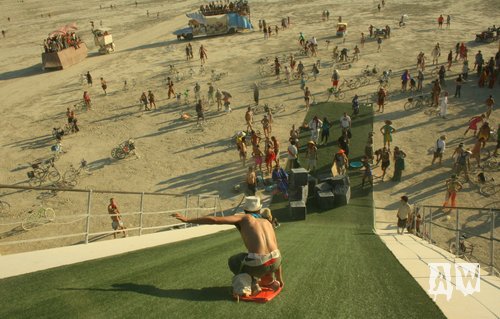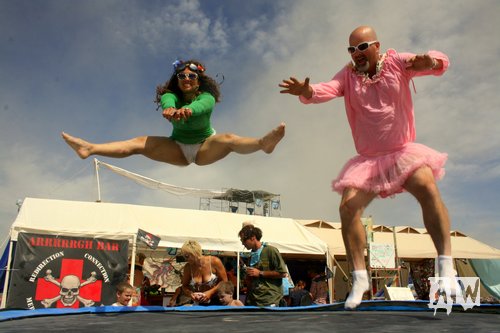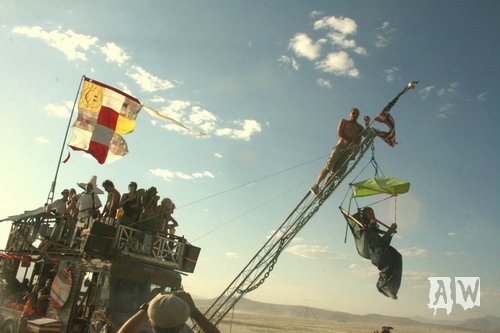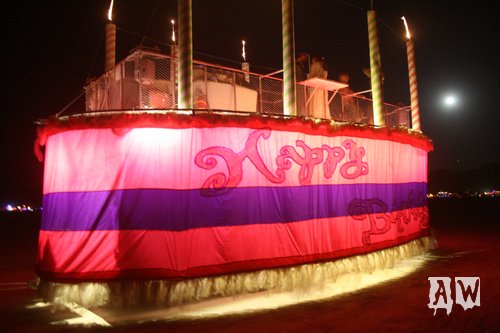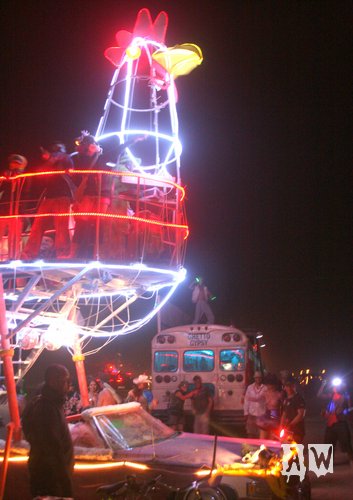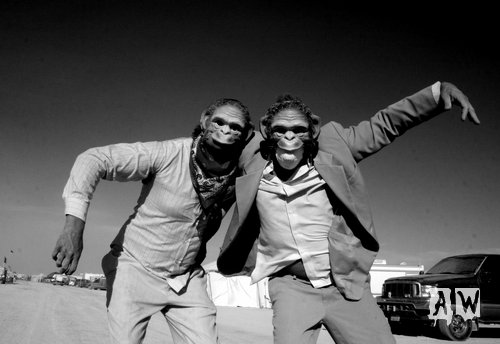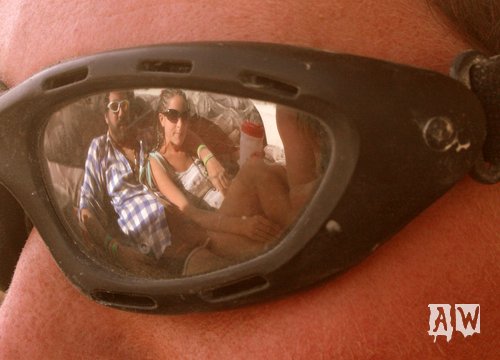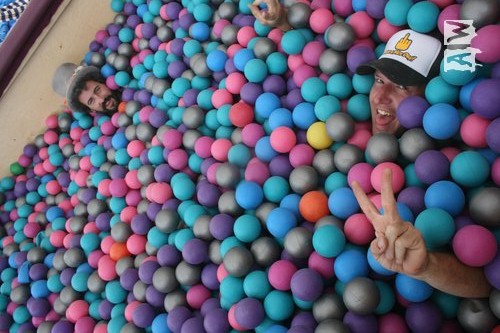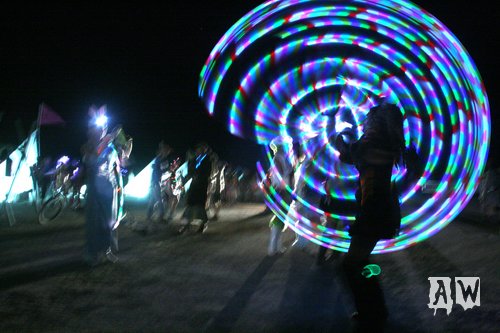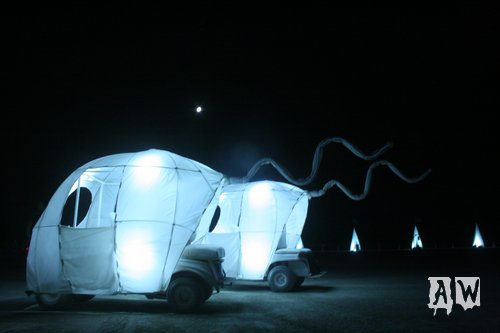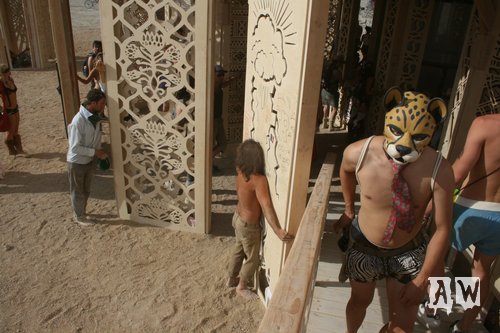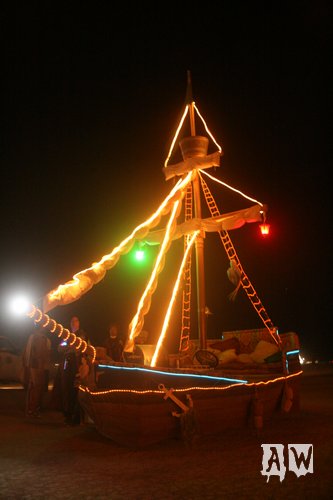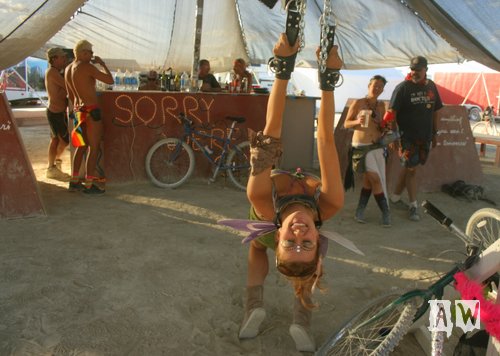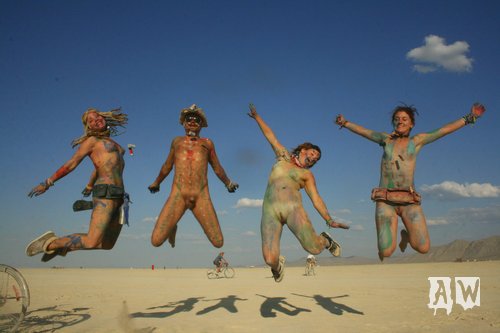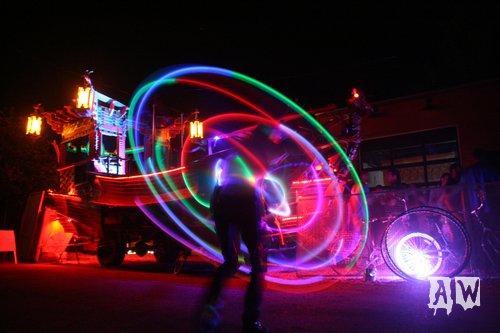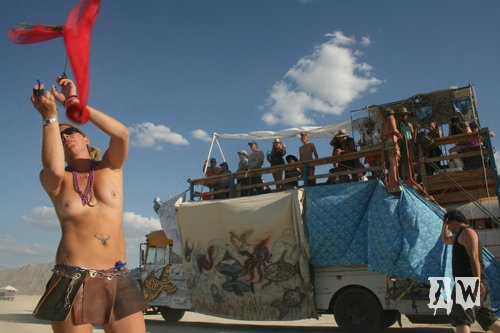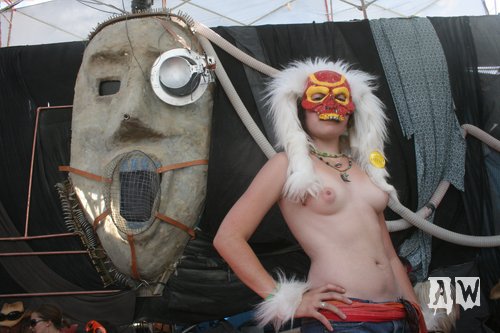 It's like losing your virginity and seeing the Apocalypse at the same time.

• I drove 2'850 miles from Vermont to Nevada.
• I entered the desolate Black Rock Desert and was greeted with a whiteout dust storm.
• I set up my tent amid Camp Gallavant' the rum-drenched pirate brigade from Reno.
• I spent the first night catching up with old friends like Hot Donna' Wrangler Tom and Navigator Rick' taking shots of 100 proof rum under the crisp' western sky.
• I met the drummer from Strawberry Alarm Clock' his name is "Naked Gene" and he insisted I partake in his nudist bar' happily titled "Party Naked"- thus I did.
• I laced up and did a midnight skate around the Black Rock Roller Disco.
• I raised my arms in utter ecstasy as the horizon before my eyes was filled with glowing' sparkling and blinking faraway dots (some more than two miles away- resulting in a distant bar)' as if they were a lighthouse directing me home.
• I played 9-hole at the mini-putt' fully equipped with windmills' paddles' semi-clothed mannequins and golf-ball eating monsters.
• I took cover during another dust storm and was invited to join the American Steel camp for dinner' which was a three-course chicken curry meal with pineapple cake for dessert.
• I rode a mobile bar around the playa for six hours' being handed vodka drink after vodka drink by the vehicles bartender' the "Governor"' a topless male in a thong bikini.
• I ate homemade pizza' topped with recently plucked New Mexico peppers.
• I stumbled upon the "Barbie Death Camp and Wine Bistro"' a terrifying yet humorous take on the downfall of the platinum blond' filled with thousands of decapitated' crucified and mutilated dolls positioned to march into a kitchen oven to their simulated demise.
• I put on a suit and headed to the Greeter's Station' where a "Burning Man Prom Party" was underway' the perfect initial visual for first-year virgins to witness as we demanded they get out of the car' take a shot of Sailor Jerry' do sand angels and ring the enormous bell' all the while screaming at the top of their lungs- they were finally home.
• I drunkenly passed out under the "Man"' the 40-foot wooden structure that is the centerpiece of the gathering' as well as the final sendoff for the year as it is blown up later in the week amid 50'000 howling patrons of all that is pure and just in the world.
• I stood in awe at the "Thunderdome"' the Mad Max replica' where participants battle in an all-out frenzy of dust' sweat and lukewarm booze- first sign of blood declares winner.
• I heard shouts' cheers' and was stunned by explosions from flamethrowers and just plain ole pyrotechnics being launched in every direction as fire dancers' jugglers' sword swallowers and avant-garde performers dotted the landscape.
• I found myself immersed in an outdoor rave at the Opulent Temple' a place where thousands of costumed femme fatales and mysterious males lose their inhibitions and become slaves to the endless groove of house music and electronica.
• I sat and observed a raucous game of "Flaming Tetherball"' where participants offer their brave souls to the friendly' yet fierce and fiery' competition of an inferno flying towards their face' in an effort to win the ultimate playground bragging rights.
• I entered the "Bad Idea Theater"' a place showcasing the worst of the worst cinema classics throughout the week' a place where I took in the 1962 box-office flop' Eegah- an enticing story of a caveman looking for love in Hollywood.
• I drank and conversed with friends and strangers that became friends from Lithuania' Florida' Australia' British Columbia' Texas' England' Maine' South Africa' Montana' Nova Scotia' Spain' Nebraska' Russia' North Carolina and Ireland amongst countless others.
• I slept on a trampoline under a canopy of stars so clear' so bright' I never knew such illumination existed from the heavens above.
• I ate Kansas City barbeque and Alaskan smoked salmon' fresh from their native lands' as I sat in the crow's peak on a motorized fishing troller (hauled from the east coast) while the sun set over the jagged peaks to the west.
• I cheered on 5'000 topless women as they rode by in the "Critical Tits" bike race' a breast cancer awareness event where entrants ride the sands in full force.
• I was given mushroom espresso chocolates by a femme fatale who stopped to chat' only to result in a true definition of "going down the rabbit hole".
• I rode on art cars (mutant vehicles)' which held dozens of people and resembled a rubber ducky' Chinese junk' cruise ship and Mississippi River paddleboat.
• I sauntered into a "homebrew party"' where I celebrated sweet libation over handcrafted wines' liquors and beers (not to mention the 12-year-old mead).
• I joined in on a "Zombie Crawl"' where living dead enthusiasts creep and attack the streets in search of fresh brains and strong drink.
• I embraced a beautiful woman (from Phoenix) during the burning of the Shiva Vista fire performance stage' as the sands of time licked our heels.
• I was poured a fresh cup of French roast coffee during a majestic sunrise' the rays of light cascading down ancient rock and ultimately upon my joyous aura.
• I watched the "Man" burn' encircled by thousands of screeching brothers and sisters' yelling as loud as humanly possible until the burning structure collapsed into a ball of flames one and all danced around until our souls were cleansed.
• I awoke' after 10 days in the desert' to a rebirth of my soul as I packed up my gear and started the engine for destinations unknown.
• I discovered inner peace' and my long lost inner child' as I headed back to Reno' back to reality' for now at least' until my next venture into the desert.