Shows
Osheaga
August 1-2, 2009
at Parc Jean Drapeau in Montreal' Quebec
by Ryan Lowell
|
photography by Pat Beaudry, Andre Lawrence & Martin Thibault
August 19, 2009
page 2 of 3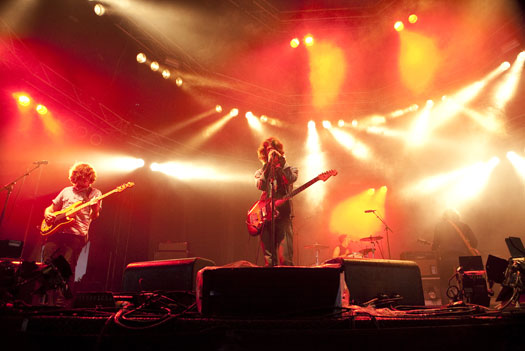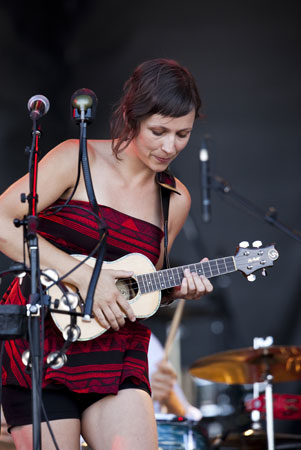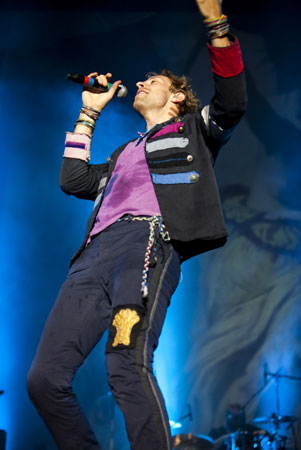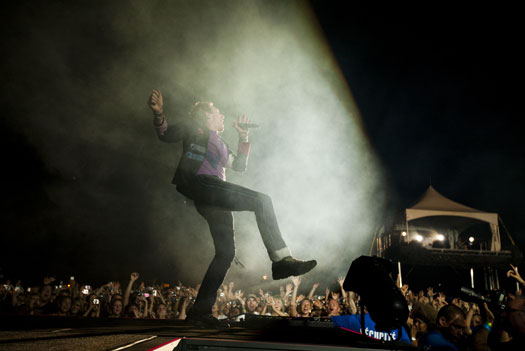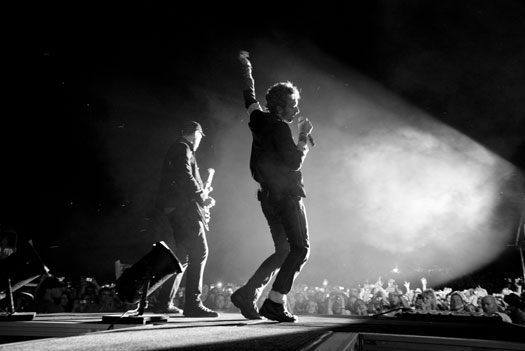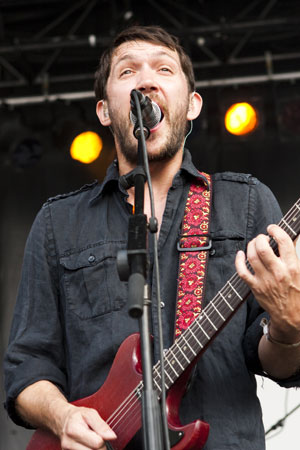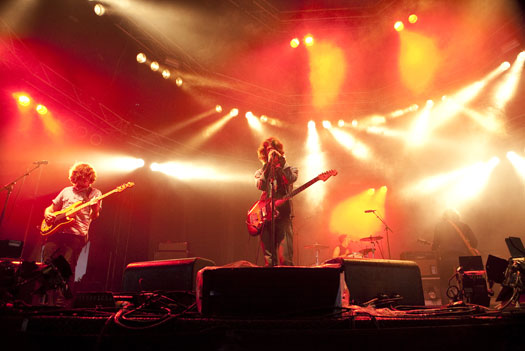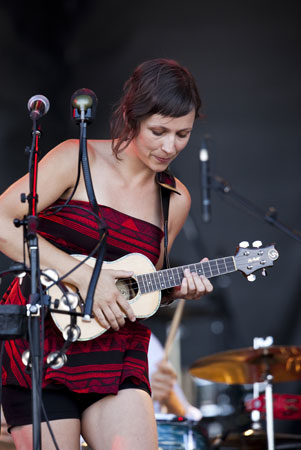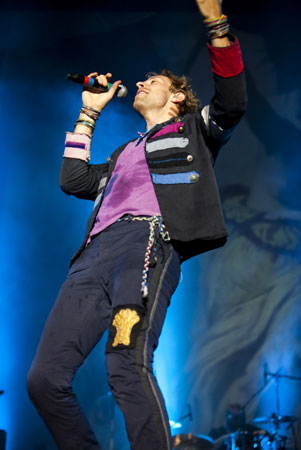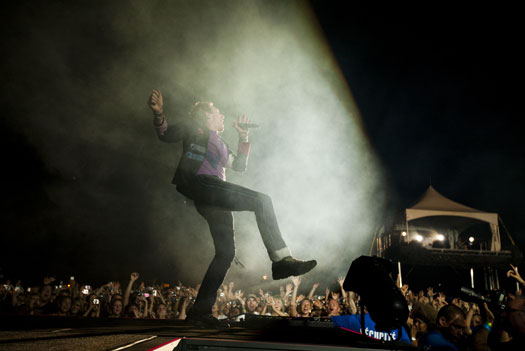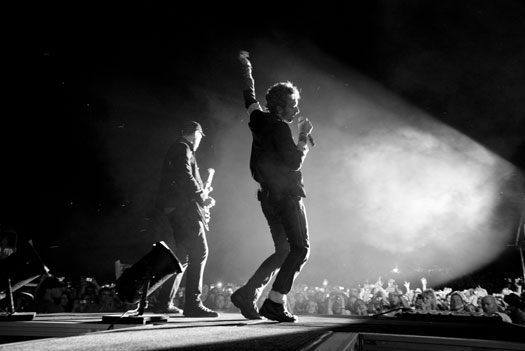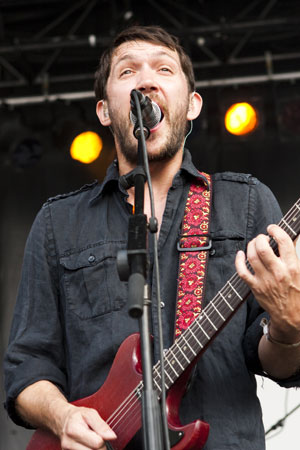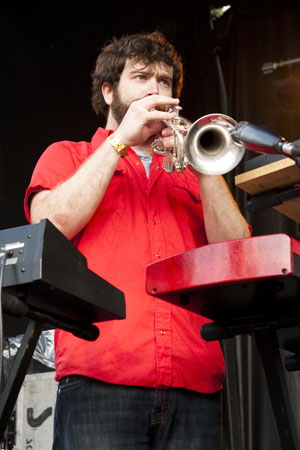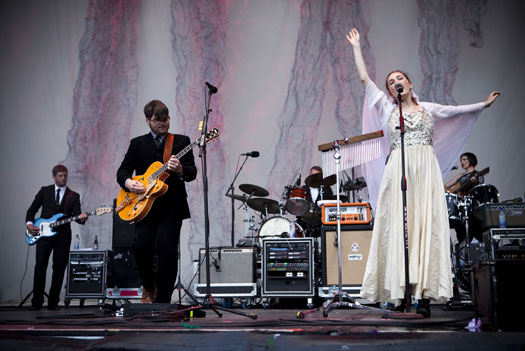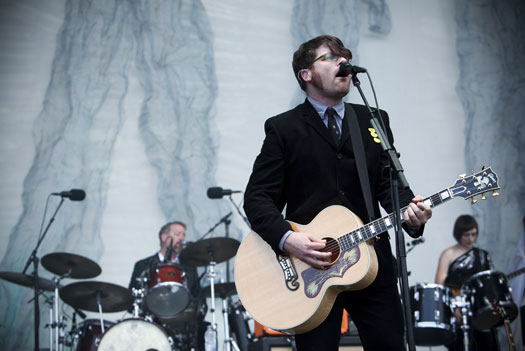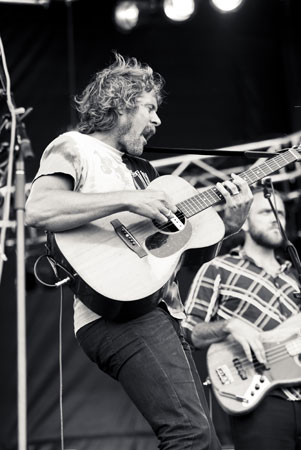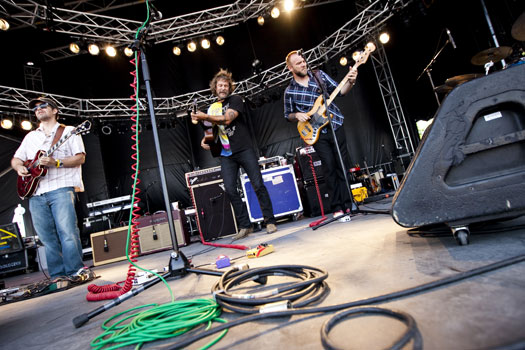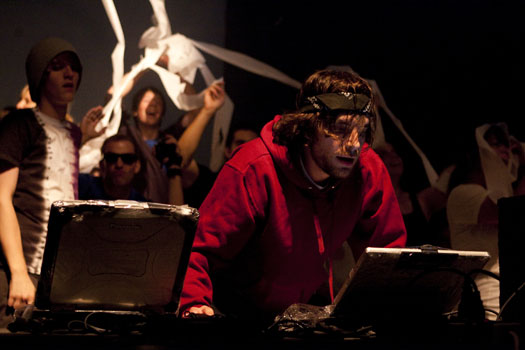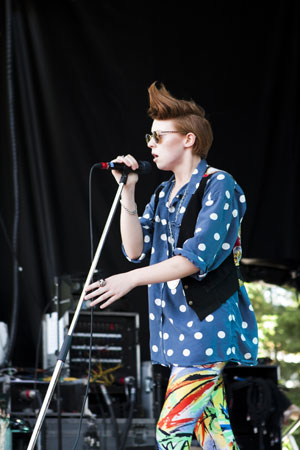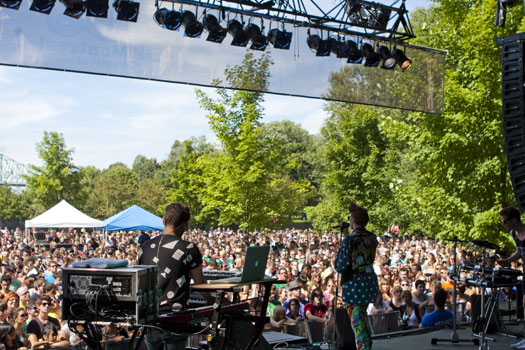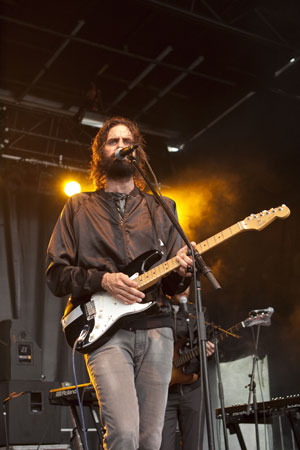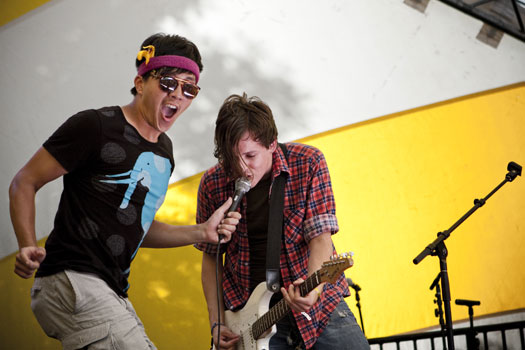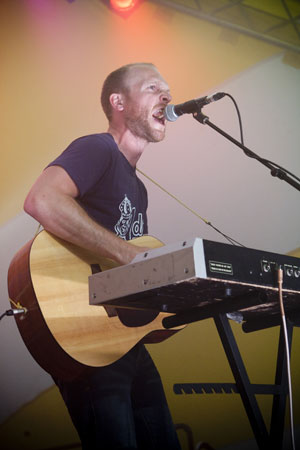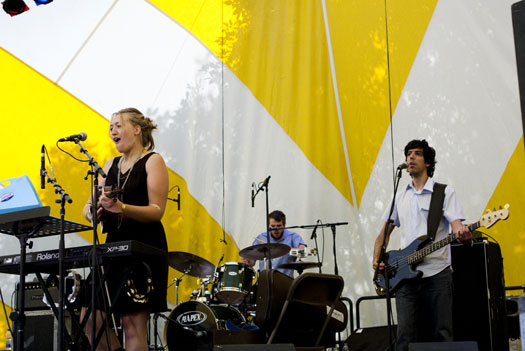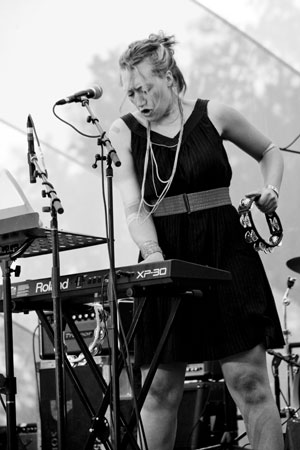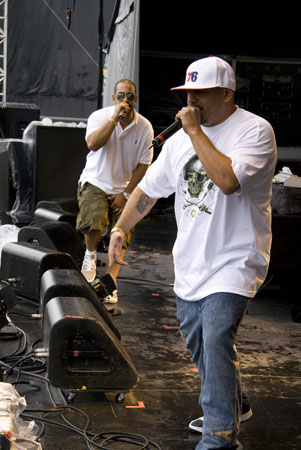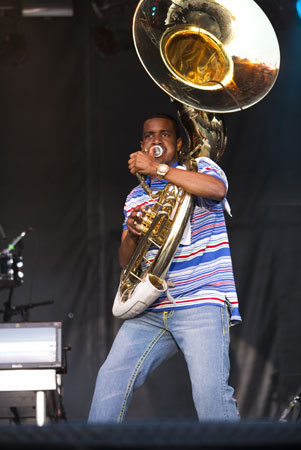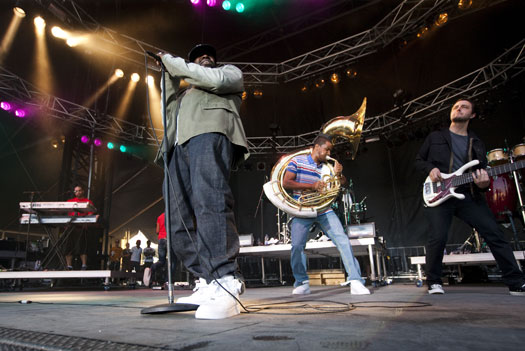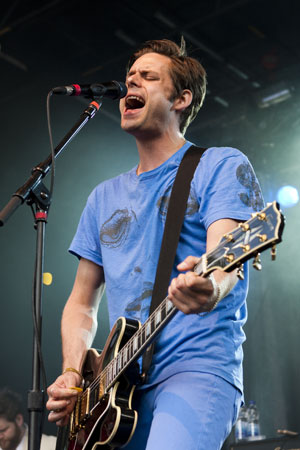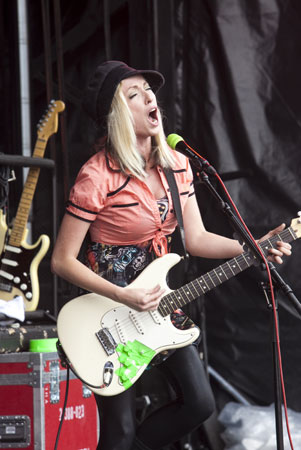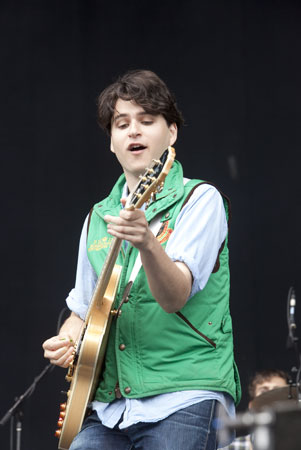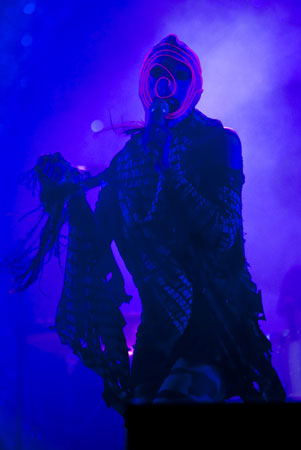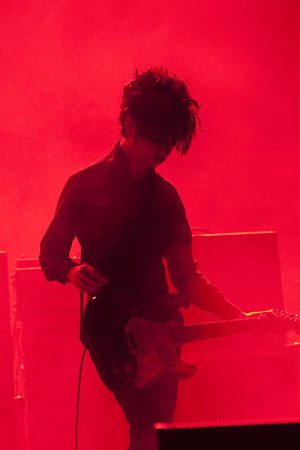 Completing another loop around the Parc' I dropped back into "MEG" where The Stills brought their own brand of polished' extensive indie rock with danceable undertones. The local group mentioned how wonderful it was to be able to take the metro from their houses right to a festival' and it got me thinking about how great it is to be able to walk a couple minutes and see completely different artists from all over the world. Things were heating up on the main stage' but I made one more pass by "Arbres" to catch Saddle Creek signees Rural Alberta Advantage' because of my insatiable appetite for Canadian hipster rock.
As the sun descended' hip hop heavyweights The Roots killed an hour plus set mixing the street savvy rhymes of MC Black Thought and the scholarly genius of his backing band headed by drummer ?uest Love. I've run into The Roots twice before in my festival days' but they've never been as on point as they were at Osheaga. The rap was great and all' but what did it for me was everything else that deepened their on stage spectacle. They had a sousaphone player who jumped as he blew his lungs out' a percussionist duel' choreographed dance moves for the string section' classic rock interludes of Ozzy' GNR and George Thorogood' and Black Thought getting his James Brown on to pump up the crowd.
With nightfall came an inner dilemma of which closing artist to check out- Coldplay or Girl Talk. I'm a big fan of Girl Talk's frenzied mashups' but how could one dude and a computer stack up to a U2 caliber arena rock spectacle from Chris Martin & Co? My decision was made easier by the fact that I could barely move after the Roots set due to the swarm of Coldplay faithful surrounding me. Armed with their own camera crew' special effects' light show' fireworks and yes' giant yellow balloons for the entire crowd to bounce around during a song named after the same color' watching Coldplay felt like watching a music video on MTV except it was actually happening before everyone's eyes. Despite not owning any Coldplay albums' pretty much every song was a crowd pleaser that had seeped into my psyche while I was shopping in some mall or another. Although I wasn't as pumped as the thousands of screaming girls who looked like they were going to cry when they popped up on the jumbotron' I will admit that Coldplay know how to command an enormous crowd. It was a sight to witness for sure' but somehow I didn't feel a part of it. I forced my way through hundreds of rows of fans to see what was going on with Girl Talk' allowing my "grass is always greener" outlook to lead the way.
Girl Talk lead a stage wide dance party' rife with toilet paper and confetti spewing in every direction. Although I was close to the action' again I didn't feel quite part of it' as those who weren't on stage were the awkward wallflowers at the school dance watching everybody else have fun. Also' the live mash ups were way more primitive and arbitrary than album cuts' and the only visual stimulation was a scrawny dude in a white t shirt jumping around like a monkey at a keyboard. Determining that Girl Talk was more cut out for dance parties with friends' I checked back in on those arena icons across the way' who were currently shooting off fireworks and covering "Billie Jean'" from a makeshift stage to the left of the crowd. After an extensive encore' I hopped the metro back to my campsite in disbelief that such a concentrated burst of music was only half over.
Sunday' August 2nd
Slightly sunburned from the day before' I re-emerged from the metro and bade farewell to the last moments of absolute dryness I would experience all day. Navigating a sea of ponchos and umbrellas' I instantly regretted bringing only a cotton jacket. Though crowds were much smaller in the early going of day 2' visibility proved to be difficult through foggy glasses and umbrella wielding fans surrounding me. At 1:30' the thundershowers got really intense' and by 2:00 when The Honey Brothers took the stage' I was already soaked to the bone. On any other day' I think I would have enjoyed the jammy pop of the Honey Brothers' but my cranky' damp demeanor left me envious and spiteful of their "sunny" outlook and the cover provided for them on stage.
The Beatnuts had a more realistic outlook on the situation that I felt I could connect with. "This is fucked up'" MC Juju sympathized. In 45 minutes' the rap duo covered tried and true hood themes of weed smoking' braggadocio and shout outs to the ladies' but their beats and rhymes were strong enough to compensate for a lack of uniqueness.
Wringing sheets of sky Aquafina out of my hoodie' I checked out "MEG" to see if there were any wild rain dancing parties going down. What I found was a much smaller crowd with seldom a dancer' but I was able to take advantage of the short port-a-potty lines' taking cover to scribble my thoughts on the day into my notebook without the pages disintegrating. After my writing break' I caught Miike Snow' a club friendly electro pop group that had a good sense of when it was time to synthesize' and when it was time to bust out the electric guitar and rock faces. The lead singer also gets my props for wearing a sleeveless garbage bag tee. Stylish and practical.
I continued on my dance pop kick and checked out The Ting Tings' a male-female UK duo led by the sassy vocals of Katie White. At first it was hard for me to get past the fact that the Ting Tings opted for using pre-recorded sounds rather than adding a touring band member' but the energy White and instrumentalist Jules De Martino brought to the stage was authentic and intense enough to compensate. White sang simple choruses and played simpler guitar riffs' but the way she danced and jumped around the stage made even the basic feel exciting. Moods were also lifting due to a temporary stoppage of rain' which lead to the most smiles and sing-alongs I'd seen all day.
Main stage traffic reached its day 2 climax early' when Pitchfork darlings Vampire Weekend took the stage in semi casual prep ware. Sporting a button up shirt' green down vest and heart throbby black bangs' Lead singer Ezra Koenig looked more like a Jonas Brother than a rock star' but hey' they're popular too I hear. The set started slow with pretty much album exact renditions of songs' but some mid-set crowd involvement' a few danceable numbers and a hard rocking finish improved the situation.
It was again supper time at Osheaga' so I sat on the gravel just in front of the now soggy grass at the bottom of the hill and watched Rufus Wainwright get bilingual in his heartfelt solo set. Although slow' Wainwright's pace was a refreshing change up and great for simultaneously eating PB & J and drying out. My food depleted' I searched for something a little more intense to command my attention away from my hunger and pruned fingertips. What I found was Cursive' an improvisational take on the darker side of punk' that successfully mixed trumpet solos into its chaotic blend. Their lengthy anthems started slow and introspective' gradually growing into beautiful fits of yelling and thrashing' magnified by unorthodox trumpeting. At song climaxes' fans threw chunks of muck into the air in celebration' adding to the gorgeous mess taking place on stage.
Gearing up for a fitting finish to an already indie fabulous day' the bookworm ballads of
The Decemberists
were next. The group performed their new album'
Hazards of Love
' in it's entirety. Though I'm not a huge fan of bands playing
albums straight through
'
Hazards
worked for the most part. While it was a bummer to not hear anything else from their expansive catalogue' and it felt weird that none of the artists directly addressed the crowd until the show was over' the group was completely in the zone and performing the material at an impressive level. While slower points of the album dragged a bit and thinned the audience' recurring riffs' vocalist roulette' and improvisational dance solos were more than enough to keep those who did stick around enthused.
As it got darker and The Decemberists bade farewell' the nagging rain returned and coaxed me out of a mentally long walk to go see Heartless Bastards' half hour set. I instead saw the forgettable first thirty minutes of a nearly two hour Arctic Monkeys set. The Monkeys brought with them their trademark Brit Punk' long locks and front man Alex Mercer's cockney pub tales' but aside from the urgent three chord recklessness that is automatically built into the majority of their tunes' the lads didn't bring a lot extra to the table. They rocked out on hits like "I Bet That You Look Good On the Dance Floor" and "Brianstorm'" but without any striking solos or memorable crowd interaction' it felt a lot like the UK crew were just going through the motions. Fortunately they've got enough talent to put on a good show on cruise control' but I still wish I'd sucked it up and taken the water logged walk in search of something more engaging.
related articles
Shows: Life is Good Festival 2013
Shows: The Black Keys + Arctic Monkeys
Shows: NOLA Jazz & Heritage Festival
Albums: The Decemberists - The King is Dead
Features: Staff Picks: Best of 2010
More on:
Arctic Monkeys
,
Coldplay
,
Cursive
,
The Decemberists
,
Donavon Frankenreiter
,
Eagles of Death Metal
,
Girl Talk
,
The Honey Brothers
,
Kitty Daisy & Lewis
,
La Roux
,
Miike Snow
,
Parlovr
,
The Rural Alberta Advantage
,
Silver Starling
,
The Roots
,
The Stills
,
The Ting Tings
,
Vampire Weekend
,
The Yeah Yeah Yeahs
,
The Beatnuts