Shows
Osheaga
August 1-2, 2009
at Parc Jean Drapeau in Montreal' Quebec
by Ryan Lowell
|
photography by Pat Beaudry, Andre Lawrence & Martin Thibault
August 19, 2009
page 1 of 3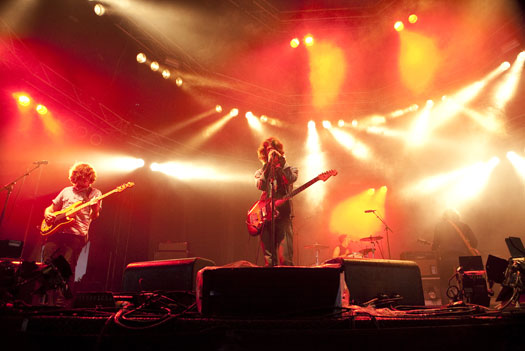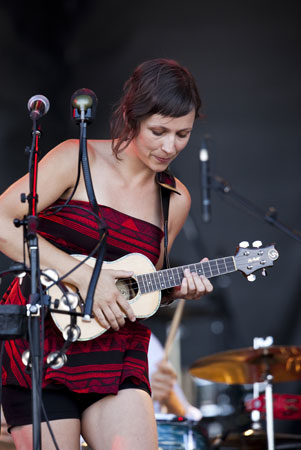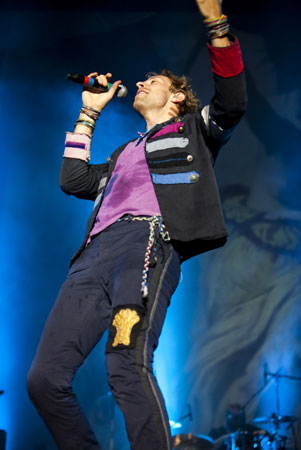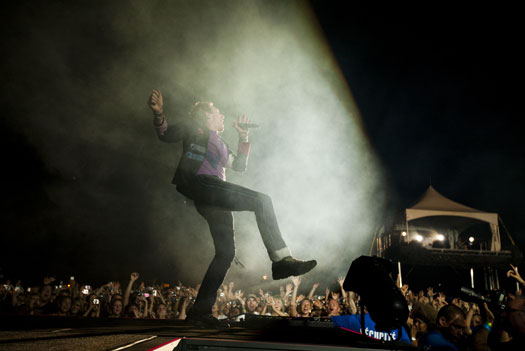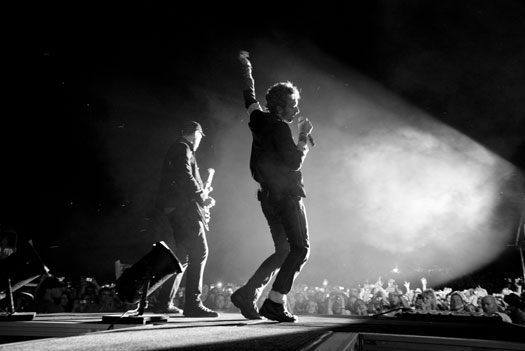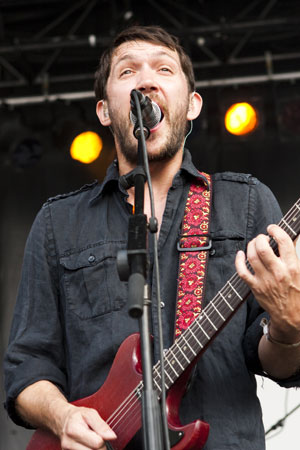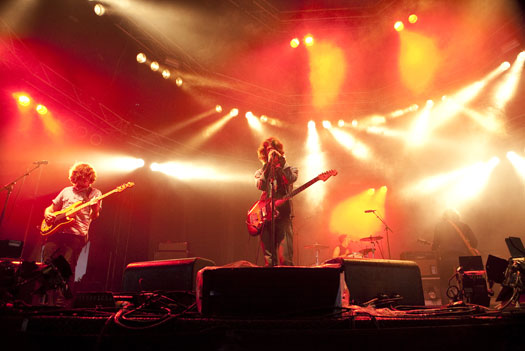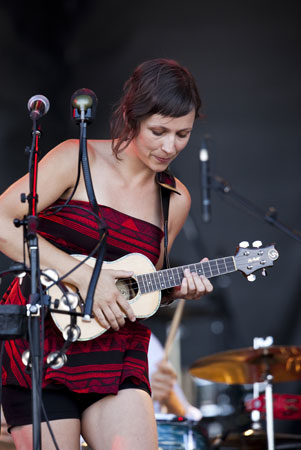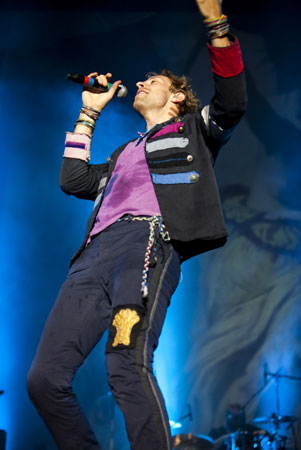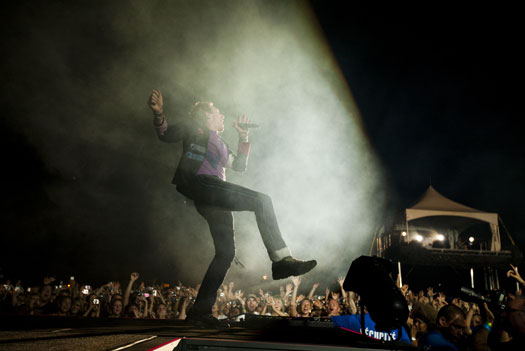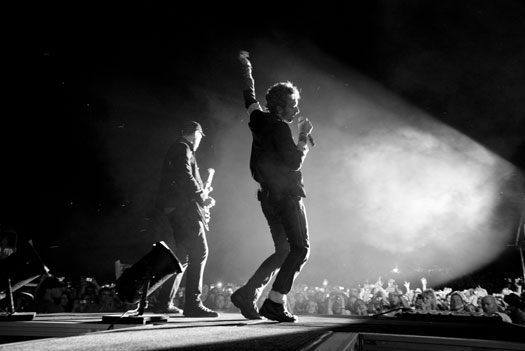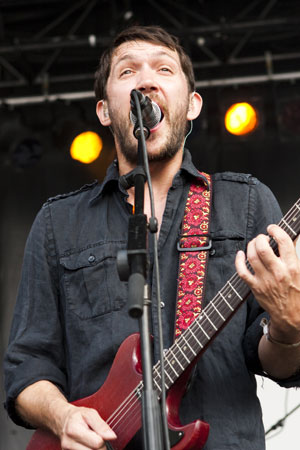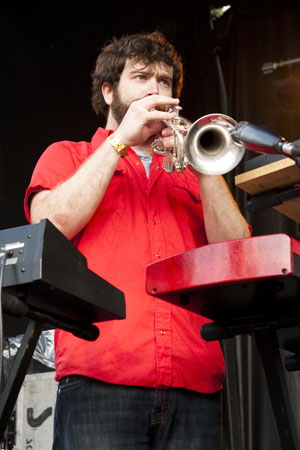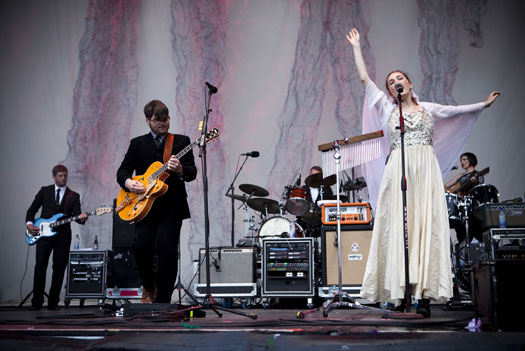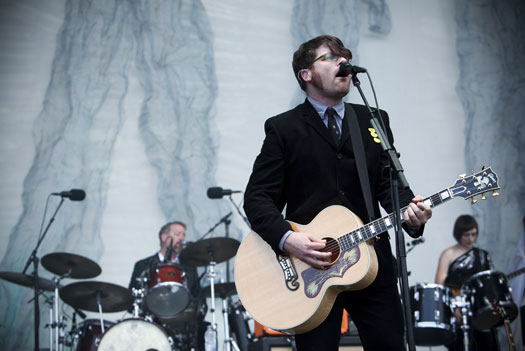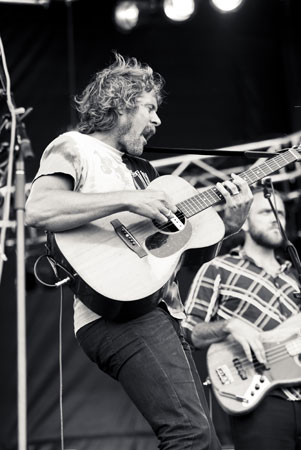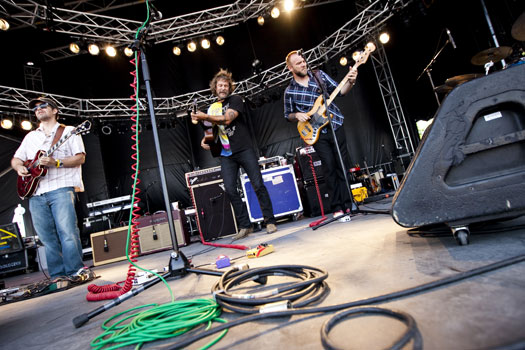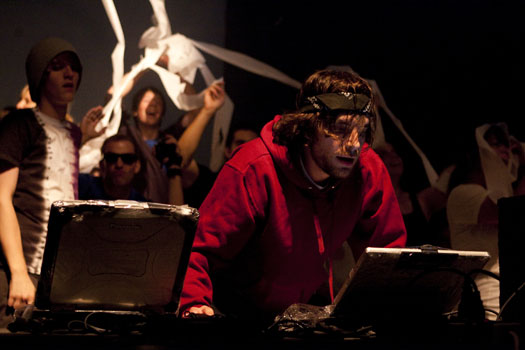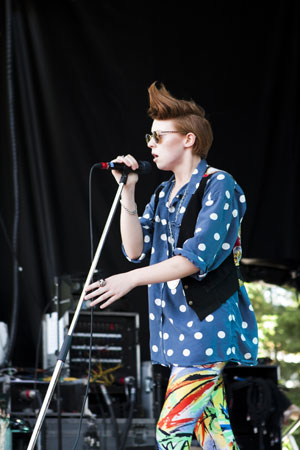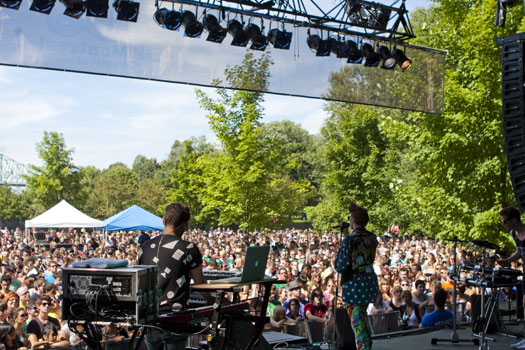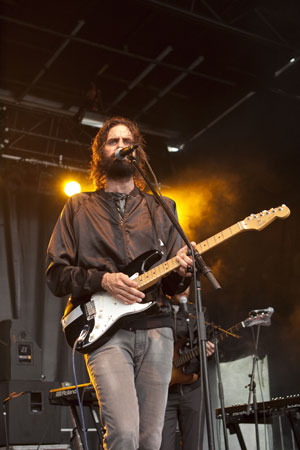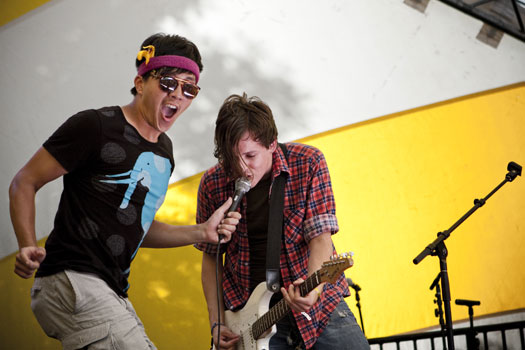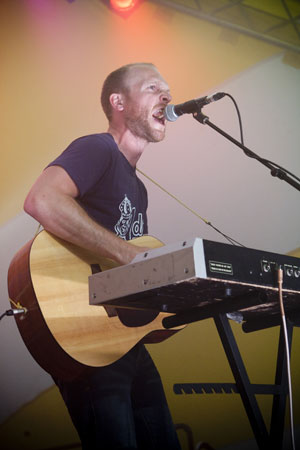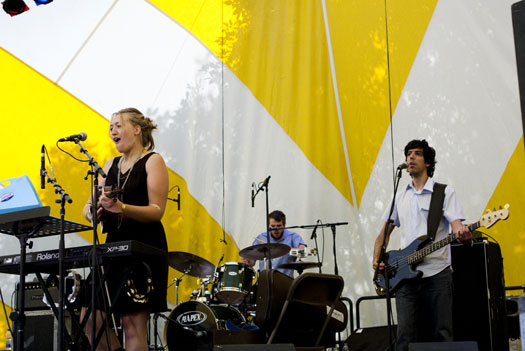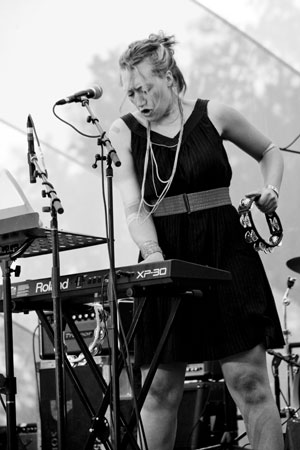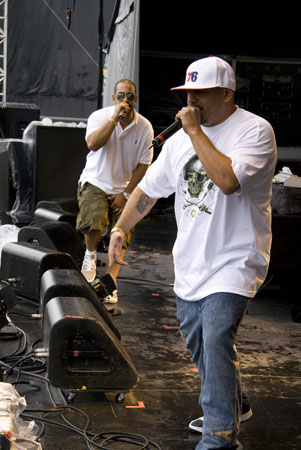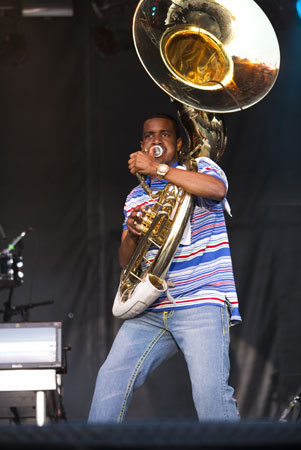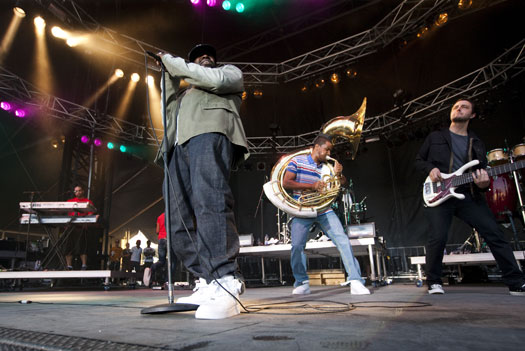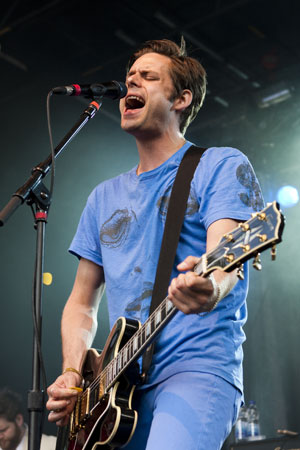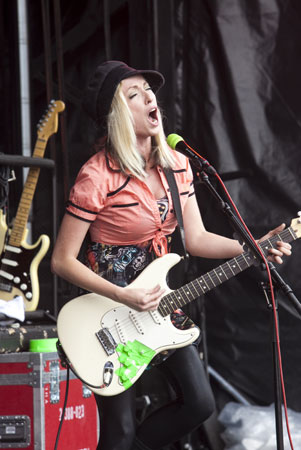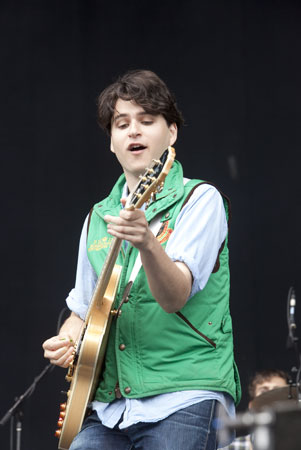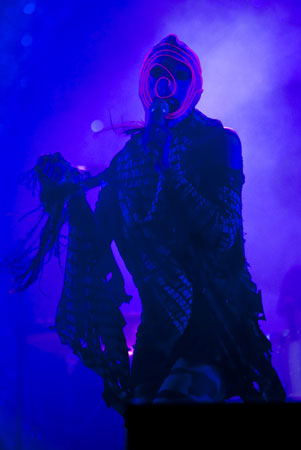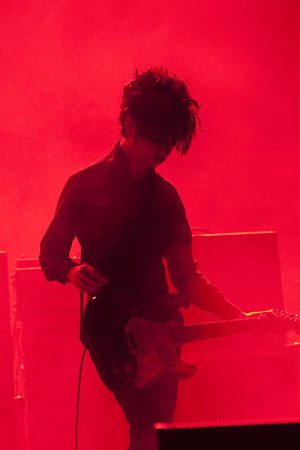 Hours' days or even weeks of planning can go into a successful festival trip. You can hop on your computer' labor over the lineup schedule' check out maps of the festival grounds and listen to free sample songs on every bands' myspace' all in hopes of crafting the blueprint for a perfect festival experience. And while figuring out exactly how many minutes you can enjoy The Decemberists for before sprinting to The Heartless Bastards' sounds well and good in theory' everything changes once that first note is played. Before the music starts' it's hard to recognize all of the variables involved in a festival day' such as weather' hunger' and an impenetrable wall of Coldplay fans.
Although I inevitably missed several "must see" performances' I like to think I made the most out of what I had to work with' much like Osheaga 2009 itself. Just as I scrambled to take advantage of my surroundings' Osheaga scrambled to overcome a water-logged second day and the absence of original headliners The Beastie Boys. The festival may not have turned out exactly the way it was planned' but the wonderful thing about music is that it thrives in the unexpected.
Saturday' August 1st
Despite my preamble' day one of the festival's fourth edition was basically perfect. Artists from countless genres and countries joined with Montreal's best local bands to play on what Tim Fletcher' front man of the Montreal native Stills called' "the first real day of summer." As I stepped out of the metro station I could see rays of light shining through the Biosphere' the Parc's trademark landmark. After months of soggy boots and dark clouds' the sun was as much a cause for celebration as the music itself.
Continuing into the Parc' I was excited to find that Osheaga's four stages were strategically placed not only for convenience and sound quality' but also to show off the natural beauty of Parc Jean Drapeau. Renowned for its cleanliness' Parc Jean was able to maintain its gorgeous ambiance even with the influx of tens of thousands of rock fans. Every trash can had a recycling bin attached to it' and judging by the lack of mess on day 2' people actually bothered to use them. The stage layout made use of the Parc's expansive environment' as the two neighboring main stages sat side by side on a flat gravel area with a large grassy hill nearby allowing fans to get a great view from afar. The two stages wisely staggered performances' providing constant music from start to finish for fans who stuck to the main drag. The smaller stages were about a five minute walk away' close enough so that you didn't have to miss out on the action because of a long commute' but far enough apart to avoid noise pollution.
Sisters and brother trio Kitty' Daisy & Lewis set the tone for the eclectic day ahead' putting a modern twist on retro rock 'n' roll. In their brief half-hour set' they sampled the golden age of country' rockabilly' ska' jazz and beat boxing' and Lewis somehow managed to keep his cool despite his slicked back do and three piece suit. Switching vocal' keyboard' guitar and drum duties with support of an acoustic rhythm guitarist and an upright bassist' the siblings sound was all-American until they exposed thick British accents in between numbers. The set reached its climax when the group brought out a guest trumpet player who added a spastic brass supplement to an already unique sound. The trumpet numbers started out with ska and developed into improvisational jazz solos filled with outbursts of sound. With the weekend 30 minutes young I could already bask in the glory of a new music discovery.
I strolled over to the adjacent stage to catch surfer turned funky singer-songwriter Donovan Frankenreiter do his thing. A frequent name on Burlington show bills' I had seen him belt out poppy baby making music at an acoustic set a few years back' and I was psyched to see he brought a full backing band to get jammy this time around. Donavan's high voice and mellow noodling was much softer than the heroes he promoted with his half Are You Experienced?' half Led Zeppelin t-shirt' but it was still fun music for a sunny summer day.
Just as he pulled out the electric guitar and showed signs of kicking things up a notch' I left Mr. Frankenreiter to check out the other stages and the local talent. First up was the "Scene Des Arbres'" a tent covered stage with intimate audience space and plenty of "Arbres'" as long as that means trees. Essentially a small clearing in the forest' this stage fast became my favorite place to relax in the shade and recharge my batteries. It was here that I caught the pensive indie rock of locals Silver Starling. I watched the set from underneath a small tree' with a view comparable to the barstools at the back of a dive bar' except with the forest as a back drop instead of smoke jaundiced walls.
I completed my stage tour at "Scene MEG'" the default dance stage of the event. A sound tent in the middle of the crowd obstructed my view from time to time' but it was still a great place to be in the heart of the action for smaller acts. As I got there' La Roux was already busting out some seriously synthy Euro Pop to go with singer Elly Jackson's ridiculously pointy ginger hair. Competing with sweltering afternoon heat' the crowd initially seemed less interested in dancing and more interested in nodding their heads and smoking weed' but catchy back beats' and Jackson's one woman dance party caught on' and even if they weren't dancing their butts off' 80s aficionados and indie rockers alike were enjoying themselves -- I know I did.
I intended to pop back over to the main stage right away' but soon realized that moving between stages is a lot like skiing between multiple peaks -- you may be dreaming about rushing to the trails on the opposite side' but it's hard to pass up some unexpected fresh powder you encounter along the way. I caught a welcomed bit of powder on my way past the "Arbres'" where Parlovr was bringing some reckless garage rock goodness to the people of Montreal. Driven by urgently yelled lyrics and enthusiastic crowd involvement (such as using one fan as a human mic stand)' I couldn't help but get temporarily sucked in.
When I finally did pull away' Caracol was playing catchy pop rock with francophone lyrics. Though I didn't understand one word of the songs played' I still felt connected to the mood that every song conveyed. This could be because of the power of music to bring us together' or it could just be that I'm a sucker for pretty women singing stuff in French.
Speaking to the diverse nature of the day' the festival switched gears from possibly its classiest act to definitely its trashiest. Excess rock pranksters Eagles of Death Metal were next to take the stage' bringing with them all the sleeveless t-shirts' head banging' over the top dancing and guitar humping you could ever want. Sound issues mucked up EODM's set in the early going' but group enthusiasm' particularly that of dirty mustachioed front man Jesse Hughes helped the group persevere. The crowd got into the spirit of EODM too' as I spent a good portion of the set dodging water (and eventually beer) that the two drunk chicks in front of me were pouring on each other. When I was able to look at the stage' I watched Hughes continuously talk to' and hit on "the ladies'" partake in a raunchy guitar duet' and throw his sweaty sleeveless tee into the crowd before the group took a well deserved bow at center stage.
Elbow was up next' bringing experimental alt-rock from the UK' but the main event for me at that point was dinner. I dug a smushed PB&J out from the bottom of my backpack' before retreating to the soft grass at the bottom of the aforementioned hill. Though I don't remember many particulars about Elbow' I subconsciously enjoyed the blaring loud and peacefully quiet extremes of their set' while very consciously enjoying some brief relaxation. Recharged' I headed back to "Arbres" where Flash Lightin' was cooking up an impromptu EODM after party. As tour openers for EODM' Flash Lightin' brought similar cock rock with plenty of meaty riffs to make Jimmy Page even more rich in lawsuit money. Flash weren't as commanding as their tour mates' but the thinned out crowd and atmosphere made it worthwhile.
related articles
Shows: Life is Good Festival 2013
Shows: The Black Keys + Arctic Monkeys
Shows: NOLA Jazz & Heritage Festival
Albums: The Decemberists - The King is Dead
Features: Staff Picks: Best of 2010
More on:
Arctic Monkeys
,
Coldplay
,
Cursive
,
The Decemberists
,
Donavon Frankenreiter
,
Eagles of Death Metal
,
Girl Talk
,
The Honey Brothers
,
Kitty Daisy & Lewis
,
La Roux
,
Miike Snow
,
Parlovr
,
The Rural Alberta Advantage
,
Silver Starling
,
The Roots
,
The Stills
,
The Ting Tings
,
Vampire Weekend
,
The Yeah Yeah Yeahs
,
The Beatnuts