Shows
Phish
August 13, 2009 at Darien Lake Performing Arts Center in Buffalo' NY
by Garret K. Woodward
|
photography by Andrew Wyatt
August 14, 2009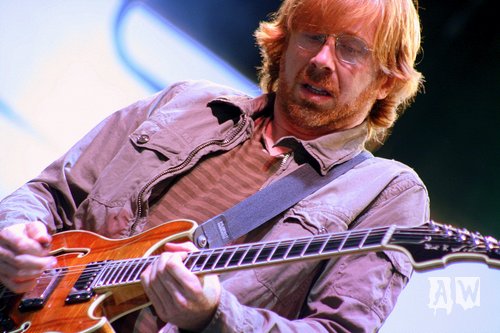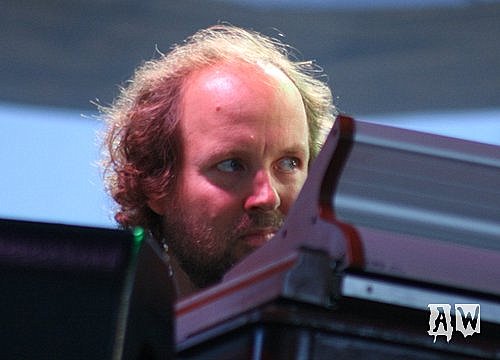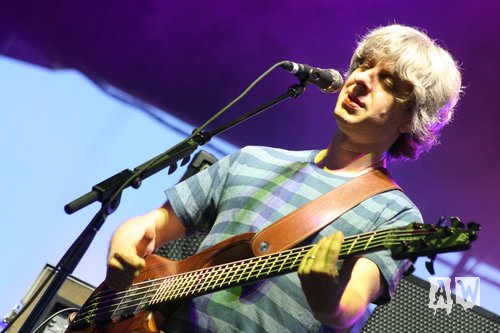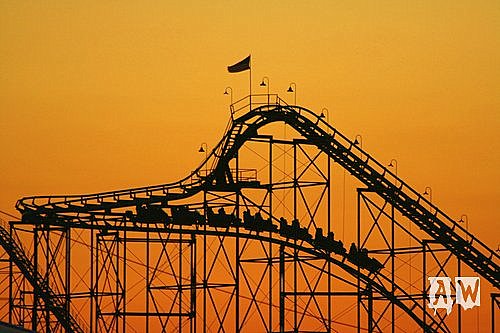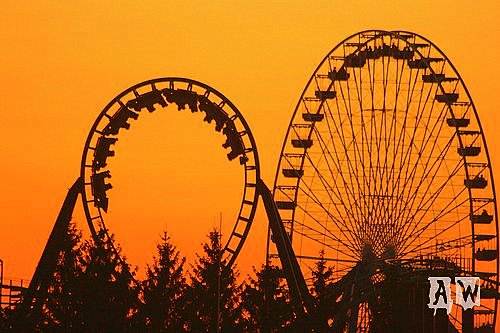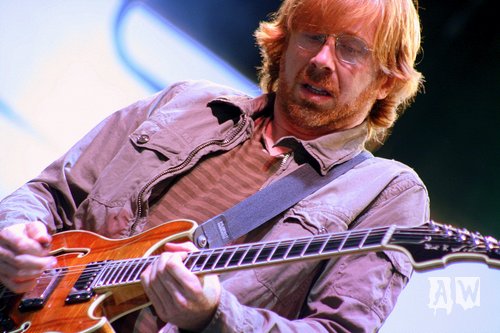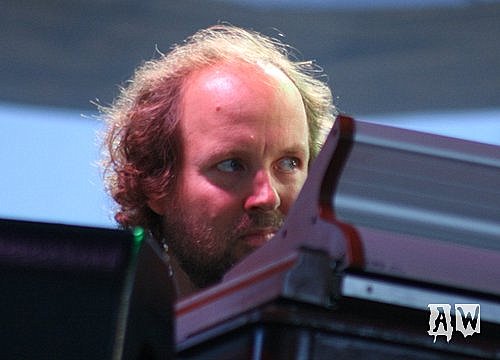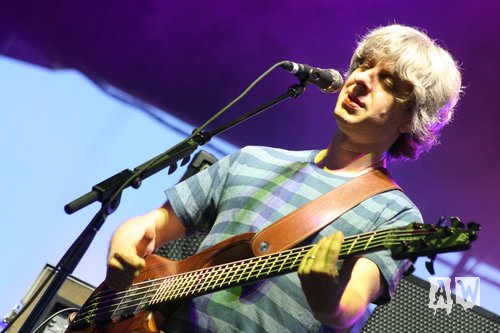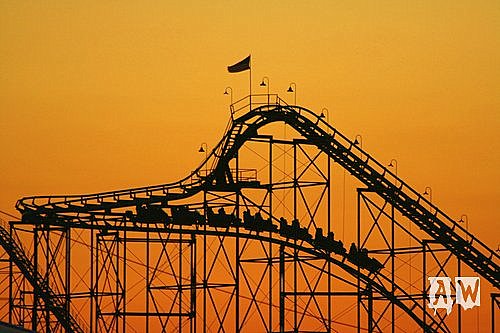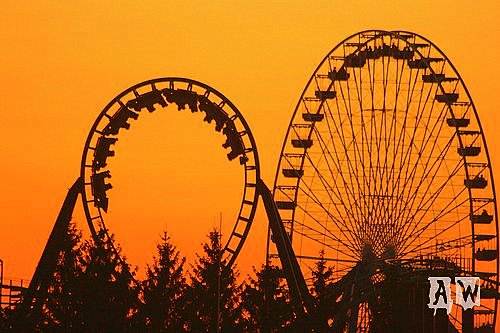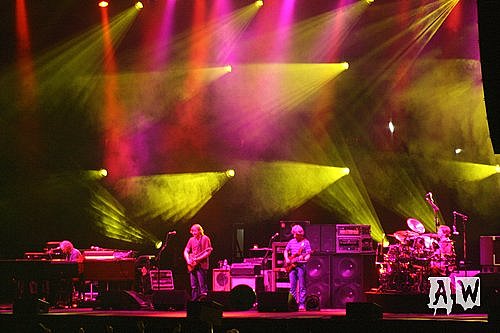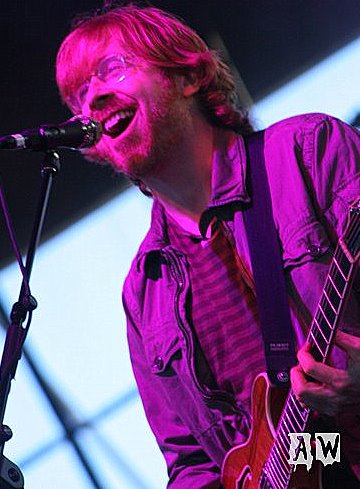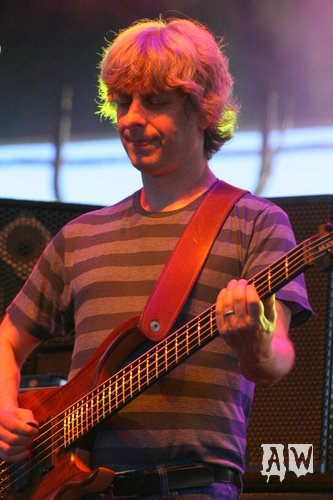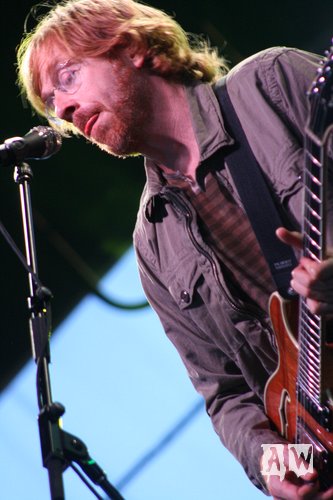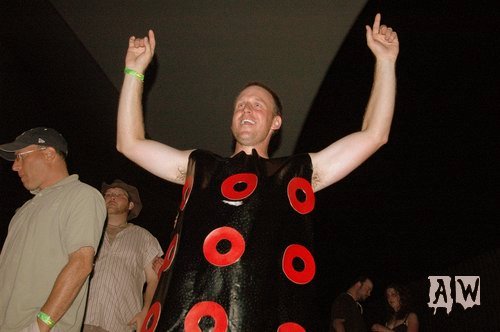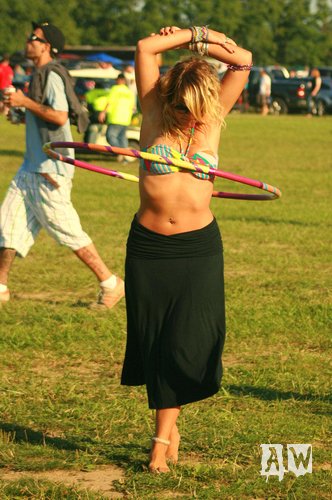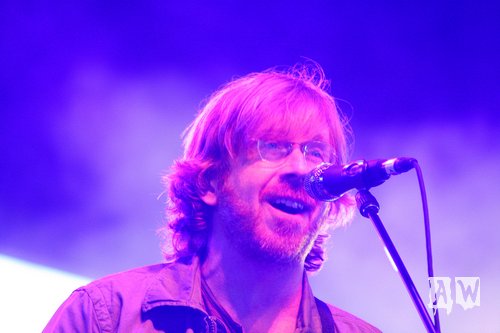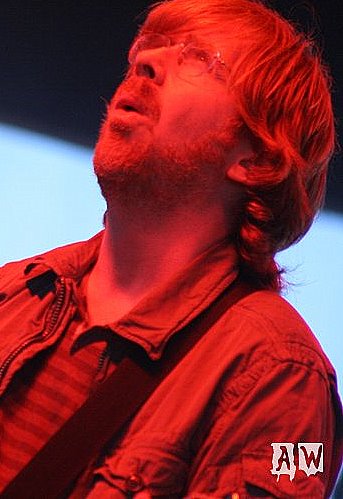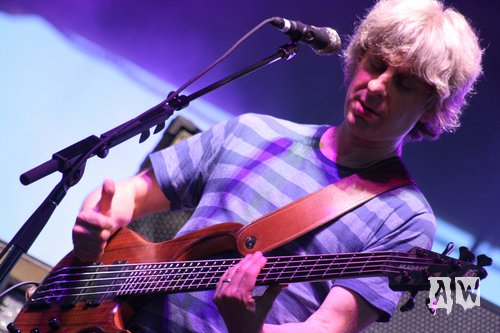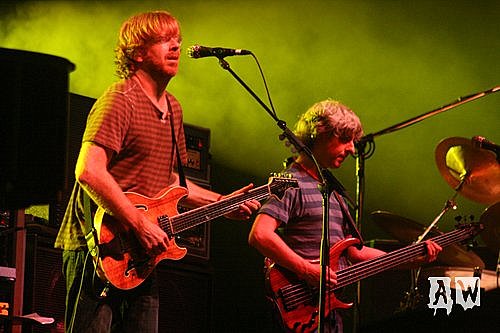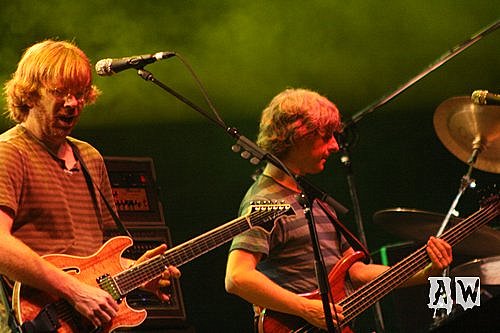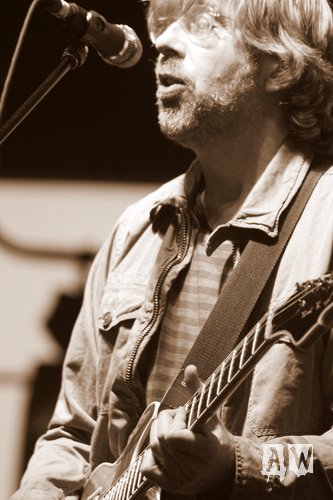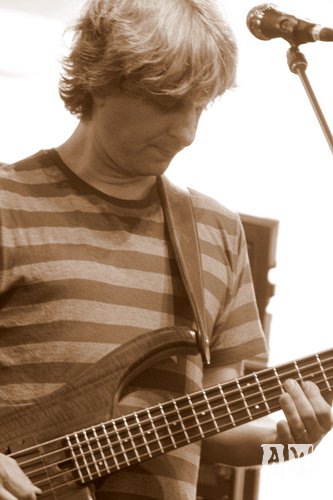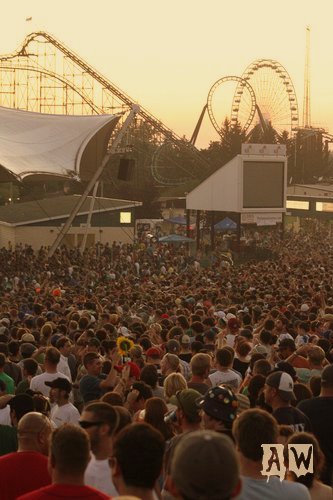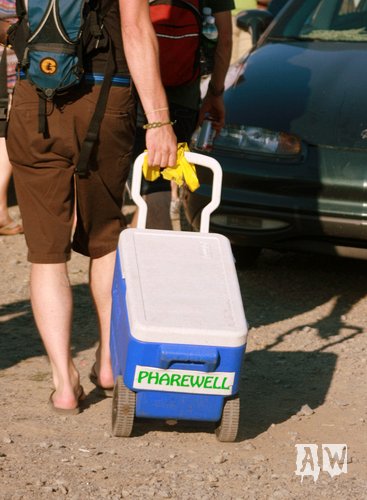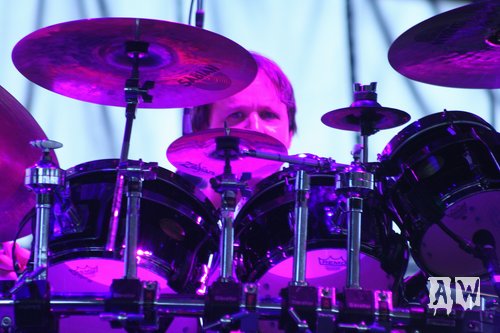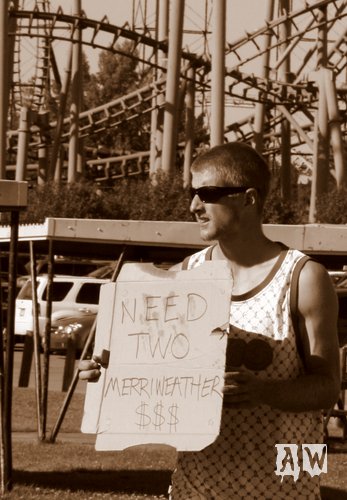 "This is day one of the madness'" said the anonymous male in plaid overalls as I opened the tailgate and kicked off my sandals.

With four shows remaining on the summer tour' the infamous Darien Lake amusement park kicked off the northeast run with a conservative' yet poignant' performance.

Wandering the frying pan parking lot' screams were heard in the distance as numerous rollercoasters dotted the horizon line. Three lanes of traffic streamed into the venue as thousands of phriendly pholk tossed Frisbees' popped microbrews' plucked guitars or just casually strolled the scattered Shakedown Street.

The silhouettes of the rides towered behind the stage as the fiery sunset bred a joyous curiosity over the unknown adventure ticking away' eventually bursting into "Sample In a Jar." The melody set a frisky tone by the band' as the cut-and-dry 12-song first set provoked a nonstop dance party. It seemed a jaunt towards the oldies as new cuts took a backseat to straightforward renditions of "Dinner and a Movie'" "My Friend' My Friend'" and a scrumptious "David Bowie" that stretched out their legs for a chaotically flawless "Bathtub Gin'" "Cause we're all in this together' and we love to take a bath."

Talking to crowd between numbers' guitarist Trey Anastasio mentioned it was his 15th wedding anniversary and thanked his wife Susan' as well as paying tribute to the late Les Paul (who died at age 94 earlier in the day) with a swift' jazzy "How High The Moon" (first since 1993) before leaving the audience on their toes with "Golgi Apparatus".

"Drowned">"Prince Caspian">"Rift" ignited the latter half of the performance. I stood there' singing at the top of my lungs as sporadic fireworks burst behind the lawn' witnessing a manifestation of beauty all too easily lost in the sands of time' "Oh' to be Prince Caspian afloat upon the waves."

It's a surreal thing when one realizes the impact a certain musical entity has on their existence. As each selection played out' memories are easily triggered as to when and where and with who these songs were heard' were hovering in the background from some dilapidated speaker at a house party or car stereo during a cross-country escapade.

And so' with "The Horse">"Silent in the Morning" coming to light' lost faces and forgotten endeavors flooded my field of vision' reminiscing about the discovery of Rift and its subsequent impact as I zigzagged across Western Europe many moons ago.

Shooting stars soon cascaded the crisp late summer evening. I found my legs gyrating uncontrollably throughout "Run Like An Antelope" and "Suzy Greenberg"' but it was (my first) the climactic "Fluffhead" that put any and all into a tailspin.

Couples held each other a little closer' a little tighter' as a somber "Joy" and scattered "First Tube" saluted all who attended.

Wandering back to car' sweaty bodies and euphoric grins surrounded me as dozens of fresh faces spoke of losing their Phish virginity. It was a full circle moment as I reflected on my initial encounters with the band years earlier' how young I was and how much I'd experienced since I crossed over and immersed into my true identity as a slave to the groove.
Phish :: 08.13.09 :: Darien Lake Performing Arts Center :: Darien Center' NY

Set I: Sample In A Jar' Dinner and a Movie' Wolfman's Brother' My Friend' My Friend' Possum' Farmhouse' Sugar Shack' Brian And Robert' David Bowie' Bathtub Gin' How High The Moon' Golgi Apparatus
Set II: Drowned > Prince Caspian > Rift' The Horse > Silent in the Morning' Sparkle' Run Like An Antelope' Suzy Greenberg' Fluffhead

E: Joy' First Tube