Shows
Camp Bisco 8
July 16-18, 2009
at Indian Lookout Country Club in Mariaville' NY
by Derek Freeburn
|
photography by Alex Rice-Swiss
July 28, 2009
page 2 of 3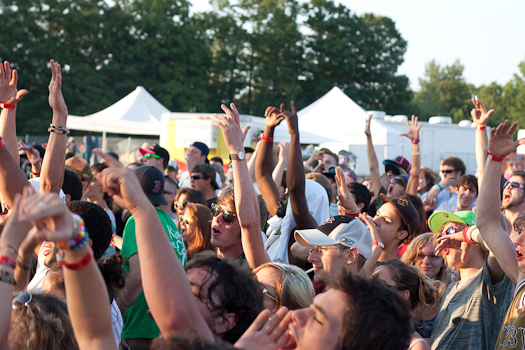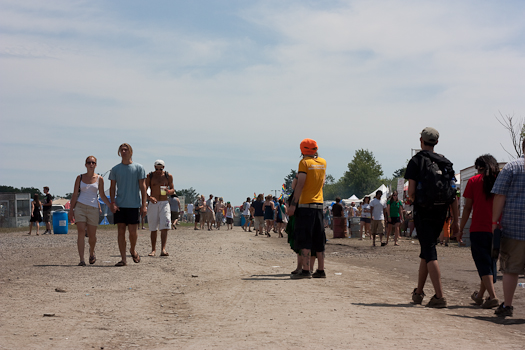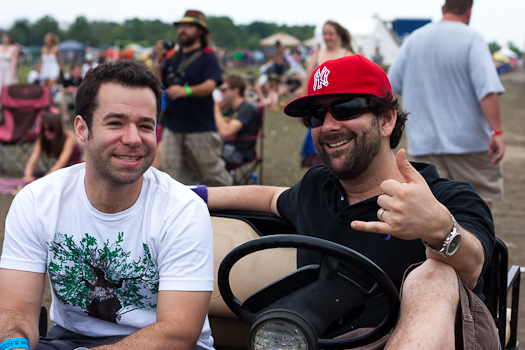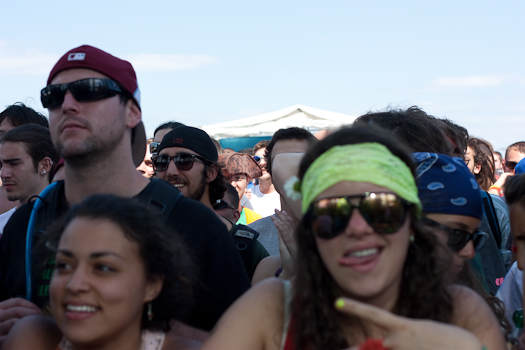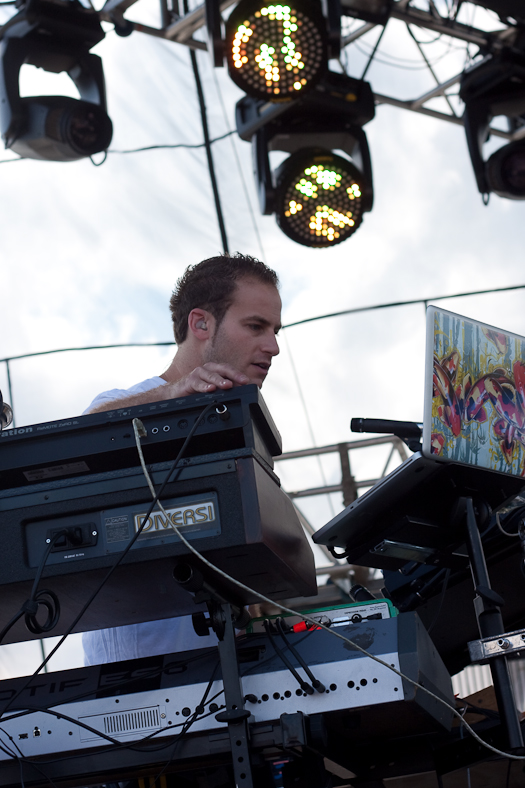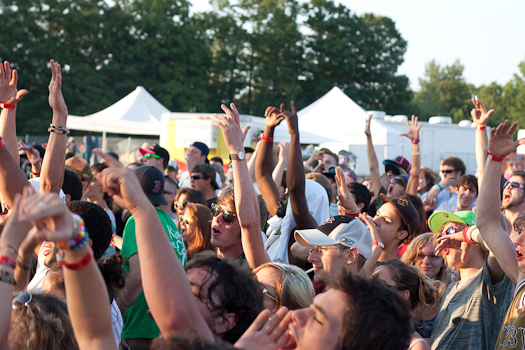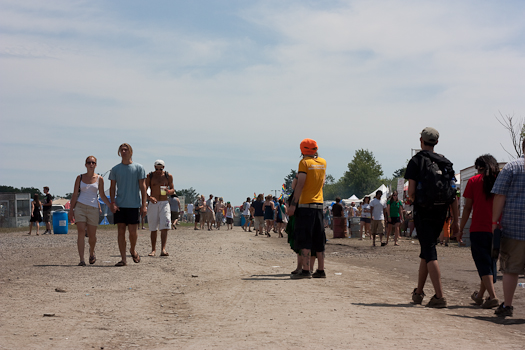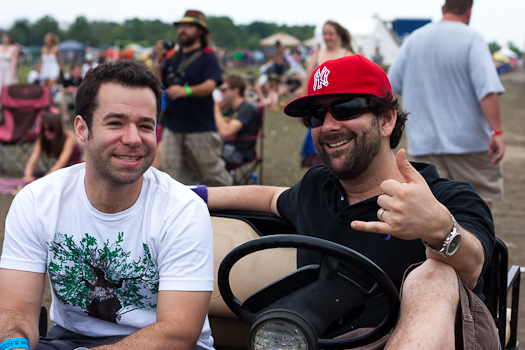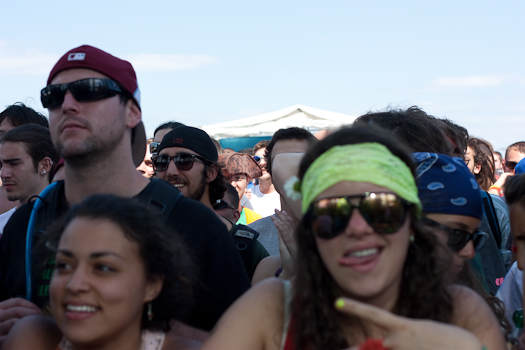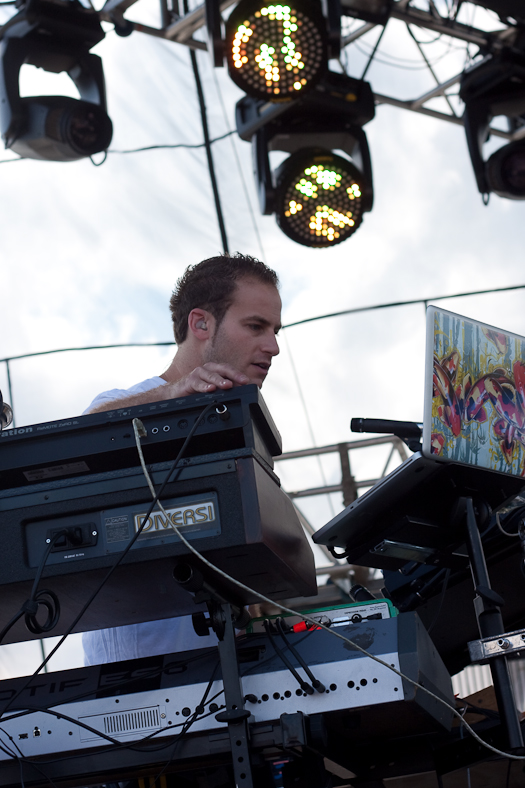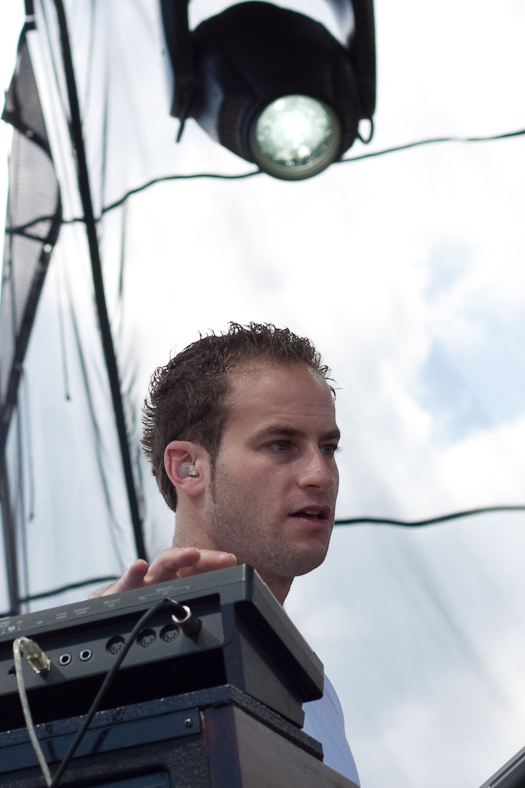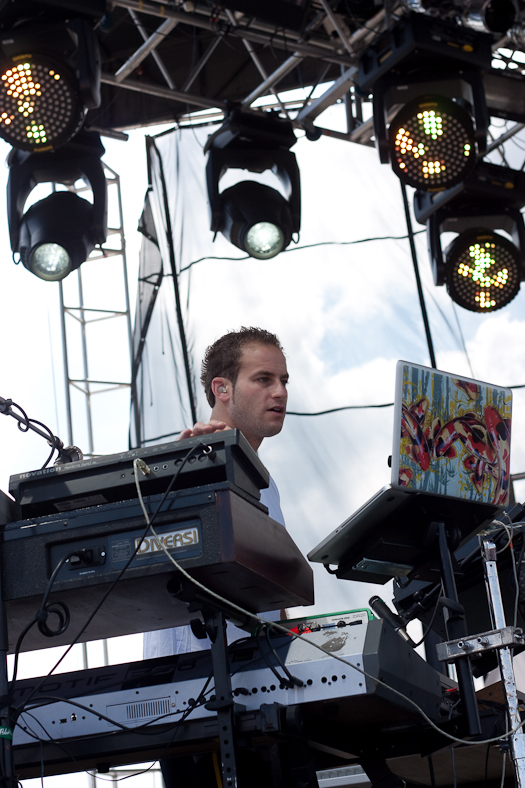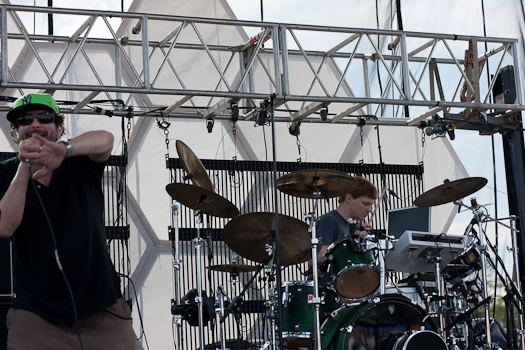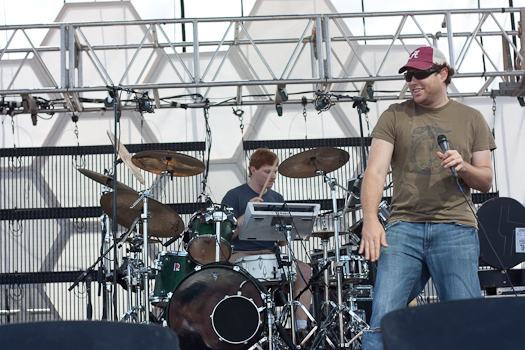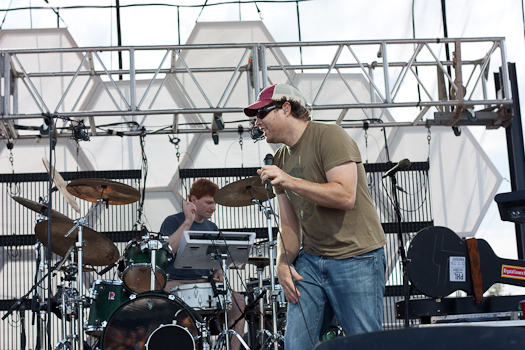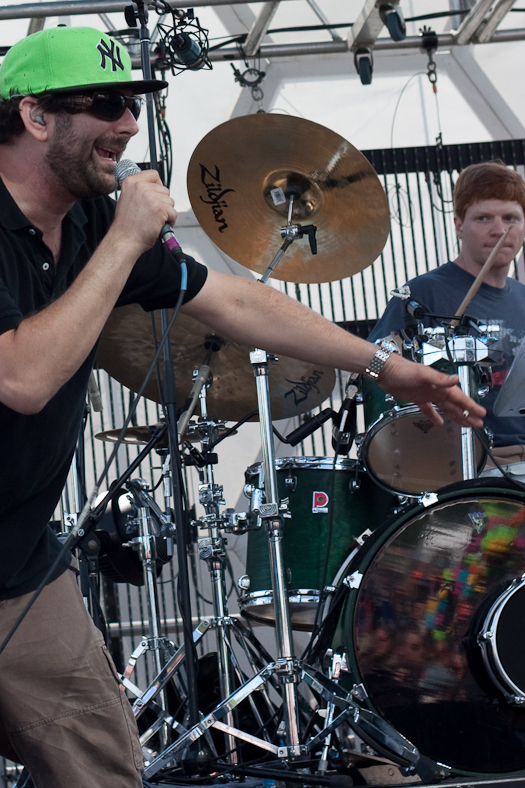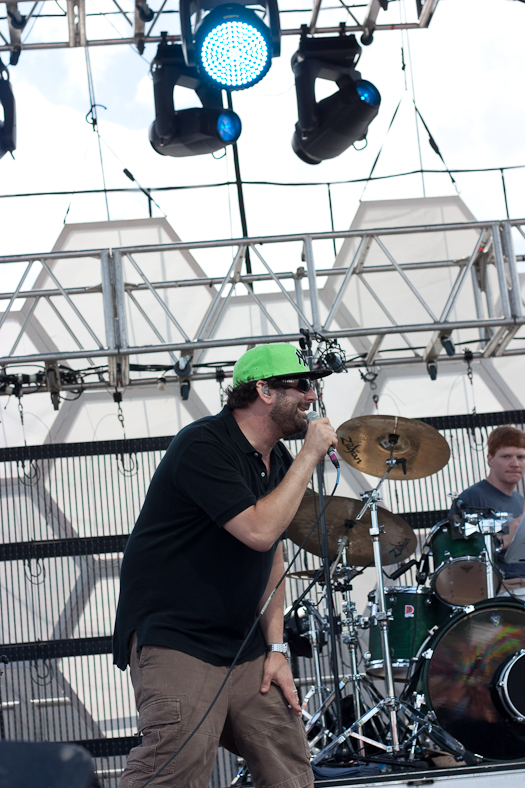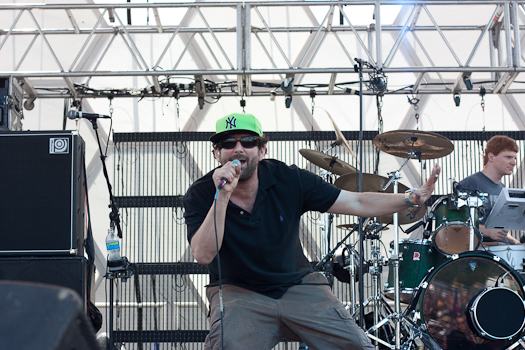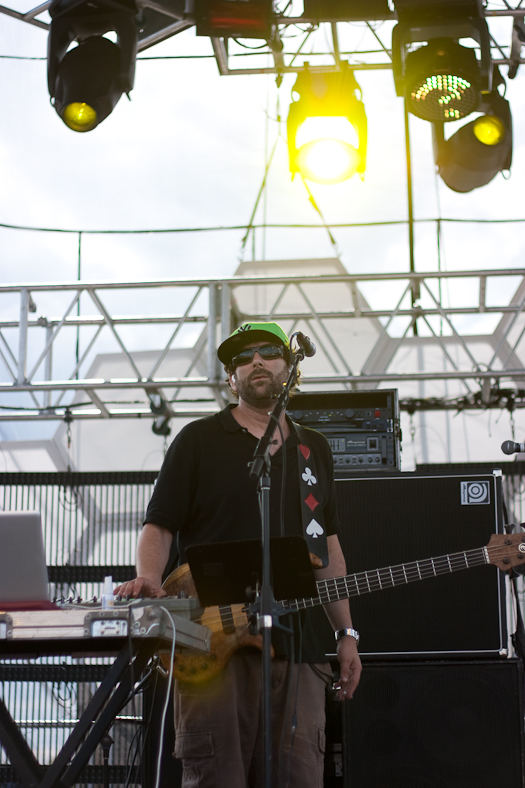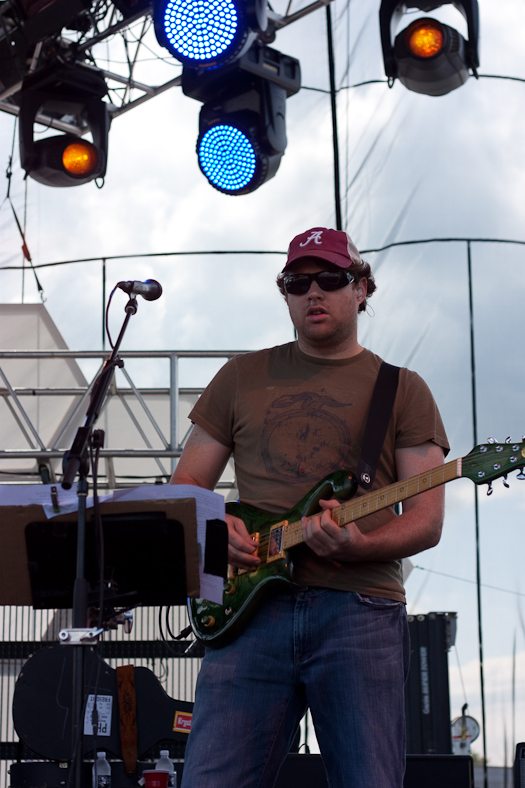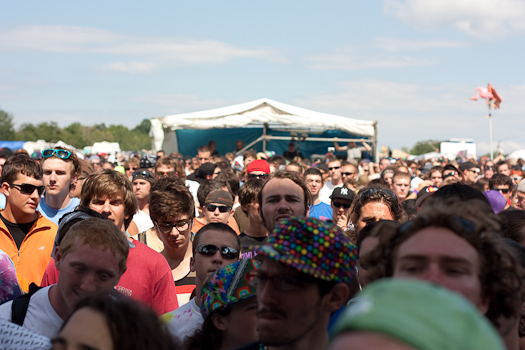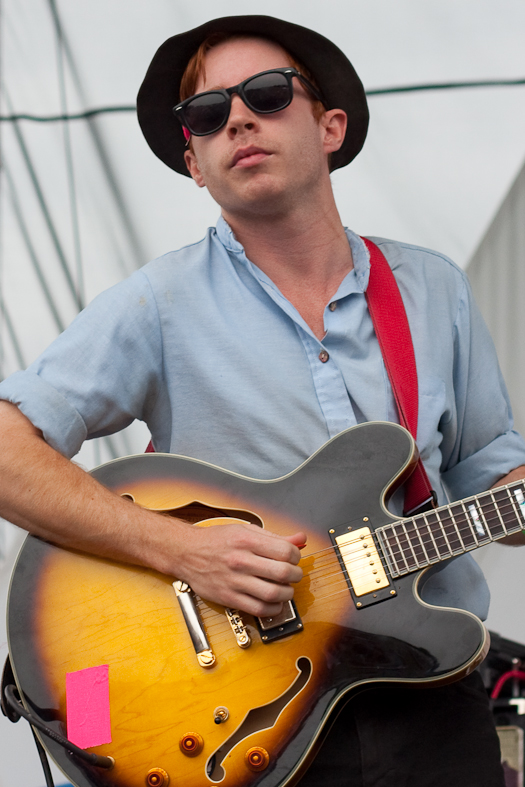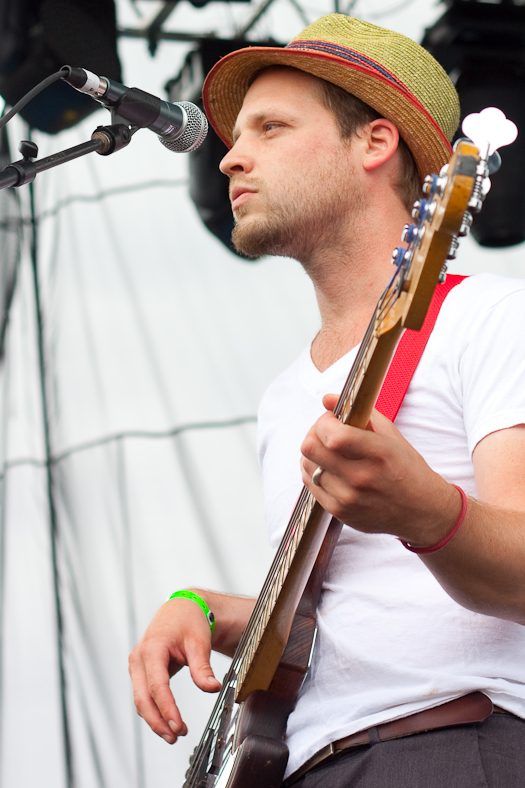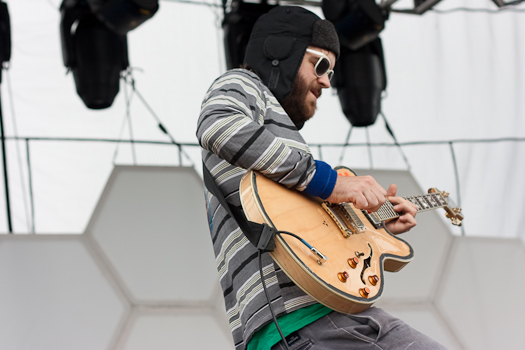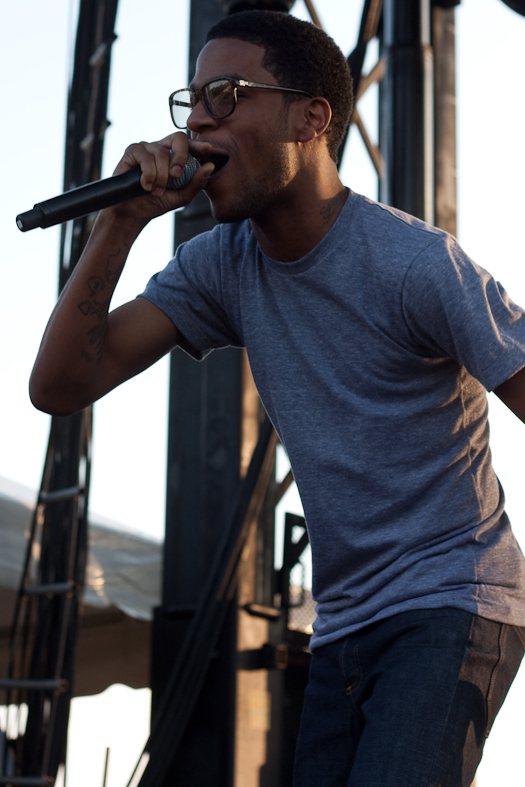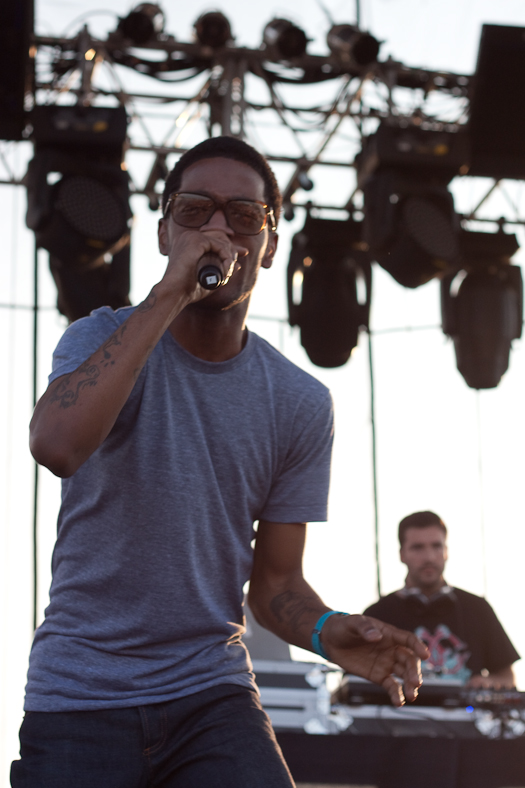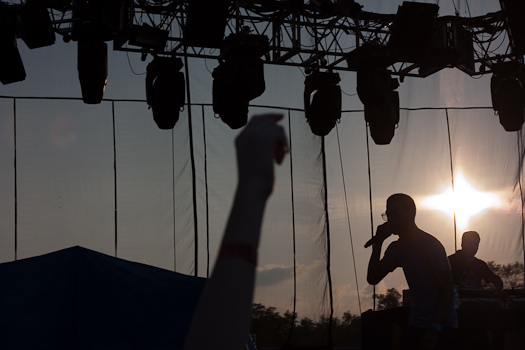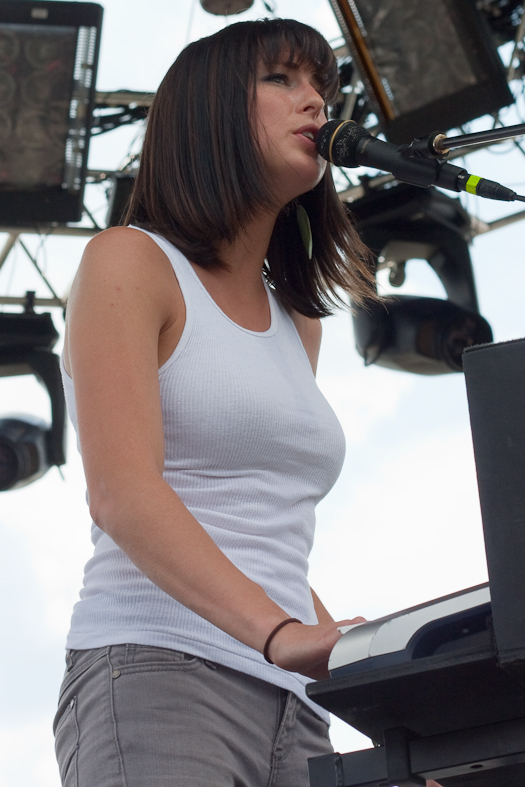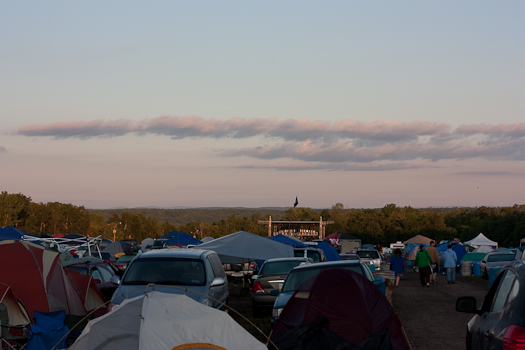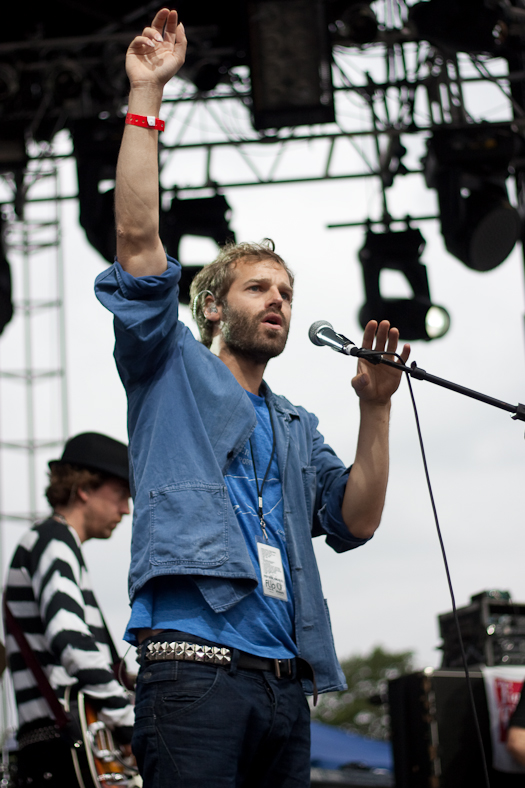 The late-night contingent of Prometheus and Shpongle would set a great tone for the "after-hours" scene of the festival' which clearly was a wild one. A combination of the ridiculously-soaked scene' energy-infused ravesters' and unbelievable beats and sounds created by Shpongle's Simon Posford created quite the vibe' and everyone was in it for the long haul. The late-night scene was in full effect.
Friday' July 17th

The day kicked off to me waking up' tent soaked' to fireworks being lit off by who-the-hell-knows about 10 feet from my head. Good times. The typical "hippie morning" dawned with everyone stumbling out of their tents and trying to get their wits about them before stumbling to the bathroom/showers. While in line for the shower' it occurred to me that' given the crowd' the "No Showers from 12-5am" rule was probably a good one' saving the bikers from many a spectacle.
Friday's lineup was packed' and Dr. Dog kicked things off in amazing fashion on the Main Stage. You can definitely hear a hint of the Beatles in there with some of the chord progressions' but overall their creative take on pop-infused rock was both extremely unique and refreshing. Really a great addition to the roster.
We paid a quick visit to Otherwise at the Hill Stage circa 2:30pm - some welcoming reggae-inspired beats somewhat reminiscent of Sublime lineage - before crossing back over to the Tent Stage to check out Dirty Paris. Riding the local card (from Albany)' there was definitely some clout behind this young and raw band (band members range in age from about 18-20). The bass lines and direction made them feel a bit like the Omega Moos (side project of the New Deal and Umphrey's). Following' we took in a few beats from Fort Knox Five' who as it would pan out is just one man' and then ventured over to check out Boombox' a DJ/Synth and Singer/Guitar duo' the later of which (Zion Rock Gaudchaux) of Grateful Dead lineage. Though there was some rawness and general look of lack of total comfort with the guitar from Gaudchaux' they pulled off an enjoyable set and it was definitely as unique a duo as I've seen in a bit.
The day really picked up around 5pm when Younger Brother Live took the stage. Quickly becoming cult favorites' Younger Brother Live is an ideal collaboration amongst Simon Posford (Shpongle)' Benji Vaughan (Prometheus)' Tom Hamilton (Brothers Past)' Marc Brownstein (Biscuits)' Joe Russo (The Duo)' and Ruu Campbell. Their trancey take on melodic rock is highly addictive and not to be missed.
A combination of rain and rest sent us into some down time until the rains subsided and Nas and Damien Marley took to the stage. With an upcoming studio album' the two legendary performers meshed well overall and had a pretty rehearsed setlist - "One Mic" being memorable as a particular highlight. Nas left for Damien to jam out on family classics like "One Love" and "Exodus" before things concluded.
Then came the next tandem of Biscuits sets. While not as many notable song favorites came to fruition as compared to Thursday's set' there was a notable crispness to the music throughout both sets' even despite the weather (raining pretty good throughout). The first set we took in from the front before the skies really opened up and we sought cover back at our camp where we took in the second set and rallied for the late-night tent. The highly-anticipated Chromeo. rocked out in between Biscuits sets' but I must admit I was a bit disappointed in how "rehearsed" the show felt as I was expecting more of a unique scheme to the show.
Pretty Lights laid down the law and paved the way for an incredible late-night roster that also included Sound Tribe Sector 9. Though the condition of the grounds was an absolute mess' the beats coming from both PL and STS9 all night are up there with some of the best I have ever heard. The crowd' intensity level' quality of sound' and general vibe were extraordinary and overall it was simply an epic performance.
Saturday' July 18th

The lineup for the final day of Camp Bisco 8 was packed once again' and while the music didn't start until noon' it seemed like there was barely a break at all given the late-night antics of
Sound Tribe
. Our first catch of the day was Indobox up on the Hill Stage circa 2pm. We had heard good things out of Boston' and their rock-infused style did not disappoint.
The day hit an early peak during the Biscuits first set' which turned out to be what they have dubbed Tractorbeam vs. The Perfume' in which they essentially recreate their own songs in different genres of music (Tractorbeam = Trance & The Perfume = Heavy/Alternative Rock). Incredibly-imaginative and highly-creative in concept' the set played out ridiculously well with incredible improvisation in a highly-differentiated Biscuits set. I left extremely impressed that a band can pull something like this off in the midst of a 3-day' 6-set marathon.
A break following the Biscuits incredible set before venturing over to catch Brothers Past around 6pm. They have become a classic favorite of mine as I am generally mesmerized by Tom Hamilton's playing and am also from Philly. Hamilton unleashed during this set' and Brothers was able to pull off their intricate set well despite not gigging particularly regularly recently.
We rode BP right into the second incarnation of Sound Tribe' this time on the main stage. Another amazing performance' which has come to simply be expected at this point' though it was noticeably different and more mellow than the late-night set only about 15 hours earlier.

The final tandem of Biscuits sets of the festival kicked off around 9pm and the band really dug deep into their song repertoire to put together some unforgettable sets (not to mention after 4 prior sets even the best have to think hard to change it up). While you would think that the crowd might have been fading from the long days at this point' that's certainly not how things played out with the Biscuits making sure the energy soared throughout with some old gems ("Sister Judy's Soul Shack") and simply some unreal improvisational progressions going down onstage' with the final set being hailed by most as the best of the festival.