Shows
Pitchfork 2009
July 17-19, 2009
at Union Park in Chicago' IL
by Michael Carney
|
photography by Graeme Flegenheimer
July 27, 2009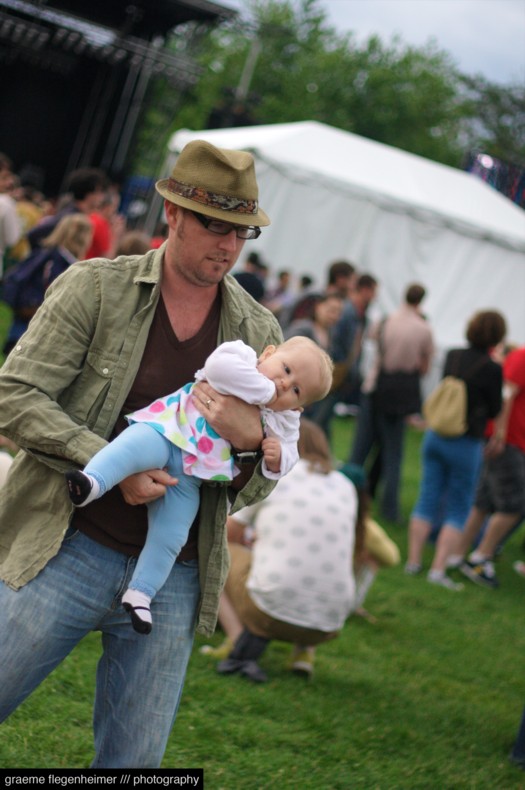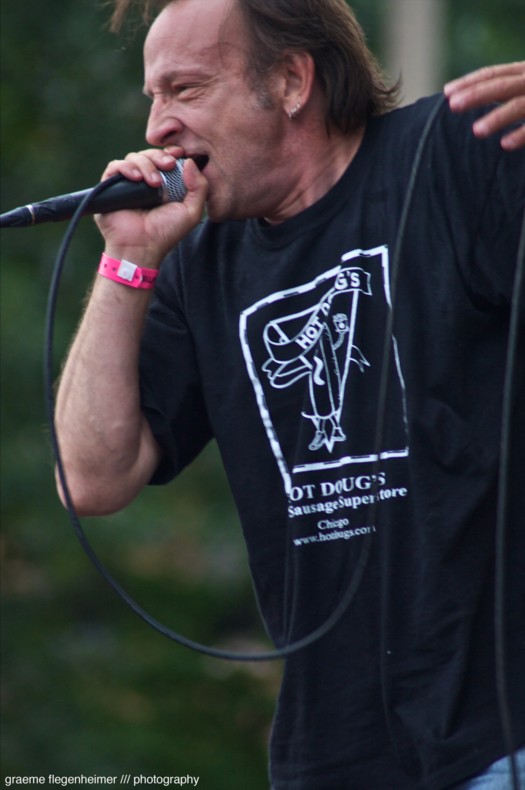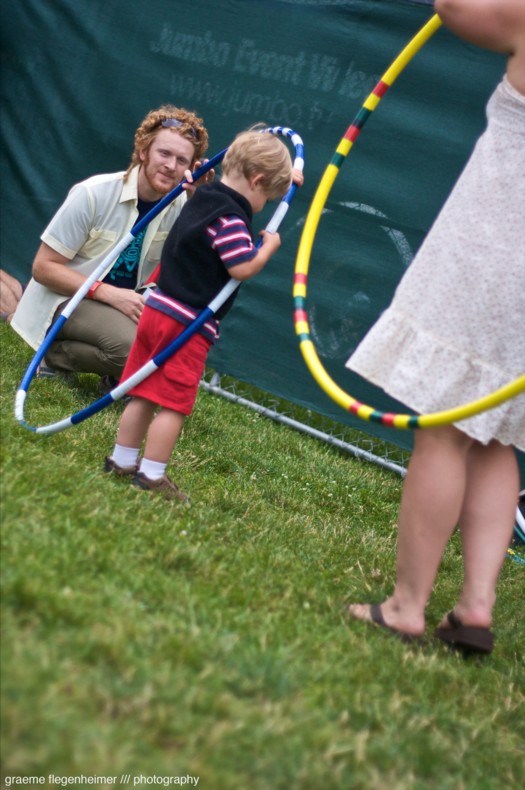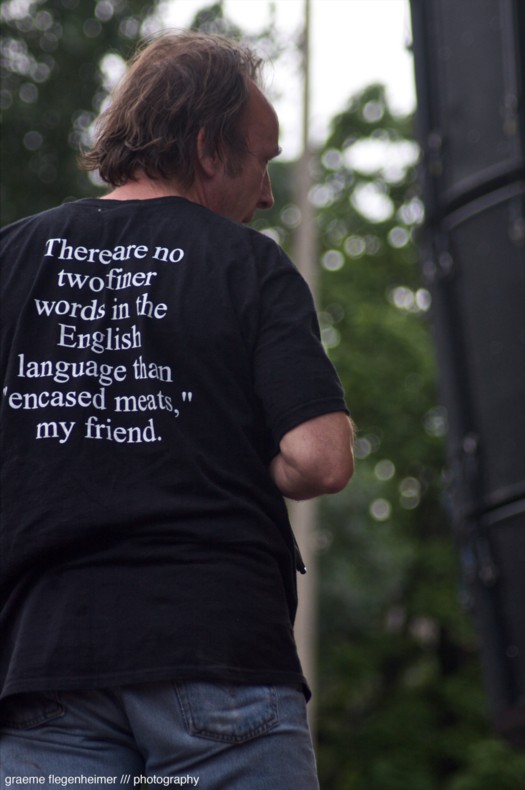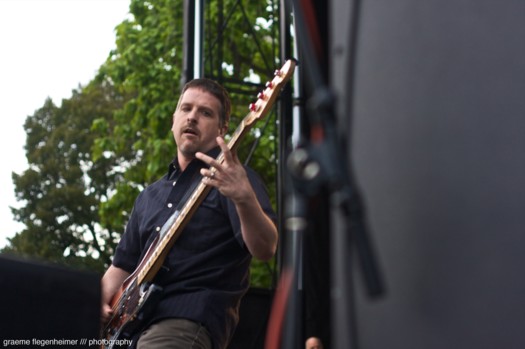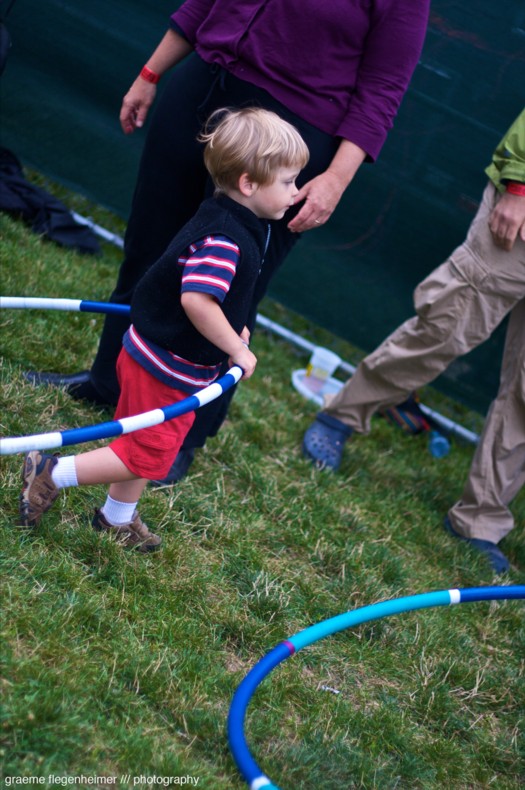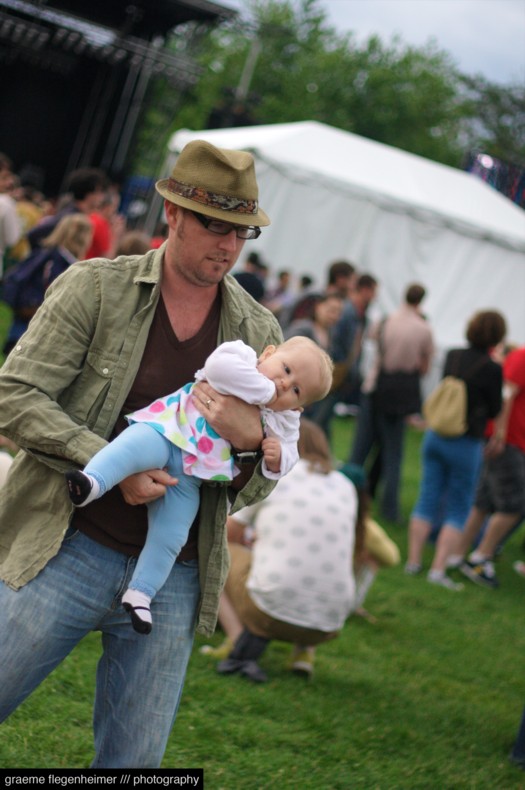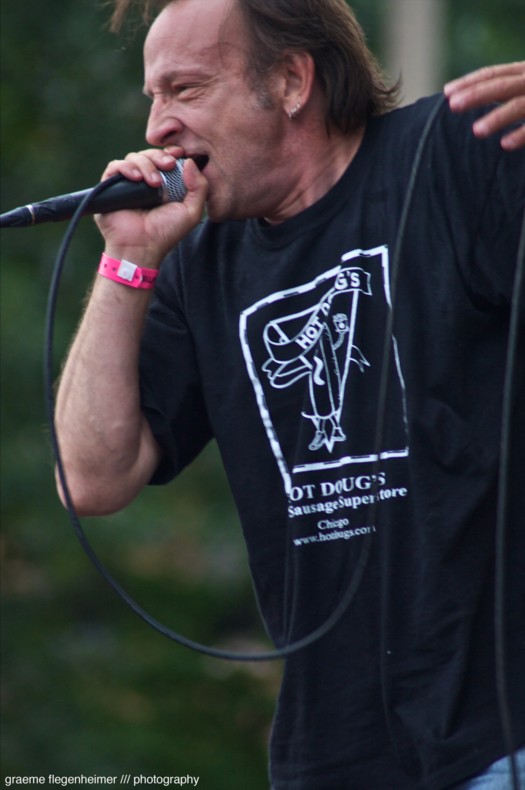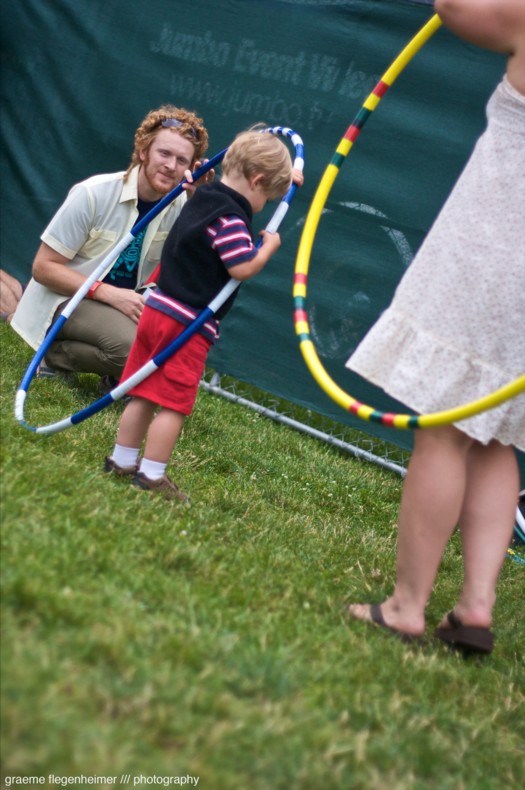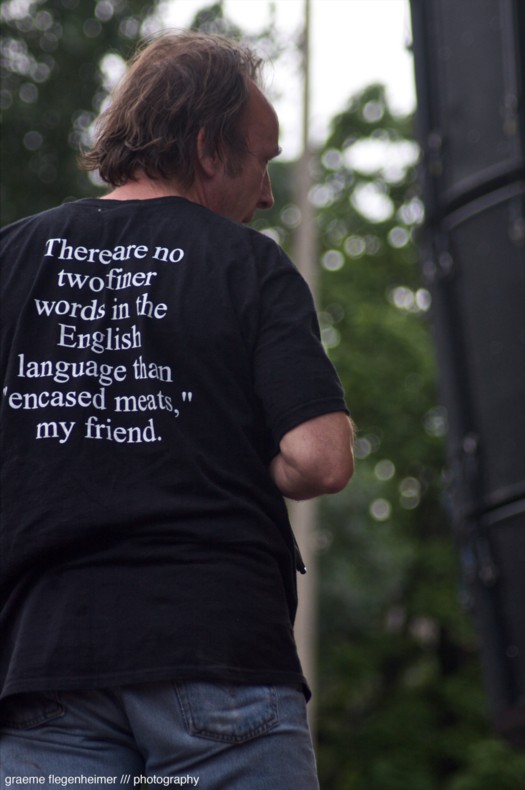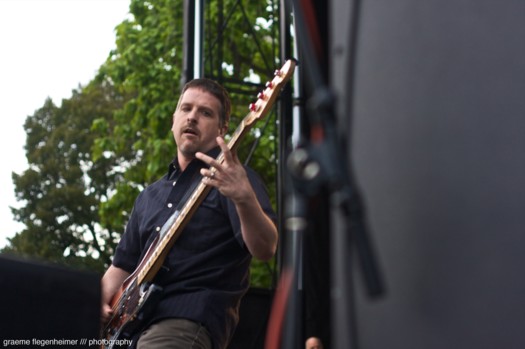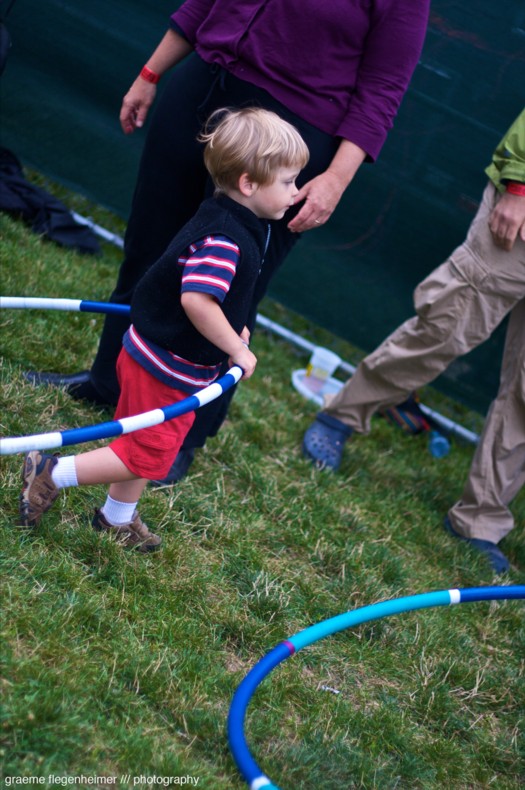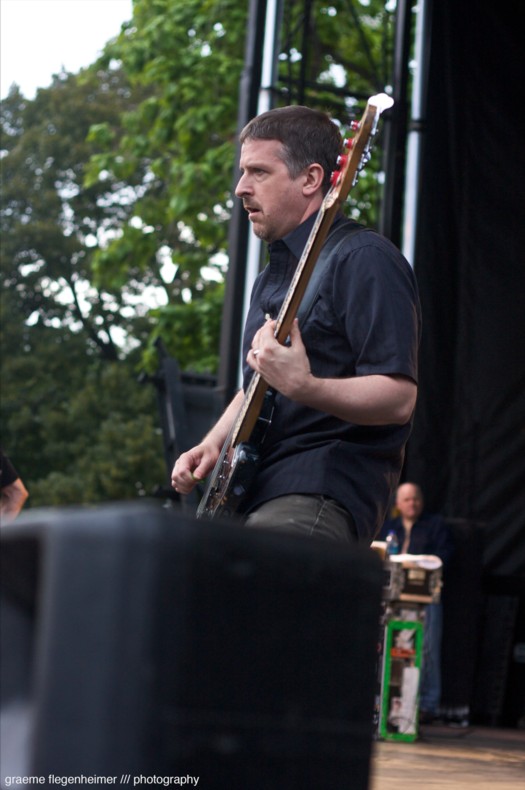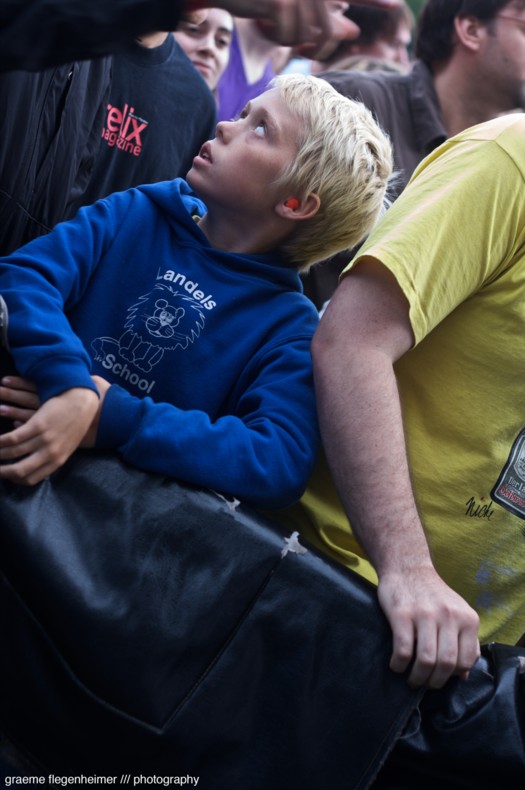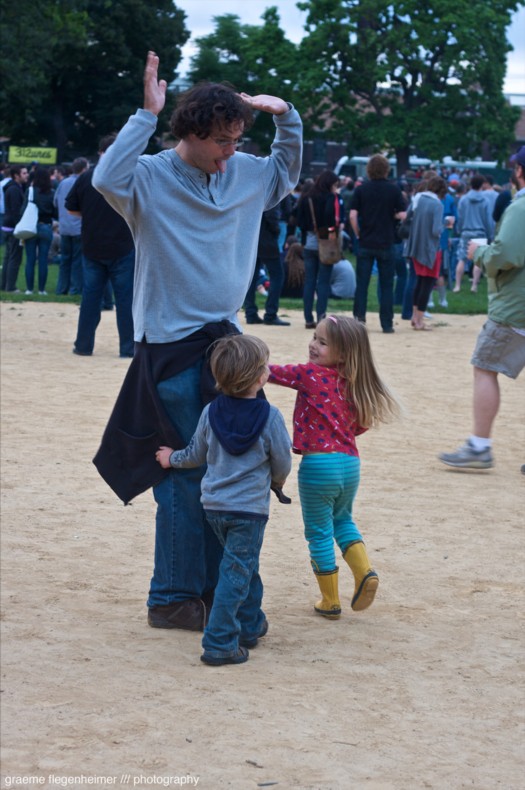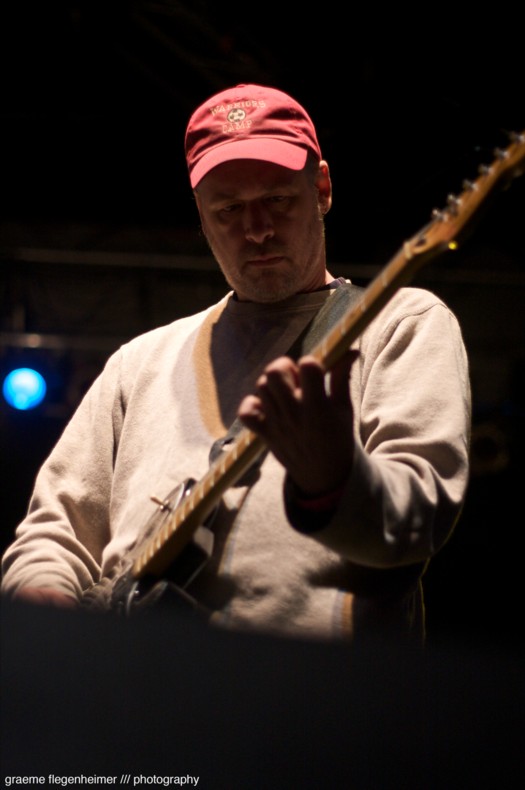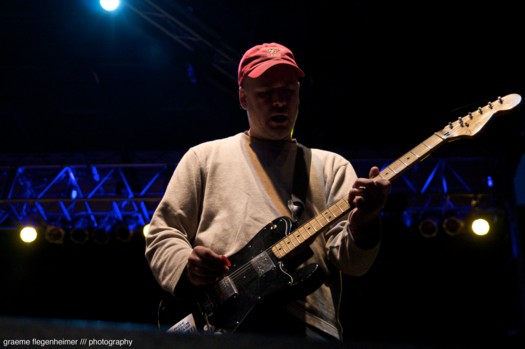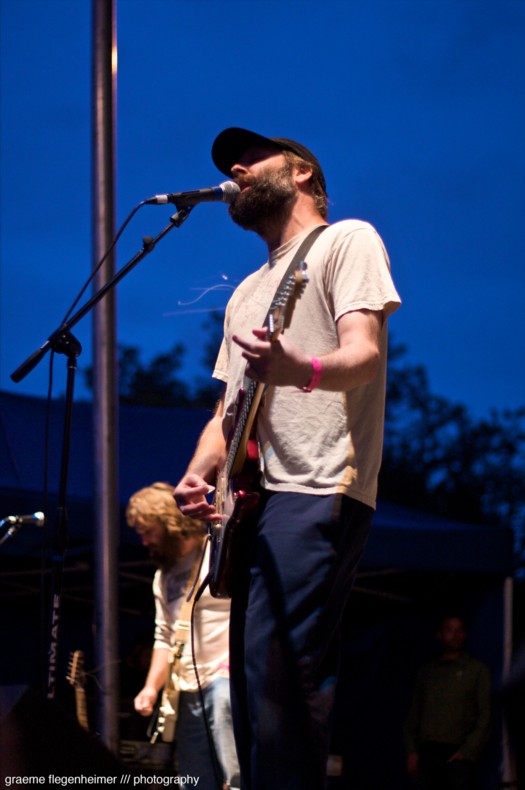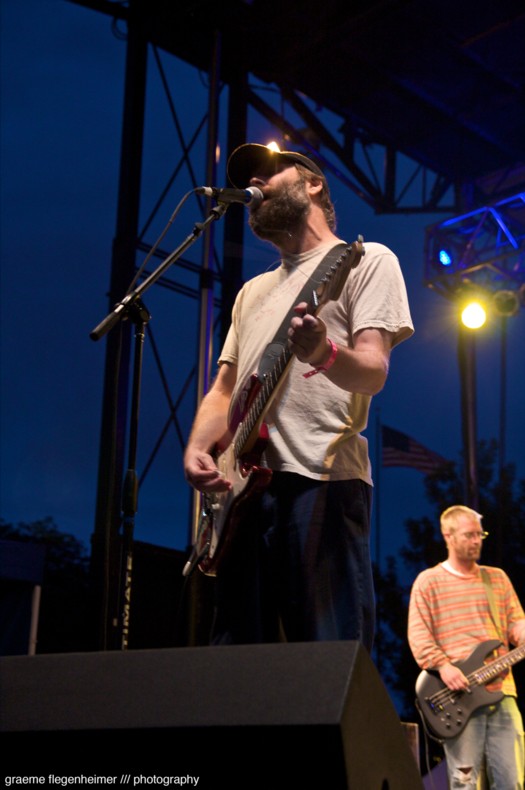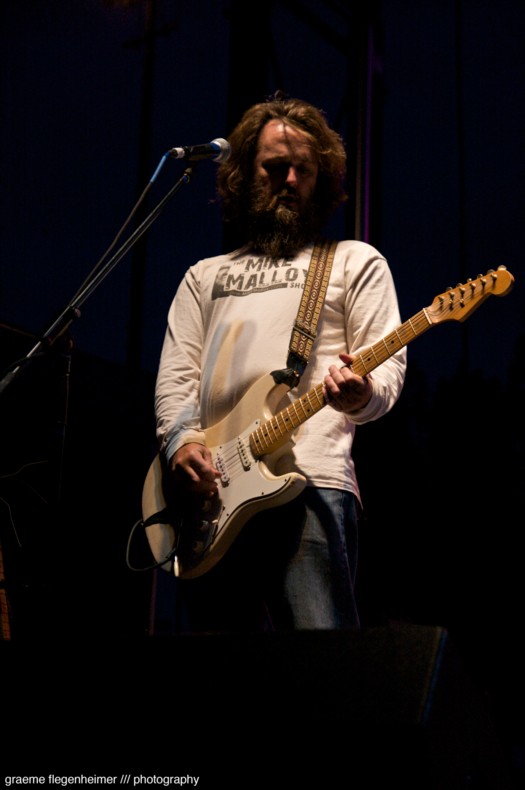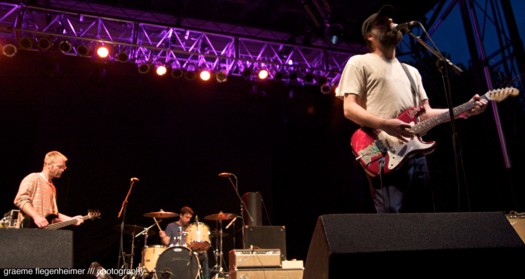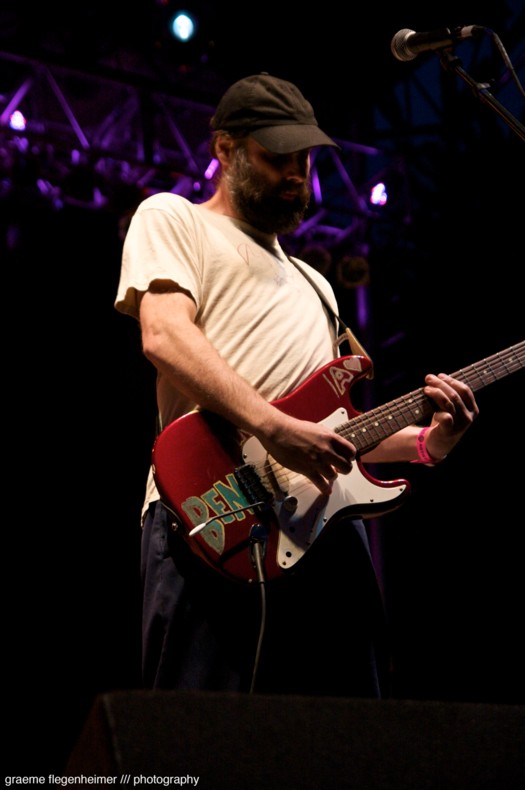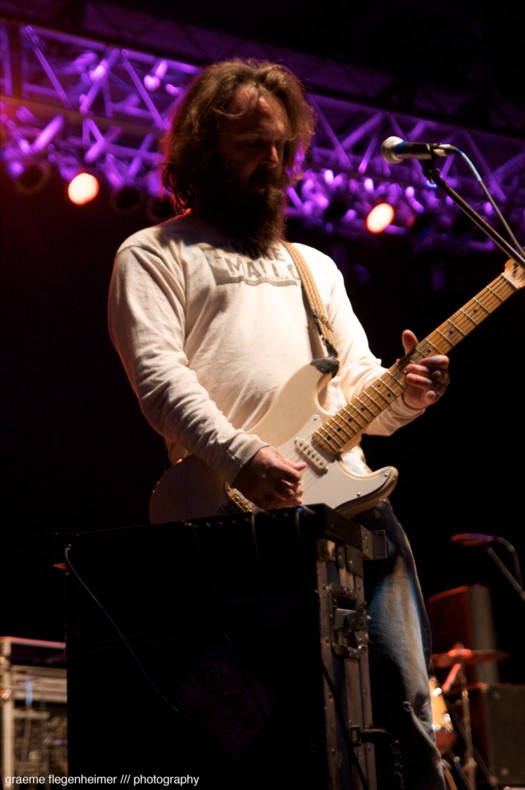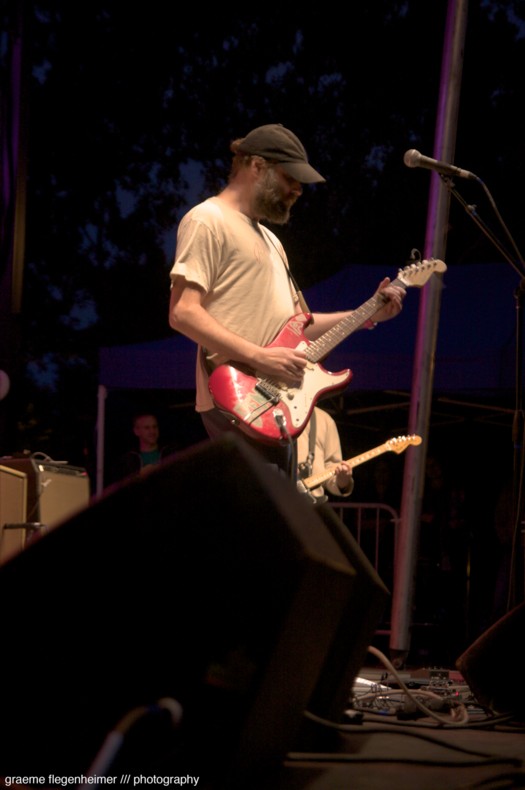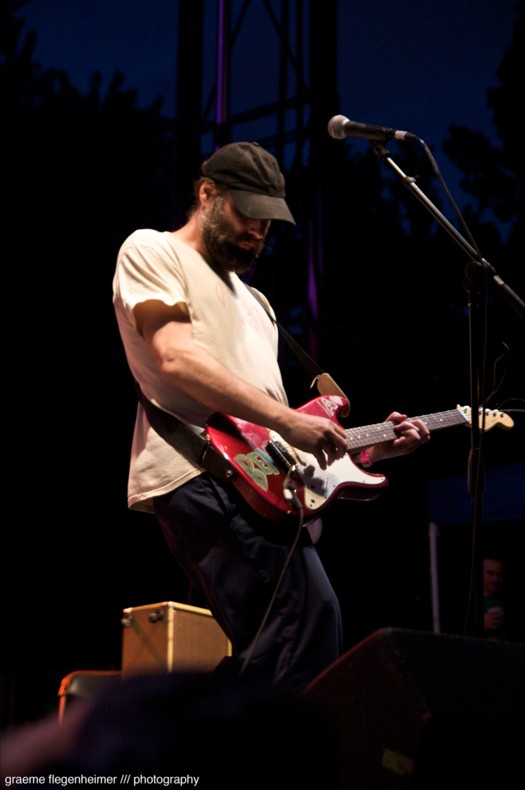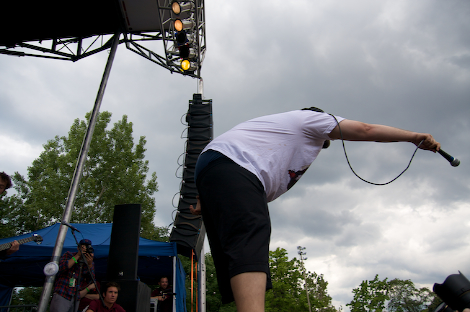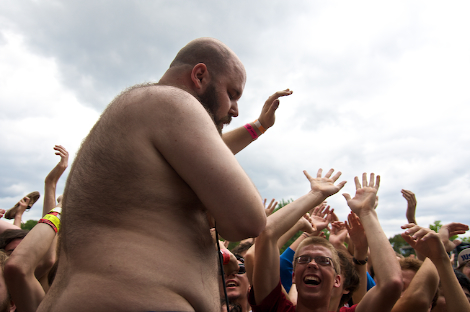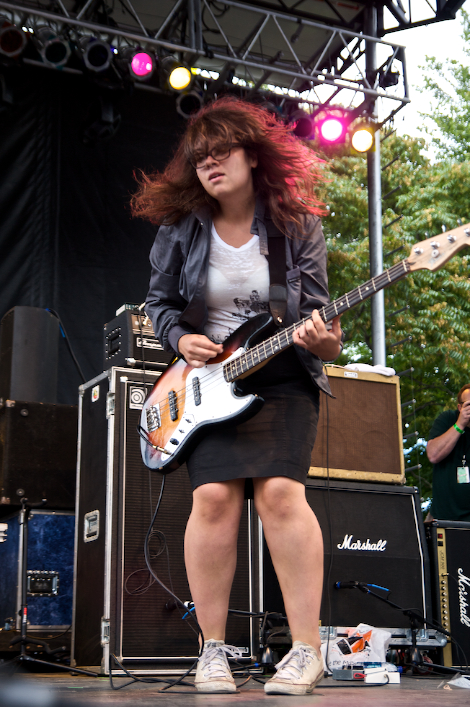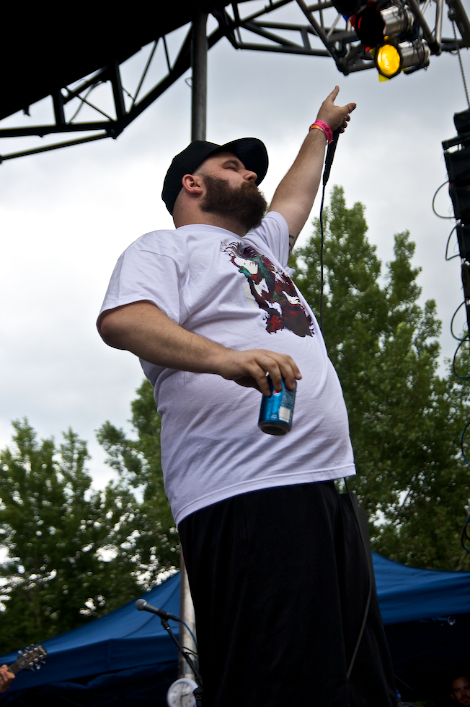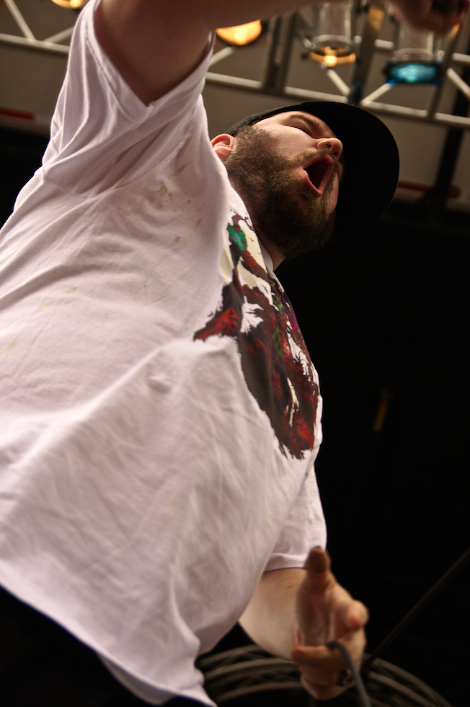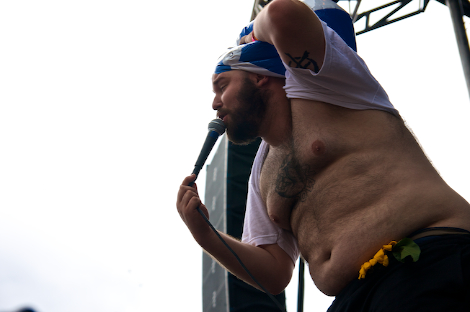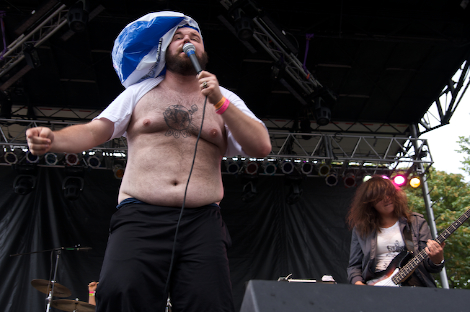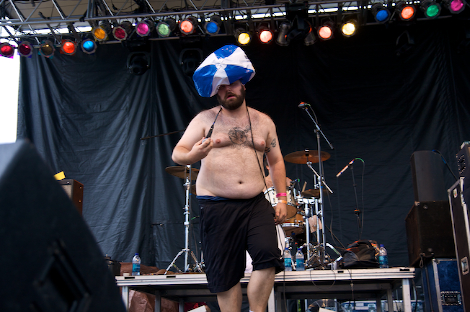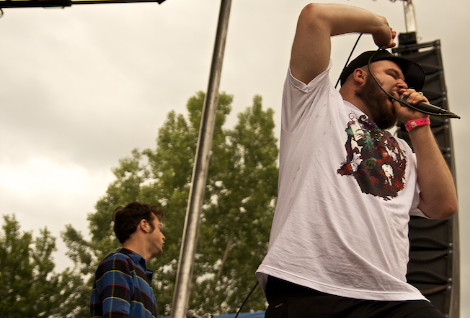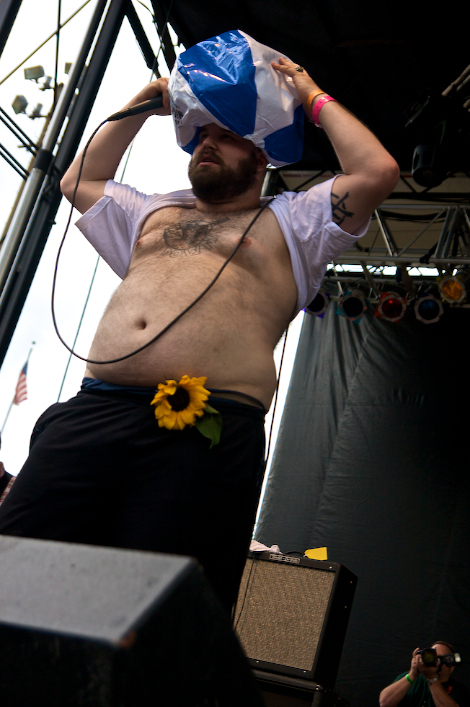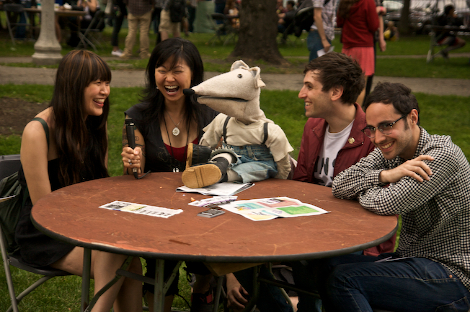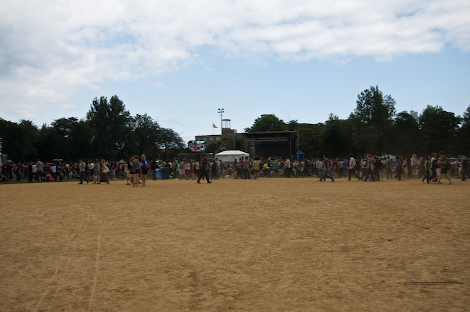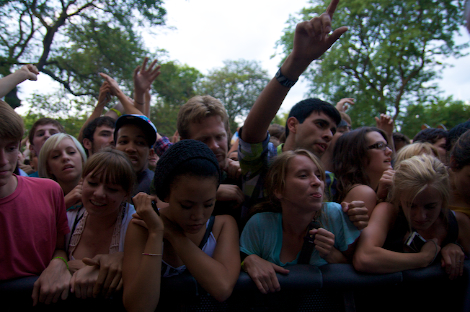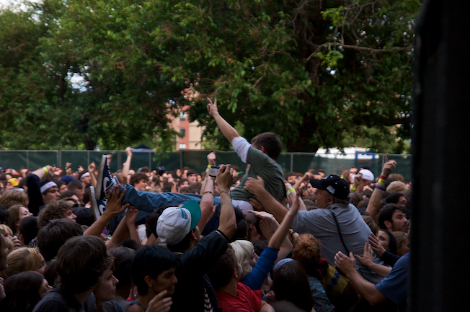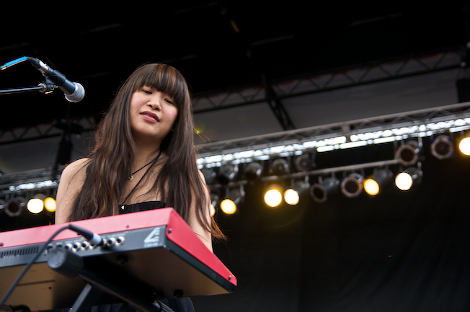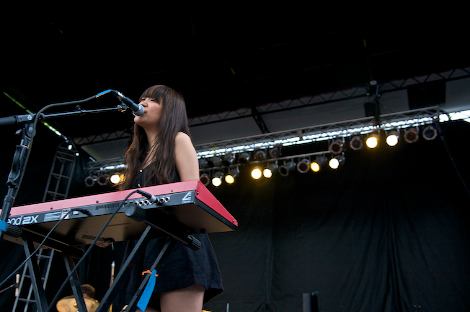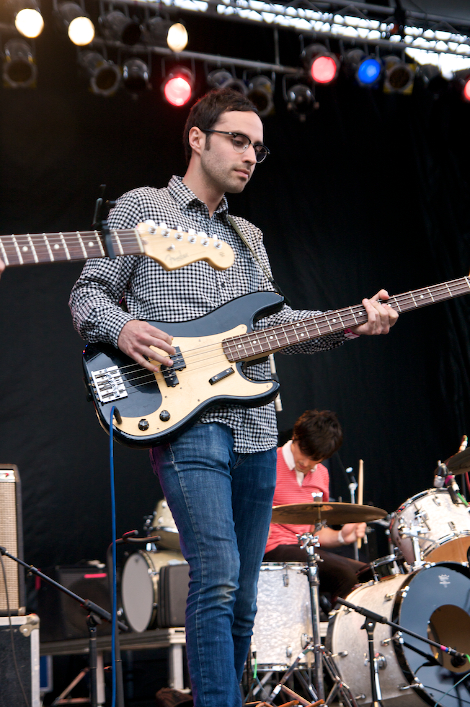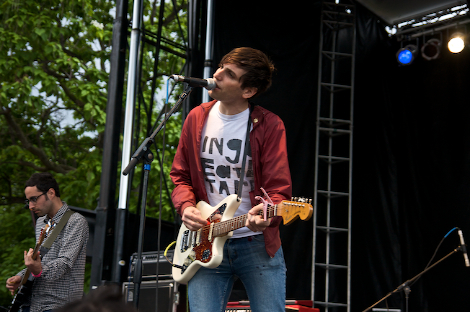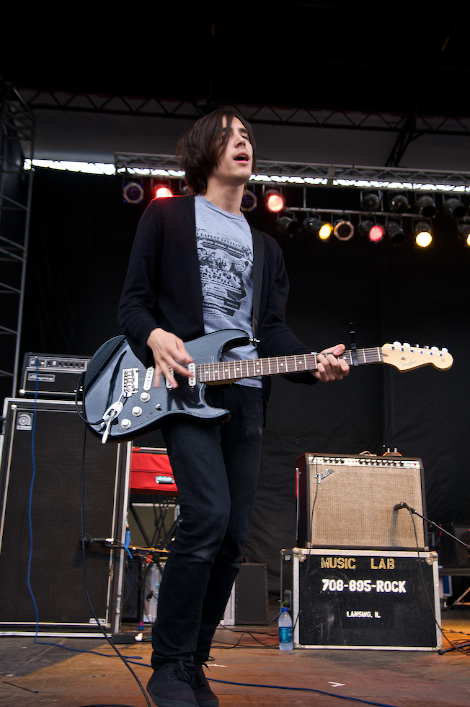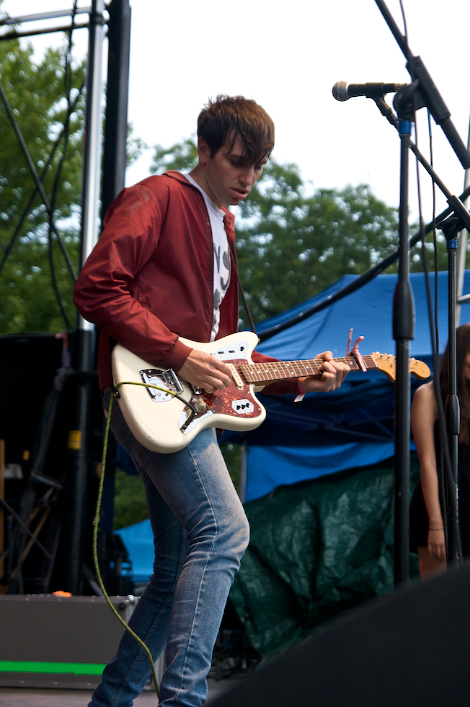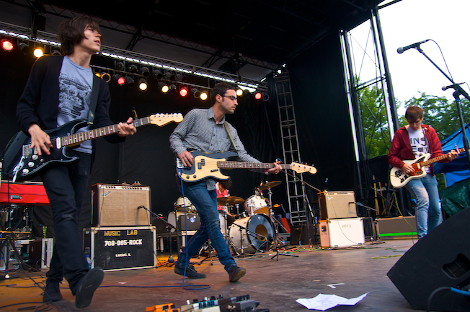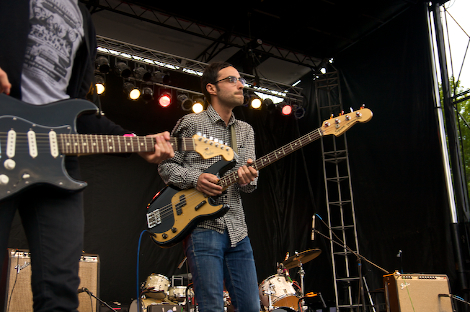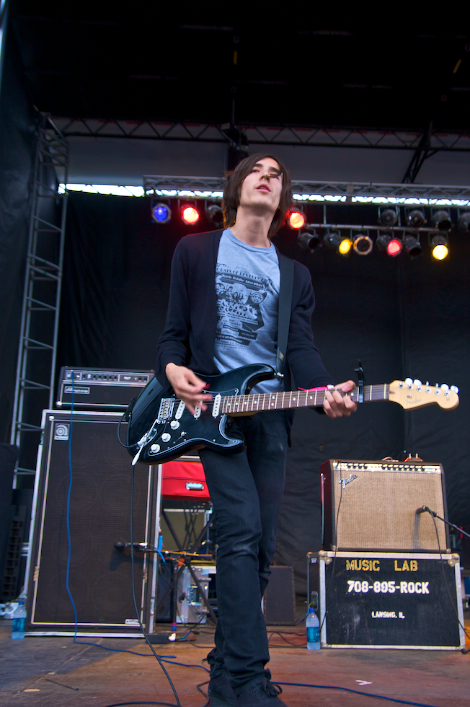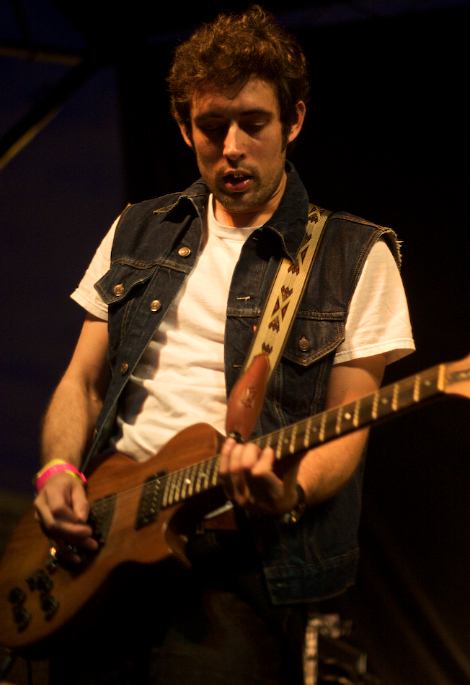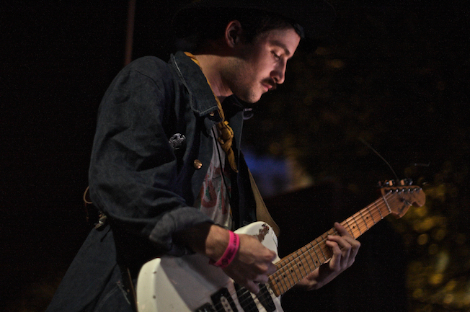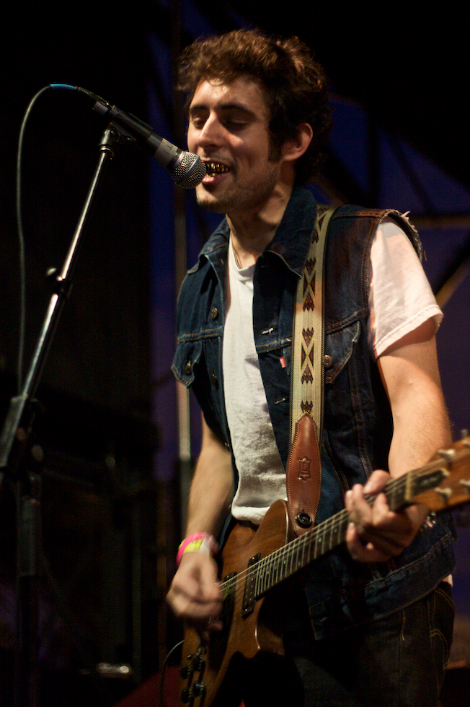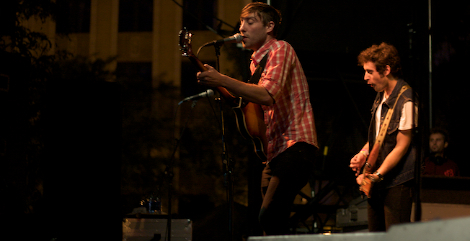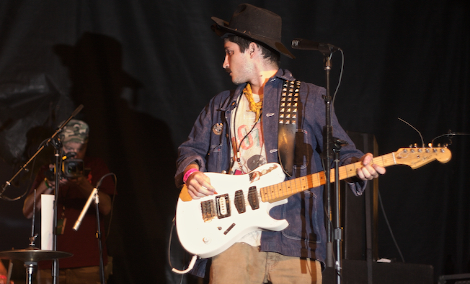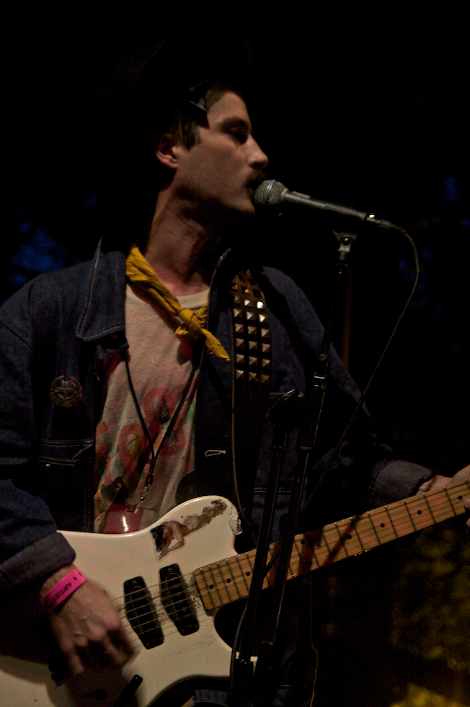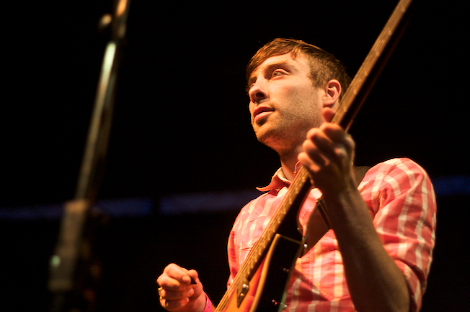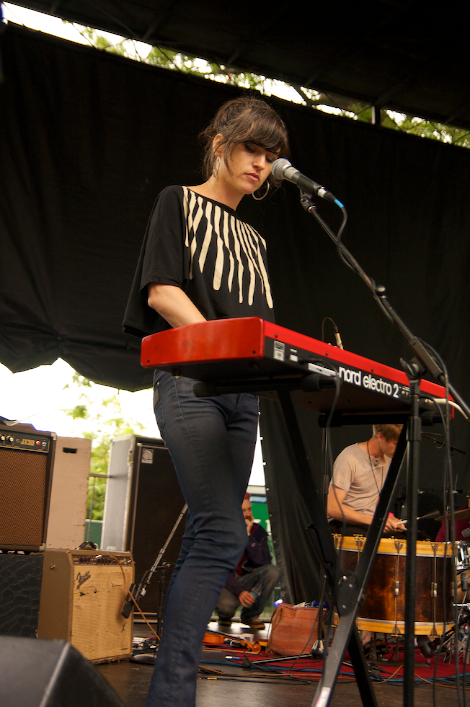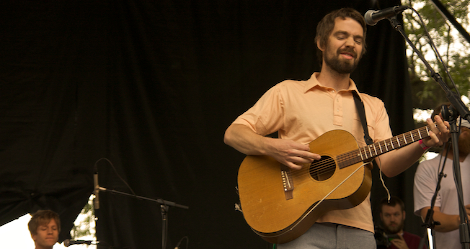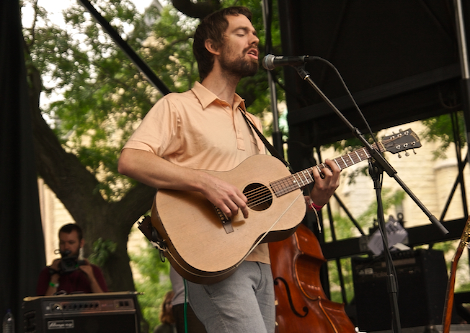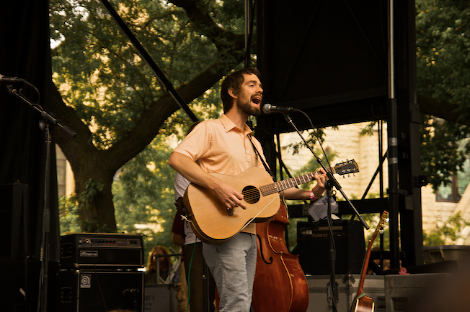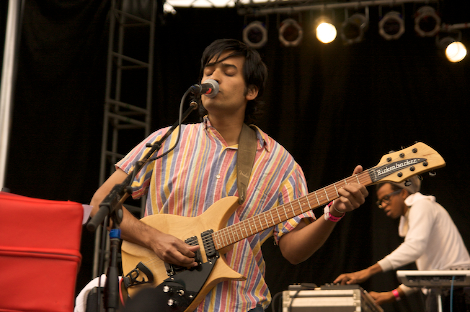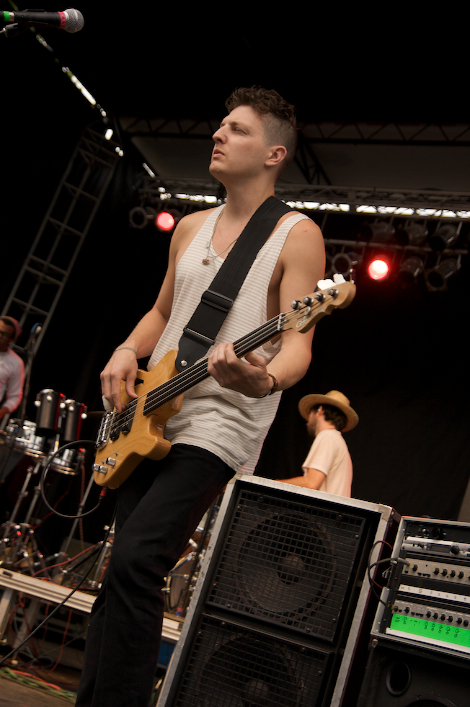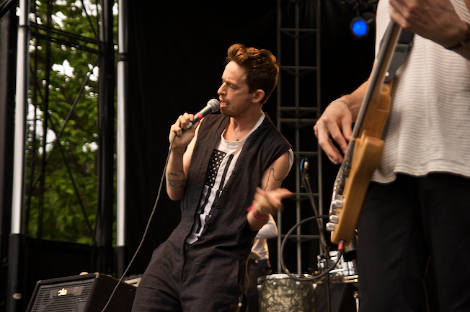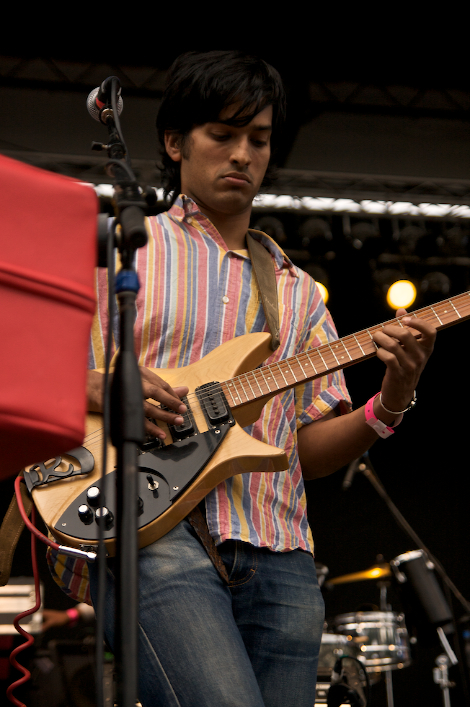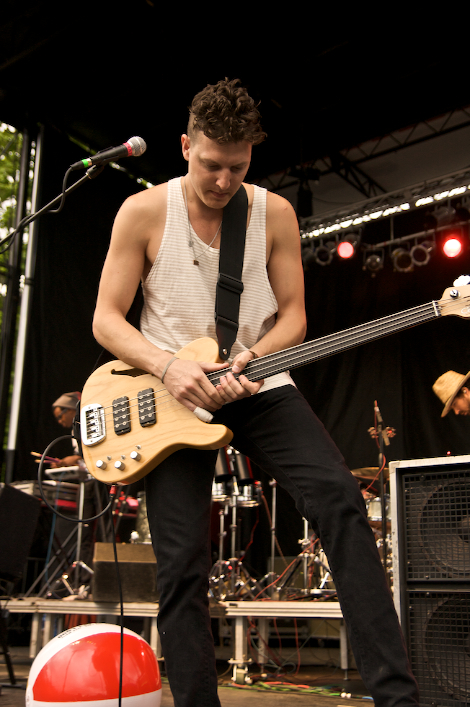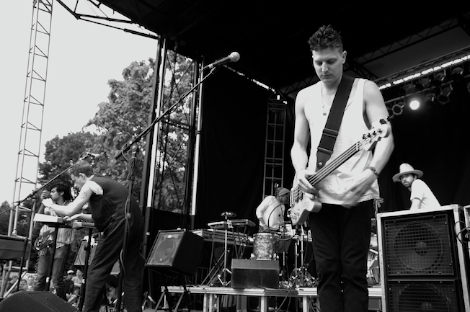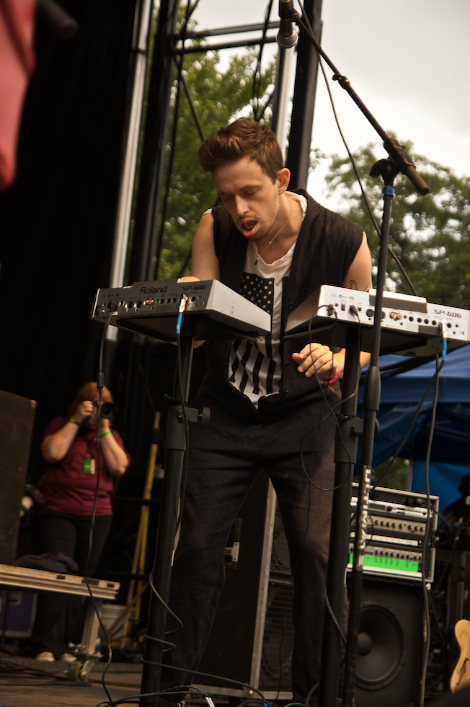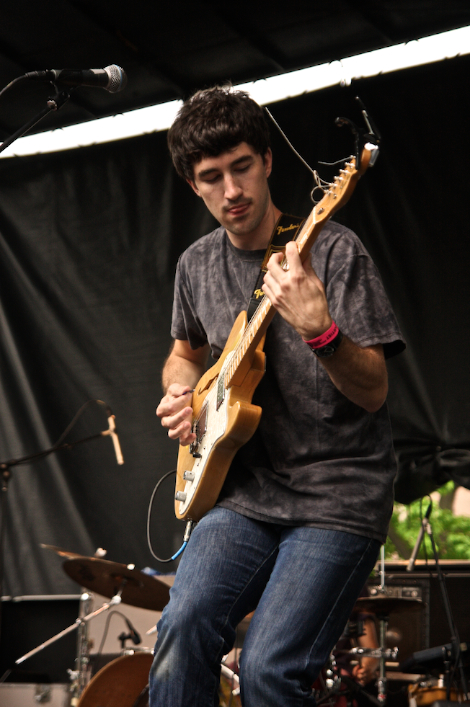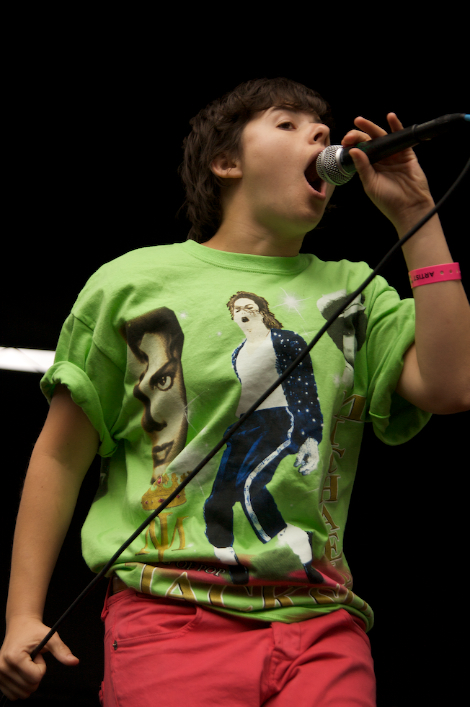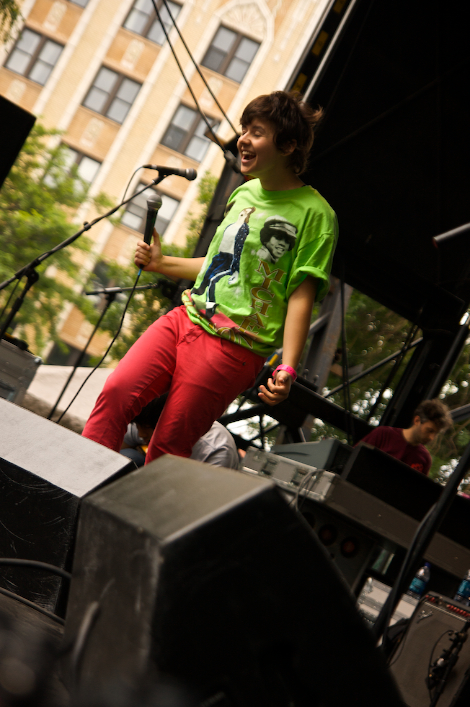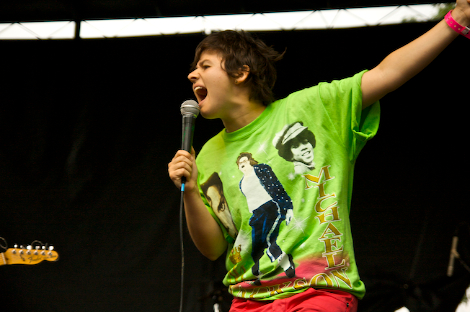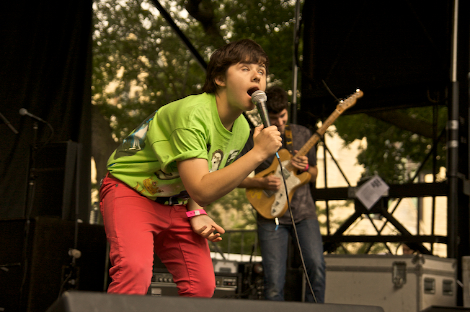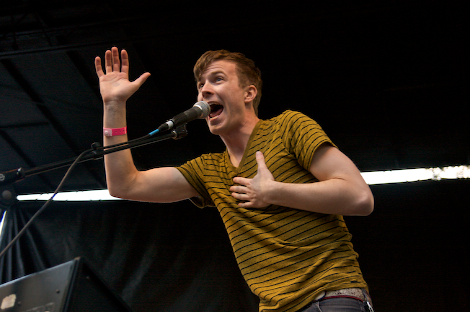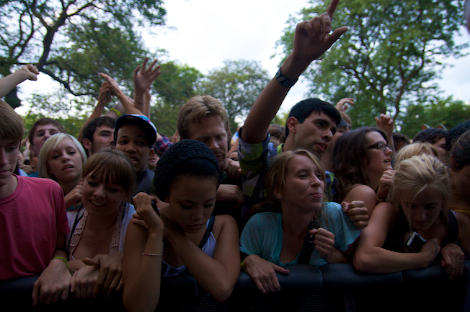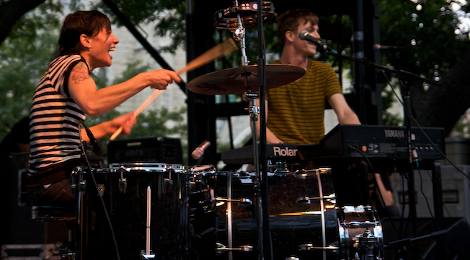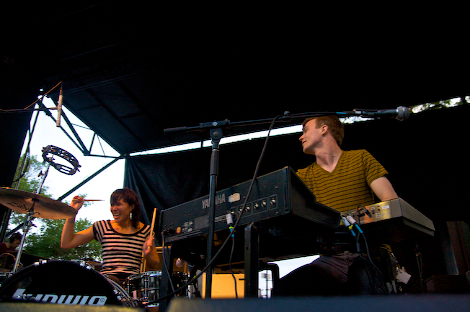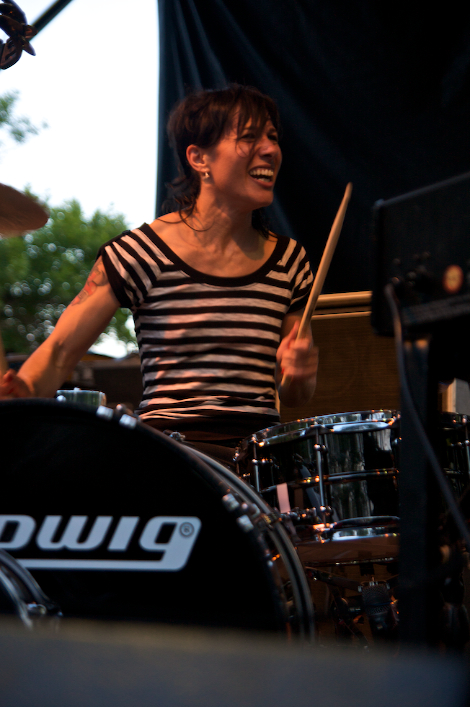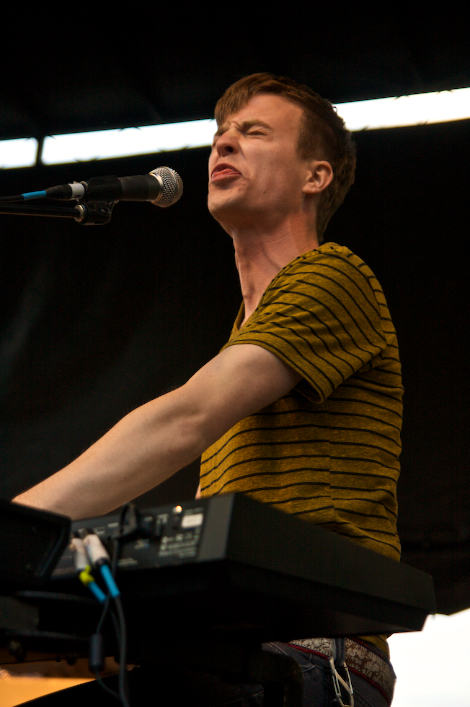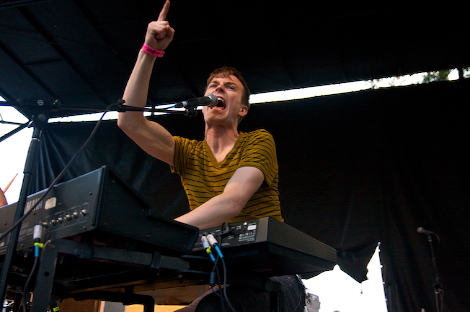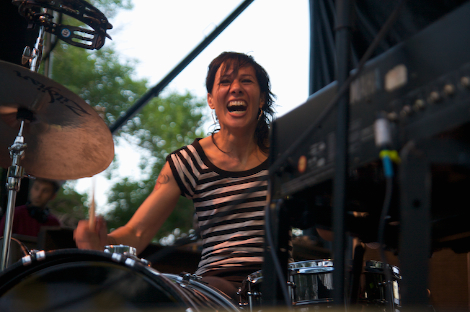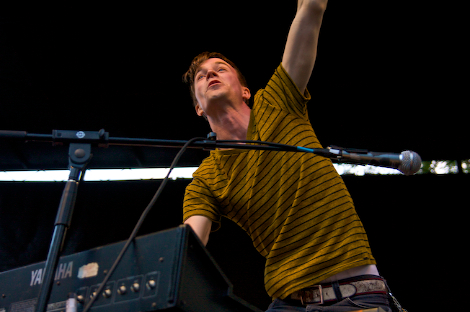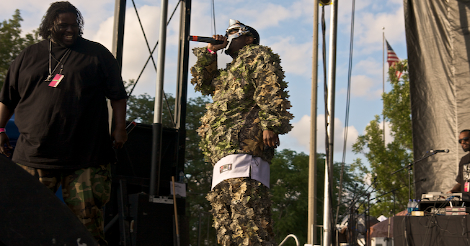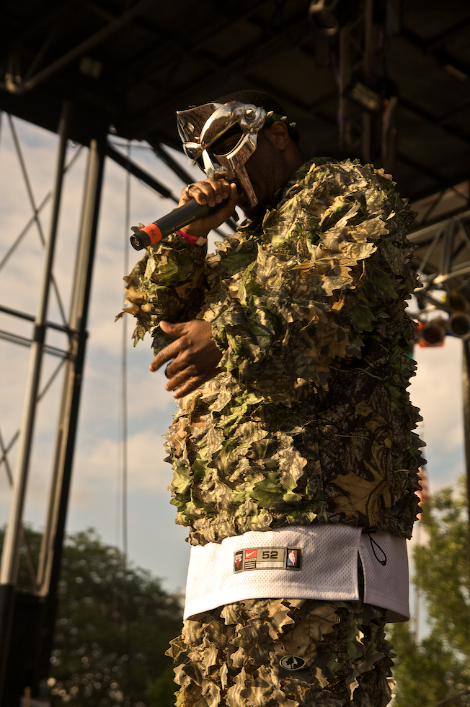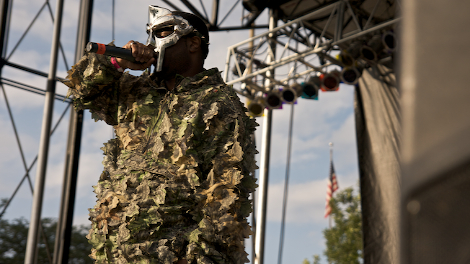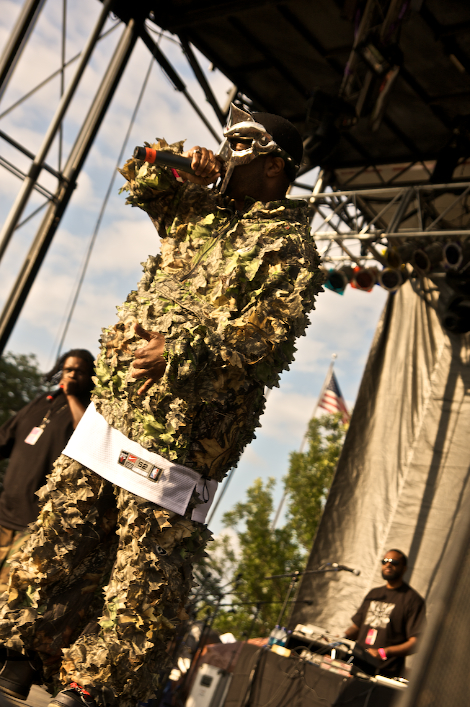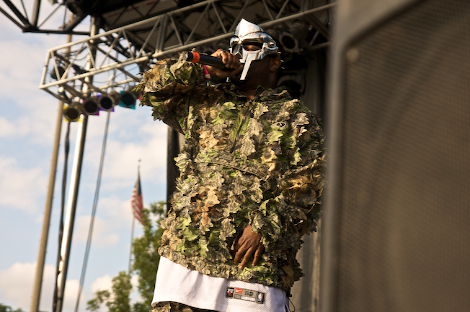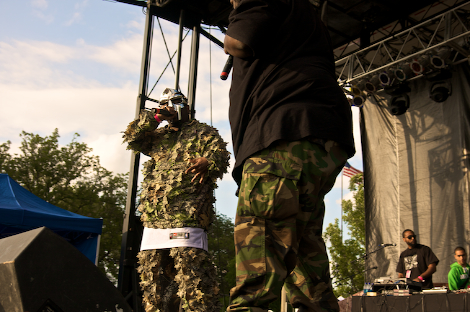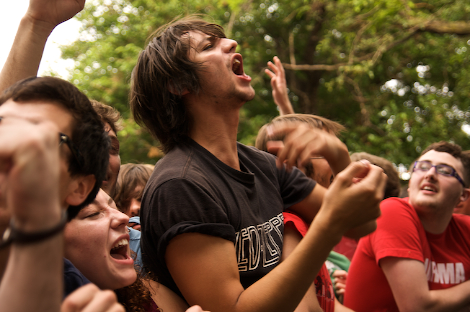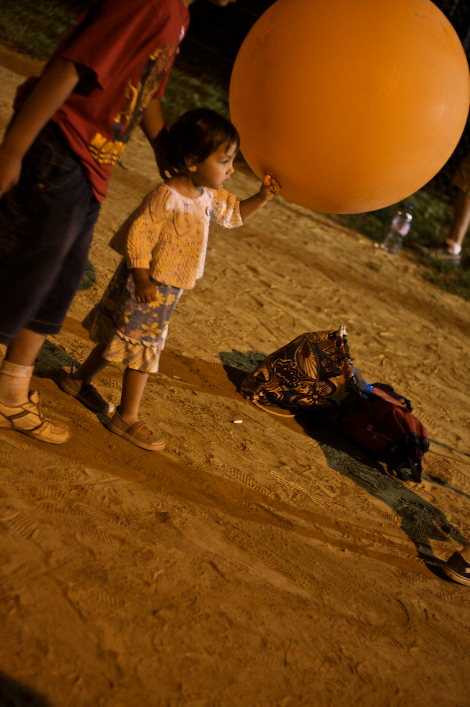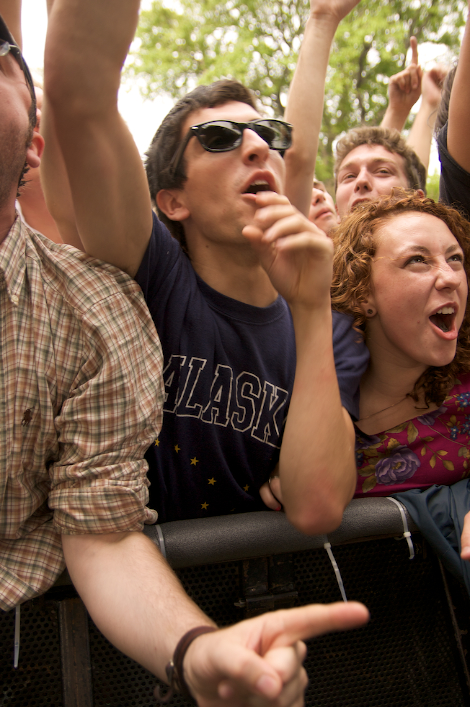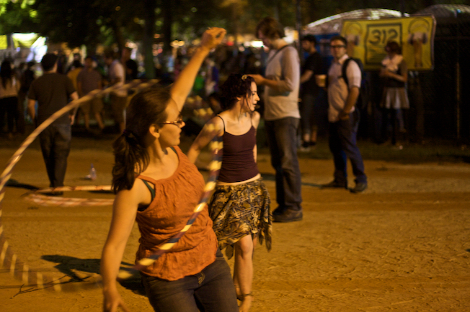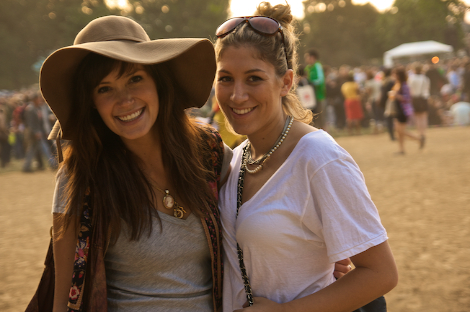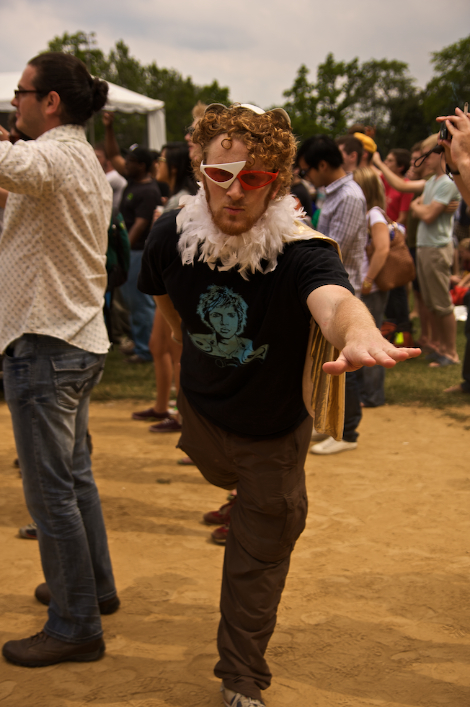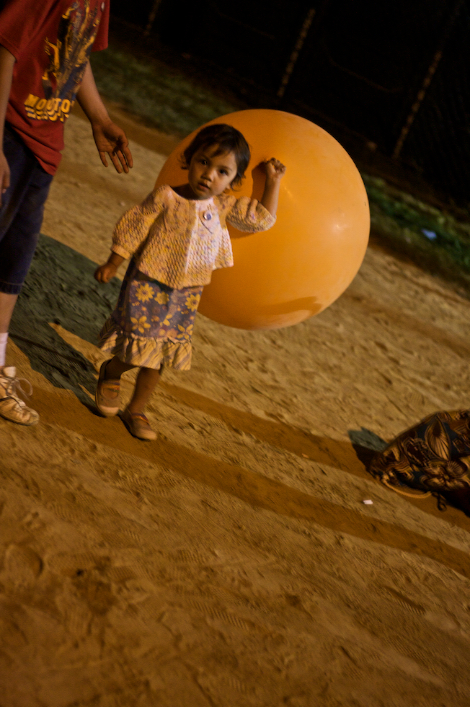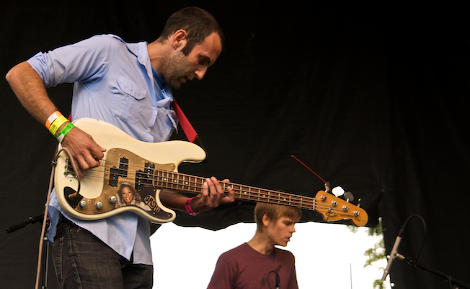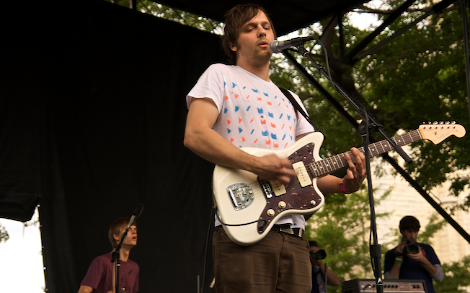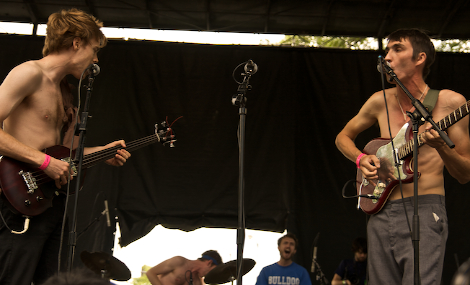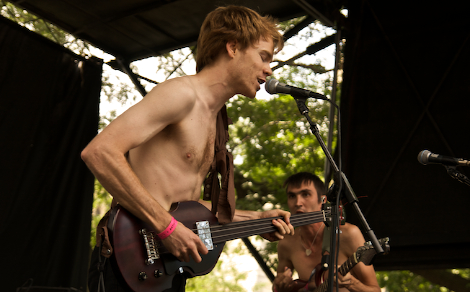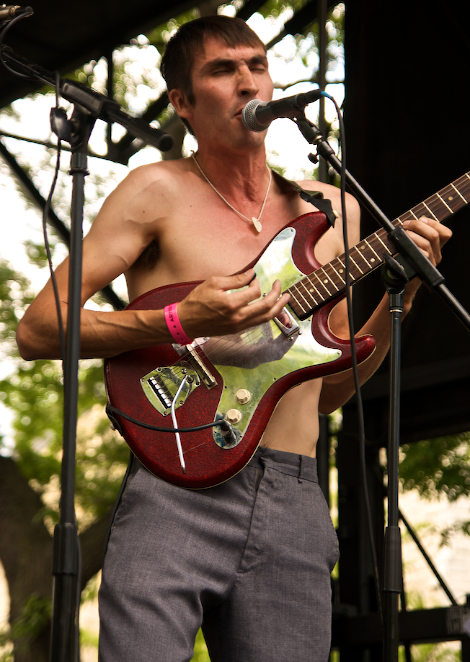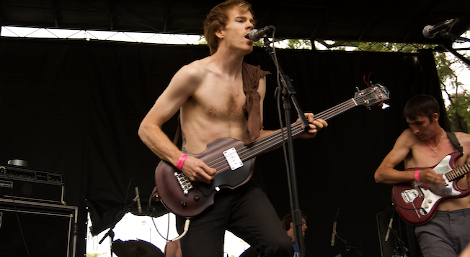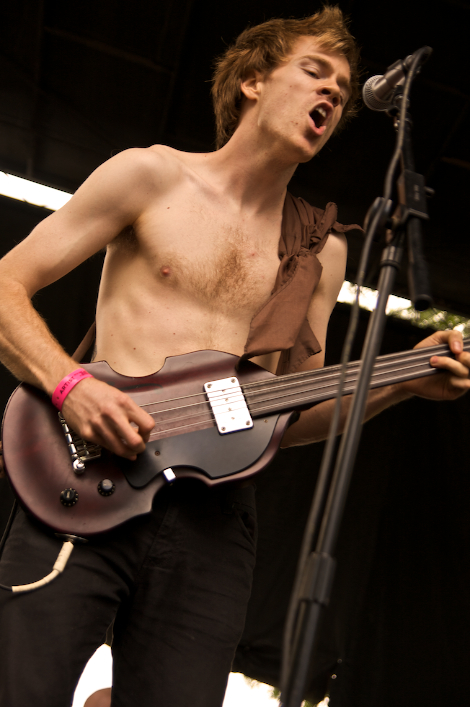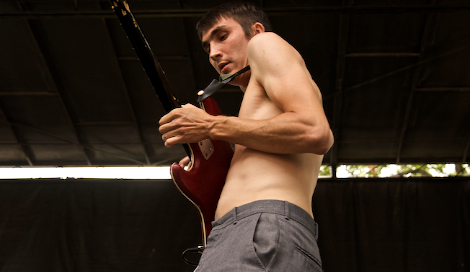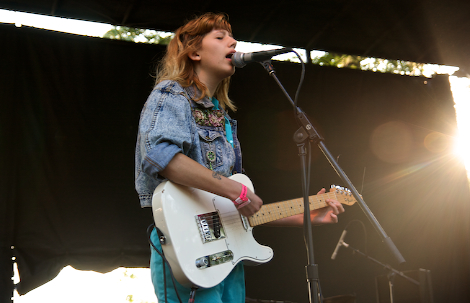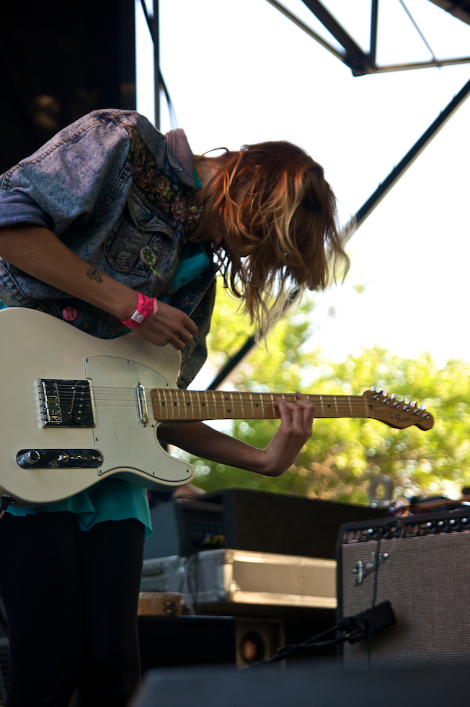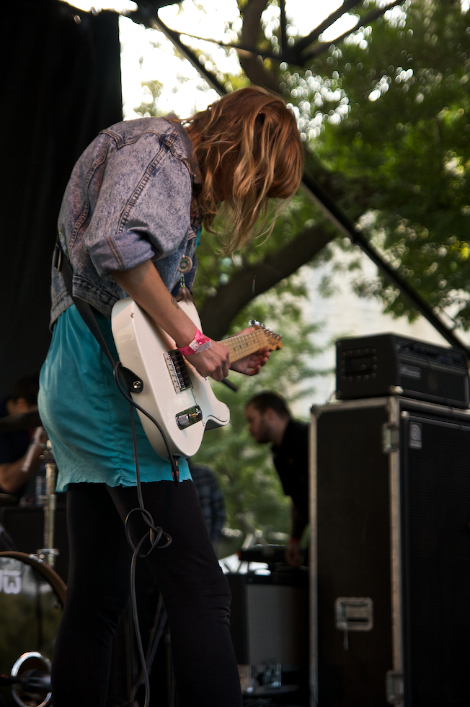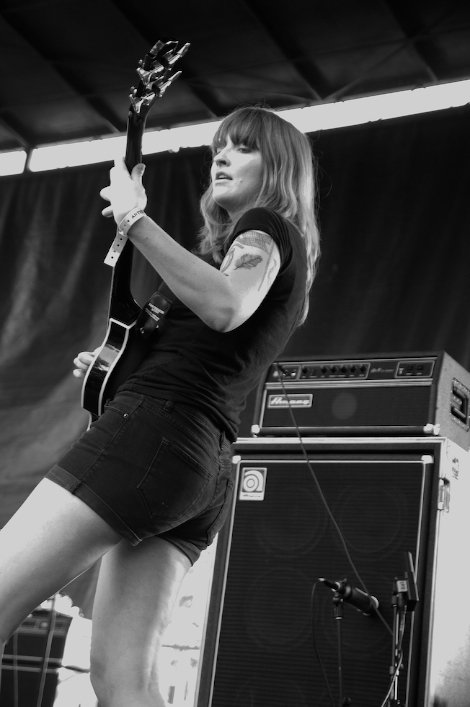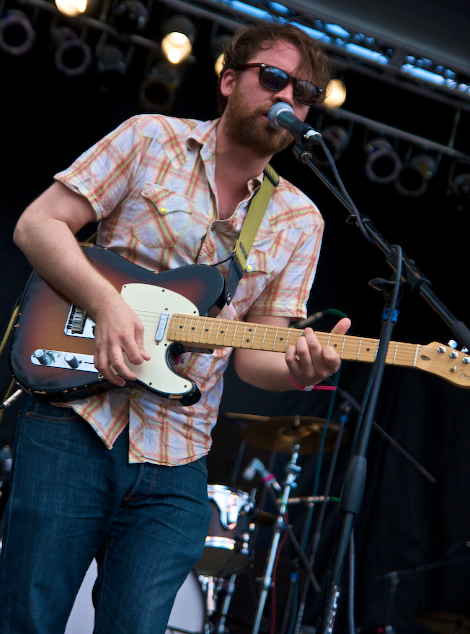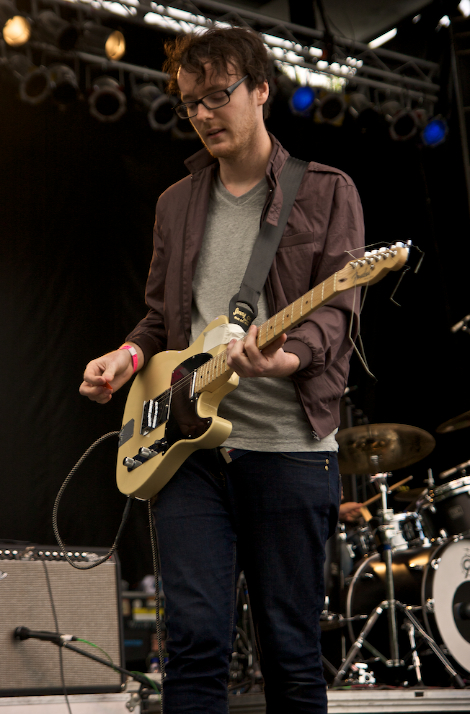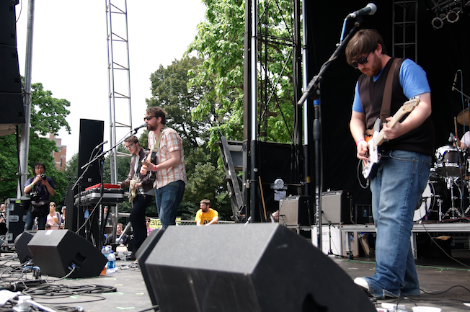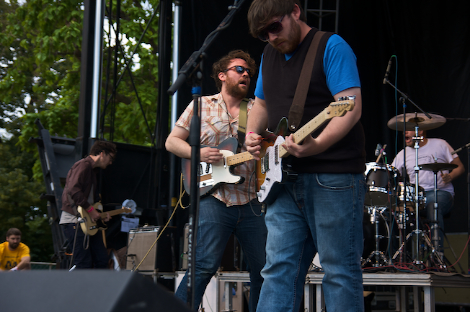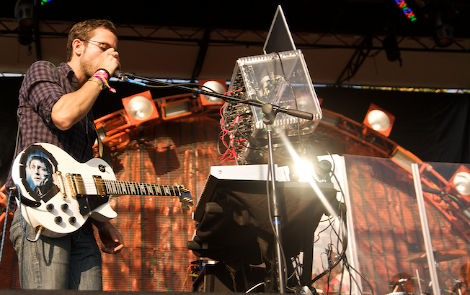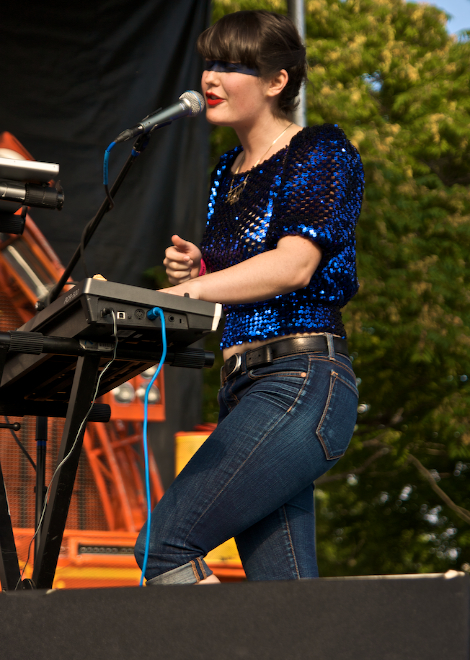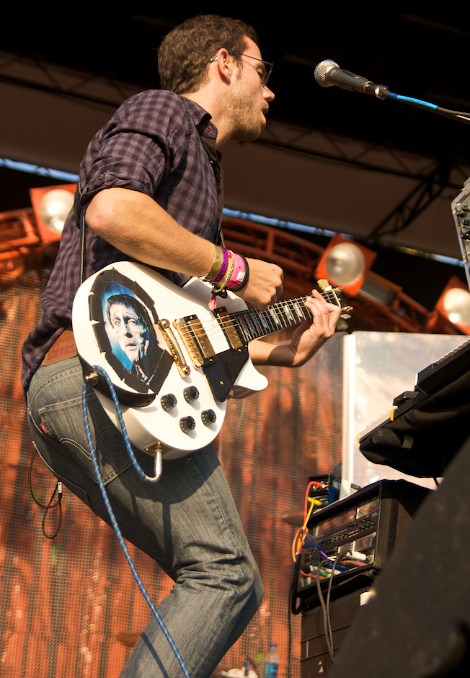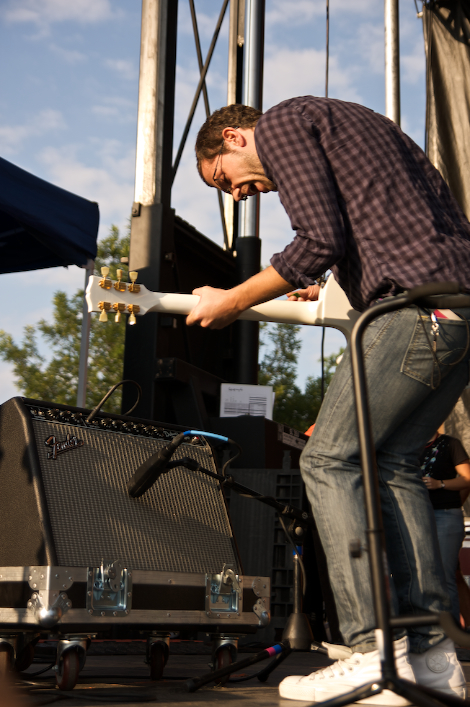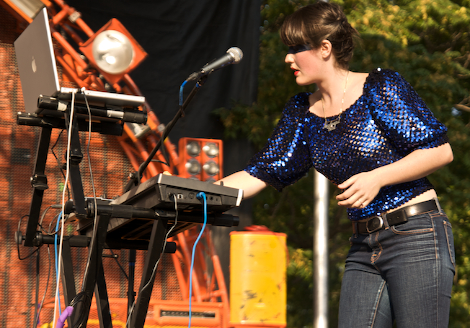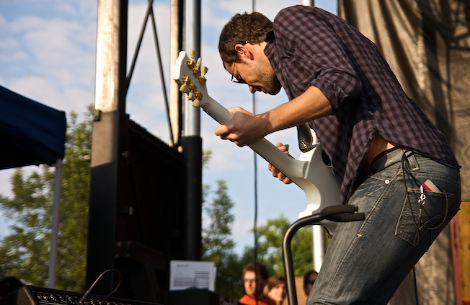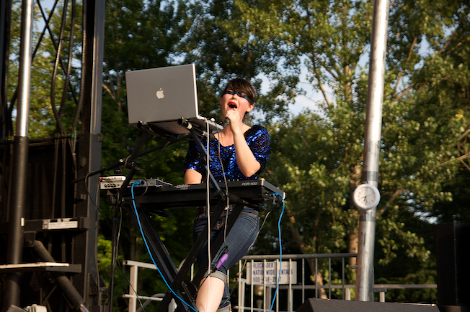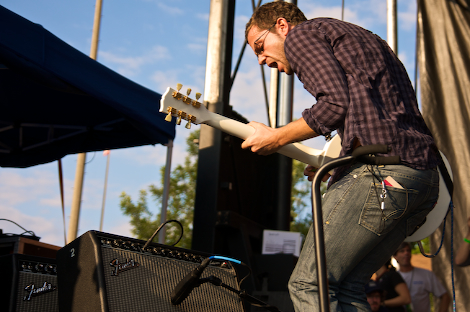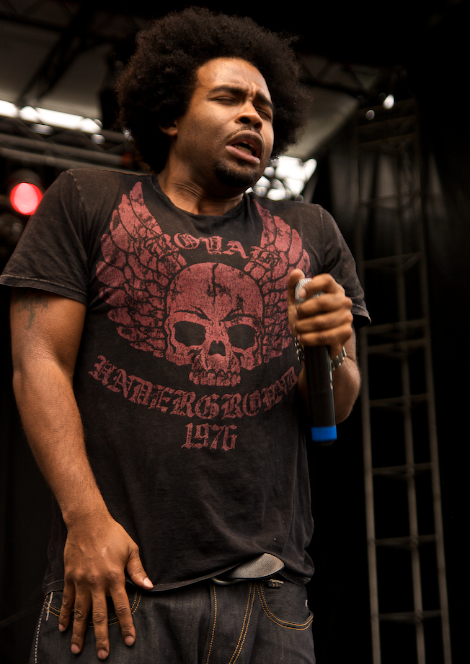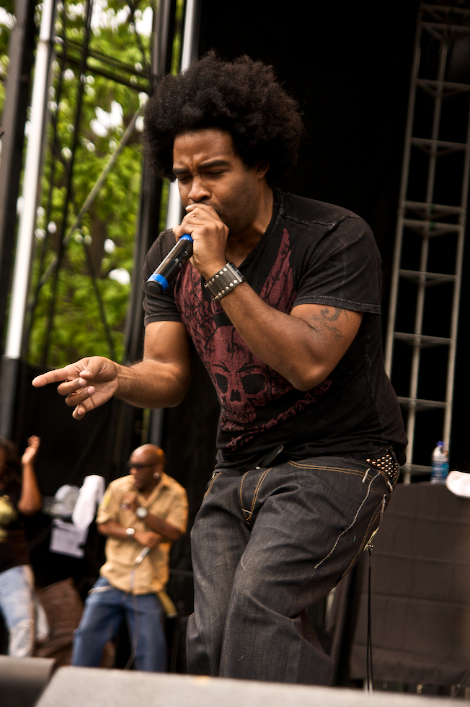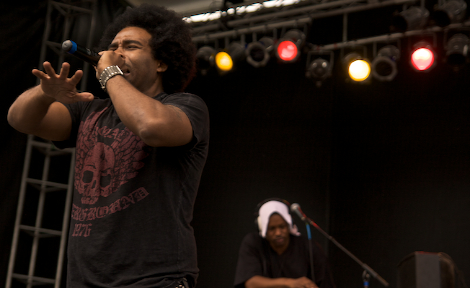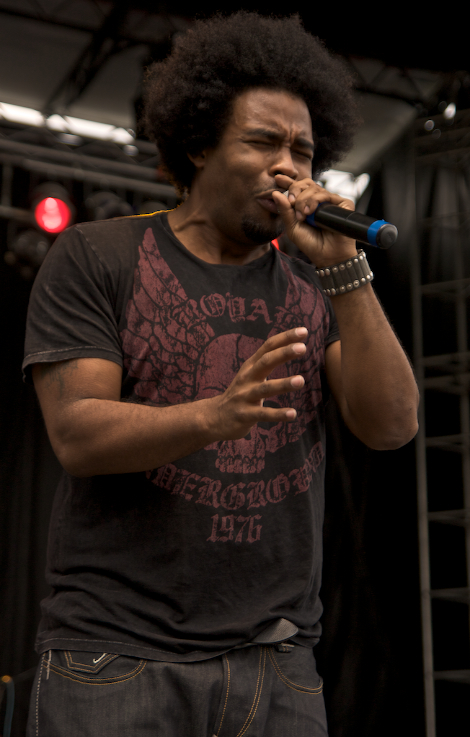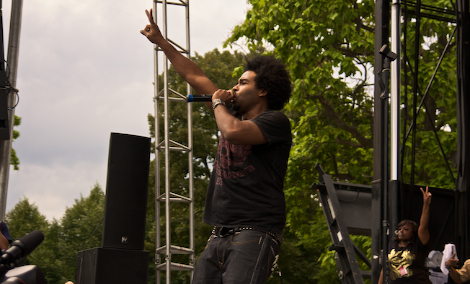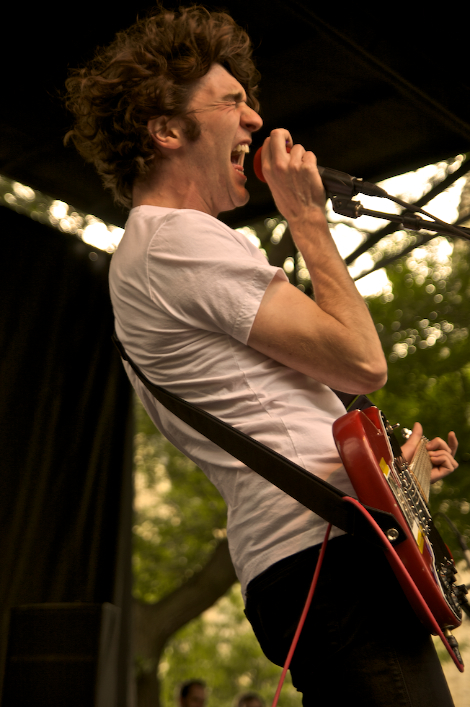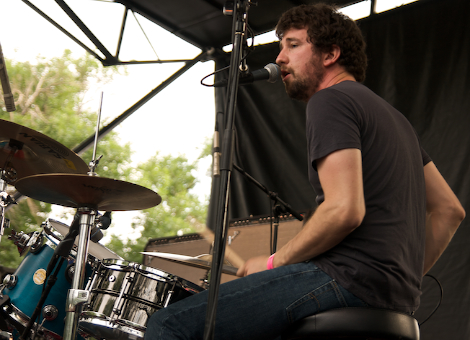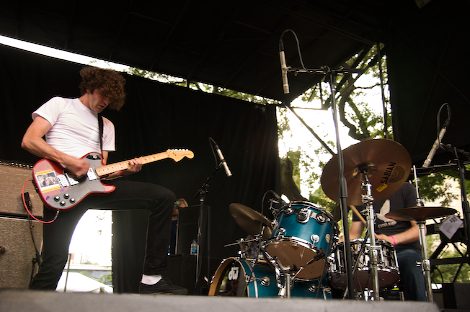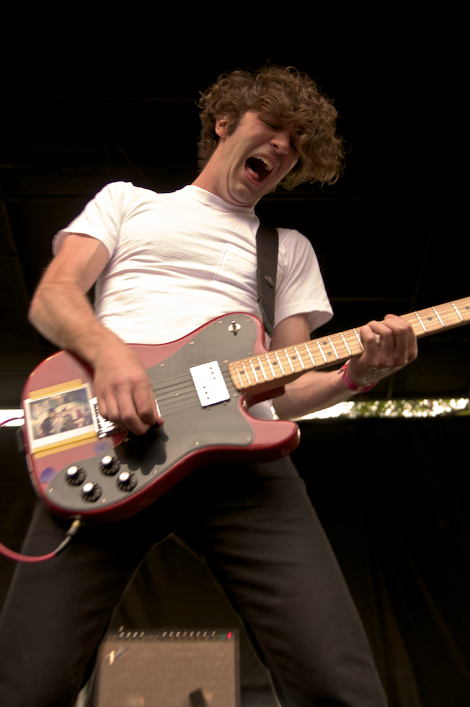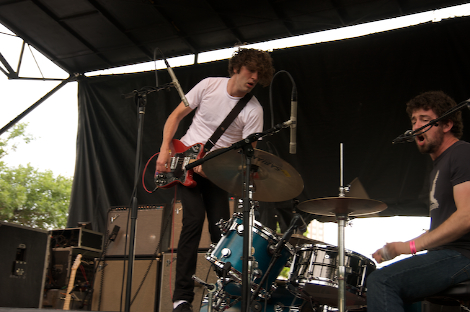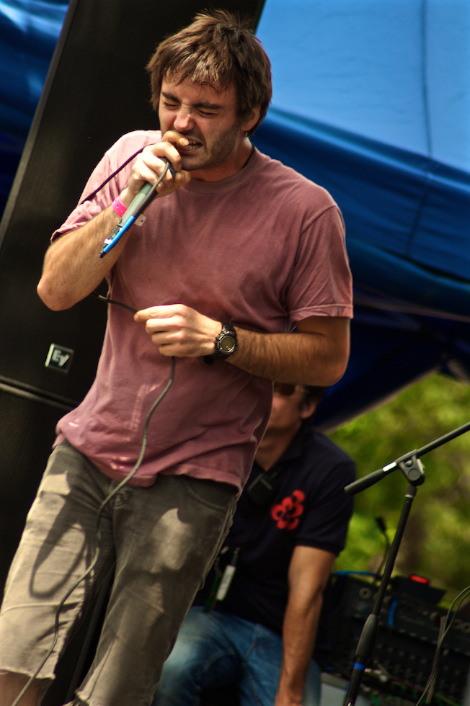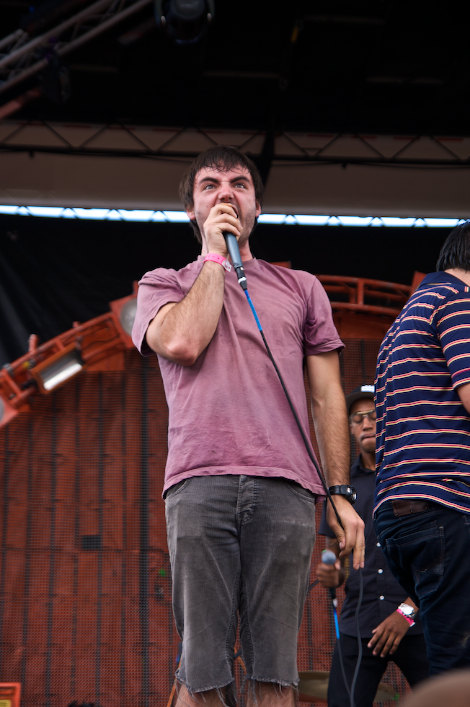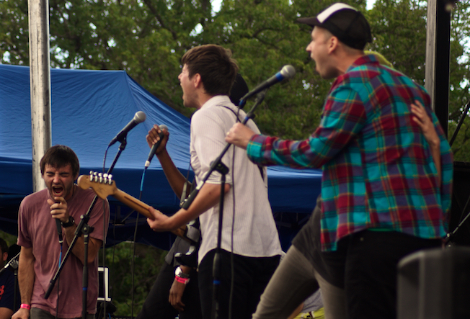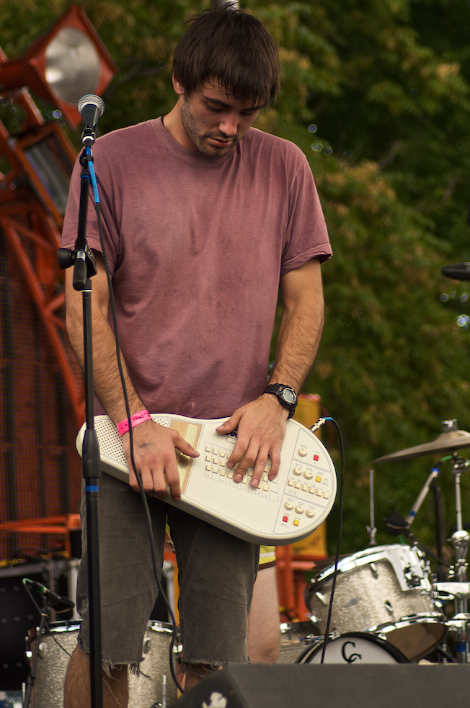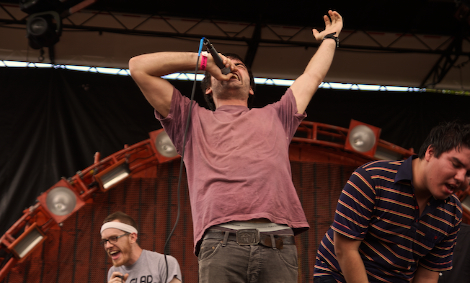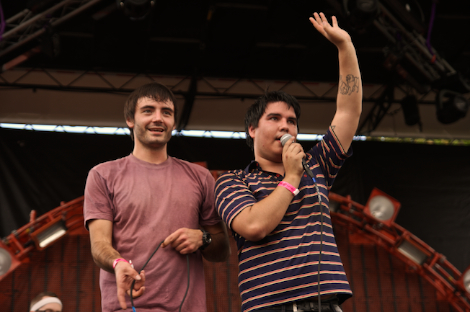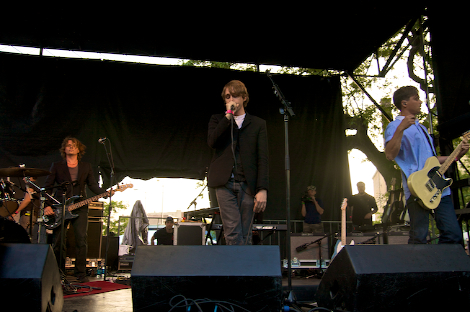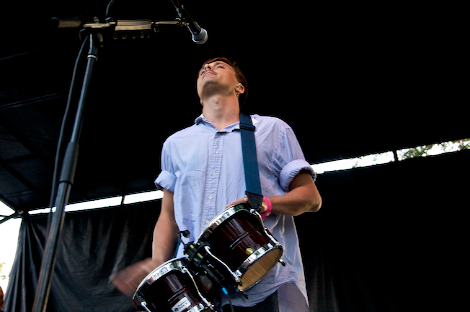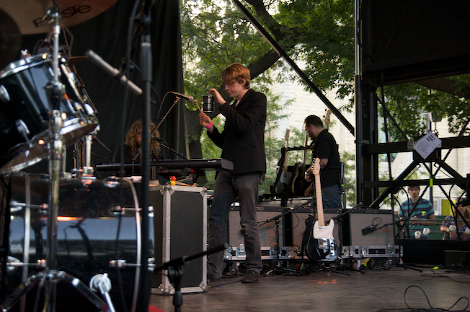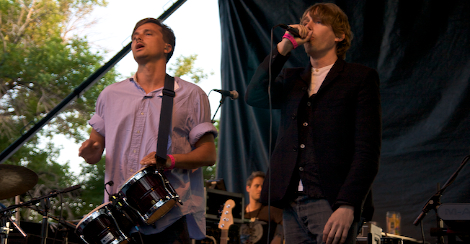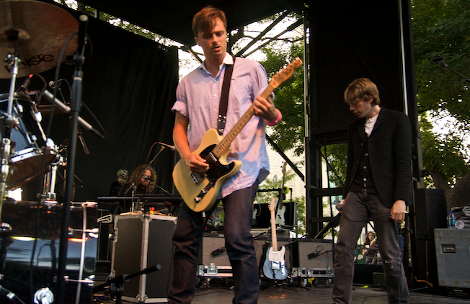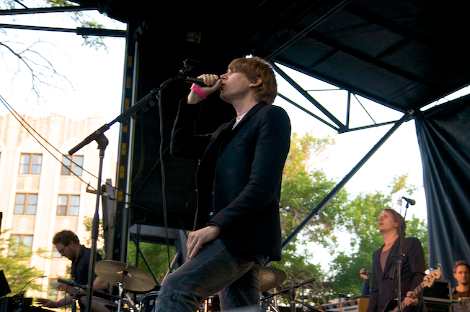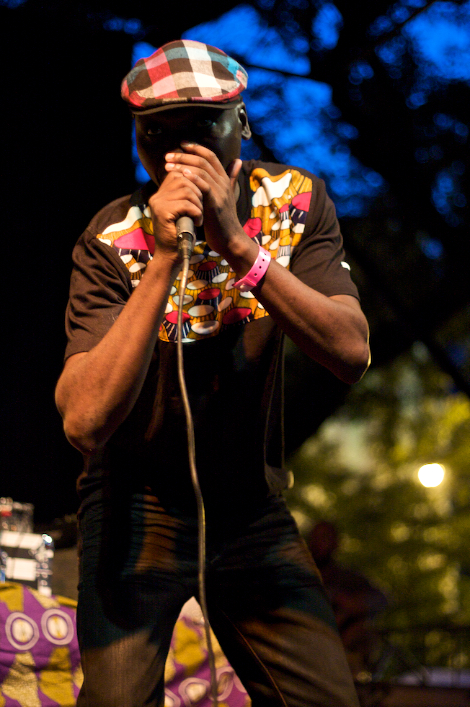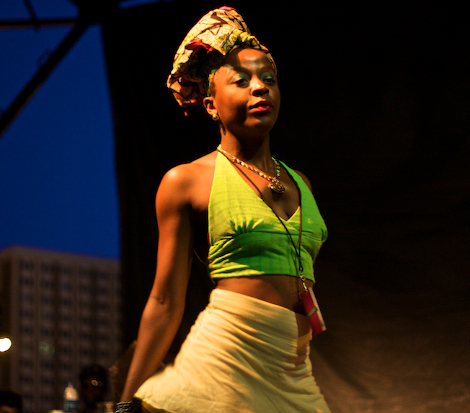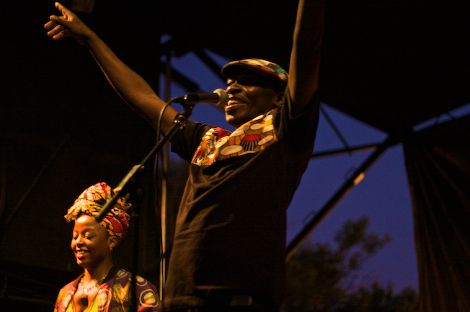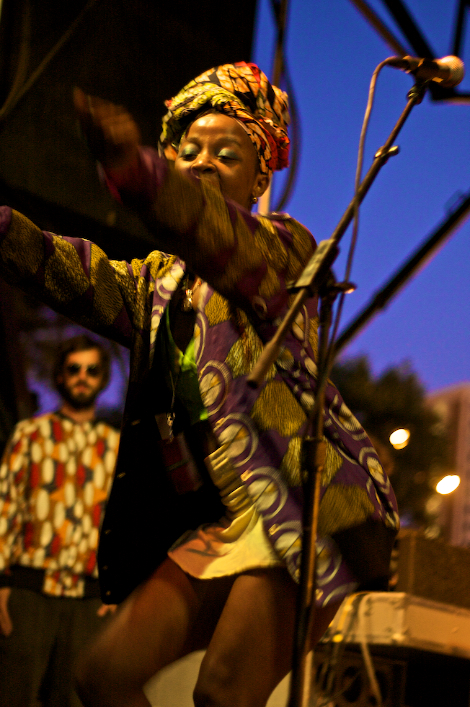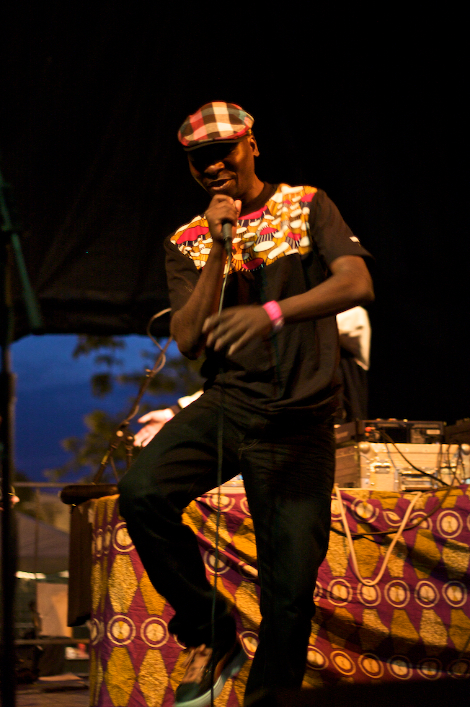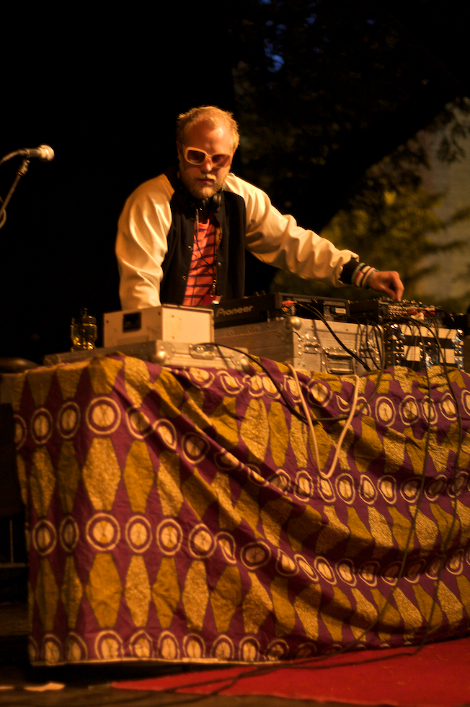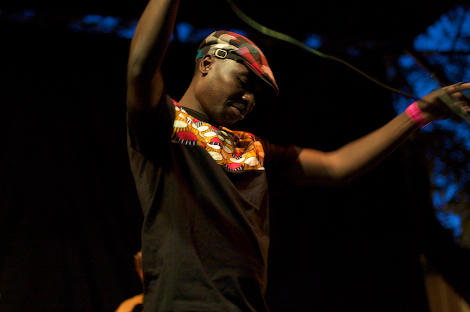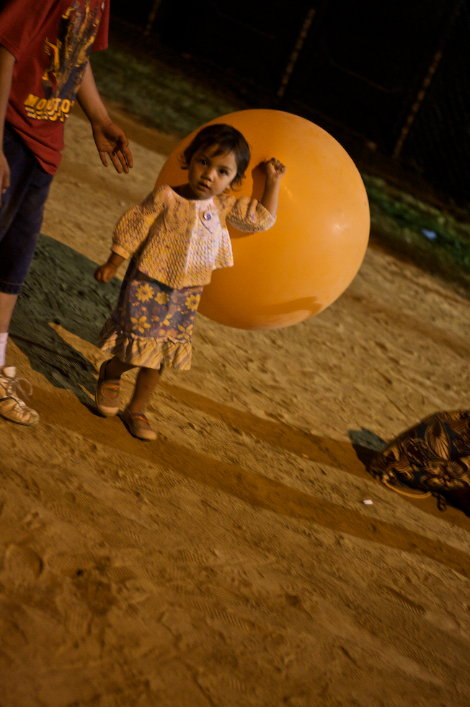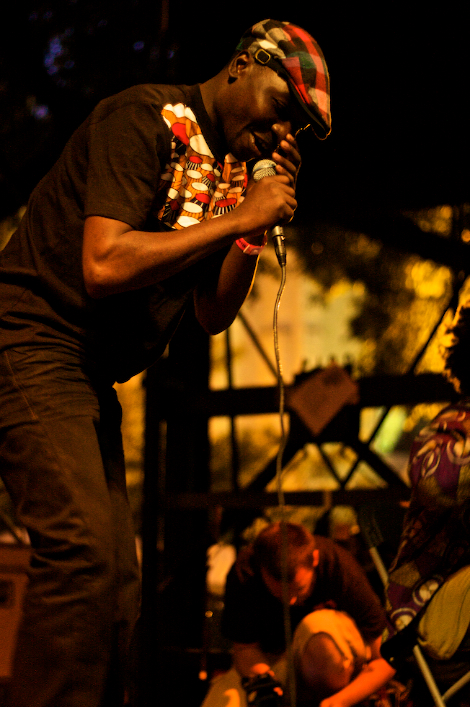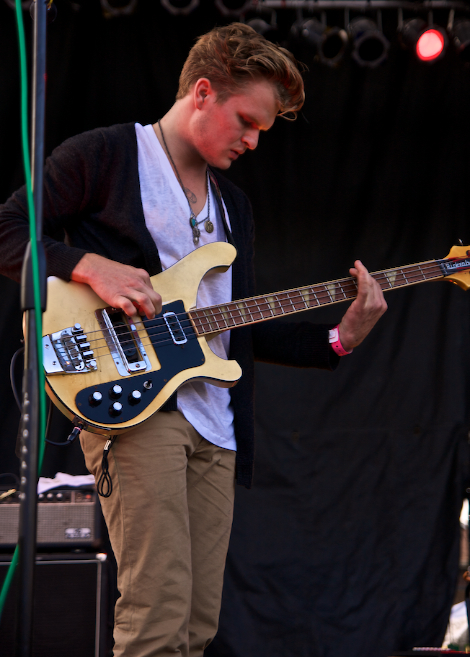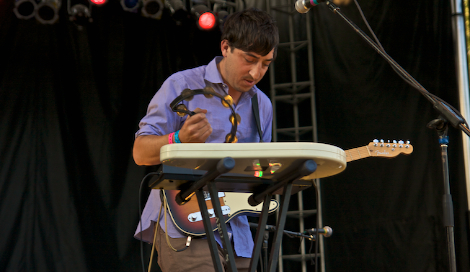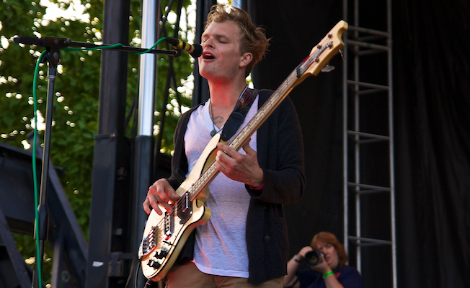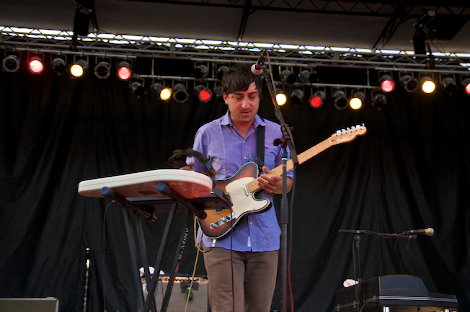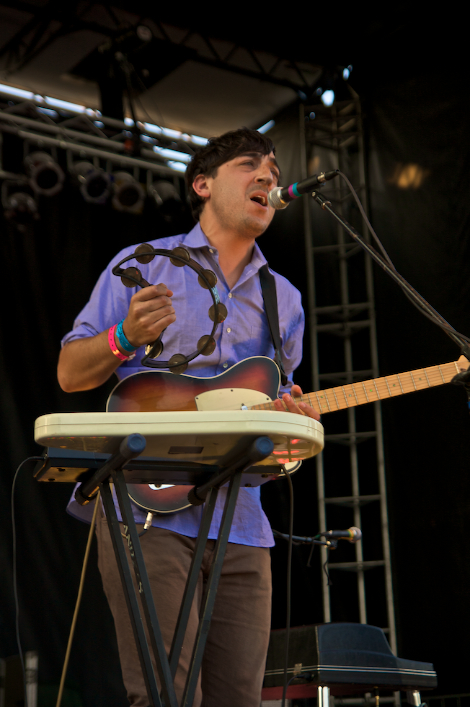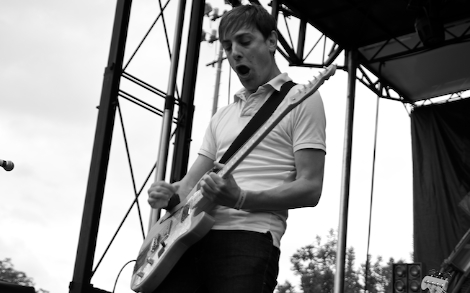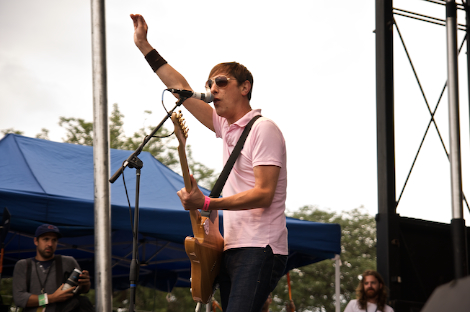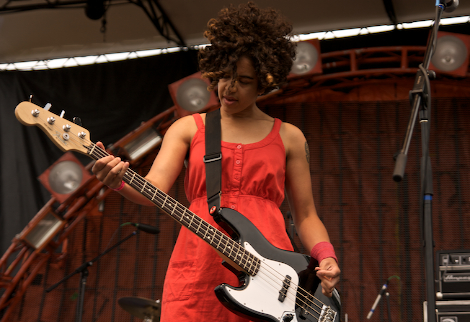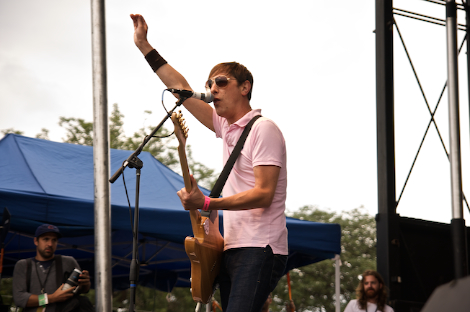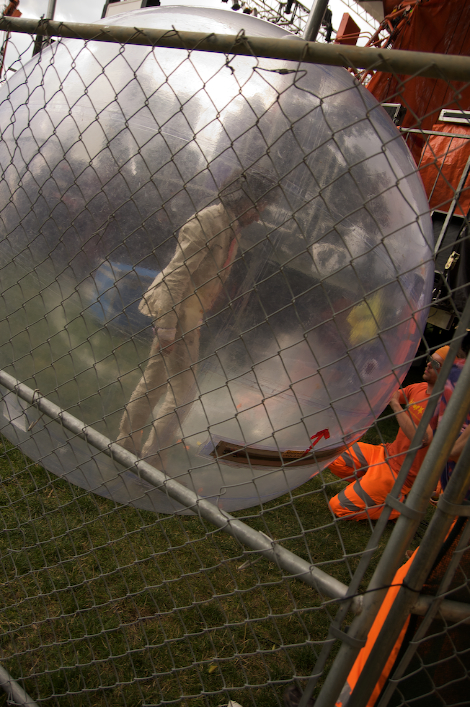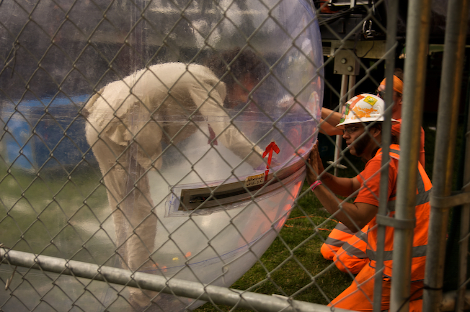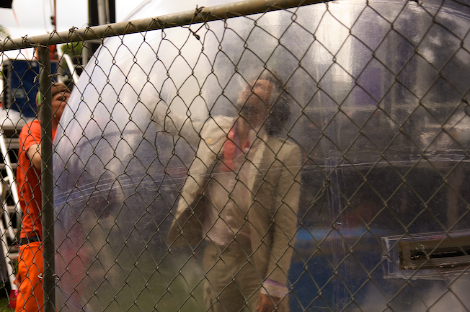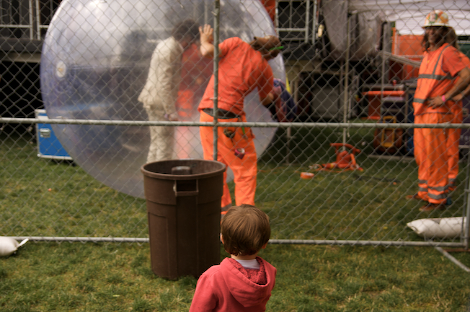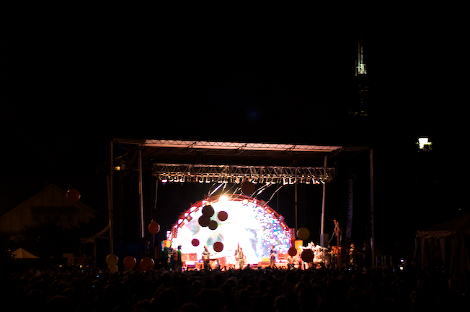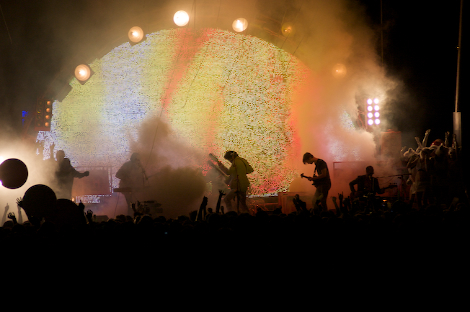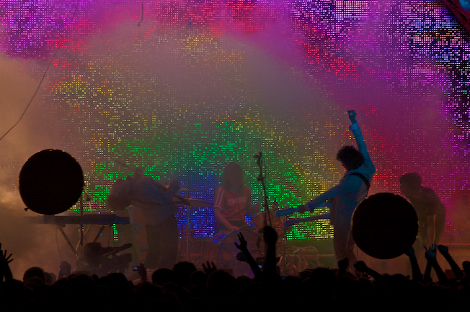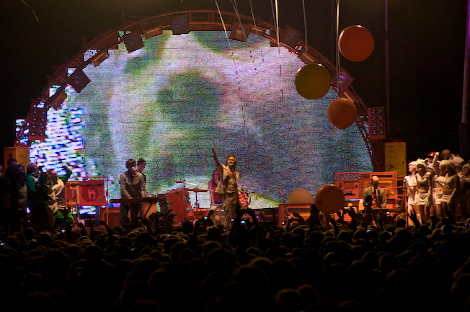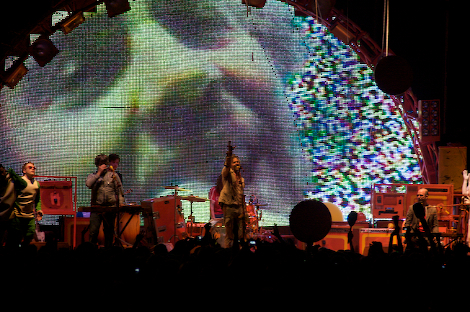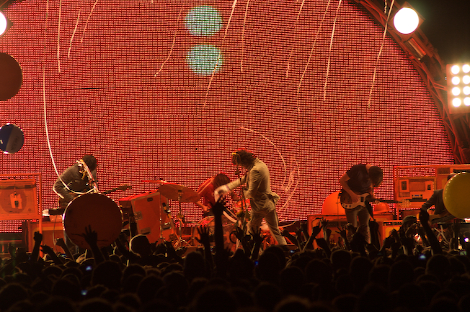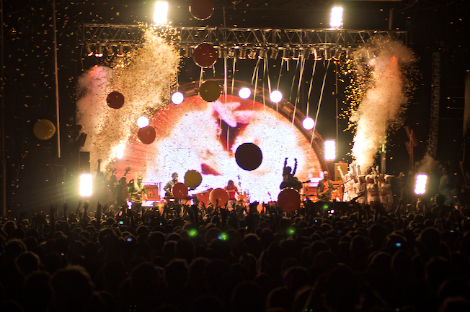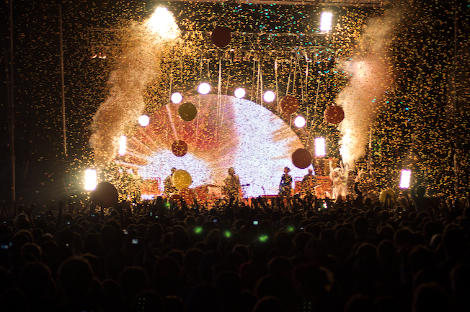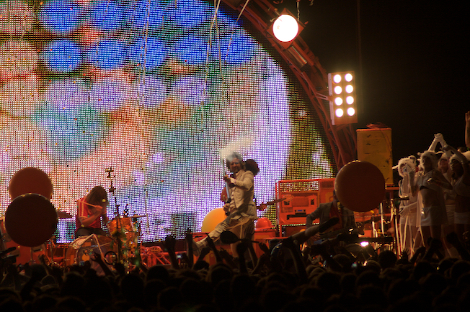 It hardly took three seconds into The National's emotionally-charged "Fake Empire" for me to get choked up on Saturday night of the Pitchfork Festival-they'd already had me on the verge of tears three different times during their set. As a huge fan of the band's recorded material' I went into my first live experience with them knowing that it would be special. What I didn't know was just how damn powerful and emotional of a rock band they could be. Matt Berninger's brooding baritone has fine accompaniment from a band that can sing you a lullaby like "About Tonight" with a few simple piano chords or completely knock you on your ass with the bombast of their horn section and driving guitars on a number like "Squalor Victoria." The crowd was eating out of their hand. What had been a chatty party vibe earlier in the afternoon suddenly became reverent as people were actually whispering to each other between songs.
The National are a beautiful band that got emotions running high' but a big contributor to those tears had to due with the setting and the day and half run up to their Saturday evening slot. The sun was going down bringing on a crisp summer night that came as a respite from standing in the sun all day. Glimpses of the city skyline started to glow above the trees and nearby squat buildings-the newly re-branded Sears Tower stood resolutely above it all. As Berninger crooned and the elevated train whooshed by again' I thought back to the prior night's "Write the Night" showcase-set lists were chosen by the fans several months before the festival. Yo La Tengo suffered from chronic sound issues on the Aluminum Stage early on' but managed to power through classics like "Cherry Chapstick'" "Autumn Sweater" and "Sugarcube." A super stretched out version of "Pass the Hatchet' I Think I'm Goodkind" allowed for some guitar feedback calisthenics from Ira Kaplan. From a distance' hometown heroes The Jesus Lizard looked to be stirring up the Chicago faithful in their first gig in over a decade. Headliners Built to Spill stole the night by digging deep and shredding on some of my favorites off Keep It Like a Secret like "You Were Right" and the epic "Carry the Zero."
The rest of Saturday's lineup was nothing to shake a stick at either. The Pains of Being Pure at Heart had to be the festival's most charming band. The Brooklyn purveyors of early-nineties-inspired shogaze pop gushed about never playing in front of so many people. Leadman Kip Berman remarked that Pink Eyes of hardcore outfit Fucked Up suggested backstage that they try to sound more like Weezer. He said he agrees. While the band was super tight' big stage jitters started to show in keyboardist Peggy Wang. Her harmonies are such an important complement to Berman' but she was missing notes on several songs.
Angry clouds blew into the neighborhood and a slight squall kicked up as Yeasayer came on the Connector Stage. Something to do with their Bollywood meets West Africa thing definitely worked though because as they jammed through their single "Sunrise" the rain stopped' the sun burned through the clouds and their was much rejoicing. Wavves' Nathan Williams managed to make it through his whole set despite a skateboarding related broken hand and the fallout from his very public onstage meltdown at Primavera Sound earlier this summer in Barcelona. Doom brought his stream-of-consciousness rhymes to the Aluminum Stage after reportedly arriving at the last minute and insisting that he be paid upfront in cash. Listening to Doom rattle off references as random as Ernest Goes to Camp' Tough Actin' Tinactin and Jake the Snake made me wonder how good he might be at Trivial Pursuit.
As I stood there mesmerized during that National set' it became clear how much the elements of risk and surprise were constant through this weekend when the skies always looked menacing and the sound system quality was suspect. Pitchfork Media became the taste-making music outlet that it is now by taking risks. They champion bands that they love regardless of whether they are moving units and that is reflected in the lineup they chose. Sunday's schedule pitted some of my favorite bands up against relative unknowns. I was presented with the chance to take risks of my own and was rewarded handsomely each time.
I passed up one of my old stand-bys in The Walkmen to check out Vancouver's Japandroids on the tiny Balance Stage. They ripped through about an hour's worth of their stunning debut album Post Nothing as if their lives depended on rocking as hard as they possibly could. There is something so refreshing about jostling around in a throng of bros pumping your fist and screaming along "I don't wanna worry about dyin'/I just wanna worry about those sunshine girls!" Choosing Mew over Grizzly Bear later on that afternoon proved equally serendipitous. The well-dressed Danish shoegazers trade in a kind of art rock that flirts with being a little too pretentious but is brought back to earth by a universally appreciated ass-shaking rhythm section and a sort of arena rock for indie types.
As they were warming up the confetti guns and inflating the beach balls' I decided that with two previous Flaming Lips shows under my belt' I should roll the dice again and check out The Very Best on Sunday night. The Very Best are one half of the European production group Radioclit and the Malawian-born singer Esau Mwamwaya. They've seen an ascendancy through blog hype recently as they've churned out remixes' covers and collaborations with the likes of Santigold and MIA. It might be easy to pan The Very Best as pandering to the White Western world by sampling Vampire Weekend' Michael Jackson and The Beatles to create entry-level African music' but the heart and soul of these tracks are authentic African rhythms and Mwamwaya's vocals that make up the meat and potatoes between those sampled bits of pop mish mash. With the sun going down on an eager crowd' the set just turned into a giant dance party that put the perfect cap onto the weekend.
The Pitchfork Music Festival is decidedly curated by and for obsessed music nerds. It seems there is little regard for reaching the lowest common denominator (and highest return) by booking any of the mainstream crowd pleasers you see on the bill of most major festivals. Sponsor involvement is also kept pretty minimal and relevant-Ready Made' Threadless Tees' The Chicago Reader and Zip Car were a good fit for the target audience. A pleasant urban location' super cheap tickets' tasty microbrews from Goose Island and reasonable finish times each night (around 10pm) lend a more civilized and relaxed air to the whole event. However' Pitchfork is still a young festival with some logistical issues it needs to iron out before next year. Several bands had their performances marred by poor sound quality or too much noise coming from the stage next door. Port-a-potties were at a minimum which led to lots of people squirming in long lines and exhaust fumes from backstage generators wafted across the grounds when the wind was blowing the right way. Union Park is a wonderful place to hold this festival' but it may be time for Pitchfork staffers to consider moving on to bigger digs to alleviate some of these problems.
Regardless of any shortcomings' this festival re-affirmed my love for certain bands and opened doors to new favorites. I'm already looking forward to rubbing elbows with Chicago's hip set again next year.

Visit Pitchfork Music Festival
related articles
Shows: The Flaming Lips + The Black Keys
Features: Solid Sound 2013
Albums: The Flaming Lips - The Terror
Albums: Yo La Tengo - Fade
Shows: Built to Spill
More on:
Built to Spill
,
Yo La Tengo
,
Fucked Up
,
Japandroids
,
Grizzly Bear
,
The Walkmen
,
The Flaming Lips
,
Mew
,
The National
,
Yeasayer
,
The Pains of Being Pure at Heart