Shows
Wakarusa 2009
June 4-7, 2009
at Mulberry Mountain in Ozark' AR
by Garret K. Woodward
|
photography by Andrew Wyatt
June 20, 2009
page 2 of 3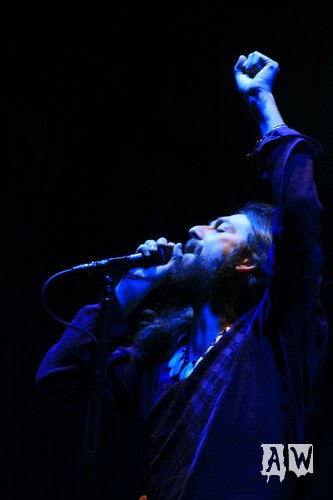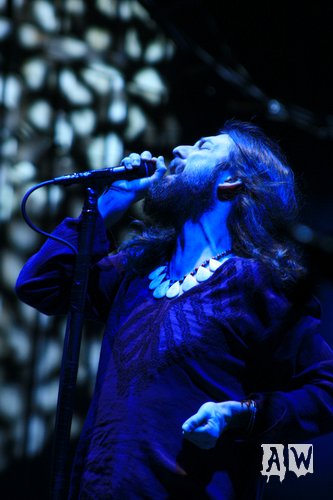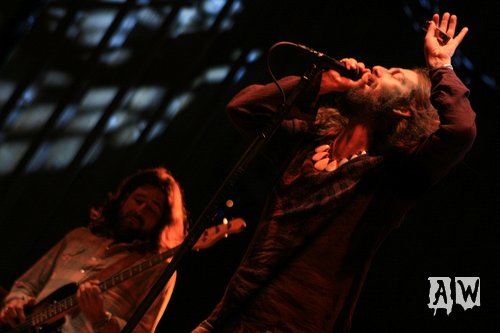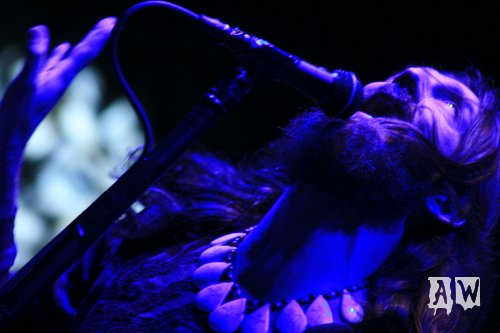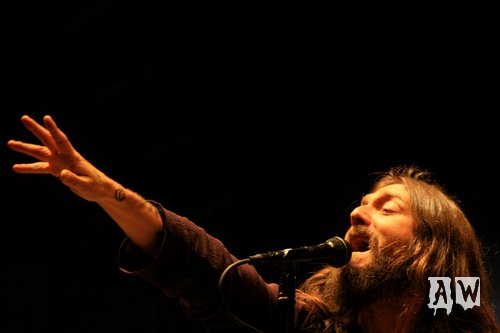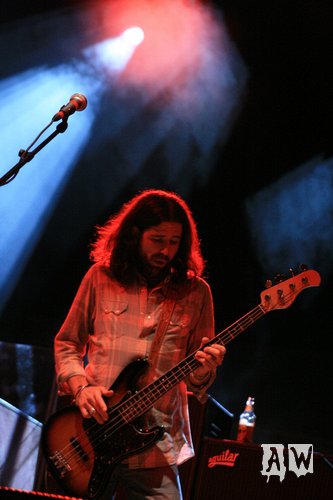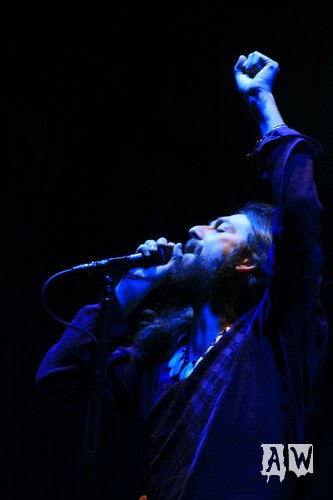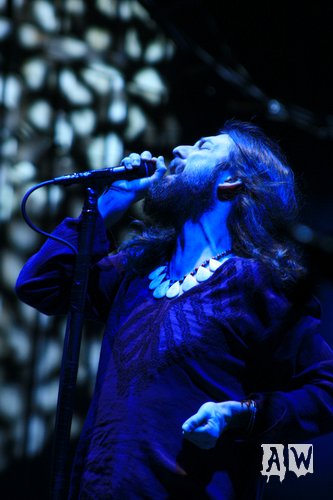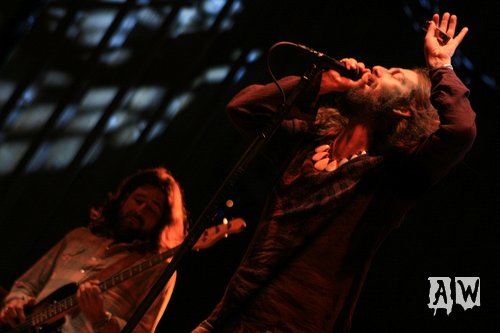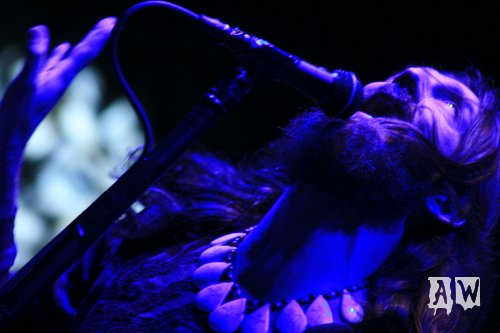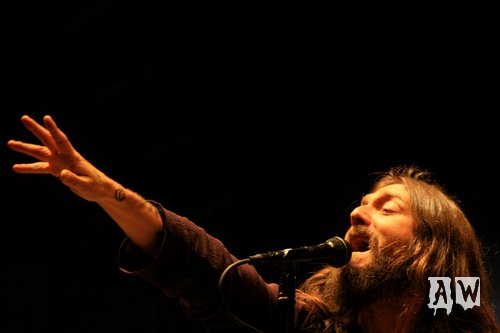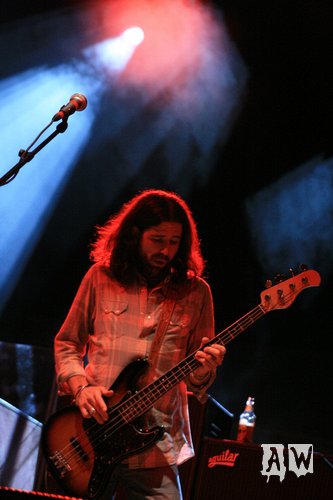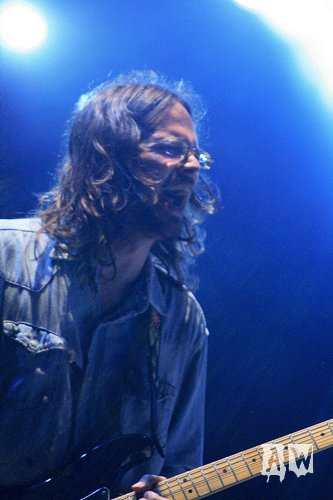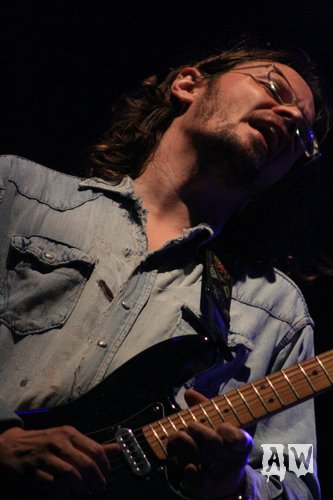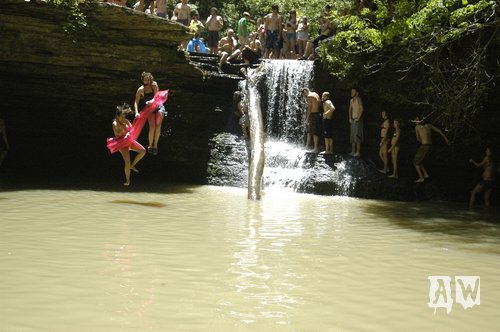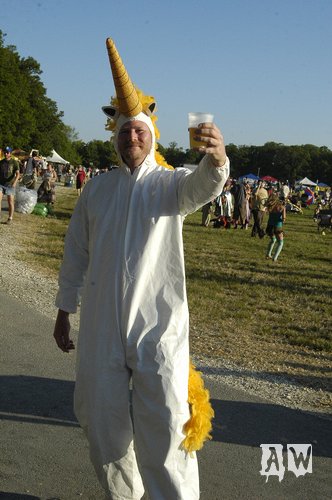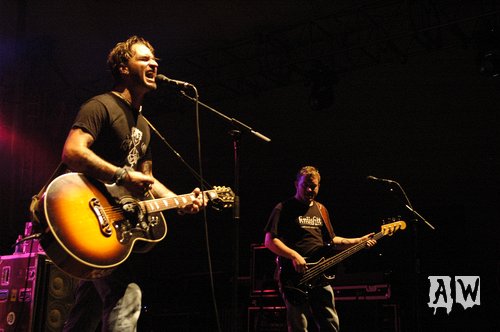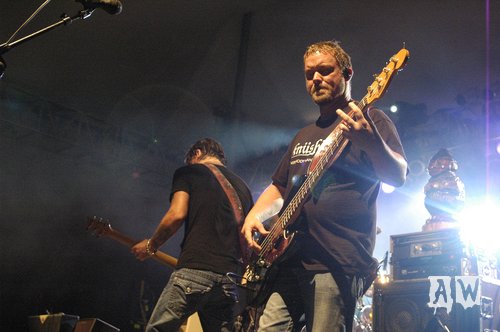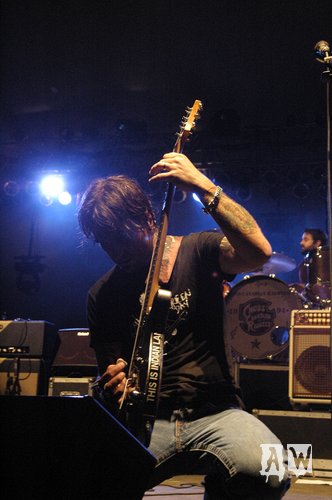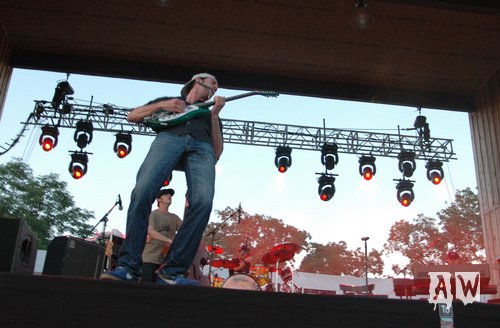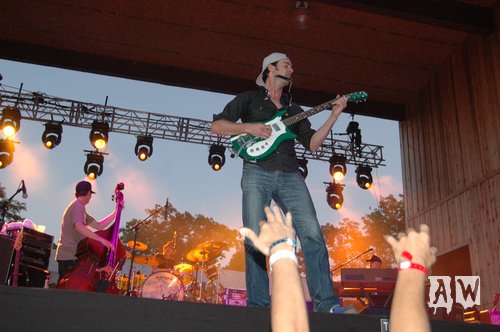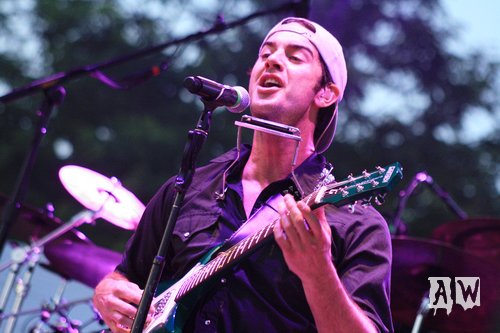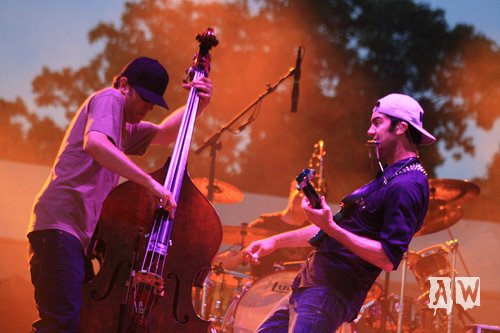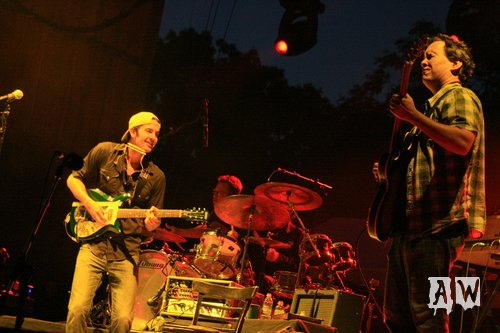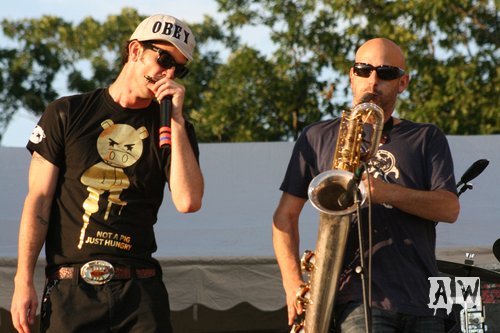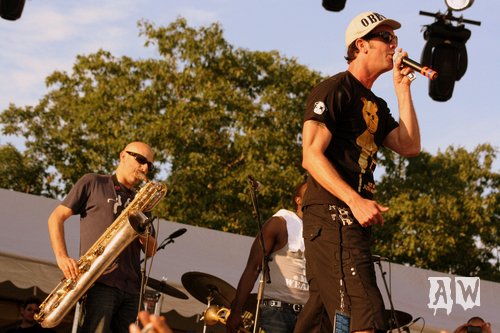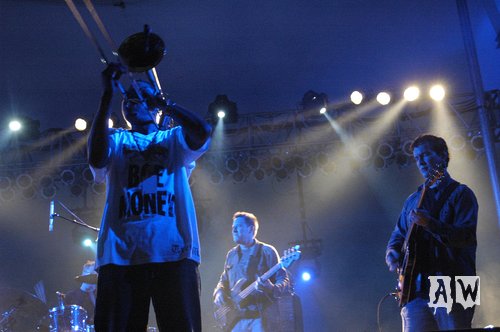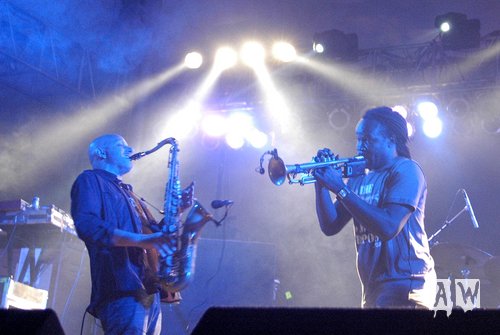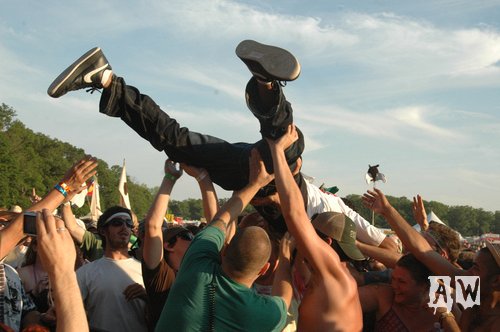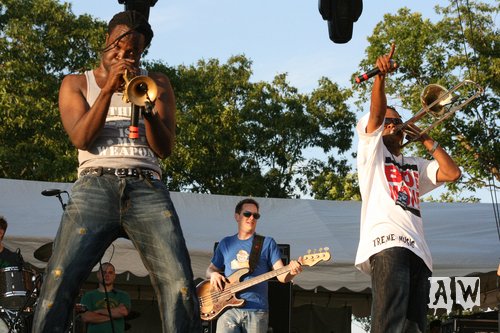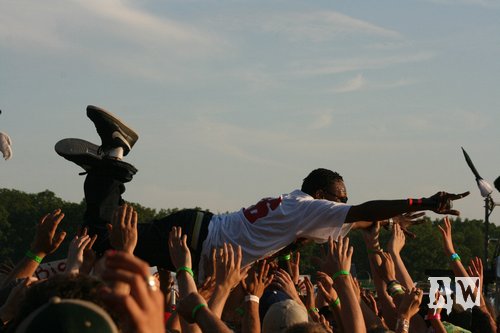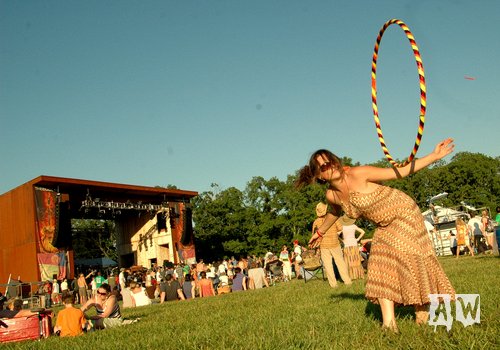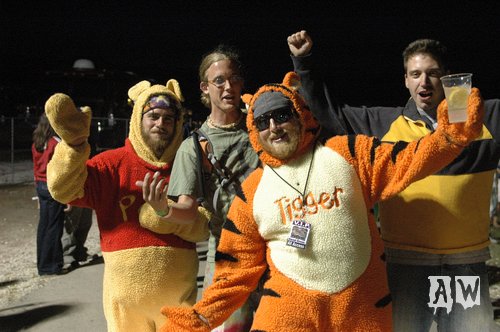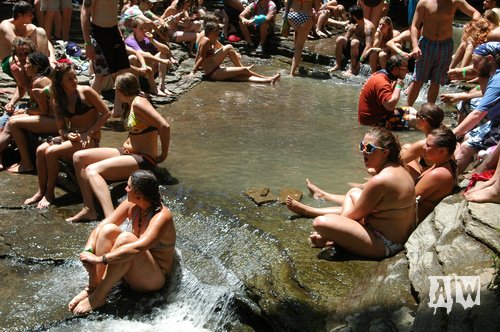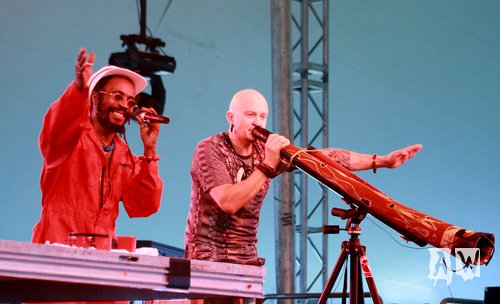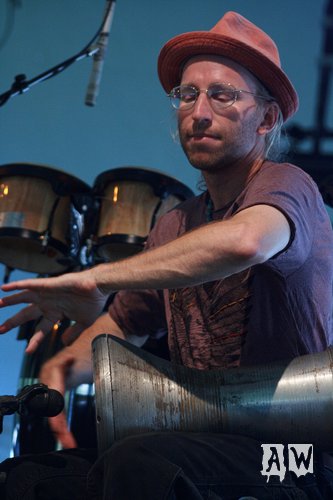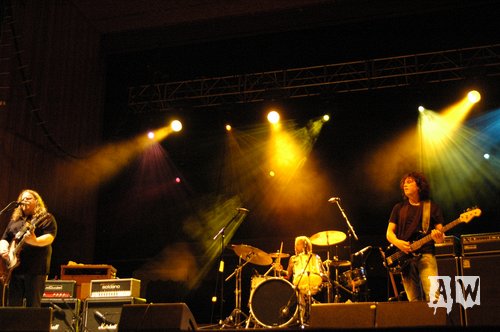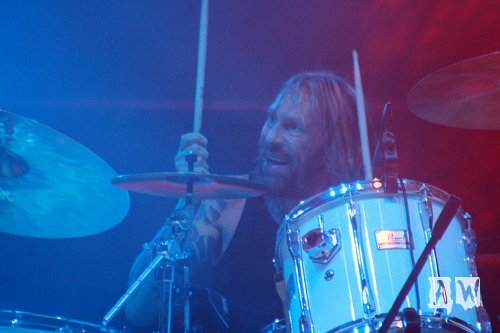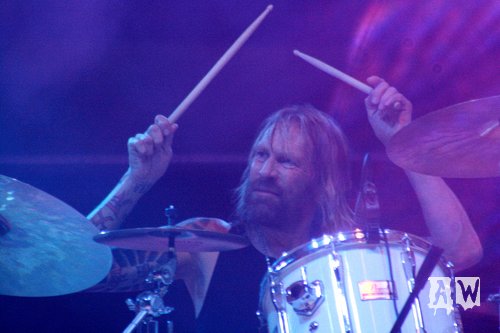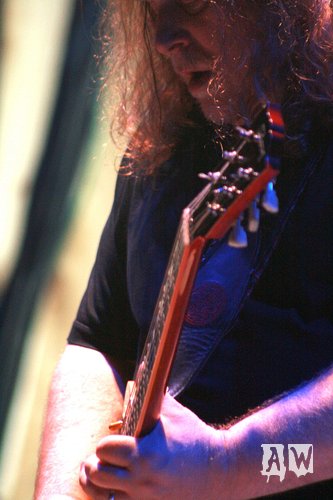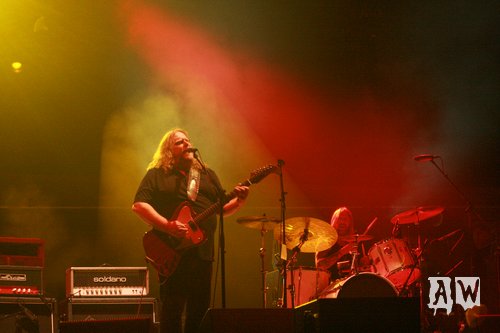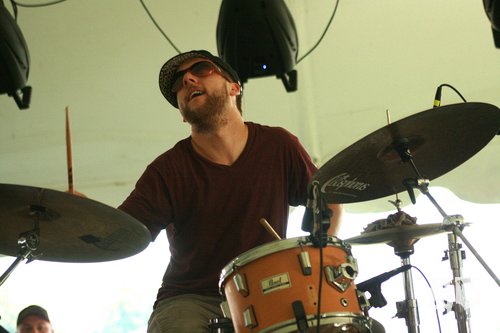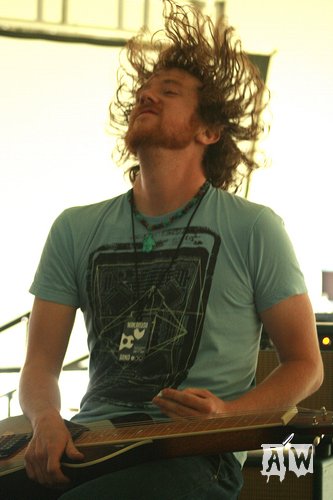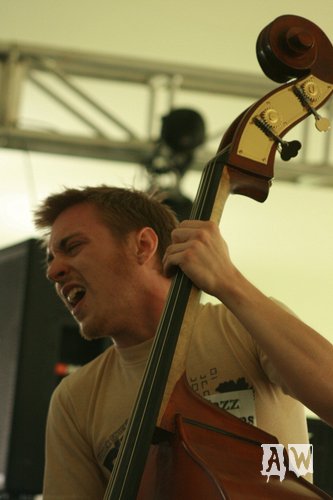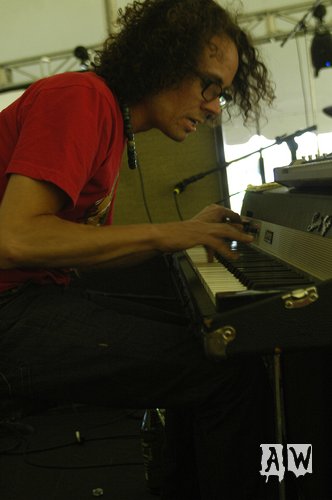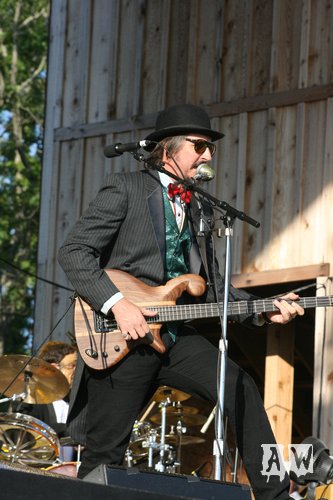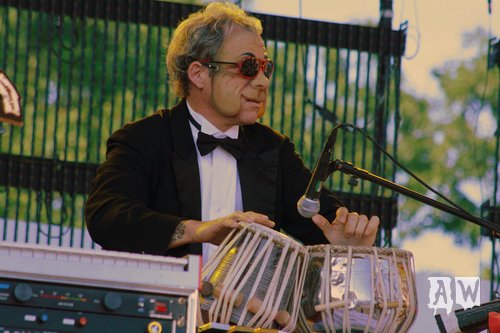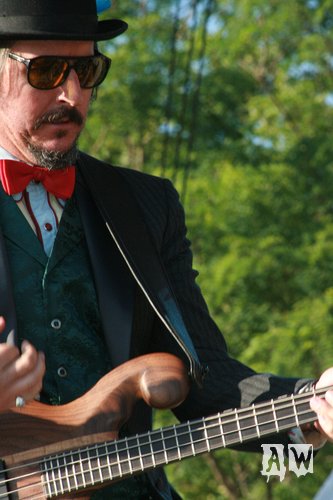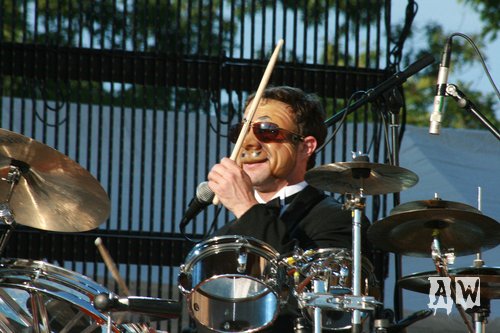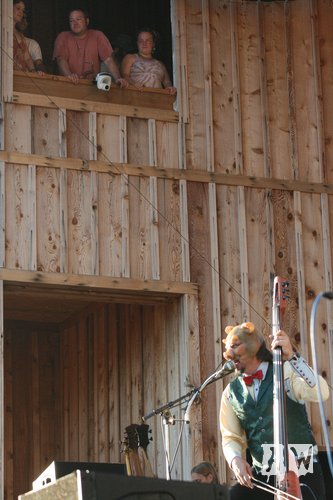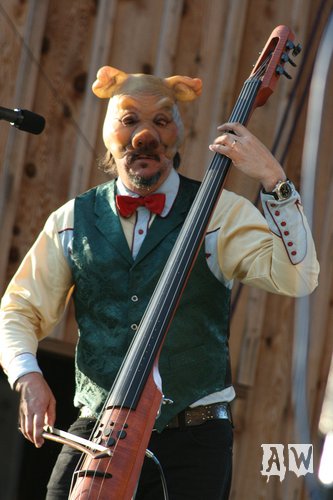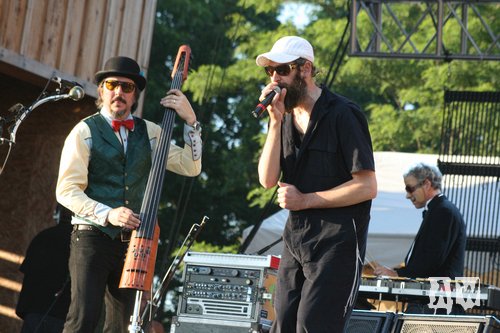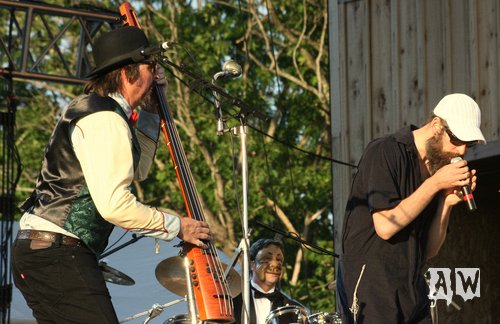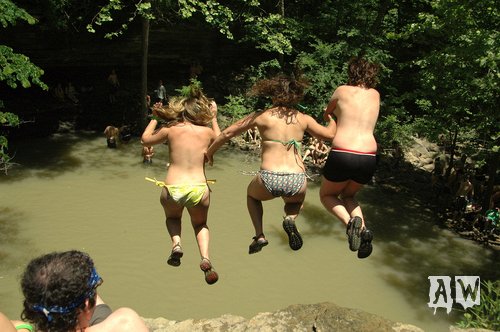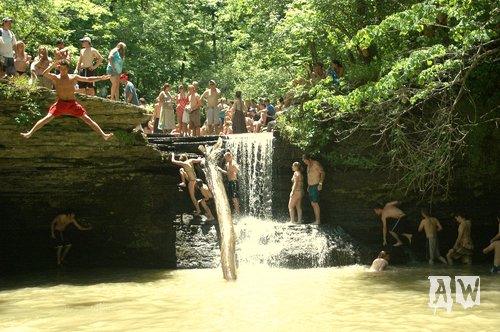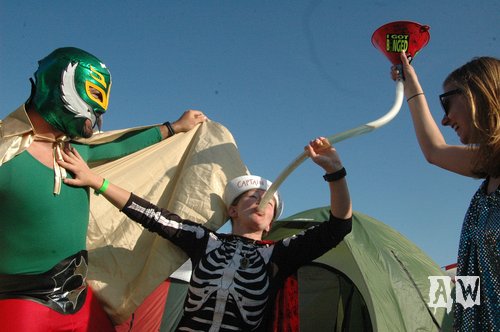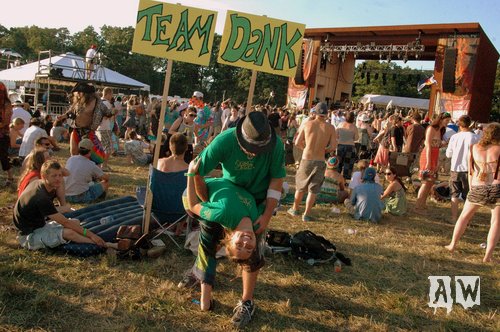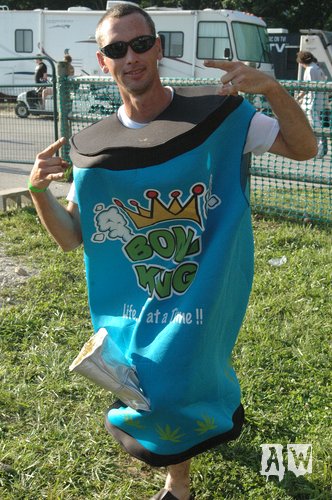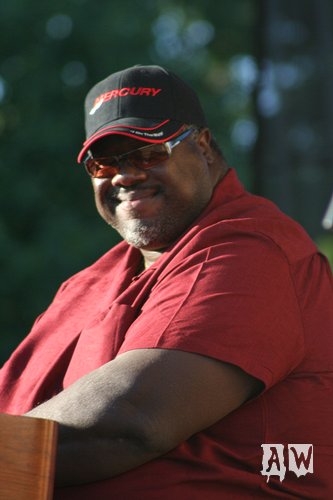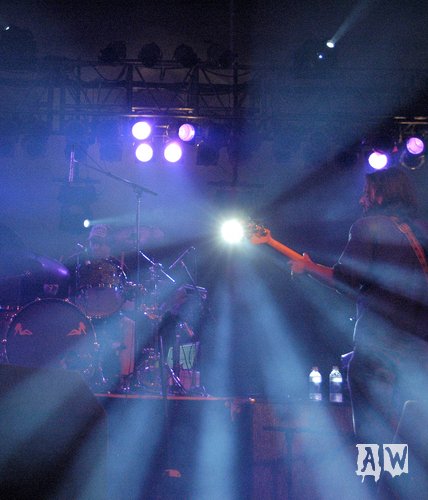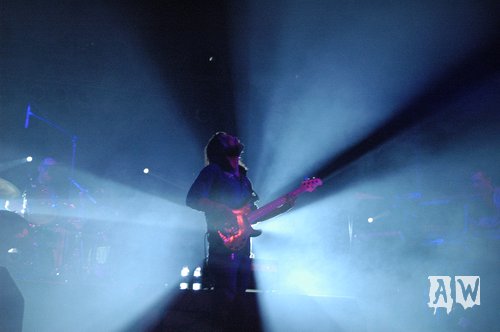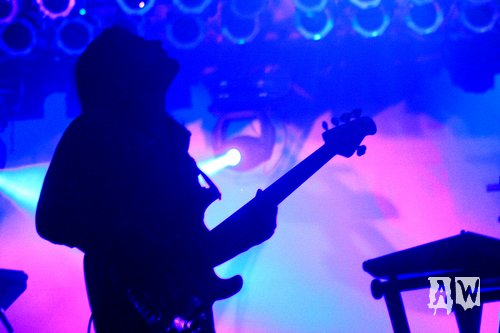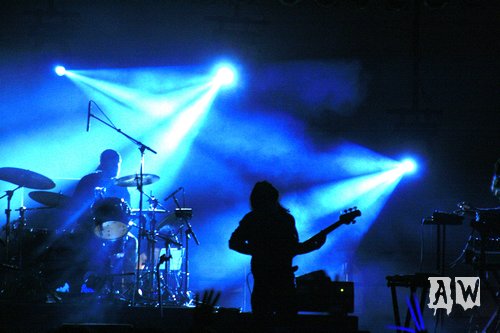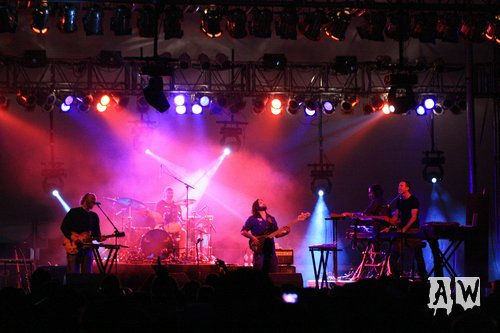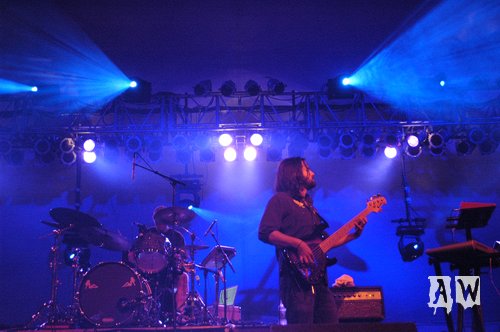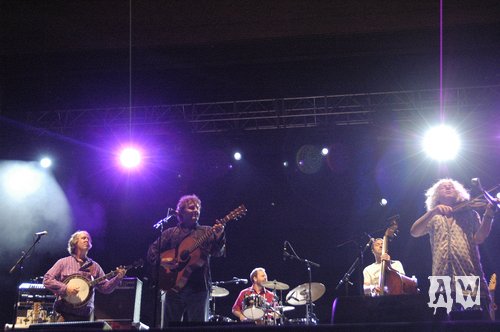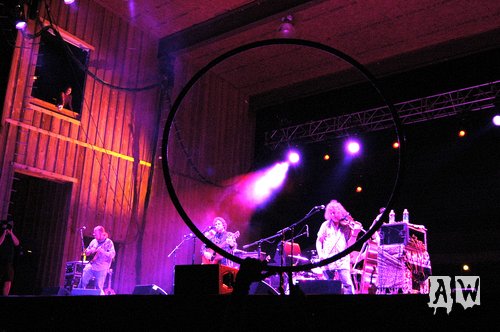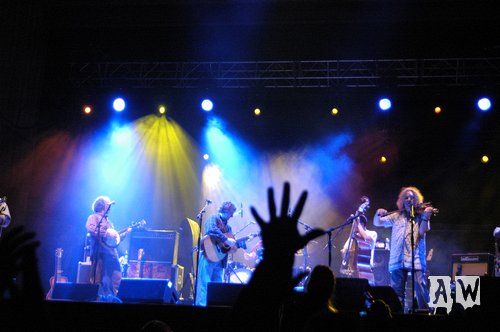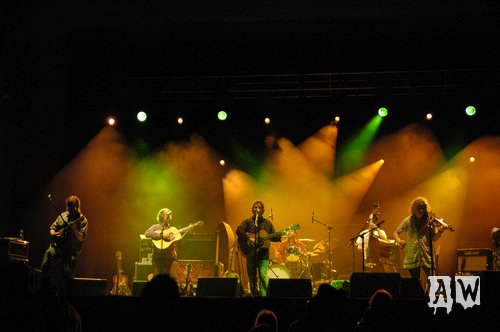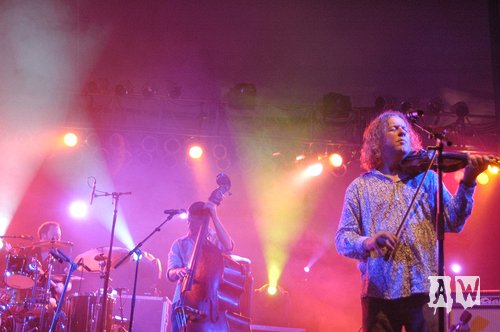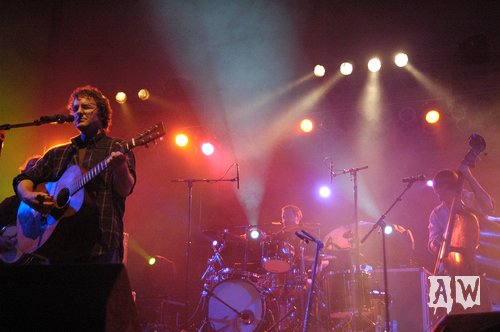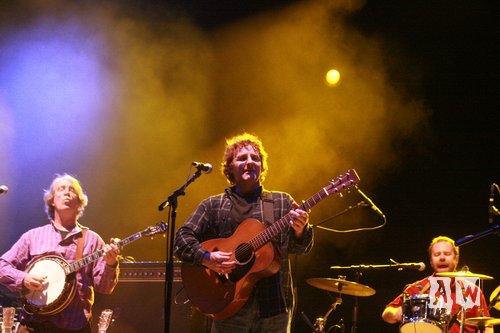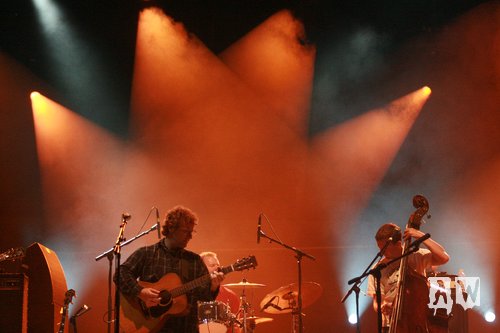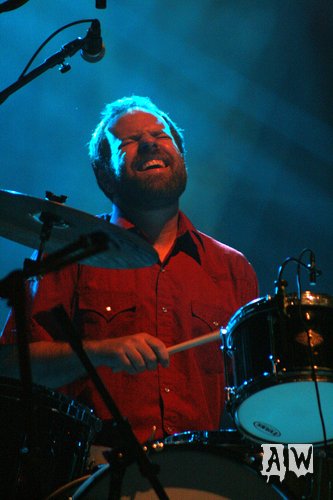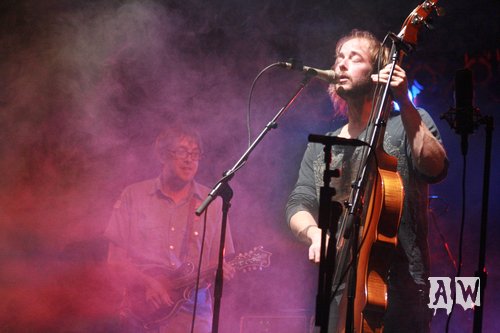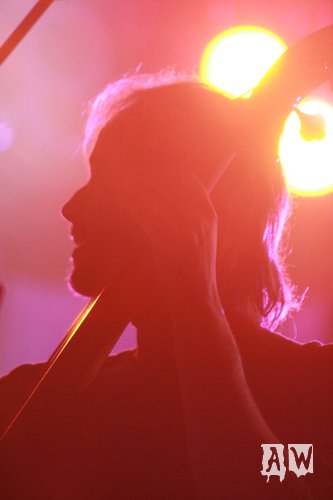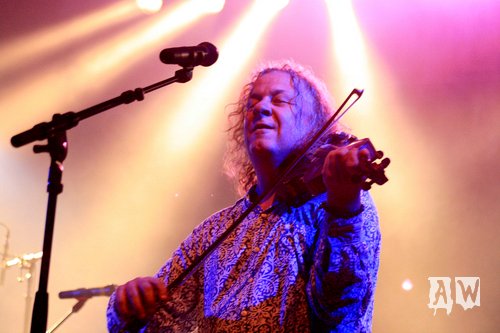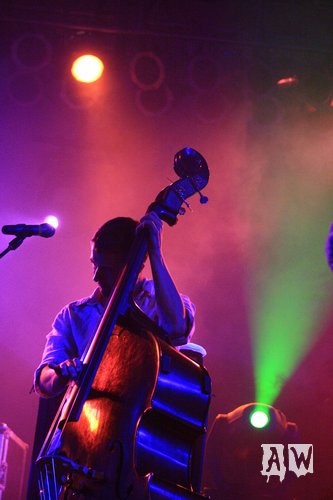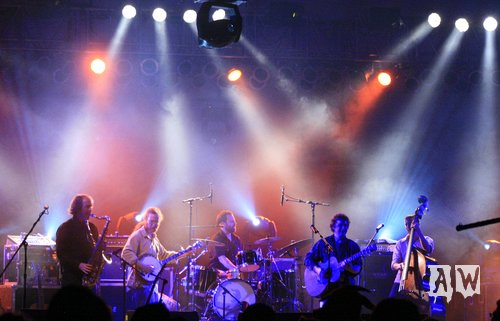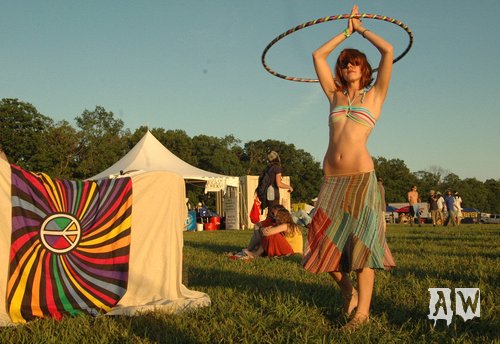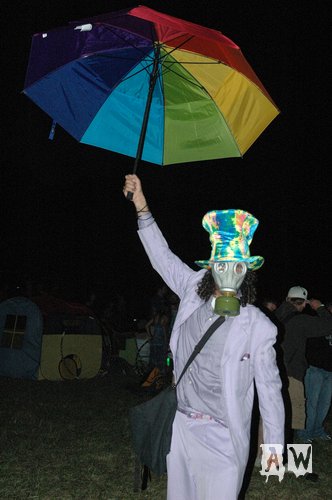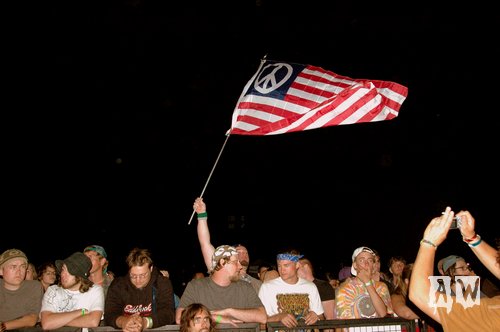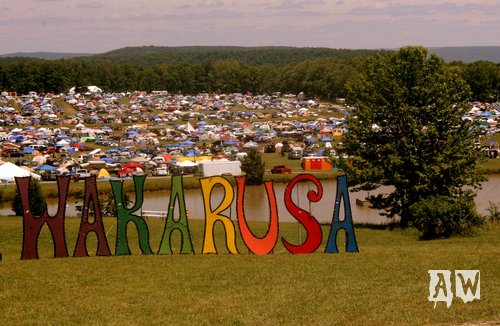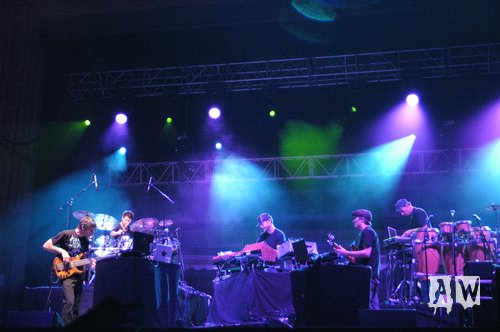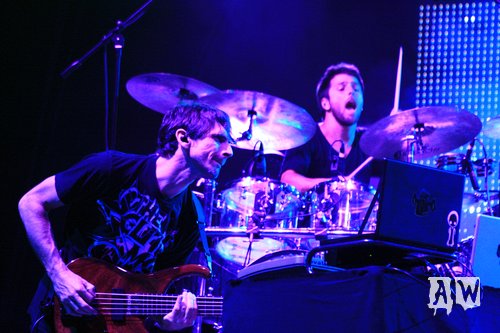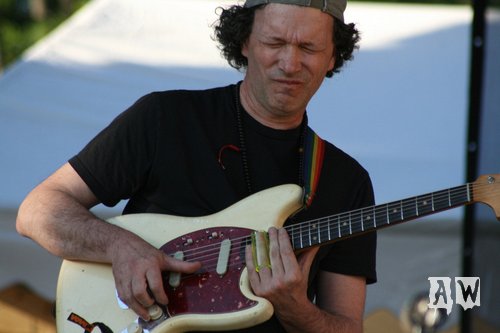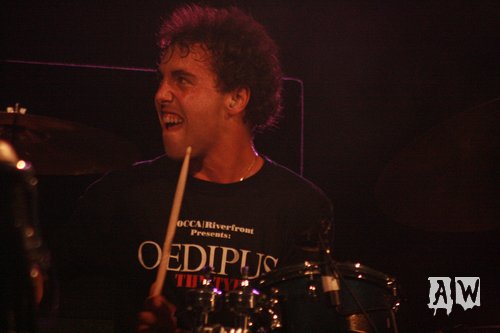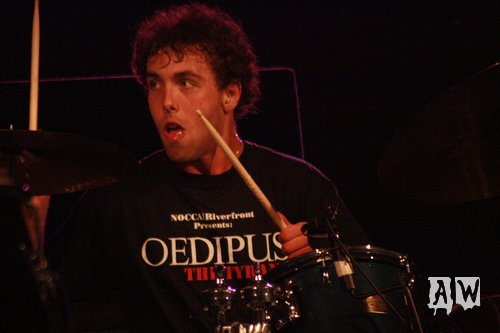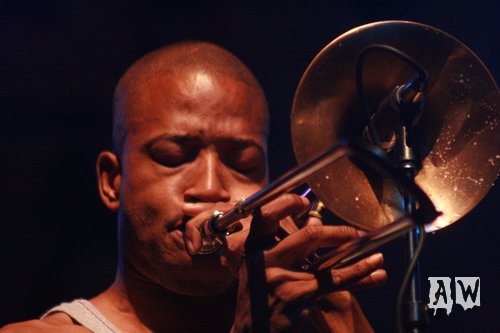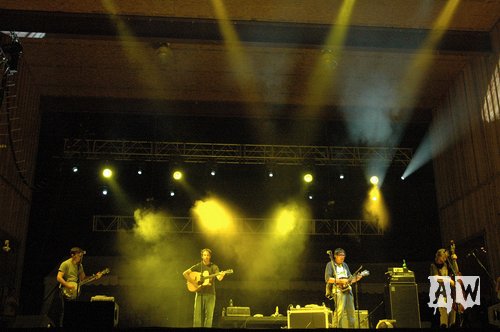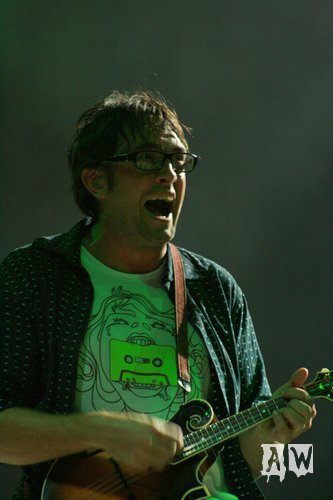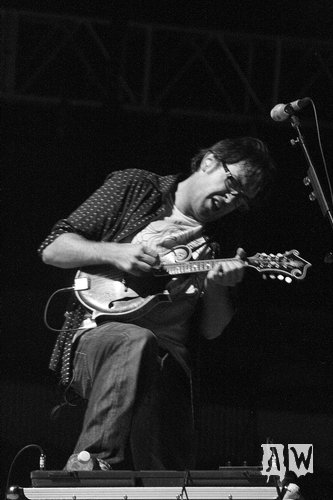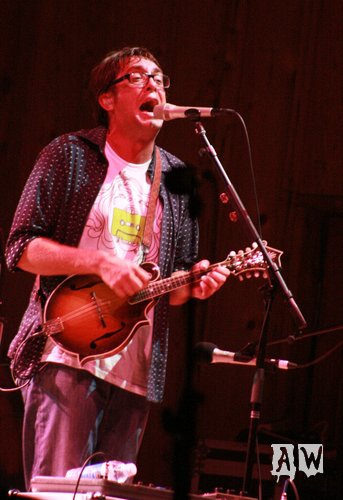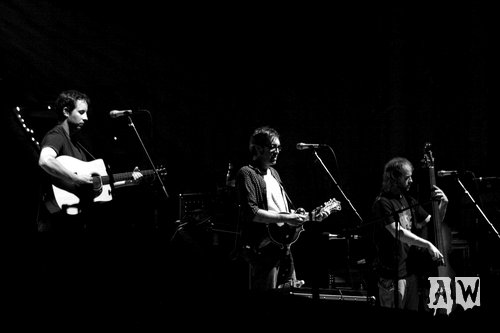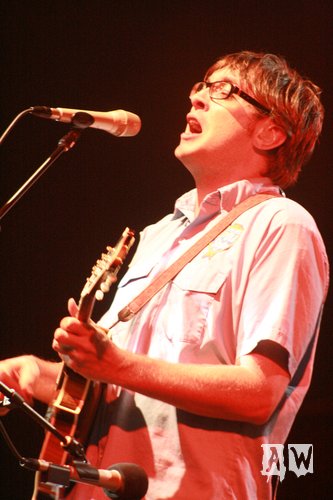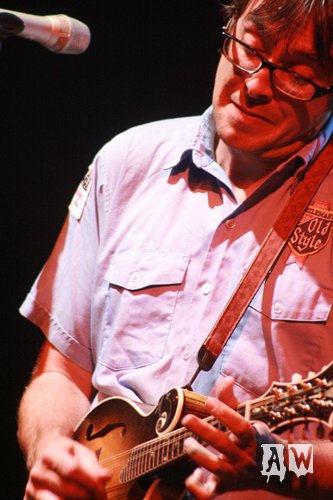 Dirtfoot: As Thursday night turned into Friday morning' I came across the biggest surprise of the weekend. Wandering down endless paths and into dark woods' I finally tracked down the Backwoods stage' a tiny wooden structure carefully tucked away from the swarms. Billed as "gypsy funk country grumble boogie'" I eagerly stood and shook my bones to the tantalizing sounds of the Shreveport' Louisiana group. It was dirty' it was claustrophobic' it was voodoo rock as fire dancers twirled around the side of the stage. Their mix of psychobilly' blues and funk had my underwear all in a twist as I danced with reckless abandon to "Devoted Mama" or "Break My Bones" (which included the sounds of a rubber chicken' garbage cans' washboards and soup cans full of beans).
Yonder Mountain String Band: A pleasant stroll back across the festival grounds led me to Yonder in the Revival Tent. The heirs of bluegrass embraced the hillbilly entourage that emerged once the first tune came to bear. "Redbird" > "Steep Grade Sharp Curves" cradled the listener with the vocal presence of Jeff Austin amid the plethora of musicianship showcased onstage. At any Yonder show I attend' it seems all who surround are a distilled brew of all that is positive and joyous in any given festival or region they might find themselves in. One couldn't have asked for a better set to conclude the evening.
FRIDAY
The hot southern sun glared into my tent as it turned into a sauna' eventually forcing me to finally get up and on with the day. After venturing into town (the "in and out" allowance by the festival and relative closeness of Ozark was a big plus) for a filling breakfast and strong pot of coffee (Ozark Restaurant)' I decided to spend the early afternoon tracking down the waterfall behind the main stage I had heard rumors about.
A hop' skip and a jump down the Ozark Highlands Trail (but an arduous climb back up) and soon I found myself facing a breathtaking waterfall. Dozens of festival-goers jumped off the limestone cliffs' while others laid out in the sun or simply waded in the crisp' natural spring-fed waters. It was a picturesque scene' one that rang true to the pure intentions Wakarusa holds near and dear.
Deciding to frolic around the grounds (I came across a chewing tobacco vendor at one point)' long lost friends surfaced from (seemingly) every corner I turned. It was a family affair one found themselves immersed in as a casual walk to and fro the campsite bred new friends' strong beer and sunshine cascading down eager shoulders. In the distance' the nitty gritty bluegrass sounds of Cornmeal (mesmerizing fiddle solos) kicked up more than a few skirts' as the timeless reggae duo Sly & Robbie (true masters of their craft) trumpeted from the right.
Ganga Giri: A trance band with a didgeridoo? Yep' and it was fucking brilliant. As belly dancers overtook the front of the stage' the Australian quartet stormed the fields of Wakarusa with their interpretation of ancient cultures. The sound' the presence' the energy was overwhelming-hands down' the highlight of the entire festival.
Les Claypool: Adorned in tuxedoes and chimpanzee masks' Uncle Les and his band of misfits entertained the exuberant masses. "Hello there'" Claypool sneered in his trademark voice before fingering his bass in ways women only dream of. Tackling everything from Sarah Palin ("Red State Girl") to fungus to news anchors ("David Makalaster" > "Southbound Pachyderm" > "David Makalaster" was incredible)' the foursome (which included the thrilling Mike Dillon on vibraphone) spooked and awed from start to finish (towards the end' Matisyahu surfaced and joined in on the black magic).
David Hasselhoff on Acid: The name alone sold me-I had to see what sounds were attached to such a title. To be blunt' watching this group in action' it was as if James Hetfield befriended Trey Anastasio in 1983 instead of Lars Ulrich. Thrash-metal-dub-jam was my best guess as trying to describe the incendiary rhythm being belted out by this no-name band. A handful of others shared in my curiosity over such a name' as we all agreed it really would be the soundtrack if I was watching' or was' David Hasselhoff on acid.
I divvied up my last waking hours between Yonder Mountain String Band on the main stage ("Southbound")' Railroad Earth in the Revival Tent' and The Egg (phenomenal backstage visual effects) before heading over to STS9.

The Egg
: Reindeer antlers' glow sticks' hula hoops' bags of wine' bright lights' shiny objects' trance piracy at its finest-enough said.
Sound Tribe Sector Nine: With their seizure-inducing lightshow' apocalyptic tone' STS9 absolutely slammed everyone in sight on their ass. Having not seen them since 2005' I couldn't believe they were the same band. A mature' futuristic (yet ancestral) ambiance constructed itself right before my eyes. I sat down on the grass in utter terror as my mind was slung against the wall of sound. I ate up every note' every breakdown' every dazzle of light or thundering bass hook. It was so intense' I honestly needed to lie down and clear my head after their set (which I did back at the campsite until the next morning).
Exhausted' I stumbled back to the campsite' found myself a nightcap and got cozy while Galactic blew apart the Revival Tent with a cover of "Trampled Underfoot."

SATURDAY
Three for three' in terms of sunny days' greeted the venue amid a light breeze and handful of fluffy clouds. My associate and I ventured back into Ozark' but instead of breakfast' tracked down the closest barbeque establishment. As it turns out' Ozark is home to one of most renowned BBQ pits in the South.
Though the streets of the small town are dusty' empty and full of abandoned buildings (not much seems to happen here)' Rivertowne BBQ' Inc. is a brightly colored structure. With lines out the door and sticky-like-glue barbeque' the culinary delight fills the belly with pulled-pork sandwiches and homemade sweet tea.
related articles
Shows: Yonder Mountain String Band
Shows: Catskill Chill 2014
Shows: Gov't Mule
Shows: Gov't Mule + Soulive
Features: Grand Point North Festival 2013
More on:
Gov't Mule
,
The Black Crowes
,
STS9
,
Cross Canadian Ragweed
,
G. Love and Special Sauce
,
Galactic
,
Ganga Giri
,
Jacob Fred Jazz Odyssey
,
Les Claypool
,
Matisyahu
,
Melvin Seals
,
Perpetual Groove
,
Railroad Earth
,
Trombone Shorty
,
Yonder Mountain String Band
,
Wakarusa