Blog

Big Light's Fred Torphy Talks Nathan Moore's Songwriters Weekend
by Mike McKinley
May 7, 2009
We asked Big Light guitarist/vocalist Fred Torphy to share his experience at Nathan Moore's Songwriter Weekend at Nathan's home in Virgina, May 1-3. Big Light will team up with Nathan for a tour together later this month -- see the press release and dates below. Also, look for Nathan's new EP on The Royal Potato Family label later this summer.
Back in April I heard about my friend Nathan Moore's plans to host an informal get-together of songwriters and music-makers at his home in the Shenandoah Valley over the first weekend of May. I immediately knew that I had to attend. My band Big Light had just begun hatching plans for a tour of Northern California with Nate in late May and early June' so aside from giving me a chance to finally see his hometown of Staunton (a place which until recently I had known only through the dozens upon dozens of Nathan's songs that are about or reference the town)' it would give the two of us a chance to throw around some ideas about the tour. So' I packed a tent and some other gear and headed east...
Bringing the rain with me from San Francisco' I arrived on a red-eye in Richmond' hopped a bus to Charlottesville and met -- for the first time -- Nathan's dad Steve and his manager Karen. They gave me a lift into Staunton' happily providing me with a fishing pole' a run-down on The Shendendoa' and a very warm' hospitable welcome. Nathan lives about 15 minutes outside of Staunton proper down a windy dirt road with his brothers in the house they grew up in (their Mom and Dad have moved into town). The property is off the beaten path -- just far enough away from town that the Moore Brothers don't have to worry about bothering anyone' especially on the weekend. I found myself camped out in their front yard with a mix of visiting musicians and local pickers (who also opted to throw up tents in the front yard for the weekend hang). The yard has a muddy river running through the far end' and the tents went up on the bank. Nearby was a sweat lodge and fire pit' but most of the action happened up on the porch overlooking this all.
Because I was traveling' I had missed the Friday night's musical get-together' which was by all accounts magical. But by the time people started to congregate on Saturday afternoon' I knew right away that I had stepped into something special -- a sort of alternate musical universe that was far removed from my life in the city back west -- something I had been craving for a long time. After Nathan served up his self-proclaimed "best BBQ that I've ever cooked'" musicians started to trickle in with banjos' guitars' harps and fiddles. Some local moonshine was passed around' and I began to understand the weekend for what it was -- a free-form sharing of musical ideas (not to mention food and beverage) between local Staunton-born-and-bred-in-Appalachia pickers' and a few visiting musicians (like Vermont's
Joe Adler
'
Scott Rudicel
from Indiana and myself).
We jammed on a mix of traditional tunes' a wide-array of covers' and originals by many in attendance. A strong anything-goes attitude prevailed' and the highlight porch jams were led mostly by Nathan and the locals. Cutch Tuttle' a local banjo player' brought the party to its knees both nights with his original but timeless tune "X Marks the Spot" (
listen to it here)
' and Nathan led everyone through some of his own classics like "Mardi Gras" and "Meet The Man."
On Sunday night' to anchor the weekend' Nathan' Joe and I packed up some guitars and headed into Staunton for a gig at Baja Bean -- a local Mexican restaurant with a bar that doubles as a favored performance space. Nathan started things off with a set that leaned heavily on the songs from his new' unreleased record. After that I played a set with Nathan eventually joining me. We unveiled "Piece Together Wings'" a tune we wrote together one night over an IM conversation last winter. Nathan had promptly recorded and sent me a demo the next day' and the song had in a way become the genesis of my pilgrimage to Staunton' and the tour we have booked. We did a few more tunes together before handing it over to Joe Adler to debut his own brand-spanking-new song' "Ruth'" written about a puppy that was in Nathan's care while we were staying with him. After that we split back to the woods for some rest' smiling and all feeling like we were just a part of something really cool' and off-the-radar.
I don't think Nathan had any particular plan for the weekend' other than to get some like-minded people together and help create some new friendships and foster a creative' laid-back atmosphere. In that' he succeeded masterfully.
Thank you Percy.
Torph
Starry' starry' starry nite.
Bullfrog croaking to its own delight.
I wish I may. I think I might.
Sleepin' in the moon
on a summertime bank.
I had a masterpiece dream
now I'm drawing a blank.
Maybe that's it. I cupped water and drank
to the rolling hills of home.

-Summertime Bank' by Nathahn Moore
Photos by Scott Rudicel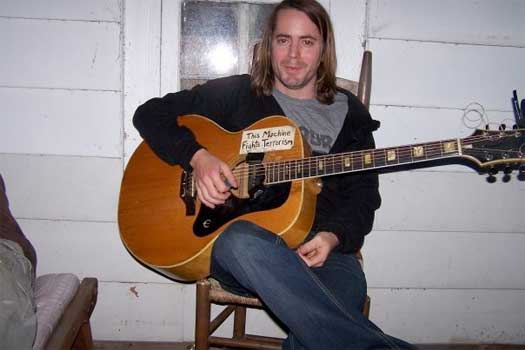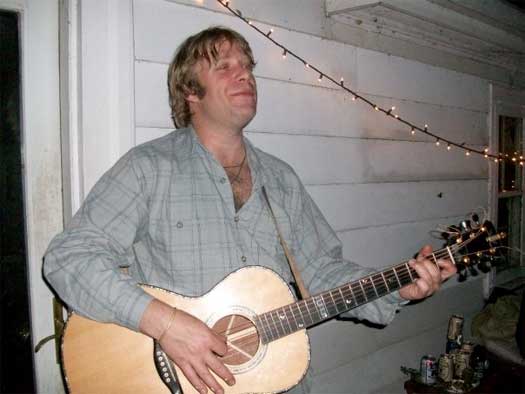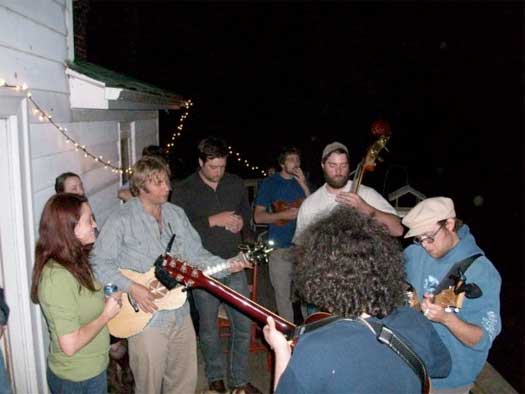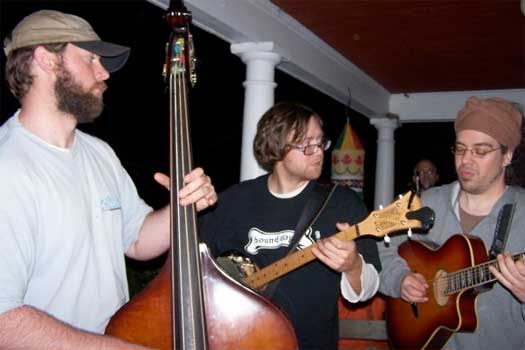 Nathan Moore and Big Light are teaming up for the Piece Together Wings Tour in late May in Northern California. Making stops in Sebastopol, Nevada City, Santa Cruz, and Berkeley, CA, the shows will feature seperate sets from Nathan Moore & Big Light, plus a collaborative 3rd set of Nathan & BL playing a mix of new debuts and other material.
"The Invisible Guy" by Nathan Moore at the Blackfriar's Playhouse' April 2009' Staunton' VA