Blog

Record Store Day at Bull Moose Music (Ani DiFranco)
by Ryan Lowell
April 20, 2009
Ahh April. Yet another brutal winter has ended' which means it's party time in New England. In college (St. Mike's for me) our celebration always included live music' free food' and a mechanical bull for some reason. College was fun and all' but this year I found a late April celebration with excellent music and without the splitting headaches or awkward Sunday mornings. April 18th was second annual
Record Store Day
' and the celebration was in full effect at
Bull Moose Music
' home of the folks who invented the holiday.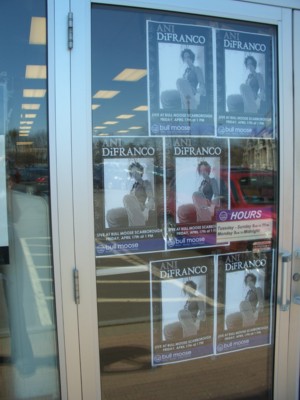 I spent the weekend at the Scarborough' ME store' the youngest of ten Bull Moose stores that span Maine and New Hampshire. Friday meant a super rare and super free in-store performance from Ani DiFranco' her first in many years. I watched the show from the underground hip-hop section' enjoying both the concert itself' and the perplexed looks on the faces of the high school kids skipping class who had no idea why some chick was singing about Barack Obama while they purchased the new Grand Theft Auto.
After a brief Q & A and an unscheduled encore' Ani went on her way and allowed staff a breather before Record Store weekend festivities continued. On Saturday' things were in full swing early' with a heap of free stuff being given away -- CDs' posters' tote bags and rare vinyl. Artists like Flaming Lips' Radiohead' Bob Dylan and Cold War Kids released rarities specifically for the date' and
Wilco put out a new fim that ain't half bad from what I read.
In the afternoon' over a hundred local headbangers lined up to hang out and get autographs from Killswitch Engage. The dudes in the band cheerily signed everything from guitars to Viking helmets to plastic lighthouses' and were all smiles the whole time. Screaming constantly onstage must be what makes them so relaxed offstage. Maybe everyone who's stressed out should start a metal group.
Record Store Day benefited from music aficionados of all types' ranging from the bands who offered up rare gems' to the fans who continue to support good music. With music sales going digital' a lot of people are speculating that record stores are a dying breed' but last weekend proved that record stores are about more than just sales' they're about community. But feel free to prove me wrong' next time you feel a sense of community while you're at home downloading Hinder's new single on iTunes' let me know.