Blog

Serge Gainsbourg - Histoire de Melody Nelson
by Michael Carney
April 8, 2009
This record is almost as much of a serendipitous accident as the child (Charlotte Gainsbourg) who was conceived during the making of it. When French musician' actor' writer' director and pervert Serge Gainsbourg asked Vladimir Nabokov to set his seminal novel Lolita to music' he was denied because Stanley Kubrick already had his film adaptation in the works. Gainsbourg had the chance to script his own taboo epic when he met the much younger actress Jane Birkin working on a movie set in 1968. Their affair turned into a relationship and his fascination with Nabokov's risque story turned into a semi-autobiographical concept album--one of the first ever.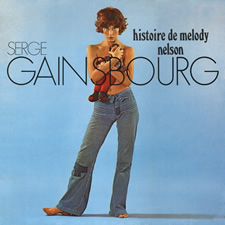 In the first stanza of
Melody
' our middle-aged protagonist runs over a young English girl on her bicycle while driving his 1910 Rolls Royce. He then goes on to deflower her in a pay-by-the-hour hotel' fall in love and lose his Melody in a plane crash willed by cult members in Papua New Guinea. Musically, it is really a progenitor of what would be called art-rock now. Arranged and produced by fellow Gallic oddball Jean-Claude Vannier' the record includes a seventy-member choir' youth orchestra' and a wicked funky rhythm section made up of British session musicians.
Melody
was first released as a major flop in 1971 in France' but grew on the public as a cult classic ever since. Beck has called this album "one of the greatest marriages of rock band and orchestra that I've ever heard." It's not hard to see why.