Blog

Bob Dylan Talks About His New Record Together Through Life
by Mike McKinley
March 16, 2009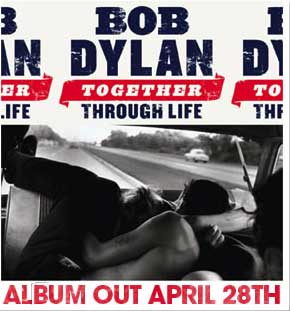 Bob Dylan's new record'
Together Through Life
' is coming out on April 28th. He talks about it with Bill Flanagan on his web site -
check it out.
His last three albums -- Time Out of Mind, Love & Theft, and Modern Times -- are fantastic. His songwriting voice and style feels as if it's aging perfectly with him. It should be interesting to hear how this one sounds.

In other Dylan news, he is going to be one of the headliners of Rothbury Festival taking place July 2-5, 2009 in Rothbury, Michigan. Other acts include The Dead, String Cheese Incident, Willie Nelson & Family, The Black Crowes, and many more.
See the full lineup here.