Features
Adrian Belew
by Matthew Shapiro
|
photography by Michelle Arthur
November 1, 2008
page 1 of 4

Few have left their mark on as many points of the rock and roll landscape the way guitarist Adrian Belew has. His remarkable career began over 30 years ago when Frank Zappa tapped him to be in the band featured on his most commercially successful album' Sheik Yerbuti' as well as the movie Baby Snakes. After touring and recording with Zappa' Belew went on to join David Bowie's band. He would rejoin Bowie over a decade later as his musical director' reinventing a vast array of the Thin White Duke's songbook. He has managed to contribute to groundbreaking landmark albums in the '70s (Talking Heads' Remain in Light)' '80s (Paul Simon's Graceland) and '90s (Nine Inch Nails' The Downward Spiral). When Robert Fripp decided to re-launch his seminal prog-rock band King Crimson in 1981' he plucked Belew away from the Talking Heads to not only be the first guitarist to work alongside him' but to be the band's frontman and principal songwriter. This is a collaboration that lasts to this day and has produced critically hailed albums including Discipline' Beat' Three of a Perfect Pair as well as the live album Thrakattak. And somehow Belew has found the time to explore his pop side with projects such as the Bears and the numerous albums from his solo career.
So' what is left to do for someone who has done almost everything there is to do in rock? Well' in Belew's case you snag two precocious "kids'" siblings Julie and Eric Slick (22/bass and 20/drums' respectively) and form a kick-ass power trio that explores some of the more complicated and poppy songs from the Belew canon.


What was your intention in putting together this trio with Eric and Julie? It's so interesting to see a musician of your caliber recruiting these two young players and together tackling some incredibly complicated music.
As usual' it's form follows function. I had written some music' which I felt was real suitable for a power trio. I really liked the idea that I was free to play whatever I wanted and I could play a lot more guitar than I normally do. I tried a couple of different combinations that didn't quite work out. It just so happened that I went to the School of Rock to do a seminar for their kids. The founder of the school' Paul Green' said' "You have to check out these two students of mine who already graduated' Eric and Julie -- a brother/sister team that are just the best players." So' I said to bring them in and we'll play a song together. Really' it was just so perfectly timed with what I had in mind. I would have never guessed that I would be so lucky to get such great players. They're so young and their energy level is amazing' yet they're so mature that their confidence and competence is there.
Yeah' they're phenomenal. And not just for their age.

Yeah' for any age.
I think you touched on the key word: confidence. They're so on top of their game. Julie throws it down so hard' and Eric's drumming' his touch and his feel are so beyond his years.

He is exactly what I'd like to be if I was a drummer. And it's the same with Julie as a bass player. They really know what to do in my music. They've studied the King Crimson stuff' my solo stuff' the David Bowie stuff' the Talking Heads stuff' Frank Zappa' so they've grown up on stuff that I was involved in. That was their education. It's just really serendipitous that here I am playing with someone who actually knows my music' but they're 21 years old.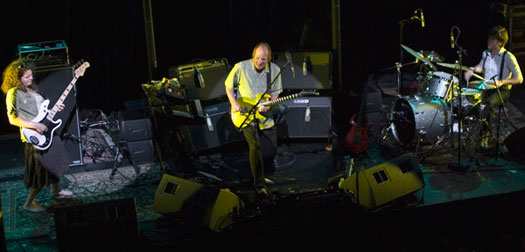 It is serendipitous' and it also feels as if you've come full circle in a way. Zappa plucked you to be in his band when you were really young. He was notorious for being a perfectionist and asking a lot from his musicians. And it is interesting' that version of his band was young on a whole. Are there any similarities between the way he worked with you and the way you're working with Eric and Julie?
Well' Frank for me was my first and only official schooling. I'm a self-taught musician. I don't read or write music or dots on paper. I was the only guy in the band that way; everyone else was a reader. So' they got sheet music. It meant that I had to really pay close attention in practice and I had to memorize a lot. I had to work close with Frank' and I got close with him. I would work with him on the weekends in between rehearsals that would last all week.
It was a great year for me because of that factor. I was able to absorb so much practical knowledge -- not just musical knowledge' but all this other knowledge that you would gather from around the world from touring and making records. I think that's kind of what I'm giving to Eric and Julie. They don't need music lessons. [laughs] What they're getting now is life lessons. This is what's it is like' and we're all experiencing it together' but most of it is stuff that I've already experienced' so I can guide them through it. But a lot of people have mentioned that' that it's similar to what Frank did for me. So' I'm really happy about that.
That's great. It's must be really cool to see them grow' not only as musicians' but also as people. And also' to see the communication between the three of you grow. They have the sibling communication…

Sure' that unspoken thing that siblings have. But I think now' we are a trio. Their father' who was here tonight and has seen a bunch of shows' said we sounded like one person tonight. It's really become that way.
And as people' they're truly gifted. I don't think of them as kids at all. I forget they're so young because they know so much. And they're gifted in so many other ways' not just music. They're terrific people to be with and travel with. We just have a ball. We have a real' unique closeness. It's just so much fun. All of our shows are good. They never let me down. Not even once. I can't say that about a lot of the bands that I've played in' and I can't say that about a lot of the experienced musicians I played with that I admire. Sooner or later they're going to fall on their faces. Eric and Julie haven't done that. They're just super.
Another fascinating thing I find about your career is that you have this dichotomy where you're known as this real progressive' virtuoso player. Yet' with the Bears and with singles like "Hey Daddy" you also have displayed a real pop sensibility. How do you try to balance the two with the trio?
I try to bring in material that I've written that I find is challenging and suitable for the trio' but still is melodic and still has some song form to it. I'll give you an example: we play "I Remember How to Forget" which was done by a trio on my record Op Zop Too Wah' and it's just a really nice' challenging piece of music' but it's also very Beatles-esque. We have quite a few songs like that' where they're a little complicated and yet they have melody.