Blog

State of Mind is 4 Years Old Today!
by Mike McKinley
October 29, 2008
Yes' it's true! The first issue of State of Mind was born four years ago today.

It was Halloween weekend when we got it back from the printer. We were a little over two months removed from the final Phish concert at Coventry' and it was five days before an election. I can't help but notice the similarities of the times' except everything seems to be (cross your fingers) heading in a better direction this time.
Looking back at our first issue' it's pretty amazing: The Slip were the cover story' Dana Monteith wrote about Michael Hurley for "Musicians on Musicians'" and there were reviews of Bill Frisell's Unspeakable' JFJO's Walking With Giants and Loretta Lynn's Van Lear Rose among others.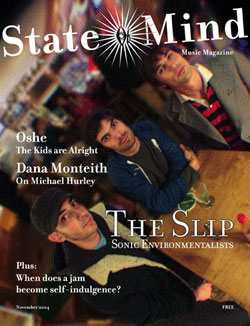 Like we said last year as we were turning 3' as unbelievable as it sounds' after 28 issues' we still love music. Thanks for reading!
Here are some songs in celebration...

The Slip - "Get Me With Fuji" from 6/12/04
Michael Hurley - "Be Kind To Me"


Dana Monteith - "Unmarked Trunk"