Blog

Win Phish's New Live Release: At the Roxy
by Live Music Beth
November 3, 2008
The winners have been picked, and this contest is now closed.

State of Mind is giving away 6 copies of Phish's upcoming live release'
At the Roxy
. The luckiest winner will also receive the '93 retro logo t-shirt in the size of his/her choice. Just fill out the form below by Nov. 17 and sit back and wait.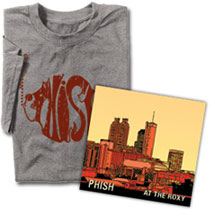 Here's what you'll win...
Brand new 8-CD box set' showcasing three complete shows - fully mastered soundboard recordings' with six sets of music' featuring seventy-eight unique songs with three special guests. Recorded Live February 19th' 20th and 21st' 1993' this run at the intimate Roxy Theatre in Atlanta' Georgia set the stage for many classic tripartite celebrations to follow. With the second show's near-instant legendary status cemented among fans due largely to a non-stop thriller of a second set which included feats of rock and roll greatness' including a sit-in by a spurious Gene Simmons' At The Roxy captures a magical moment for Phish and their audience during a period of peak songwriting and experimentation.
Over three nights' the band showcased the full spectrum of their talents from ballads to blues' from master composition to fearless improvisation all simmered and served to a small crew of jubilant participants in a near perfect environment. At the same time' the quartet was experimenting with their acoustic' bluegrass side that peaked over the next several years and provided a perfect baffle to the intense' psychedelic rock of Rift-era Phish.
The 8-CD box set is the first complete multiple-show release since Hampton Comes Alive and the 1998 Island Tour. This collection simply must be heard.