Features
Conversation with Ron Carter
by Mike McKinley
August 10, 2006
page 4 of 4

So what would you say to the younger players?

Listen to the history. That's all a part of what they're trying to do and it's based on the history of the music. And I think if they're trying to play this music without understanding its history' they will not be very successful musically. And you got to take some lessons.
Are you teaching now?

I retired two years ago. I have three private students now. But I don't teach in the university anymore.
How's that going?

It's hard for the summer' because they travel with these bands in the summer and that's not OK for me. I'd prefer to have them every week for a lesson. But they've got to work' so I understand that. But they're nice young kids and they have a lot of talent. I'm just trying to show them some choices.
Right' well that's good. That sounds like it's a lot of fun' very rewarding.

Absolutely.
Ron Carter has played on more than 2,500 albums, about 50 as a leader and the rest as a sideman. We asked Bill Frisell what his favorite is.[Frisell photo by Jimmy Katz]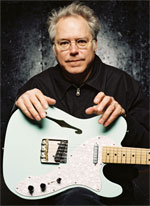 It's kind of impossible to name just a "few" favorite albums that Ron Carter has played on. There are simply too many......but....I'll try. When I was in high school my band director gave me a Wes Montgomery album called Tequila and asked me to learn the song "Bumpin On Sunset" for the all-school show. This album changed my life. It opened the door between all of the R&B' Pop' Rock' and Blues music I had been listening to and the whole new universe (for me) of Jazz. Ron was on that Wes Montgomery album and it seemed like he was on the next few hundred albums I heard. I can't imagine having only one record to listen to...but...I've said that if I had to choose only one' it might be Miles Davis My Funny Valentine from 1964. I heard this soon after I heard the Wes record and have listened to it hundreds of times. It still sounds like magic to me.
I love Sam Rivers: Fushia Swing Song' Stan Getz: Sweet Rain' Tony Williams: Lifetime' Jim Hall /Ron Carter Duo' McCoy Tyner: The Real McCoy' Charles Lloyd: Of Course' Of Course' Gabor Szabo: Spell Binder' Herbie Hancock: Speak Like a Child' Eric Dolphy with Booker Little' Wayne Shorter: Speak No Evil' EVERYTHING with Miles Davis' Ron Carter: Uptown Conversation.....this is INSANE...it would take me a month and I still couldn't list all of my favorite ones.