Shows
Built to Spill' Dinosaur Jr.' Meat Puppets
September 27, 2008 at Orpheum Theater in Boston' MA
by Ryan Lowell
|
photography by Joseph Cultice, Autumn DeWilde & Brantley Gutierrez
September 30, 2008

Built to Spill photo by Autumn DeWilde

Melding the culture of sophisticated balcony seats with the sound of blaring power chords' Saturday night's show at the Orpheum played out like an exhibit of indie rock through the ages. Things commenced in chronological order with the rock elders of Meat Puppets' who brought loyal fans all the way back to the underground sounds of the early '80s. Being born in 1986' I myself visited the early '80s for the first time' but I liked what I heard.

Led by founding members (and brothers) Curt and Cris Kirkwood' Meat Puppets careened through catalogue-spanning material that managed to sound loud' fast and country at the same time. Their set was a healthy mix of noisy two-minute songs and sprawling jams that mixed honky tonk with punk. Frontman Curt Kirkwood's vocals were drowned in instrumental sound' but the trio kept energy levels and spirits high for nearly 45 minutes. The band closed with "Lake Of Fire'" a song made famous when Nirvana covered it during their 1993 MTV Unplugged set' although I didn't notice until the lightning-fast original version was nearly over. Nearly unrecognizable in comparison to Kurt Cobain's subtle acoustic rendition' "Fire" was a fitting ending to a set meant to assault the eardrums without apology (in a good way).
Meat Puppets photo by Joseph Cultice
Next up was Dinosaur Jr.' a group who showed no signs of aging with the exception of guitarist J Mascis' silver' Fabio-length mane. Despite an extensive career' the Massachusetts locals played in a way that felt new and interesting. Much of the band's freshness can be attributed to the 2005 return of original bassist Lou Barlow' a critical piece of the Dinosaur dynamic that was missing during the '90s.
Dinosaur matched the intensity of Meat Puppets' with the relaxed Mascis and possessed Barlow trading vocal duties on songs primarily chosen from Barlow's '80s tenure with the band and their 2007 reunion album' Beyond. Dinosaur opened up with the Mascis-led "Been There All The Time'" while Barlow jumped around and slapped his bass with enthusiasm until it was his turn to sing "Back To Your Heart."
Like Meat Puppets' Dinosaur was a victim of vocals being smothered by sheets of distortion and drums' but the band's energy was enough to keep most fans engaged during their hour-long set. During the middle of the set' the locals did make a few deviations from Barlow-era material' most notably their hit "Feel The Pain'" but it was clear that Dinosaur were happy to be reunited' and enjoyed playing the songs they wrote together.
They closed their set with classic fan favorites like "Freak Scene" before finishing with a hopped-up cover of The Cure's "Just Like Heaven" that made fans go wild. Dinosaur's version of "Heaven" kept the catchiness of the original take' but traded Robert Smith's mascara and synthesizers for Barlow's yelled backing vocals and an abrupt ending in the middle of the final chorus. As Dinosaur left the stage' they left me with the sweet ringing in my eardrums that reminded me how worth it permanent hearing loss can be.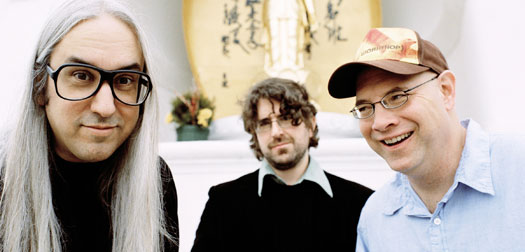 Dinosaur Jr. photo by Brantley Gutierrez
The night took a change of pace for the mellower when Built To Spill took the stage to perform their nearly hour-long' eight-song masterpiece'
Perfect From Now On
in its entirety. Frontman Doug Martsch lead a six-piece touring lineup into "Randy Described Eternity'" the opening track of
Perfect
' as fans shuffled in from the lobby. As a gradually building' jam-driven album'
Perfect
is characterized by its manic switches between the beautifully soft and the aggressively hard' so it wasn't a huge surprise that they were slow to match the chaos that Dinosaur had just delivered. But as the set unfolded' the first few songs passed without much fanfare or excitement.
The sextet boasted a deep string section' even including a cellist' but renditions of the Perfect songs lacked energy. As much as half of the band (and a good chunk of the crowd) could be seen sitting down at a time. On "Stop The Show'" Martsch and the crew got loud for the first time' but it didn't last long. Momentum didn't translate into a barren rendition of "Made Up Dreams" that had potential to turn the set around if injected with some feeling. Built To Spill played well technically' but their lack of experimentation left songs sounding nearly identical to studio versions. It was almost as if they were acting like a live jukebox -- good for the kid who put the quarters in' but too predictable for others' including myself.
The high point of the Perfect songs came with song number six' "Out Of Sight'" a rare instance when Martsch brought his voice to a yell and even moved around a bit' but even after "Sight'" the awkward silence in between songs was getting more and more noticeable. Martsch' who only offered a nervous "thanks" after songs' was met with some unfortunate heckling' including one hostile listener who deemed the band "Built To Suck." After the worst of the heckling' Built To Spill eased into "Kicked It In The Sun'" an excellent slower track from Perfect. Unfortunately' by this point every song had felt slow in comparison to Meat Puppets and Dinosaur' so "Sun" didn't help matters.
As the performance of Perfect came to an end' the lengthy jams of "Untrustable Part 2" gave me time to contemplate exactly why performing an entire album didn't quite work. First' Perfect is a bummer album. It's a great bummer album' but it's still a bummer album' so it didn't take long for that vibe to sink into the crowd and undo all of the madness the openers had unleashed up to that point. Second and most importantly' we all knew exactly what to expect.
My favorite concerts I can remember are the ones that surprised me. There may have been some wrong notes here and there' but the spontaneity of it all touched me. But with Built To Spill' I knew exactly what note was going to be played next' what lyric was going to be sung' and exactly what it would sound like. This meant that during low points' I caught myself thinking' "At least they're going to play 'Velvet Waltz' three songs from now'" which is no way to enjoy a show. It's sad' but a wave of relief flooded over me when Perfect ended' and the band segued into "Goin' Against Your Mind'" the opening track from 2006's You In Reverse. For the first time all night' my adrenaline was running high' as Built To Spill had finally done something I wasn't able to predict.
After a quick break' the band returned for a one-song encore' claiming that they had run out of time even though it was barely past 11:00 pm. Refreshingly' that song was the flawless pop-punk sing-along "Car'" which increased crowd participation exponentially.

All in all' it was a very good night. In spite of everything I have said' Built To Spill was actually pretty good -- but they were upstaged by their openers and weren't as great as I know they have the potential to be. I still love Built To Spill' and I would love to see them again as long as I have no clue what they're going to play. Knowing a band's next move isn't conducive to performance magic' and it doesn't make for exciting shows.

Nostradamus must have had a shitty time at concerts.