Blog

If You Have To Ask... [The Interviews] Part 1: Reed Mathis
by Josh Potter
October 1, 2008
page 1 of 4

The term "jamband" has never sat well with me. I never think of my favorite bands as jambands' but most of the folks I meet who only know these artists by reputation describe them as such (and are often quick to write them off). In fact' when asked these days about my favorite music' I often say "jazz." The truth is' though' this genre tag is just as problematic.
Last fall' a conversation I had with Kevin Haas' brother of Jacob Fred Jazz Odyssey keyboardist Brian Haas and the band's former manager' led to a series of interviews regarding these genre complications and culminated in the article
If You Have to Ask…
. You can purchase this issue of State of Mind
here
or read it in the
digital issue (page 10).
I tried to talk to as many folks as I could find who had a hand in this burgeoning jazz scene' equally independent of the mainstream jazz and jam scenes. Much to my surprise' everyone was eager to hash out these issues. It seemed like this has been a concern of contemporary jazz figures for some time' so much so that the answers I received featured various and differing opinions. There was consensus that something's going on' but no one could quite pin it down. In the coming weeks' the transcripts from my conversations -- with Marco Benevento' David King' Steven Bernstein' Kevin Calabro of HYENA Records' and Andy Hurwitz of Ropeadope Records -- will be posted on the site.
On March 10th' I called bassist Reed Mathis in hopes of asking him the questions I'd had brewing. He was going to be available' I was told' for just a couple nights between the recording of a new Jacob Fred Jazz Odyssey album and a European tour with Tea Leaf Green. After several rings' though' all I got was voice-mail. The next morning I received an apologetic email and an invitation to try the interview again that evening. When I called' Reed was back in Tulsa for one night before flying out to Amsterdam. His voice was ecstatic on the other end.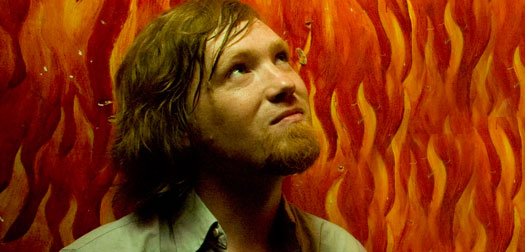 Reed Mathis by Zack Smith
ON GENRE DESIGNATIONS:

I've been working on this project that got started after a conversation I had with Kevin Haas. I've been trying to talk to as many people as I can about this scene that has been around for a pretty long time but is becoming increasingly hard to define. Kevin was telling me about his frustrations booking for you guys -- and the joys of course -- but it would invariably come around to the frustrations that he encountered. He knew that Jacob Fred was this incredible band but that there was no real model to follow in the way of booking and promotion. It got me thinking about all the other bands and projects in that niche between the jam world and the jazz world that may not be getting their proper due in either' but also do not necessarily fit in either. This is obviously nothing new for you guys' having done it for 15 years' but have you seen the music culture change in that time? Has it become at all easier?
Sure. When we started out' we thought of ourselves as a traditional jazz band even though we played funk with electric instruments. A couple years later we started hearing about Groove Collective and the Digable Planets' and so we were like' "Oh' we play acid jazz'" because that was the term back then. Then we got booked to High Sierra in 2000 and suddenly we were a jamband.
Kevin Calabro [of HYENA Records] lamented the fact that you guys fall under that jam moniker because it often sells the musicianship short in a way.

It can.
Do you feel like it holds you back to be called a jamband?

It can. I see it both ways' though. If I'm looking through the local weekly to figure out which band to see tonight and there are two bands' one listed as a rock band' another as a jamband' I'd probably go see the rock band if I hadn't heard of either band.
It's weird because I don't even really know of any band that knowingly calls itself a jamband. It seems like it's a term applied to a band from outside of it.

I've heard tons of guys describe their bands as jambands.
Really?

Totally. And it always kind of makes you go' "Cool' he's' like' owning that shit."
It's definitely simple. For the sake of brevity' it's nice. I know a lot of bands that would rather hyphenate the shit out of their sound than call it jamband. You guys obviously come from a rich jazz tradition -- and I think there are a lot of bands out there that do' and are in their heart of hearts jazz musicians -- but I guess I'm really interested in how that scene links up with artists in the mainstream jazz scene.
There is some crossover' even at the A-level. People like Bill Frisell. And Brad Mehldau made that Largo record with Matt Chamberlain and all those guys from Sonic Youth' and that had some crossover. The Bad Plus has some crossover' for sure. From the other direction' too; I just got word that the Marco Benevento Trio with me and Matt Chamberlain is going to be the rhythm section for Chris Potter at the Newport Jazz Festival. That's a very interesting development because it's the same thing from the other side -- the mainstream' accepted jazz star is going to get a rhythm section from the jamband world. I applaud that' whoever's decision that was. This should happen. You know' Dave Holland should be hiring Brian Haas.