Shows
Gathering of the Vibes 2008
July 31-August 3, 2008
in Bridgeport' CT
by Jennyluv
|
photography by Live Music Beth
August 15, 2008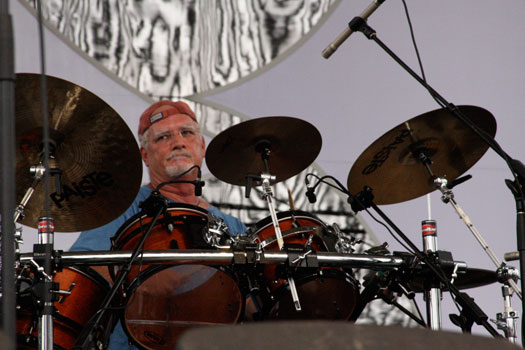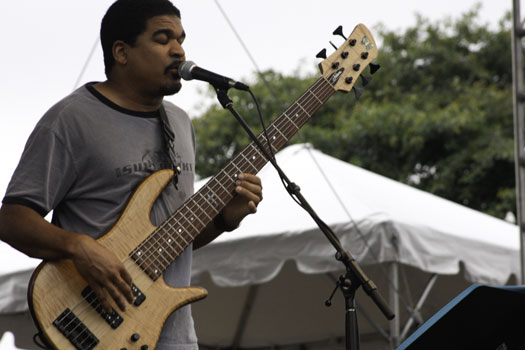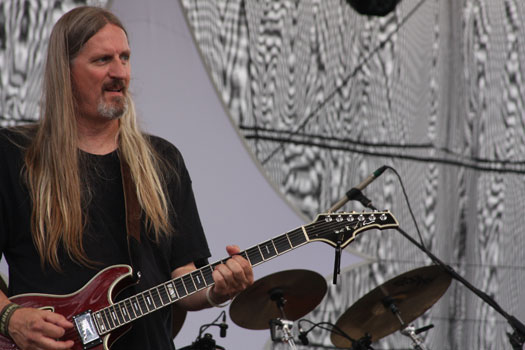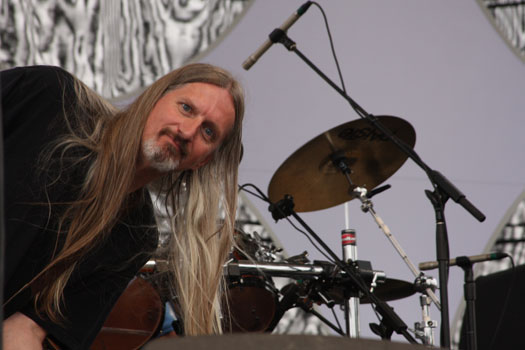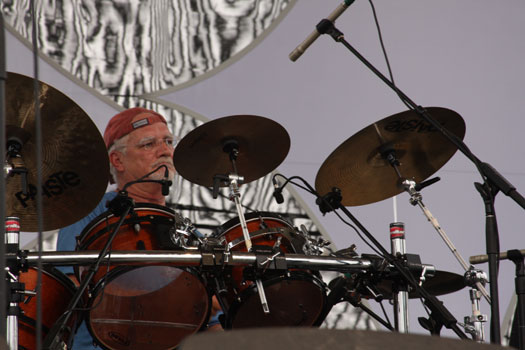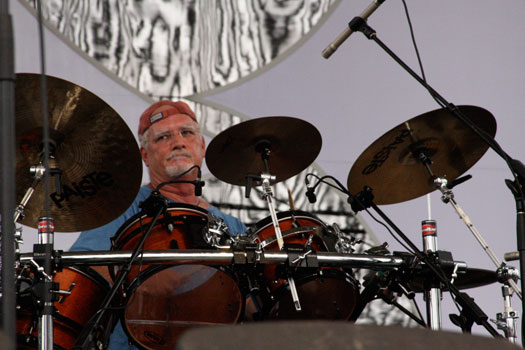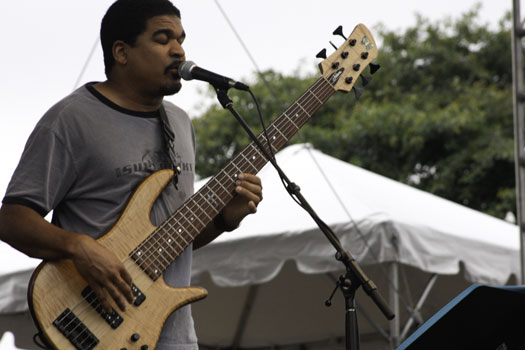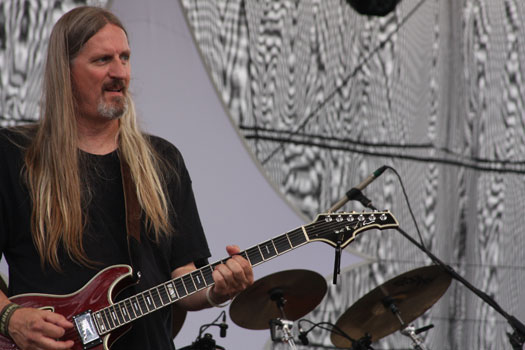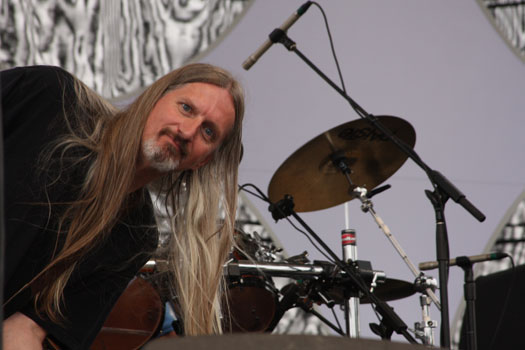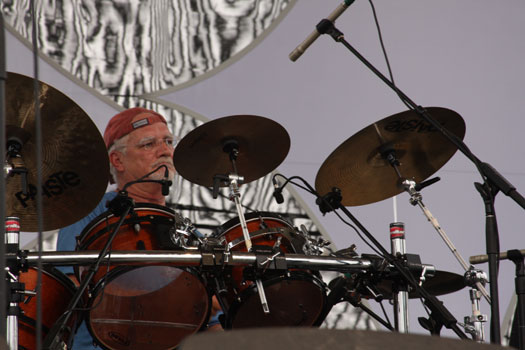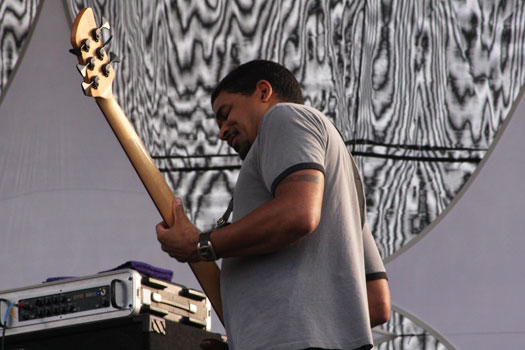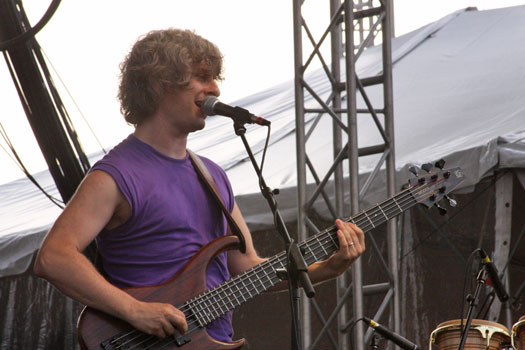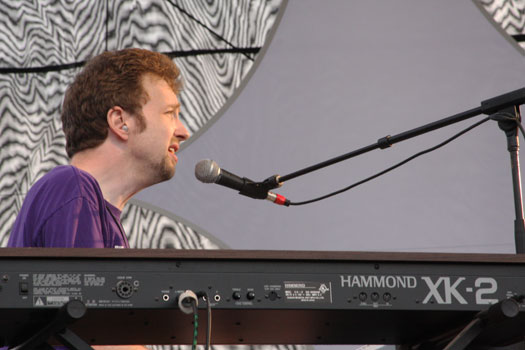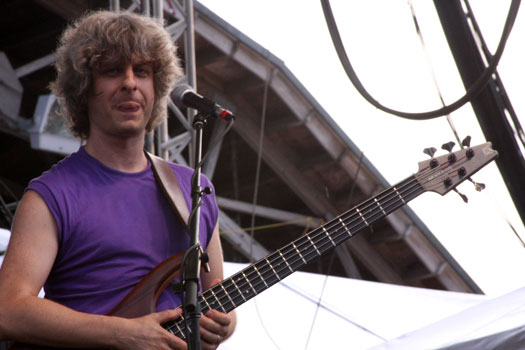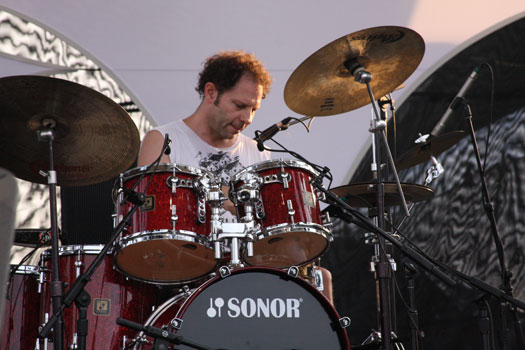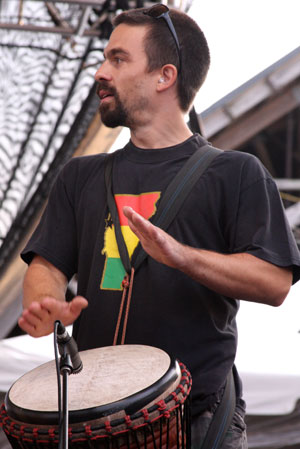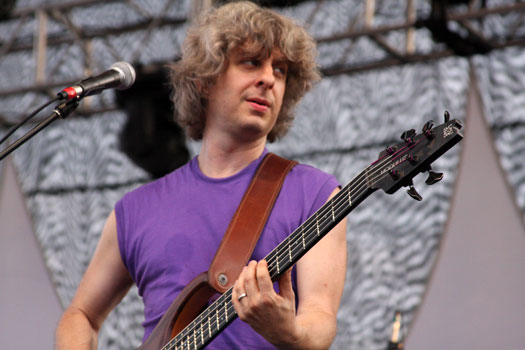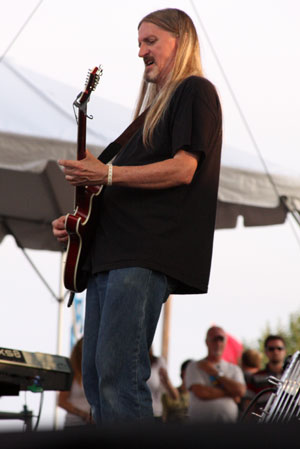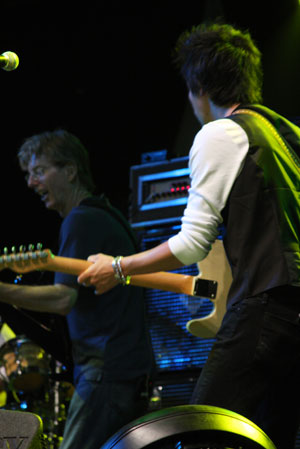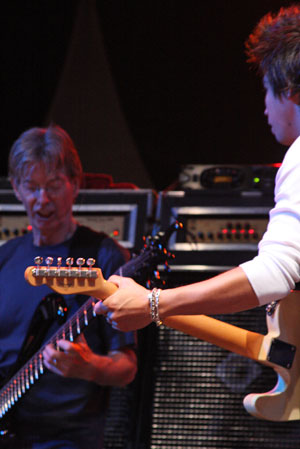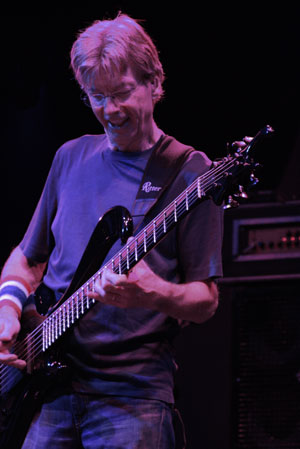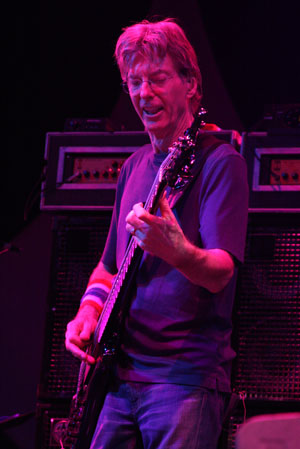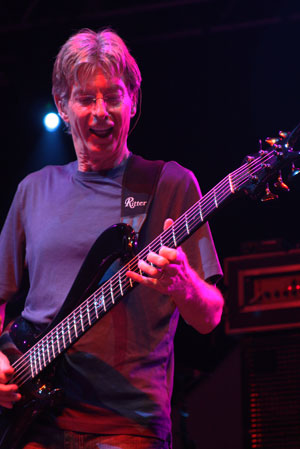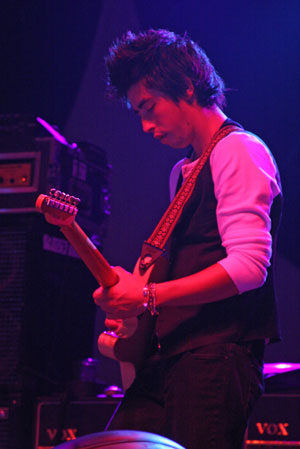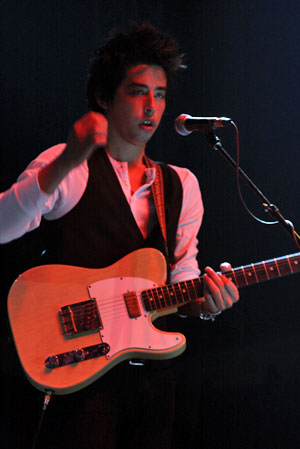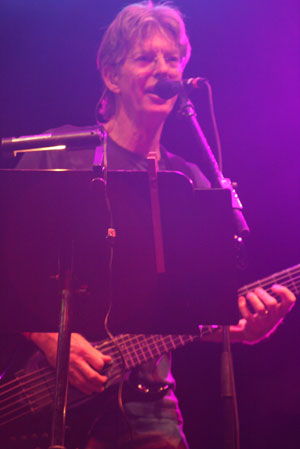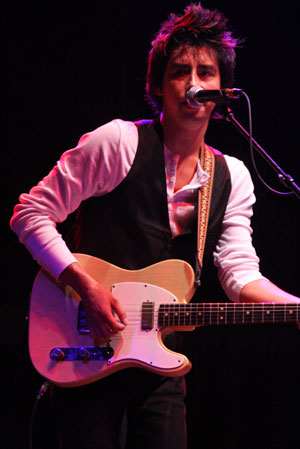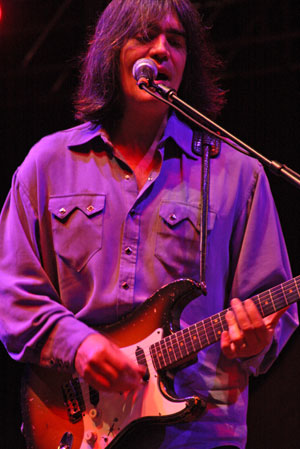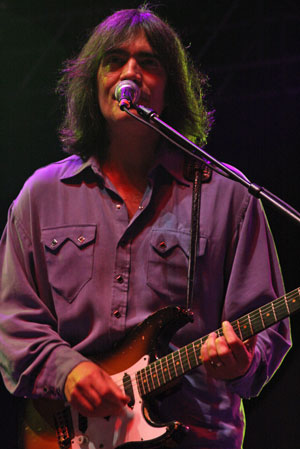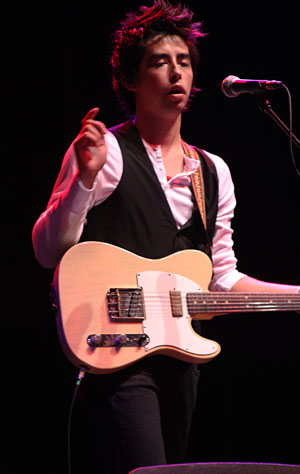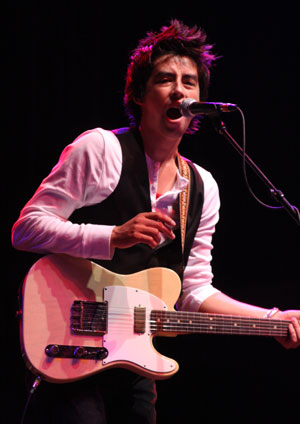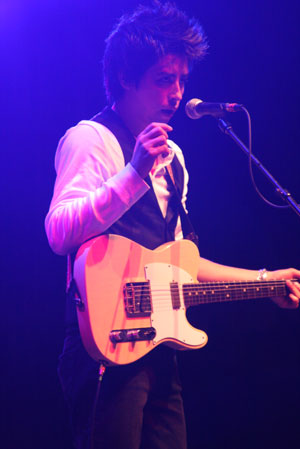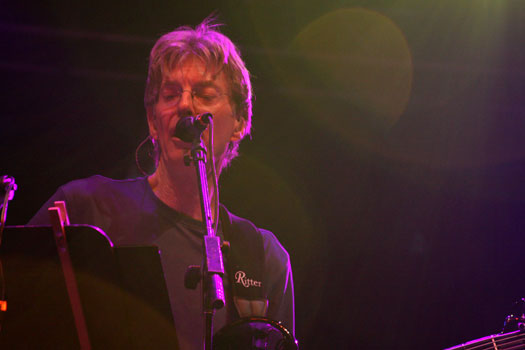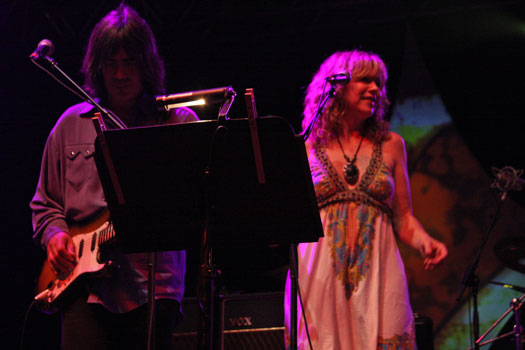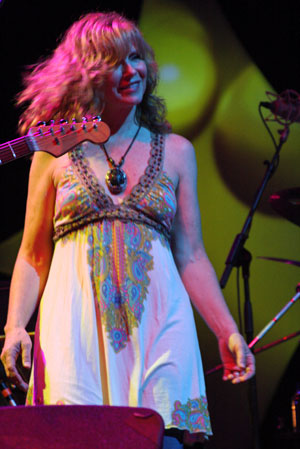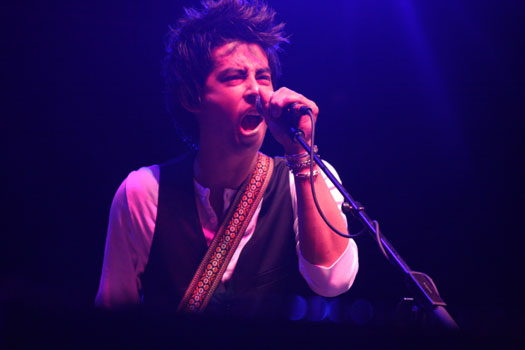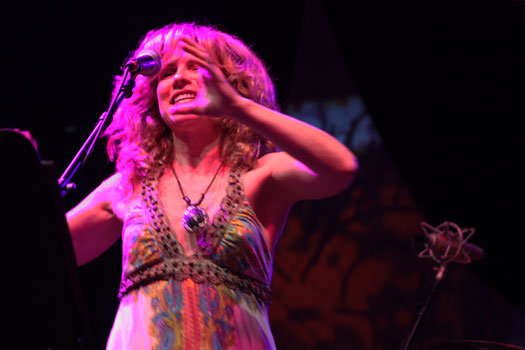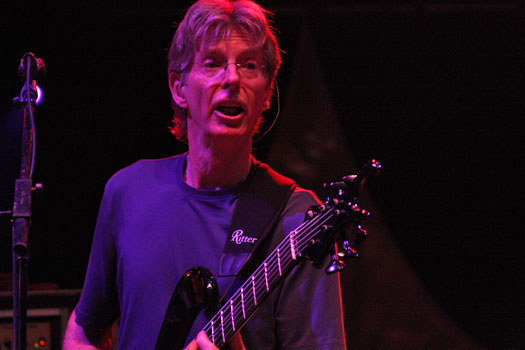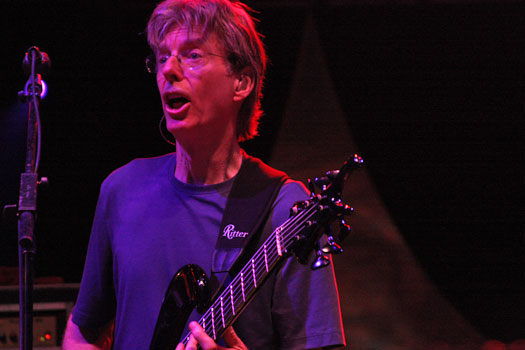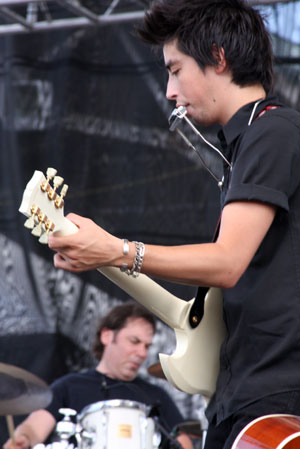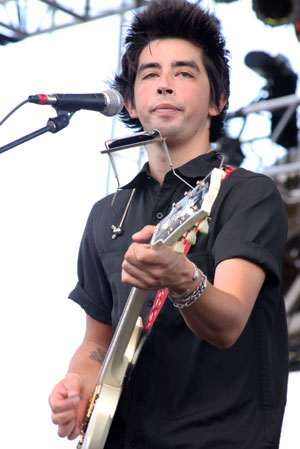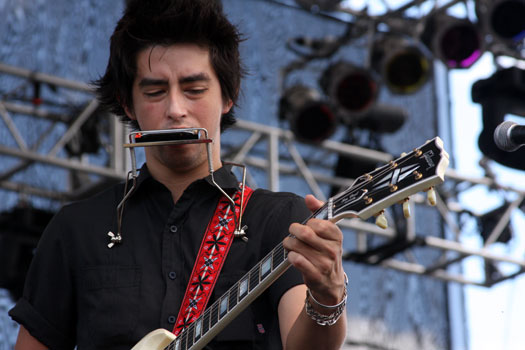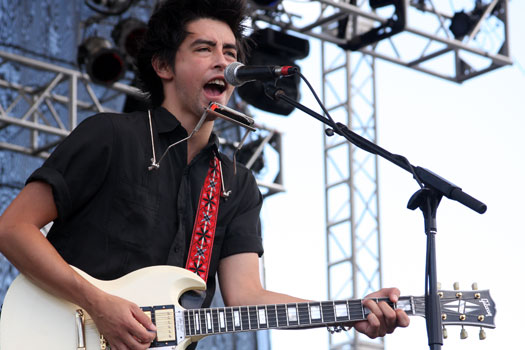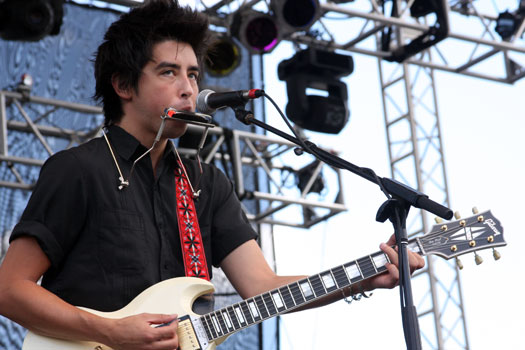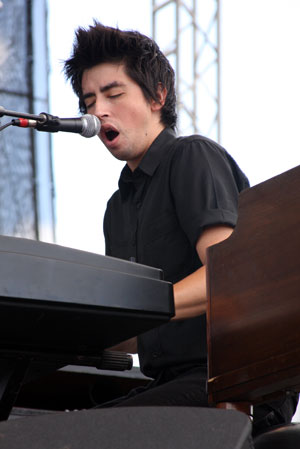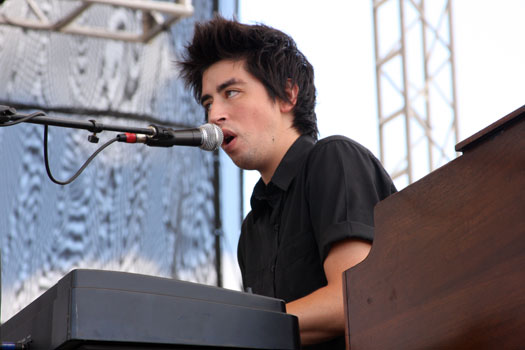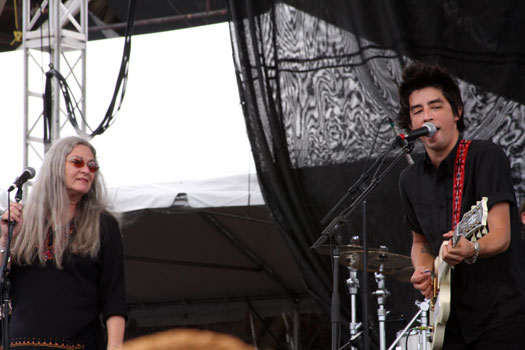 Gathering of the Vibolas' 2008' as recalled from the Jennyluv perspective...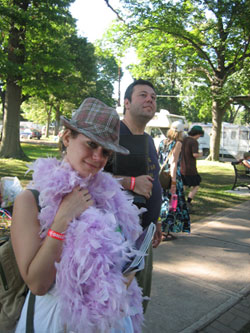 So the time for the Feathers and Fedoras to reunite in the swanky East Camp had finally come. I had been counting the days until I could return with my
musicfanamily
to the site of the best music fest experience of my life. But I was also a touch nervous. Being a grad student who works part-time' I'm lucky enough to once again have a Summer Vacation. It does give me a lot of time to work on my tan and grow the perfect tomato' but it's a solitary life' as most normal folks my age have good ole 40 hr. per week type gigs (or they have a magazine to make). Therefore' I was unanimously elected to arrive in Bridgeport on Thursday' all on my lonesome' with the charge of acquiring camping real estate for approximately eight tents and a communal space' in our beloved East Camp area.
I spent most of Wednesday and all of Thursday fretting about the situation. As it turns out' all of my worry was for nothing. I cannot reveal the secrets of my strategy (if I tell you' I'll have to kill you all)' but trust me when I tell you' I did not receive the prestigious Buddha in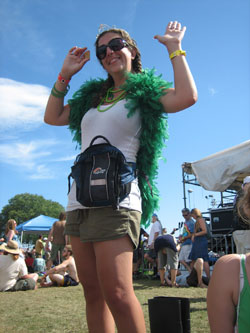 My Pocket award for "Viber of the Year" for nothing. Armed with nothing but a ridiculously large ball of twine' crocheted roses' and a smile' I secured our space' found great neighbors' and bonded with a new friend. All of this in time to catch a great Dark Star Orchestra set. Somehow I had managed to get myself a little bit tipsy by the time "Mississippi Half-Step" coasted through the Main Stage audience' so at first things were a touch fuzzy. But when "Mexicali Blues" came on' I tuned in and danced with glee. I sent out the obligatory text messages to my unfortunate friends who had yet to arrive' sharing with them my bliss at having heard Donna Jean sing "Samson & Delilah." But after such a long day of worry' sun and beer' I needed to hit the hay and also collect some late arrivals and introduce them to our home for the weekend. I headed from the stage area after a beautiful "Scarlet Begonias'" dancing the whole way home and thinking the same thing I did last year: "Dark Star Orchestra is the best way to start off this weekend on the right foot."
Friday was the day I was most excited for' so when I woke up well rested to a beautiful sunny day I couldn't have been more pleased. After walking the grounds with my friend Mira and testing out her Bloody Mary skills' we went in to get happy with the Ryan Montbleau Band. I had last seen this band in April' and I was really excited to get to dance in the sunshine to their upbeat' R&B grooves. :: OK' I have a sidebar here. This is my chief complaint about music festivals. Why is it that the headliners have to go on at night? Who made that rule? You know' maybe I'd like to dance to "Bump and Sway" under a beautiful blue sky? Work up a nice sweat to go with my Funk. Perhaps it would be amusing to boogie down with my peeps to "Not Fade Away" with the sun warming my shoulders? I don't know' maybe it's just me' but I like to tear it up during the day. That's all I'm saying. I vote two Phil & Friends sets next year… but I digress.:: Back to Mr. Montbleau. He started me jumping right from the very start with a lively "Draw the Line." I love this song. The reggae beat of "The Boat Song" made me smile from ear to ear and long for a frosty drink with a tiny umbrella. My friend Sandra and I really got busy with "75 & Sunny." Let me tell you the feathers started to fly. Then the Deep Banana horns came out and it started to get pretty funky. Oh yeah' I'm having fun. Then what does he do? He plays a really eclectic version of "Electric Avenue"! That put us all over the edge. The crowd was already having a blast with this band' but then he gave us the classic '80s "chick chicka-chica" and a few "Bueller's" and it was frenzy town. They ended with "Dancing in the Sunshine'" leading me to believe that Ryan understands what I'm talking about. "It's the simple things in life' so let's spend our time dancing in the sunshine!"
At this point I had to run from the stage to meet my beau who hustled in from NYC just in time to catch Porter' Baptiste and Stoltz' who we had been wowed by at New Orleans Jazz Fest. We got back to the stage in time to grab a good spot up front and enjoy the funk. Perhaps it was due to the traffic issues that caused them to arrive late or the fact that they had to follow such an electric set from RMB' but I wasn't quite as enamored with PBS as I had been the first time around. I think the real reason is that Brian Stoltz' who straight up blew me away in New Orleans' seemed to hang back a bit. They did start to cook at the end' with "Norma's House" and "Good Ol' Funky Music" making me wish they had a few more songs to go
However' I was able to get over it pretty quickly with Assembly of Dust following them up. This set became the highlight of my weekend and solidified AOD as my favorite band these days. They are so diverse' yet unbelievably tight' with every member pulling more than their own weight. Reid's voice is so sweet and honest' I could listen to him sing the phone book. Adam Terrell has really come into his own since the first time I saw him play with AOD back in 2005. And Nate Wilson' forget about it. The guy is unbelievable. I have been drooling over him since the Percy Hill days. They just have great songs; you can't argue with that. So let's see' great musicians' great songs… um' yeah' I can dig it. Donna Jean on "Honest Hour" and the Loretta Lynn tune "You Ain't Woman Enough" was a super nice treat. During "Bootleggers Advice" it got so wild that people were splashing their much needed water over the crowd' a precious commodity in 85-degree weather. The music was letting loose and we followed suit. I think a testament to how good the set was' is that I've now listened to it about 17 times since the Vibes. I can't get enough.
So here is where the blur started to catch up with me again. I had to go meet up with two more friends and assist in smuggling them and their car into the East Camp. Again' I cannot reveal my methods' as they are top secret' but needless to say we got them settled in plenty of time to head back and catch Zappa Plays Zappa. And man' am I glad I didn't miss it. They started with my favorite ode to the evils of television' "I Am the Slime" with Dweezil in the lead' which he then handed over to the infectious Ray White for "City of Tiny Lights." I was definitely hazy' but I can tell you that the crowd kept getting bigger and bigger as ZPZ went on' and I just felt so happy to have Frank's music getting the attention it deserves. It may not be perfect' line for line' and no one can replace Frank Zappa' but the ZPZ versions of "Don't Eat the Yellow Snow'" "Broken Hearts are For Assholes'" "Peaches En Regalia" and my all-time fave' "Cosmic Debris'" are better than no versions at all. I know there are differing opinions' but I think Dweezil has done a really spectacular job at doing his Dad's music justice. I had a blast and enjoyed the set completely. I also really loved the way it brought the freaky people out before sundown. It was good to see them' even if it was blurry…
On to my biggest disappointment. I missed Deep Banana Blackout. What can I say? I have regret. I got drunk and I had to meet more friends who were just arriving and direct them to the homestead' but these are poor excuses. I f*cked up. I missed my opportunity to dance myself out of my own skin. I'll have to do better next year.
Saturday was not a great day for me. I woke up feeling average based on how hammered I was the night before. After I got the lowdown on my silly behavior from Friday' I decided it was probably a good idea to take a walk and chill out. It was all good expect for a suspicious breakfast burrito I ate. I do believe it was my demise. After the crazy torrential downpour that drove us all into our cars for fear of electrocution or perhaps drowning in a flash flood' I began to feel unbelievably sick. Needless to say' I staggered to the field for the Bill Kreutzmann Trio' but I had to retreat to my tent just a few songs in. Sadly' I remained huddled there until it was time to catch Phil & Friends. But what a great way to return to life! I can't imagine many bands that could have kept my sober and sickly ass happy and dancing for four hours' but I don't mind saying that Mr. Jackie Greene had a hell of a lot to do with it. They just came out big and beautiful from the start and never let us forget why they were the marquee act. The dueling between Jackie and Larry Campbell not only is a treat for us fans' but I really think it brings out the best in both of them. Jackie as the spunky' feisty little youngster who wants to show everyone all the cool stuff he can do and Larry as the older and wiser master who swoops in to remind everyone who's boss. It works. Truthfully' it seems like everyone feeds off of Jackie's youthful exuberance and surplus of talent' especially Phil. Is it me' or does Phil just look like he is having the most fun ever?! Jackie Greene is a rock star and I adore him and what he brings to Phil and Friends. I also thought it was a crazy fun to hear the band play some Molitz music. It was like I was transported to another universe for a brief interlude. Overall' despite feeling ill' it was a great show.
Then came Sunday: the sad day' the final day. I woke up feeling perky and ready to rip it up just a little bit more. It was gorgeous weather' with big sun and few clouds and plenty of great music to still be heard (and beer left in my cooler). I packed up my duds while loving the Organically Grown Gospel Choir over the radio. Rumor has it that Jen Durkin was a member' but I don't know many other details about the Choir other than the fact that they sounded awfully good. I might even go to church if I thought I'd get to hear them again. Sam Bush had a good set. It started out more country and less bluegrass' but soon he gave me what I wanted' which was some good' fast pickin'. Again' this is the kind of music that just works when you're hanging out with your friends on a fabu summer day.
My big draw for the day was the Soul Stew Revival with Derek Trucks and Susan Tedeschi' and they did not disappoint. Seriously' I have a bit of an obsession with Susan's voice. When she starts getting all Coco Taylor crazy and raspy' I feel like my heart might explode. A fine example of her cardiac-detonating singing was "I Want to Be Loved." I was also really proud of them for making a statement about the war at the beginning of "Pack Our Things Up." It takes guts to take a stand' and I definitely appreciated it. But more than that' I appreciated their Aaron Neville cover' "Hercules." They really stretched it out and got all New Orleans on us. Kofi Burbridge was off the chain on the B-3' and Ron Holloway had a pretty nice sax solo. This song had me thinking Congo Square' all the way. Oh' and have I mentioned that Derek Trucks is a madman on guitar? His solo on "Get Out of My Life' Woman" was an angry' emotional Derek that I haven't heard all that often' and I wanted to hear more! They closed with a really well done cover of "Hey Jude'" including Susan belting and scatting like a badass and a beautiful slide solo from Derek. Since I had been given my marching orders earlier in the day' I knew this was my last set and it was a fine way to go out. Just like last year' head spinning' skin burning' ears ringing' heart erupting' and mind soaring. I love the Vibes and they love me' just like it should be.