Shows
JVC Jazz Festival - Newport
August 8-10, 2008
at Fort Adams State Park in Newport' RI
by Kieran Delaney
|
photography by Kieran Delaney
August 19, 2008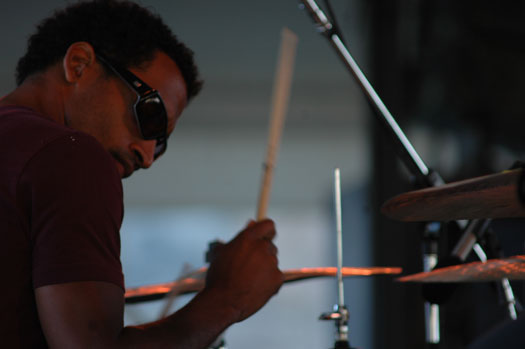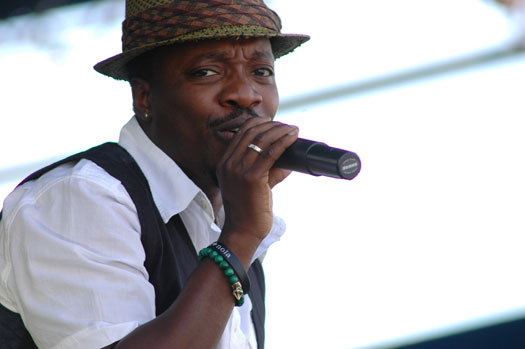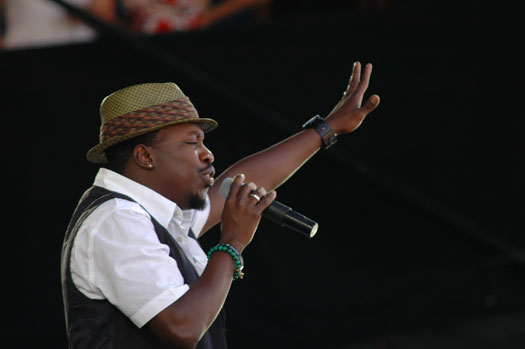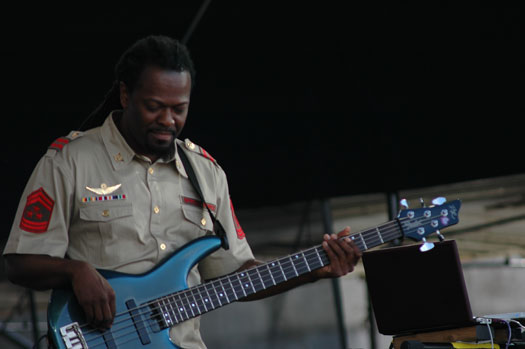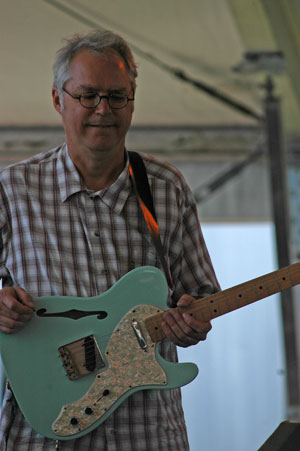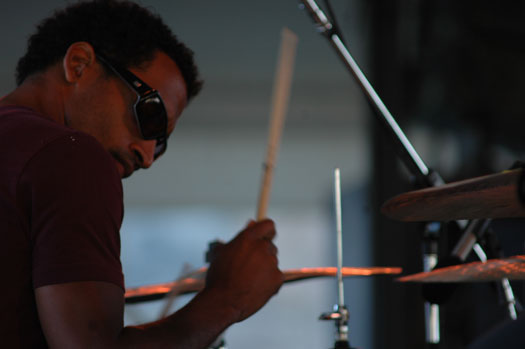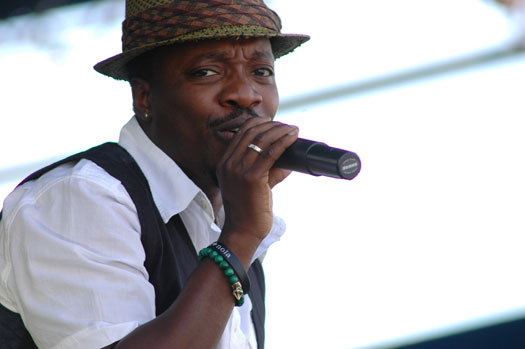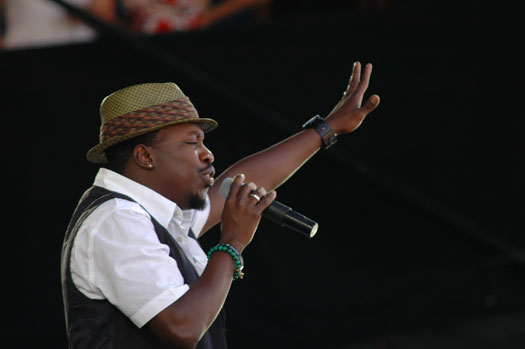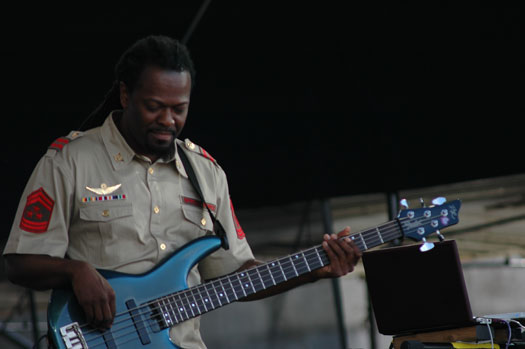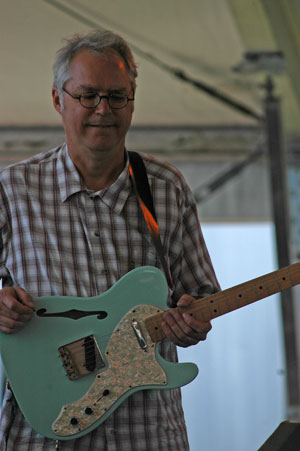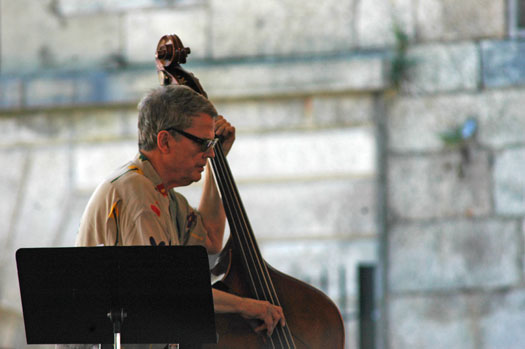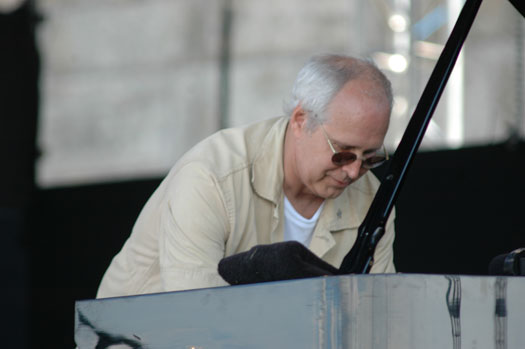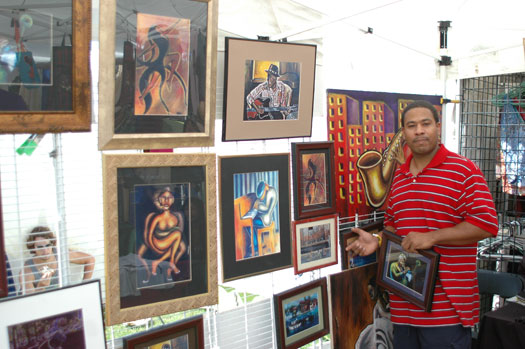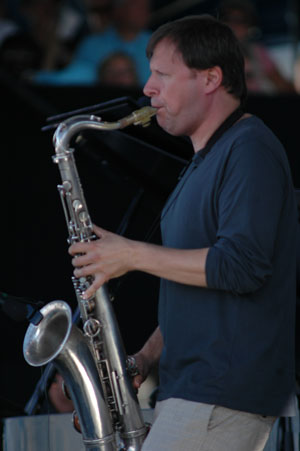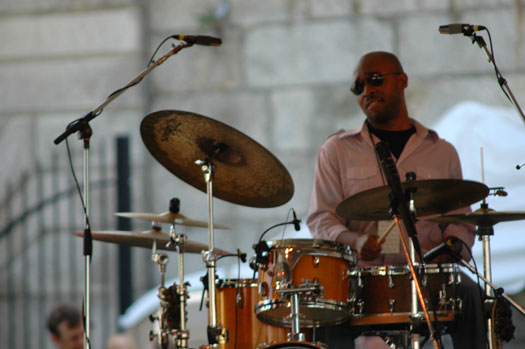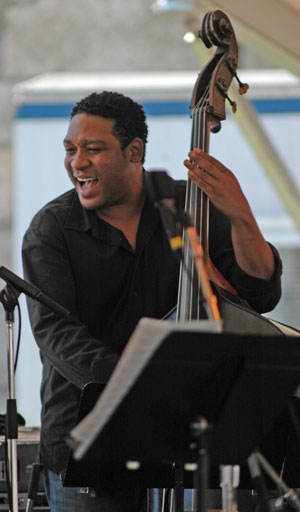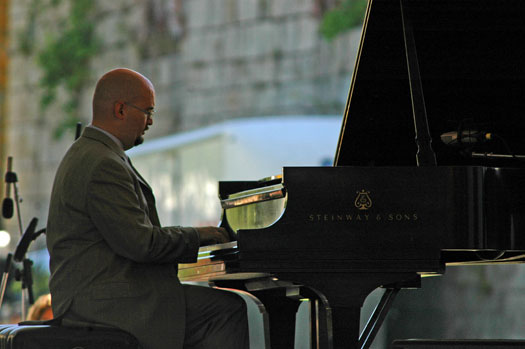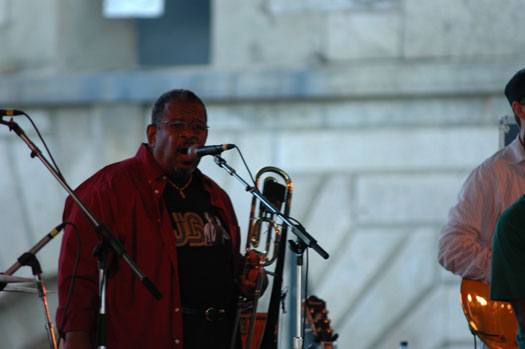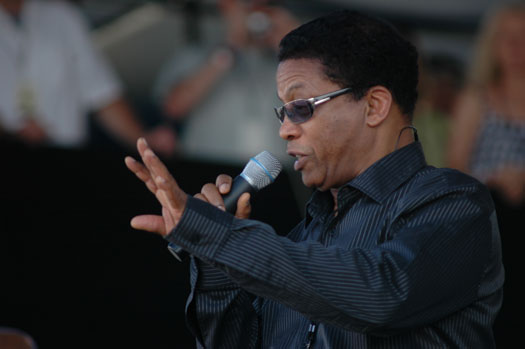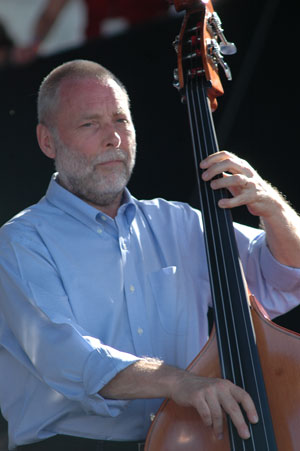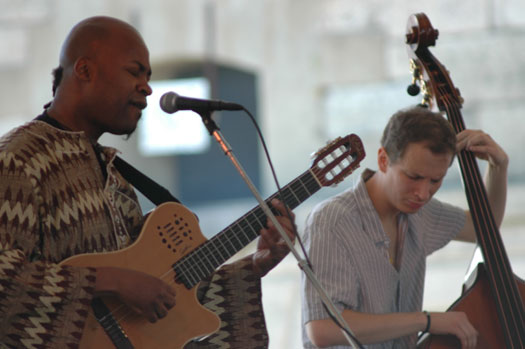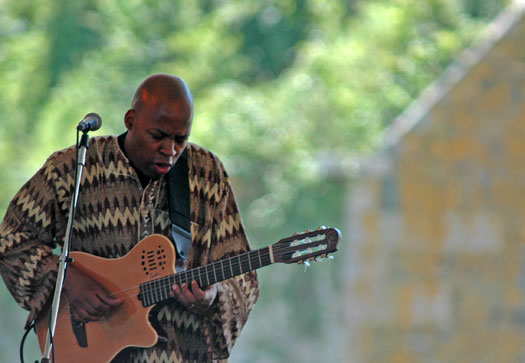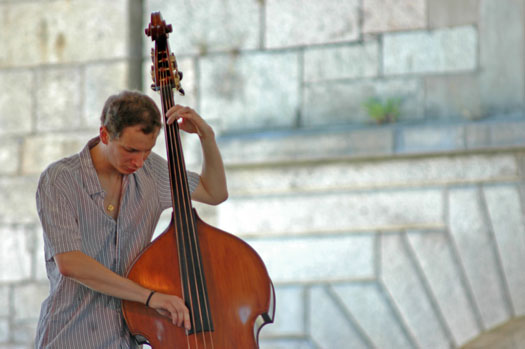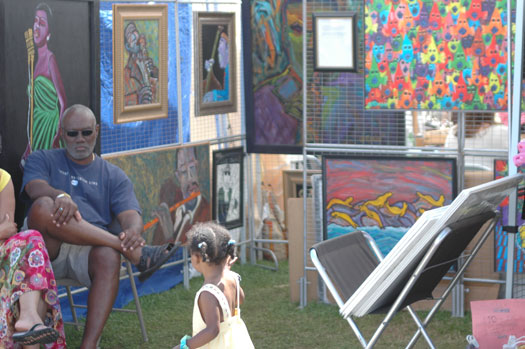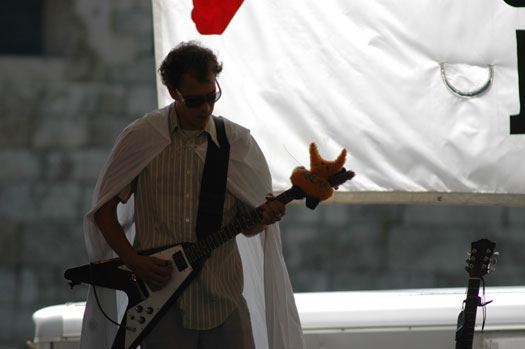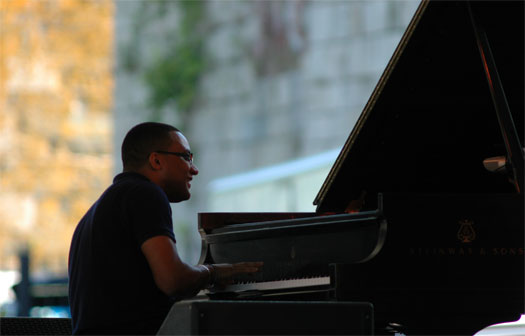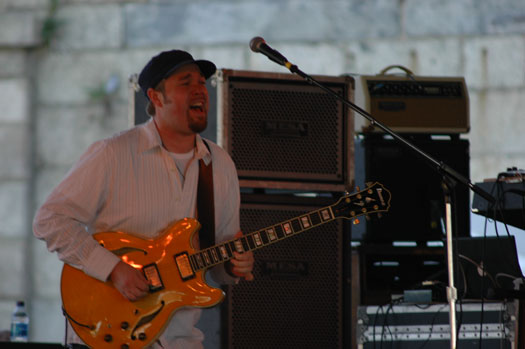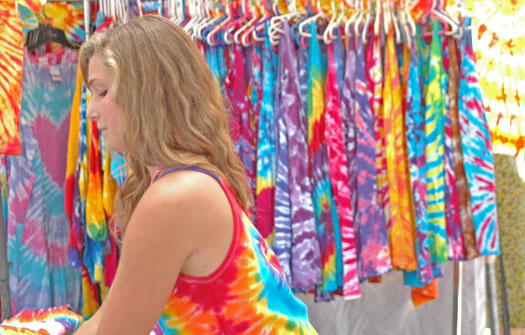 The sun is setting on the last day of the Newport Jazz Festival and I am faced with a problem. How does one describe the most varied of American art forms? As the infectious New Orleans grooves and soulful melodies of saxophone legend Sonny Rollins waft over the granite walls of Fort Adams' I am reminded of the single most important tenet of jazz: rules are meant to be broken. After two days of listening to many of the most celebrated minds in contemporary jazz' it's obvious that the improvisational spirit this weekend's performers share far outweighs the stunning differences between them. All are pioneers in their own ways' each crafting a unique voice that incorporates both incredible intellect and staggering skill.
Charlie Haden' Bill Frisell and Ethan Iverson gave one of the most traditional performances of the weekend early Saturday afternoon. A quiet crowd at the Pavilion Stage remained seated and attentive during the set' zeroing in on every nuance of the trio's set. Though a passing refrigerator truck briefly impeded his solo' Haden's playing was inspired -- he even took a moment to applaud the truck's driver' who punched a few honks of his horn before passing by. Frisell was also in top form' showcasing his impressive dexterity with crisp clean lines dancing above the smooth counterpoint of Iverson's piano. Though a mellow group' the audience responded to every move of melody and texture with spontaneous applause and enthusiastic grins.
In stark contrast to both the sound and attitude of Haden' Frisell and Iverson' the highlight of my weekend was Marco Benevento's set at the intimate Waterside Stage. Relatively unaware of Benevento's jazz chops' I was surprised to find his selections both accessible and profoundly dramatic. Refreshingly authentic and personable' Benevento was clearly at ease on the small stage' performing both original tunes and re-engineered covers of Led Zeppelin' Deerhoof and My Morning Jacket pieces. Through a combination of electronic wizardry -- i.e. an electric Steinway -- and animated piano mashing' he offered his Sunday afternoon crowd a fresh perspective on what is possible in the territory between jazz and rock.
Ledisi was another of the young genre-jumping artists to appear at the Fort Stage this weekend. Steeped in soul and grounded by funky backbeats' the New Orleans vocalist was one of my favorites of the weekend.

Saxophonist Chris Potter is my nomination for the festival's most valuable player' playing with several groups over the weekend' including Herbie Hancock' Marco Benevento and Dave Holland. Potter is a masterful player' finding his way seamlessly into the core of each group while retaining his own sense of melody and phrasing.
Performing with Soulive and jazz/funk amalgamation Lettuce' famed James Brown collaborator and 41-year veteran of the music business Fred Wesley brought the party to Newport. Playing for the most raucous and vocal crowds of the festival' Wesley lived up to his reputation as one of music's most adept trombonists. His audience Saturday night made no secret of their admiration for him' chanting for his return to the stage before he had even managed to step off of it. Sunday brought a similarly energized crowd to the Pavilion tent as Soulive welcomed several of the festival's performers onto their stage' including vocalist Anthony Hamilton whose band had performed on the enormous Fort Stage earlier that afternoon.
Following a piano accompanied introduction from master of ceremonies Chevy Chase' Herbie Hancock performed on Sunday afternoon at the Fort Stage. Playing a number of tracks from his Grammy winning release River: The Joni Letters' Hancock was backed by a group featuring bassist Dave Holland and drummer Vinnie Colaiuta.
Looking back on the plethora performers that I enjoyed this weekend' it seems that the most interesting facet of jazz is that which one cannot quite put their finger on. It's that sense of the multitude of possibilities inherent in improvisational music' the compositions serving as a starting point from which higher moments can be reached.
related articles
Shows: Catskill Chill 2014
Shows: moe.down 15
Shows: Gov't Mule + Soulive
Shows: moe. + Marco Benevento
Blog: Video: Club d'Elf with Marco Benevento - "Bass Beatbox"
More on:
Bill Frisell
,
Marco Benevento
,
Herbie Hancock
,
Soulive
,
Jacob Fred Jazz Odyssey
,
Lionel Louke
,
Dave Holland
,
Charlie Haden
,
Ethan Iverson
,
Chris Potter
,
Anthony Hamilton