Shows
GrassRoots Festival
July 17-20, 2008
at Trumansburg Fairgrounds in Trumansburg' NY
by Emily Ashbarry
|
photography by Sathi Wagner
July 30, 2008
page 1 of 2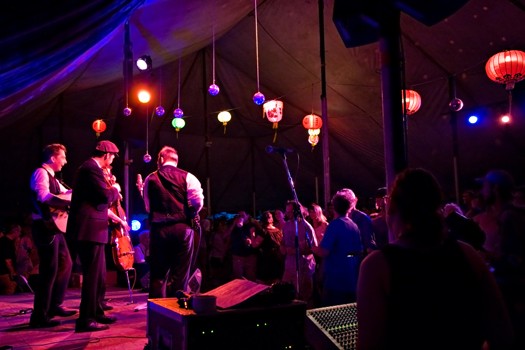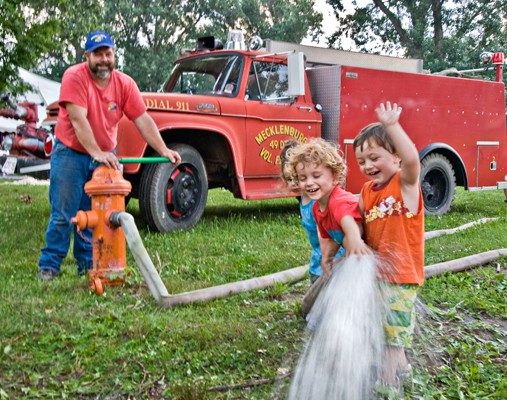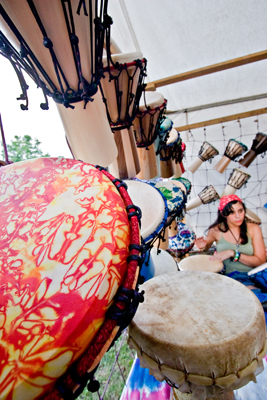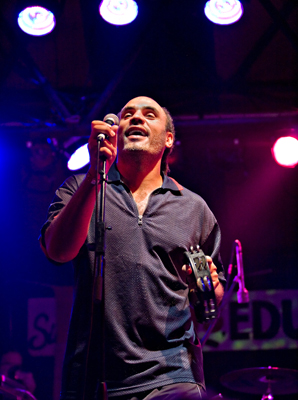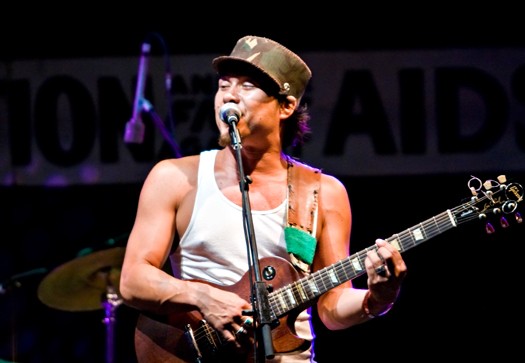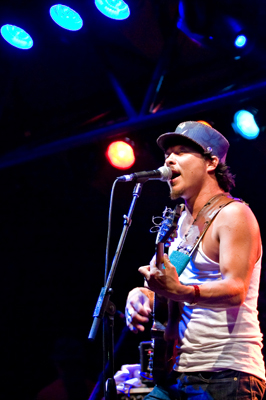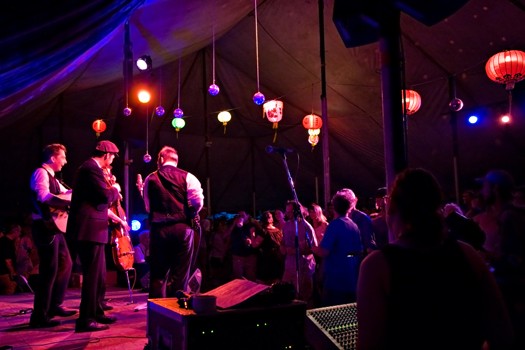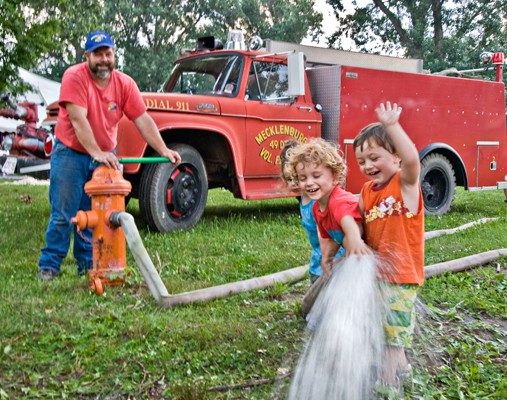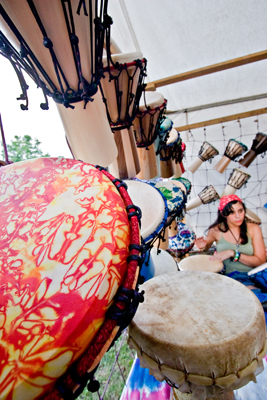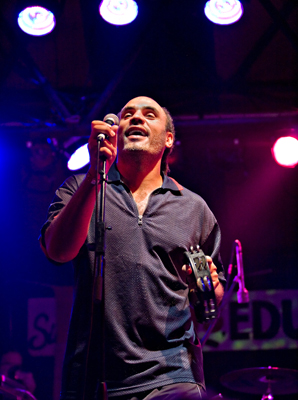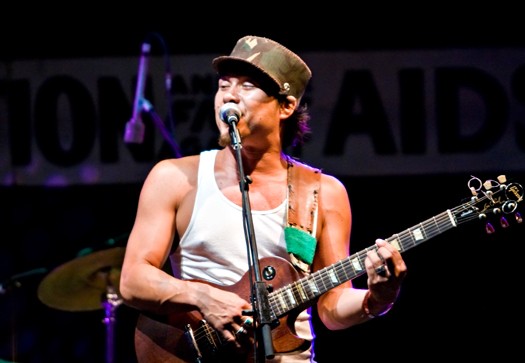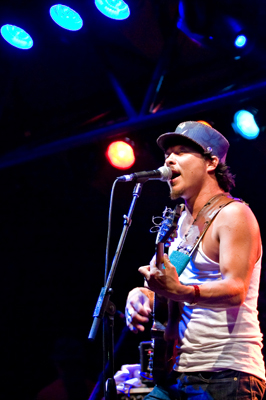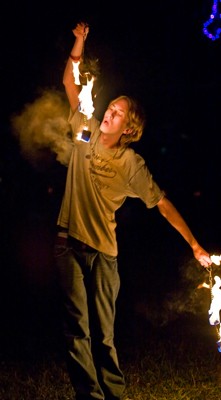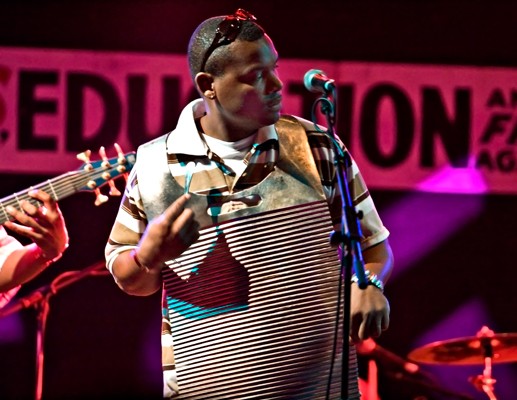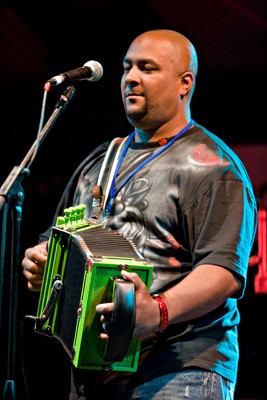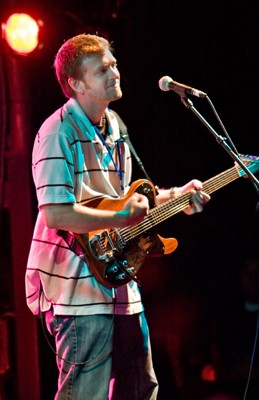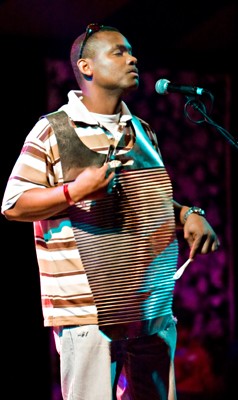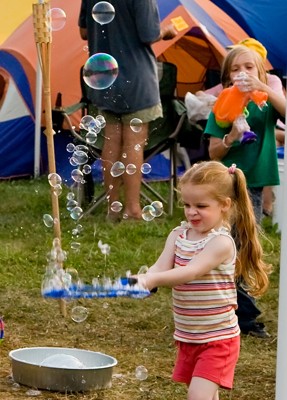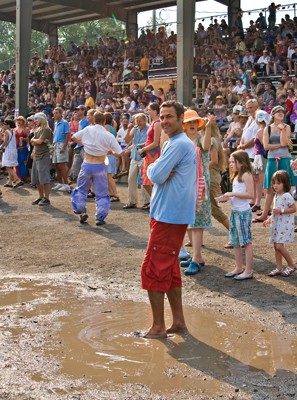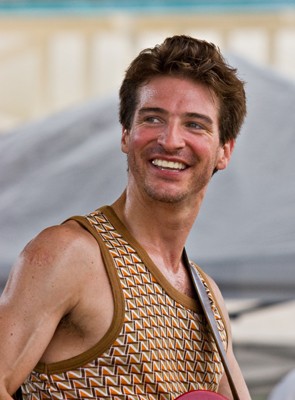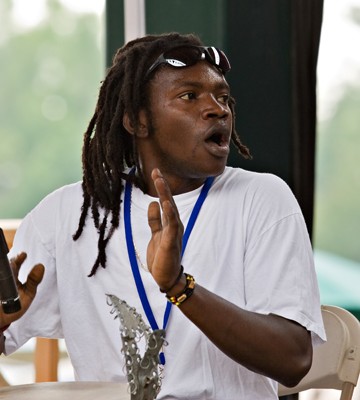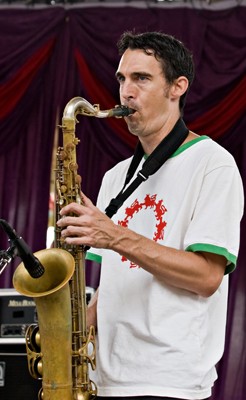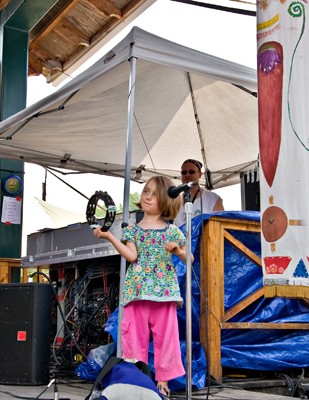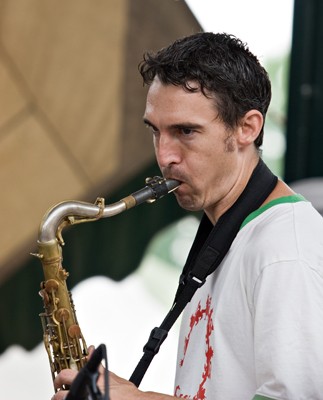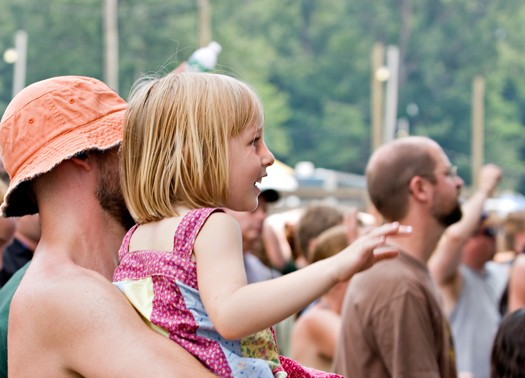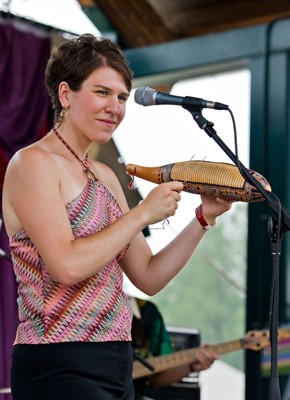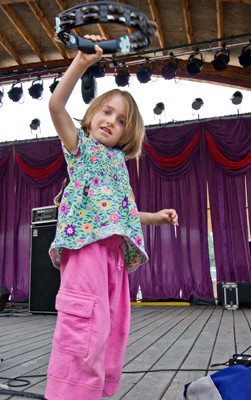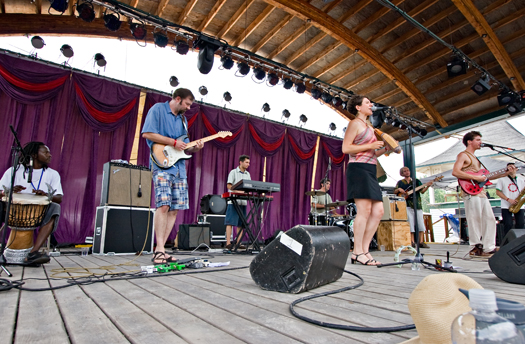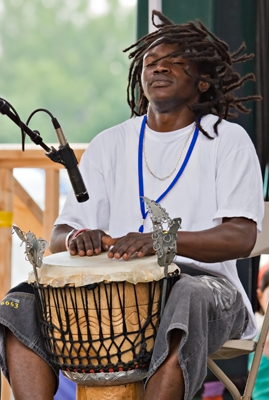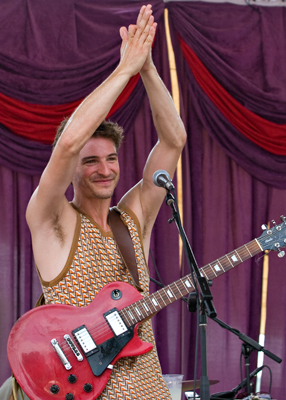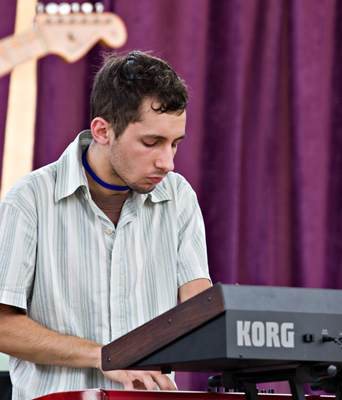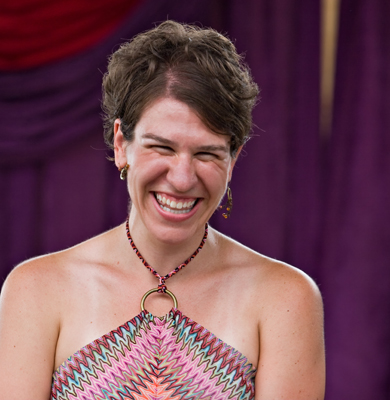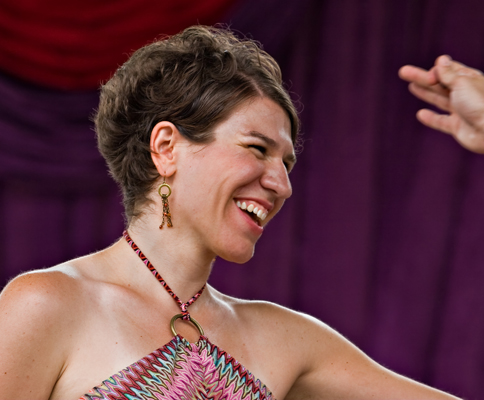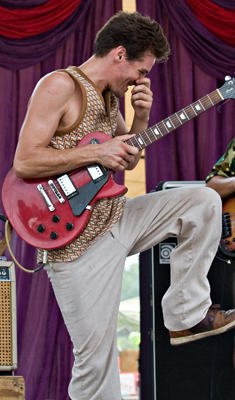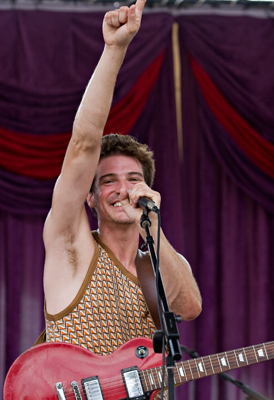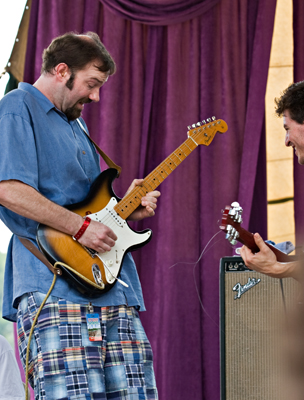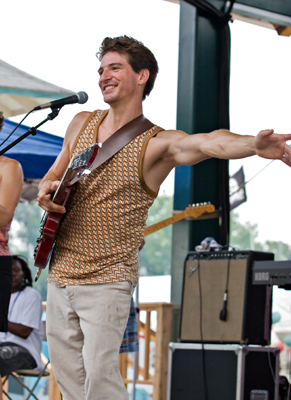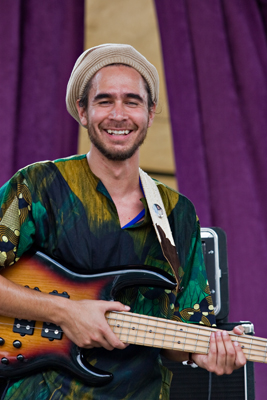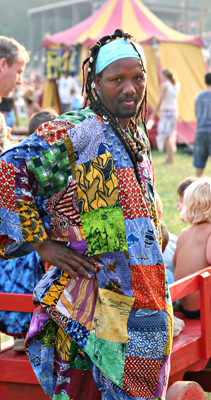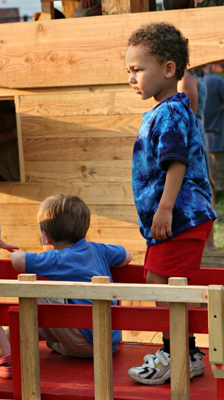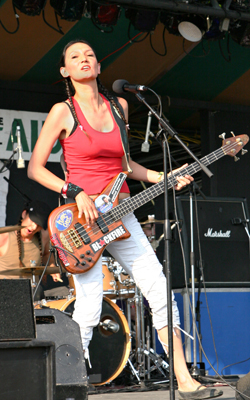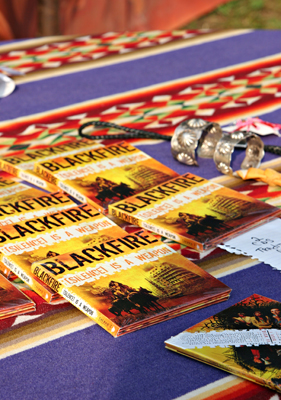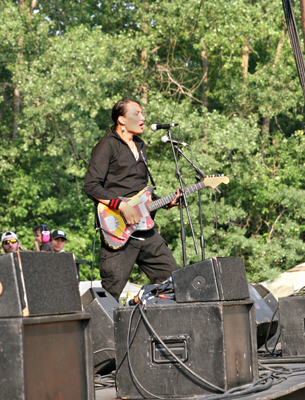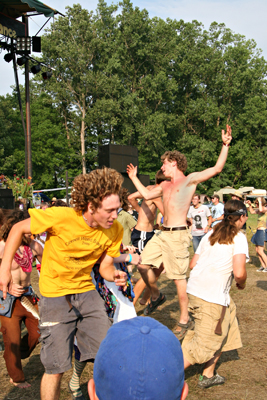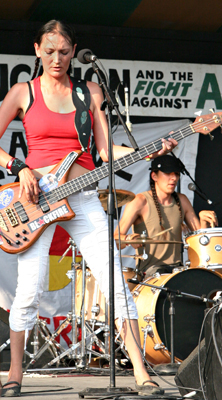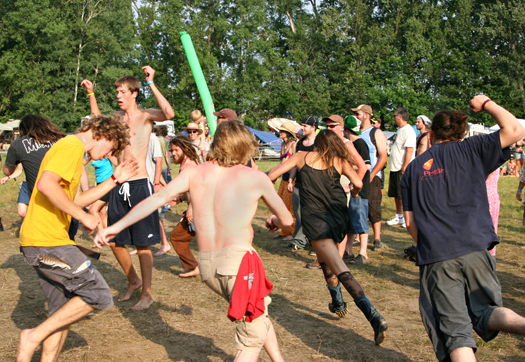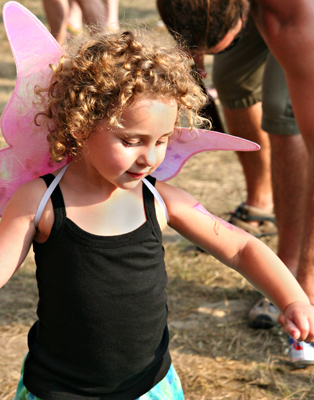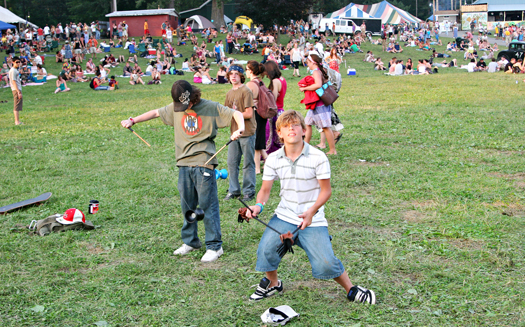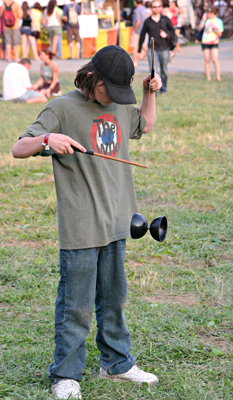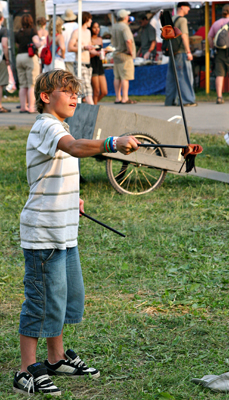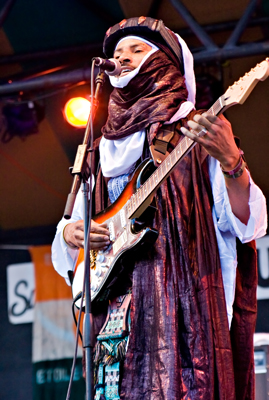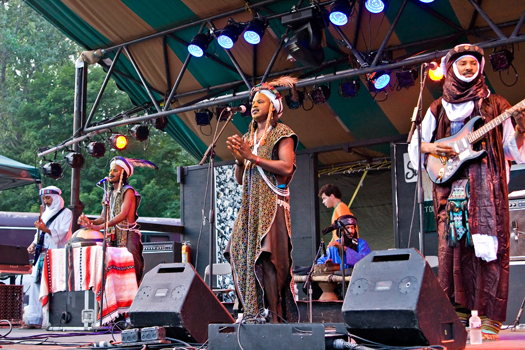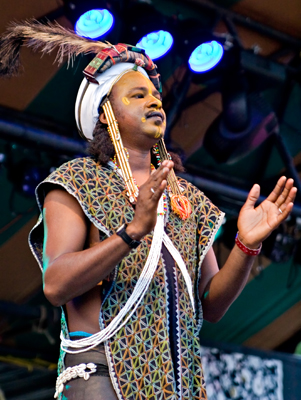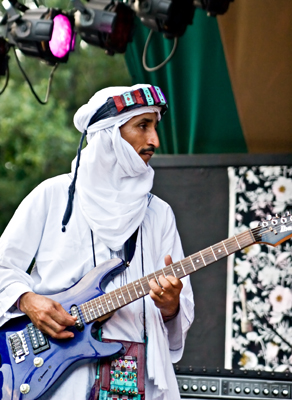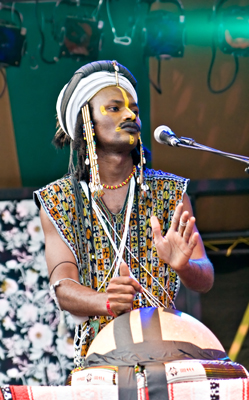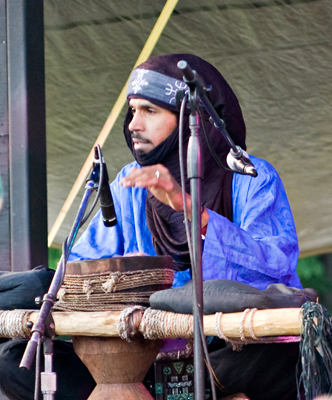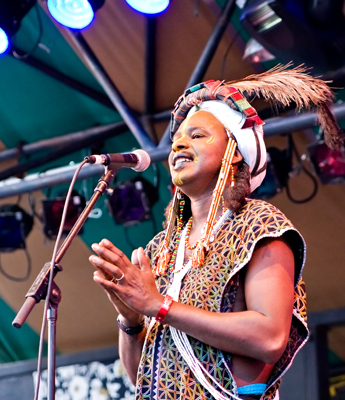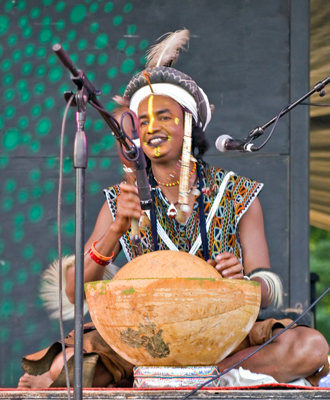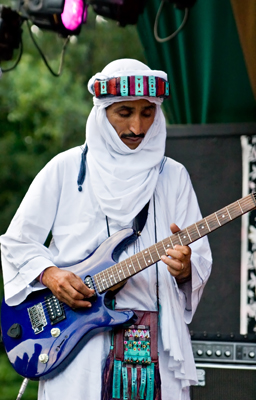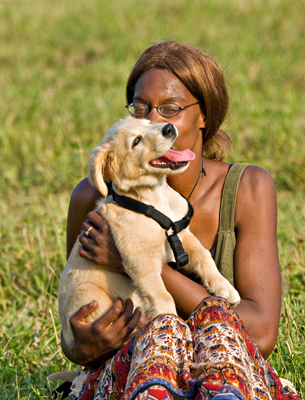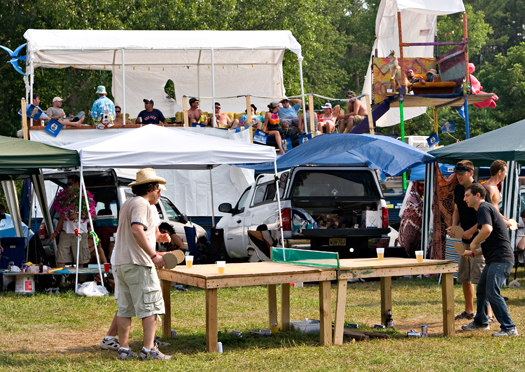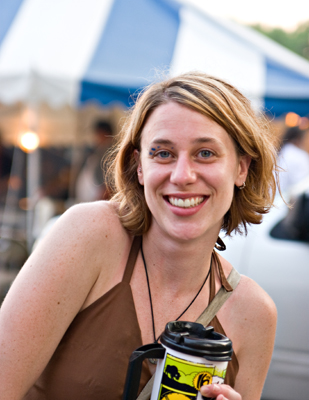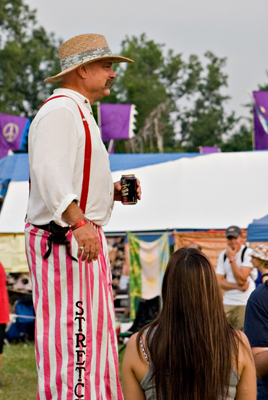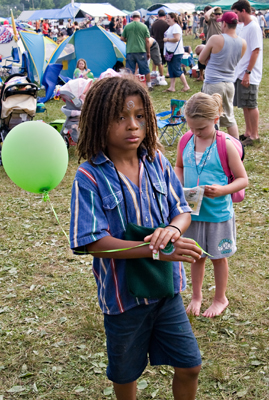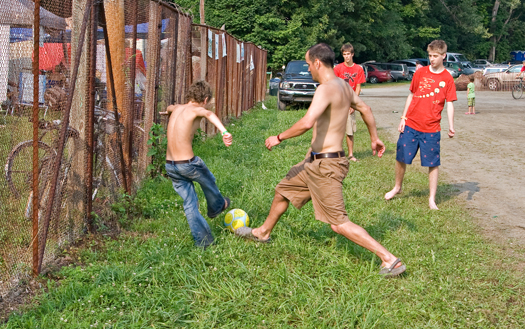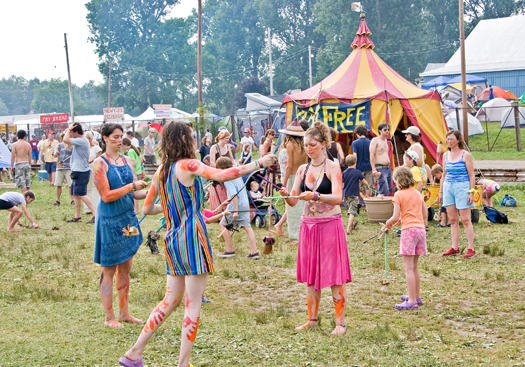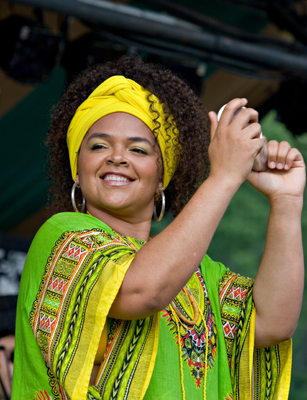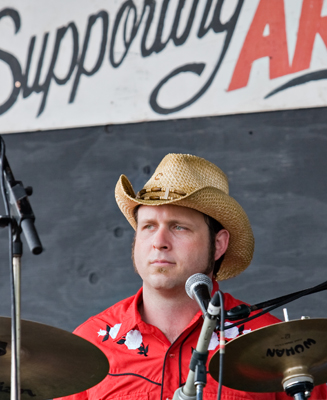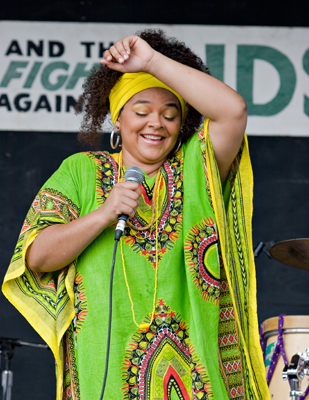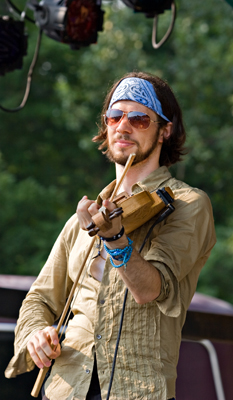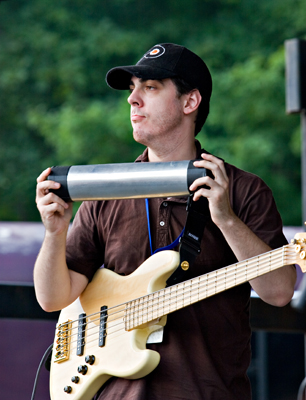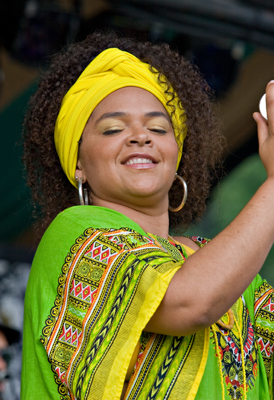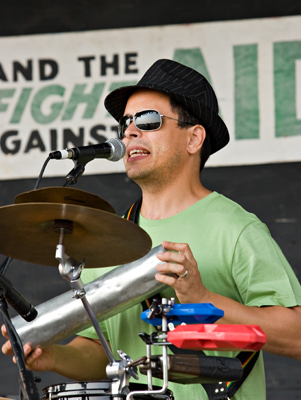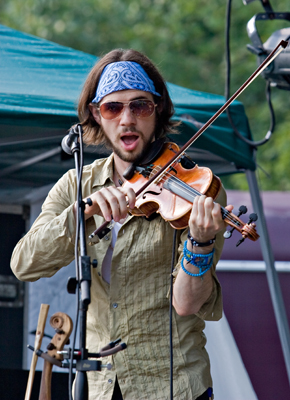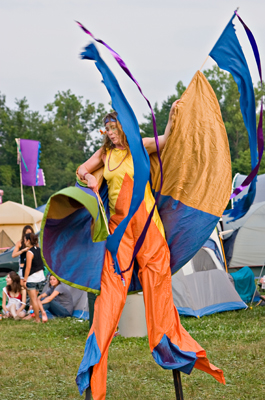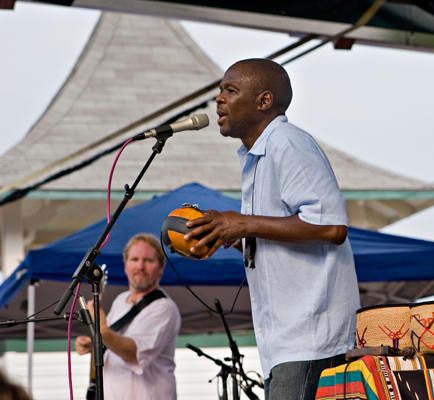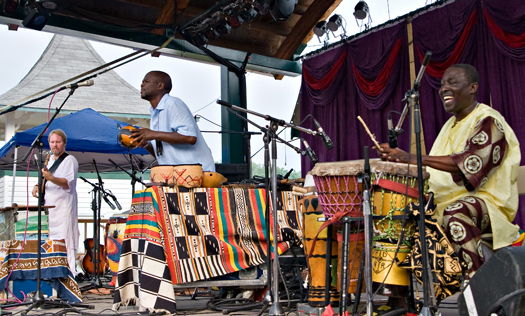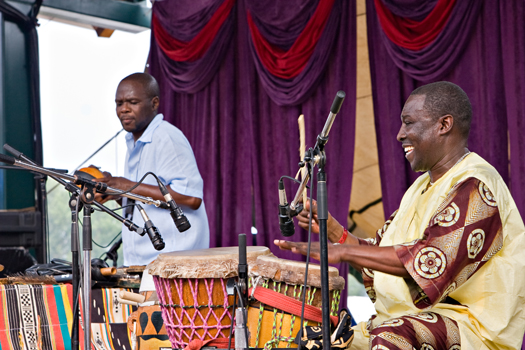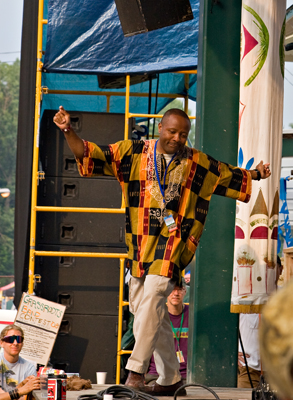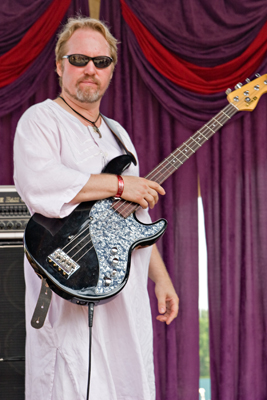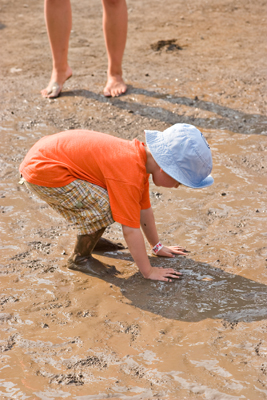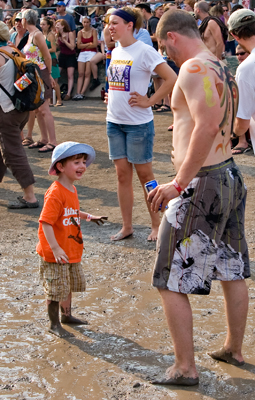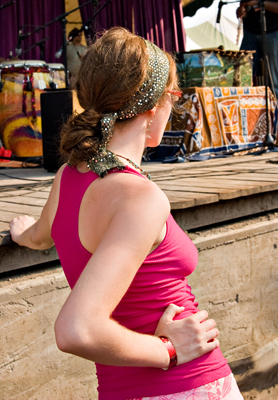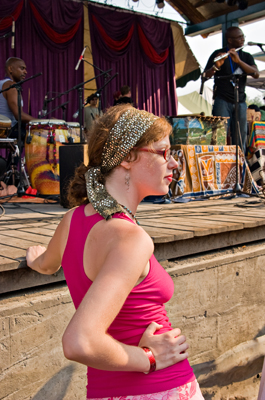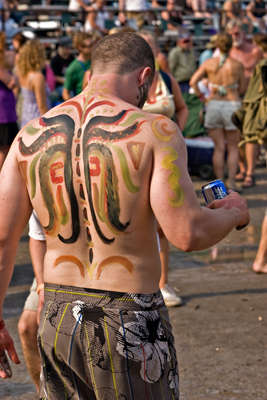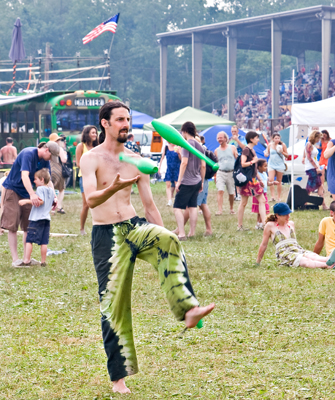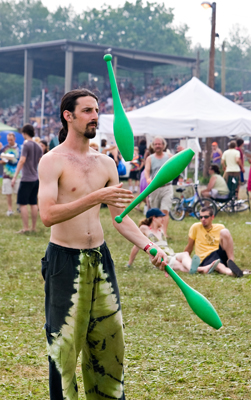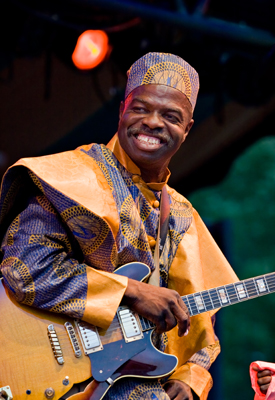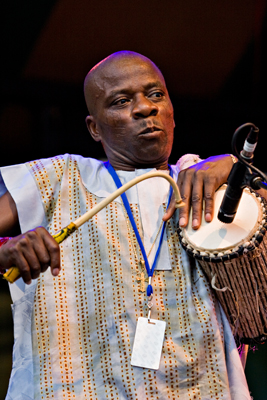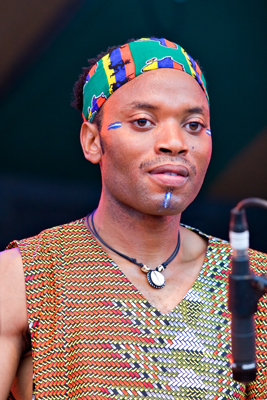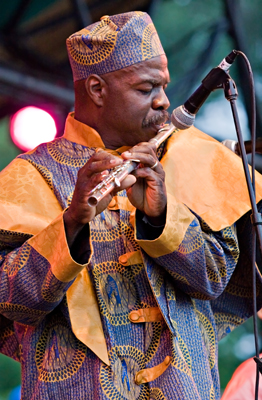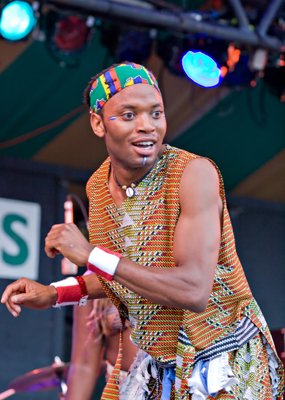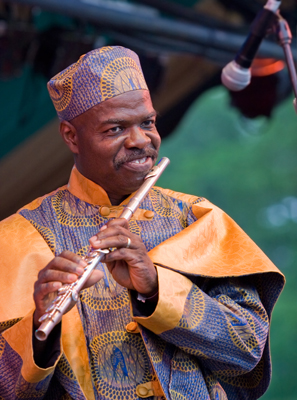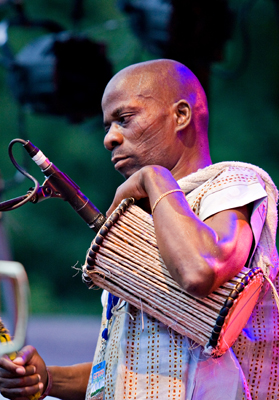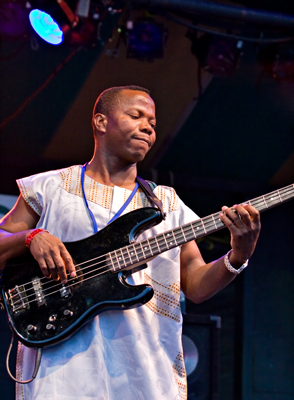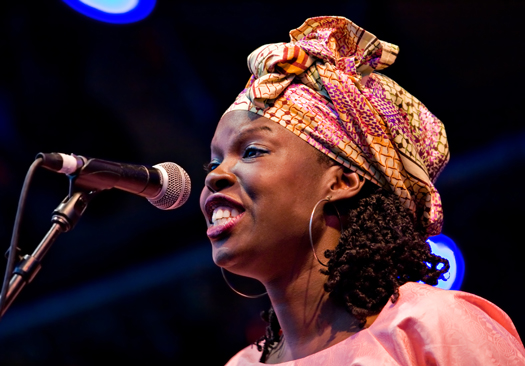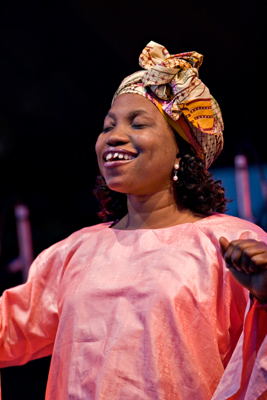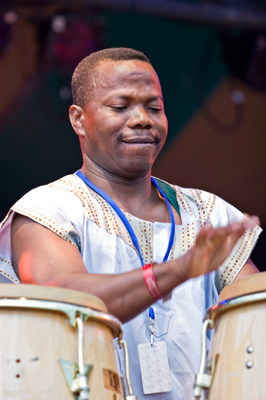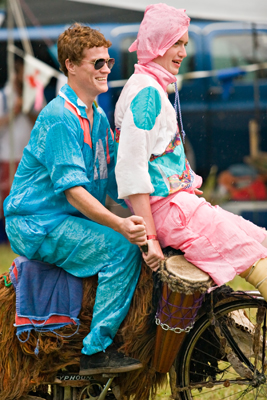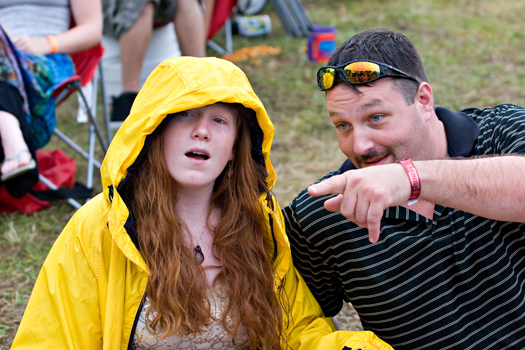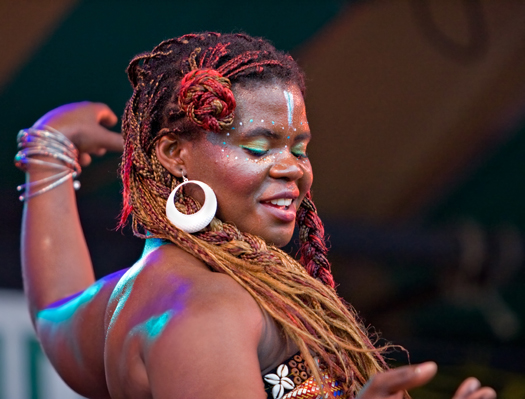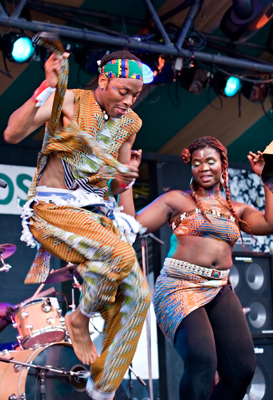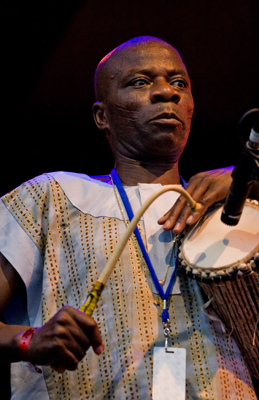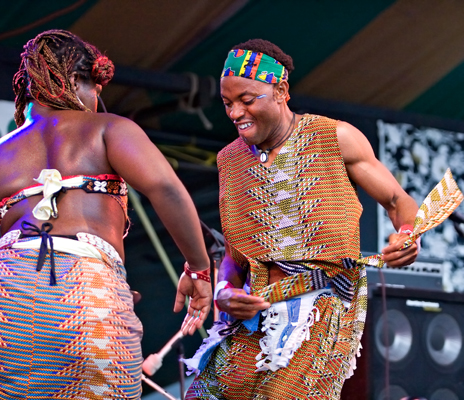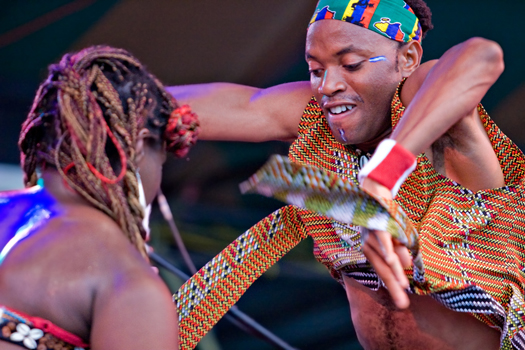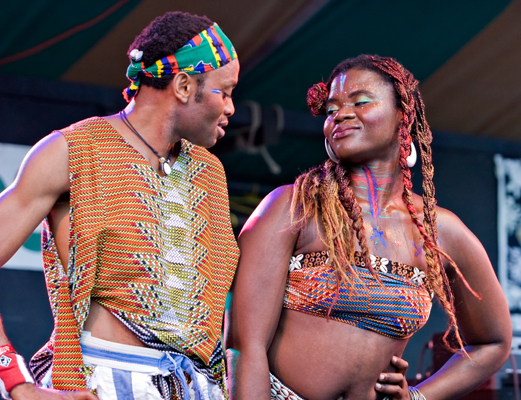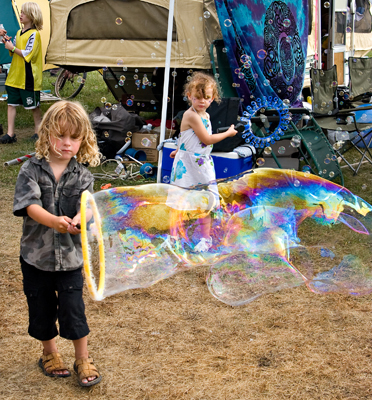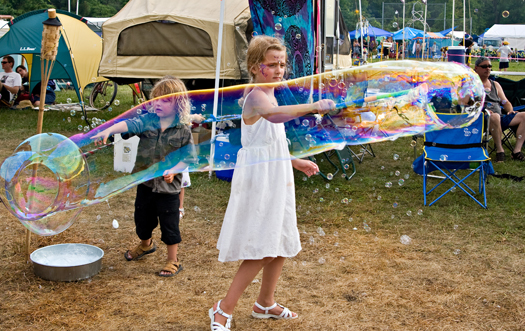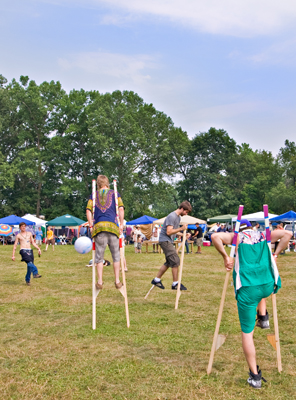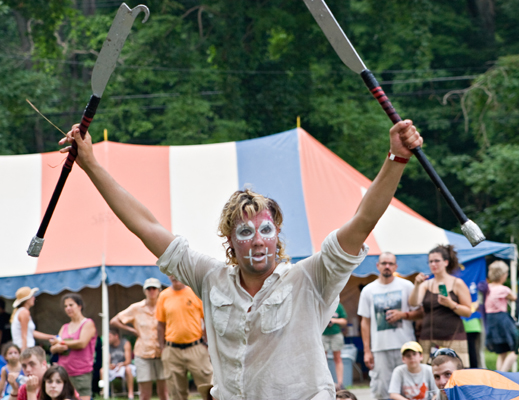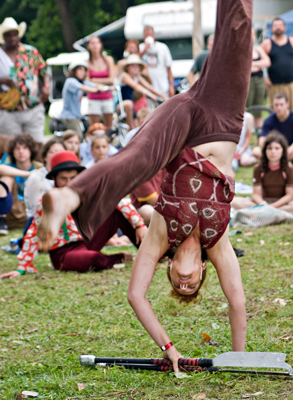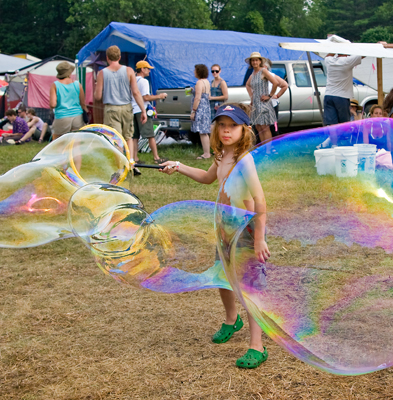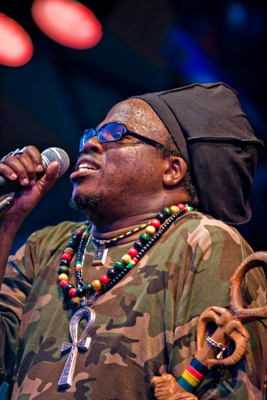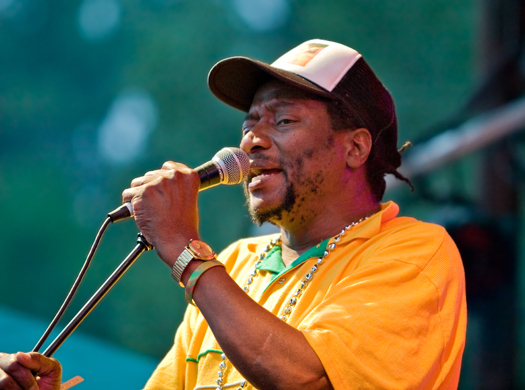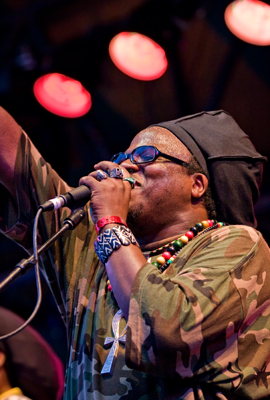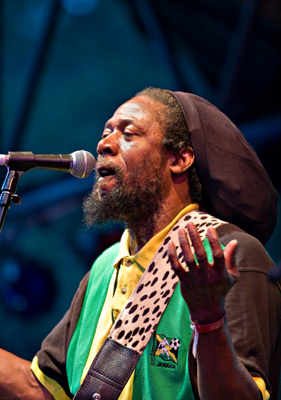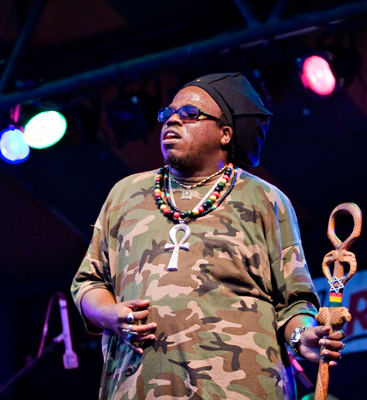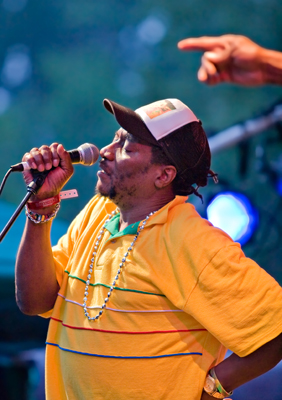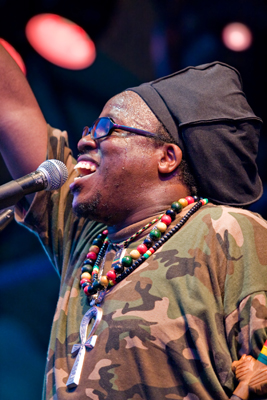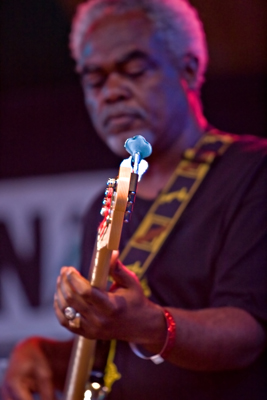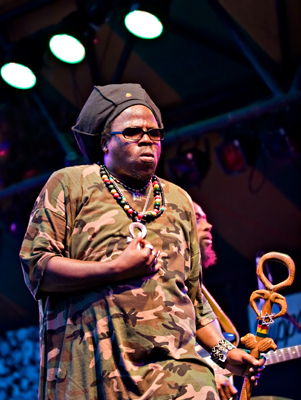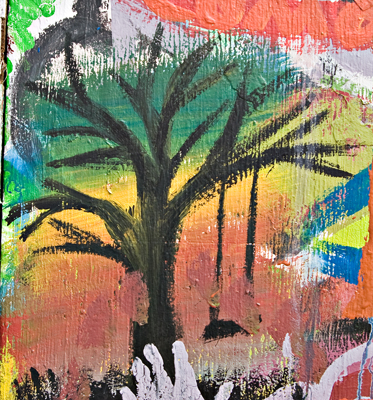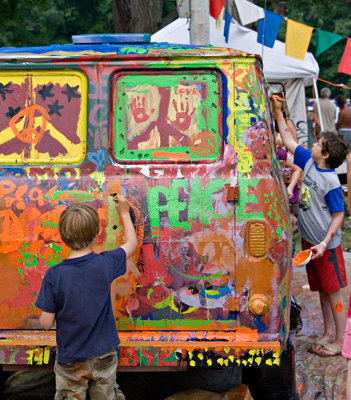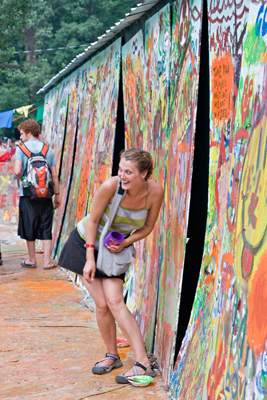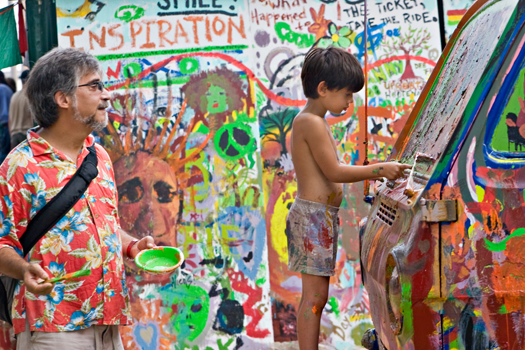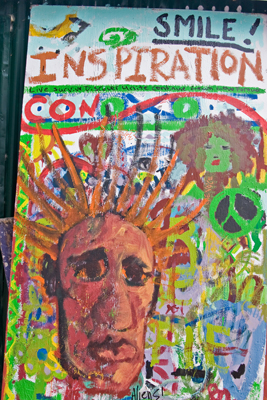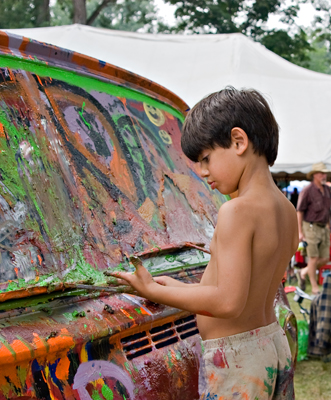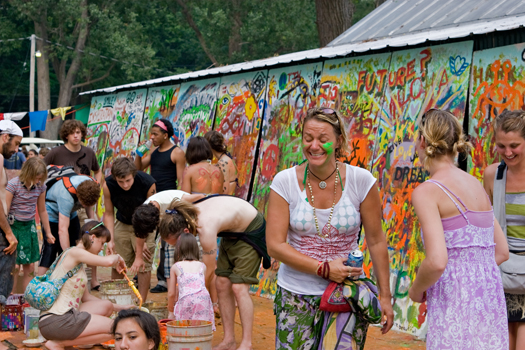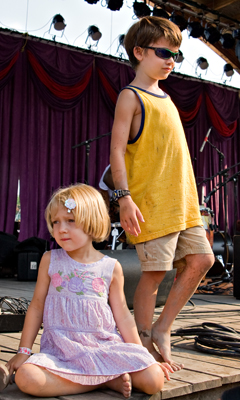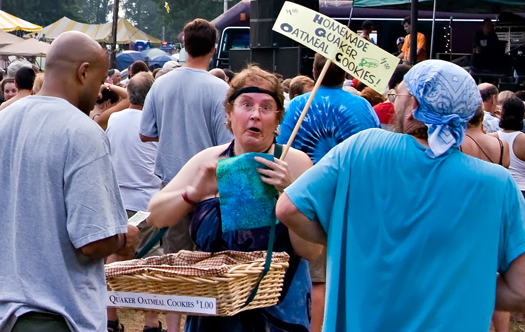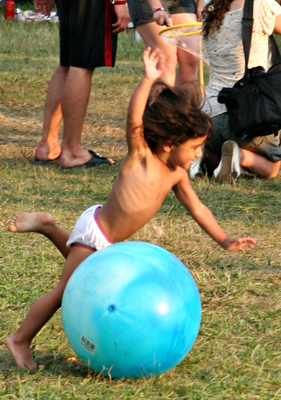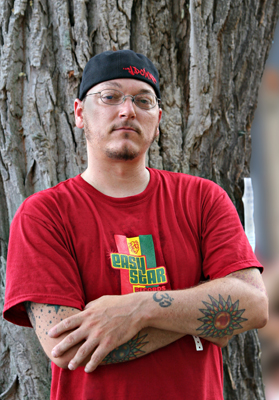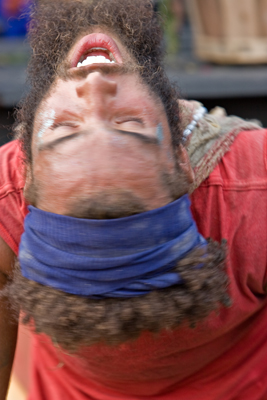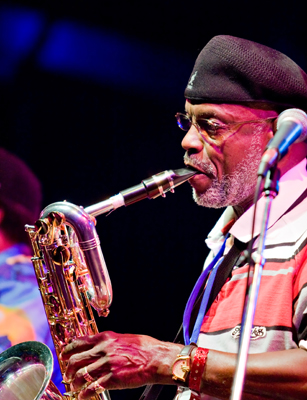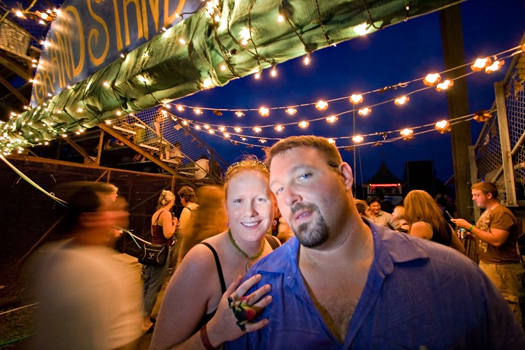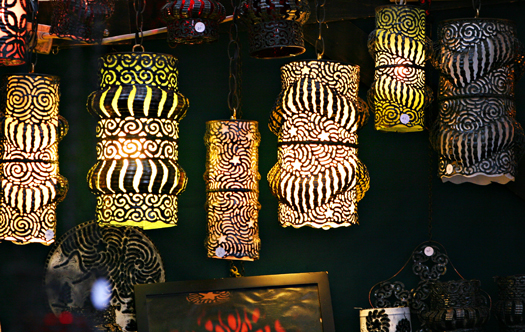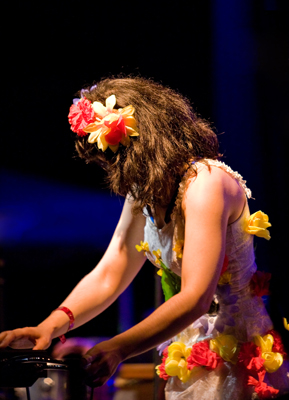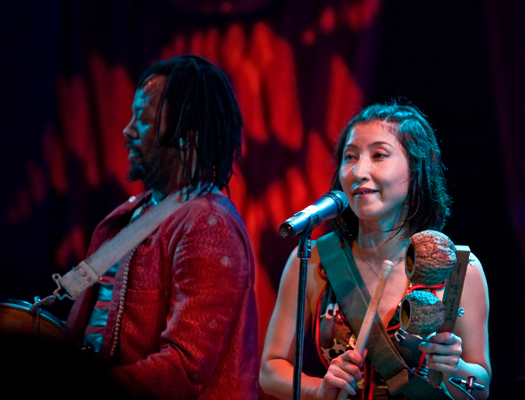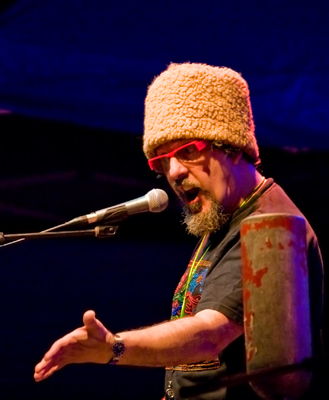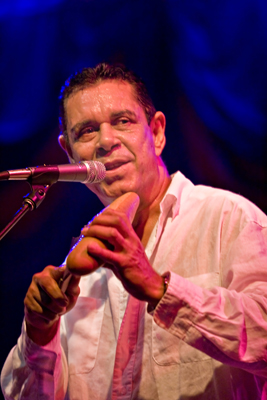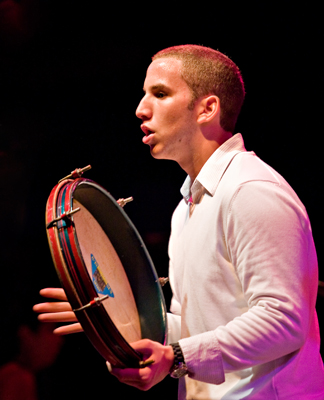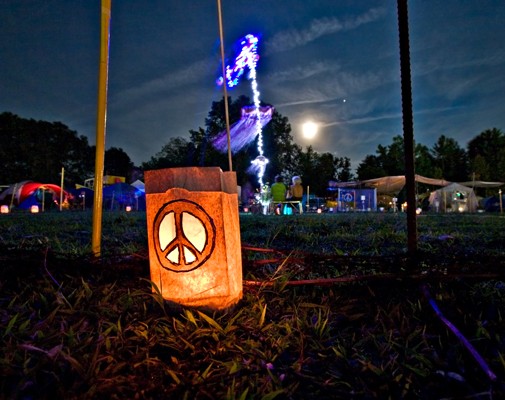 In one of the most beautiful parts of New York lies the hippie friendly college town of Ithaca. Since 1990' its waterfalls' lakes' gorges' parks' vegetarian eateries and pedestrian friendly downtown have served as the perfect backdrop to the Finger Lakes GrassRoots Festival of Music and Dance.

With the goal of raising AIDS awareness and funds for Ithaca's local AIDS support organization' AIDSwork' many diverse acts' musical and otherwise' come together to play on this beautiful piece of land. In order to accommodate the sixty or so bands' four stages run day and night' Thursday through Sunday. There are always activities going on. There is always music being played.
It's a family-oriented atmosphere with lots of kids. Right next to the infield stage stands a tent full of activities proclaiming "play free." Children of all ages could be seen with face paint riding bikes' kicking around soccer balls' blowing bubbles' painting pictures' tossing devil sticks' trying out stilts. There is never a dull moment. Festival goers are lucky if they can make it to all the acts they want to see. With music going on at all stages all day long' it can be a juggling act. Moving from stage to stage was not difficult' however; they are arranged perfectly to be short' pleasant walks' yet sound doesn't overlap and become muddled.
Camping is a little different at this festival. It's not free. Prices for tickets and camping vary based on when you buy and where you camp' with onsite camping and offsite camping. No worries if you're off site though; you can get a nice air-conditioned bus to and from the concert field 24 hours a day. This festival is a bargain even with the added camping fee. The price of the combined experience is minimal when you're talking about a show with 4 stages' 60 some bands and a 9am to 4 am schedule. The sheer volume of music at Grassroots is simply staggering.
The grounds are safe and clean. The venue and campgrounds have plenty of portos' and no lack of vendors. There are some real bathrooms on the concert grounds and some showers as well. As for food' a variety of vendors are available' everything from vegan to NY-style pizza to BBQ smokehouse.
No alcohol is sold at this festival' but there are a few stores in walking distance and you can bring a cooler with you all day. They ask only to see ID at the gate and if you brought glass bottles that you use a cup to drink out of. The staff is friendly and accommodating. There's even a tent where for a very affordable price you can get a travel mug filled with an icy beverage and the grassroots logo on it. More people were using these mugs than you could count!
But without question the best part of Grassroots is its incredible diversity of music. There was zydeco' bluegrass' gospel' roots' punk' Latin' swing' Cajun' Native American' rock' African' reggae' bluegrass' Irish' world beat' country' blues' funk and plenty of stuff you can't really put a label on.
JSan and the Analog Sons got the first night of the festival started with some catchy' funky' reggae that eased everyone into a nice groove. Smooth and danceable beats set the mood perfectly.

Friday morning I made it out for music possibly earlier than ever before. Kevin Kinsella made that happen. And he made it worth it. It was pretty hot days at the festival' and this was no exception. We were greeted with the sun and a shiny' wide smile from Kevin. A few clouds came out' making it easier to get down to his incredibly positive and polished tunes. The energy radiating out of these performers was intense. I think I saw tears when people realized they were going to hear "Singers and Players." Kevin's voice was crisp and fresh' and he looked obviously overjoyed to be playing for us. It was a truly uplifting start to the day that left some of us thinking we wouldn't be surprised if no other acts tickled us quite like this one for the rest of the weekend.
Blackfire was an awesome discovery after wandering over to the infield stage. The sun was beating down' but it wasn't keeping people from moshing hippie style to this Native American punk band. They had a critical yet hopeful message of awareness. Themes of social injustice and environmental concerns dominate this powerful music.
I really had no expectations of Etran Finatawa. All I knew was that they were from Niger and it would probably be interesting. As soon as they walked out' this was confirmed. Some of them were wearing what I learned is Tuareg clothing with long robes and head coverings' while some of them had a different style' that of the Wodaabe' consisting of long embroidered tunics' face paint and feathers. Back in Niger' they are neighboring tribes that tend to come into conflict over resources' meaning that this band is not only a collaboration of musical influences' but a symbol of peace. They have combined their traditional music to create a style of nomadic blues. String instruments' chanting' diverse percussion and electric guitars create a pleasant' unique sound.
It was striking how anxious the early-forming crowd was for John Brown's body. They were calling with an energetic' guttural chant "J B B... J B B..." before sound check could be completed. It was obvious to this newcomer that they were a favorite from past Grassroots. The band came out and built up for a bit before the frontman exploded onto the stage with dreads flying. This energy did not dwindle even though some mellower songs were played. The scene at the front of the crowd was an undulating mess of tightly packed limbs moving to the vibes' but one could always find some nice open space toward the back' still get a good view and hear everything perfectly. That freedom is one of the trademarks of this festival.
Nation Beat got Saturday evening started off. This Brazilian band of six members lit up the stage with smiles and colorful beats. Coming from several cultural backgrounds' these guys incorporate a variety of styles' including Brazilian' Spanish' native' Portuguese and African sounds.

Toby Foyeh and Orchestra Africa from Nigeria played "Raindance" as the rain was coming down Saturday evening. Apparently' Nigeria has a very tropical climate so these guys must have felt right at home breathing in the 90-something percent humidity. Their jovial' colorful singers kept things light and bright. Toby played the flute while dancers jumped and bumped The Grasssroots festival website says "Toby Foyeh is a real musical treasure. His knowledge and breadth of traditional Yoruba song stylings' combined with a modern take on the technology of sound' have made him one of the most in-demand sidemen in the global music scene. It's with his own Orchestra Africa' though' that his glorious voice' exquisite guitar playing' and masterful songwriting truly shine."
Keith Frank and the Soileau Zydeco band got everybody moving even after a long' hard day of partying. Their bouncing' robust sound could make you lose track of time. They did some great covers' including unique zydeco infused "Nice Time'" "No Woman No Cry" and "Beast of Burden." If you were nearby' you couldn't help but move to this ensemble's music.
related articles
Shows: John Brown's Body
Shows: The Peach Music Festival
Shows: Royal Family Affair 2011
Blog: Win Tickets to the Royal Family Affair!
Shows: Backwoods Pondfest
More on:
John Brown's Body
,
Kevin Kinsella
,
Keith Frank& the Soileau Zydeco Band
,
Blackfire
,
Etran Finatawa
,
Nation Beat
,
Samite of Uganda
,
Toby Foyeh & Orchestra Africa
,
The Meditations
,
Tommy Benedetti
,
Dirty Dozen Brass Band
,
Cyro Baptista & Beat the Donkey