Shows
Bonnaroo 2008
June 13-15, 2008
in Manchester' TN
by Adam King
|
photography by Andrew Wyatt
June 16, 2008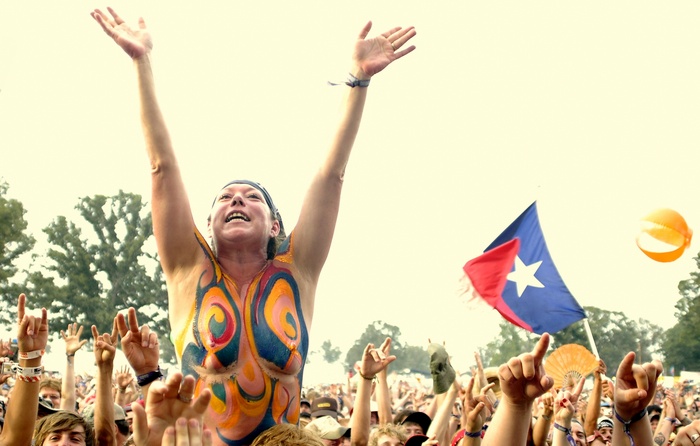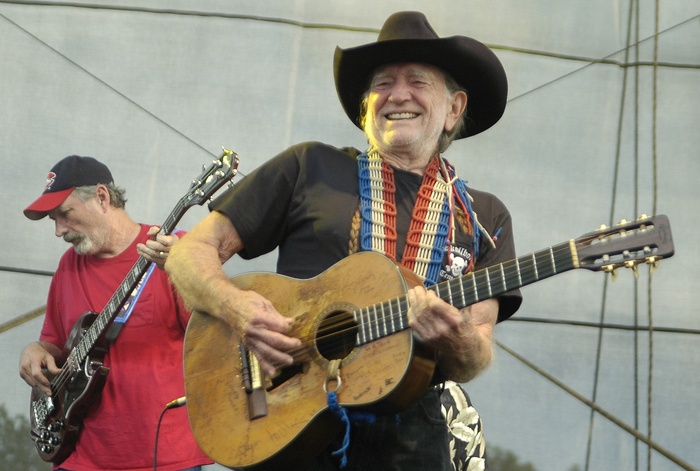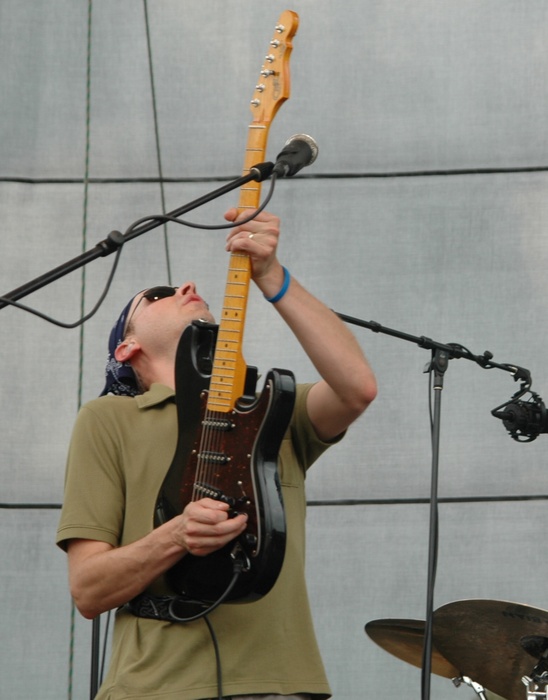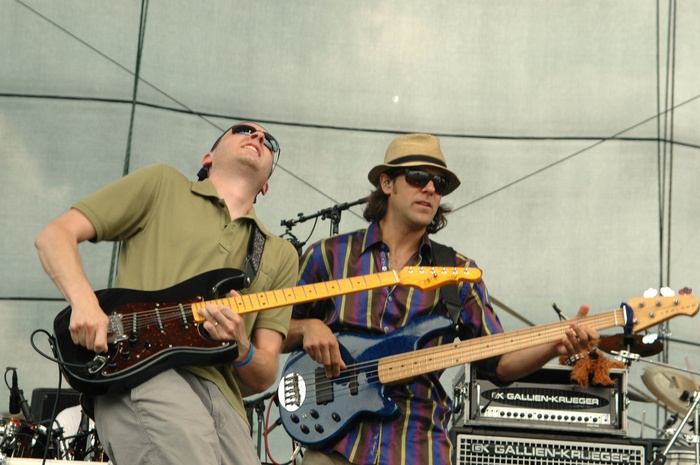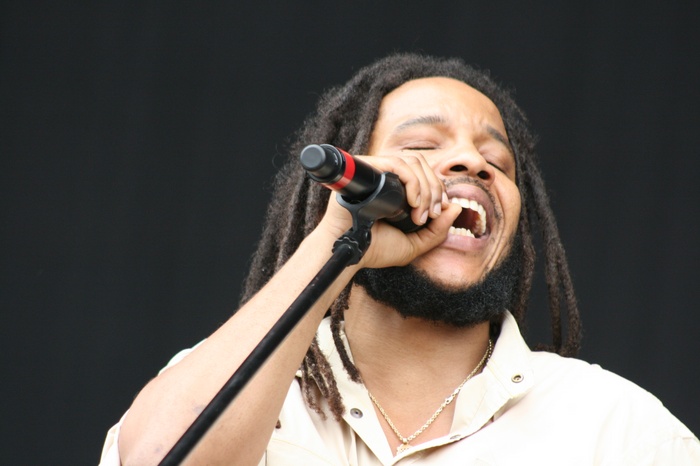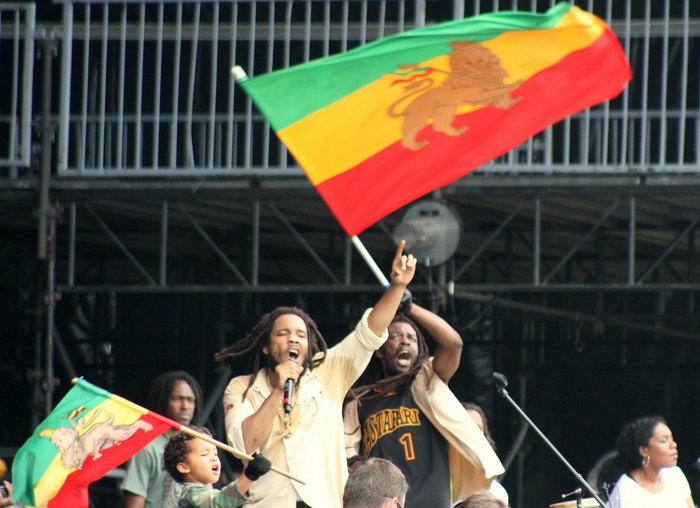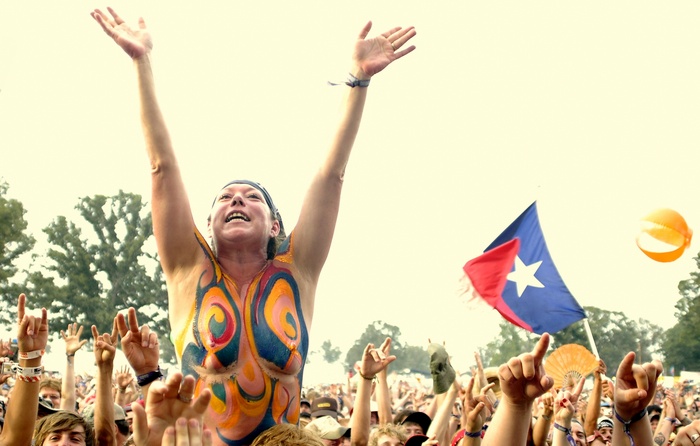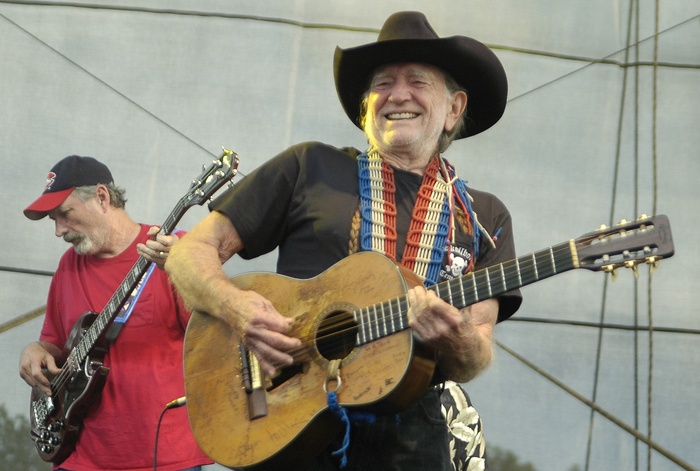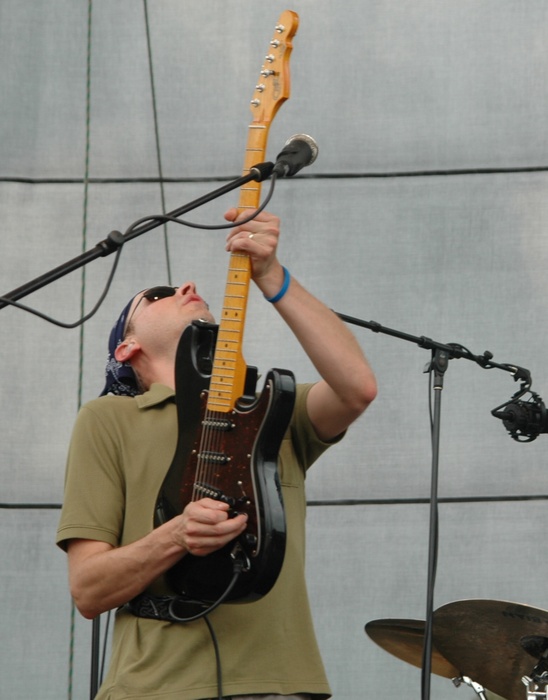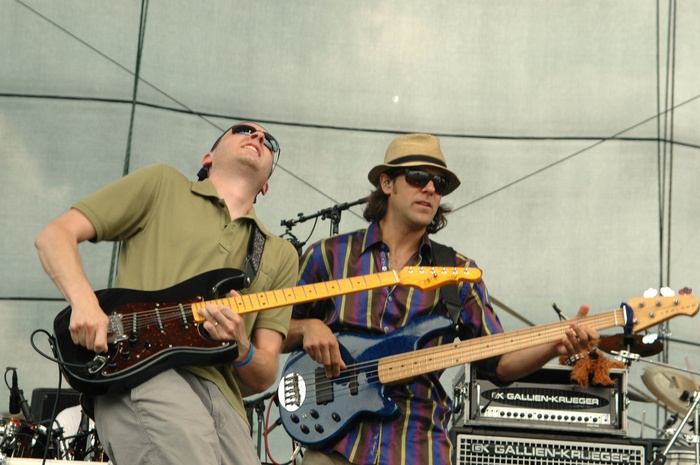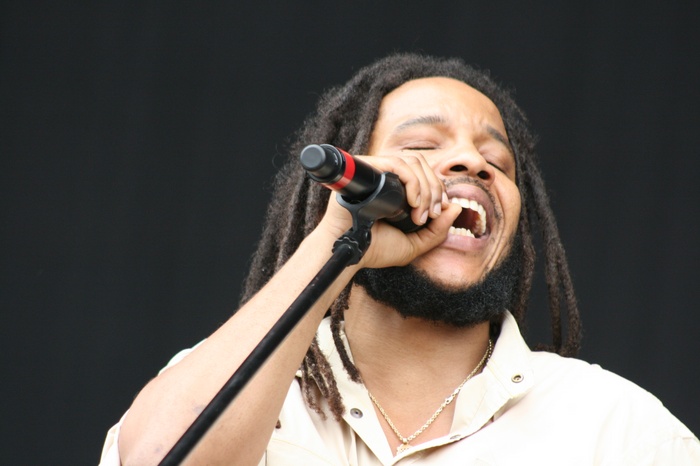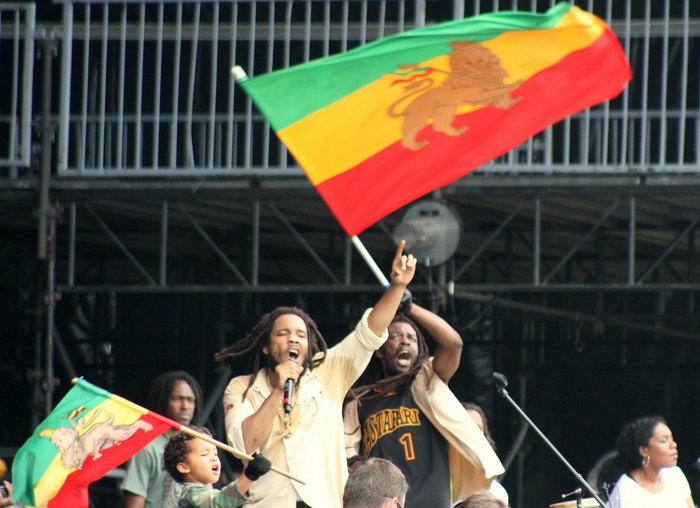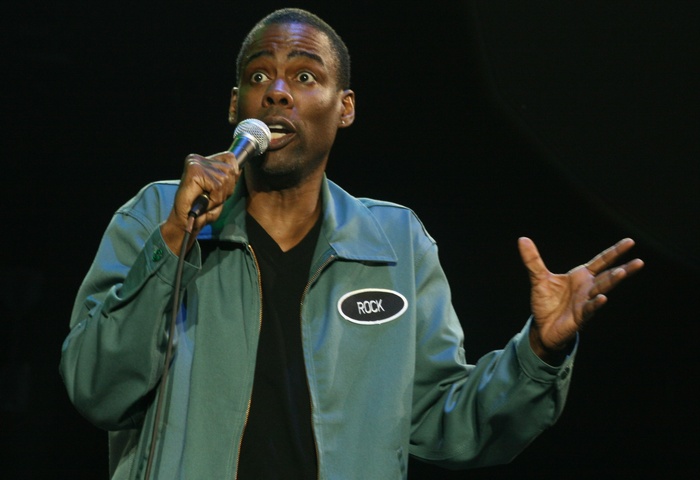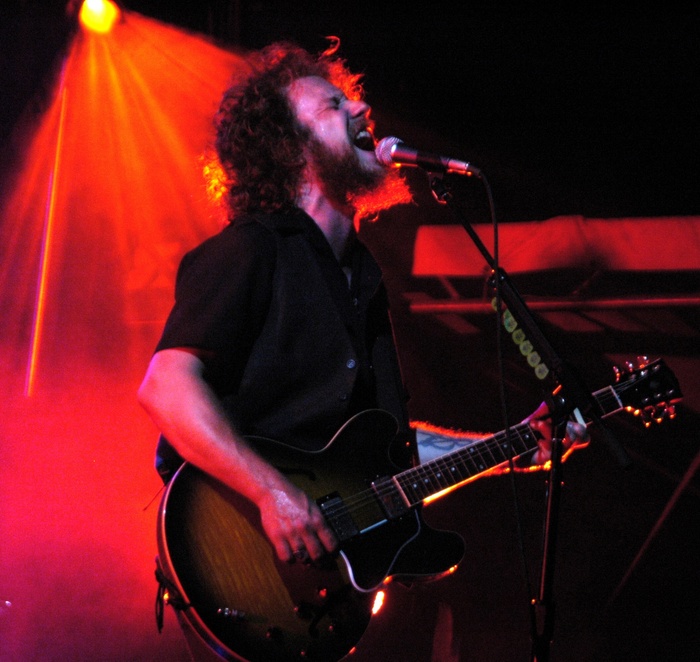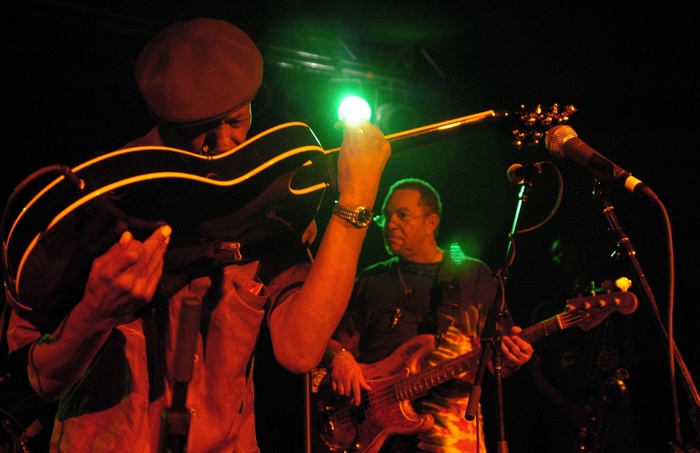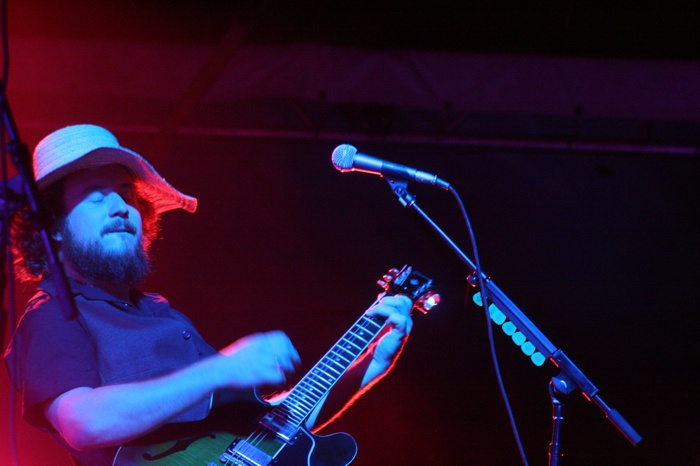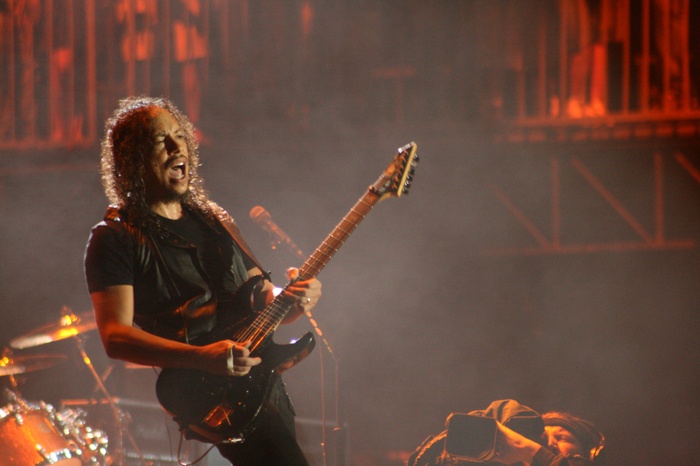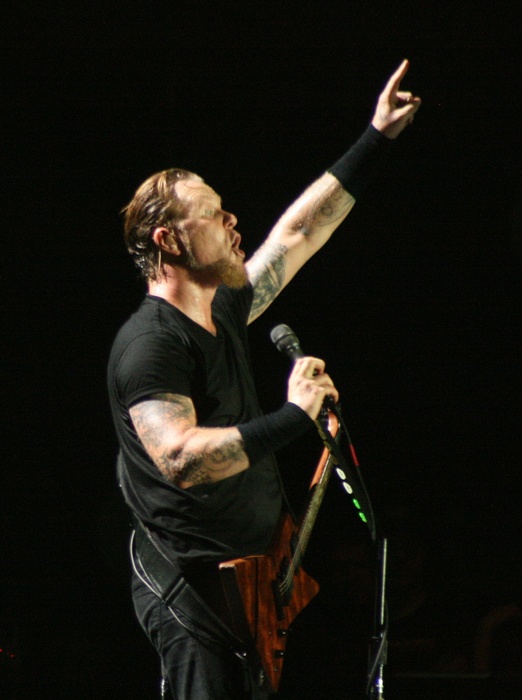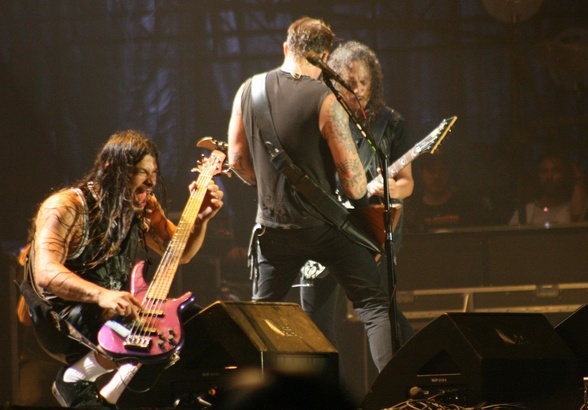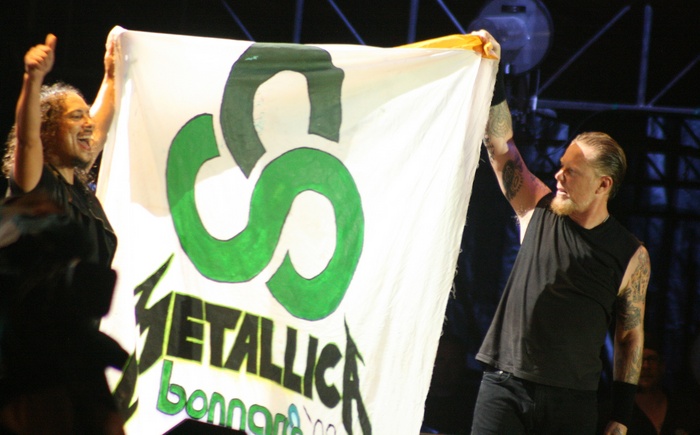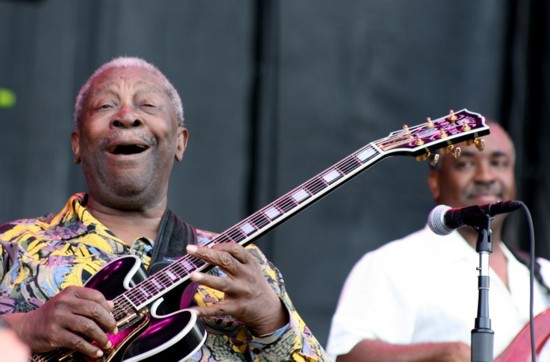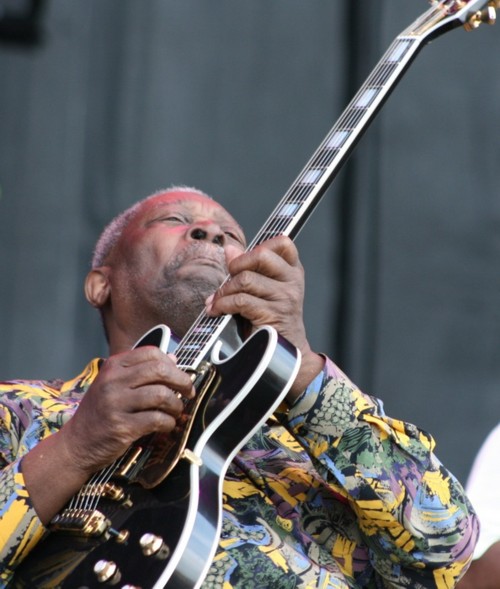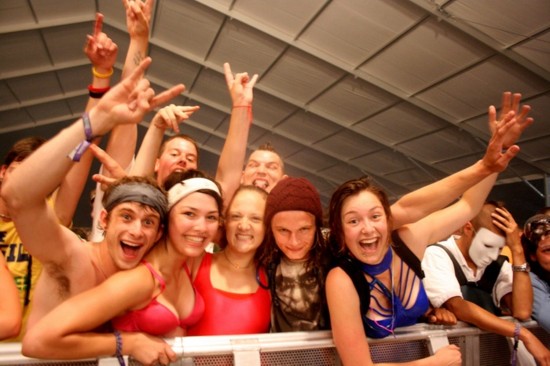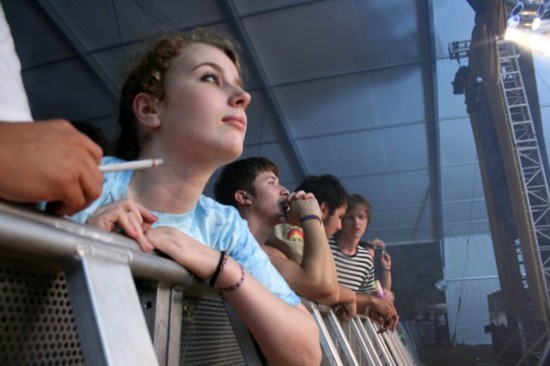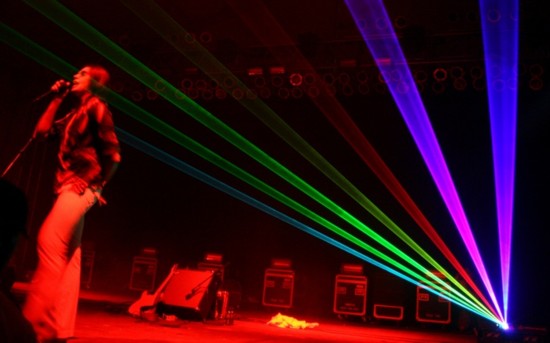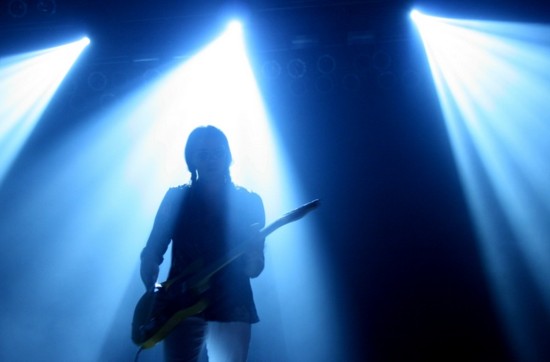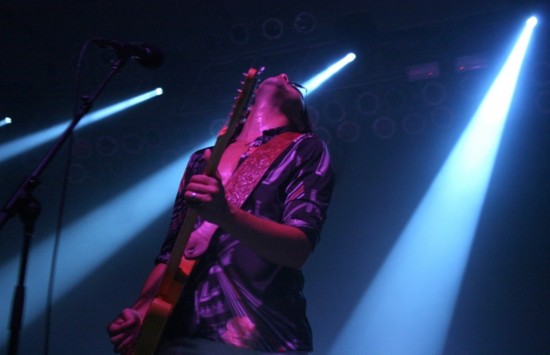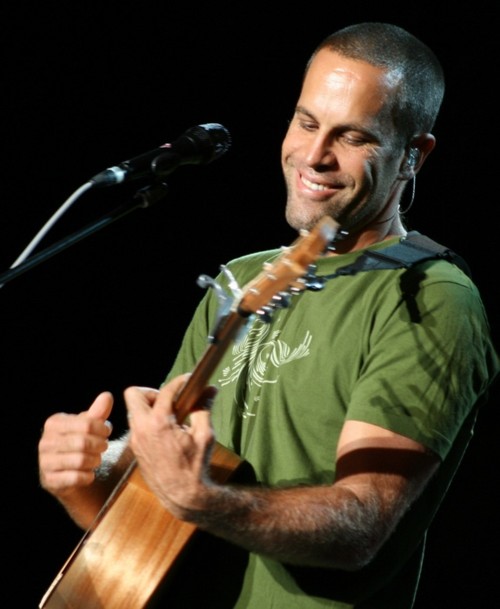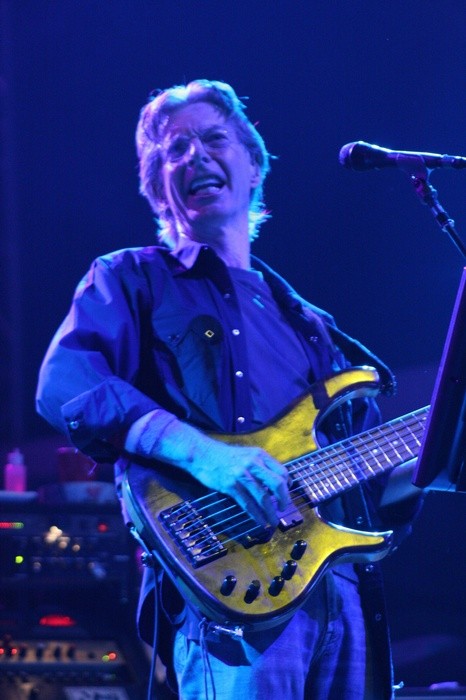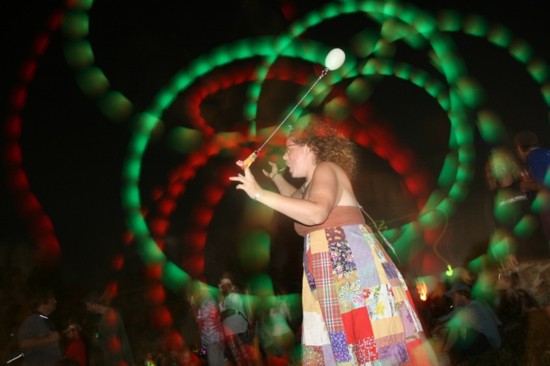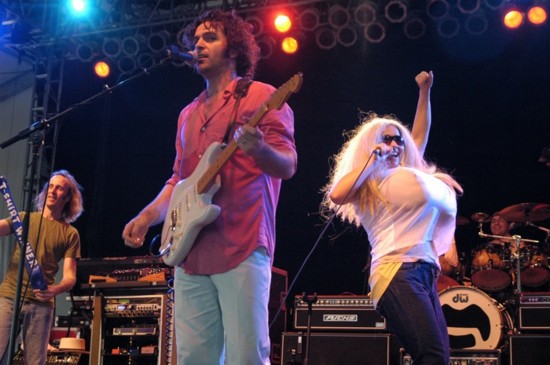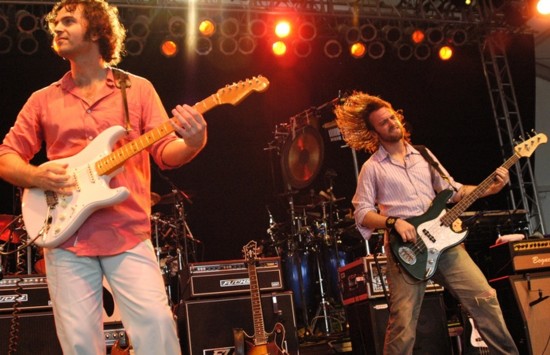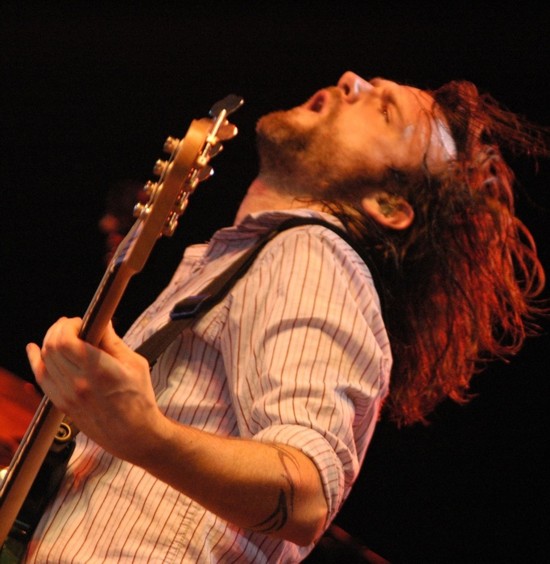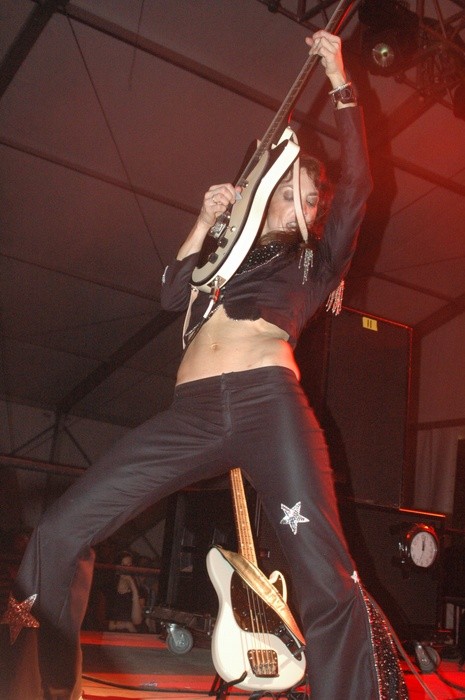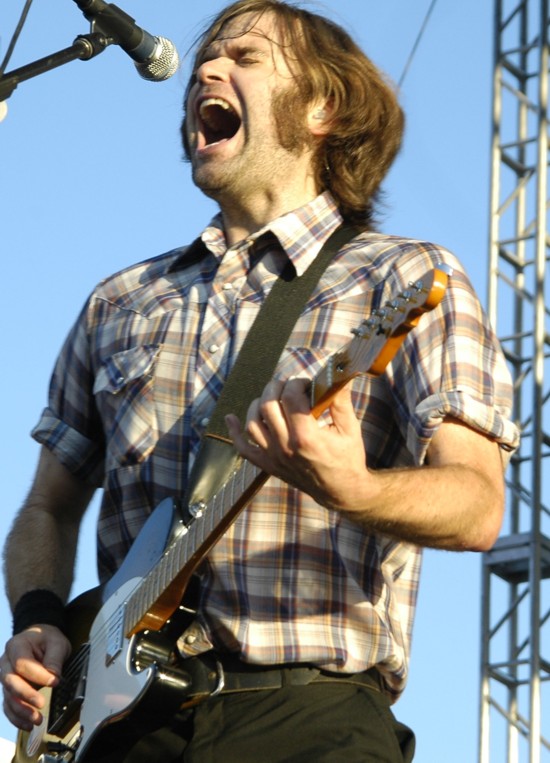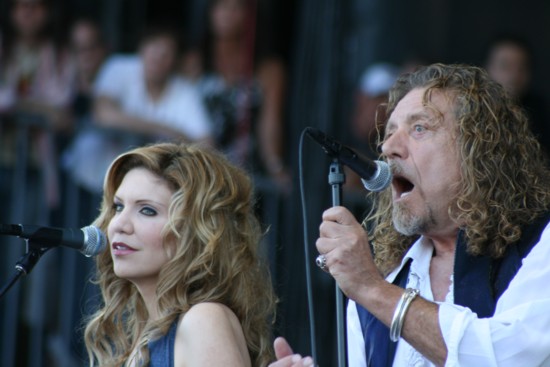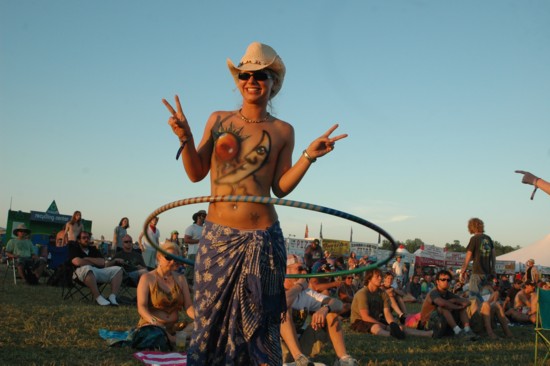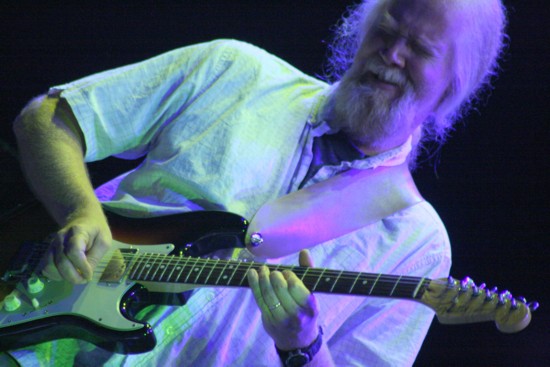 Bonnaroo. When has such a ridiculous word become synonymous with so many different things? Everybody has their own opinion about the festy of all festies' especially those who have never been: Pre-departure' hippies asked why I would go to a festival with Metallica playing' and hipsters asked why I would go to a festival where Phil Lesh was playing. Why? Because with the onslaught of different music being offered' Bonnaroo is the only show out there that everybody can make all their own. As a post-hippie' New England indiophile' here's the Bonnaroo I saw:
Thursday things began with MGMT. I missed them in Burlington a few months back and have been cranking their album' but I did not expect them to crush as hard as they did. Note' the three most used phrases of the weekend: "Crushing'" "Festiquette'" "Fuck You Kanye." They also have a real-deal' traveling rock groupie crew that brings their coolness level up a few points on the ladder. Next Battles took the stage' and they never really took off. They did some cool shit' but what you thought was building into something just became the same repetitive groove over and over. I left to go catch The Sword and was blown the fuck away. They play intensely tight post-metal' with a lead singer/guitarist who must weigh about 98 pounds' and frankly' I thought they were even more intense than Metallica. Next up' I was looking forward to Vampire Weekend as I love the album' but was kinda let down. They played a surprisingly short set' and there was very little balls behind any of it. They do draw in hordes of attractive young ladies though' but not enough to hold me. The girls in Lez Zeppelin had the biggest crowd of Thursday' but while they kill it as an all-girls Zep cover band' they're fairly weak as a Zep cover band in general. Still fun' but after they're set it was time to go charge up with some sleep in the A/C. That's right' yuppy camping -- the only way to go.
Friday I missed the Umphrey's early 2:15 set' but word was that they crushed hard enough to bring in the converts. Arrived in time to catch some Claypool' who was doing his normal thing' enough so to make me forget I wanted to see !!!. Did catch The Raconteurs on the big stage and they were awesome. It was pretty straightforward in sounding close to the album' but Jack White and Brendan Benson feed off each other well and put on a rock and roll show that seems to have been teleported from 1974. Willie Nelson is always a good time to add onto the intoxication' and put me in high spirits for Chris Rock on the main stage. Rock surprisingly had the biggest crowd of the whole weekend' and it was impossible to get anywhere near close. He wasn't at his funniest' but crushed with a long bit on when it's appropriate for white people to say the N-Word. Metallica came up next and balls-ass killed it. They had a tough time getting the crowd pumped' as a majority were more intrigued than awe-struck' but they were still overwhelmingly well-received.
Late night Friday. I did not see MSTRKFT. I did not see Tiesto' never even heard of him actually' but heard it was bumping. I did not see the Tom Waits tribute Super Jam. I did not see The Disco Biscuits. I saw My Motherfucking Morning Jacket. They played midnight to 4:30 in varying degrees of rain that seemed to magically coincide with every change in the music. Every time it rained harder' a few more hundred people would leave' and the energy level of the thousands left would only escalate more. It was hands-down the most amazing show of their career' destroying their infamous 2006 set. "Evil Urges" opened' Kirk Hammett of Metallica came out for "One Big Holiday'" a slew of funk covers including "Cold Sweat" and "Get Down On It'" a tear-inducing "Phone Went West'" and Zach Galifianakis dressed as orphan Annie singing lead vocals on Mötley Crüe's "Home Sweet Home." Crushing.
Saturday. Still twitching from MMJ' I slept much later than I had planned. I missed Two Gallants' Mastodon' and heard the Olsen twins were side stage for Cat Power. Zappa plays Zappa' however' would continue my tear-gushing of the weekend. I feel so stupid for this being my first time' as I am a full-on Zappa geek. "City of Tiny Lights" was more perfect than Frank tapes I've heard' honestly. The band is incredible' and being surrounded by fellow geeks only made it all the more amazing. I'd say there were about 8000 dudes there' and a good half-dozen ladies! Caught the second half of Levon Helm' and it was so much better than I had worried. It's probably the closest any of us are gonna come to seeing The Band' and you better while you still can. Pearl Jam have never been one of my faves' but my diehard bud said it was amazing. I did rage "Evenflow" pretty damn hard though.
Then comes the night. Saw first hour of Phil' it was so-so' then went to Sigur Rós. Oh my friggin' lord. I have never before had a band actually make my legs give out. My knees quivered' and looking around' everyone was in the same boat -- closed eyes and tears were abound. I've been listening to these Icelanders for ten years' but had no idea what their live show would do to me. It's like nothing else you have ever heard' and walks the boundaries between music' dreaming and the collective idea of reality in general. They came out for double bows but no encore -- amazing. So then I headed back to catch the last hour of Phil' only to find that the rumors were true that Kanye West was making him stop. You want to see some angry deadheads? Boy' was this the spot. So yes' Kanye did make every other band stop before he would go onstage. But then there was a two-hour delay with NO music until he finally hit the stage at 4:30 A.M. Why? Word backstage was that Pearl Jam's crew and Kanye's crew got into a huge scuffle. Way to be Pearl Jam -- stick it to the pompous dick. Kanye walked onstage to waves of boos and constant peltings from glow sticks' as he did a 45-minute set that was more tuned for Atlantic City than Tennessee. He pushed his own music aside in order to act out a play about trying to get a spaceship working or something -- the "Fuck You Kanye" cries would continue through Widespread on Sunday.
Riding the snake into Sunday' I was far too tuned up for Phil's acoustic set and my friends and I were asked to leave the tapers' section. So instead we pushed up front for a set that would more than make up for the bullshit the night before. "Deep Elem Blues'" "Dire Wolf'" "Til The Morning Comes" -- they just kept coming' and it was some of the most righteous G.D. played in years. I had hoped to see Robert Plant and Alison Krauss' but Phil kindly played an extra hour to make up for the lost one the night before. I unfortunately also had to miss Derek Trucks because I wasn't gonna skip Death Cab For Cutie. Ben Gibbard looked like Wolverine up there as he stared into the most beautiful sunset of the weekend. "TransAtlanticism" hurt me' hurt me real good. I've learned to overlook this band's pop notoriety as of late' and have fully brought them into my life. Death Cab's set unexpectedly truly touched me' and served as my closeout of the weekend. I tried to watch Widespread Panic' but it felt more like waiting though time between Jimmy Herring solos. I don't know -- us New Englanders just can't seem to grab onto what the Southern folk love in this band' but there were plenty of them there soaking it all up. I left to watch Game 5 of the NBA Finals on the giant movie screen. This place literally has everything you want.
related articles
Shows: Umphrey's McGee
Shows: Widespread Panic
Shows: Zappa Plays Zappa
Shows: Widespread Panic
Shows: Life is Good Festival 2013
More on:
MGMT
,
Willie Nelson
,
Umphrey's McGee
,
My Morning Jacket
,
Stephen Marley
,
Metallica
,
Chris Rock
,
George Porter Jr.
,
Ghostland Observatory
,
Zappa Plays Zappa
,
Lez Zeppelin
,
BB King
,
Jack Johnson
,
Phil and Friends
,
Phil Lesh
,
Phil Lesh & Friends
,
Widespread Panic
,
Jimmy Herring
,
Robert Plant
,
Death Cab For Cutie
,
Robert Plant and Alison Krauss
,
Alison Krauss
,
Vampire Weekend
,
The Raconteurs
,
Zappa Plays Zappa
,
Levon Helm
,
Pearl Jam
,
Sigur Rós
,
Kanye West
,
Bonnaroo