Shows
7th Jammy Awards
May 7, 2008 at Wamu Theater at Madison Square Garden in New York' NY
by Jeff Tehan
|
photography by Michelle Arthur
May 12, 2008
page 1 of 2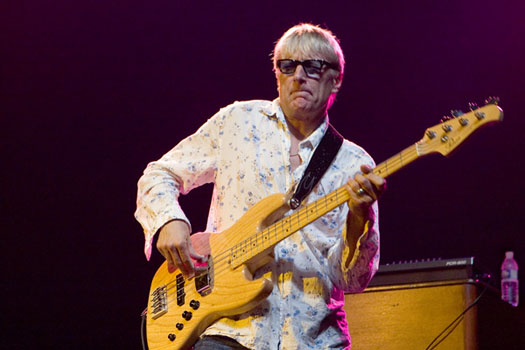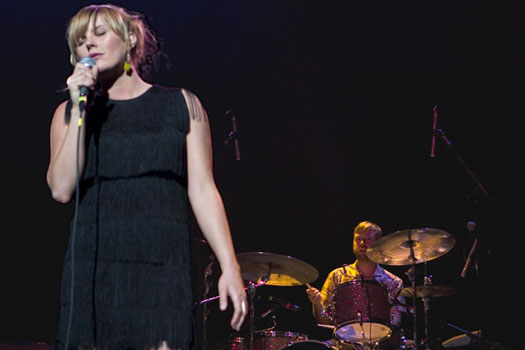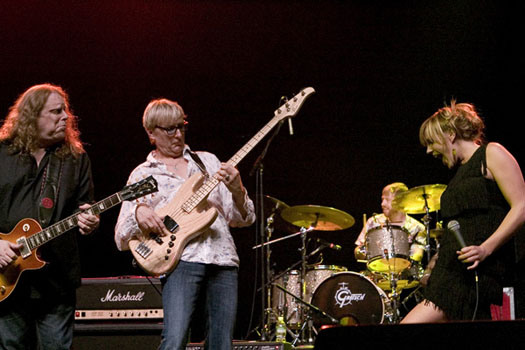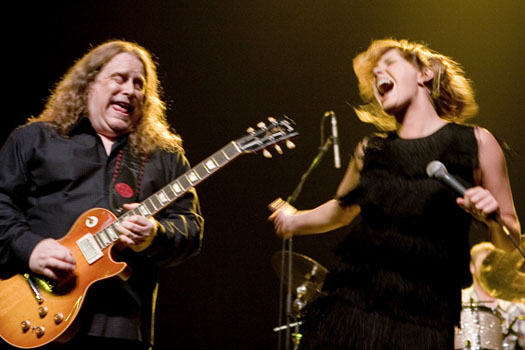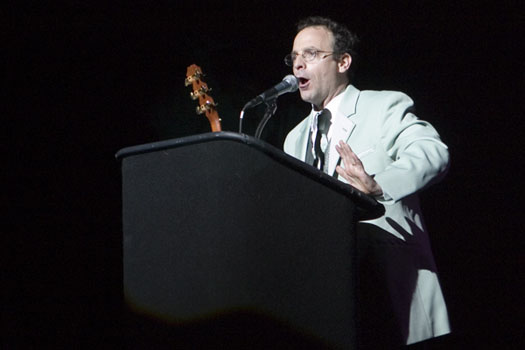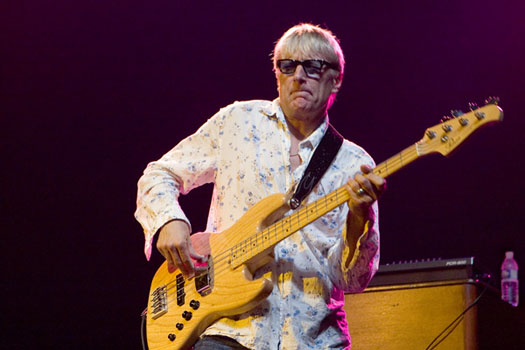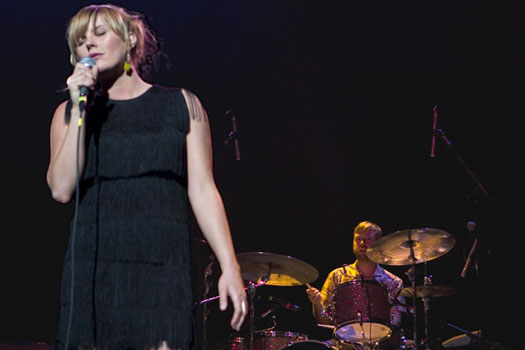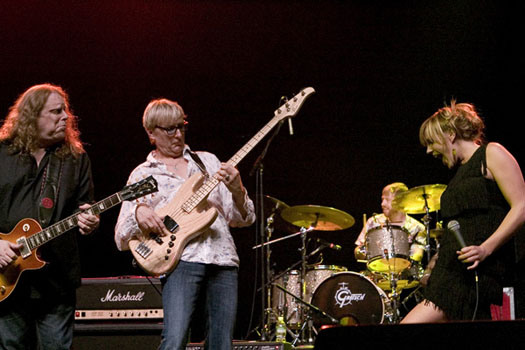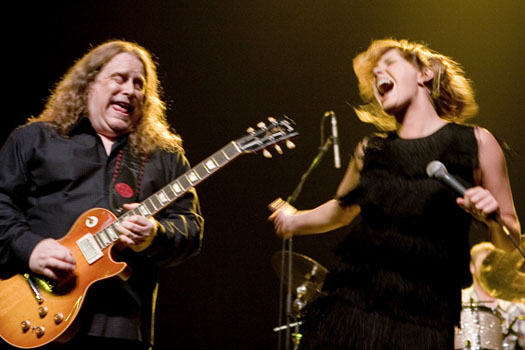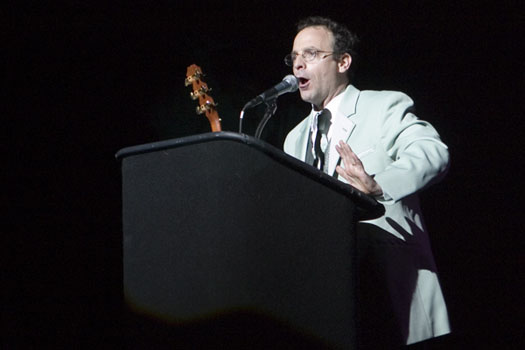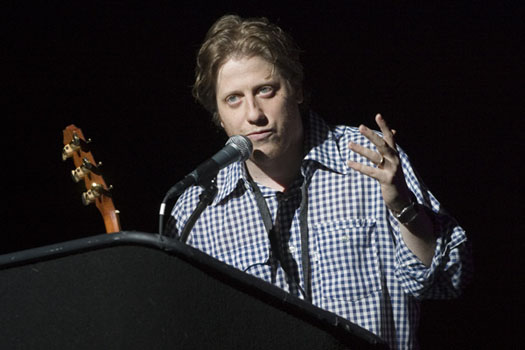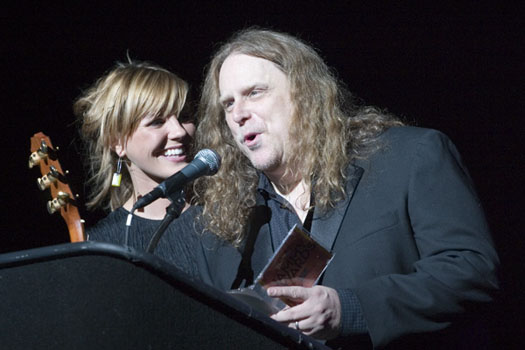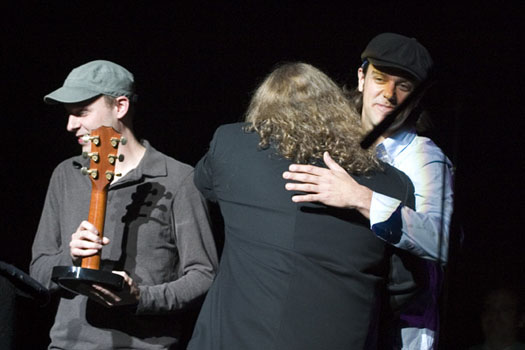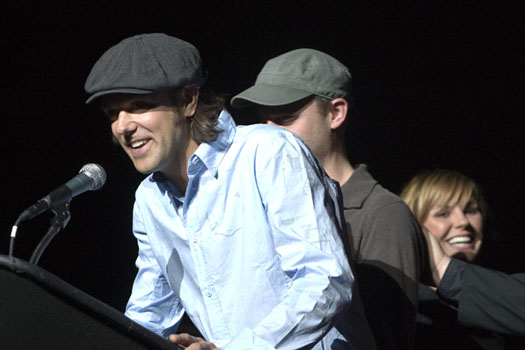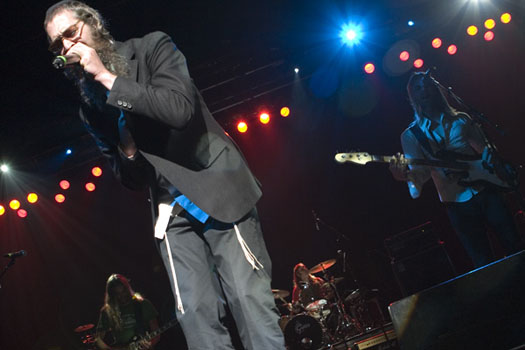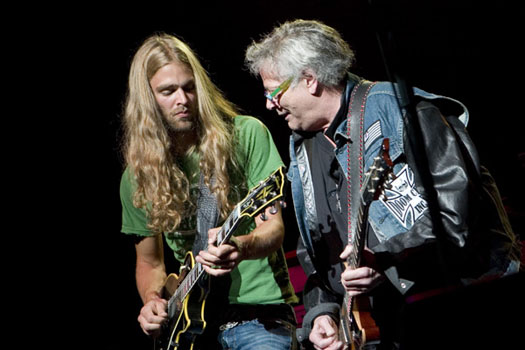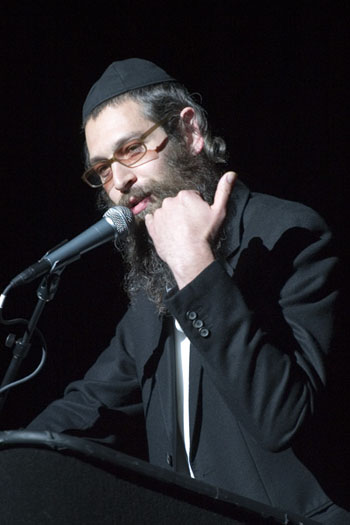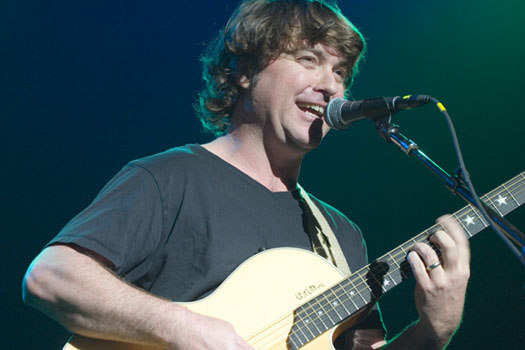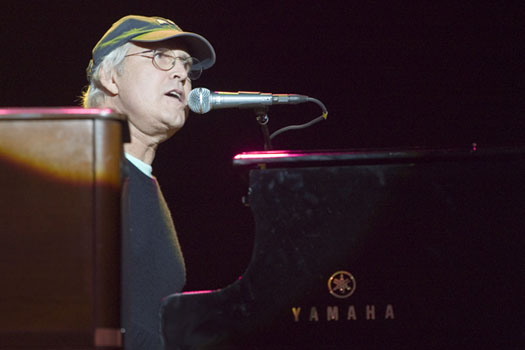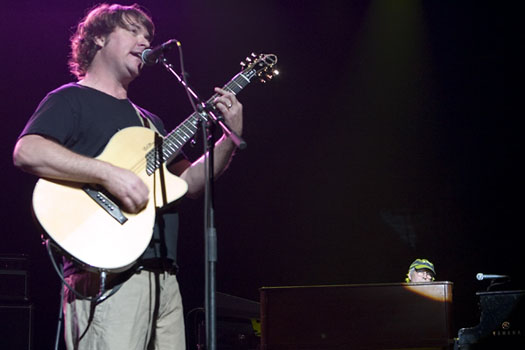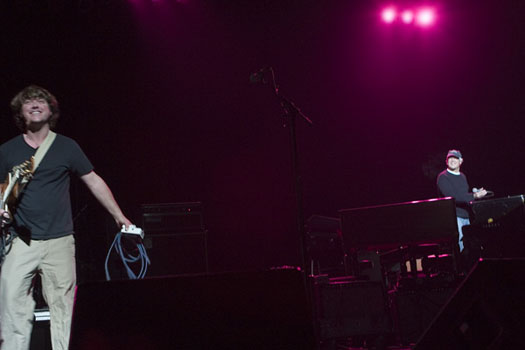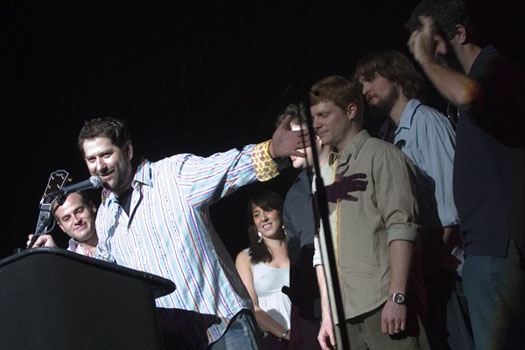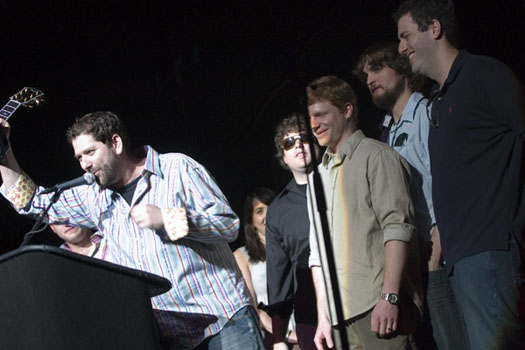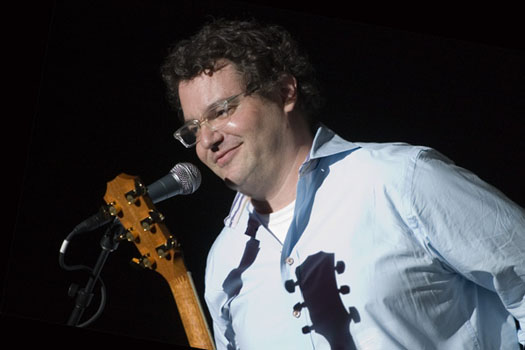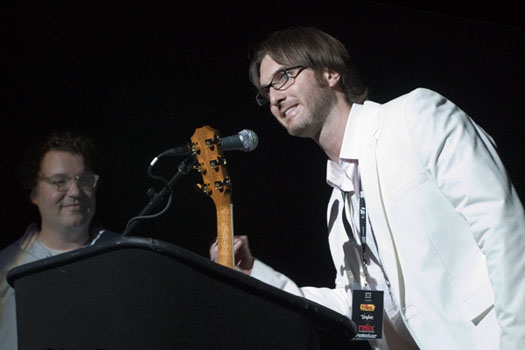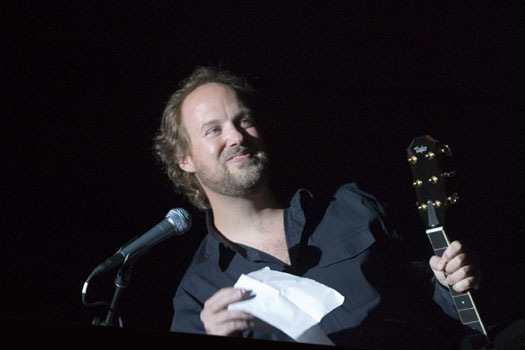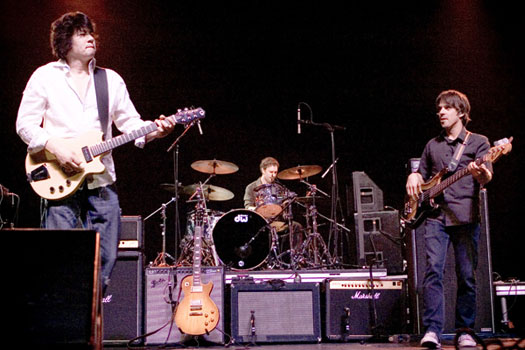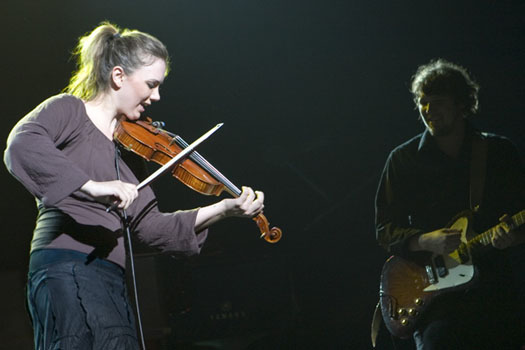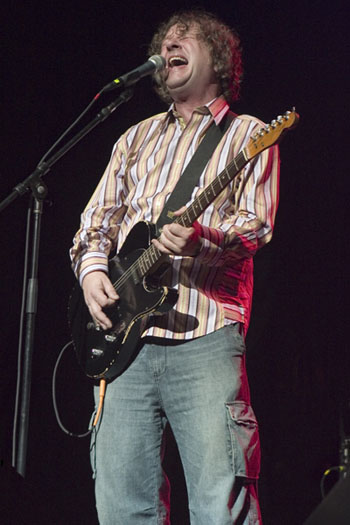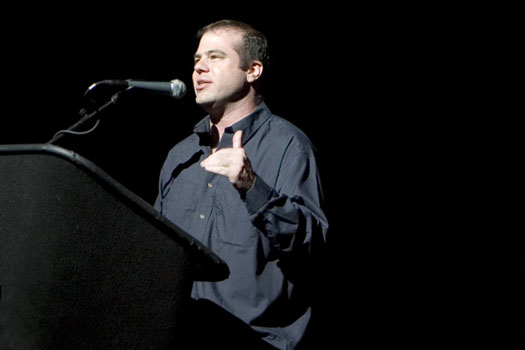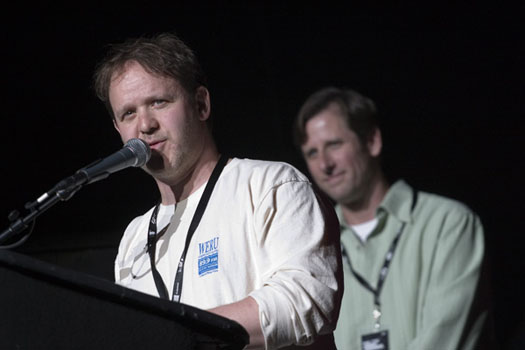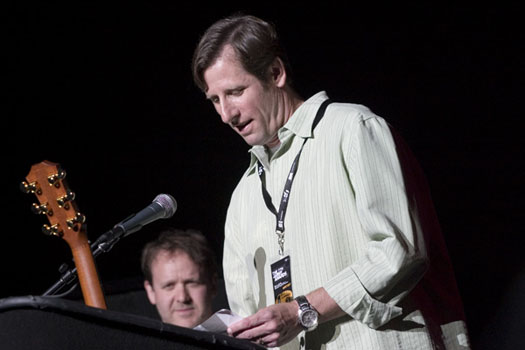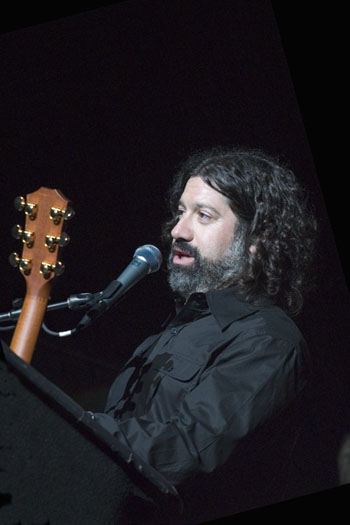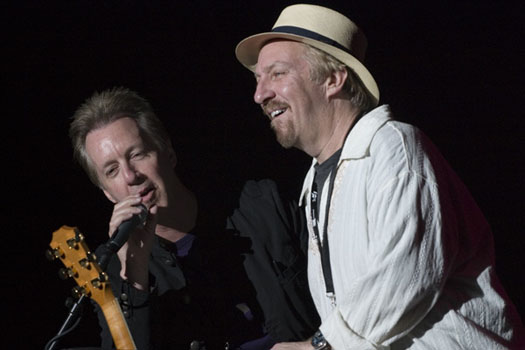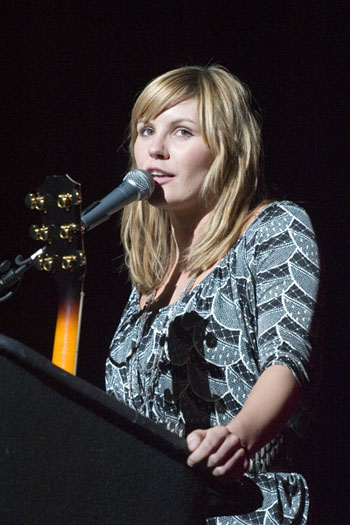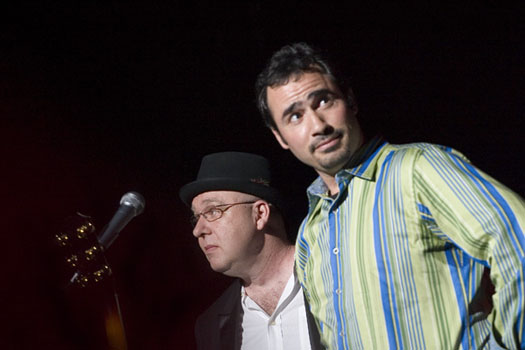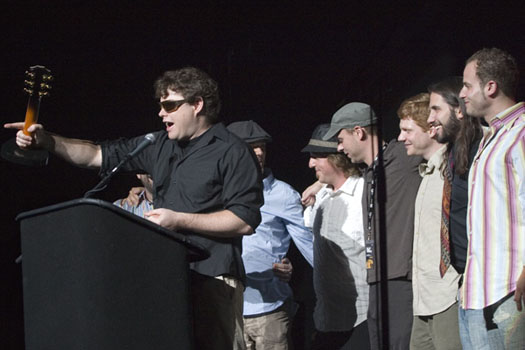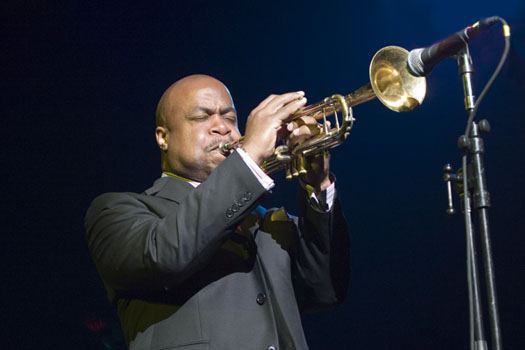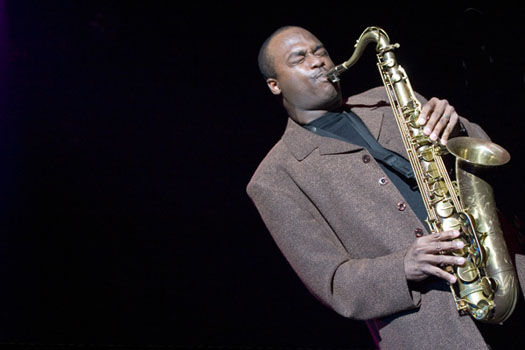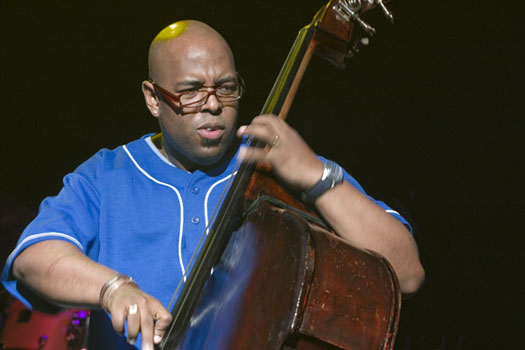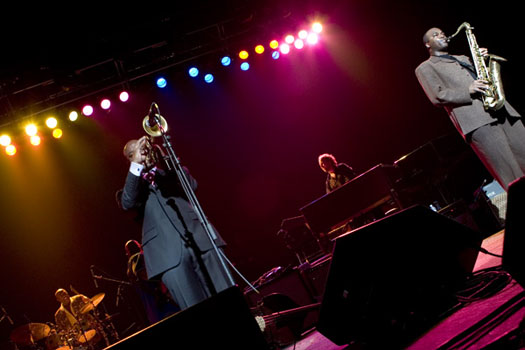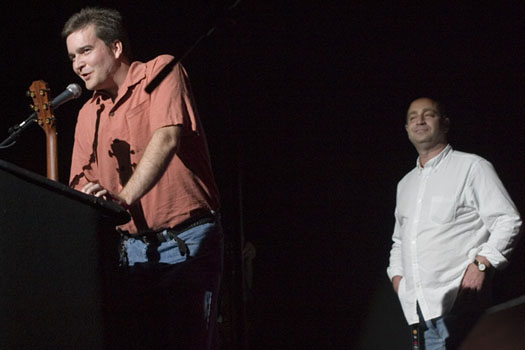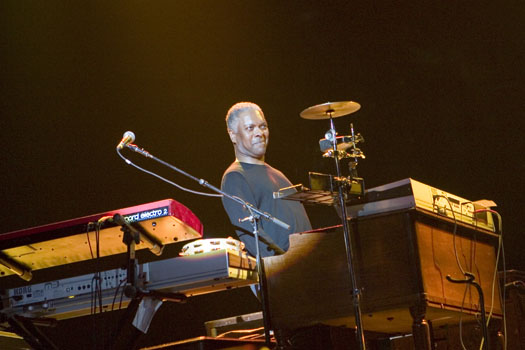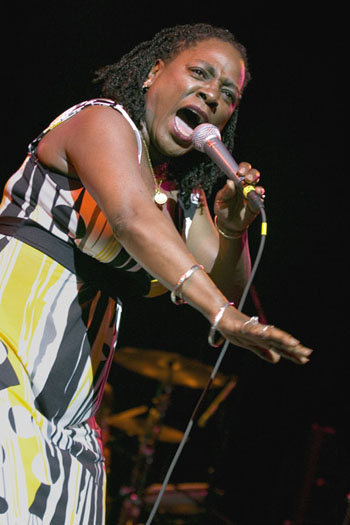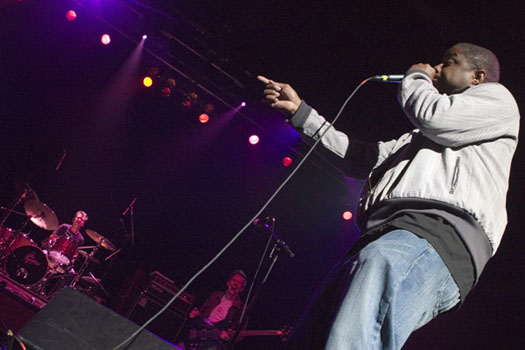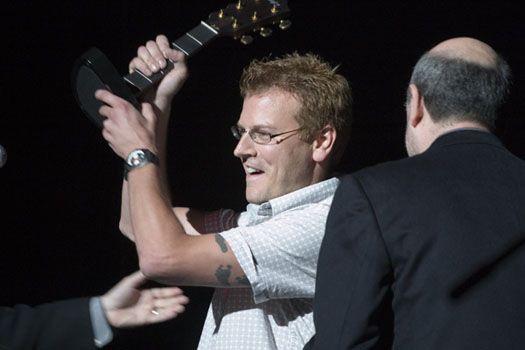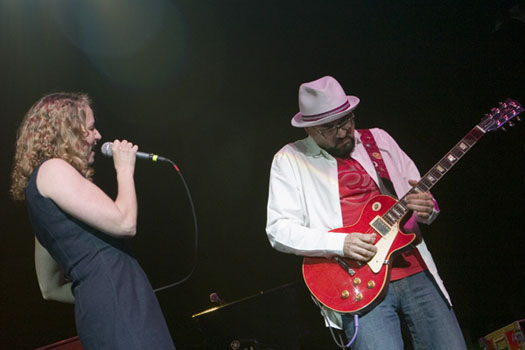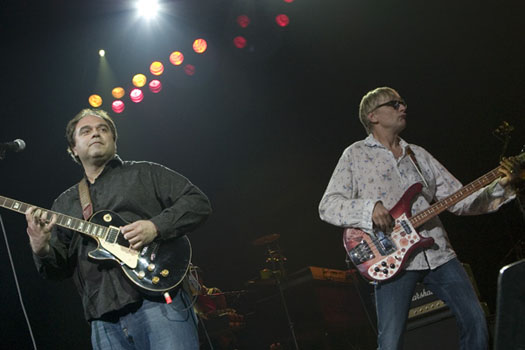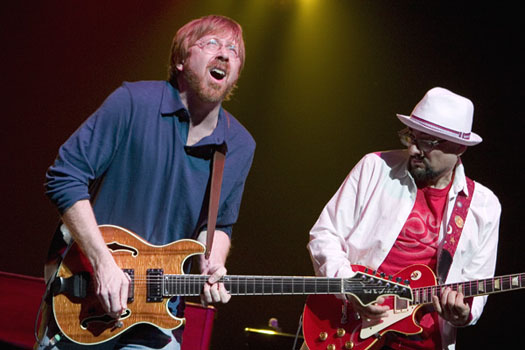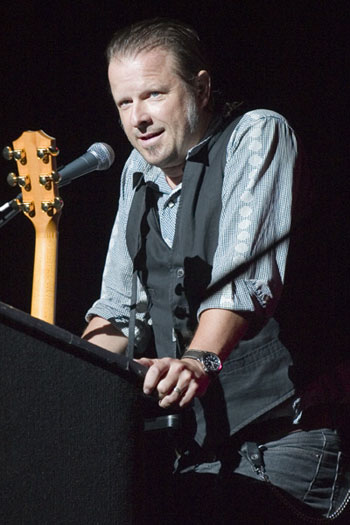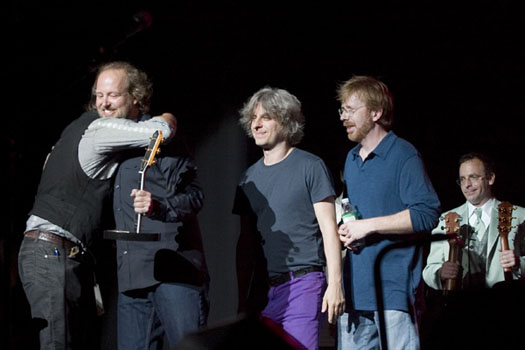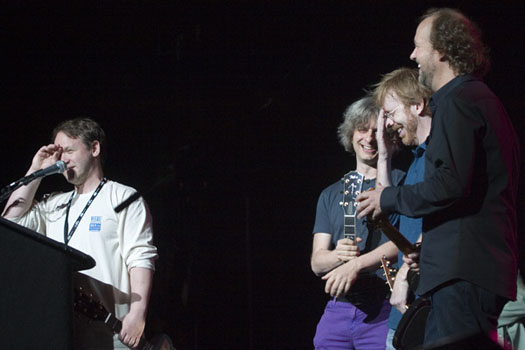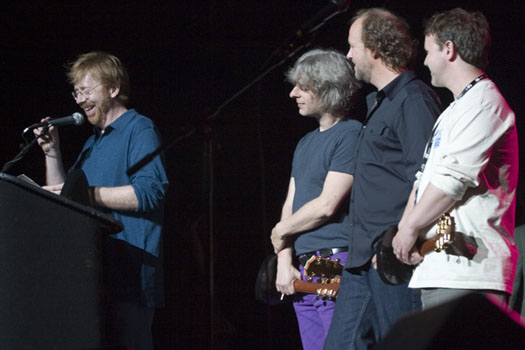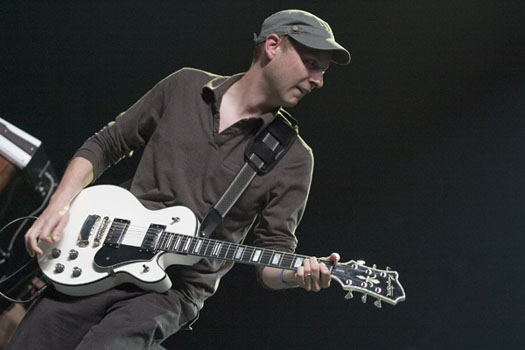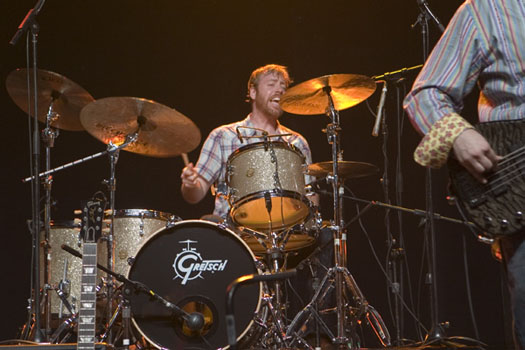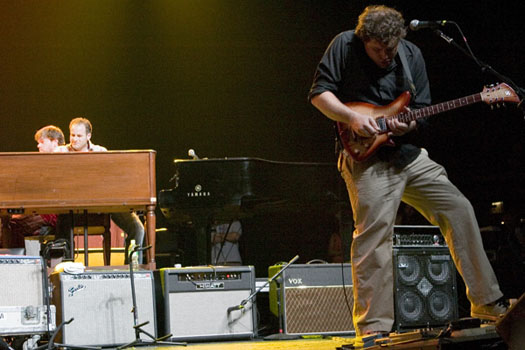 Now 15-months sober' I used to suffer from a crippling addiction to downloading live music. During that dark period of my life' I managed to download over 900 shows. I may have listened to one-third of that collection' if I'm lucky. A few of those 900+ shows are recordings of previous Jammys. And one or two of those Jammys are a part of the lucky one-third that has actually reached my ears. I have also seen bits of the Jammys on TV. Although there are many gems that have come out of these shows' quite frankly' I wasn't altogether impressed. And I was skeptical of the entire concept to begin with' this jam band awards show. ("Who made you undercover?" "I did." "It doesn't work that way!!")
So I walked into the 7th Annual Jammy Awards with much apprehension. The opening ensemble' featuring co-hosts Warren Haynes and Grace Potter with Booker T.' Joe Russo and Will Lee on bass (Letterman' Fab Faux)' quickly dissolved it. They opened with a sweet-as-honey "Find the Cost of Freedom" and segued smoothly into "Gold Dust Woman'" before closing out the mini-set with a superfunk-laced "Take Me to the River." I'm not sure what was more impressive: Grace Potter and her amazing pipes (her voice' boys' not her legs) or the grooves dropped on us by Russo' Lee and Booker T. Having watched a lot of Letterman in my life' I kept finding myself zeroing in on Will Lee (it happened again later during the Fab Faux's set). It turns out he is an amazing musician' his stage presence was infectious' and I dare say he was having more fun than anyone in that room. The night was off to an impressive start.
By the end of the first award presentation (Umphrey's McGee winning live album of the year)' I got it. The awards were simply a fun way to kill time between set changes' with pockets of the crowd getting riled up and cheering for their favorite. Being a superhuge Umphrey's McGee fan' I took great pleasure in seeing bassist Ryan Stasik nervously accept the award' with guitarist Jake Cinninger in tow. The majority of the folks that approached the podium would be equally nervous speaking to the crowd. The award itself was kinda groovy: the head and first five frets of a guitar neck made by Taylor Guitars.
It was about this time that I counted no less than 16 amplifiers in a continuing single line' protecting the drummers and keyboardists from those damn guitar players and' with the lights up a little bit' took note of the mobile drum riser flanked by two full keyboard worlds. (Full disclosure: I used to be a drummer in a band with two loud guitarists).
Rose Hill Drive' along with Rob Marscher (from another one of my favorites' Addison Groove Project) and Aaron Dugan (from yet another one of my favorites' Matisyahu)' were next to perform. Sadly' I'm not well-versed in my Flaming Lips. I recognized the song' but know not the name. Depending on where you look on the internet' they either played "Are You a Hypnotist?" or "In the Morning of Magicians." Regardless' my first impression was... holy shit! It was completely unexpected and sounded fantastic. After a few minutes' Matisyahu (also from Matisyahu)' emerged and laid down some spoken word and beatbox whatnot. My apprehension remained dissolved.
And then the 7th Annual Jammys hit its first road bump for me. The upside was that we got to see the lovely Grace Potter again. The downside was Leslie West. Grace played keyboards on "I'm Going Down'" and sadly left the stage before "Mississippi Queen." I admit it sounded good for what it was' but Leslie West?!? I hung in there as long as I could. I found this an ideal spot to hit the bathroom and grab a four-dollar' eight-ounce ounce bottle of water (gotta love Manhattan prices). The show all but slowed to halt for me' and I will never forgive them for it.
I'm going to forgo most other comments on the award presentations. By now' it's apparent who won and' with few exceptions' nothing extraordinary happened. The music and pace of the show picked back up with Keller Williams (another fave) performing solo on the soon-to-be Jammy-winner "Cadillac." Keller never disappoints me' and I love that Jesus rides bitch cuz he's good like that. It's definitely the most appropriate choice for Song of the Year by far.
And then something extraordinary happened. The one and only Chevy Chase strolls from stage right and slowly meanders across the stage. At first' I thought he was just going exit stage left (and suddenly I hear the "Spirit of Radio" in my head' but I digress...). That would have been a fantastic comedic moment. But he did us one better. He proceeded to the stage left keyboard world and sat down at the piano. It was at this moment that the one and only Matthew Shapiro' with whom I was sharing this Jammys with' informed me that Mr. Chase played with the boys from Steely Dan back in the day. That was just as shocking as
Chevy at the piano. Sadly' there was a sound problem and nobody' including the duo onstage' could hear the piano. It seemed they fixed the monitor issue' but' from my seat' I had trouble hearing him. This is a live show' folks' and sometimes shit happens.
They opened with "Natural Woman'" which was just silly. Entertaining' but silly. They meandered into a jazzy jam and eventually Keller started into "Sweet Home Alabama" and "Take the Money and Run" teases. You could sense that Keller was trying to move the whole show along and end it' as he kept trying to catch Chevy's eye. But Chevy was facing away from him and either didn't realize or didn't care. There was no pulling Chevy off the stage. He was loving it and so was I' even if I couldn't hear what he was doing. Later on' when Keller won the Song of the Year award' Chevy came out instead' thanking his record company' Blowjob Records' and Clive Davis "because I feel like I should." Classic.
Next up was Tea Leaf Green with Todd Park Mohr from Big Head Todd on guitar and Allie Kral from Jammy-winning Cornmeal on violin. They opened with Tea Leaf's "Taught to be Proud" and followed with Big Head Todd's "Sister Sweetly." I have Sirius satellite radio' so I've heard "Taught to be Proud" way too many times. As far as I know' I've never heard "Sister Sweetly'" though I found it enjoyable.
What followed struck a personal chord with me. I think it was an Fadd9 (see first chord of "A Hard Day's Night"). State of Mind's very own photographer' Michelle Arthur' recently purchased a Squeeze best-of compilation. I fear the '80s for the most part' so I had the pleasure of being introduced to them in the weeks leading up to this. The moment Glen Tilbrook broke into the chorus of "Pulling Mussels (From the Shell)'" I broke into hysterics. Warren Haynes emerged for "Tempted'" the one Squeeze song I did know. Warren must've gotten a blister on his finger during the opening' because this would be the only other time he would play. (Here's a nugget: the album East Side Story' featuring "Tempted'" was produced' in part' by none other than Elvis Costello).
The first Phish sighting occurred when Page McConnell accepted a Jammy on behalf of Phish' and later' joined by Christian McBride on bass' Roy Haynes on drums (no relation to Warren)' Nick Payton on trumpet' and James Carter on sax' graced us with fantastic takes on "Magilla" and "Cars Trucks Buses." The show peaked again here' with James Carter becoming my new favorite simbop and bebaphone player. He's one of those cats that can make the sax cough and sputter and scream at you' intermingled with fluid lines that dance through the air and tickle your ears. Loved it.