Shows
Beach House
March 30, 2008 at Monkey House in Winooski' VT
by Michael Carney
|
photography by Liz Flyntz
April 20, 2008
Beach House have been music blog darlings for about two years' since their eponymous debut was released' but this writer was rather unmoved by them' until recently. I caught one of their songs from about 500 yards away at last summer's Pitchfork Festival and was somewhat intrigued. Last autumn' when I had the choice between Devendra Banhart at UVM or Beach House at Higher Ground' I chose Devendra and never quite regretted it. Although I was always a bit curious about what could have been. The Baltimore duo's second album' Devotion' came out early this year and my curiosity was further piqued. After multiple listens' it continued to grow on me and I decided to finally see them live when the Tick Tick crew brought them to the cozy confines of the Monkey House. It was a capacity crowd' and word on the street was that the Higher Ground turnout was very dismal' so apparently I wasn't the only one who was converted by Devotion.
I made it to the Monkey just in time to find local avant-garde hero Greg Davis packing up in front of an absolutely jammed bar. His opening act was sure to be a perfect' drone-y start to the evening' but alas… Wine and High Life were flowing. People were smiling. It just felt like something good was going to happen.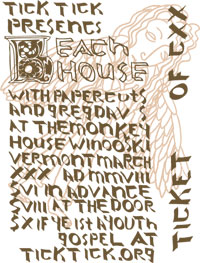 San Francisco's Papercuts took the middle spot of the night. Singer Jason Robert Quever had a very Pete Wentz emo kid hairdo but a very reverb-y Jim James-like voice with great range. The rest of the band also possessed this weird range -- very mellow but also big' spacious and loud. With the ominous organ sound' twangy guitars and Quever's croon' the Papercuts would be appropriate for a scene in a Tarantino movie when something bad-ass is about to happen.
Guitarist Alex Scally and singer/organist Victoria Legrand of Beach House took the stage dressed almost identically in white -- Legrand's outfit covered in sequins -- looking like they were about to drink their Kool-Aid and catch their spaceship. Without a word' they launched right into the first song' and everyone was instantly in the palm of their hand. Well' we were in the palm of their hand until Victoria's pre-amp cut out at the beginning of their second song. A dude related to the band fiddled with cords and the PA' exclaiming' "Where the fuck is the house sound guy?" The tech problem was fixed after three attempts of the song; the show went on' with much rejoicing.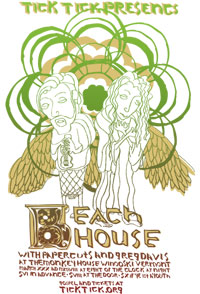 It has been said many times that Beach House sound a lot like Nico and Mazzy Star' but it's an apt description and I will go with it. Much like the aforementioned dream-poppers' their music is a sedative. It has the same positive effects of Vicodin without the nasty side effects' like… potentially becoming addicted to pain killers. If I had a picture of the silly grin on everyone's face that night' I would submit that as my review' just everyone spaced-out and transfixed on Legrand's mournful yet beautiful voice and Scally picking away prettily at his Fender as if he were serenading someone.
Legrand and Scally pulled mostly from their Devotion bag of tricks' including the cover of Daniel Johnston's "Some Things Last (a Long Time)." It was a genuinely beautiful set. My one gripe with the Beach House sound is the drum machine. Now' I'm a guy who counts Casiotone for the Painfully Alone and LCD Soundsystem as two of my favorite bands. I definitely don't have anything against programmed beats. I love them. But I feel that a band with such an organic sound like Beach House would do well with a good live drummer. Papercuts' Quever messed around on the drum kit throughout their set' but they could do better with a full-time guy. Thor Harris of Shearwater does wonderful lo-fi things on the drums with brushes and violin bows. Legrand and Scally should recruit this guy and bring him on the road. Regardless' I left the place thinking I could have easily listened to them for another two or three hours straight.