Shows
Pedrito Martinez Group
January 9, 2014 at Guantanamera in New York' NY
by J Hunter
January 26, 2014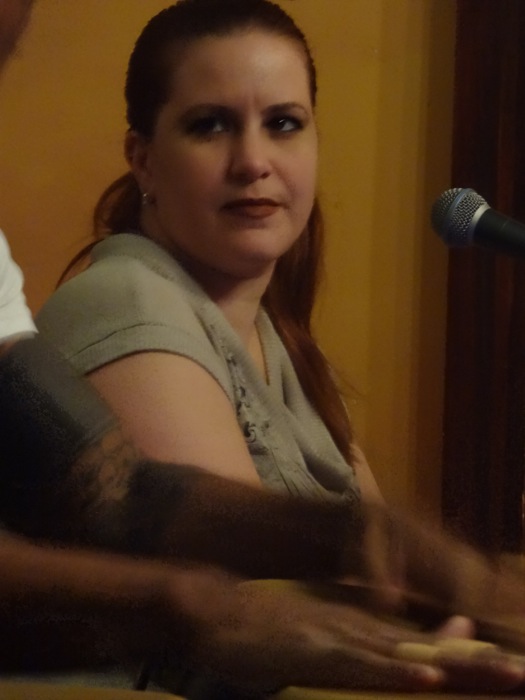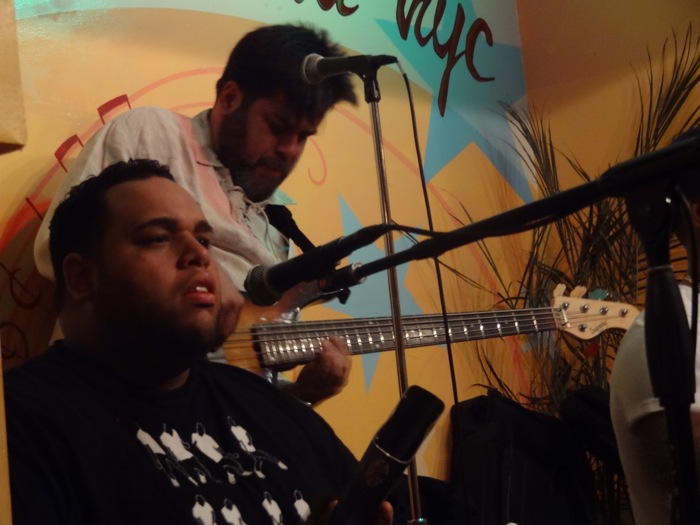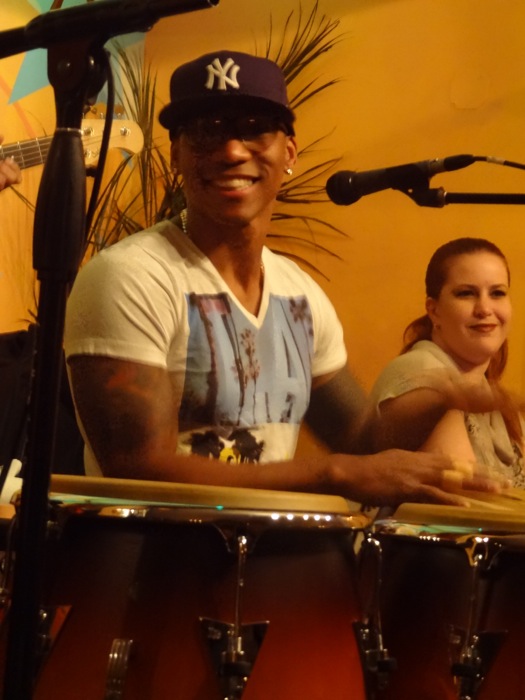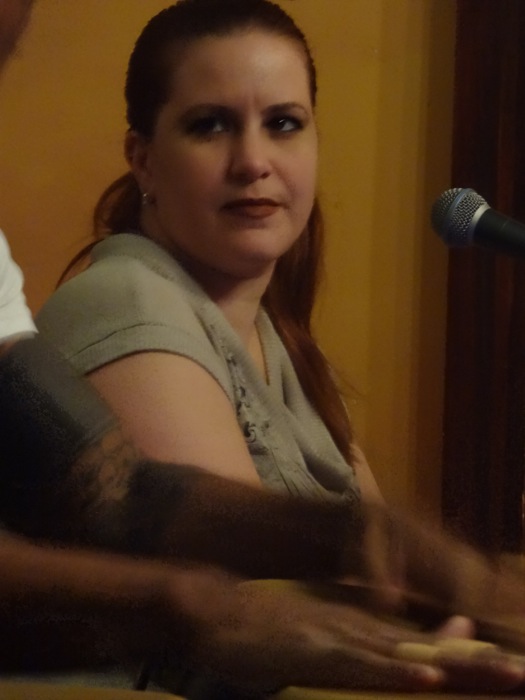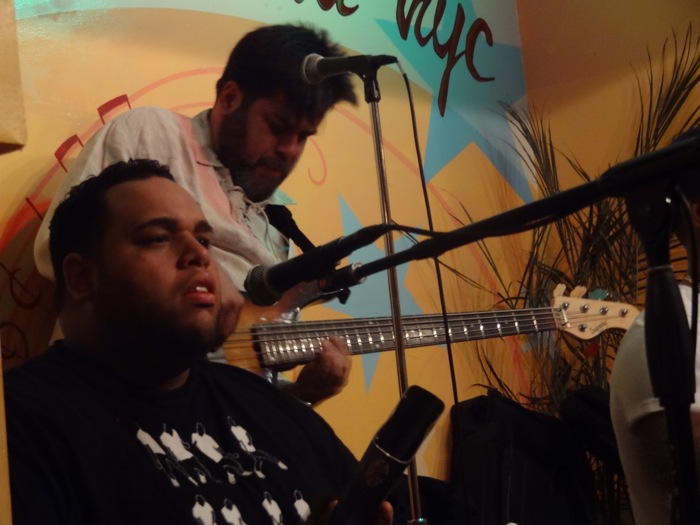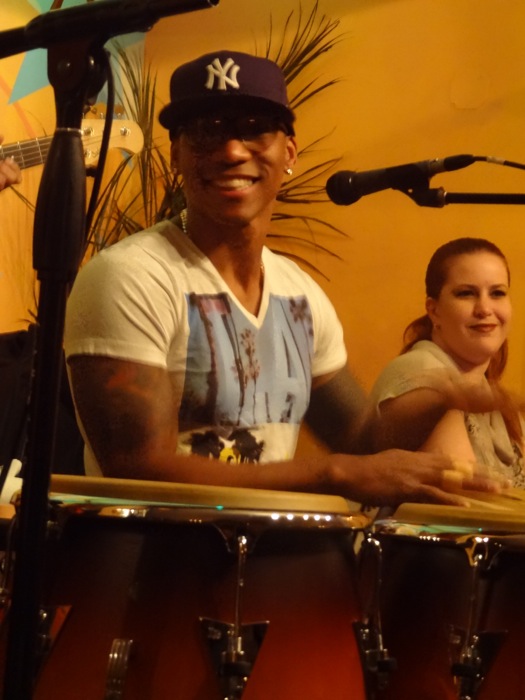 Dressed in jeans' a logo-intensive V-necked t-shirt and a New York Yankees baseball cap' Pedrito Martinez was stringing cable and making sure his monitors didn't fall off the stage. The Pedrito Martinez Group had just released its big-label debut the previous month' and the place was packed with music-industry people eager to see what the fuss was all about… but as far as the acclaimed conguero was concerned' it was just another night at the office.
Martinez' "office" is Guantanamera' a bustling Cuban restaurant that's longer than it's wide' and if you blink at the wrong time' you'll miss it as you head south on 8th Avenue. Make sure not to blink as you get to 55th Street' though: The food is outstanding' the service is crisp' and the atmosphere is as sunny as the mango-colored paint that pops brightly against dark wood wainscoting that hints at a former incarnation for the space. Martinez and his band have maintained a mid-week residency here for the past couple of years' doing four forty-five minute sets a night -- two early and two late' divided by a long dinner break for the band.
Doing that one night a week would keep most people sharp; the Martinez Group blow the doors off the place three nights a week' and the result is the creation of a towering hive-mind that can turn on a dime and be gone before you know it. PMG bassist Alvaro Benavides likens it to four friends who've been together so long' they finish each other's sentences. The Martinez Group's eponymous Motema debut may amply display the group's musical depth' but to really experience the blinding synergy this quartet shares' you need to see them on their home turf.
The first set opened at mid-tempo' with Martinez and percussionist Jhair Sala (sporting a elaborate new tattoo on his left forearm) seamlessly working a riff while Ariacne Trujillo's piano lines threw classical elements into the already-contagious sound. Benavides played a deep' quiet counter from the back of the stage as Trujillo took off on her own' brightening the room with melody and harmony even as she maintained the percussive sense that runs throughout PMG's work. It's not hard to find people salsa-dancing in their seats; if extra tables hadn't been put on the usual dance floor' those people would be on their feet.
Out of the blue' all four players break into scintillating four-part harmony with Trujillo's piano as the only instrumentation… and then BOOM goes the percussion' and the piece roars off in another direction. That's a frequent occurrence at PMG shows: Right out of the blue' with no warning or signal' the Martinez Group executes musical 90-degree turns that would make a school of fish go' "Wait… What just happened?" They'll play a ballad like the Jackson 5's "I'll Be There" (one of the best tracks on the new disc)' but it won't stay a ballad for long. Trujillo's lead vocal is respectful of the original recording' but the underlying percussion adds an air of celebration that makes the piece PMG property.
I've compared Trujillo to Latin jazz icon Tania Maria' but that's actually unfair: Trujillo has a better voice than Maria ever had' and while both women can bang the keys with the best of them' Trujillo displays a technical capability that elevates the Martinez Group's music above straight-up party sounds. Midway through the second set' Trujillo broke away from the band and launched into George Gershwin's "Rhapsody in Blue"' giving it a sweet deconstruction that mixed jazz and classical music with Latin sounds' and then brought it back to the original piece to cheers from the crowd. She got even bigger cheers when she flipped "I'll Be There" into a nasty take on Rufus' "Tell Me Something Good."
As youthful as Martinez looks' it seems like he's been around forever' and in musical terms' that's about right. He's been appearing on other people's albums for almost two decades' and to watch the Havana native in concert is to understand why he gets all the calls he does. He has a galvanizing voice that demands your attention' his conga solos breath fire even as they walk a tight high wire' and he shapes a beat the way Michelangelo shaped his sculptures - all while maintaining a million-dollar smile most actors would maim for. He and Sala are an unbelievable unit' planting accents and exclamation points at will.
While the beat on everything PMG does will get you moving whether you planned to or not' it's the vocals that go right to your heart. It's like the group suddenly grows a four-piece horn section that amps up the brightness. Martinez and Trujillo lead the charge with their distinct vocal styles - Martinez electrifying and focused' Trujillo sultry and playful - but when the whole band sings harmony' it's nothing but joy. You could call the Pedrito Martinez Group's sound "heavy-metal Afro-Cuban" because they're in your face right from the jump' except they want to shake your ass rather than bang your head. There was a lot of that going around Guantanamera on this night… and for Martinez' it was just business as usual.