Shows
Phish
August 17-19, 2012
at Bill Graham Civic Auditorium in San Francisco' CA
by Adam King
|
photography by Andy Hill
August 22, 2012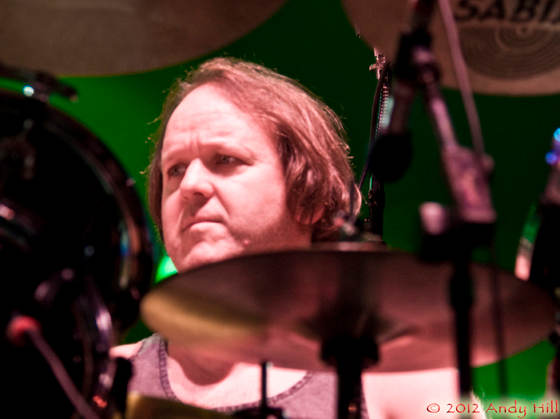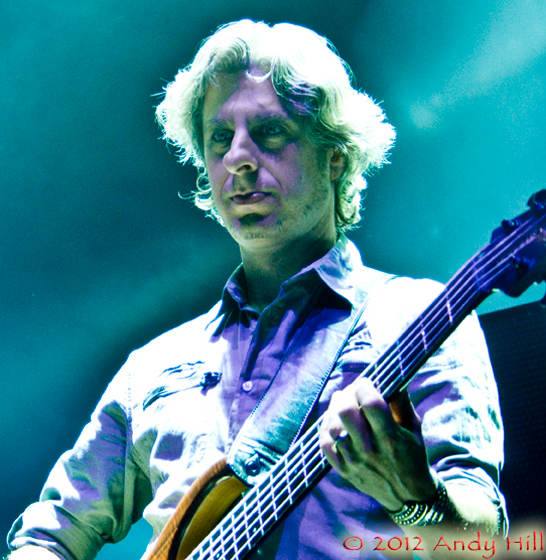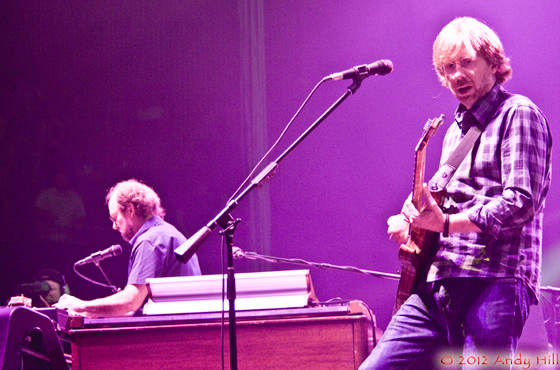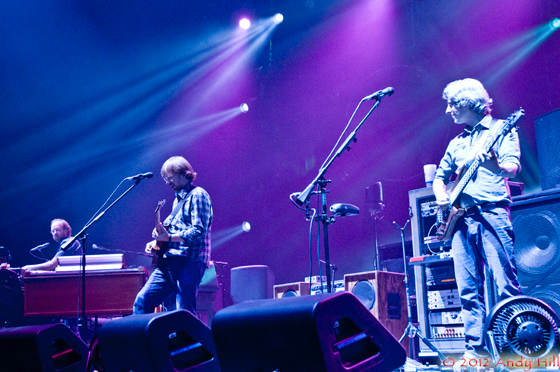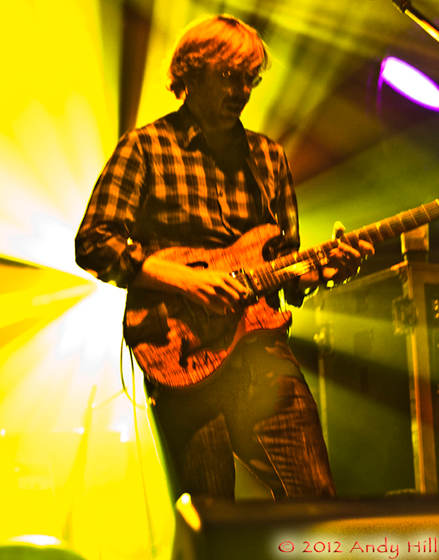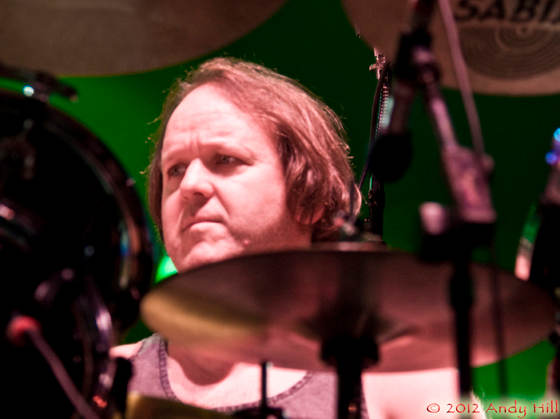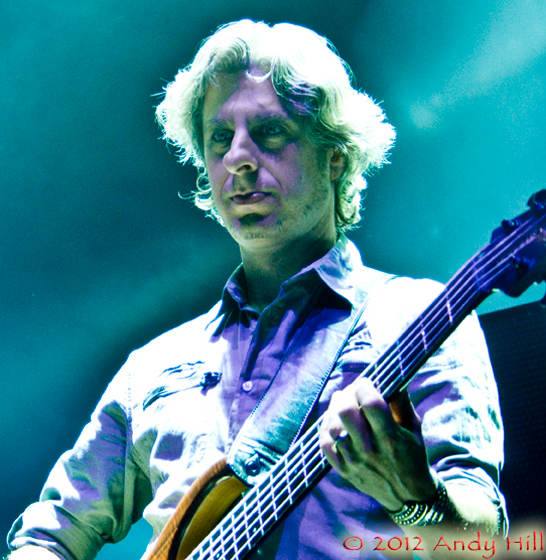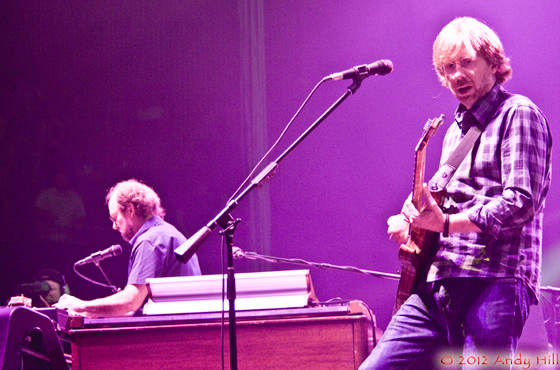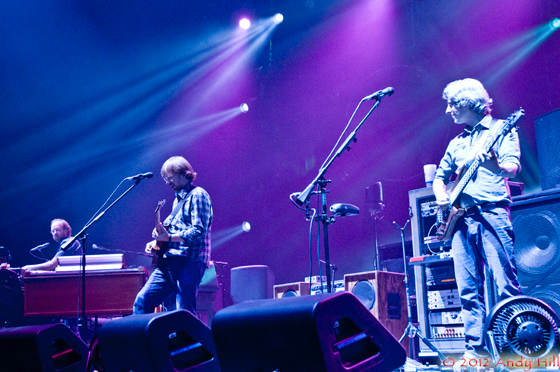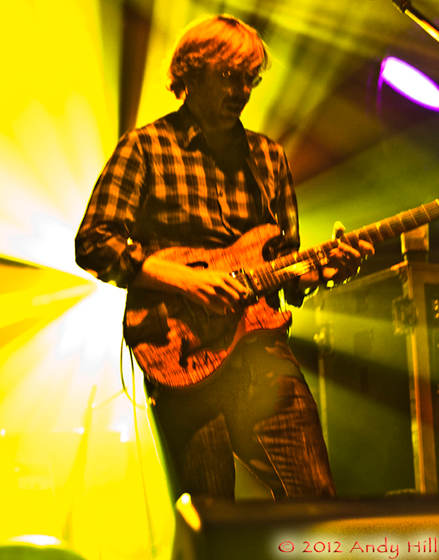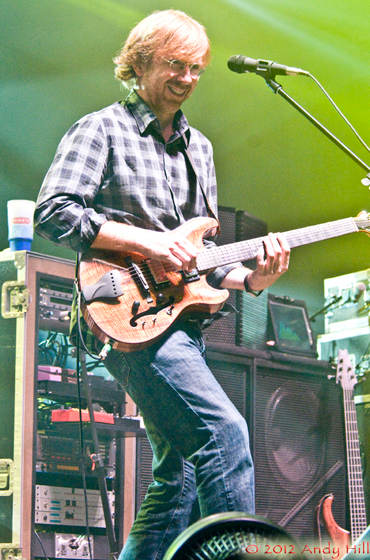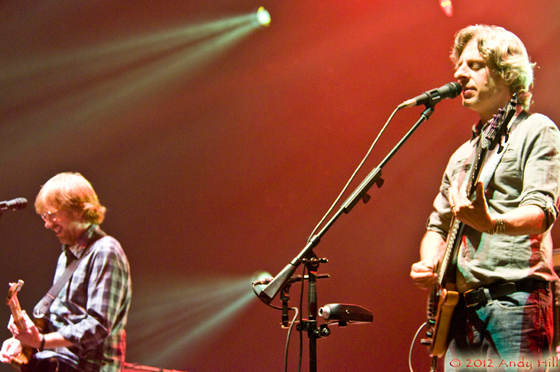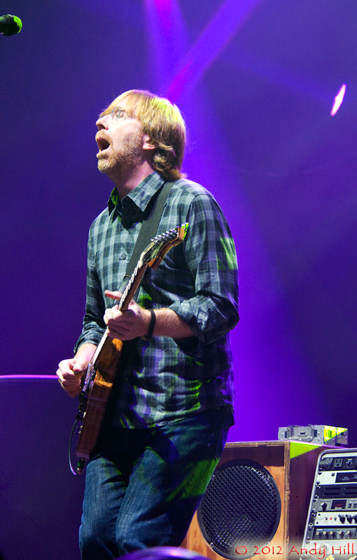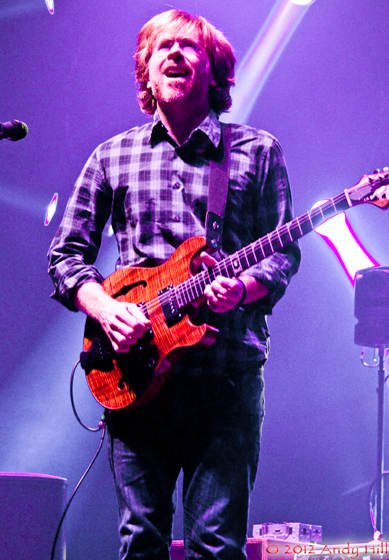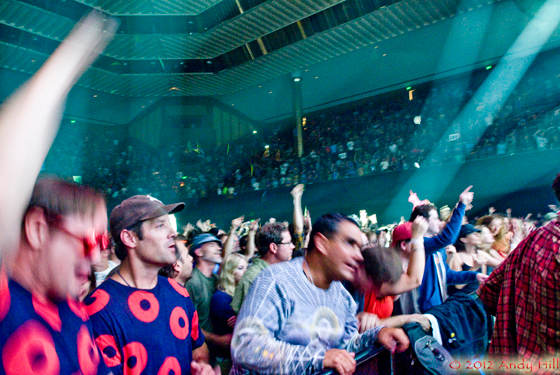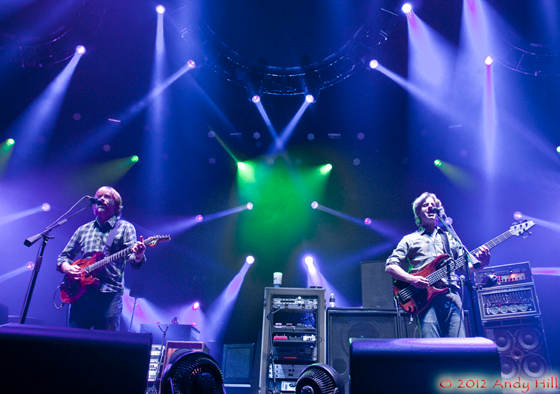 Despite being the home of their psychedelic forefathers' California has always seemed like a crapshoot when it comes to quality Phish concerts. I tend to chalk it up to the Bay-area audience' who either from a collective subpar knowledge of the band's catalogue' remnants of post-Dead-Head angst' or dub-step induced non-existent attention spans' has the most superficial appreciation for the VT boys than any other part of the country. Now I'm not saying that everyone needs to understand the existential wonder of quality Tom Marshall lyrics' but the majority of the SF crowd this weekend strictly was looking for and expecting a simple beat to dance to. I suppose that's not really a desire to fault anyone on' but it'd sure be nice if they could at least stop yapping during the ballads. And no' these aren't simply the complaints of a jaded vet -- the level of constant crowd conversation can be truly overwhelming at times' and it seems obvious that the band too feels that dis-conjunct energy. Shit got weird this weekend. Never in my 17 years of seeing this band have I ever experienced such massive highs juxtaposed with such disastrous lows' but let's just say it made for one hell of a ride in San Francisco.
Friday 08.17.12

Things kicked off solid enough with a slightly expanded "AC/DC Bag" that early-on showcased a level of comfort the band would weave in and out of throughout the weekend. Four songs in would prove to be way too soon for a slow cut' as the 7th "Corrina" of the 21st Century was unfortunately drowned out by the collective murmur of restless scenesters. At the time' I foolishly compared it to June's "If I Could" from Worcester where the crowd was so attentive you could have heard a pin drop in the parking garage' but comparisons are for junkies and horse-shoe aficionados so let's move on. A rare first set "Sand" followed' seemingly with the intention of winning the crowd back' but its early placement left it no room to breathe and thus never reached the epic fruition it's usually due. The set would close with the threesome of "Roses are Free'" "My Friend' My Friend" and "Slave to the Traffic Light" -- all three rock solid but again lacking the legendary prowess they're normally associated with.
Second set opened with a "Down with Disease" that frankly left me scratching my head. While I appreciate the realms of psychedelic experimentation the band was toiling with' the rest of the fellas never really latched on to Trey's power-riffs' and the Good Lieutenant was left alone with some inspiring albeit directionless fret-work. Meanwhile' Mike Gordon has fallen head-over-heels in love with the bass filter he now uses on "Boogie on Reggae Woman" and this DWD jam would mark the first of several times during the weekend when he seemed to inappropriately drop it in a sequence. We all know you can shred the electric bass Gordo' why the sudden turn to parlor tricks? "Birds of a Feather" briefly but powerfully roared out next' and I for one thought it was the ideal time to lyrically call out the scene: "It's not an experience if they can't bring someone along." "Tweezer" would prove to be the standout of the set' working its way through one odd passage to the next' and beaming with that comfortable uncertainty that sometimes feels just right. Late set appearances of "Wading in the Velvet Sea" and "Joy" put a serious damper on the energy that was waiting in the subsequent "Run Like an Antelope'" but the lack of a "Tweezer Reprise" after the "First Tube" encore portended that the band still had plenty planned for nights 2 and 3.
Saturday 08.18.2012

Now I've seen worse Phish shows than Saturday night (Coventry' Vegas '04)' but I have never been as disheartened by 2 sets of my favorite band as I was this night in SF. Literally. Things kicked off standard but tight' up until halfway through the 1st set when Fishman began to have noticeable issue with his in-ear monitors. Once he put the vacuum down after "I Didn't Know'" he pulled his in-ears out in massive frustration' and then proceeded to not be able to hear a goddamn thing for the rest of the night. "Split Open and Melt" was an utter disaster. 30 seconds into the jam' Fish had completely lost his count and was nowhere near being in time with the rest of the band. The odd-tempo turn-around that defines the song ended up destroying it here' and it honestly would have been best if they had just stopped. Anyone who tries to tell you this was a magnificent moment of experimental "Type-II" jamming is completely out of their minds -- it was nothing more than a complete mess. I suddenly found myself standing still with my arms folded in disgust; a position I have actually never been in before at a Phish concert. And sadly' the second set would only continue to follow suit.
A decent "Golden Age" gave way to potentially the most disastrous "Piper" of all time. Fish started the whole tune a half-step behind and Trey couldn't help but shake his head in sorry disbelief. Maybe it's time they brought this song back to its origins' when its entire being was based on the slow gradual build. What was truly disheartening about the whole thing though was the crowd's oblivious love of the horrid moment. Drowning in ecstasy' 95% of the audience raged on in ignorant bliss while the band continued the massive train-wreck on stage. Never had the infamous quote about the band "pissing in the ears of their fans" seemed more apt' and for the first time in my life I actually considered walking out. A boring "Mike's Song'" a pointless "Wilson" and a forgotten "Carini" all fought each other for next-crappiest moment of the set' and I had never felt more saddened by an experience that usually brings me exponential joy. The "Simple" did touch on a brief jaunt of drifting' psychedelic bliss' but it was quickly overshadowed by the surrounding dark clouds. I don't want to pretentiously demand a higher PH-IQ of my fellow listeners' but at least folks back East aren't afraid to acknowledge when things go to complete shit.
Sunday 08.19.12

To call this the greatest redemption set of all time would be putting it far too lightly. After successfully convincing my girlfriend to not completely abandon all hope' I walked through the doors of the Bill Graham Sunday night
needing
the band to win me back. The fear of my eternally lost innocence was looming hard over my head' and I wasn't going to be satisfied unless these fuckers crushed my critical ass to the floor. But I'll be damned' that's exactly what they did. The opener "Crowd Control" seemed to lyrically echo my pleas: "So show us why we came here/Before we lay on the ground/Give it to us loud and clear/Make the devil turn around."
Thank God for "Reba." Only 10 minutes into the first set' and suddenly we're knee-deep in the transcendent light of the delicately crafted Trey licks that got us all to try mushrooms in the first place. Making a stand for best of the 3.0 era' this jam found the band breathing together for the first time all weekend' and they never looked back. The "Walk Away" was huge. "Gotta Jiboo'" despite my distaste for the tune was massive. "Roggae" was fierce in a manner it's never touched on before. And by the time "David Bowie" capped the 1st set' the enormous gorilla sitting on everyone's shoulders had finally left the room.
"Crosseyed and Painless" was exactly what everyone was looking for to open the 2nd set' and the pocket found on stage was finally tight enough to fully shut up the peanut gallery in the back. "Crosseyed" would melt in on top of itself before absorbing into the opening chords of "Light." I still can't shake the feeling that this song sounds like a subpar moe. tune' but this "Light" made me not give a damn. Led by a duel mind of Page and Gordo' the jam broke down and down until Trey began to creep it back up with a crescendo lick that almost felt like it was going to break into the lost "Tweeprise." Instead it burst into a collective explosion by the band that had you floored wondering how they all knew to go there. This would then drop into "Sneakin' Sally" which itself reached new peaks of crushing rock improv the likes of which it had never gone to before. By the time the jam ended with a full-on "Crosseyed" reprise' whatever band had been on the stage the night before was now light-years away. Rounding out things with powerhouse versions of "Theme From the Bottom'" "Boogie On" and "Bug'" the now elusive "You Enjoy Myself" was the only thing needed to vault Sunday at the Bill Graham into true legendary status. Sure' there's always an eruption when they build up to the scream of "BOY!" but this one felt like an orgasmic release from 50 years of psychedelic San Francisco rock and roll. The double-encore of "Ride Captain Ride" and the much-anticipated "Tweeprise"? Perfection. This game we call Phish is like playing Russian Roulette these days -- you either blow your brains out or melt your face off.