Shows
Camp Bisco 2012
July 12-14, 2012
at Indian Lookout Country Club in Mariaville' NY
by Derek Freeburn
|
photography by Alex Rice-Swiss
July 31, 2012
page 2 of 3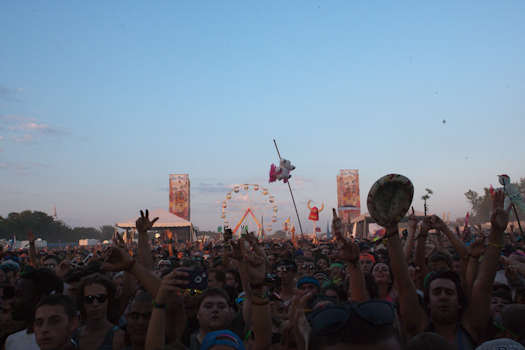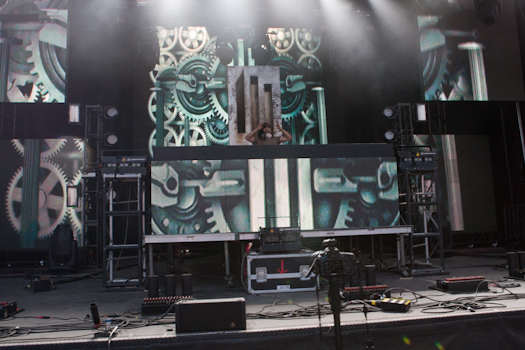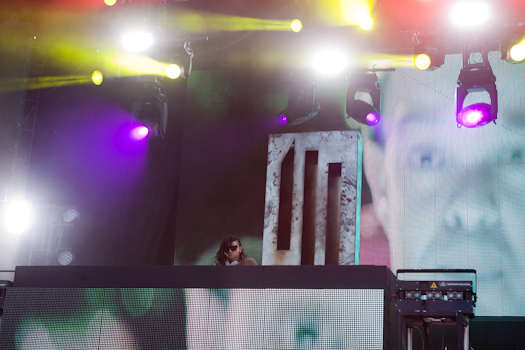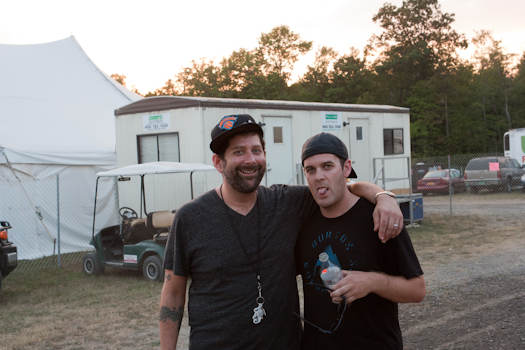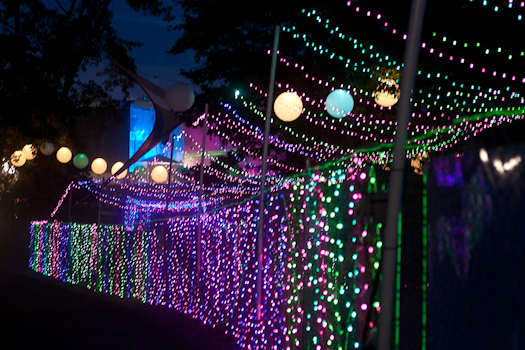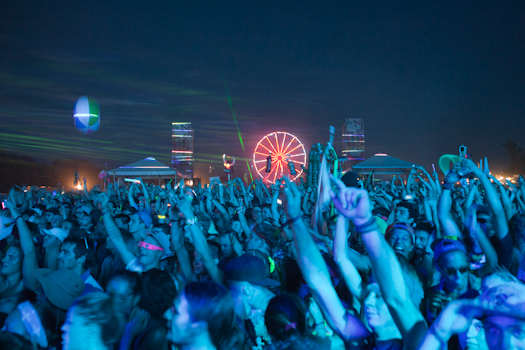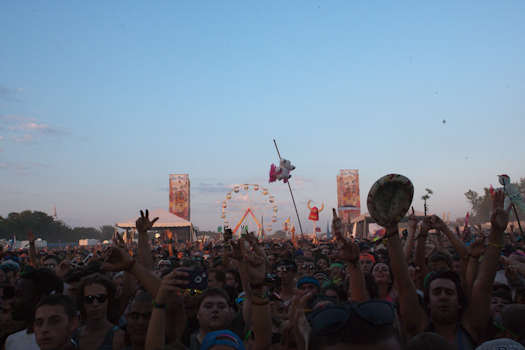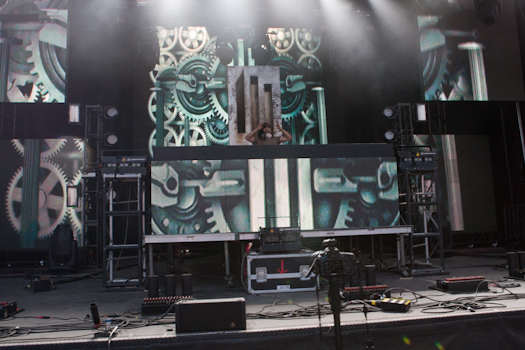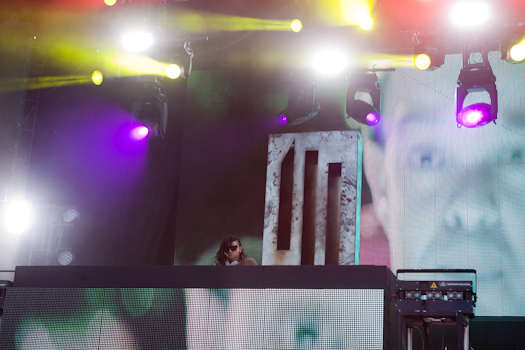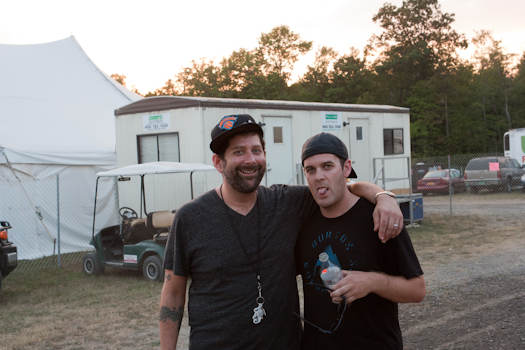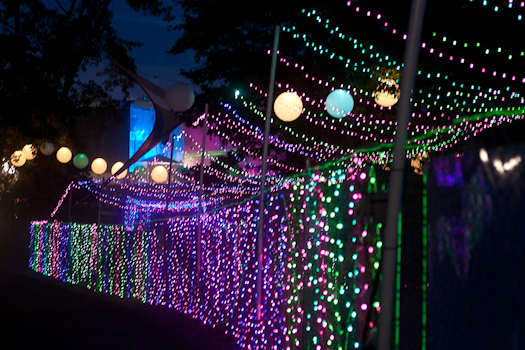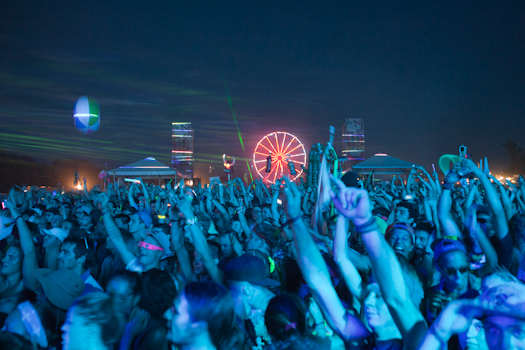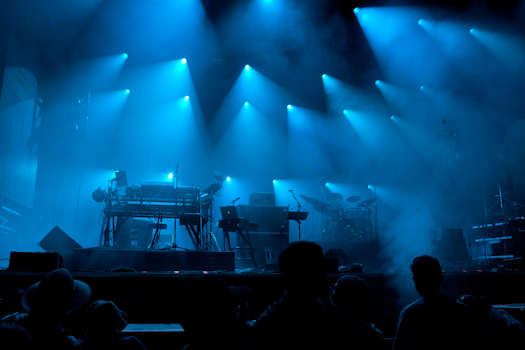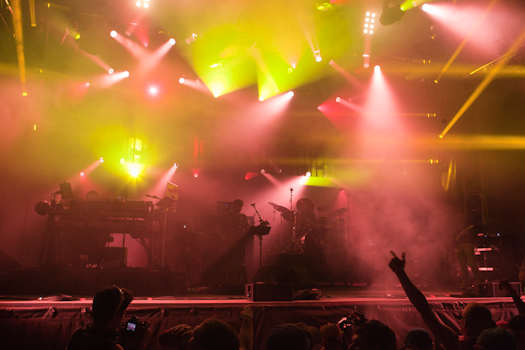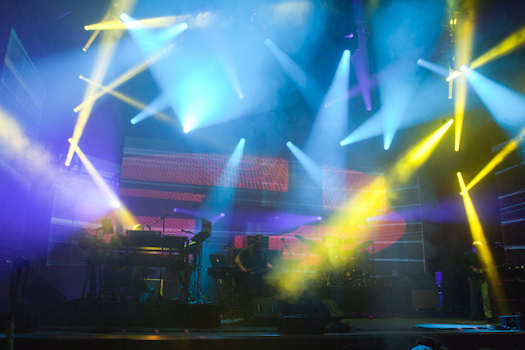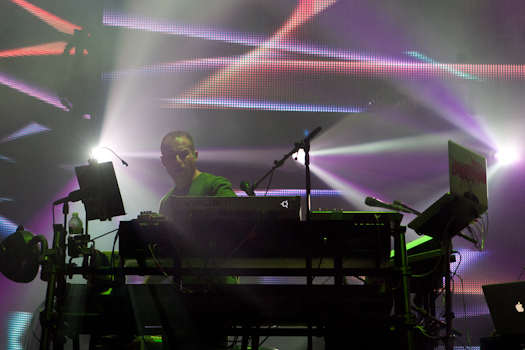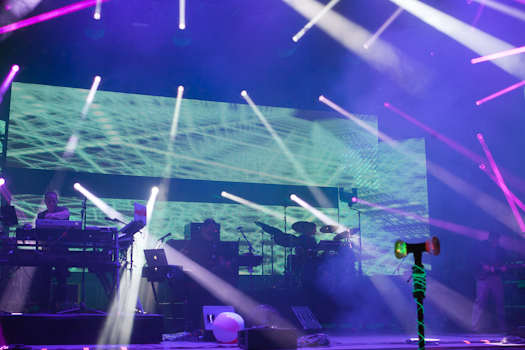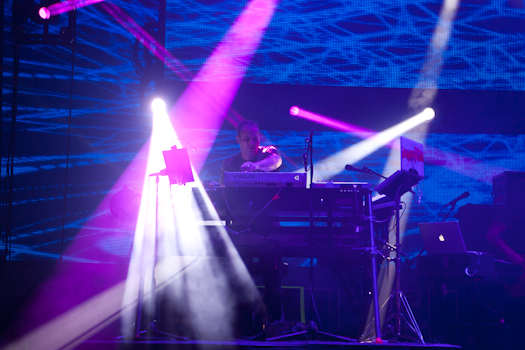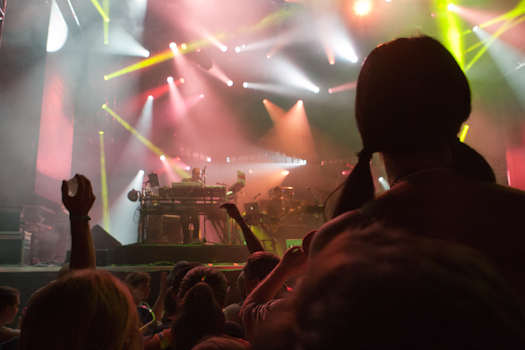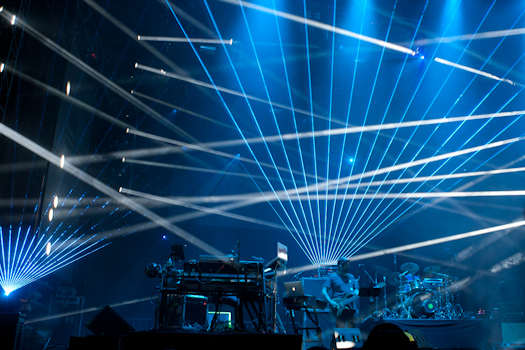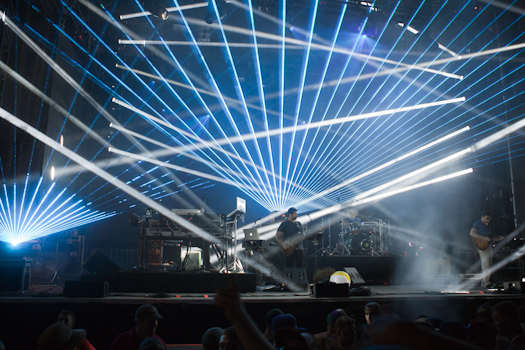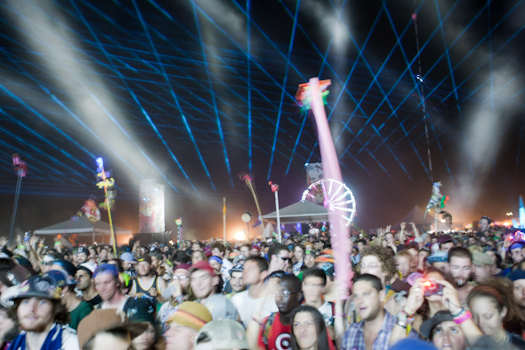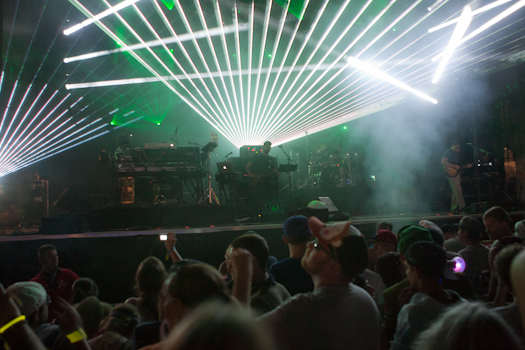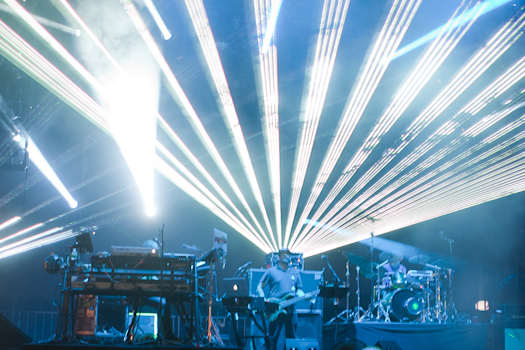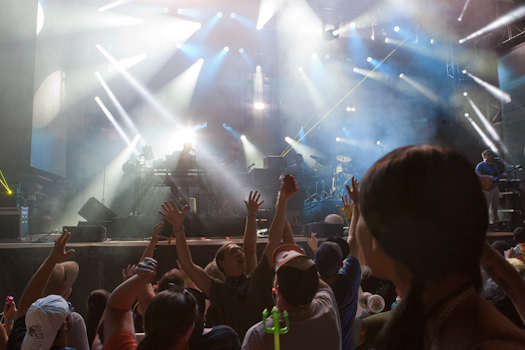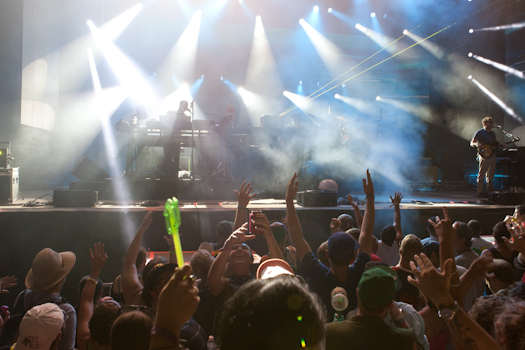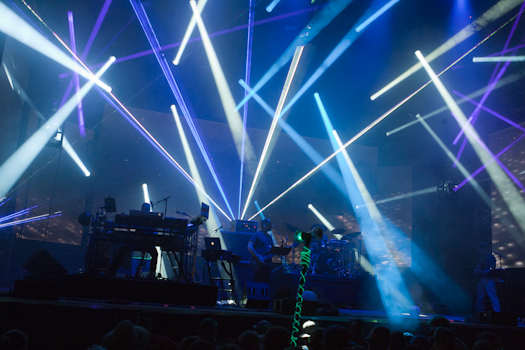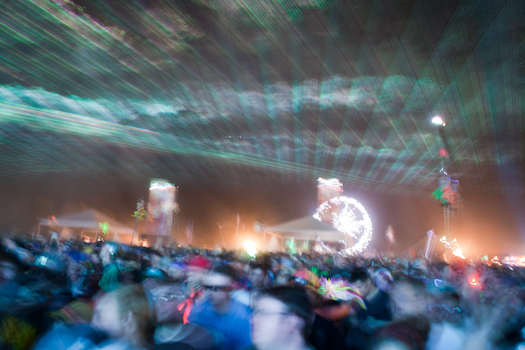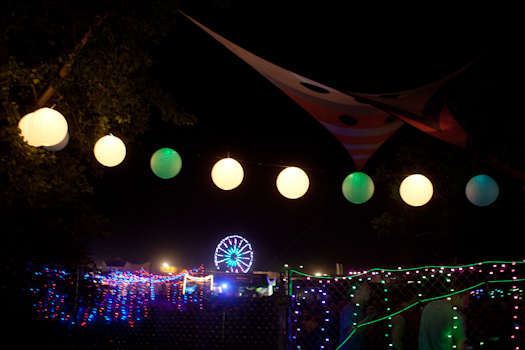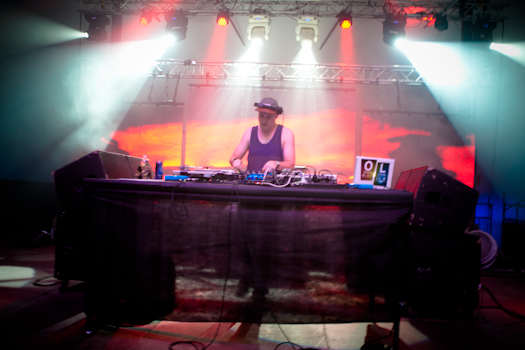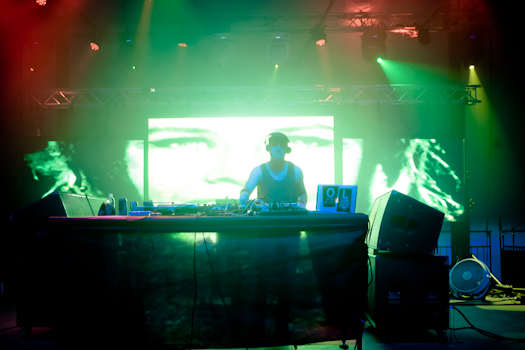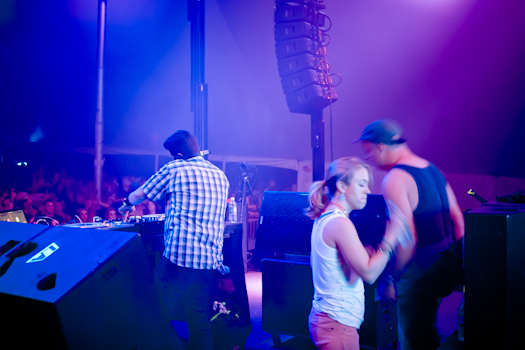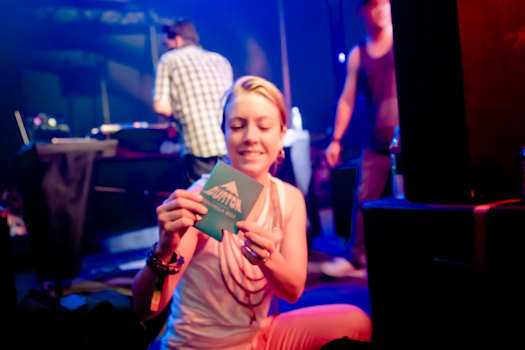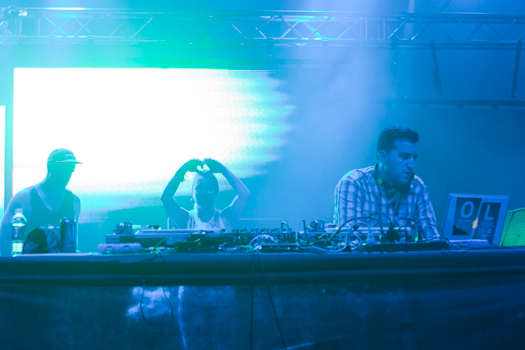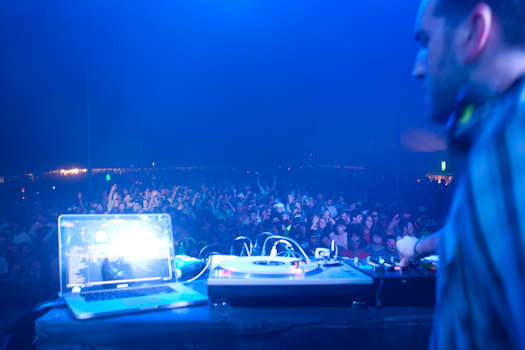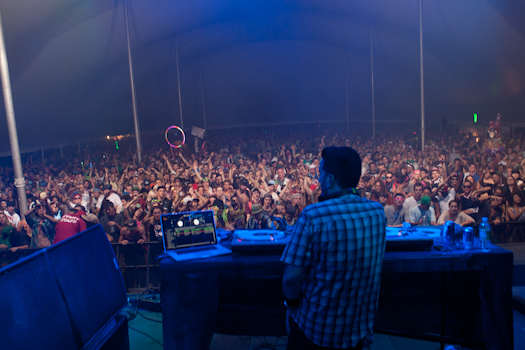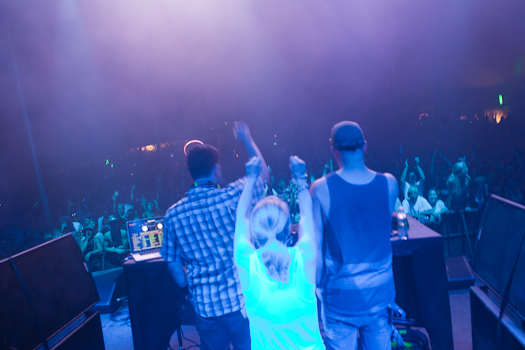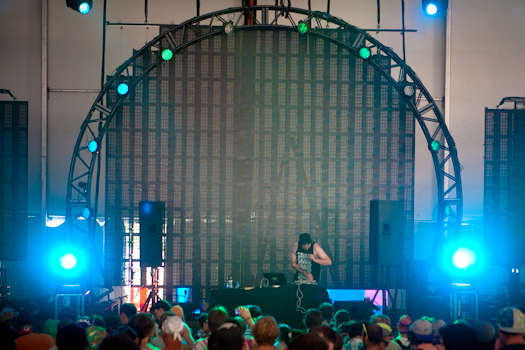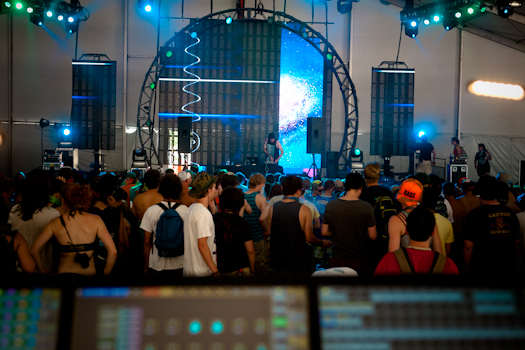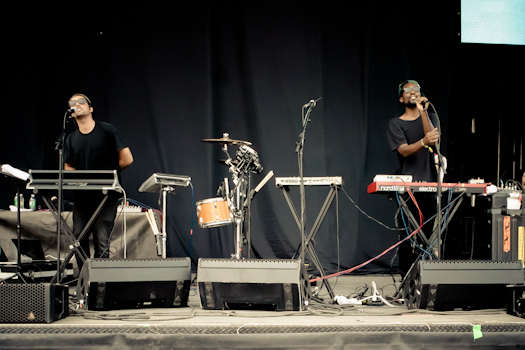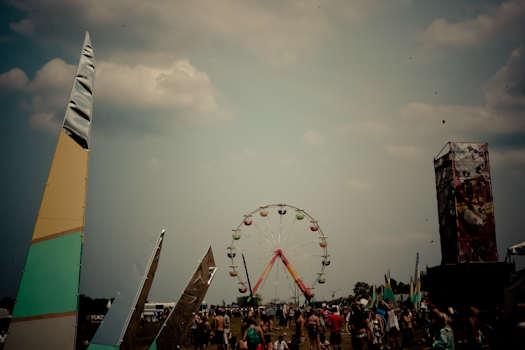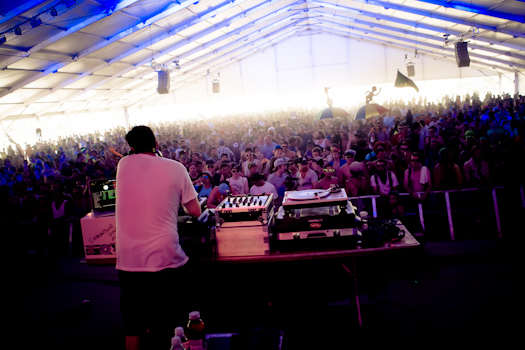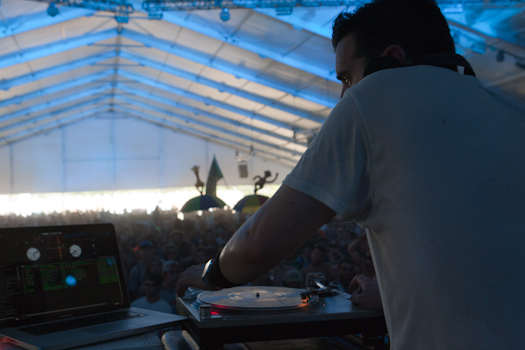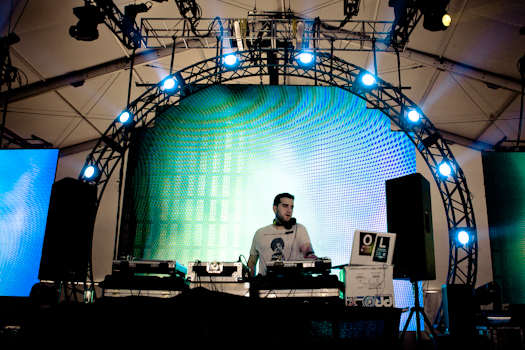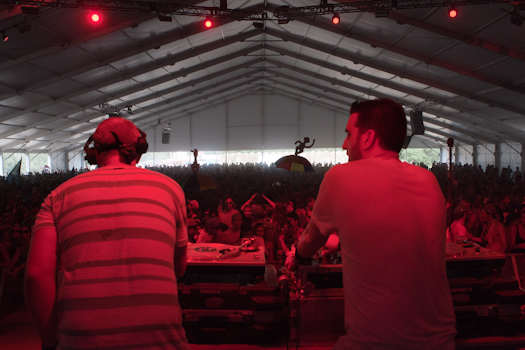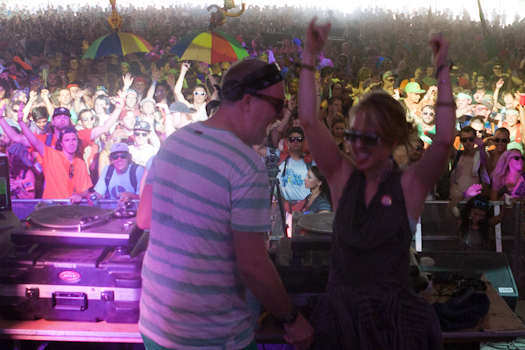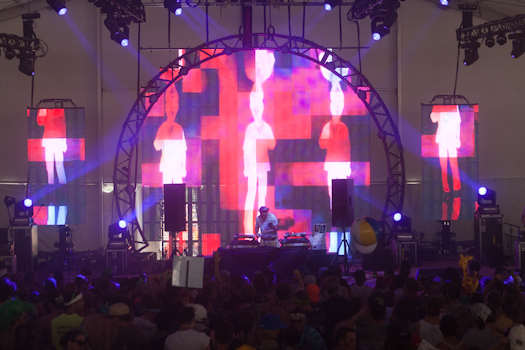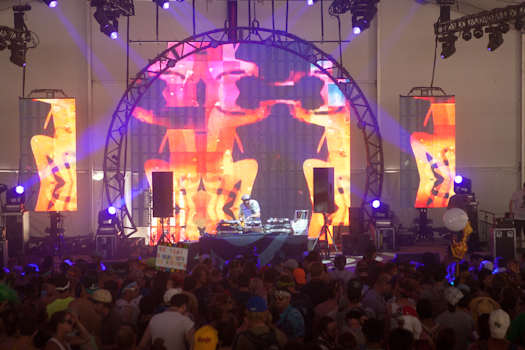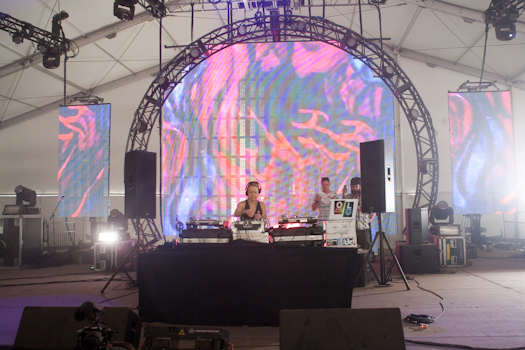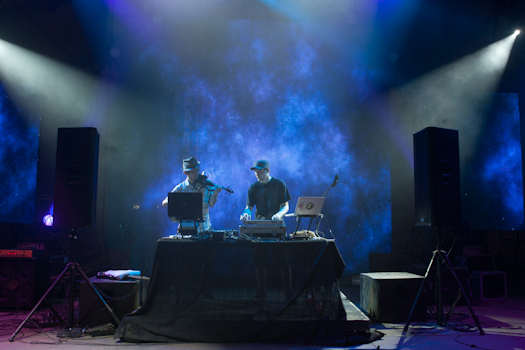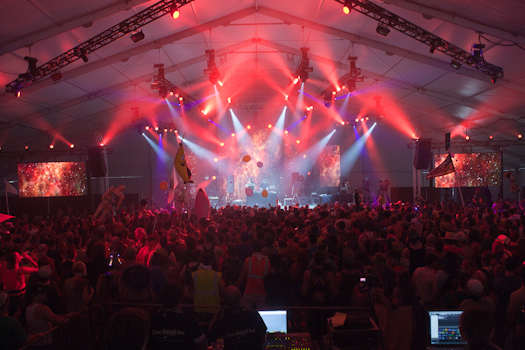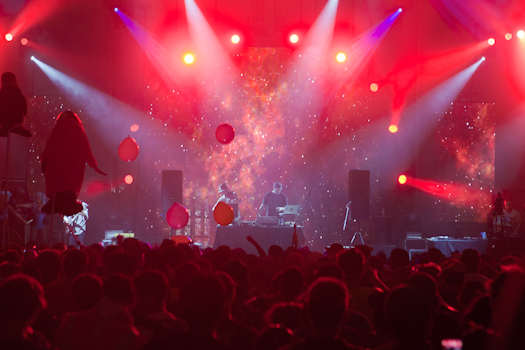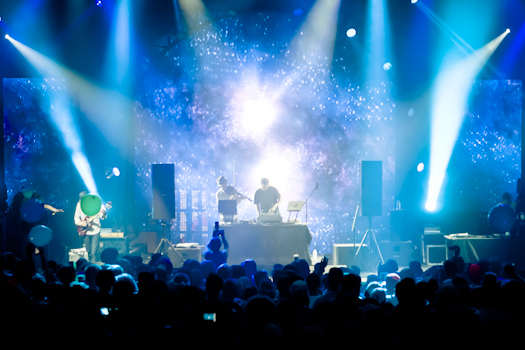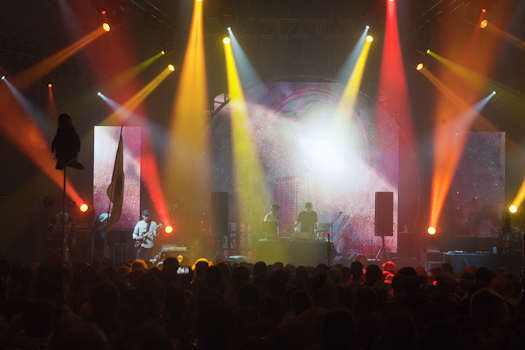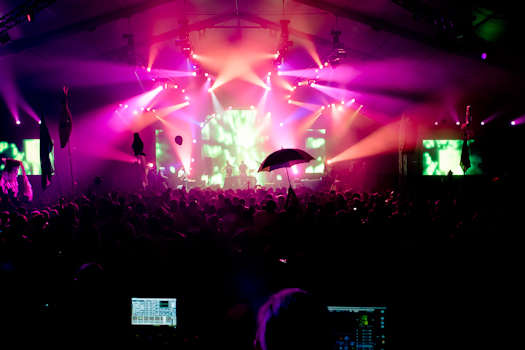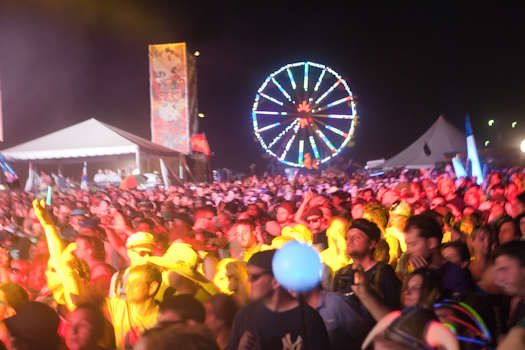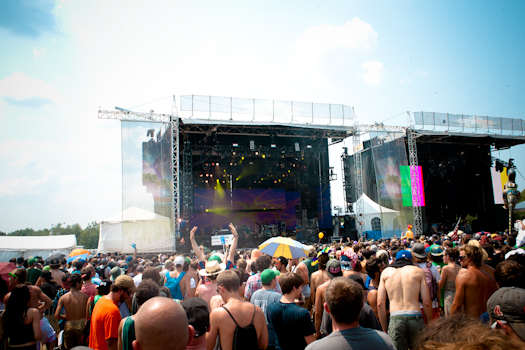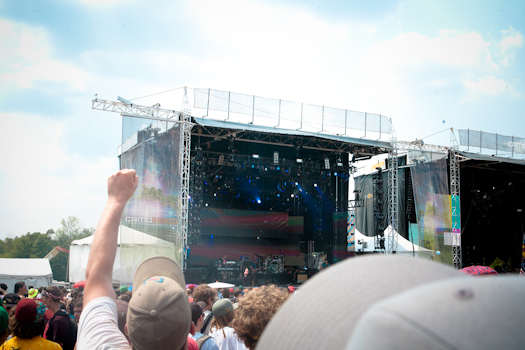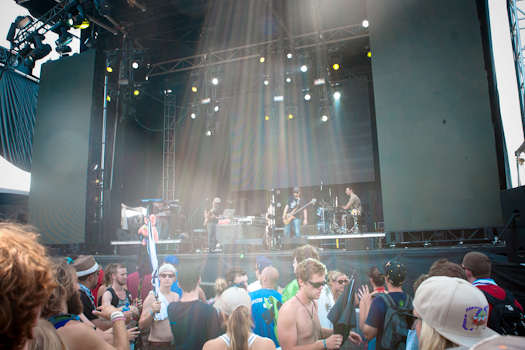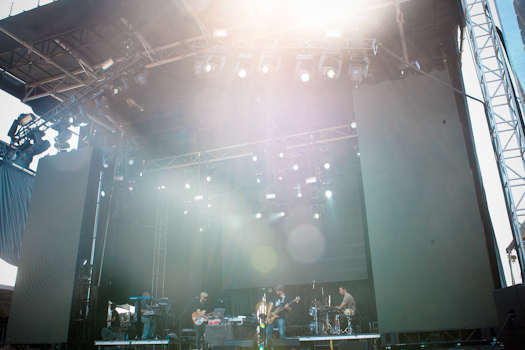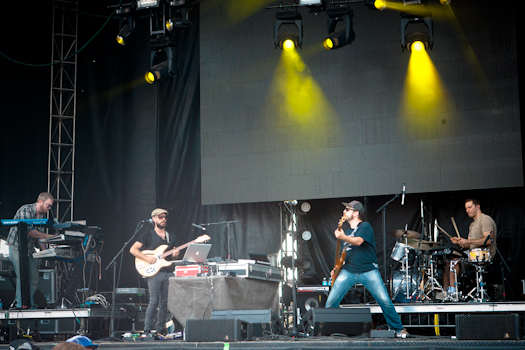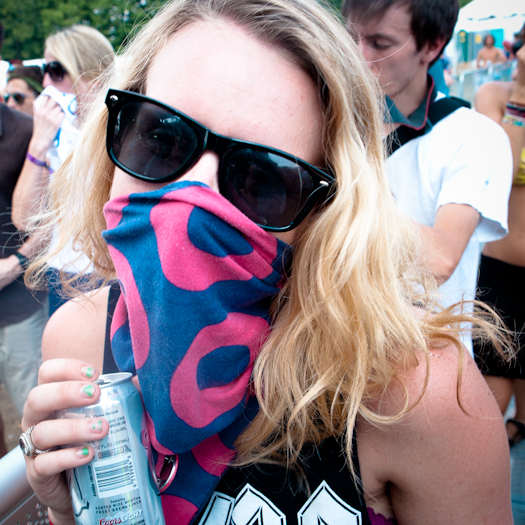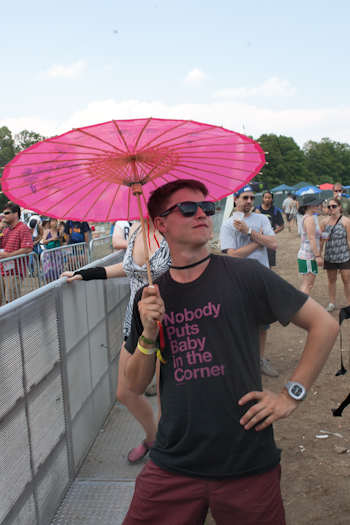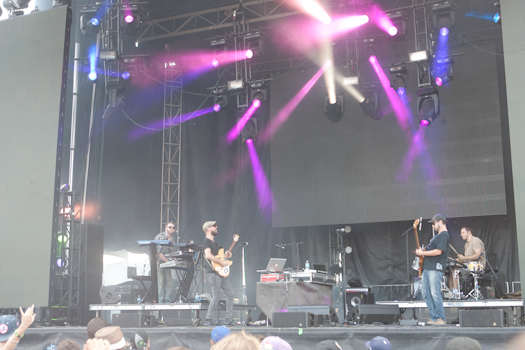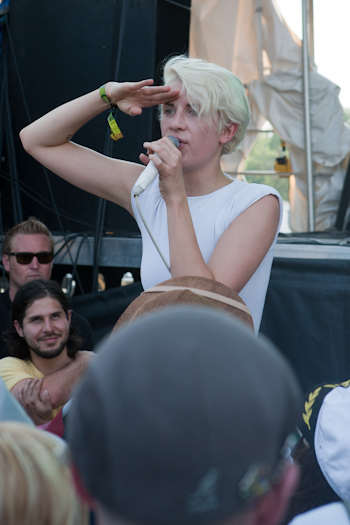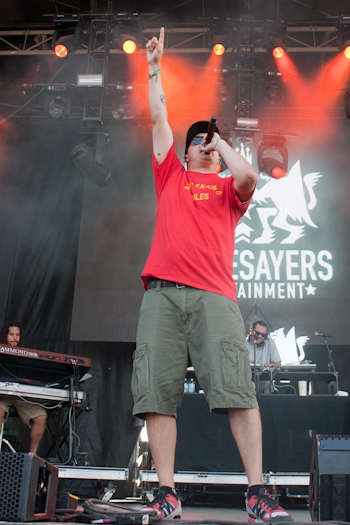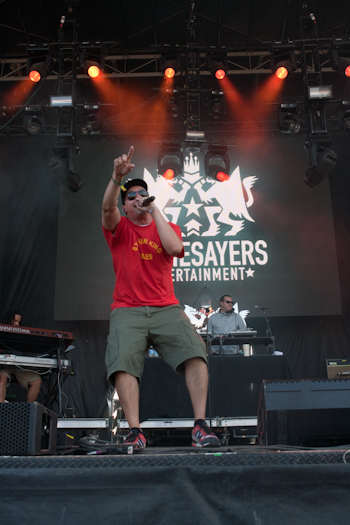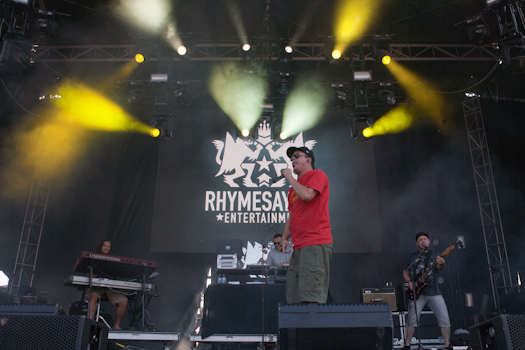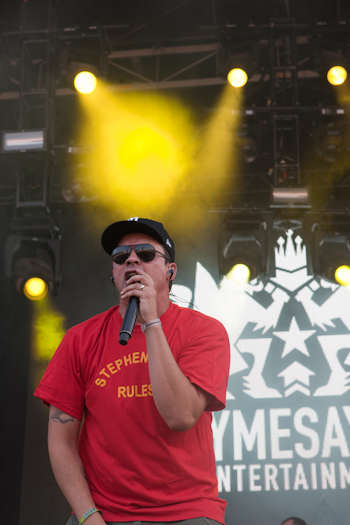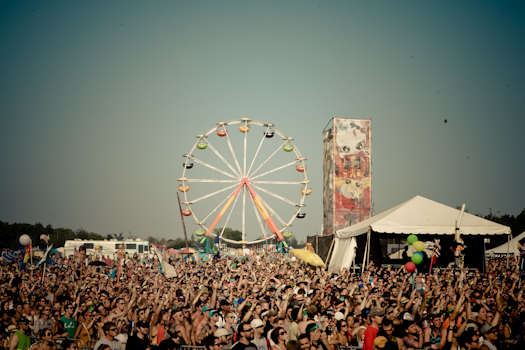 Friday' July 13' 2012

As most Bisco-goers can attest to' there's not a great chance of sleeping past 10am in the July heat/humidity outside of Albany' NY. To that end' we were up early and back at it with some of the first acts to take the stage on the second day of CB11. The early afternoon hours were filled with a smattering of Mux Mool in the B.I.G. Tent' electro-pop duo The Knocks' and Chicago-based electronic rock trio Future Rock in the main stage area' with the latter of the group making the most notable impression. Things started to heat up further with Orchard Lounge's second set at the B.I.G. Tent which was even more of a throwdown with more in attendance than Thursday's downtempo set. Day 2 hit full swing with performances over at the main stage by Break Science w/Chali 2na' perhaps the most inventive and inspired hip-hop/electro blend and performance of the festival' and a hook-laden straight up rock-fueled set from Portugal. The Man' another definite personal highlight of the weekend for me. Portugal's recorded albums conjure up some comparisons to Dr. Dog with catchy choruses and layered guitars on top of well-blended vocal harmonies' but also like DD' their live sets are passion-filled with driving guitars' perfectly suited for a mid/late afternoon set. Touring behind their album
In the Mountain In the Cloud
on Atlantic Records' their sixth full-length album is as many years' the band is playing tighter and with more confidence and trust than ever before and is definitely making waves and a name for themselves within an ever-changing rock landscape in the music industry. The music continued into the early evening' albeit not without some controversy' with a late-arrival and abbreviated set from Big Boi to continue on Friday's main stage hip-hop trend. Blaming the Canadian border patrol' the Andre 3000 partner finally went on stage about 45 minutes late' but did manage to deliver a rousing 20 minutes of primarily Outkast hits. Hey' it wouldn't be Camp Bisco without a tardy hip-hop performer' right? Eliminating any resonant "WTFs?" from the shortened Big Bio set' Lotus hit the second main stage immediately for their highly-anticipated hour-and-a-half set. The perennial Camp Bisco favorites had a lot to live up to after a highly-regarded late night bash at CB10' but they came to rock the house' aptly setting the bar for the first of two Disco Biscuits sets on Friday.
The Disco Biscuits first Friday set picked up right where things left off from their fiery first-night set with a driving 17-minute "7-11." The highlight of the set for me was an epic 18+ minute "The Great Abyss." The whole band seemed to really connect and forge a solid foundation for interplay and some Barber-laden melodies on the extended front end. Overall this song connected on all of the goods and featured some of the tightest playing of the set. A very solid' unfinished "Spacebirdmatingcall" followed to wind down the set with the band's levels finding a very good zone before transitioning and closing out the performance with "Sound One." Overall another very enjoyable set that' while it featured a few minor dynamic and tempo challenges' had more than its fair share of highlights and great jam pockets.
The highly anticipated and visual-laden Amon Tobin ISAM set was the "tweener" performance on the second main stage for Friday. A bit of a mixed bag is about the most accurate assessment that I'd be able to give this one. While absolutely visually stunning and featuring one of the most elaborate stage displays of any artist I've ever seen' the performance was offset by the fact that it had to be very visibly cut short from what was planned to keep schedules in line and also by a few comments directed at the audience to calm down and put some of the prominent totem poles down so others could see and enjoy.
The second and final Biscuits set for Friday kicked off with a very mellow' slowly-developing "Crickets" that seemed to find the band reeling things in on the tempo end of things that had some sporadic moments in the earlier set. Barber and Allen sat back gracefully as Magner took the opportunity to set the landscape. The set really hit stride about midway through" I-Man" and took off from there with a very tight jam from all parties into "Bombs" which has quickly developed into one of the more consistent songs in the repertoire. A 7-minute conclusion to "Nughuffer" followed to close the set before a "Home Again" encore that most Biscuits fans knew might likely be coming at one point or another. The extended 9-minute version was played well and sent fans leaving towards the late-night music up the hill feeling more than content with the days' Biscuits sets.
With Friday's final tDB set going well past the midnight mark' it was slightly difficult for this aging festival rat to muster up the energy needed to go all night' so I retreated to my campsite to take in the sounds of Bonobo from there and get some much-needed rest to try to power through the final day of Camp Bisco. Word to the wise' it ALWAYS rains at Camp Bisco' so when pitching your tent' don't refrain from putting your rain fly on to help increase air flow because it is hot out. You will get shit on at some point and you will end up sleeping in your car. Lesson learned' the hard way…
Saturday' July 14' 2012

From the announcement of the daily schedule' we knew that Saturday would be a long day chalk full of epic acts over at the main stage that would leave little room for retreat and recuperation' so with the Biscuits playing an early day set' we took our time showering and prepping for the day's antics. The day was to look something like this without so much as any opportunity to take a real break:
Disco Biscuits -> Brothers Past -> Yacht -> Atmosphere -> The Disco Biscuits -> Holy Fuck -> Big Gigantic -> Bassnectar -> The Disco Biscuits (final set) -> A-Trak* -> Zoogma* -> Simian Mobile Disco* -> Gramatik *

(* = optional due to level of consciousness/dehydration)
The Biscuits' day set was well constructed and started off with a tight 16-minute "Plan B'" continuing the trend of awesome and lengthy set openers at Camp Bisco. "Jigsaw Earth" and "Story of the World" both clocked in at close to 20 minutes and seem' at least to me' to be great day-set songs. "Jigsaw" featured some excellent compositional play' especially from Allen' and led towards a great Barber-driven jam at the tail end' but the real highlight was the 3-minute drum solo by Aucoin that had everyone's jaws to the floor including the band's. An upbeat version of "Therapy" capped off an awesome day set from the festival's hosts that featured some of the tightest playing and best dynamics I have seen from the band in a while.
Brothers Past' another personal favorite at Camp Bisco' was next up. While I had to retreat for some of the set for hydration' it was a driving and relentless 5-song' 60-minute performance fueled by outstanding versions of "Big Blue Apples" and "Let's Start a Gang." Yacht followed on the main stage and was one of the acts I had never seen before that I was most excited for. Understatement of this article: they did not disappoint! Talk about a band that puts forth a dynamic performance that simply grabs you' especially after listening to some of their more modest recorded material. Simply stated' this band has balls and stage presence. Most notable about their set was the energy from front-woman Claire Evans' the amazingly multi-instrumental performances with band members switching instruments and changing band composition for most every song' the mono-chromatic look of all the band members dressed in black (except for Claire dressed entirely in white)' and the rousing' public Q&A that Claire did in front of the whole audience that was quite entertaining. Core member Jona Bechtolt is as talented a multi-instrumentalist as I have come across in some time. If you have an opportunity' definitely get out to see this band live! Atmosphere followed with an inspired and professional hip-hop performance on the second main stage. Vocalist Slug was clearly feeling the energy as he added hilarious and passionate commentary throughout.
The Disco Biscuits second of three sets for the day followed. "Spaga" was the true highlight of this set with the addition of Big Gigantic sax player Dominic Lolli. Dom delivered' while his mic could have been turned up' and the energy of the performance continued to build. A tight and spiraling trio of "Bernstein and Chasnoff" ?" Tempest" ? "Bernstein and Chasnoff" ended the set with an interesting blend of dynamics that peaked during the 4-minute "Tempest" section. Given the diligently-crafted sets' the Biscuits left tons of room for closing loose ends and completing the weekend-long performance during their final set.
One of the most anticipated sets for the entire festival was Bassnectar's "tweener" set on the final day of Camp. Though considerably marred by several very noticeable technical cut-outs during the early stages for which he apologized during the show' Lorin Ashton showed great patience and restraint and pushed on to please the crowd with tunes such as "Pink Elephants" and a downtempo section.
The Disco Biscuits final set' fittingly' was one of sheer excellence' weaving together the tapestry that had been created all weekend with an intricate setlist and brilliant playing towards the top of their collective capabilities. Barber came out donning a full bright-orange prison suit and everyone just knew it was on. The performance began with a strong "King of the World" opener that confirmed all members were on the same page -- the music was only to get better. "Helicopters'" "Digital Buddha'" "Cyclone'" and "Ladies" all wowed' as did the Pink Floyd cover "Run Like Hell" which was a major highlight of the final set for many. The front end of "Run" struggled ever so slightly to settle into the proper tempo for the collective verse' but that was hardly discernible amidst the epic energy behind this set' and the jam fell into an off-axis exploratory mode for a few minutes with playful syncopated delays from Barber on top of Brownie's driving bass. An 8-minute completion of "Basis for a Day" (completing unfinished version from 2 days earlier) completed one of the best sets I've heard from these band in years' but they weren't quite done' and the crowd let them know that' cheering at epic highs and leading the Biscuits back out for an 18-minute concluding "Spraypaint." The entire set is a must-hear. And so' as the entire crowd faded into their final soiree of late-night music' ear-to-ear smiles were abound and the collective feeling was that the height of playing from the hosts themselves had been enough to drive this already-incredible festival to even greater heights.
I was personally just able to muster up enough energy to go check out great performances by both A-Trak (complete with several scantily-clad female dancers exhibiting their expertise onstage) and Zoogma' whose solid instrumental grooves I found myself quite impressed by for a first-time listen. That said' I was disappointed that I faded before a few favorites including Simian Mobile Disco and Gramatik' while also being reflective about the incredible amount of truly outstanding music that I had been able to bear witness to throughout the weekend.
related articles
Blog: Mountain Oasis welcomes NIN' Bassnectar and Pretty Lights
Features: Camp Bisco 2013
Shows: moe.down 14
Blog: On the Horizon: Camp Bisco 12
Shows: SnowBall Music Festival
More on:
Disco Biscuits
,
Conspirator
,
Skrllex
,
Bassnectar
,
Orchard Lounge
,
Brothers Past
,
The Knocks
,
Yacht
,
Future Rock
,
Mux Mool
,
Amon Tobin
,
Amon Tobin ISAM
,
Emancipator
,
Atmosphere
,
Portugal. The Man