Shows
Camp Bisco 2012
July 12-14, 2012
at Indian Lookout Country Club in Mariaville' NY
by Derek Freeburn
|
photography by Alex Rice-Swiss
July 31, 2012
page 1 of 3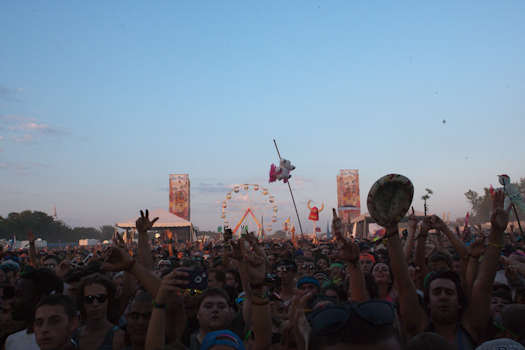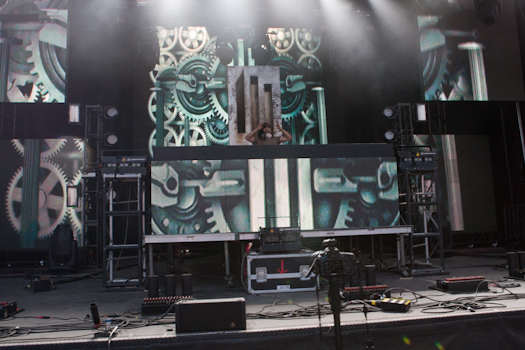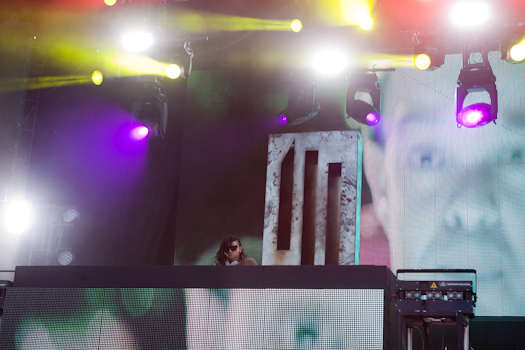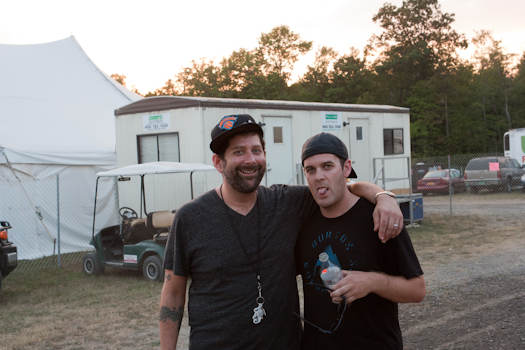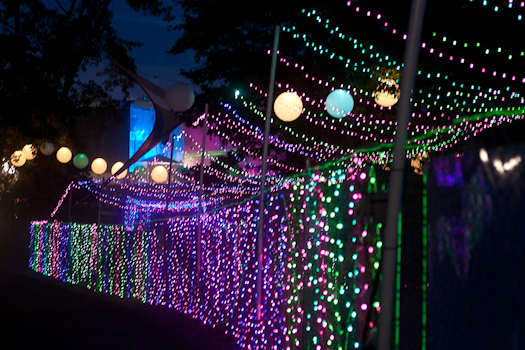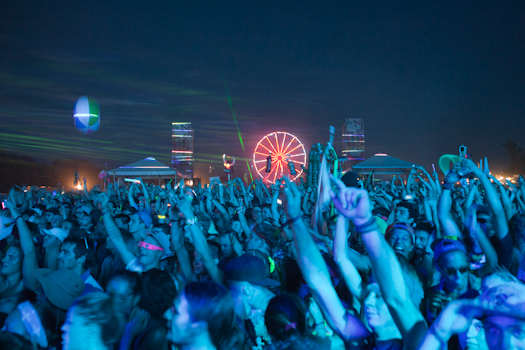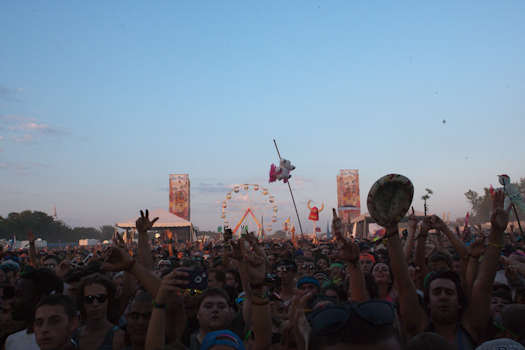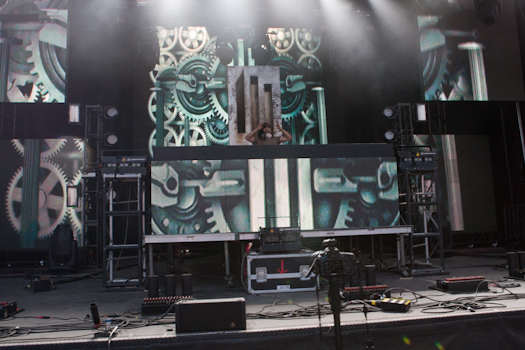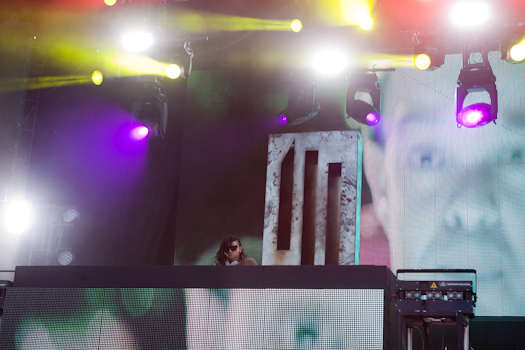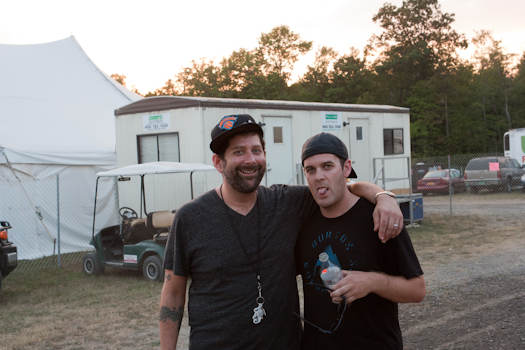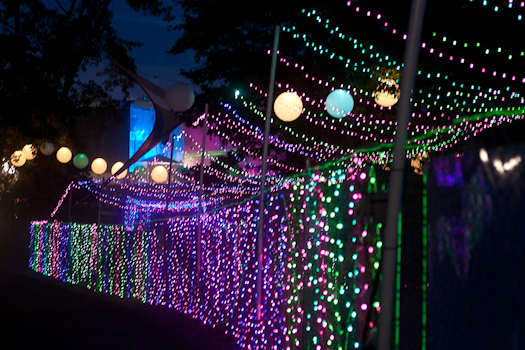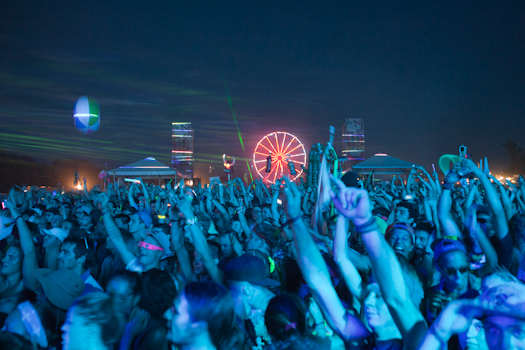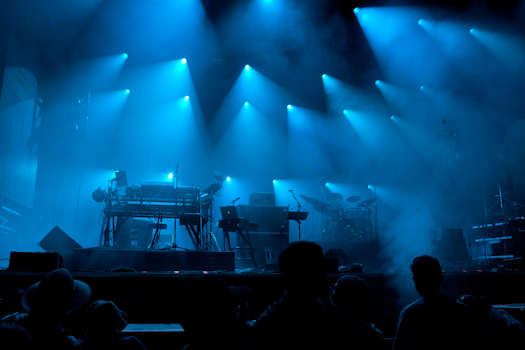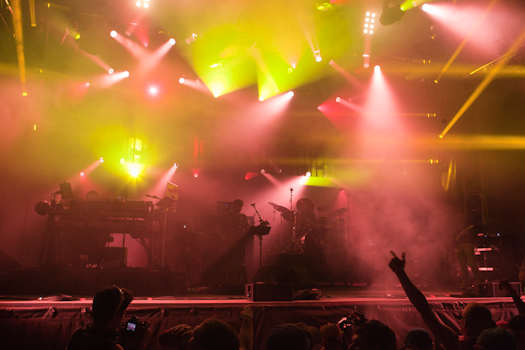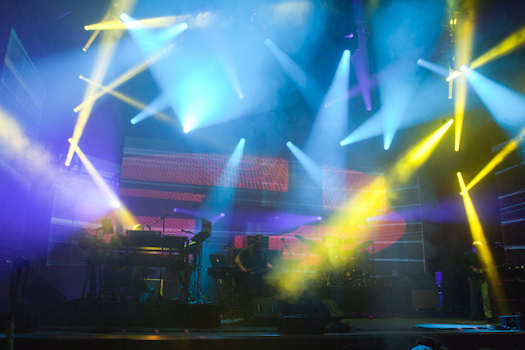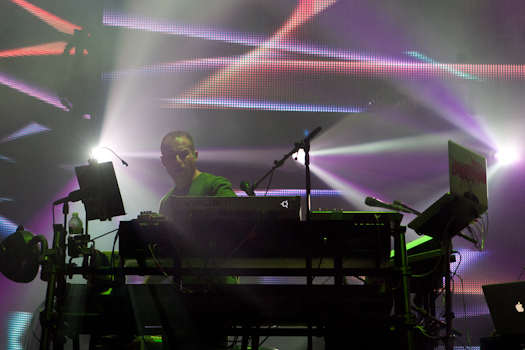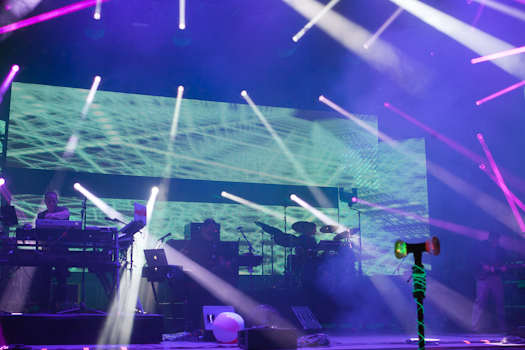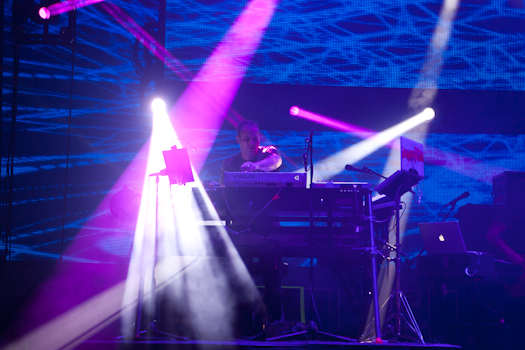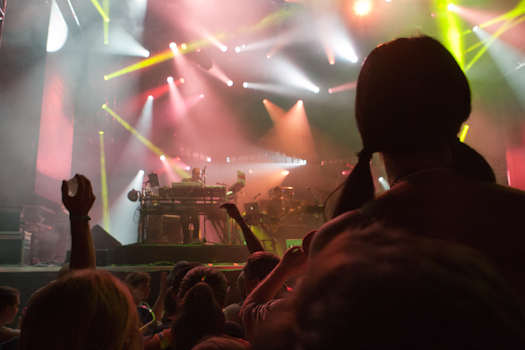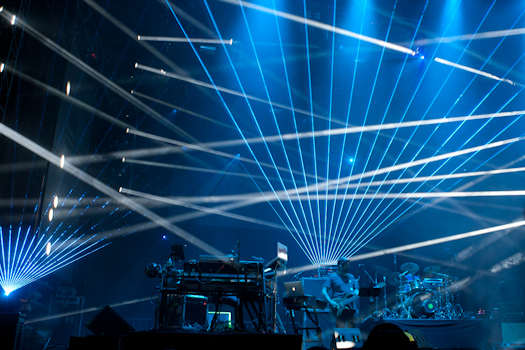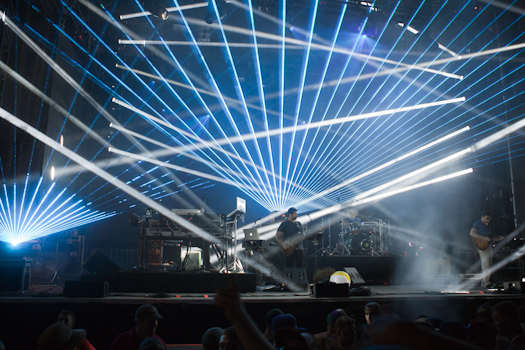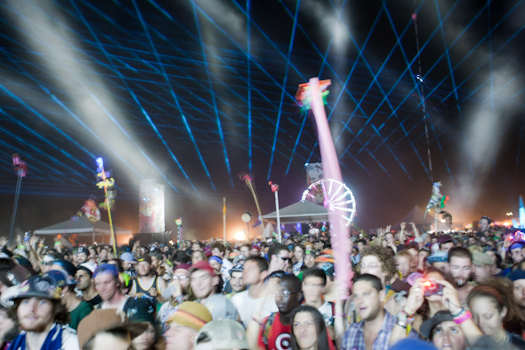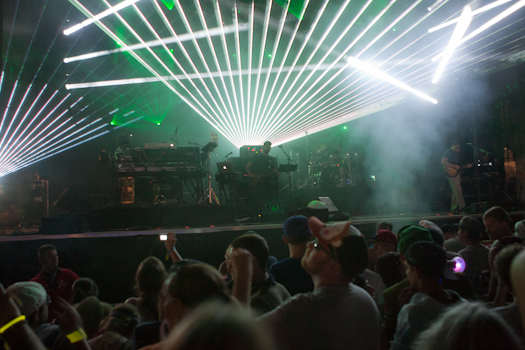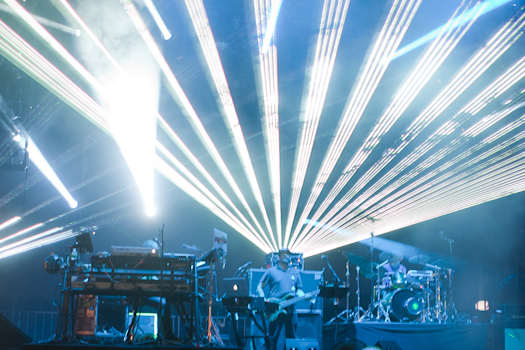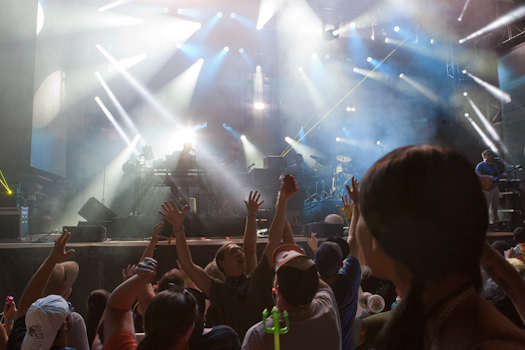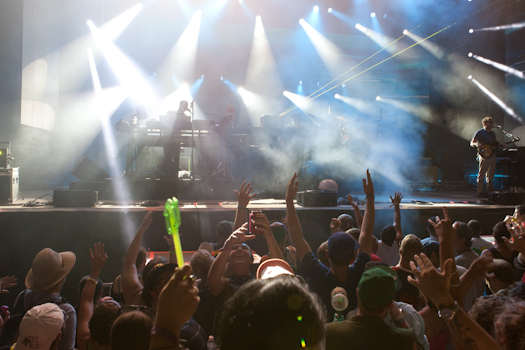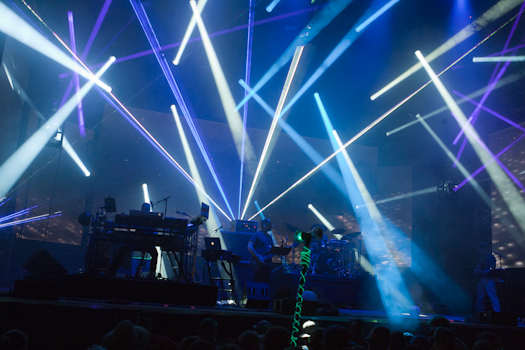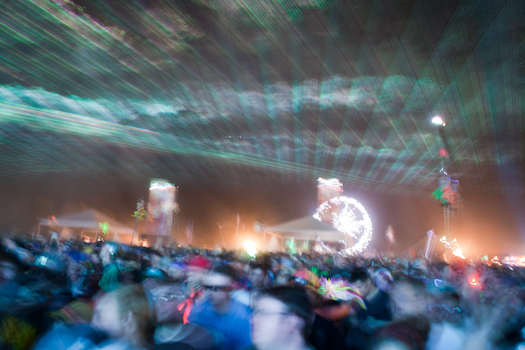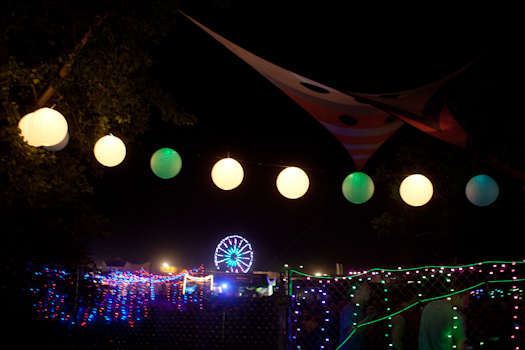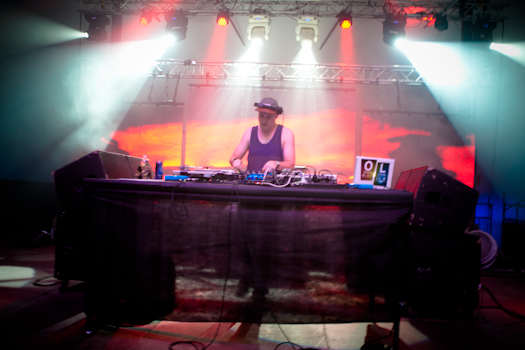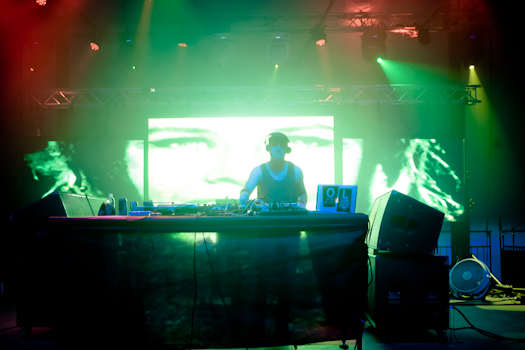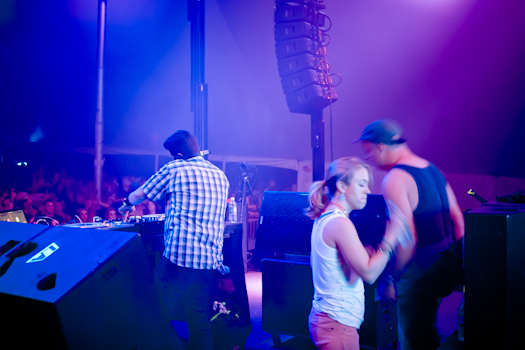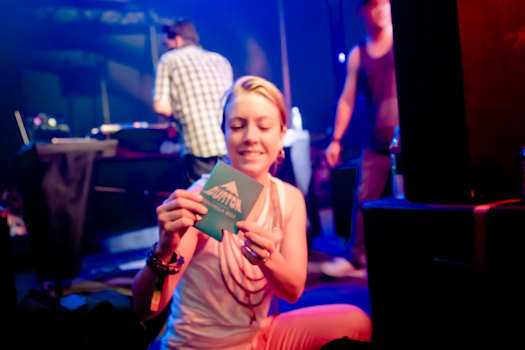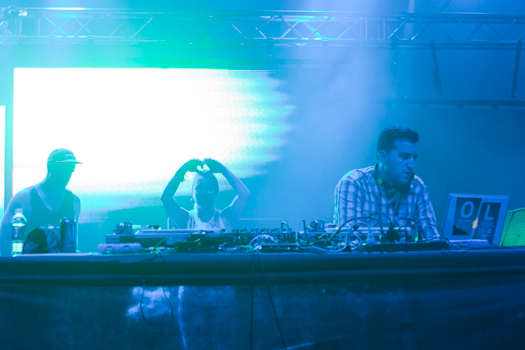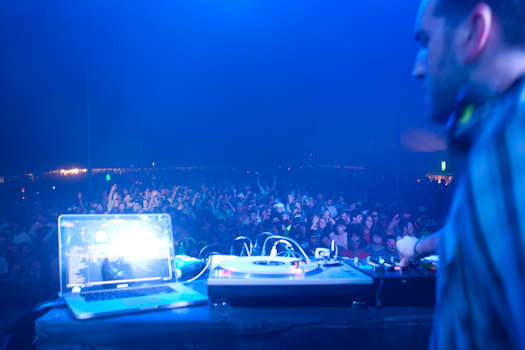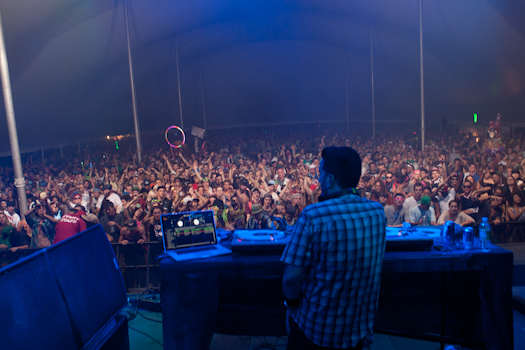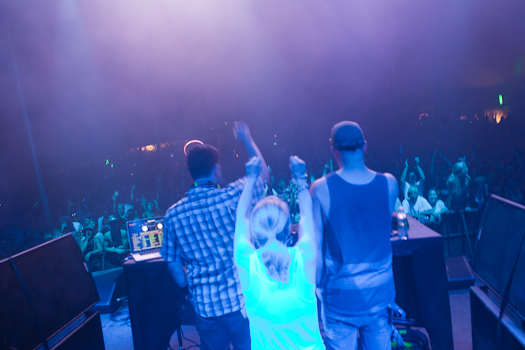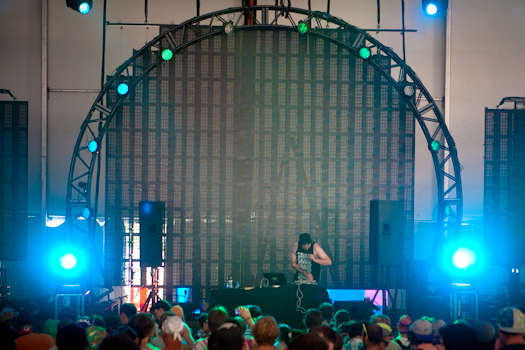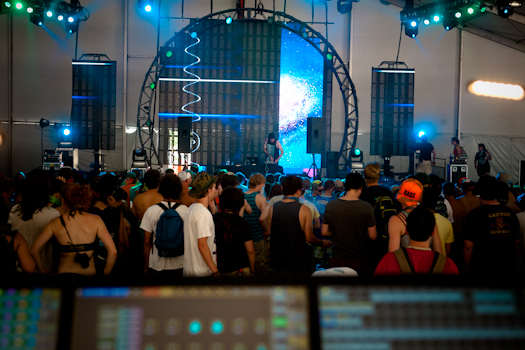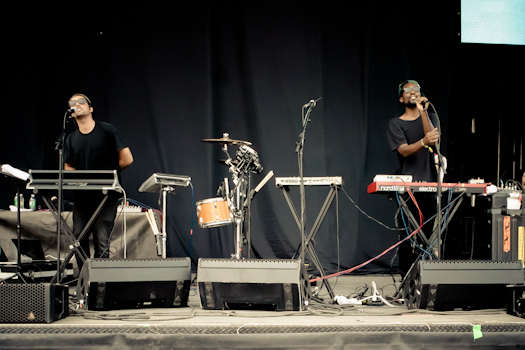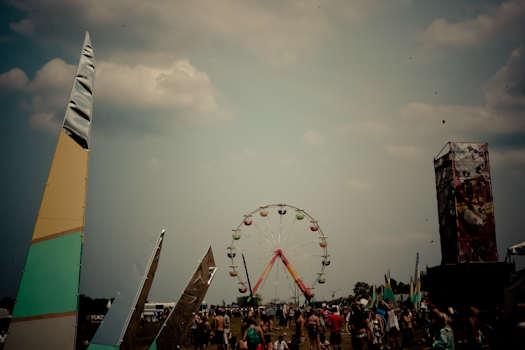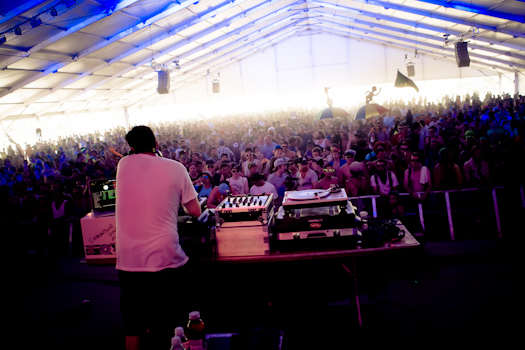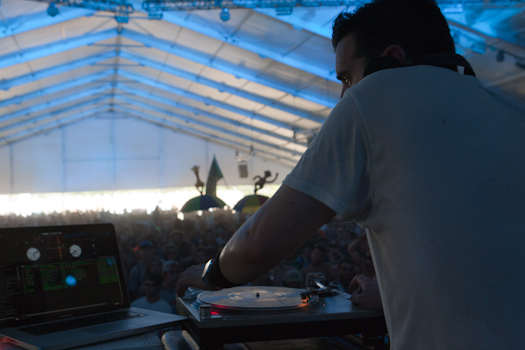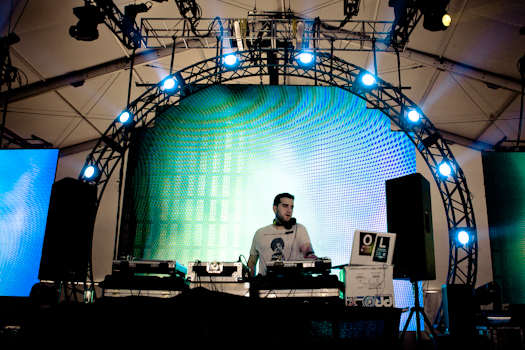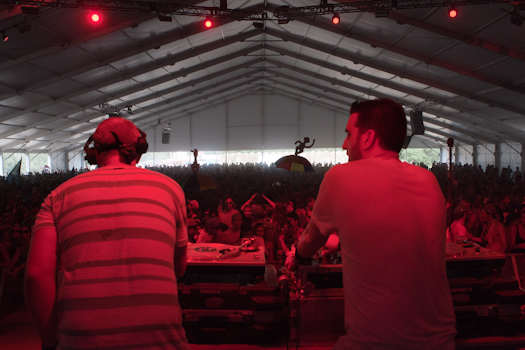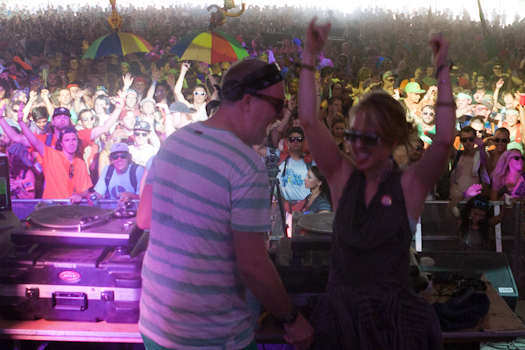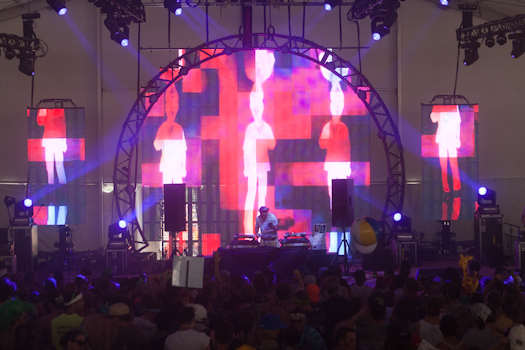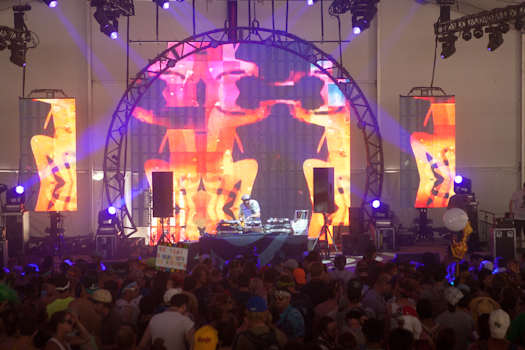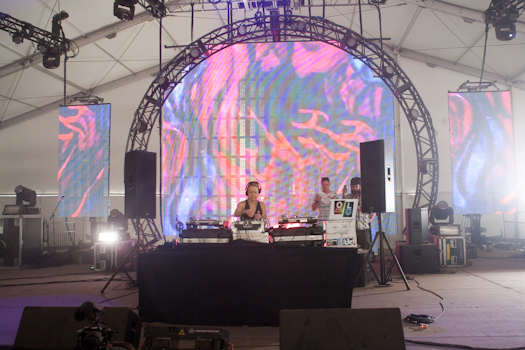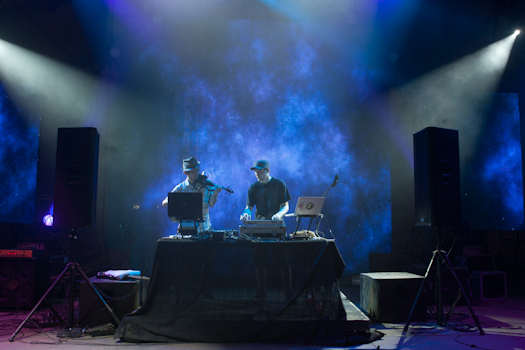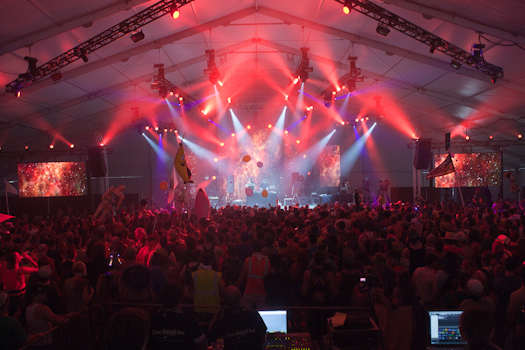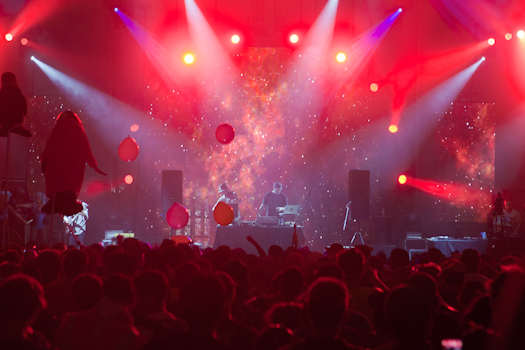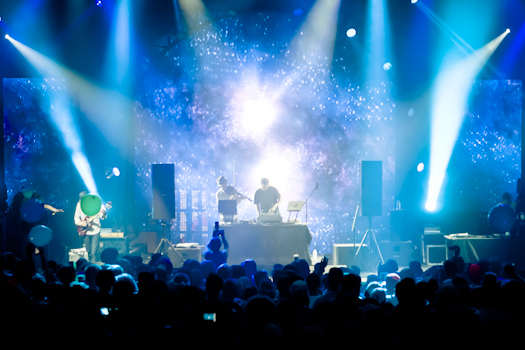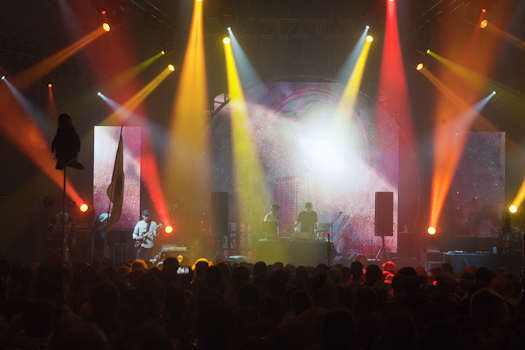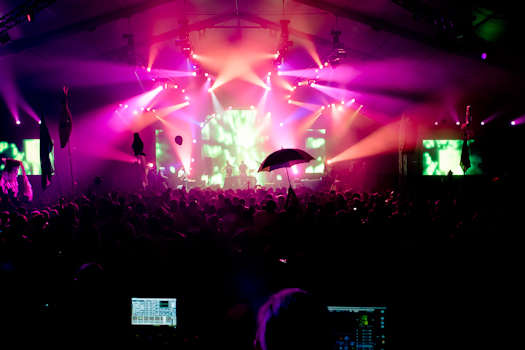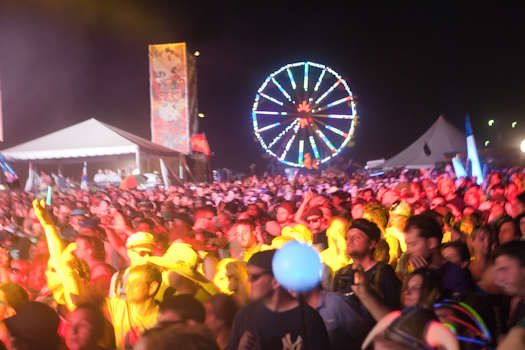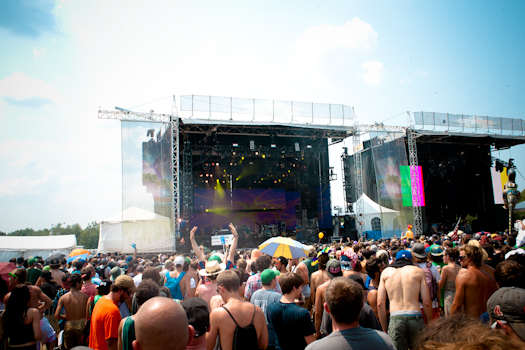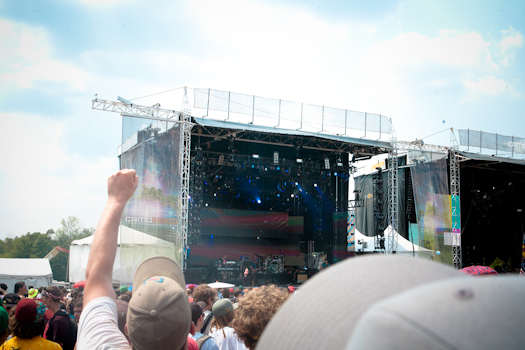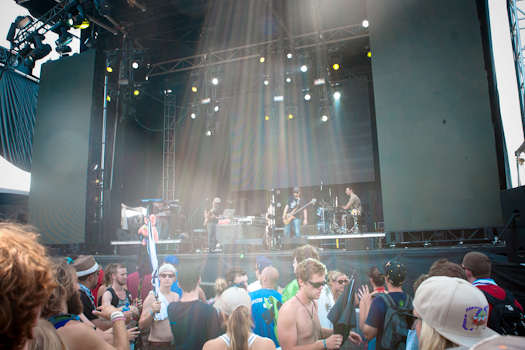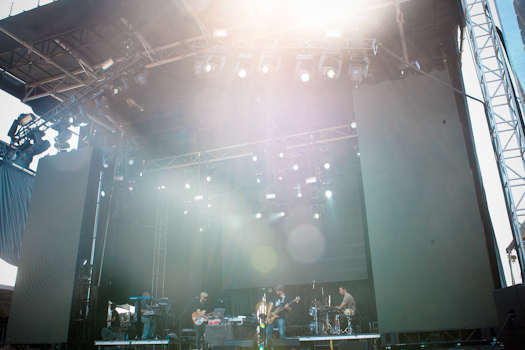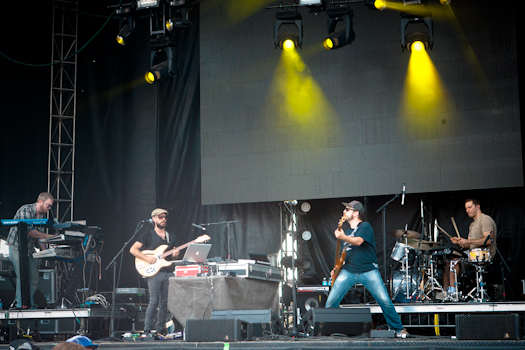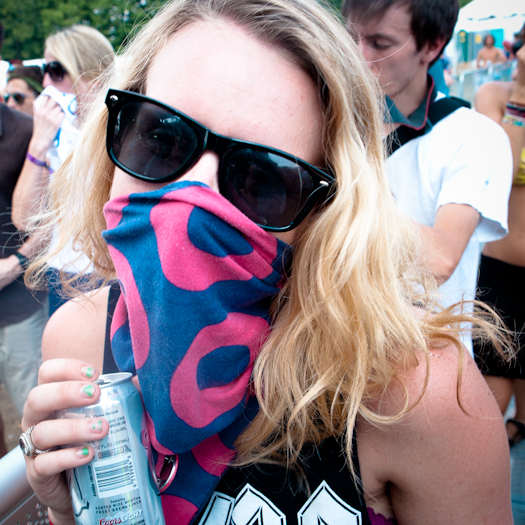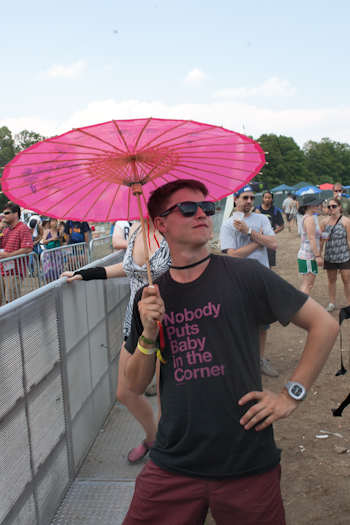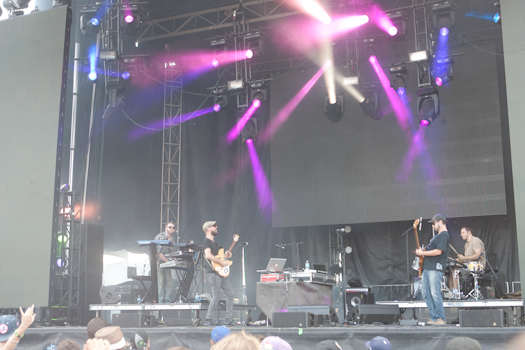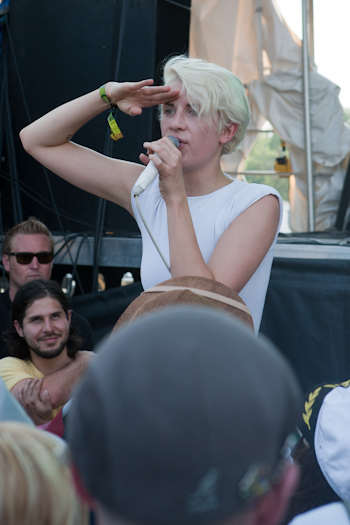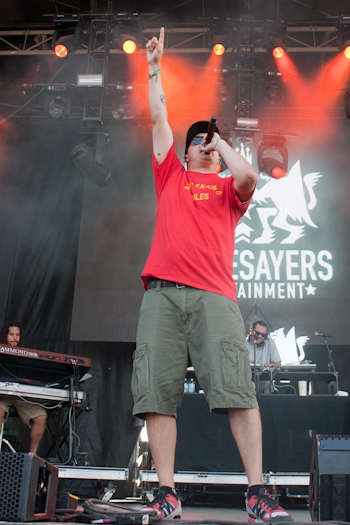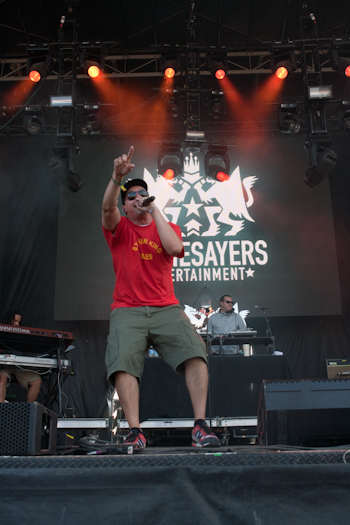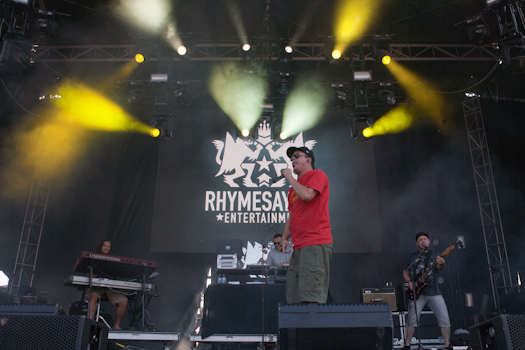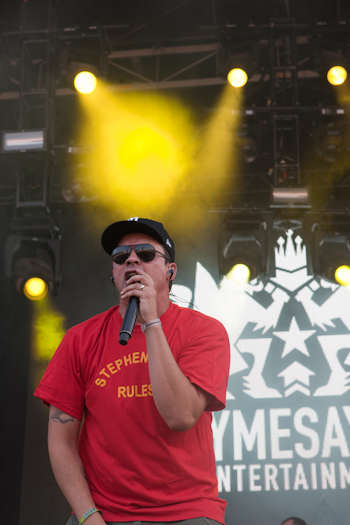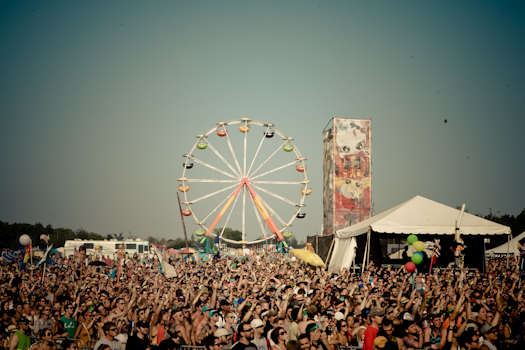 Part I: The Evolution of Camp Bisco

As anyone who attended the massive' 10-year celebration of Camp Bisco last year will tell you' this festival has fully matured into an EDM behemoth. Though always centered around and anchored by the live jamtronica pioneers Disco Biscuits' it is really what has happened around both the "scene" and the broad and inclusive array of electronic acts and DJs that has turned Camp Bisco into a perennial east coast festival powerhouse.
The first and most obvious evolution that marks the Camp Bisco that most of the jam scene has come to know is the venue change. A sometimes divisive topic amongst old-schoolers and "noobs'" those who have known the band and the festival for the full past decade typically take a great deal of pride in knowing the true roots of Camp Bisco across its modest beginning in Cherry Tree' PA in 1999 when the festival was formally founded in front of an audience of approximately 800. The festival had some rather sporadic early years before the real transformational moments in 2005 (when the production was handed over to Meatcamp Productions) and 2007' when the festival found its current home at the Indian Lookout Country Club in Mariaville' NY' approximately 30 minutes outside of Albany' NY. From 2005 through 2009 the festival's attendance grew steadily to about 10'000 as more and more progressive and diverse acts were sought out and added to the bills. From 2007-2009' the Mariaville venue' with its notorious biker security and hospitality' was providing the space and infrastructure necessary to put on a large-scale festival that was the underlying goal and vision from the Biscuits and MCP -- a realization of just how impressive and massive this scene could be. Even despite a down economy' the EDM genre was surging both nationally and globally' and on the east coast that was well-reflected in the growth of Camp Bisco' which was fully embracing the well-rounded scheme of booking some of the world's hottest acts across a diverse blend of music including live improvisational' hip-hop' and straight electronic DJs. Ahead of the curve is how one might view the success inherent within the growth of this festival. The planets aligned for an even greater attendance spike in 2010 (15'000) and blew everyone's minds last year for the 10-year celebration' officially selling out at 25'000 and considerably outgrowing the scheme that had worked for their crowds in prior years' leading to massive traffic backlogs and considerable frustration (that was immediately followed by musical bliss once inside the gates) for most everyone in attendance. Despite the setbacks' Camp Bisco's explosion was never more visible than when watching the scores of attendees have the time of their summers to headliners including Bassnectar' Pretty Lights' Shpongle' Lotus' Cut Copy' Wiz Khalifa' and Ratatat.
While the past several years of Camp Bisco have all witnessed seriously stacked lineups' the seemingly endless array of top-tier acts from last summer's 72-hour throwdown truly brought the experience and the festival's clientele to a whole different level. To that end' while hot headliners Skrillex and Bassnectar ensured that dance-ready crowds are in no short supply for CB11' there seems to have been some concerted effort to take the foot off the gas to a degree to ensure that the festival and environment can continue to handle the spiking crowds.
While each year brings some tasty' trendy acts to the forefront at Camp Bisco that end up at the top of the flyers and drive massive ticket sales' what has been more impressive over the past several years has been the inclusion of up-and-coming acts in some well-placed set times and locations' and watching those acts spike in public popularity off the grounds of the Indian Lookout Country Club as a few years have passed. Sure' each of the last several years has had its Snoop Dogg' Chromeo' Wu-Tang Clan' and Cut Copy' but to me the real "growth" of the festival In the true sense of the word has come from the evolution of the more electronic side of things as may be best evidenced by a Pretty Lights for instance. When I caught my first Bisco set from Pretty Light's Derek Vincent Smith in 2009' there was some undeniable talent behind the late-night raging set' but there was definitely still a sense of "who is this guy and how do I not know about him if he kills it this hard" throughout the audience. 3 years later' Pretty Lights is towards the top of the electronic music world and Camp Bisco has more than doubled its attendance numbers.
So' while Camp Bisco forges ahead beyond its first 10 years' a massive accomplishment in and of itself' we're left to wonder a bit what the next 10 years might hold for this seemingly peaking (no pun intended) musical genre that has become so pervasive amongst "younger" generations' relatively speaking. But while we wonder' there seems to be no uncertainty that the acts that can be found annually at Camp Bisco are as likely as any to be driving the entire scene and perhaps helping to float the entire live music industry for the next decade.
Part II: Camp Bisco XI Review

Thursday' July 12' 2012
Once again making the annual migration to Indian Lookout Country Club with me was photographer Alex Rice-Swiss. Our trip to the venue was not without adventure after a near accident on I-87 and some back roads navigating to locate the new festival access point at Maple Ski Ridge' several miles from the venue. One of the most notable and successful facets marking the crowd-control planning employed at CB11 was this new access point for artists' media' and those who did not purchase a car camping pass' which were effectively limited for this year. This' in conjunction with several additional venue access gates and an earlier entry time for camping' worked marvelously by most all accounts to combat the major issues incurred with traffic and entry experienced at CB10.
The "scene'" right off the bat for Camp Bisco 11 was one of energy and excitement without the over-intensity experienced from the prior year. Simply stated' CB10 blew up to be too big for its own good' and the effects were seen both in the attitudes of some of the angst-y younger attendees and in the local community' which was sent into legitimate disarray with the monumental traffic backlogs that unfortunately became one of the most defining memories of the 10-year anniversary. CB11 was executed with considerably more diligence in planning for the crowd of approximately 20'000' and it made all the difference. Camping areas and entry ways were more appropriately marked and constructed' the staff was more on-point with helpful information' and simply stated' everyone just seemed to learn their lesson from the year prior. As Disco Biscuits bassist and Camp Bisco host Marc Brownstein stated to the crowd at the main stage area' "this year' it really seems like we've finally figured it out." While the crowd was still relatively young in average age and largely motivated by the more electronic side of the musical complexion of the festival' the element of frustration was largely absent' as was the rain for the most part' and it made for a much more enjoyable overall experience.
Our first trip over to the main stage area featured performances by Crystal Castles and Skrillex. Both were acts eagerly anticipated' and major draw artists for the festival overall. Crystal Castles weaved through a considerably more lightened and calm (without sacrificing energy) 8-song set featuring popular favorites "Crimewave" and "Untrust Us" towards the end. Though their set struck me as somewhat standard' there was no lack of enthusiasm from the surrounding crowd and a welcome and discernibly less "sharp" feel overall. Contrastingly' Skrillex had everyone as amped up for an in-your-face and heavy performance as I may have ever seen at Camp Bisco. Taking a look at the side-stage artist VIP area' I don't remember ever witnessing more notable artists collectively geared up with massive smiles on their faces anticipating a set at Indian Lookout Country Club. 24-year-old EDM elite artist Sonny Moore got right down to business dropping in on a fast-paced and intricately-moving set fueled by many new and old remixes as well as several versions of "Scary Monsters and Nice Sprites." The performance was complete with some pyrotechnics the likes of which Camp Bisco has never seen before.
What brings me to the festival each year are the 6 sets from hosts and headliners The Disco Biscuits' who have all but ceased touring outside of a couple annual festivals and a New Years run each year. To me' this band is so tremendously engaging in that they have evolved to come close to perfecting live dance music while continuing to employ and refusing to abandon the compositional elements of classical music that were more dominant during some of their earlier' more formative years. Even during a 20-minute song that is largely comprised of a slowly-building minor jam' they will dive in and out of sections with intricate melodies that almost make your head spin to try to gauge how the band is able to pull it off. It really is considerably "smart" music from a theory perspective' with the prowess there almost entirely negating the skeptics and stigmas criticizing their lyrics and vocals' at least for me.
The Biscuits' first set went down immediately following the conclusion of Skrillex on the adjacent main stage. The massive 2-stage set up of the main performance area which was first employed for Camp Bisco in 2010 allows for amazingly seamless transition from one major act to the next without sacrificing a great deal of visibility for any one stage over the other. Marc Brownstein (bass)' Jon "The Barber" Gutwillig (guitar)' Aron Magner (keys/synths)' and Allen Aucoin (drums) burst right into their first set with a unique selection in "Save the Robots" which is typically found as more of a set closer' and hadn't opened up a set since the 2010-2011 Tower Theatre New Years Run. The opener was both intricate in its technical' compositional elements' and deep with an extended jam. The song in its entirety came in at an impressive near-18 minutes with dynamic changes throughout. It also set the tone as far as what would trademark the sound for the festival - melodic and prominent guitar played by Barber. With the Biscuits it is often a mixed bag as to what exactly may stand out and drive songs in many instances' but Barber's prominence and on-point playing' for me' would become the most refreshing and well-received trend within most all of the Camp Bisco sets this year. Additional first-set highlights included Basis for a Day and a fast' uptempo Mindless Dribble. The set closer was rolled off as the 4-minute end section of "Helicopters"' particularly noteworthy due to the epic prominence of the "Helicopters" sandwich that was the first set of CB10 for the Biscuits. As the tune came to a thrilling conclusion' it was clear through a very well-played and thoughtfully-constructed first set that the Biscuits were aptly on-point to drive this festival throughout its 3-day duration. In fact' the challenge would prove to be keeping up with their unbelievably intense level of energy.
Following an intense first Biscuits set' we ventured over to the Label Tent to see personal favorites Orchard Lounge for their first of two scheduled performances dubbed a "downtempo set." OL has made a serious name for themselves over the course of the last several years at Camp Bisco by extending themselves well above and beyond the call of duty' always intermingling to the max and going as far as playing some epic late-night marathon sets at random camp sites. This year was no different with 2 sets on 2 different days and the ever-present rumors of additional possibilities. OL's downtempo set was strong and well-attended to kick things off for the Chicago-based trio. Also very entertaining was the first set I've ever caught from solo Bay-area native and electronic DJ Bird of Prey. Formally named Torin Goodnight' you know a guy is serious when he spends the better part of the hour leading up to his set on his knees on the stage onramp setting up his music to kill it for the set. With some scattered back and forth to the B.I.G. Tent to catch portions of Kill the Noise' Zedd' and Porter Robinson's sets' all curated by the Skrillex-driven OWSLA label' it was off to bed to recuperate for what would prove to be an equally outstanding second day of Camp Bisco.
related articles
Blog: Mountain Oasis welcomes NIN' Bassnectar and Pretty Lights
Features: Camp Bisco 2013
Shows: moe.down 14
Blog: On the Horizon: Camp Bisco 12
Shows: SnowBall Music Festival
More on:
Disco Biscuits
,
Conspirator
,
Skrllex
,
Bassnectar
,
Orchard Lounge
,
Brothers Past
,
The Knocks
,
Yacht
,
Future Rock
,
Mux Mool
,
Amon Tobin
,
Amon Tobin ISAM
,
Emancipator
,
Atmosphere
,
Portugal. The Man