Shows
Langerado '08
March 6-9, 2008
at Big Cypress Seminole Reservation in South Florida Everglades
by Adam King
|
photography by Michelle Arthur
March 18, 2008
page 1 of 2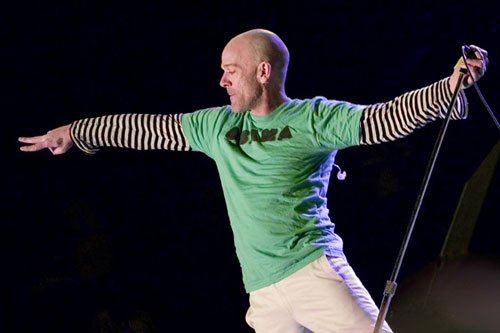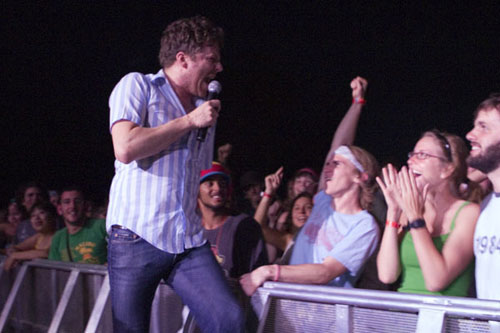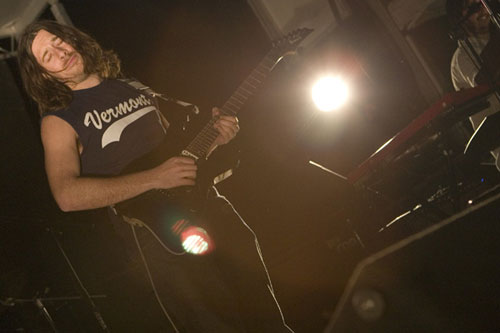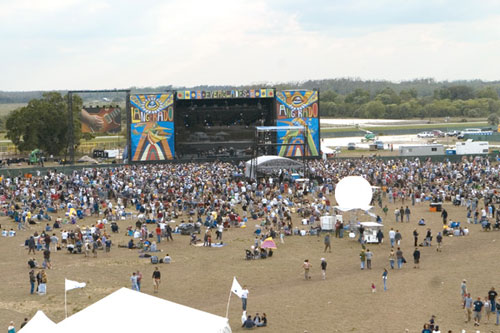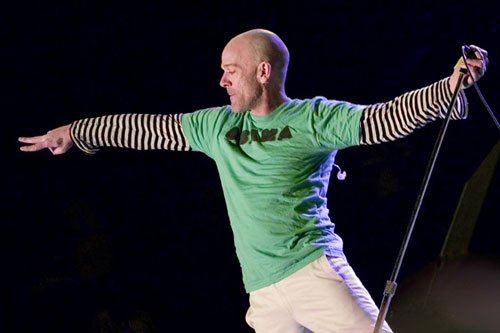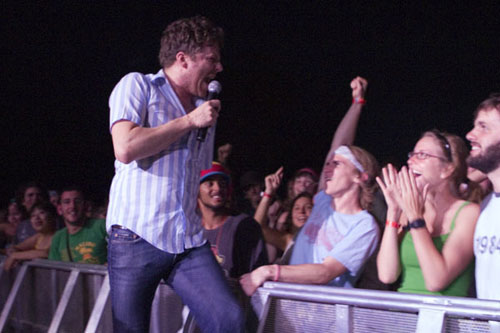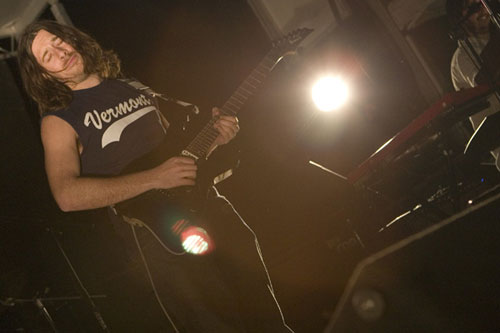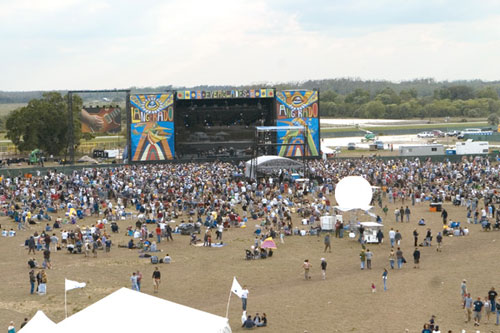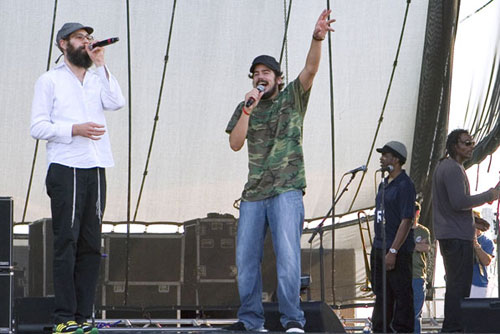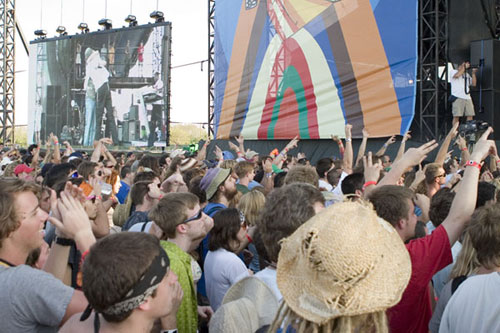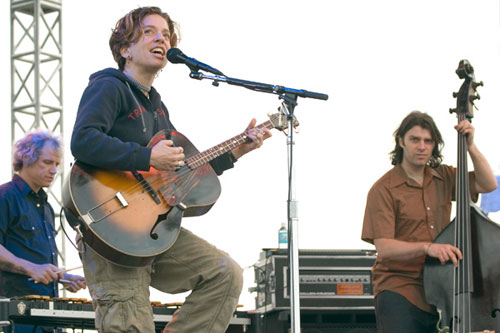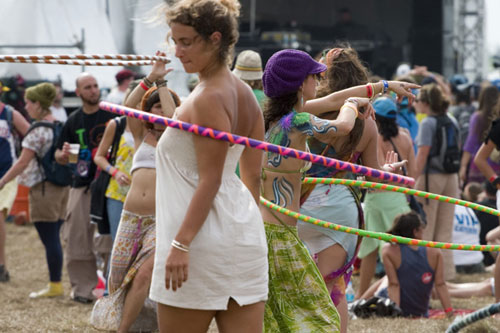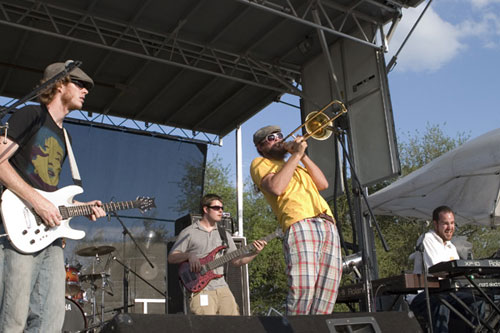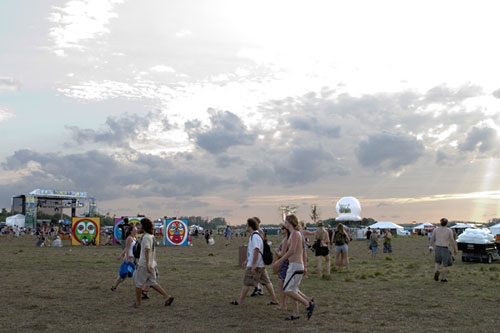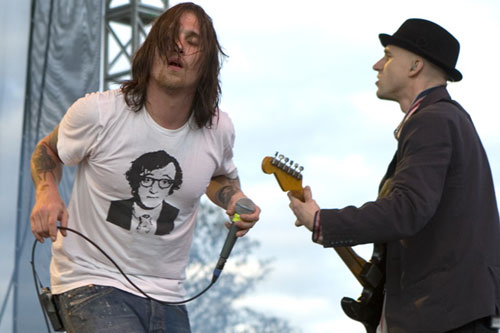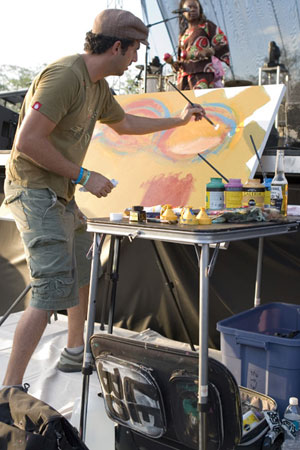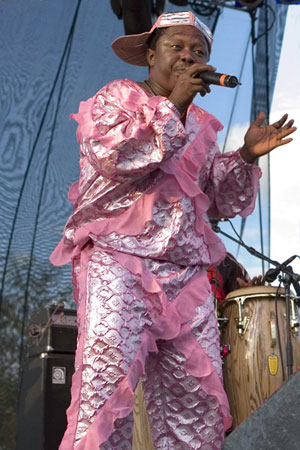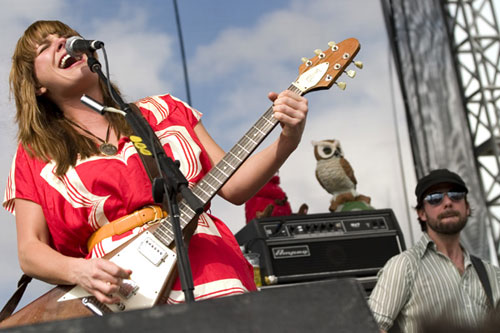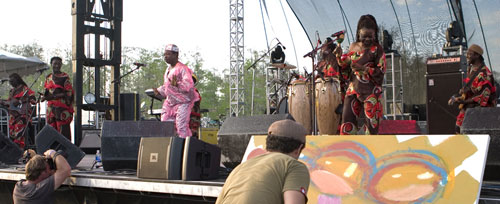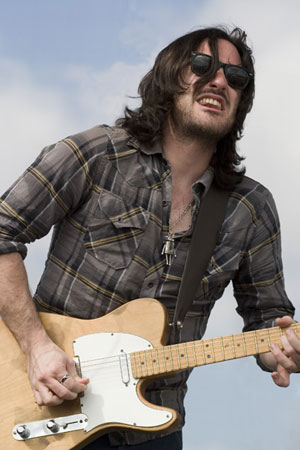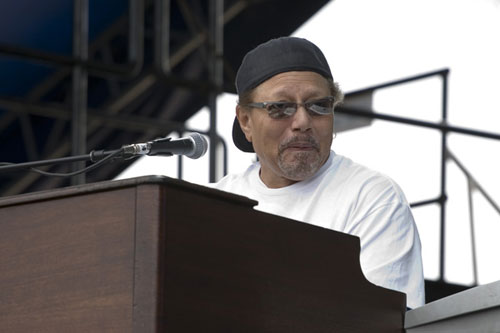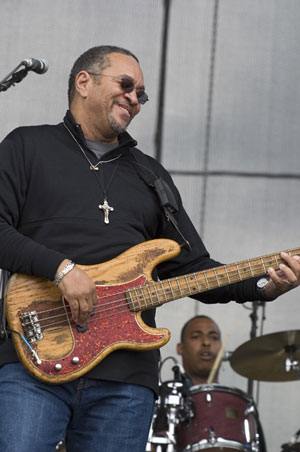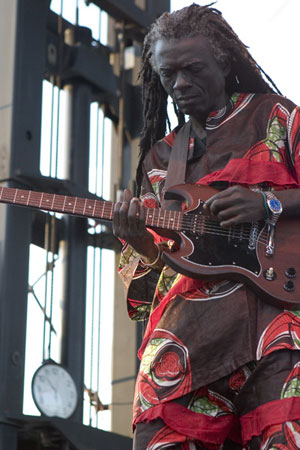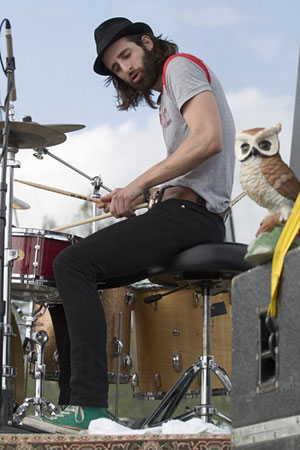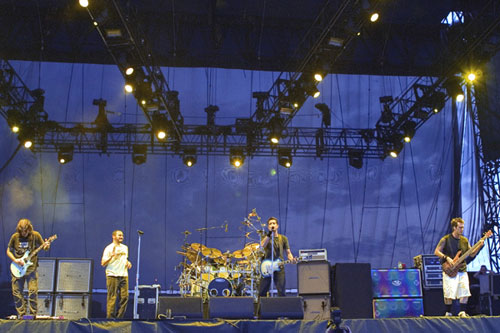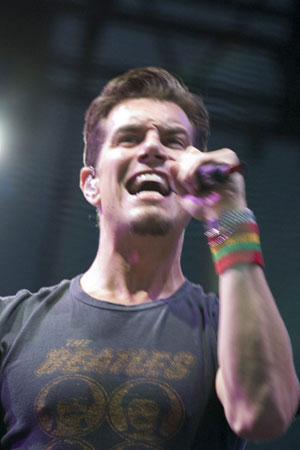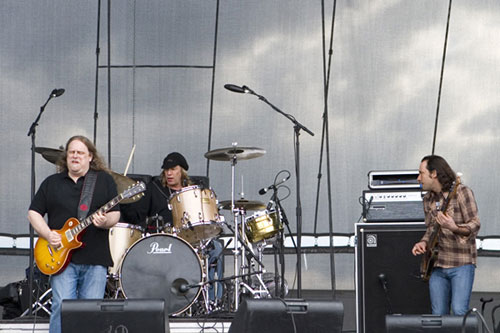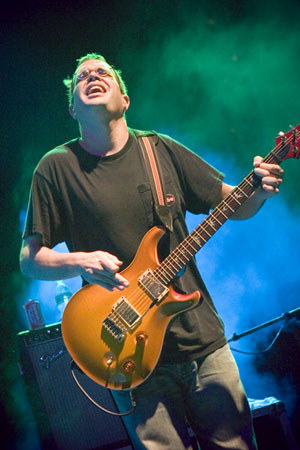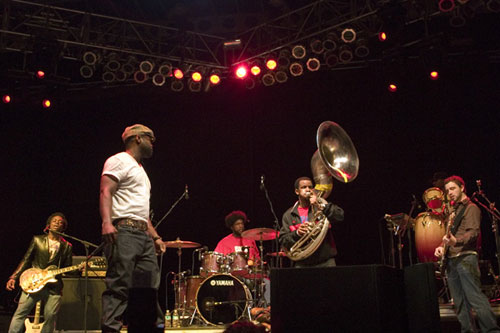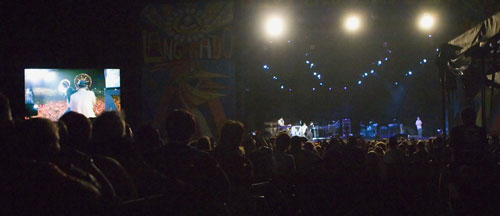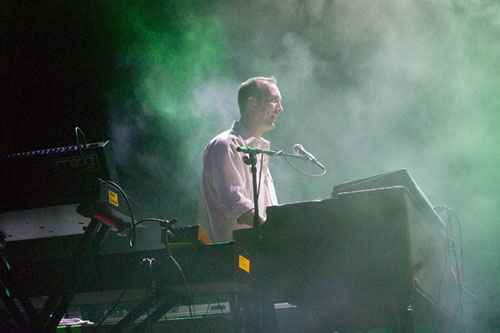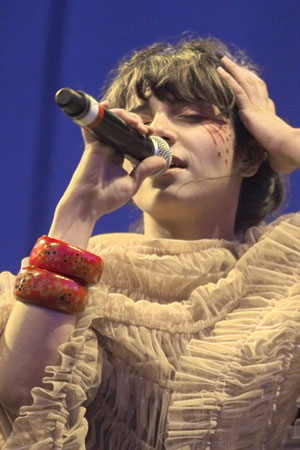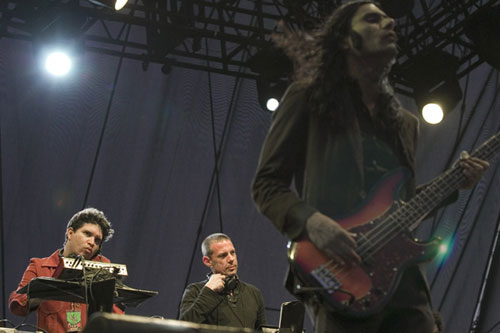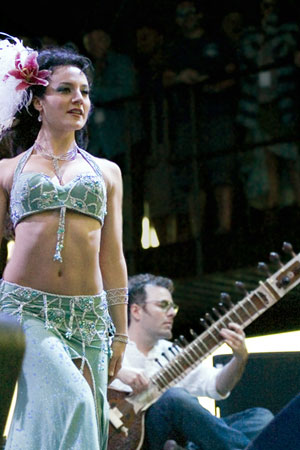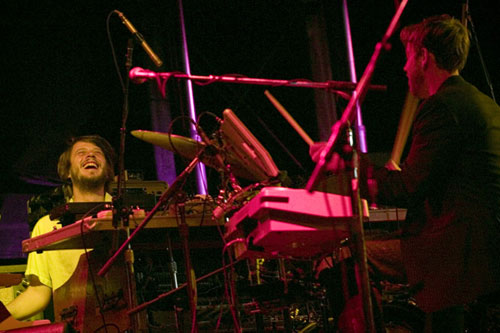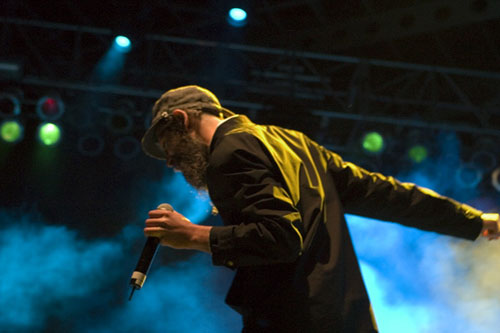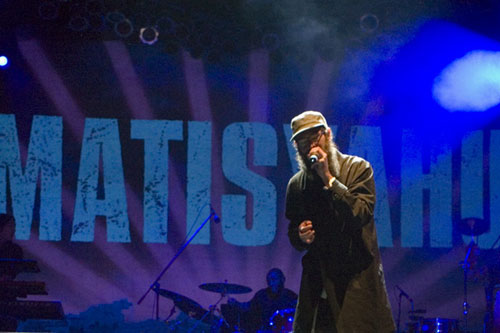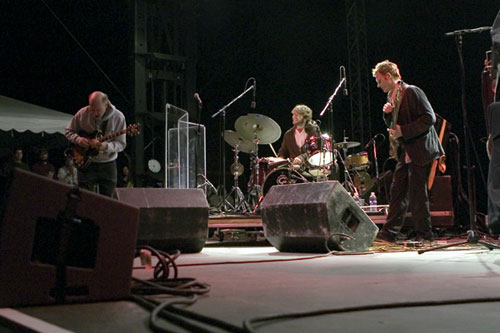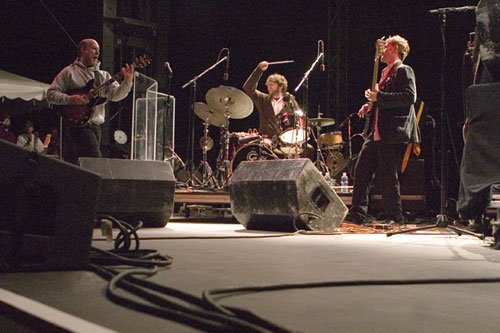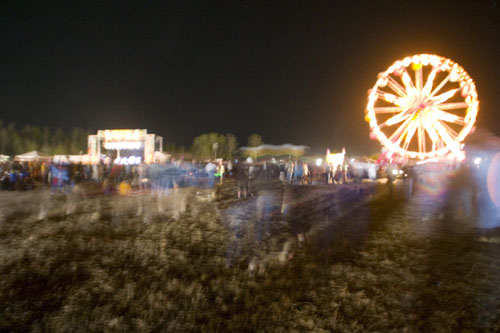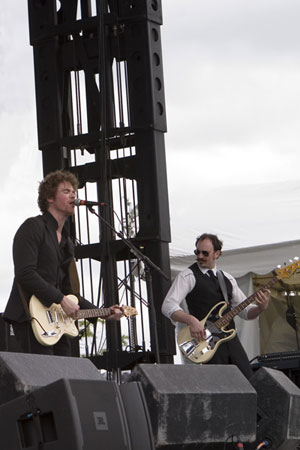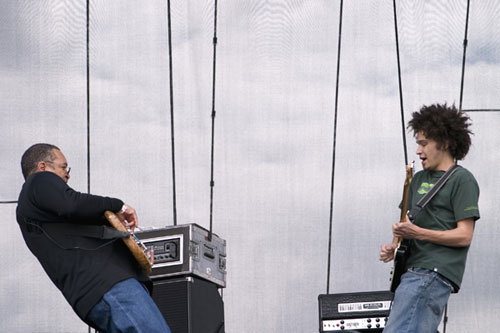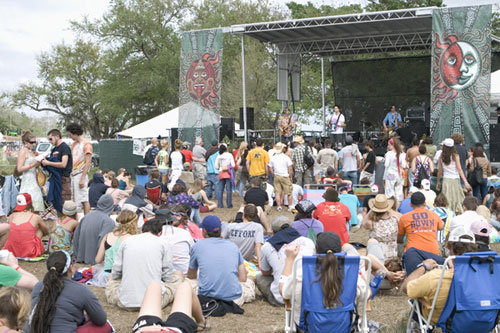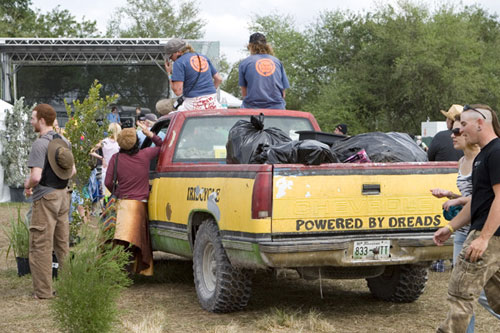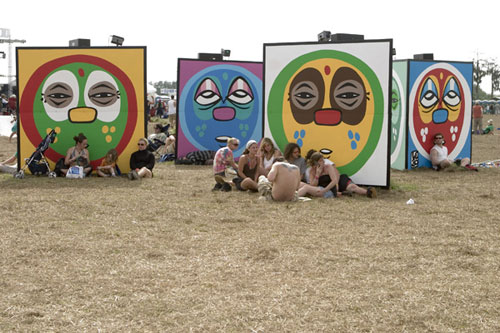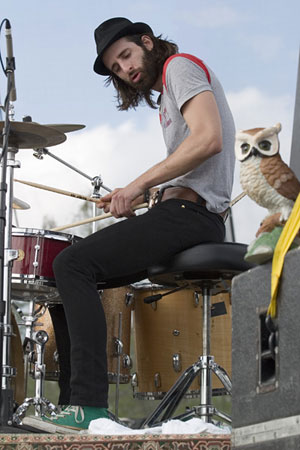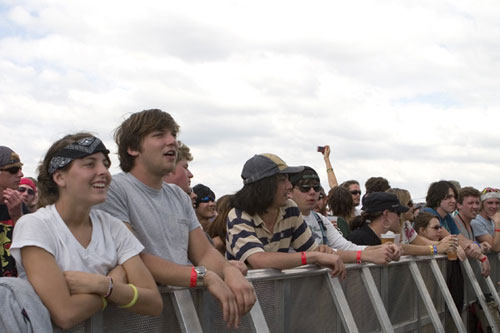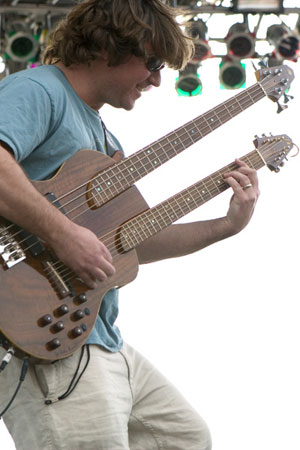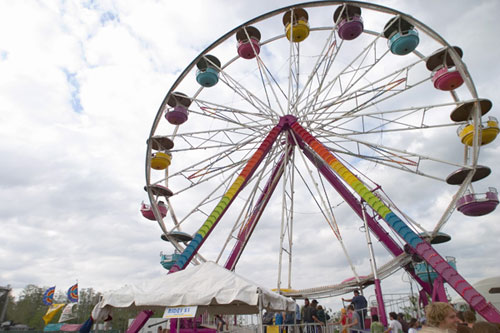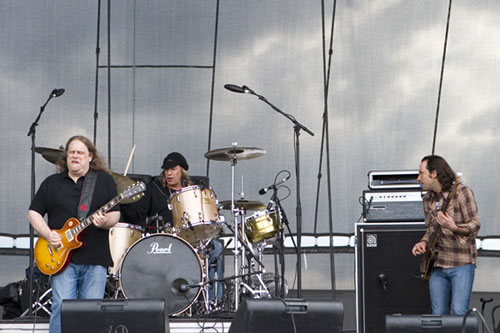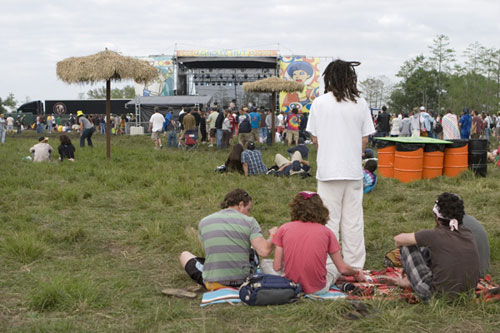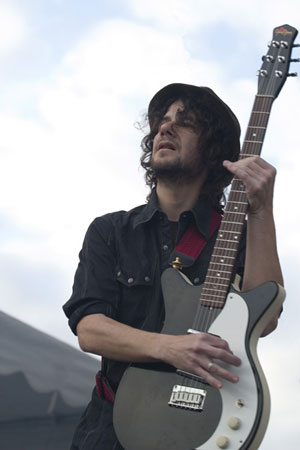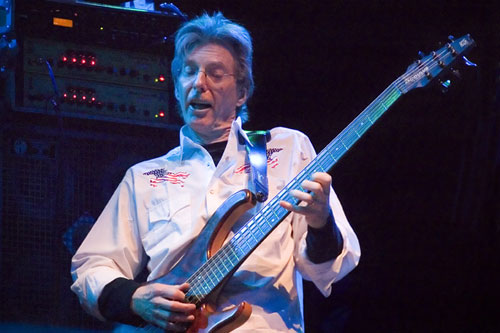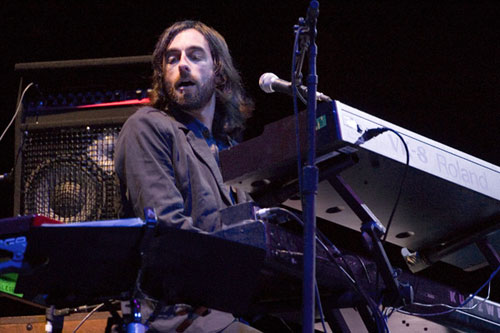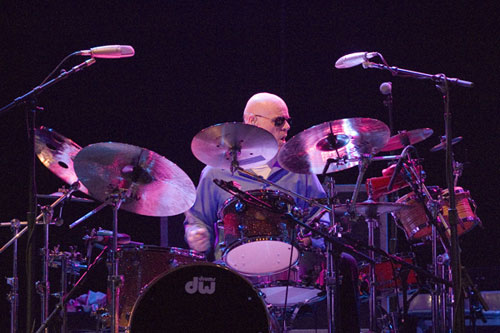 That's right' I remember this swamp. It was about eight years ago' only one band played' bright minds got naked' and there was some weird green powder that nobody seemed to be questioning enough. I think I remember a tree...

Now in it's sixth year' this would be my first Langerado experience. I could say that the amazing lineup was my main draw' but' listen' it's been a long winter in Burlington this year - brother-man needs some sun! As we sped the rental car towards Alligator Alley on Thursday' we could only make out one word through the continuously dropped calls: traffic. "Can you hear me now?" "Hell no!" Images of a younger me riding my skateboard 17 miles on the Florida highway flashed before my eyes' but luckily were not destined to be repeated. After a brief four-and-a-half hour swamp-leaching' we were inside. Crews were working hard' but even with overestimating their potential crowd thrice over' the Langerado squad did not seem quite prepared for the 20'000 at their door. If you were confident enough' you could have just driven right in' but before I reveal anymore ancient Jedi mind-tricks' the music!
THURDAY MARCH 6th

So anyone who says they caught
Claypool
at eight on Thursday night is either lying or has some amazing motivational skills that I am far out of reach of ever attaining. Either way' by the time we rolled in'
Dark Star Orchestra
was encoring with "Liberty'" which' from half a mile away' sounded phenomenal. We had missed the first thunderstorm of the weekend' which we thusly celebrated with a few cocktails and some preparatory rest.
FRIDAY MARCH 7th

Ground explorations in the early afternoon gave way to much random music samplings' which festivals are all about.
The Dynamites
laid down some dirty Southern funk on the big stage' and set the tone for a day of heat and rhythm. I wish I had seen more of
The Walkmen
' as the five minutes I caught hardly sufficed' but the bump of
Ozomatli
playing at the same time was far too appealing.
The Wailers
played some great Marley tunes' despite the crowd having no clue as to who is actually in that band. Next' my biggest disappointment of the weekend came in the fact that
Vampire Weekend
had canceled so they could play on
Saturday Night Live
the next night. I'm hooked on their debut album right now' and wanted to finally check 'em live' but que sera.
G. Love and Special Sauce
did a great job of doing the same thing they always do' and I believe I enjoyed a burrito and a margarita while listening to them from afar. Note: I would enjoy many more burritos over the course of the weekend' but no more margaritas' as we learned they were being made with wine.
Early evening is when the musical conflicts truly arose. I was so stoked to see !!!' but they' like many amazing bands' were placed on the Chickee Hut stage' which was about as far as Cleveland when you realized there was a band playing there at the moment you were somewhere else. Regardless' 311 was thoroughly entertaining' and the motorcycles doing back flips during their set did a great job of keeping me from realizing that I was missing !!! at all. I'll admit' many had reservations towards 311' and their utterly non-d.l. weed-hyping makes such hesitations warranted. But' there is no denying that Chad Sexton on drums has one of the greatest pops I've ever heard anybody get off a snare. Hot.
Next' thinking we were at The Roots' stage' we accidentally caught the first five minutes of Mickey Hart Band. I love Mickey and all' but he just wears you down quick. Those tribal beats don't stop once they start going' which I'm sure many people love' but there is a reason he never sang in The Grateful Dead. The Roots' however' were on fire. There seemed to be some new white fella on bass I had never seen before' but he held it down strong. Performing to probably the third biggest crowd of the weekend' the Philly crew held the crowd in the palm of Black Thought's hand' and it made my friends rather confused when I grabbed my girlfriend and left. I know' as cool as it is when they cover Dylan's "Masters of War'" they've done it at the last three shows I've seen' and more importantly' there was no way I was missing Built to Spill. There were surprisingly more people at the small stage than I had expected' maybe around a thousand. Doug Martsch would still play the same for two people or two million' though' and he was just leading his team through such awesomely precise destruction. If more people had ever heard of the band' it would have been their favorite show of the weekend. They' of course' played in the forgotten Chickee Hut' so we had to hustle to meet back up with our crew and nab a good spot for the Beasties.
This is why I was here. 9:30 on a Friday night' middle of winter' and it's 85 degrees outside. Abounding with good friends under clear skies' having just seen one of my all-time favorite bands and now about to see another of my all-time favorite bands. I took just a little sip' and then things seemed even brighter... When Mix Master Mike sounded the blow-horn to start off the Beastie Boys' set' the smirks started peering. Many B-Boy newbies seemed surprised by the diversity of instrumentation and funk the fellas lay down' but it was all lovingly embraced. The set-list was almost identical to that of the Terminal 5 show a few days before' but reports of a lackadaisical NYC show were dwarfed by the raw force that shook the Cyprus. Add to that some seriously stretched-out grooves' and repeated shout-outs to the Everglades' most notably the extra hang on "Intergalactic's" "gliding in the glades" line - let's just say I laid it all out.
It took about an hour or two of cool down time before my team was ready to hit the floor again' and late night was split between Umphrey's McGee' Sound Tribe Sector Nine' and (ahem) Phix. Who was at the latter's performance' I do not want to know. As for the others' Umphrey's sounded great' as usual. Jake Cinninger is more and more stepping up to be the new destruction-commando in the guitar world' and his precision is downright shocking. Umph held a good crowd all night of probably around 2'000 or so' but they seem to have a fraternity vibe that some cats just can't jive. Not that they're like frat boys or anything' just that they seem to command a lot of focus and commitment from their fans - many of which are more than happy to give them. However' for the frazzled late-night festy goer' their drastic u-turns can be a little uncomfortable. So while they held a huge crowd all night' I saw many a people come check out 15 minutes worth and then head over to Sound Tribe. I hadn't seen STS9 in a good five or six years' and I was honestly impressed with the sound they've made for themselves. It's a total West-Coast trance thing that would be somewhat eerie if Zach Velmer wasn't so incredible on drums. Most notably' of all the bands all weekend' Sound Tribe seemed to hold the most control of their crowd. There is an admirably mutual state of mind throughout their fans' even the prostitutes juggling glow-in-the-dark hula hoops. I started to feel a few drops' and we made it back to the RV' once again missing a gigantic thunderstorm. The rest of the weekend...
SATURDAY MARCH 8th

State Radio
-You could hear the little girls screaming louder than the band. Not quite as cheesy as I had been warned though.
Arrested Development - They were great. Explicitly positive' and played all the hits: "Mr. Wendle" "Tennessee" "Everyday People."

Dr. Dog
- Killed it. Perfect band for mid-afternoon. Saw the
Grace Potter
guys there. Hardcores like myself are ready for a few new songs' but I can't really complain. This band is still on the bubbling verge.
Ben Folds - I'm not one of those guys that has a Ben Folds man-crush' but he is pretty schweet on piano. He'll be playing these things for another 50 years.

Antibalas
- Took me away from Ben Folds. They could be the best at what they do. Thunderous.
The Duo - C'mon' again on the far back stage! Didn't stop the crowd from meandering over. I've never seen a bad Duo set' have you?

Matisyahu
- The guy has a 15-foot tall' 30-foot-long light-up MATISYAHU sign behind him onstage. He's preaching the love of God' and the light of life. Anyone else losing the message?
Medeski' Scofield' Martin & Wood - Remember ten years ago' when this lineup played every festival and you actually began to tire of them? Well' that was ten years ago! They sounded tighter than ever! That early evening jazz-funk was all I needed.

R.E.M.
- Probably the band that got the most flack of the weekend. They definitely had the smallest crowd of the headliners on the big stage' but that only made it easier to get up close to one of the biggest bands on the planet. I had never seen R.E.M. and have never been the biggest fan' but I wasn't gonna miss them. Some people are just wankers. Anyway' they sounded awesome. Big. Loud. Like a fuckin' rock and roll band. We left halfway through' before the slower songs came' but I would pay to see them again.