Features
Timbre Coup's Residency and Knuckles & Valleys
by Andrea Kosek
|
photography by Chelsea L. Valente
March 9, 2012
page 2 of 2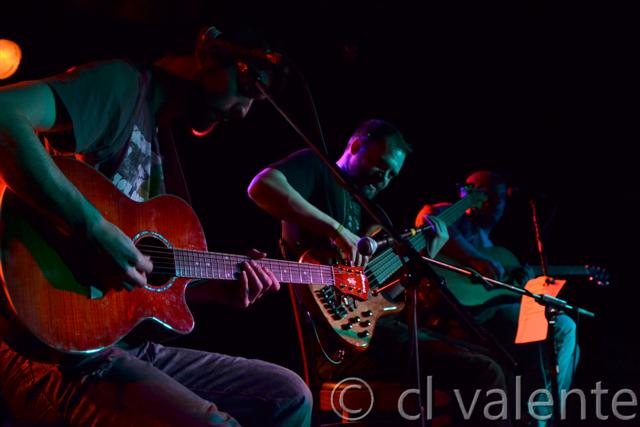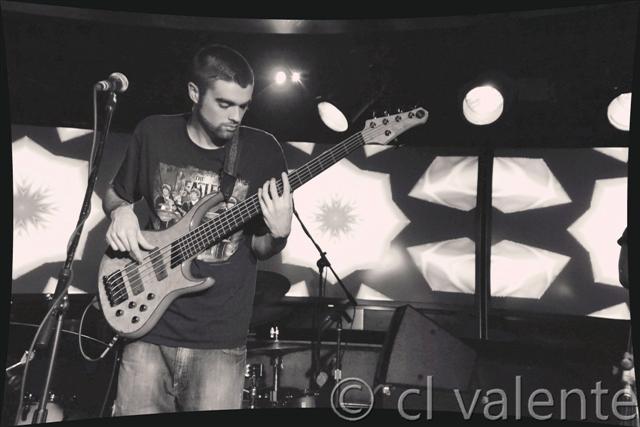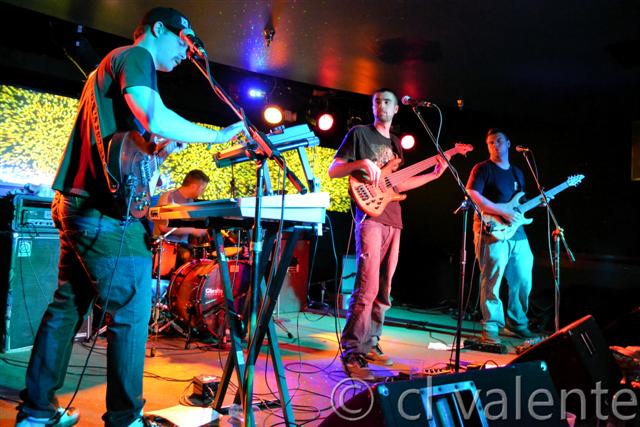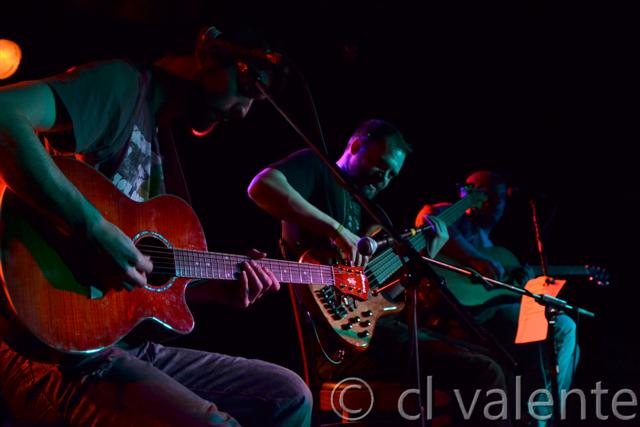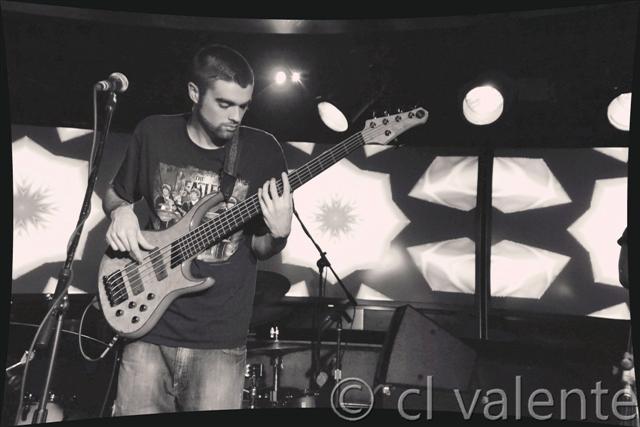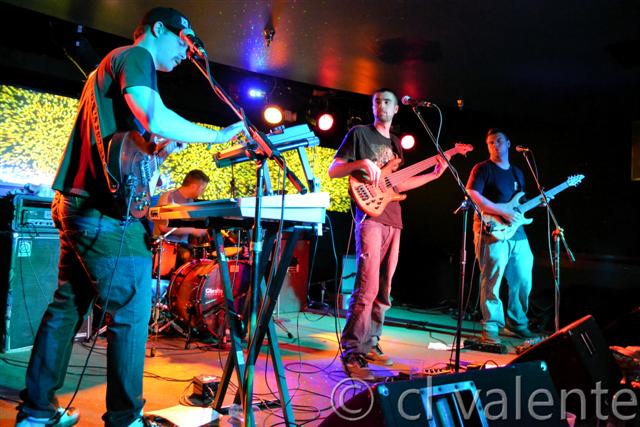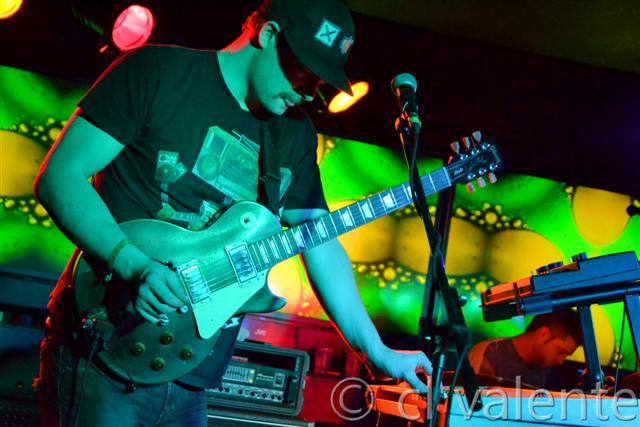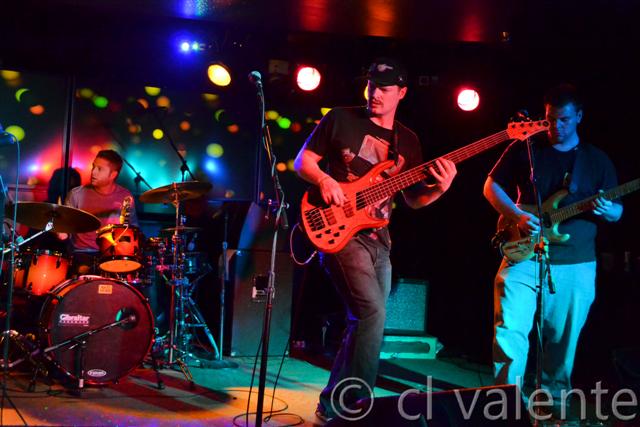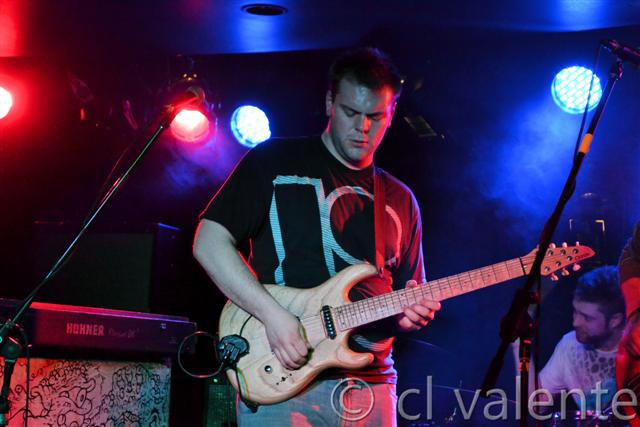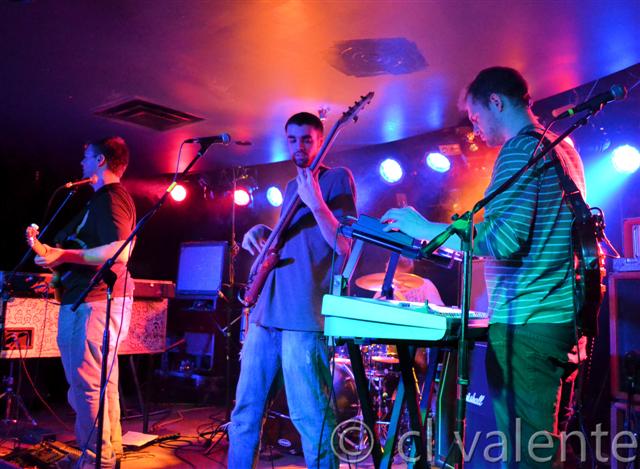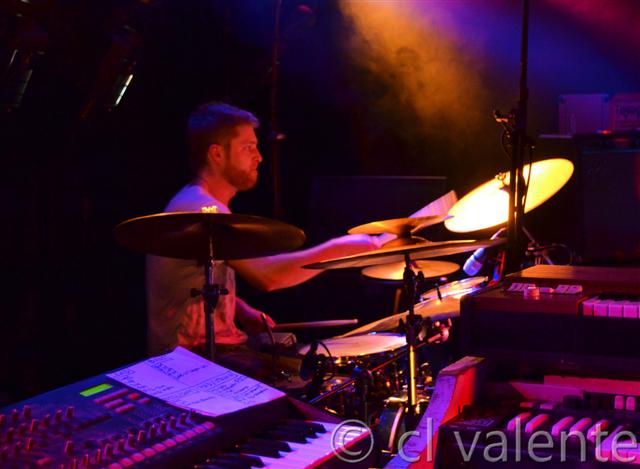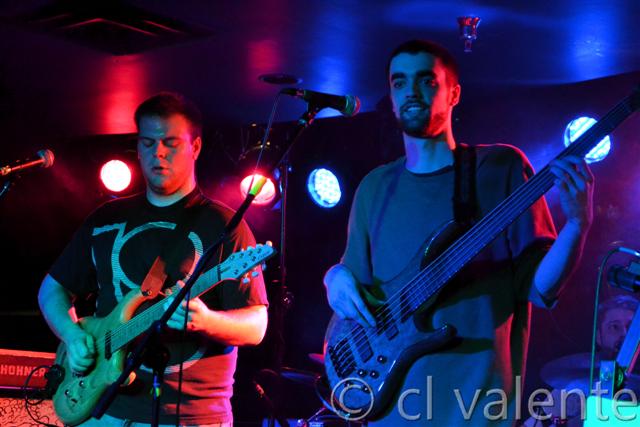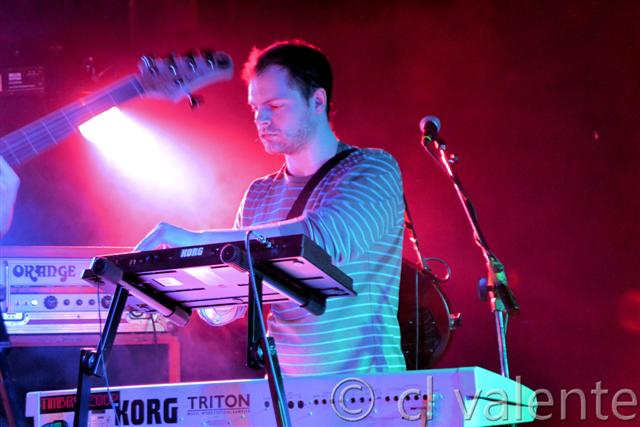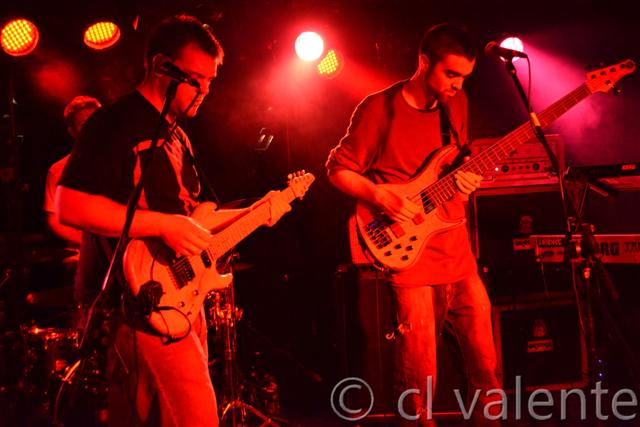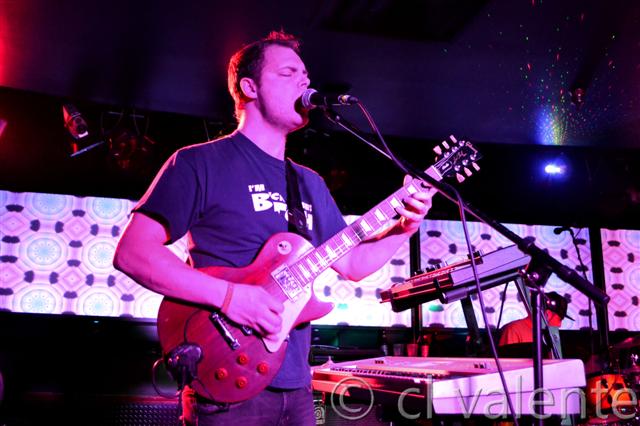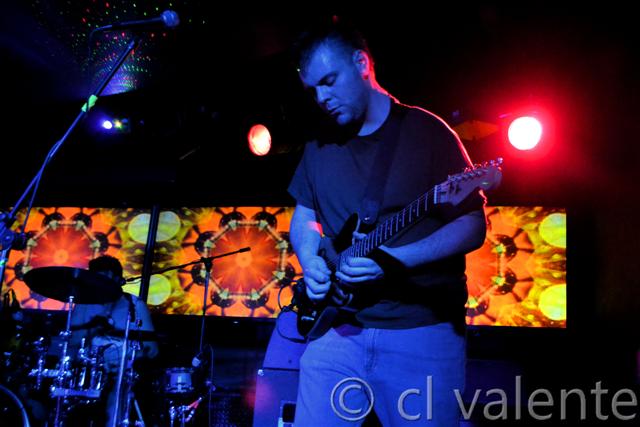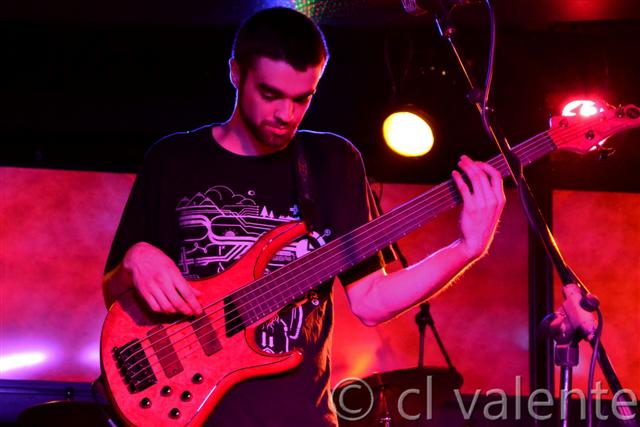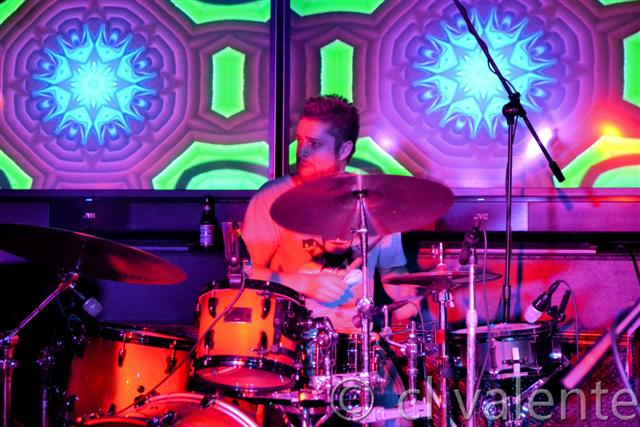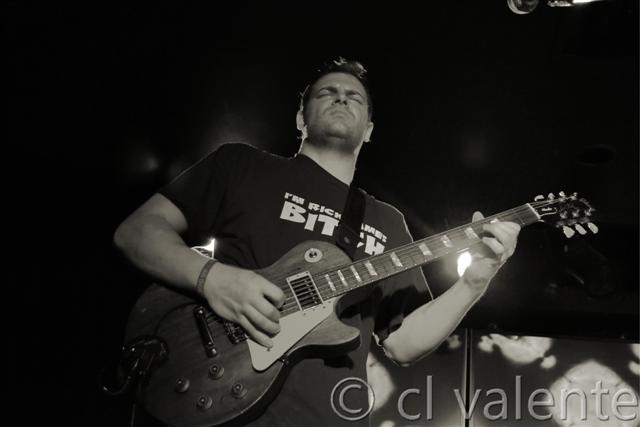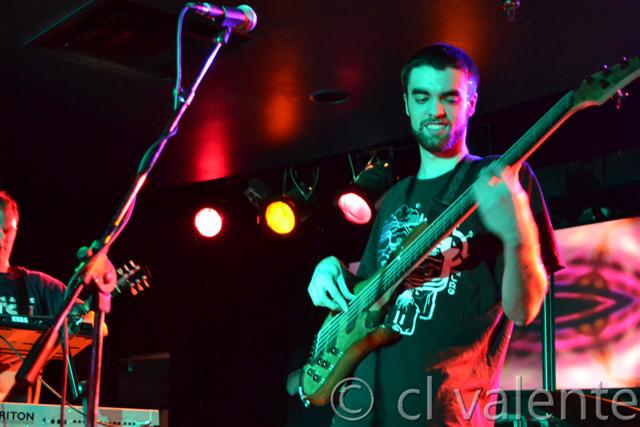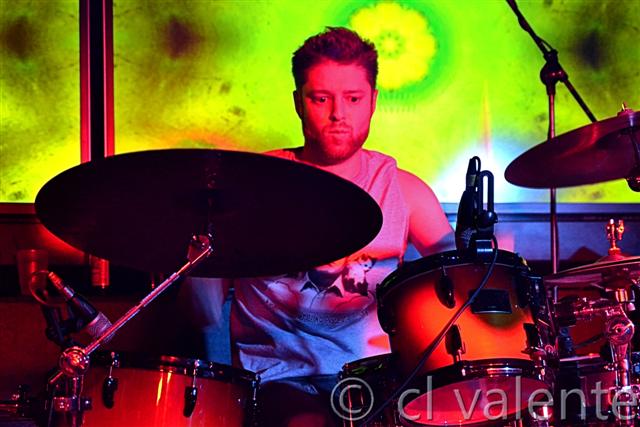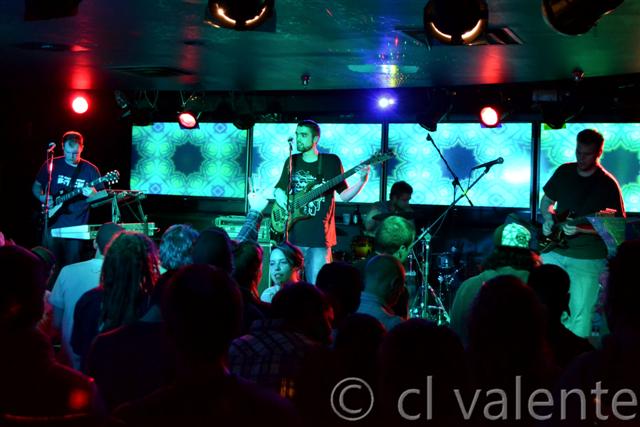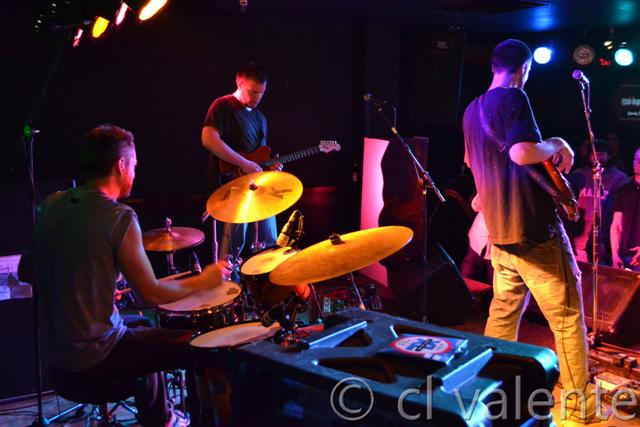 One interesting fact about the album's title is where it comes from. When clenching your fist, the knuckles represent months with thirty-one days and valleys are months with thirty days (excluding February). Justin Wood (Dancehall Media), a friend and previous cover artist for Timbre Coup, designed the fascinating and title fitting artwork shown below. Clever ideas for the win.
RESIDENCY AT JILLIAN'S

Every show of the residency series had a theme and special guest. The first night was an intimate acoustic show with supporting act Sophistafunk. This "Special Acoupstic TC Show" revealed another side to the band's typical use of multiple effects and electric guitar amplification. Cited as a night of "firsts" for the group, the foursome sat on stools and plucked away on acoustic guitars. With drums and bass present, their first attempt at a stripped down set projected a different timbre from Timbre Coup's signature sound and dynamics, making it equally impressive. At times it had a similar style to an unplugged Incubus performance or flamenco show and the fast, rhythmic dualities of Rodrigo y Gabriela. Major props to Chamberlain, Gerken and Pickering for shredding on acoustic guitar like Spanish conquistadors exploring new live territory. And their special covers of the night? Montell Jordan's "This is How We Do It" into Black Box's "Everybody, Everybody." Performed with plenty of playfulness and pizazz, Timbre Coup certainly surprised everybody with these beloved childhood classics. Way represent the 90's properly, boys!
The following week was centered on upbeat dance oriented tunes, which included special guest and opener Wobblesauce, one of three 2011 Big Up artists that played the February residency alongside Timbre Coup. Coincidentally, both bands jammed out to some New Deal favorites, which were certainly memorable moments for both acts. When Timbre Coup broke out cover favorite "Eleanor Rigby" and an even more fantastic version of Pink Floyd's "Young Lust," I was flabbergasted by the back to back classic rock block. Hell, any band who covers Pink Floyd is okay in my book, but these guys breathed new life into one of The Wall's best tunes.
Supporting Dopapod for week 3 on the 16th, Timbre Coup kicked off the evening with a funky take on "April," including an extra slap happy bass line intro with skittish guitars then moved to a mellowed out reggae breakdown. Other material played from Knuckles & Valleys was "August" and "November." The darker, exotic flavor of "November" transformed into a radiant display of dual guitar calisthenics. Improvised or not, these guys ventured to another realm of pure musical bliss and proficiency, reverting back to the "dark and cold" vibe from the beginning. Bassist/Guitarist Gerkin and drummer Matt Pickering lent their vocals to "August" and Chamberlain's synth modulated guitar played the trumpet part, a song with plenty of Spanish and salsa rhythmic presence. Veering off into an upbeat, Disco Biscuits sounding jam and performing a boisterous rendition of Cake's "Never There" threw the crowd into a frenzy. Matt took over the vocals and Chamberlain served up the famous trumpet section on guitar.
Friends, family and frenetic fans amassed at Jillian's on the final night of the residency for the celebration of Knuckles & Valleys highly anticipated release. Giving fans twenty four hours to stream the album prior to the show, everybody got a chance to hear the polished recorded versions of songs, which were performed multiple times during the past two years as well as throughout the residency. Excitement filled the air as more and more people poured in during Higher Organix's opening set. The fearless foursome stepped onstage around eleven thirty and tackled "Spider of Doom" off 2010's Check Out This, blasting off into outer space territory. Mentioning a planned special cover before the night began, Gerken asked the crowd, "You wanna to get a little funky on a Thursday Night?" Before we knew it, the smoothest, grooviest bass line from the 80's surreptitiously surfaced from the speakers and Timbre Coup turned Rick James' intoxicating party starter "Give It to Me Baby," into their bitch, adding a vivacious extended jam. Tiny plastic glasses of champagne were passed around on trays among patrons. These guys know how to entertain a rowdy crowd.
At one point of the set, Ben Pickering remained solo onstage, thumping away on bass to a Victor Wooten rendition of the Beatles "Norweigen Wood." He impressively navigated the instrument with his long fingers, walking the fretboard while mastering the melody and rhythm all at once.

The remaining highlights of the night were
Knuckles & Valleys
content. The meandering guitar dualities of "March" feature bright tones, harmonics and sweeping picks. "June" is the summer anthem off the album, a slower paced, buoyant number with buzzy atmospheric synths underlying serious shredding. "October" brings out the progressive metal influenced side of Timbre Coup with its double kick drums, frequent cymbal action, intricate guitar riffs and heavy bass.
Two of the last songs performed from the LP were "January" and "July." During February, Timbre Coup released videos for both songs. "January" was the actual drum and bass take shot with a drum-camera from the album's recording session. Fusing rock and sharp middle-eastern melodies, it's a fast, gloomy representation of the cold, dark winter.
The music video for "July" was shot with a black and white HD camera and included footage of the guys jamming at their house (Timbre Coup Headquarters) with quick cuts to random vintage stock reels. Ending the residency with this song, a composition rampant with tempo changes, lively and bold guitars corresponding to propulsive drums, demonstrating a seemingly adventurous yet reflective mood for a summer month and a phenomenal finish to a successful month.
They're contemporary, progressive rock virtuosos. Genuinely engaging the audience, appearing intently focused on executing every fragment of each song with precision and grace, transcending various styles of music.One minute they're playing technical, metal influenced arpeggios then coolly transition into a funky trance groove. Excelling as modern musicians while experimenting with advanced arrangements in obscure time signatures, Timbre Coup's prowess caters equally to the focused, chin-scratching listeners and dance floor devotees alike. Whether you like electronic, rock, metal or jazz, these guys play a variation of genres that satisfy a wide range of music lovers.
With upcoming tour dates around the east coast in March and April, Timbre Coup has only revealed one of their earliest festival dates for now, playing Strange Creek in Greenfield, Massachusetts this May.

Visit Timbre Coup