Blog

Video: American Babies at State of Mind Headquarters
by Mike McKinley
March 2, 2012
American Babies stopped by the State of Mind Headquarters before their gig at Nectar's a few weeks back -- they were kind enough to play a song for us while they were here. It's a new song (no title yet) -- check out the video below (courtesy of my iPhone).

Also, while they were here, guitarist/vocalist Tom Hamilton and I sat down in front of the microphones for a candid conversation about where he's at with his musicianship and the latest on the evolution of American Babies and Brothers Past. He had plenty of colorful insight to share on hard work, lessons from his father, improvisation, and how much he really
loves
songs. Look for it in upcoming episode of State of Mind Radio (
check out the most recent one with Marco Benevento
).
American Babies are on fire right now --
check their dates
and go see them live. And check out the latest
review and photos
from their Albany show (by Andrea Kosek and Chelsea Valente).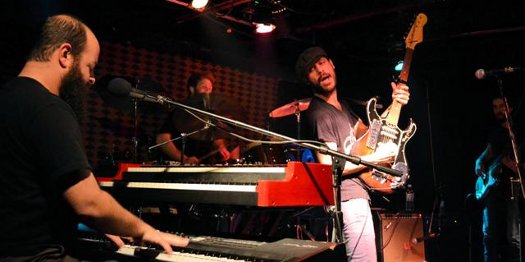 photo by Chelsea Valente