Shows
Umphrey's McGee + The London Souls
January 20, 2012 at Best Buy Theater in New York' NY
by Jeff Tehan
|
photography by Michelle Arthur
January 30, 2012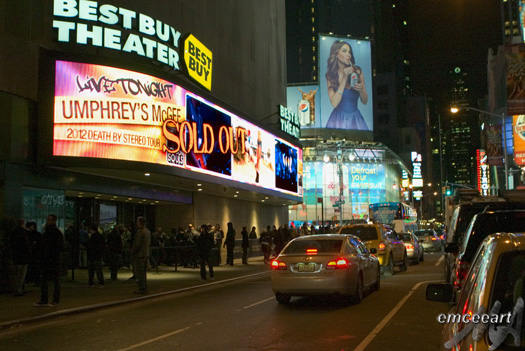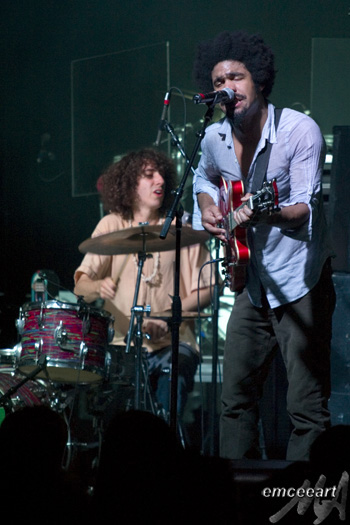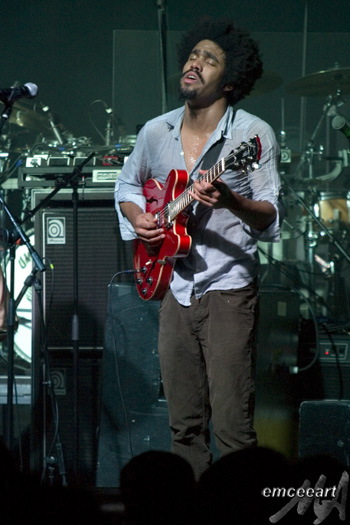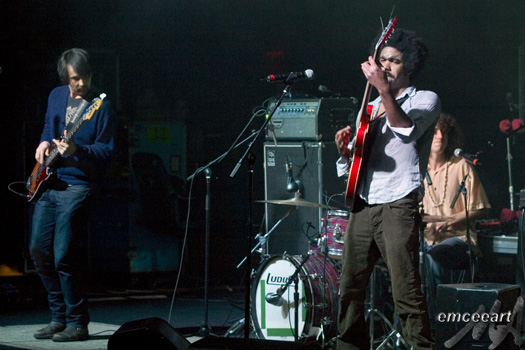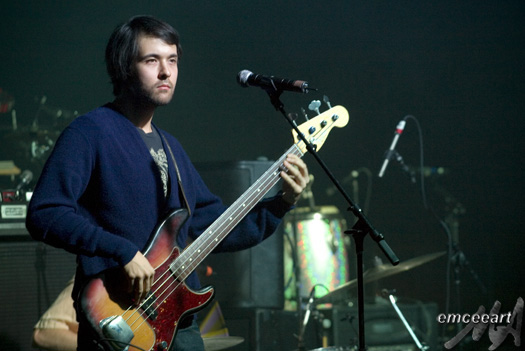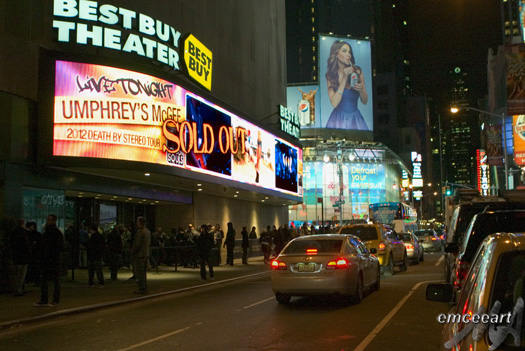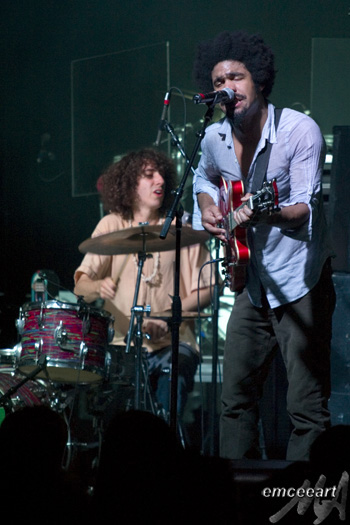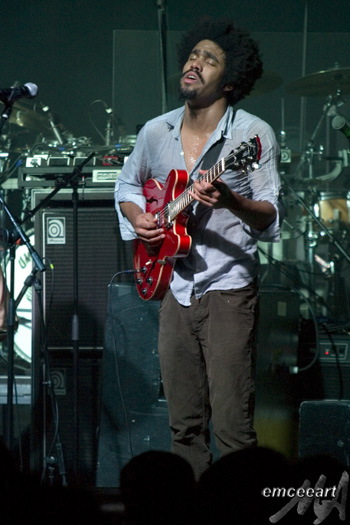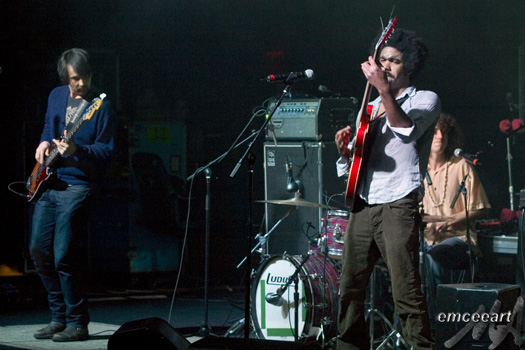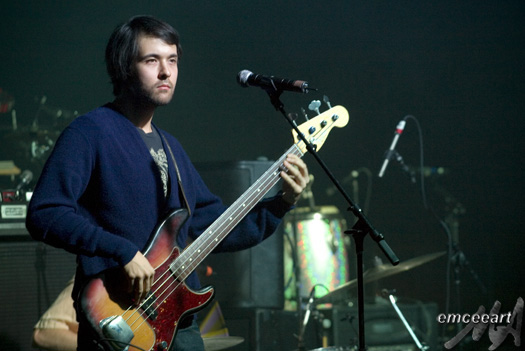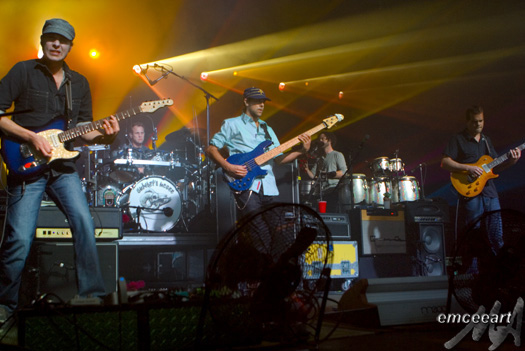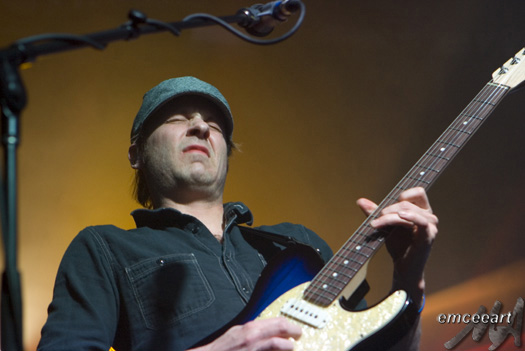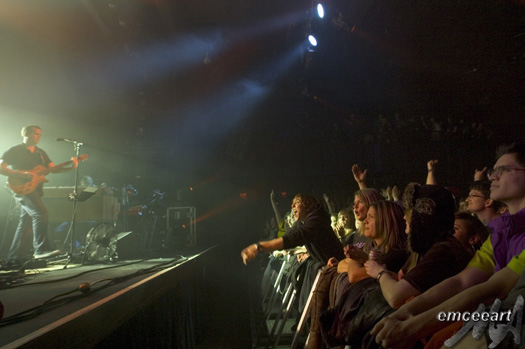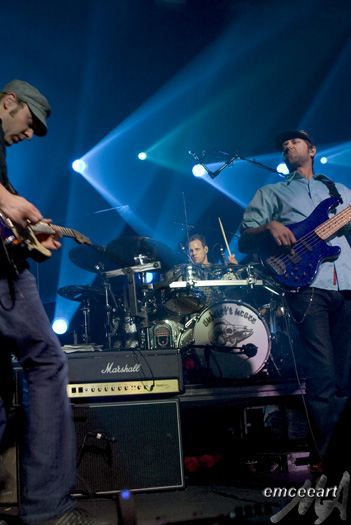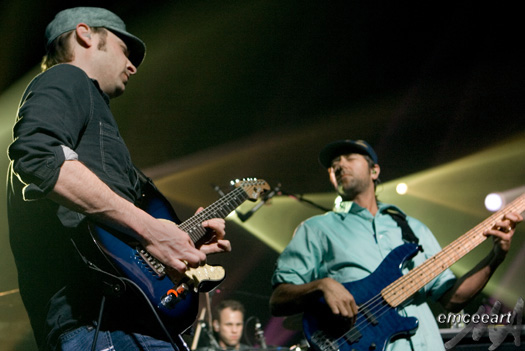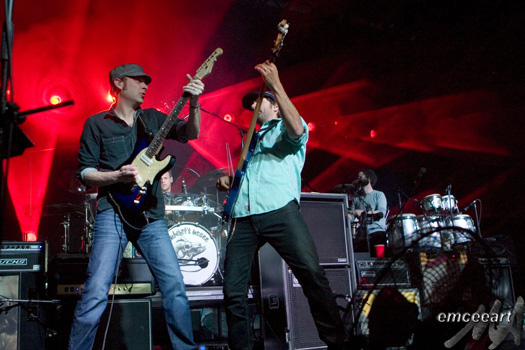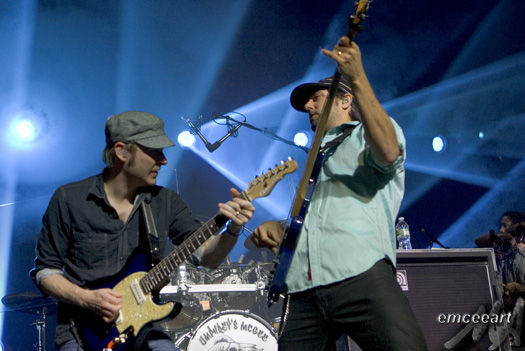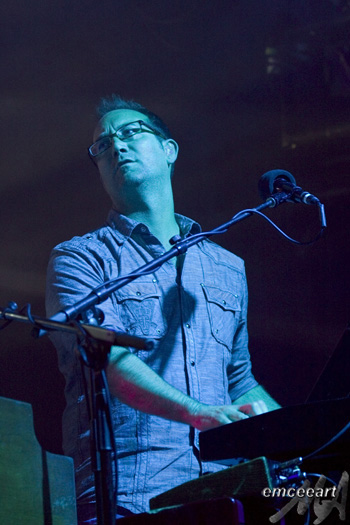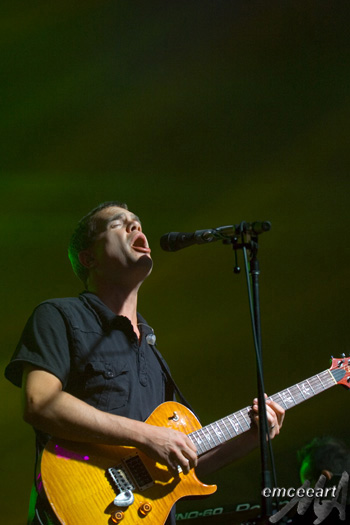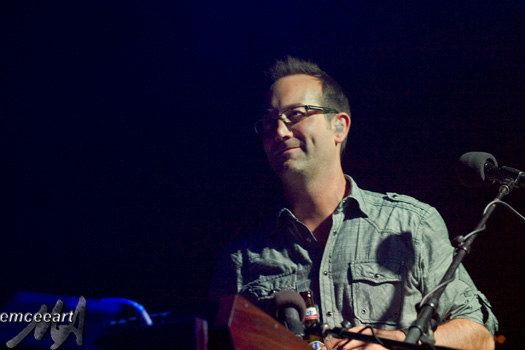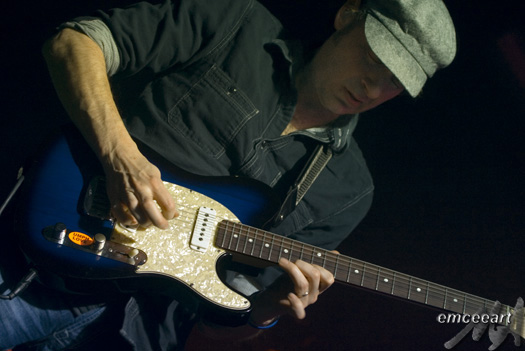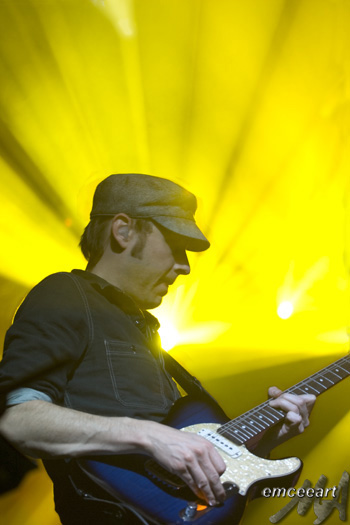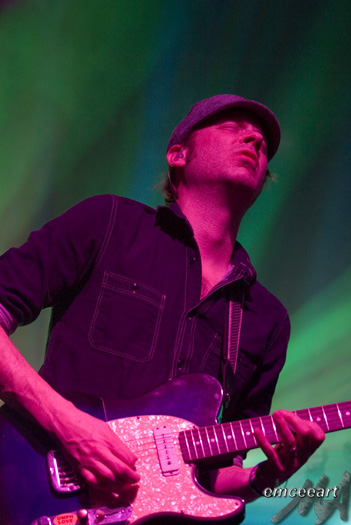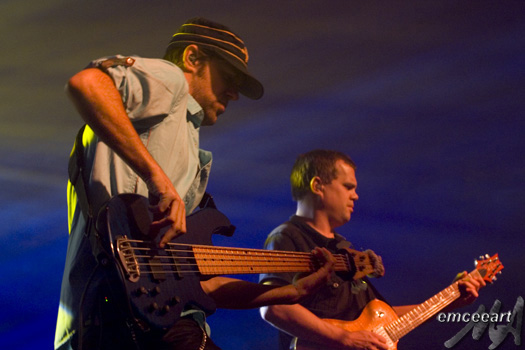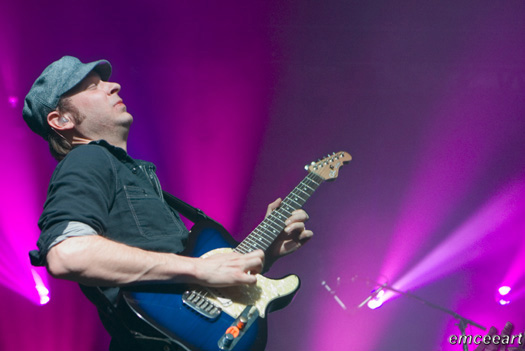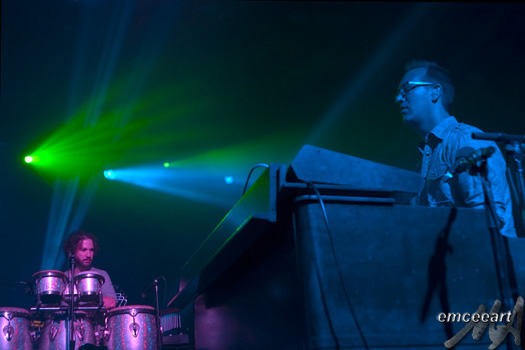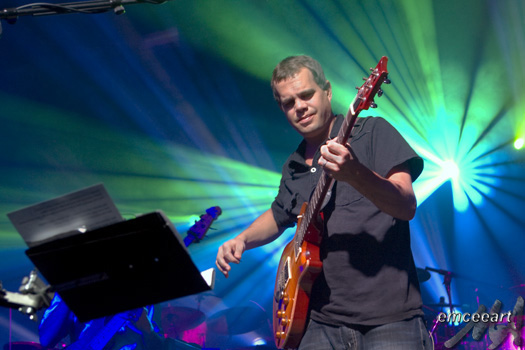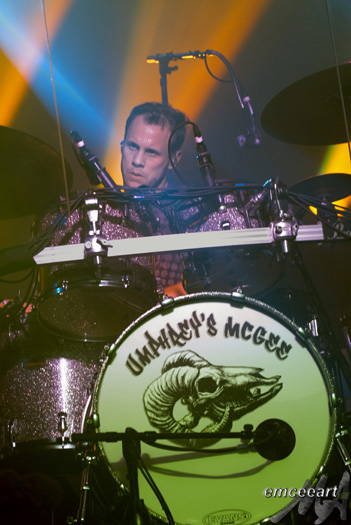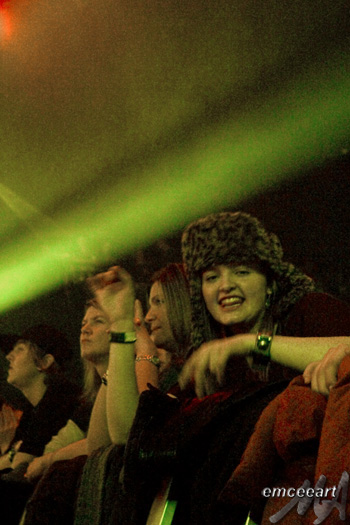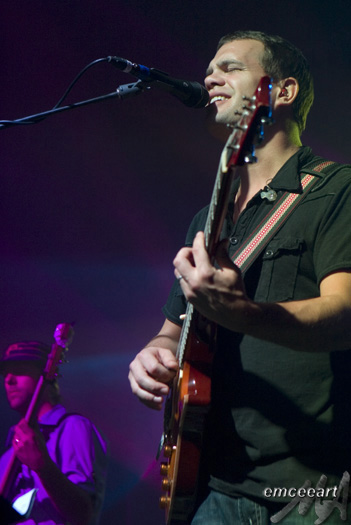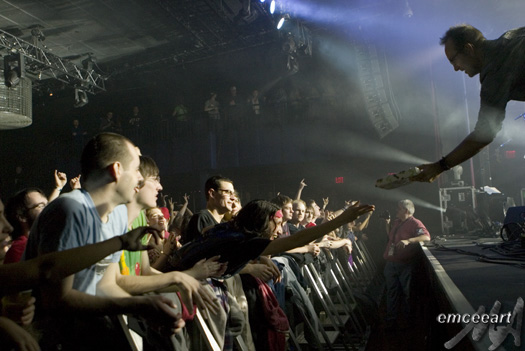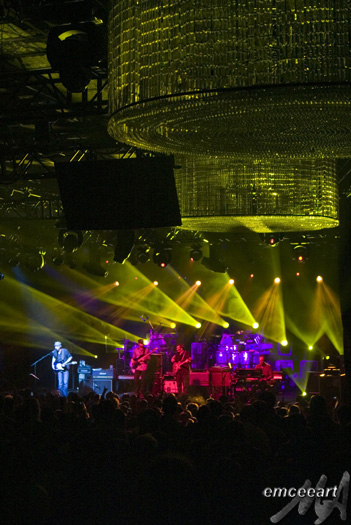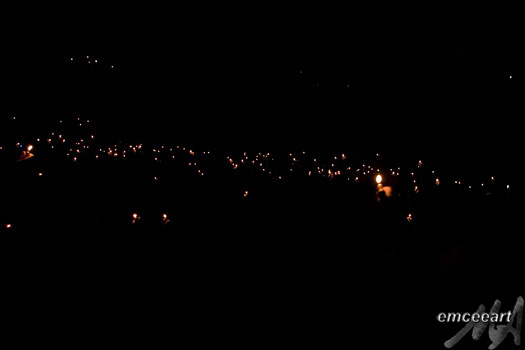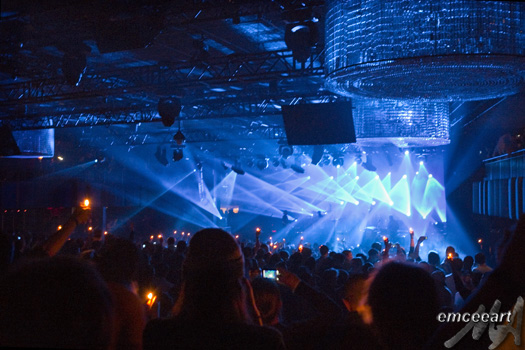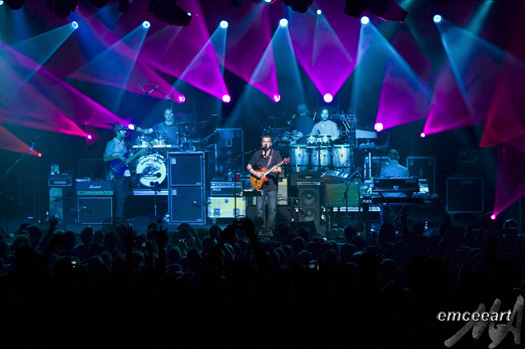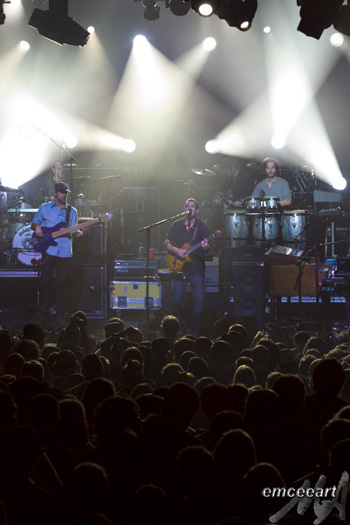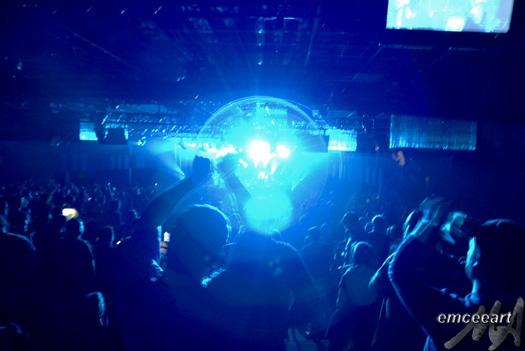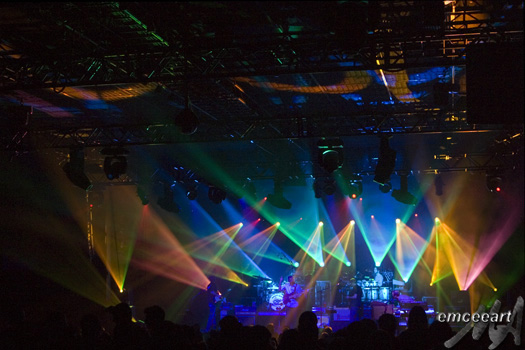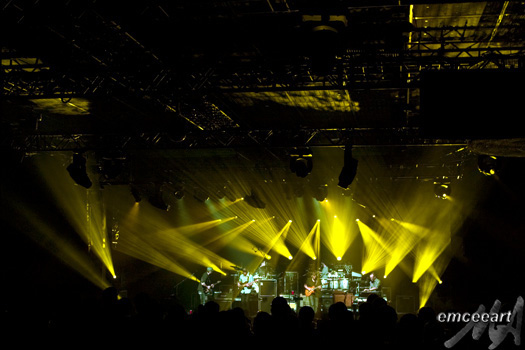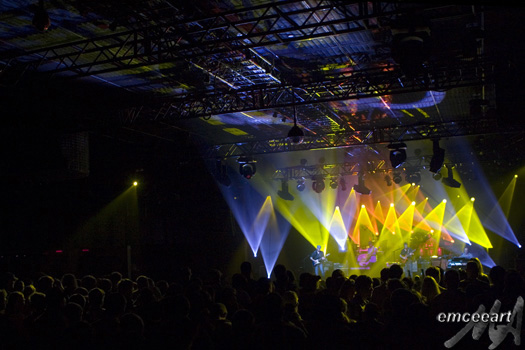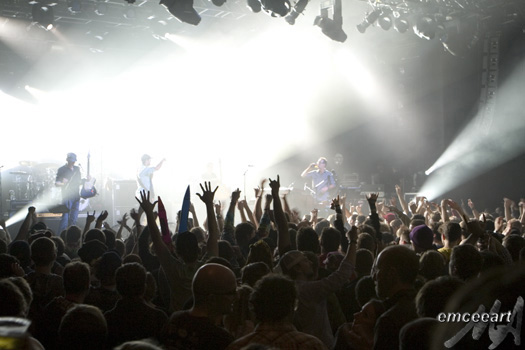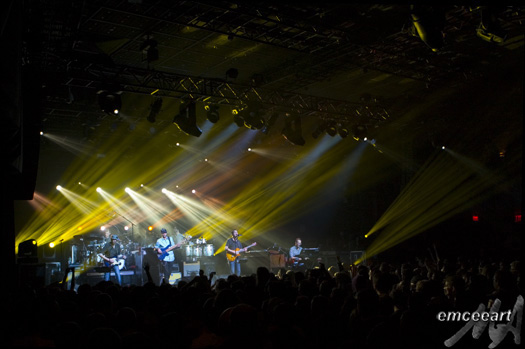 An impressively smooth trip down the NYS Thruway set the mood for this memorable evening. Our car became a subway train, and then another, until we emerged from the catacombs to feel the towering walls of Times Square rising up all around. With the endless neon lights and video billboards turning night into day, and half the street now open only to pedestrians, the city was an amusement park, and we headed directly for the thrill ride: Umphrey's McGee at the Best Buy Theater.
From a distance, the massive 85-foot-long, high-definition marquee blared "SOLD OUT" to the masses. This would be the first of a sold out two-night birthday celebration marking Umphrey's McGee's fourteenth year together. Once inside, a flashy escalator ride carried us underground and the scene spread out around us, complete with a larger-than-life screen in the first of several bar areas. Its display was of opening act The London Souls, providing video along with crystal clear sound of the action happening onstage at that moment. The concert area itself holds 2100 partyin' peeps, with ample floor space up front and stadium seating in comfy theater chairs (with cup holders!) in the back of the room. Easily situated, in the second row on the right side, I had a perfect vantage point with great sound…and a cup holder.
Let me highly recommend The London Souls, if you haven't already had the pleasure of hearing them. A throwback psychedelic blues rock power trio with a pop twist (thanks Rich!!) and a triple vocal threat taboot from New York City, these guys will make you think of a high-energy, modernized take on Cream, Jimi Hendrix and Led Zeppelin et. al. and have all the requisite pipes and tight chops to pull it off. I'm pretty sure at one point they dropped into a Frank Zappa riff (correct me if I'm wrong) for an excuse to rip off a quick 12 bar solo, before hopping back into the original number it sprouted from, with a blistering finesse.
As the crowd's anticipation swelled, Umphrey's McGee walked onstage to a pre-recorded piano intro that I secretly hoped keyboardist Joel Cummins would be playing on keytar. Instead, they slowly took over the sound and launched into a progressive rock-laced welcoming before settling into "Booth Love," from their 2011 release Death by Stereo. After easing us into the night with the disco-on-opium dance number, they nudged the energy up a bit with the proggy "Rocker Part 2."
After a slow climb to the first heavy apex of the evening, they opted for a little bit of the old verse-chorus verse-chorus with "Conduit," a slow rocker that showcases their vocal versatility and gives them another chance to stretch out. Cummins took a moment to announce the band's birthday, and wish a happy one to a friend as well, and they picked it back up with the rockin' instrumental "Tribute to the Spinal Shaft." Best described as a funk-prog odyssey, it also easily satisfies those who just want to shake their booties from side to side, then up and down. Ever the chameleon, UM changed color again and softened up with a tight and sweet version of "Passing" from their 2006 release Safety in Numbers. Closing the set was "Utopian Fir," a journey from sci-fi groove to prog to house to Daft Punk-ishness (their "Voyager" was covered the following night), back to prog to reggae to Irie prog (that's reggae with a prog twist) and beyond… A gentle seventeen minute monster.
Crowd favorite "40's Theme" opened the second set, slowly building up to its blistering and furious end. Guitarist Brendan Bayliss gave another mention to their birthday and introduced the next song as one of the first they'd written, "Der Bluten Kat." Another funk-prog odyssey, they stopped it dead a few minutes in and Bayliss asked lighting designer extraordinaire, Jefferson Waful, to cut the lights. As if looking for birthday candles to blow out, he then requested that a hundred lighters be lit… ("50… no 60… no 80 lighters…"). They slid back into "Der Bluten Kat" to the glow of several hundred Bics and wound their way into a drum jam. As drummer Kris Myers and percussionist Andy Farag set the groove, guitarist Jake Cinninger put down the axe and joined Farag in Perc World. After the three and a half minute session, they segued into a festive "All Night Long" by Lionel Richie, for their lone cover of the evening. In the UM style of tempering heaviness with humor, Bayliss vocalized, "everybody sing, everybody dance... there's a party in your pants." He later threw in a "New York City, it's so kind and so sweet," - one of many expressions of happiness and gratitude from band to crowd over the weekend.
After another lengthy helping to finish off "Der Bluten Kat," they flashed their lyrical/vocal side again with "The Linear," a groovy, drive-down-a-highway-at-night kind of tune driven by slick bass lines from Ryan Stasik. They closed out the set with another oldie but goodie, "Ringo," from their 2002 release Local Band Does OK. A prolonged cool-down jam was capped off with a quick "bunch of greasy animal" reprise.
They spent the night stretching out and getting comfortable, casually celebrating making it to fourteen years as a band. So it was fitting that they dug deep into the catalog again and encored with a song from their first album, Greatest Hits Vol. III (from all the way back in 1998). It was "Divisions," whose pleasant but percussive rise-and-fall opening announcement leads into an expressive Bayliss vocal that inspires audience accompaniment. It impatiently moves along to a percussion interlude, then to increasingly intense, staccato, headbanging bassiness, giving way to a flurry of dizzying guitar notes, which mellows out to a slow groove. And that was just the first four minutes of yet another gentle, seventeen minute monster.
The whole night felt like a build up and that made sense to me, being the first of a two night stand. "Divisions" captured that same feeling as it rolled like ocean waves at the edge of a storm, before finally setting us down, leaving us satisfied. On the walk out, the crowd was still bubbling with energy, most of them already anticipating what the next night had in store.