Shows
Shpongle Live
October 28, 2011 at Hammerstein Ballroom in New York' NY
by Andrea Kosek
|
photography by Chelsea L. Valente
November 9, 2011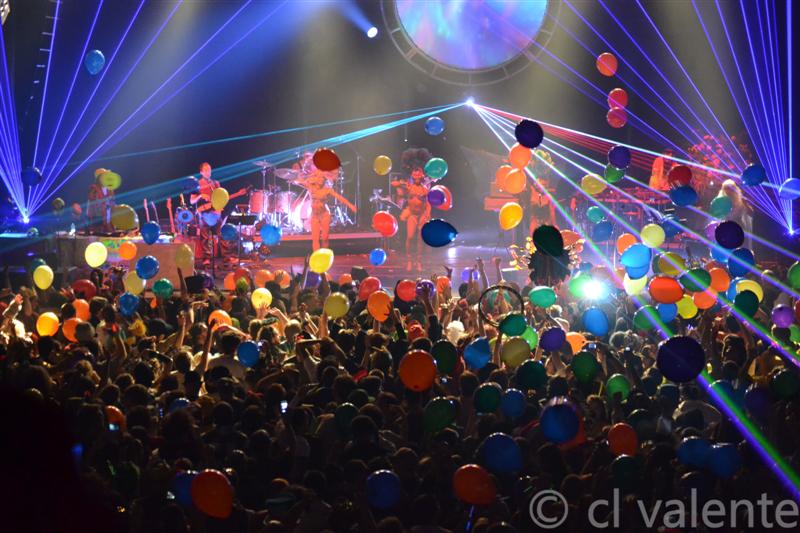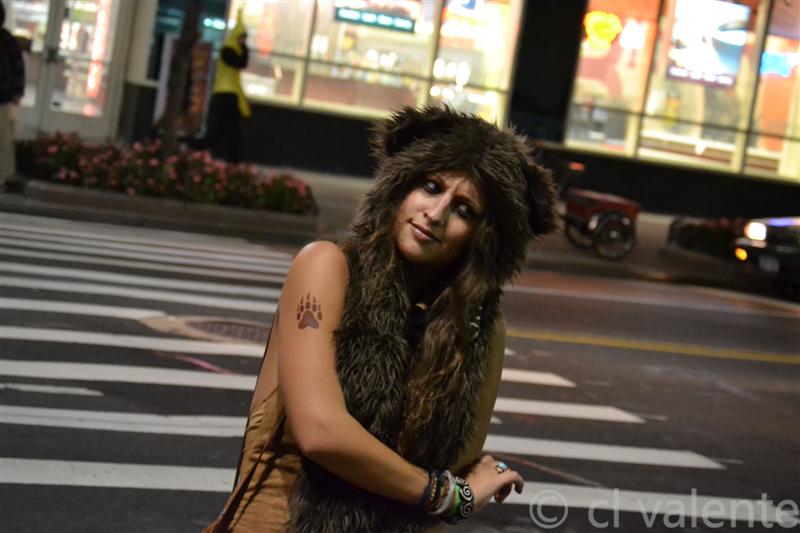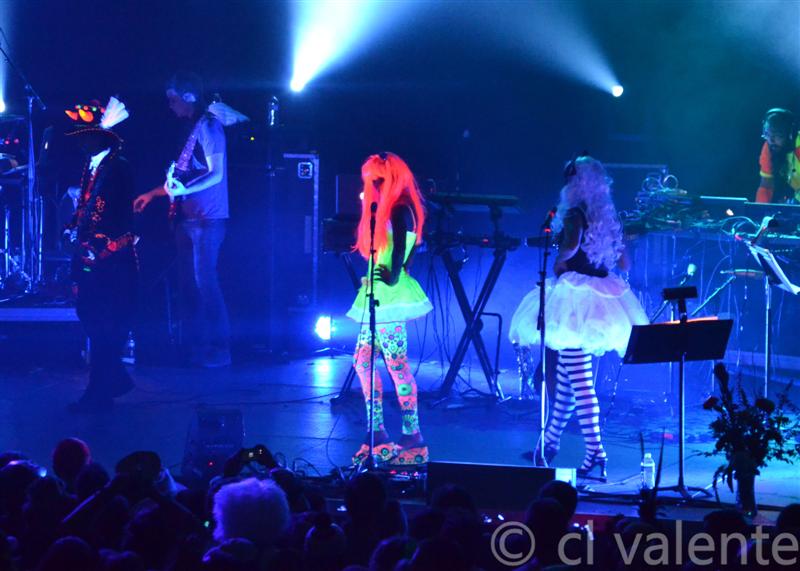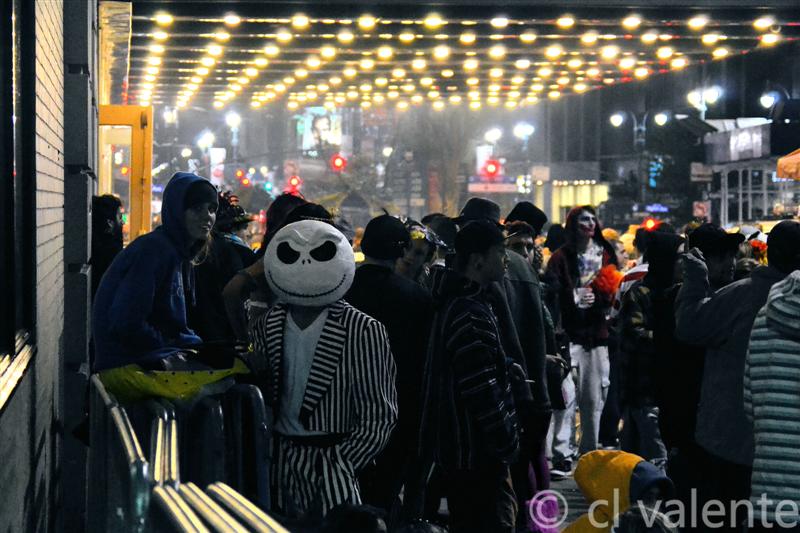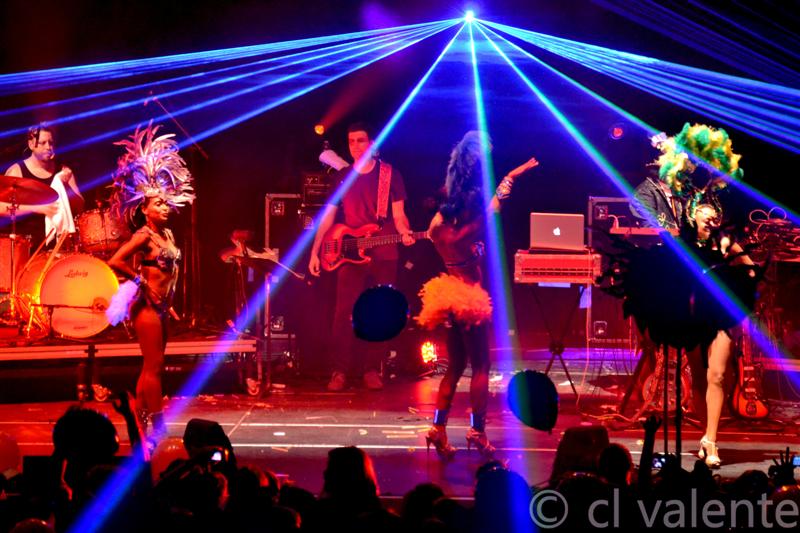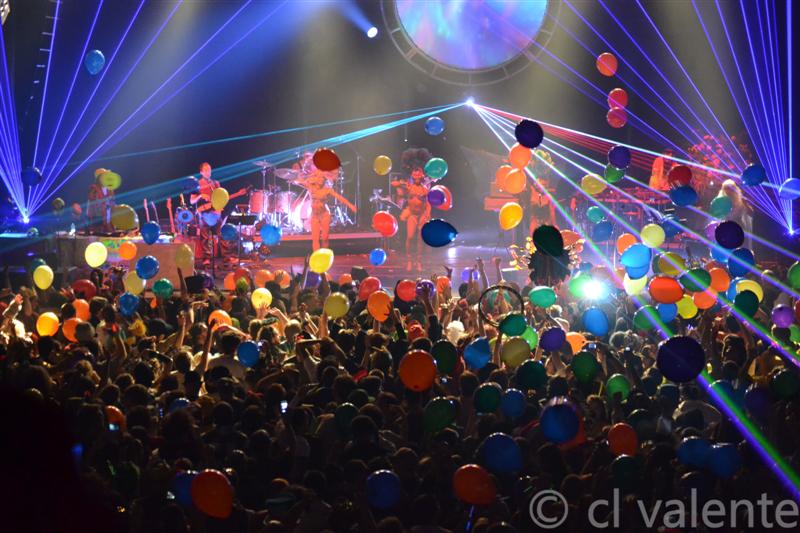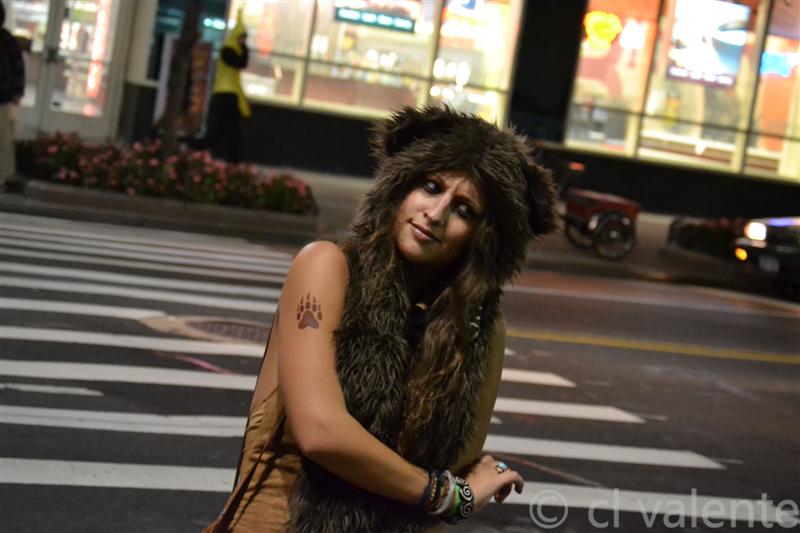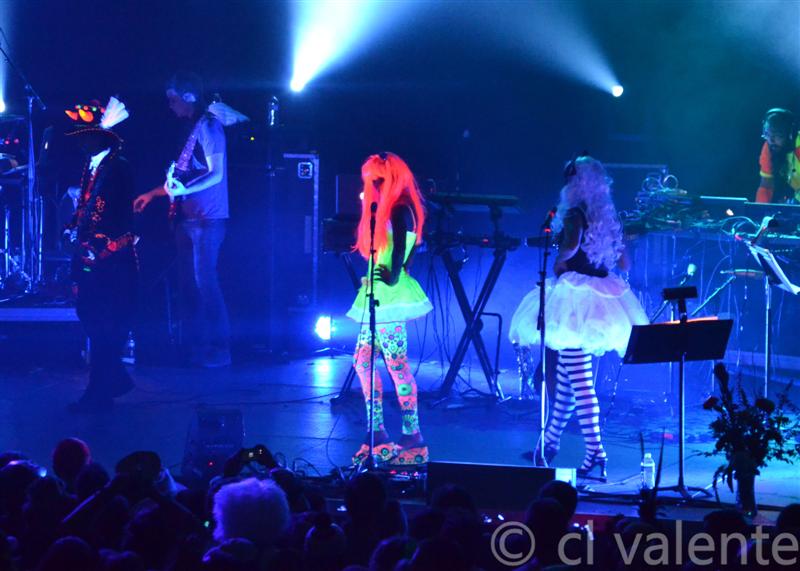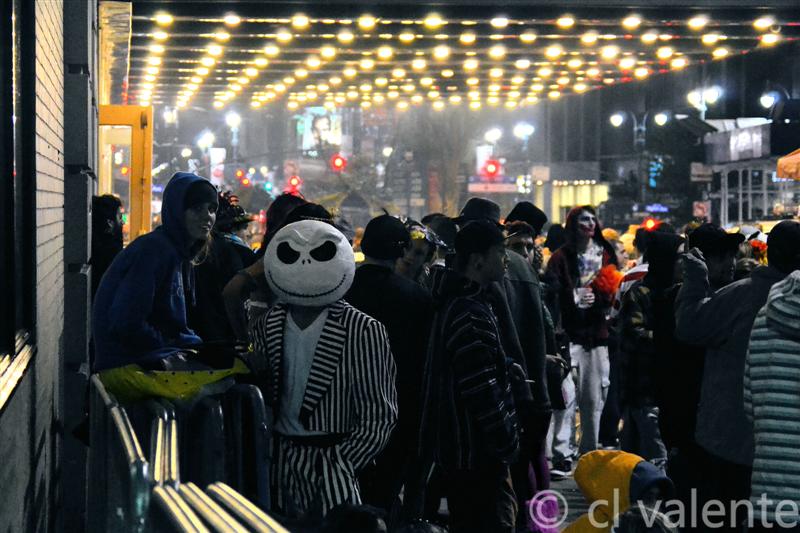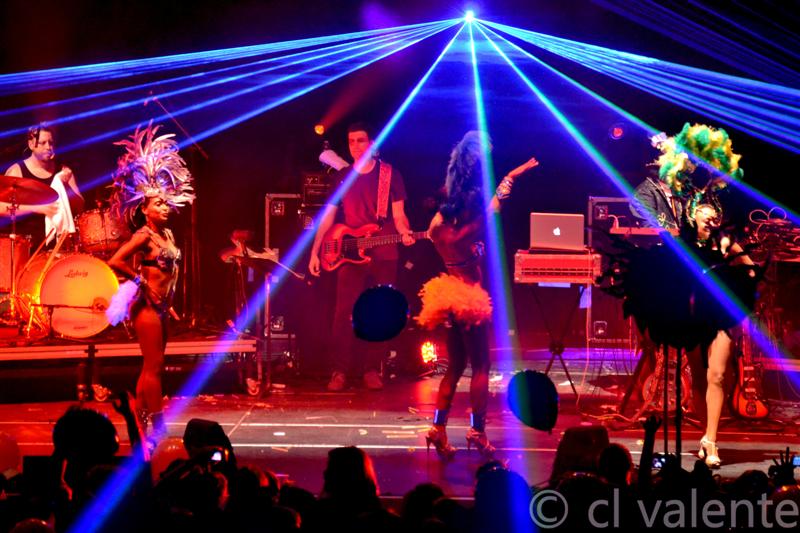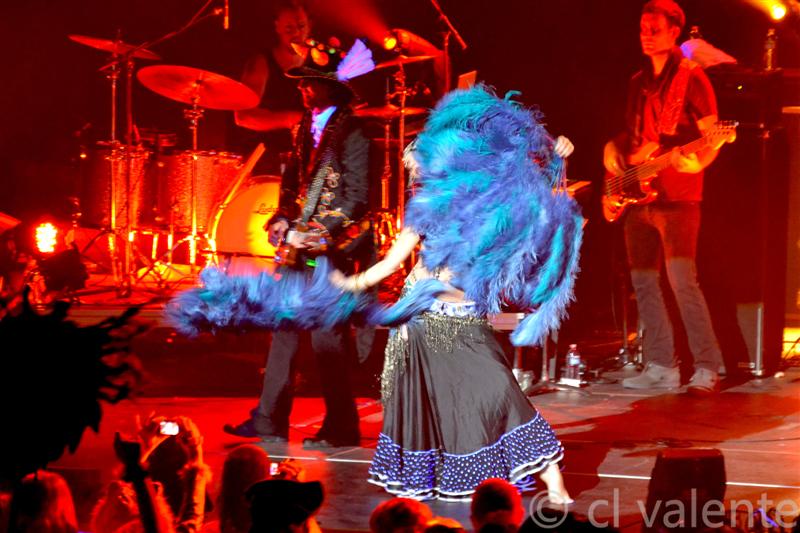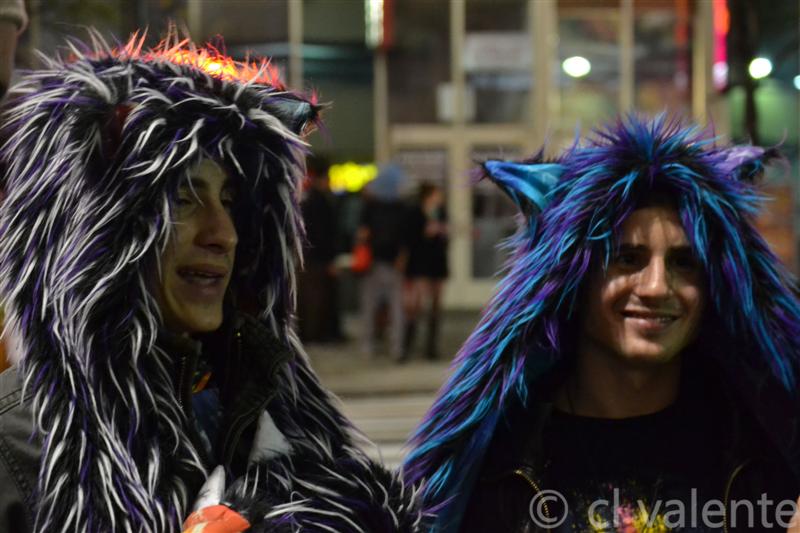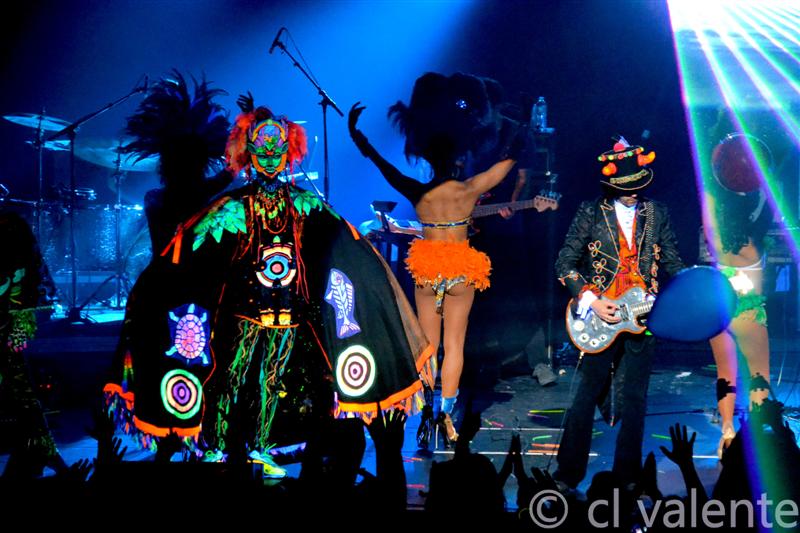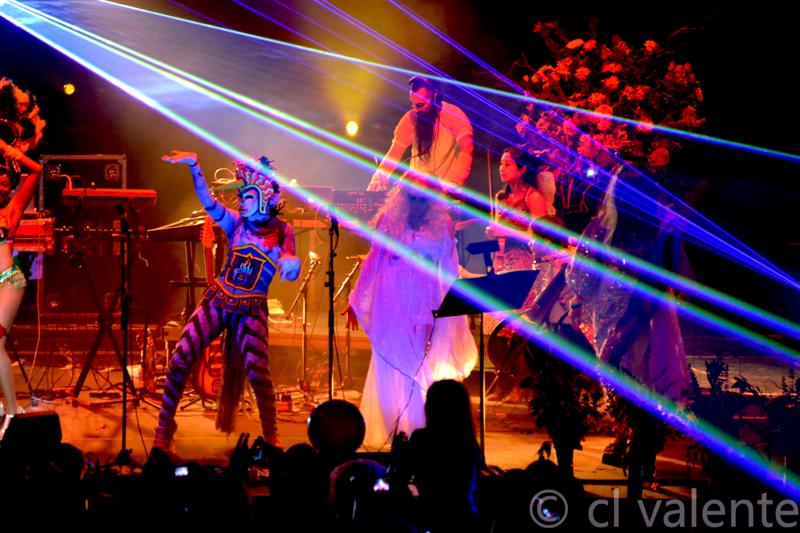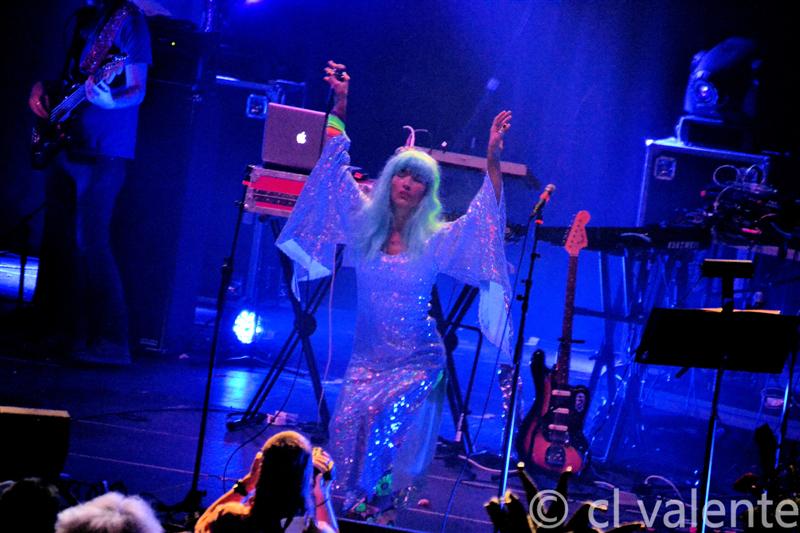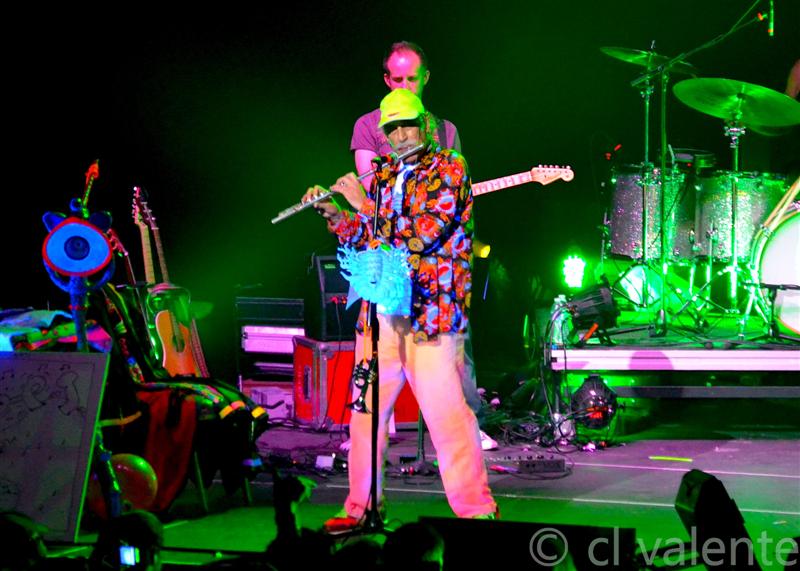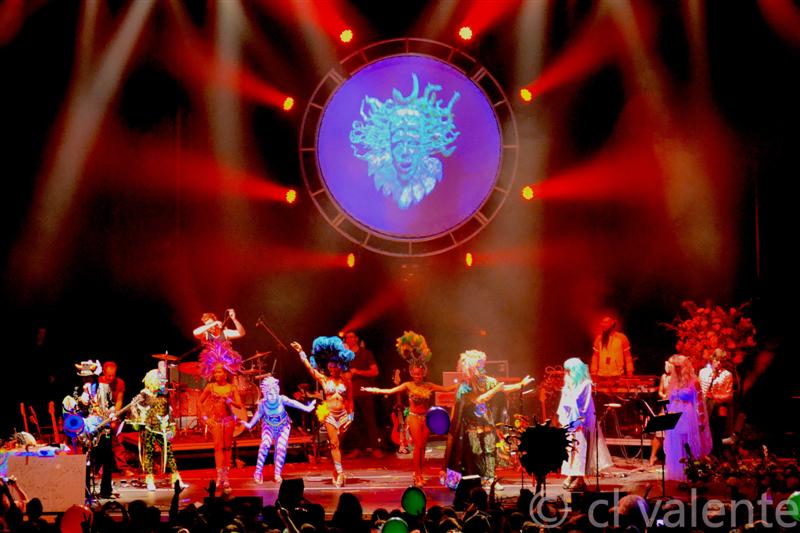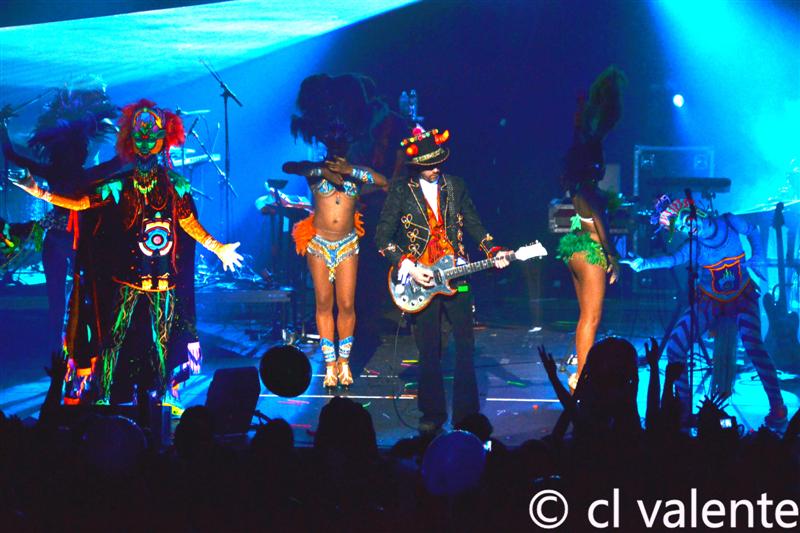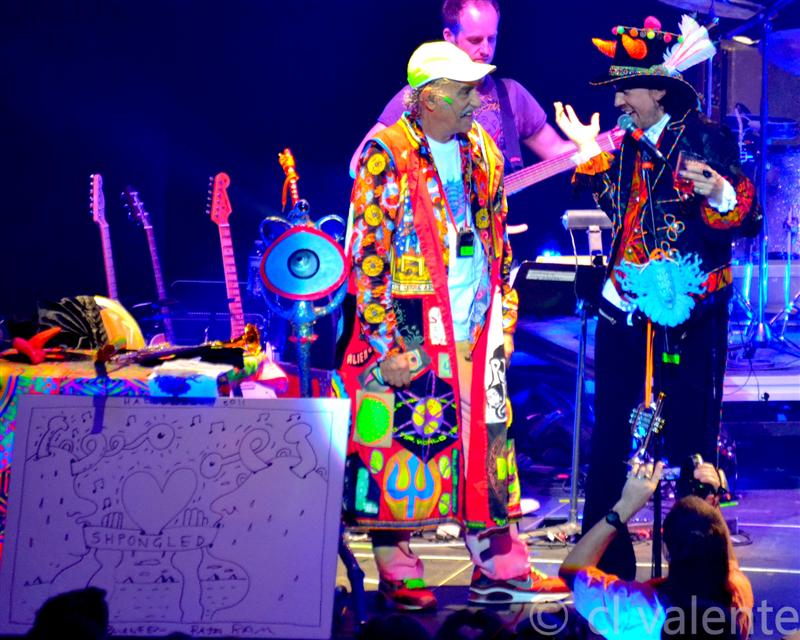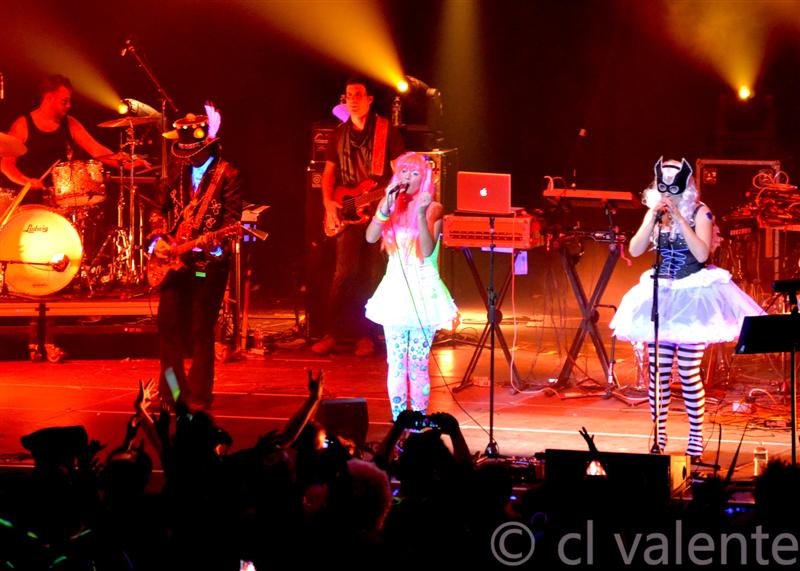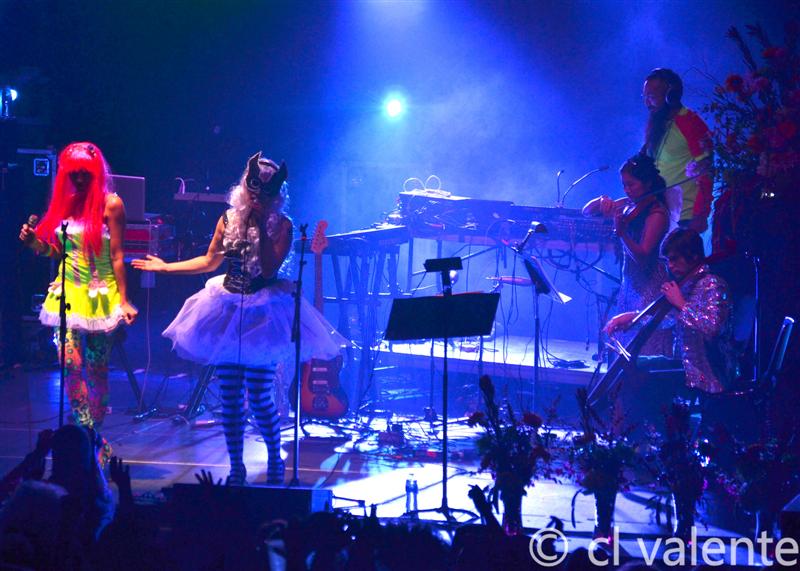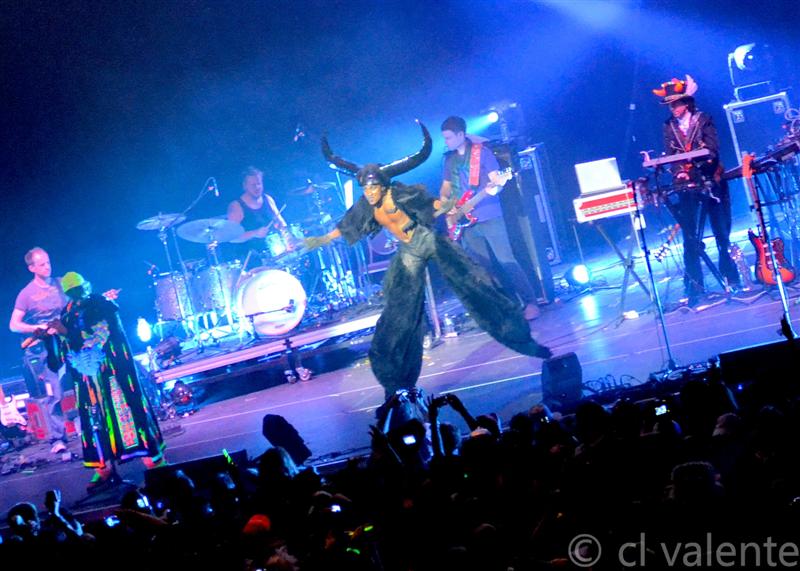 Experiencing a rare Shpongle live ensemble performance at Camp Bisco X this past summer was a glorious moment in festival history for me. Therefore I knew an indoor headlining show in New York City for Halloween weekend would be another unforgettable night and a fantastic way to start my "Halloweekend." Marking their 2nd U.S. appearance as a full band, Simon Posford, Raja Ram and company brought even more mind-bending sights, sounds and characters with them to the city that never sleeps. It was a special premature commemoration of a beloved holiday but more importantly, Posford's date of birth.
Arriving late after 11pm to the Manhattan Center, the entrance was mobbed with people in kooky outfits and ghastly attire. After all it was "Shpongleween," an appropriate title for this bizarre costume affair and a scene drawing curious gazes of passersby. We entered the ballroom to flamenco guitar, entrancing salsa rhythms and schizophrenic vocals from "Dorset Perception." The first balcony section was a quintessential location: having the bar and bathroom in close proximity to your seats is always advantageous to the show experience, but not your wallet ($8 cranberry vodkas, you say? Sigh.) Anyways, nobody actually sat in their designated seats so the first balcony was practically a free for all. But that didn't matter--most of the time everybody was joyously dancing or completely transfixed by the performance onstage.
The stage was a colorful concoction of costumes and acrobatic performers wearing feathers or garments lined with bright, neon shapes and patterns, donning tribal masks. A horned man paraded the stage on stilts. Singers Michele Adamson and Abigail Gorton wore vibrant wigs and glow-in-the-dark tights. Yup, we had reached our far-out destination: Shpongleland, a psychedelic dimension created from visions and adventures inspired by the drug induced hallucinations and experiences of Posford and Raja Ram, akin to a spiritual and ritualistic gathering.
One of the most anticipated songs of the night was "Nothing is Something Worth Doing." Everybody's attention was directed to the man dressed as Captain Jack Sparrow (not sure if it was Manu Delago) sitting front and center under a spotlight, playing the rich melodic introduction with a
hang
. The hypnotic buildup made this a climactic point of the show, the crowd spellbound by the majestic music, harmoniously tangled up in bliss.
Then a striking guitar melody ascended from the mystics, conjuring the exotic tones of "When Shall I Be Free" right into "Stamen of the Shaman" off 2005's
Nothing Lasts…But Nothing is Lost
. While the latter song was missing the organic sound of a live trumpet, the ballroom went bonkers and current Furthur drummer Joe Russo kept the crowd grooving with pulsating latin dub beats. The next batch of songs were from Shpongle's latest release
Ineffable Mysteries from Shpongleland
. Adamson and Gorton lent their impressive vocal range to "No Turn Unstoned," while celestial tones of the harp, violin, cello and flute added instrumental depth to this ambient piece. Next thing you know, a cryptic Indian chant and deep sitar timbre introduced, "I Am You." Raja Ram spoke through a processor that fluctuated the pitch of his voice. Ominous violins and metallic synth arpeggios picked up the tempo and the cosmic fantasy unfolded into a dark, psy-trance journey. From there I did not expect them to go into the orchestral centered "Invisible Man In a Fluorescent Suit," but it was a nice change of pace and wonderfully enchanting once it progressed.
"Divine Moments of Truth" and "My Head Feels Like a Frisbee" were two strong closing choices, the former being a popular Shpongle tune that was heavily in rotation during Simon's Shpongletron tour as well as at Camp Bisco. "My Head Feels Like a Frisbee" fuses so many styles of music, you simply cannot fight the urge to dance. Listening to Raja Ram's flute part in the closing song was indeed a satisfying experience, but when they came out to perform the encore "Around the World in a Tea Daze," all senses were stimulated by the vivacious flautist. Gorton and Adamson's operatic vocals soared in unison over confetti and balloons dropped from the ceiling in celebration of Simon Posford's birthday and Shpongleween.
Blending indigenous traditional music of Middle Eastern and Asian cultures with psychedelic, trance, dub and ambient styles is what makes Shpongle more sonically diverse than most acts in the world. Additionally the eccentric theatrics, lazer visuals and humorous antics of Raja Ram were essential factors for producing such a unique and fascinating show. This is a stimulating presentation that music lovers from all walks of life wouldn't want to miss with its mysticism, majesty and moments of musical transcendence. Although the opportunity to catch them in the States is uncommon, I'm sure they'll be back again after three successful appearances in 2011. And of course, Simon Posford in New York State means chaotic climate as indicated by the subsequent snow storm on Saturday and rain he brings to Camp Bisco every summer.