Blog

Listen: Dead Cat Bounce - "Living the Dream" and "Food Blogger"
by Mike McKinley
September 26, 2011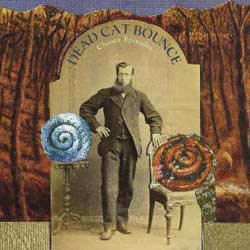 Dead Cat Bounce
saxophonist/bandleader Matt Steckler's compositions are compelling enough on their own, but it's how they are arranged and delivered in this band that gives this music so much punch, depth and life. With a saxophone quartet out in front and a rhythm section that swings like crazy, they create a sound that is both robust and beautifully subtle. Yeah, the horns get blazing hot, but just as equally potent is the fantastic interplay and conversation the players are having.
Check out these tracks from their latest, Chance Episodes (out September 27th on Cuneiform Records), to see what I mean. Also check out some additional info on the band and upcoming tour dates below...

"Living the Dream"
Living The Dream - Dead Cat Bounce by BK Music PR
Bolstered by bassist Dave Ambrosio and drummer Bill Carbone, DCB features an interactive and inventive frontline quartet of saxophonists: Matt Steckler, Charlie Kohlhase, Terry Goss, and Jared Sims. Drawing inspiration from blues and funk, as well as Caribbean, Brazilian, and West African traditions, DCB's fourth studio album, Chance Episodes (September 27 release on Cuneiform Records) presents a cosmopolitan and international sound, all in a stunning interpretation of Steckler's original arrangements.
Tuesday, October 4 -- Ryles Jazz Club, Cambridge, MA
Thursday, October 20 -- Bela Dubby, Cleveland, OH
Friday, October 21 -- Kerrytown Concert House - Edgefest, Ann Arbor, MI
Saturday, October 22 -- Heaven Gallery, Chicago, IL
Sunday, October 23 -- Surrounded by Reality Presents DCB at Audio for the Arts, Madison, WI
Monday, October 24 -- Walker West Music Academy (workshop), St. Paul, MN
Monday, October 24 -- Studio Z, St. Paul, MN
Tuesday, October 25 -- University of Northern Iowa, Cedar Falls, IA
Wednesday, October 26 -- University of Iowa (workshop), Iowa City, IA
Wednesday, October 26 -- Blue Moose Tap House, Iowa City, IA
Thursday, October 27 -- Sugar Maple, Milwaukee, WI
Friday, November 25 -- The Stone, New York, NY