Shows
Gathering of the Vibes 2011
July 21-24, 2011
at Seaside Park in Bridgeport' CT
by Lynn Kestenbaum
|
photography by Adam Mccullough
August 3, 2011
page 3 of 3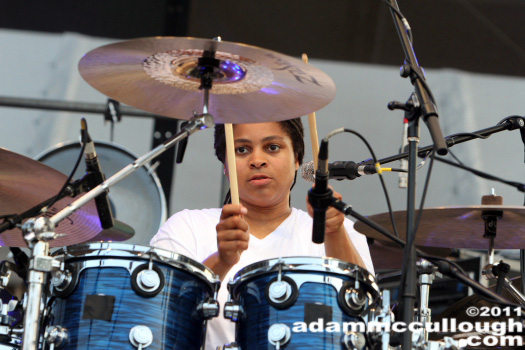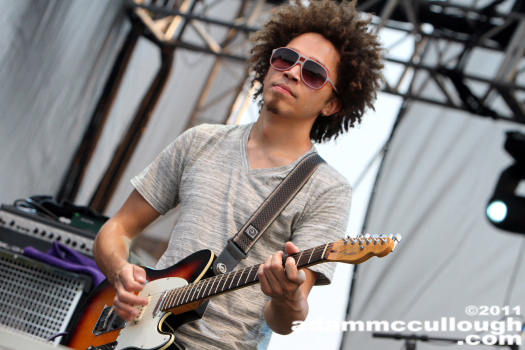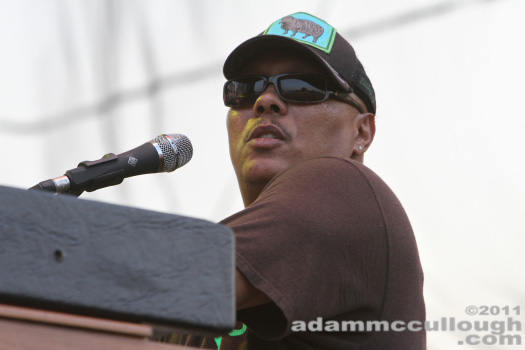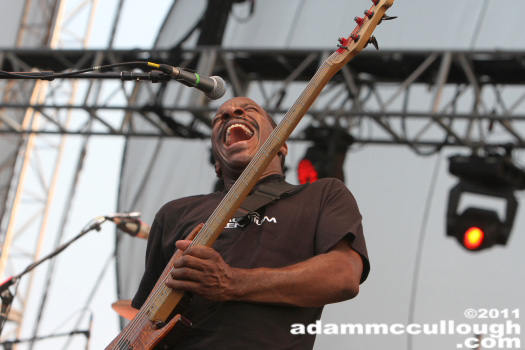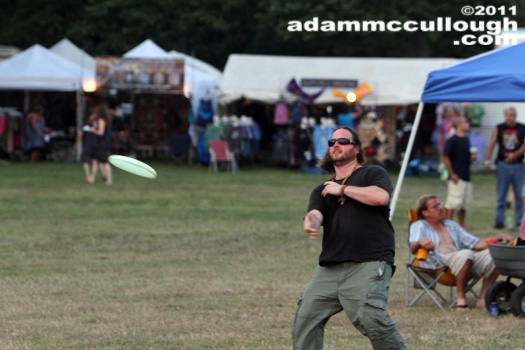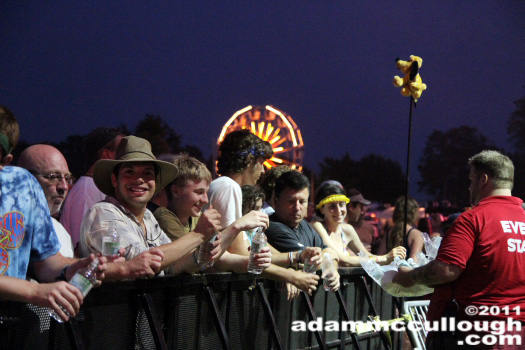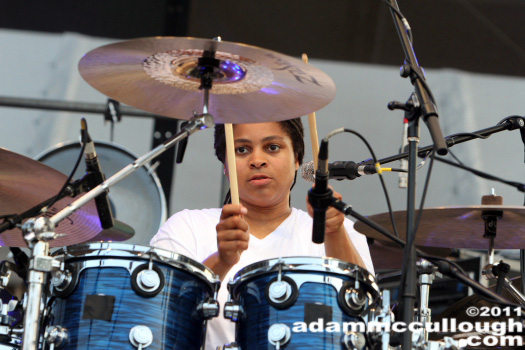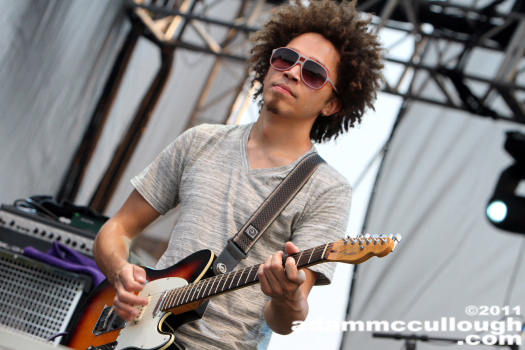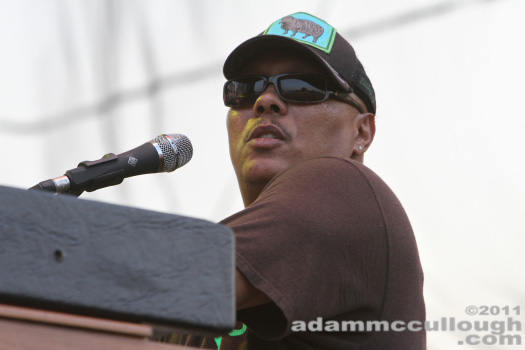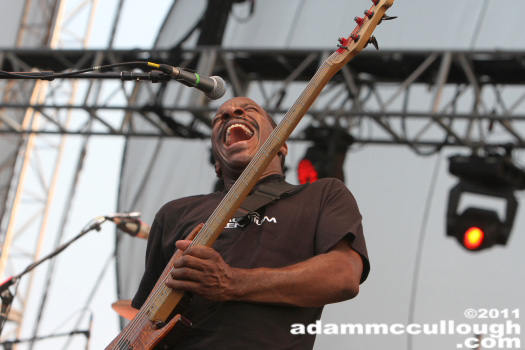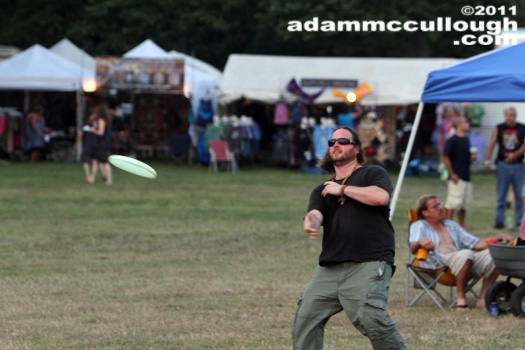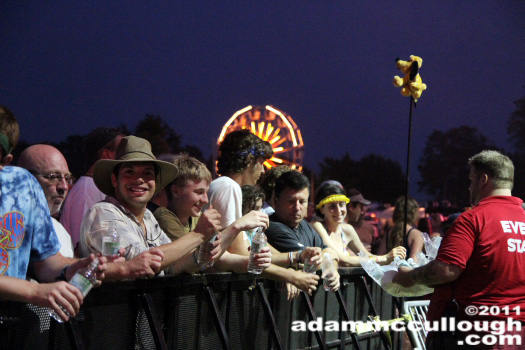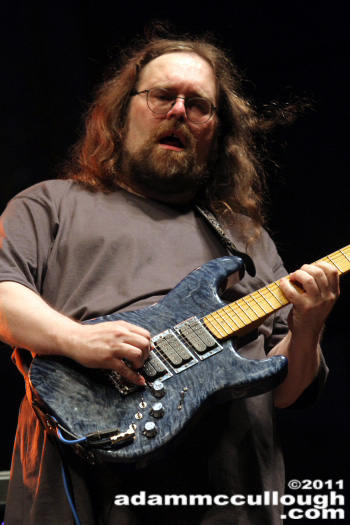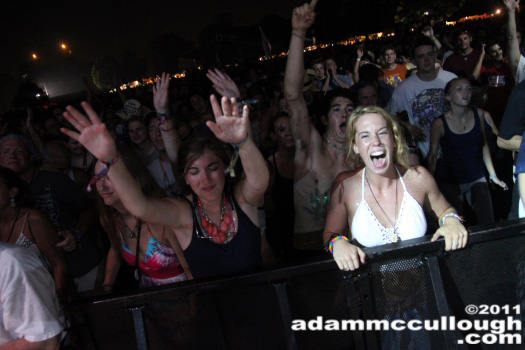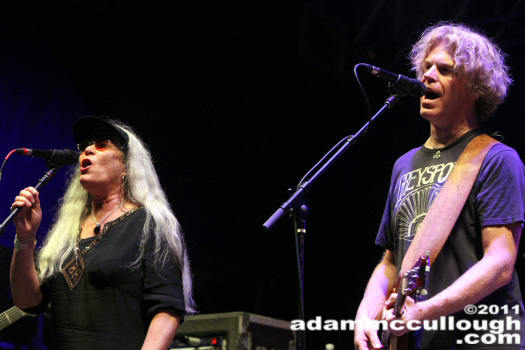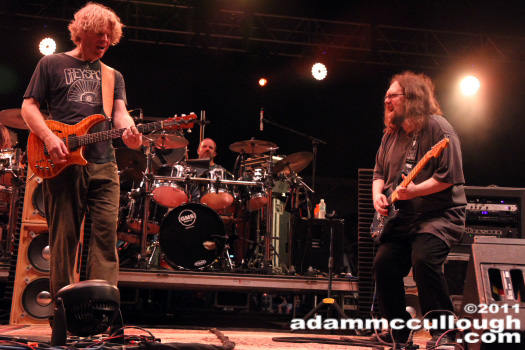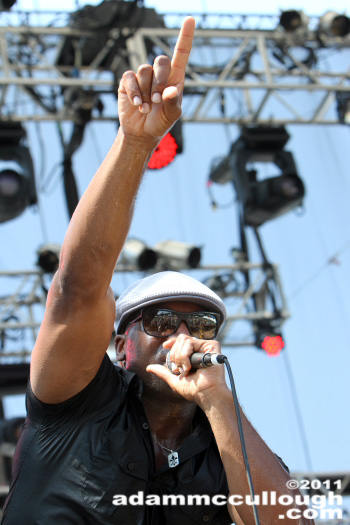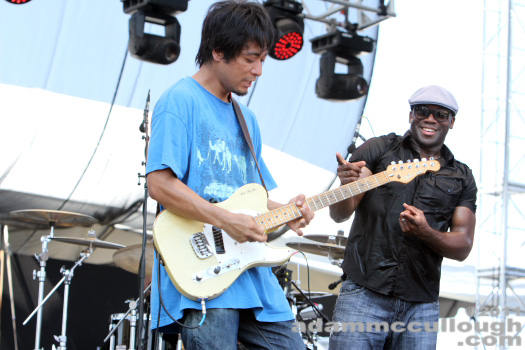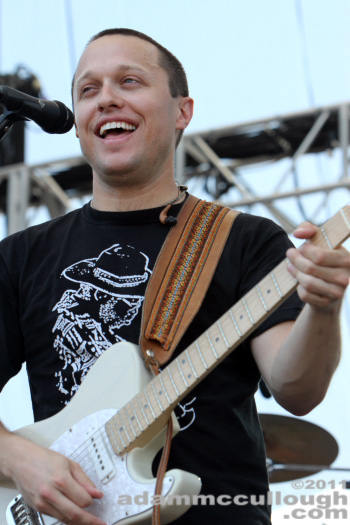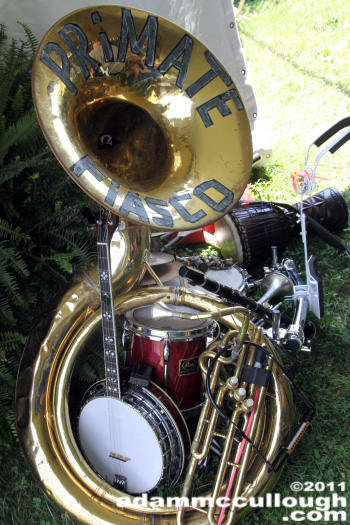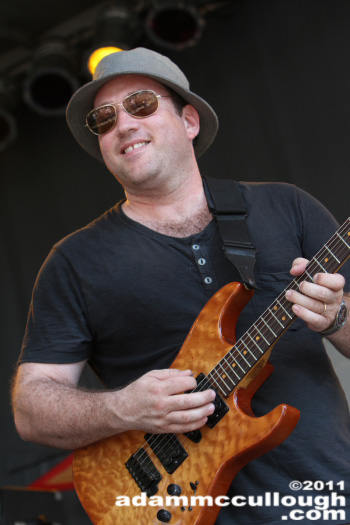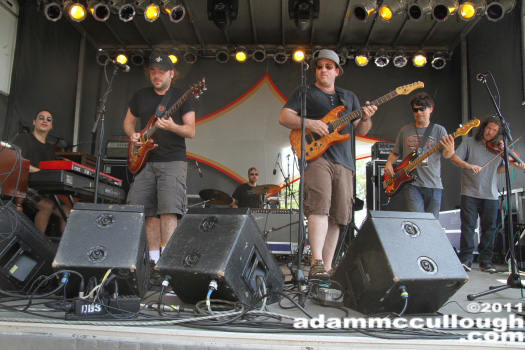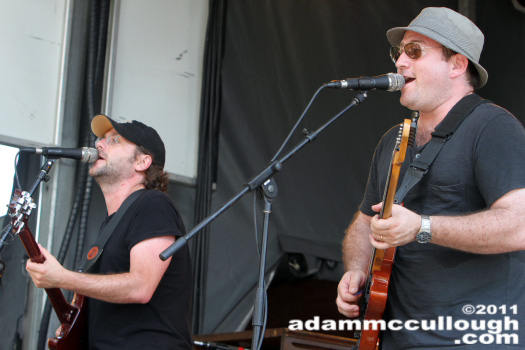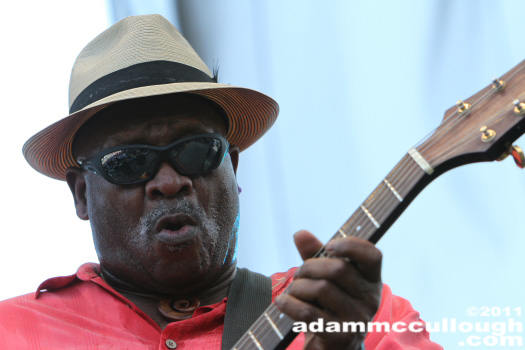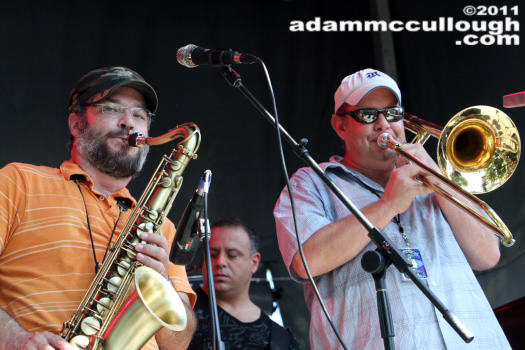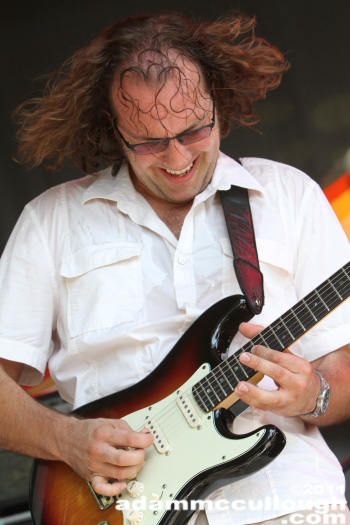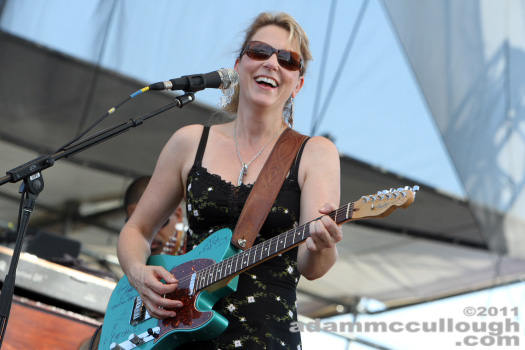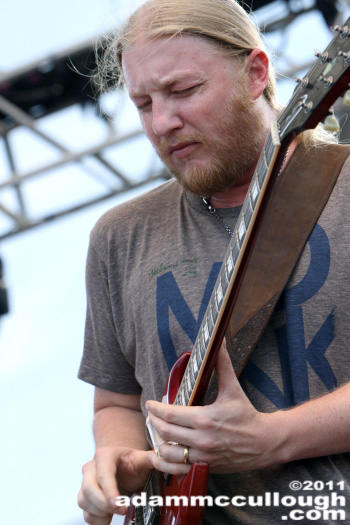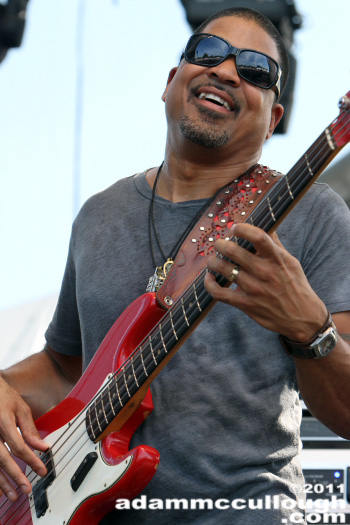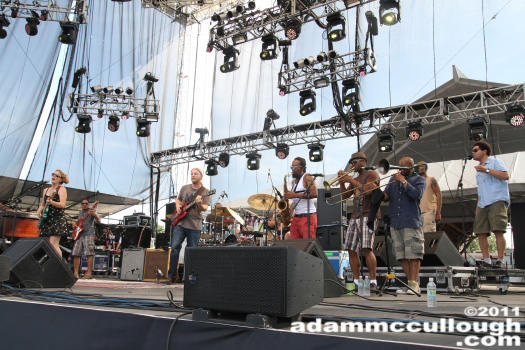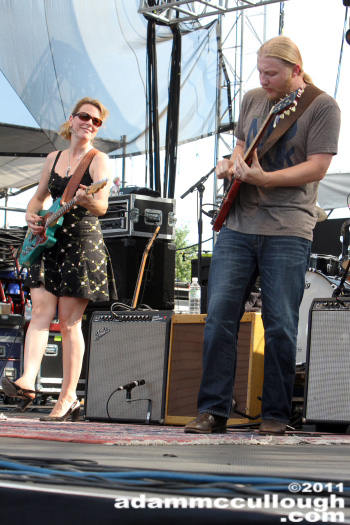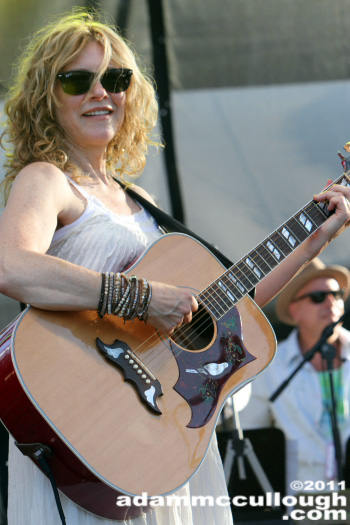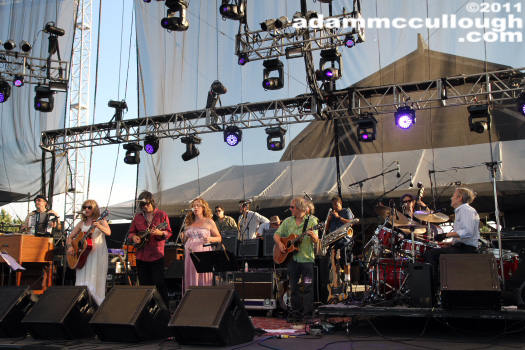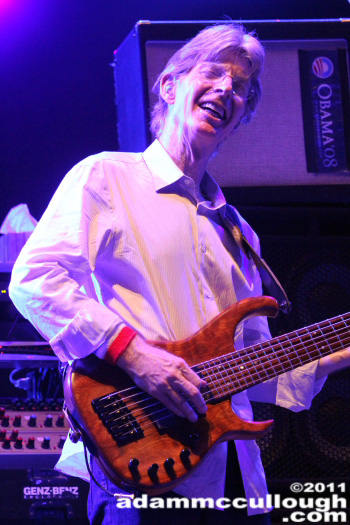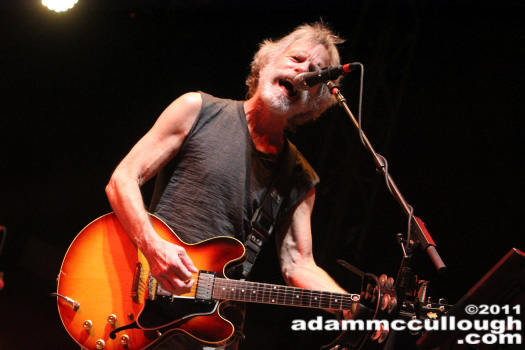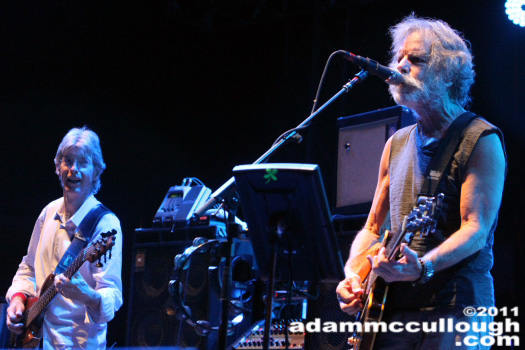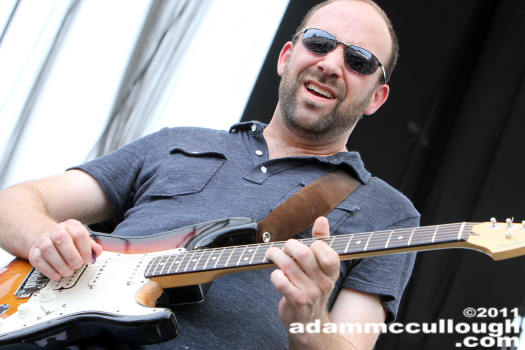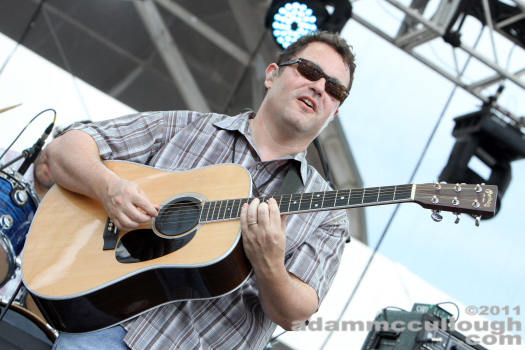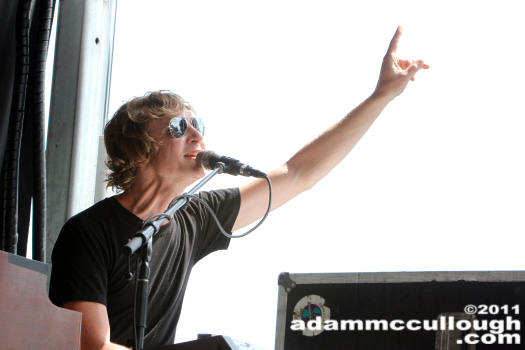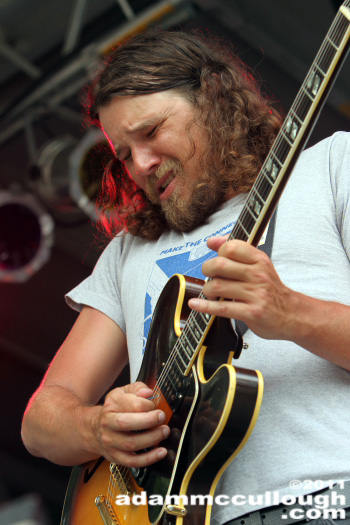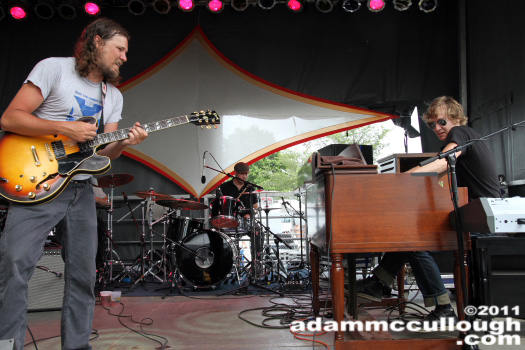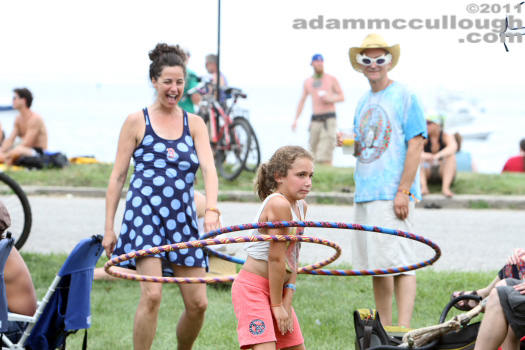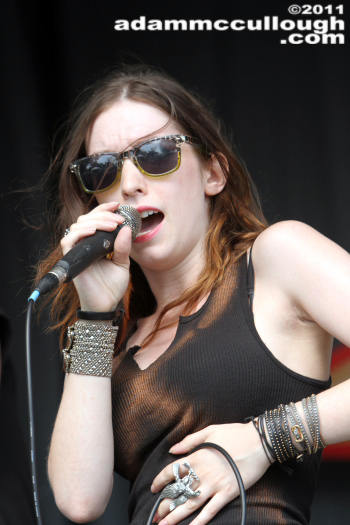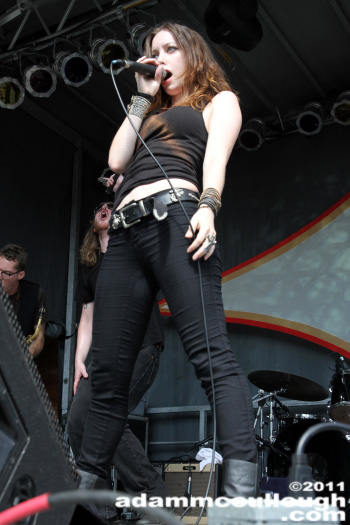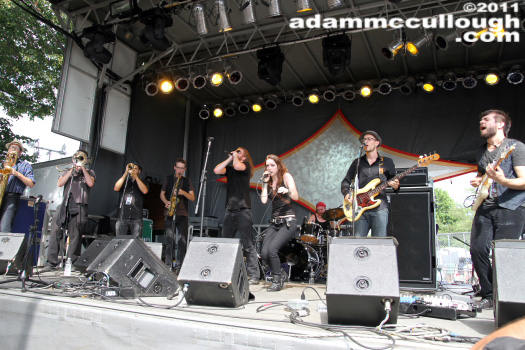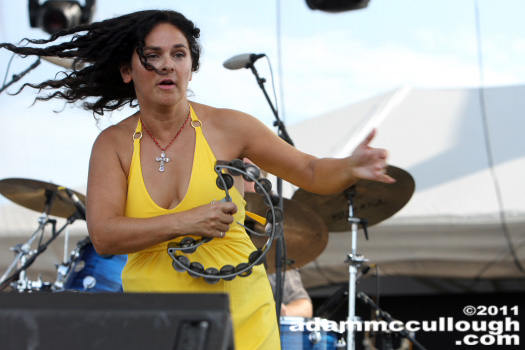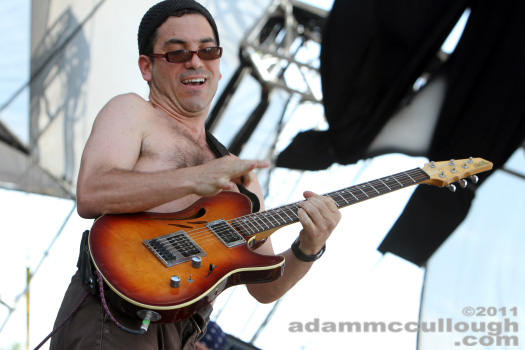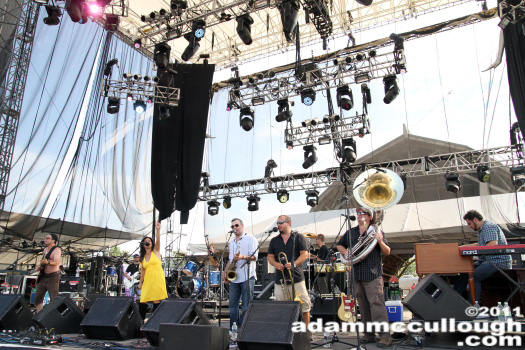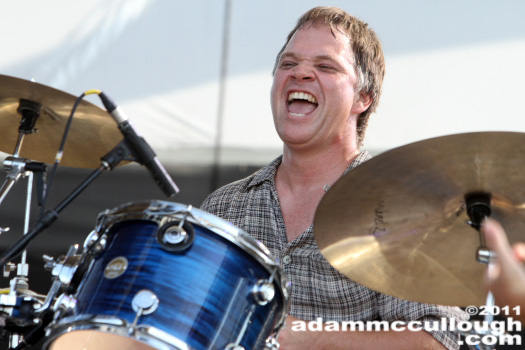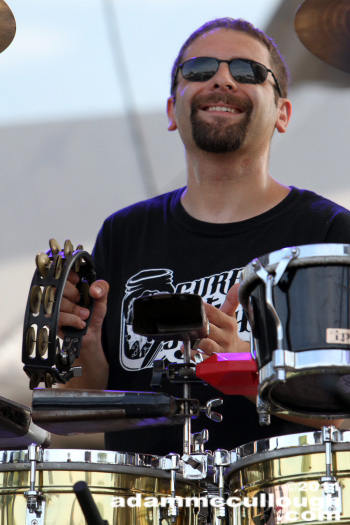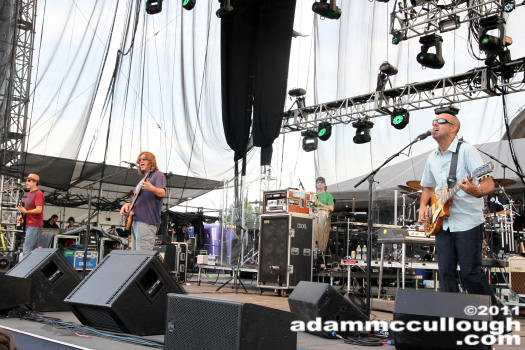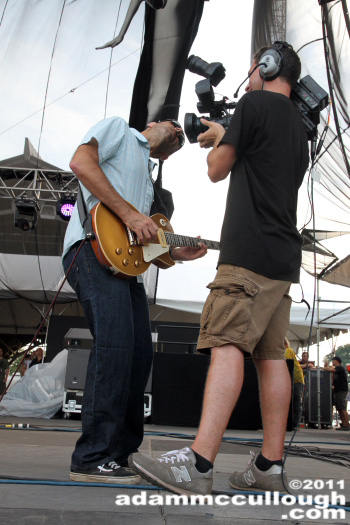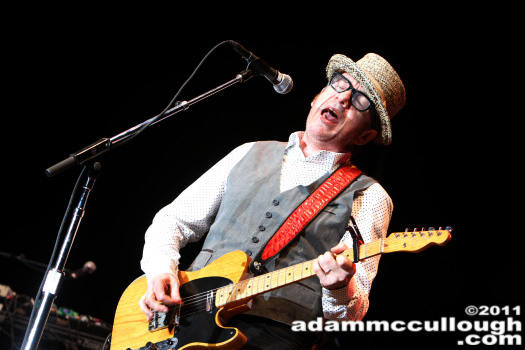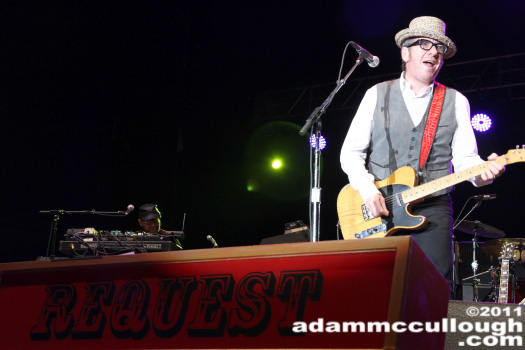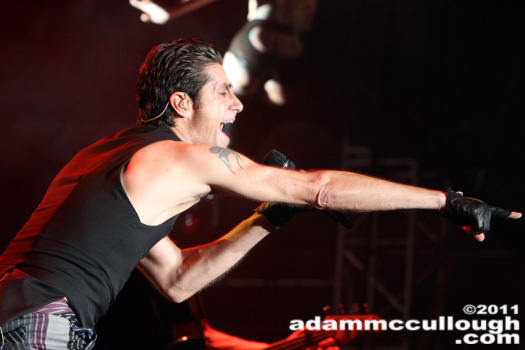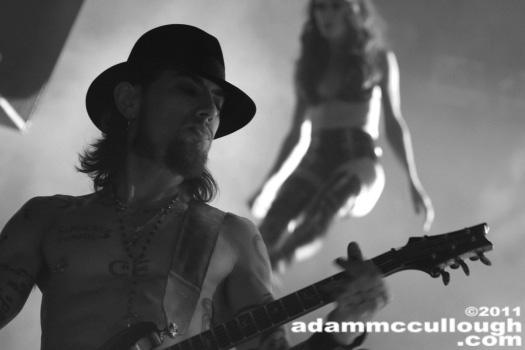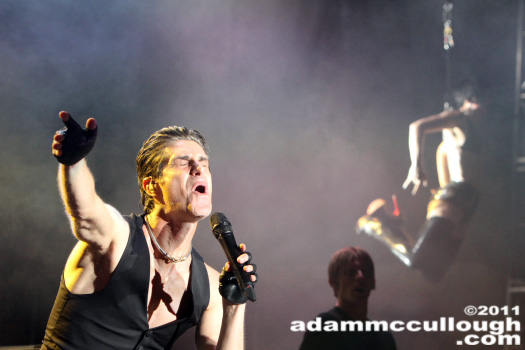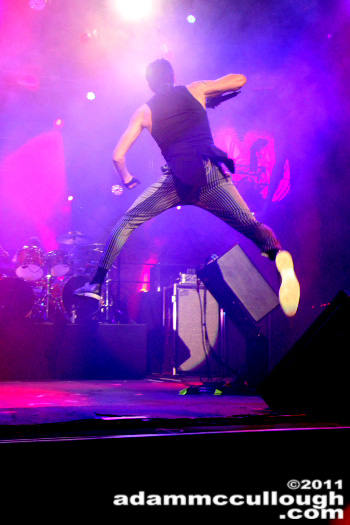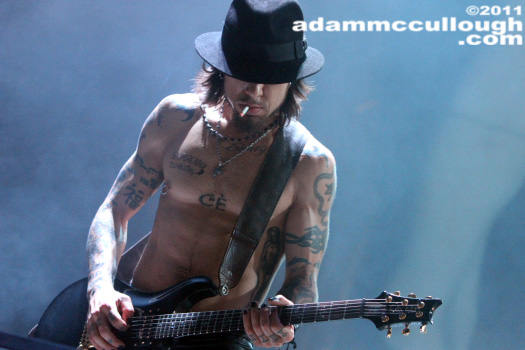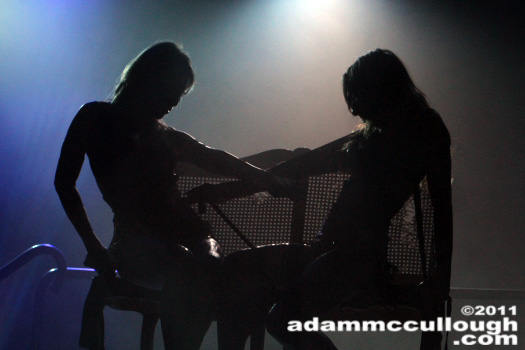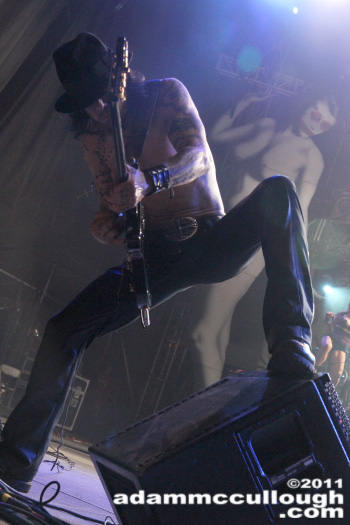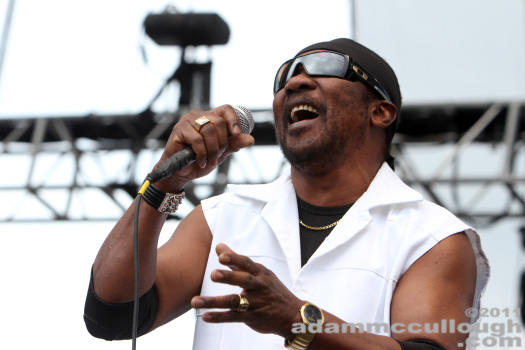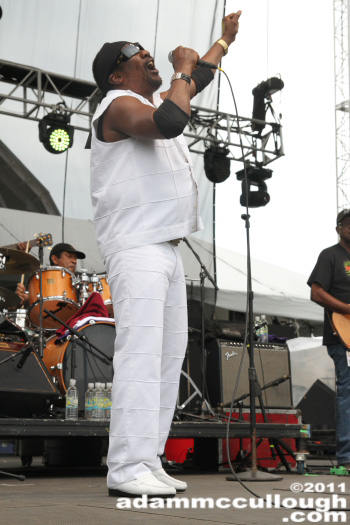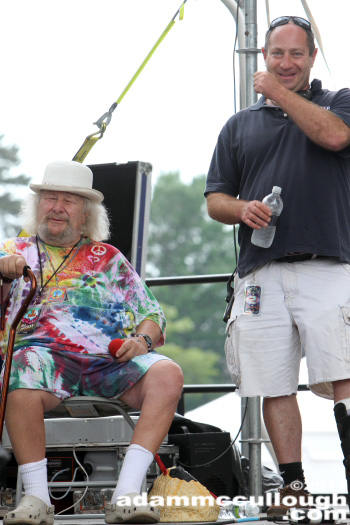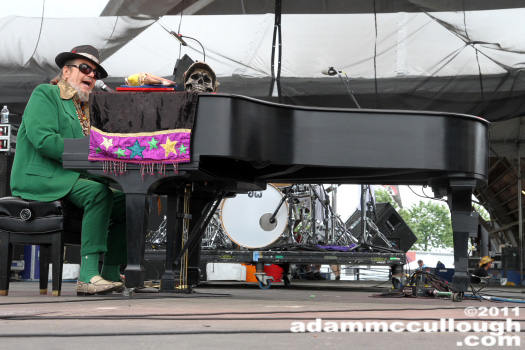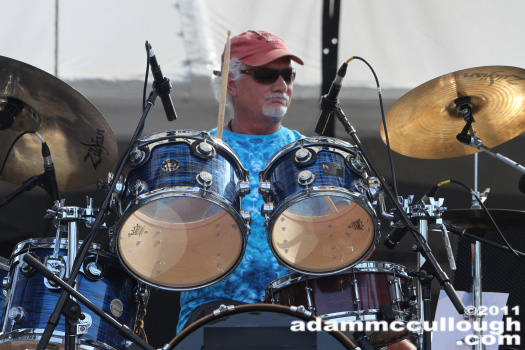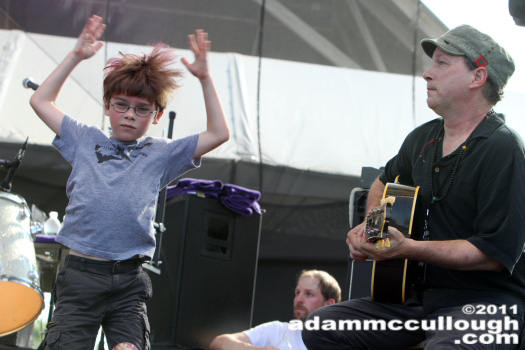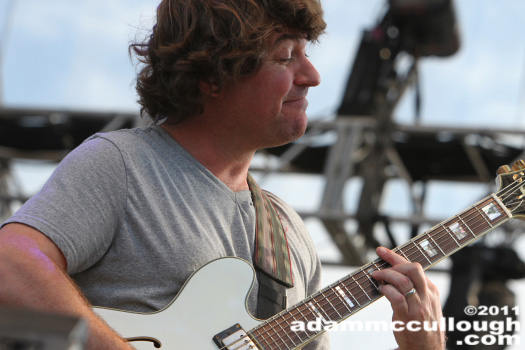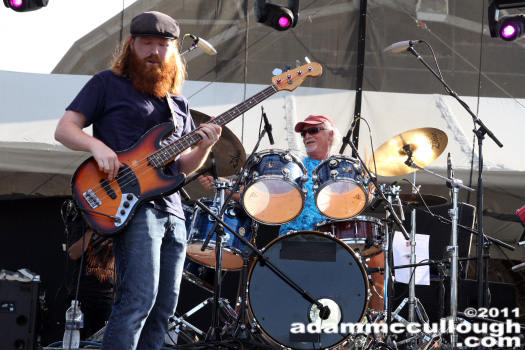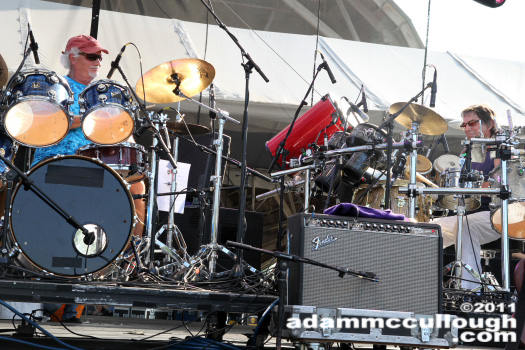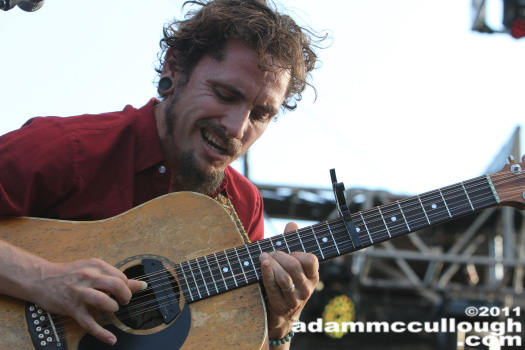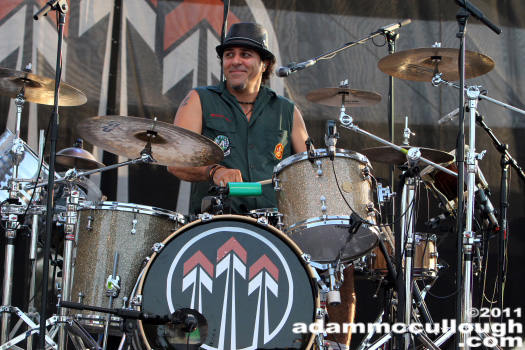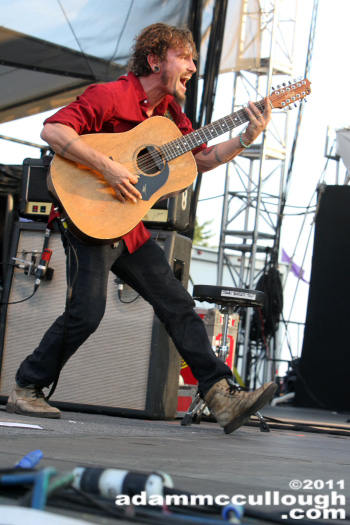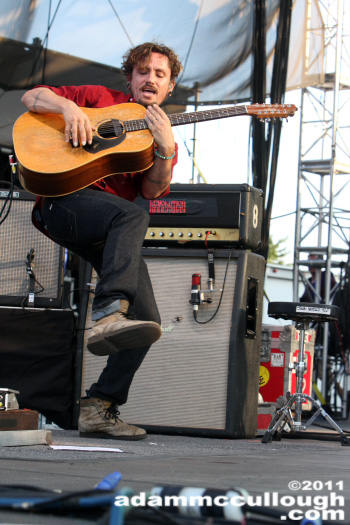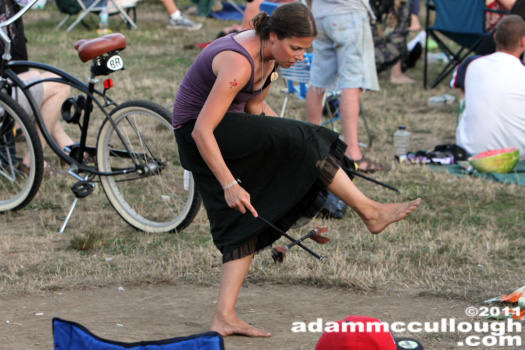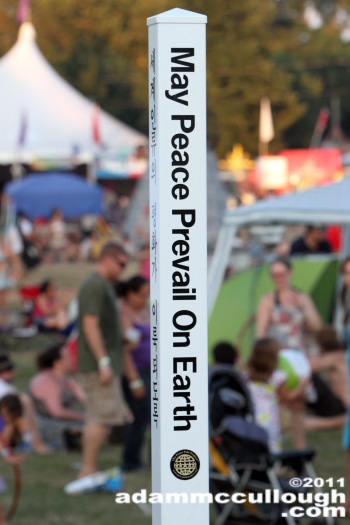 In between sets' The Vibes played Amy Winehouse over the PA system. I poured some hot tequila out for the Wino. She totally would have drank it.

MC Wavy Gravy also came out in between every set to remind people to drink plenty of water. He explained this was always the job of Mike Potashnick' a beloved member of the GOTV family' who passed away earlier this year. Wavy wondered out loud if this heat wave was Mike P.'s way of making sure someone reminded everybody to drink enough water.
moe. pulled in a great-sized crowd' including a newly-expanded and more densely populated Pop-Up City. Fuck that. The rest of Saturday was totally gonna rock and I was in it to win it! moe. totally nailed their early evening set' from the screaming guitars and the heavy bass' to the sick set list -- top to bottom. moe. are GOTV professionals. That's how they do. Highlights: "Good Trip" (it's been too long) -> "Faker" and a super tasty "Rebubula" -> "So Long" -> "Rebubula" sammich (including sing-a-long) that was so good -- it kept my mind off both the heat' and fact that I had just been kicked in the mouth by an inflatable Saranac Bear. Thank you to the Everyday Heroes in our vicinity who spent portions of the set deflating obnoxious objects.
Elvis Costello' with his unique voice' rough-edged geek rock charm & glasses' has always been one of those rock stars I dreamed of seeing live. He put on a fantastic & classy performance at Bonnaroo 2009' featuring some of the work he had done with Allen Toussaint (who sat-in) around that time. It was great -- but it was absolutely nothing like the mind-boggling set he rocked the fuck out at the Vibes this year. He was coming off an illness that made him miss a couple of previous shows' but the man came out swinging like a champ! Elvis Costello & the Imposters fucking SHREDDED! "Uncomplicated" -> "Radio Radio" -> "Everyday I Write The Book" -> (a ridiculously loud) "Turpentine" -> "Watchin' The Detectives"… Jaws on the GROUND. "This Wheel's On Fire" -> "River In Reverse" -> "On Your Way Down" -> "I'll Take Care of You" -> "Wheel's On Fire" -> "I Don't Want To Go To Chelsea" -- and then adorable acoustic "Slow Drag with Josephine." Song after song' another straight punch in the face -- he was relentless in his awesome pummeling' including the encore of "Sulphur To Sugarcane" -> "Pump It Up" -> "What's So Funny About Peace' Love' & Understanding" to kick us in the ass one more time while he still had the chance!!! In fact' for his outstanding work on Saturday' 7/23/11' I am officially awarding Mr. Elvis Costello' State of Mind's ** GOLD STAR SET OF THE WEEKEND AWARD **. What a showman! It was everything I ever dreamed Elvis Costello could possibly do live and more. Elvis Costello & the Imposters. Three words: Holy Fucking Shit.
I could barely wrap my brain around what just happened. I needed a grilled cheese w/ tomato & bacon on fresh sourdough with a pile of spicy mustard on the side from New Haven's The Cheese Truck' to help me come to terms with the fact that Elvis Costello & The Imposters just BLEW MY FUCKING MIND. Life might never be the same.
Jane's Addiction was soon up and billboard sized naked ladies flanked the stage (unless those were leftover from Elvis?). Dave Navarro ran around shirtless in leather pants because he's Dave Navarro and he can. We discussed whether or not the incredible definition on his abs was real' airbrushed' or just a side effect from being a millionaire who was married to Carmen Elektra and now does Citibank commercials. Despite all of the attention on Dave's stomach' Perry Farrell owned the stage. So much so' that I barely noticed the gagged' stilted' and whip-clad women dancing around in back of him (the blond is Perry's wife' btw) throughout the set. Jane's delivered a high energy rockin' set that had the crowd moving and singing along with favorites like "Ocean Size'" "Three Days'" "Caught Stealin''" "Mountain Song'" & a sweet acoustic "Jane Says" encore. They also threw a Pink Floyd ("In the Flesh") and Who ("Sparks") cover in for good measure. Perry made mention more than once of their sheer delight' honor' and confusion of being on the same bill as members of the Grateful Dead. I believe Farrell referred to the GOTV as "cross-generational" a few times. They were a total blast and everyone dug it! As far as I can tell' the only person who completely lost their shit was some tweaker who walked into us and then could not seem to figure out how to: get around this obstacle.
Tired & super-satisfied' I was done with Saturday. Full well knowing nothing would top this day's activities (FILED UNDER: Sunday: why bother?)' I looked forward to more A/C' more soap' more running water' and more bacon.

Seriously though' Sunday morning I was still riding high from the madness that was Elvis Costello. Besides the coffee and bacon' the Toots & the Maytals set was a great way to start the day. Compared to the two previously 100+ degree days' 98 degrees felt quite brisk and gave a false sense of confidence in one's ability to stand in the direct Sun.
"Oh' wait -- yeah' this is still really hot."
Wavy Gravy had now taken to threatening the crowd. "Mike P. just whispered in my ear to drink a lot of water or you'll DIIIIIIIEEEEE!!!!" - Wavy Gravy

Dr. John & the Lower 911 got onstage and rocked the fuck out of Seaside Park from the first note on. Swampy' psychedelic' Creole-funky-blues Rock. The field was full and the love and mad respect for this 2011 Rock 'n' Roll Hall of Fame Inductee was quite evident. Dr. John shook his ass right along with us' but he was the only person I saw doing it in a green velvet suit. Hot damn' what a star! My only complaint is that his stilts were a
wee bit shorter
than the ones Perry Farrell's wife had worn the previous night.
After the sweet dripping molasses at the Main stage ended' I headed over to the Green Vibes stage to check out this Rubblebucket phenomenon all the kids are so crazy about. The first word that came to me was "weirdness'" but in a great fun kind of way. There was all kinds of indescribable weird shit going down onstage: sousaphone' howling' a dread-beehive' jumping' day-glo. It was fantanstic. There was also a giant crowd eating it all up. Rubblebucket ooze an indie rock vibe on a jamband scene and I can totally fucking dig it now. You really just have to see it for yourself.
I skipped the Rhythm Devils to hang out near the Green Vibes stage and took in a short set by GOTV 2011 traveling minstrels' The Primate Fiasco' a "psychedelic dixieland" band from Massachusetts who were attracting a large crowd in the patch of shade under a large tree. It just seemed right. The Sam Kininger Band then belted out a short' fierce set of funky goods' including Soulive's "One In Seven."
I grabbed some heirloom tomato gazpacho (YESSS!!!) from the Cheese Truck and got ready for the John Butler Trio to close out 2011's Gathering of the Vibes' which they did to a huge crowd at the Main Stage. John Butler Trio's got a brand of Australian blues rock that plenty of people were going nuts over' but quickly lost my attention span. I took this as a sign that my weekend at the Vibes was finally over and I was okay with that. Truthfully' by now I'd begun craving both salad and exercise.
It was a fun weekend' but that hotel room was the fucking key to success (I owe Mark a batch of cookies). This year's Vibes did nothing to convince me the curse of foul weather is a figment of my imagination/paranoia' but I did learn a few things. I learned that I'll eat gouda and gruyere' if they are combined in a magical mixture of provolone' swiss' comte' and sharp cheddar. I also learned that Rock stars can exceed the unrealistic expectations you set on them (even if said expectations are set as a teenage girl)' especially the abundantly-sexy-irresistible-geektastic rockers in hot glasses. Other lessons: Inflatable Saranac Bears have hard/sharp feet' hot tequila stings the fresh cuts on the roof of your mouth from that awesome grilled cheese sammich you just inhaled (but it was still totally worth it)' and it won't snow in a heatwave -- no matter how hard you try to make it happen with your mind' so just put on a sundress and save your bitching for the print version. Lastly' if Dave Navarro was in leather pants' it's more than likely he powdered his junk too -- but theoretically' he could afford to pay a gagged woman in stilts to powder him with actual cocaine and feathers on an A/C'd tour bus' because he's Dave Navarro (that might be what the money from the Citibank commercial is designated for -- leather pants ball powder wrangling)-- you most likely' are not Dave Navarro' and should never underestimate the power of some well-timed & strategically-placed corn starch' even if it does mean explaining it to the Po Po at a later date.
related articles
Shows: moe.
Shows: Catskill Chill 2014
Shows: moe.down 15
Shows: moe.
Shows: moe.
More on:
moe.
,
Jane's Addiction
,
Dumpstaphunk
,
Ryan Montbleau Band
,
Deep Banana Blackout
,
John Butler Trio
,
Rhythm Devils
,
Dr. John
,
God Street Wine
,
Sister Sparrow and the Dirty Birds
,
Toots and the Maytals
,
Tedeschi Trucks Band
,
Dark Star Orchestra
,
Big Sam's Funky Nation
,
Furthur
,
Elvis Costello
,
Kung Fu
,
Rubblebucket
,
The Primate Fiasco
,
Assembly of Dust