Shows
Gathering of the Vibes 2011
July 21-24, 2011
at Seaside Park in Bridgeport' CT
by Lynn Kestenbaum
|
photography by Adam Mccullough
August 3, 2011
page 1 of 3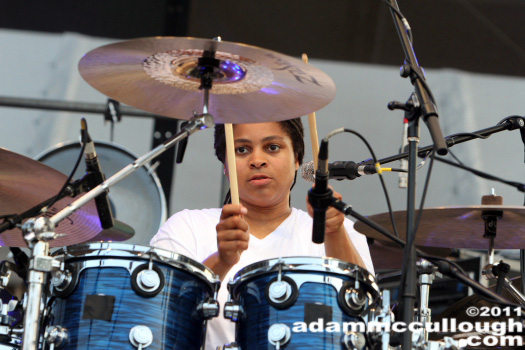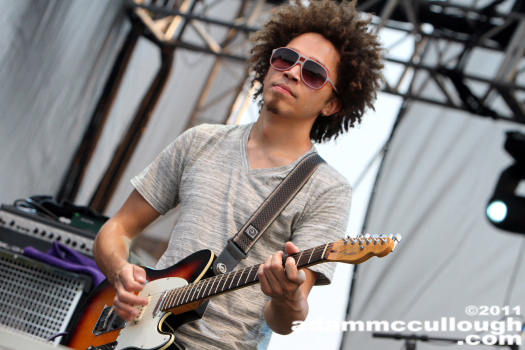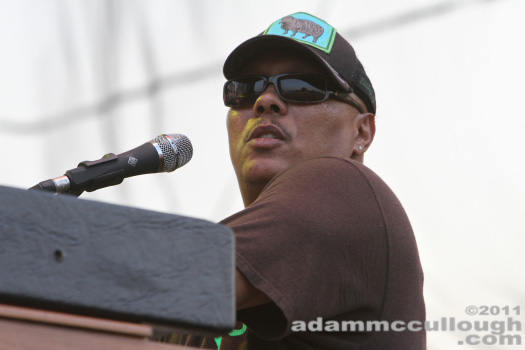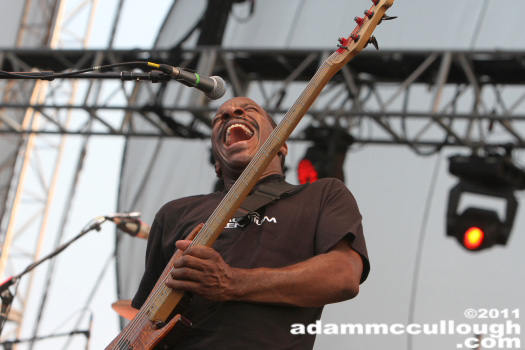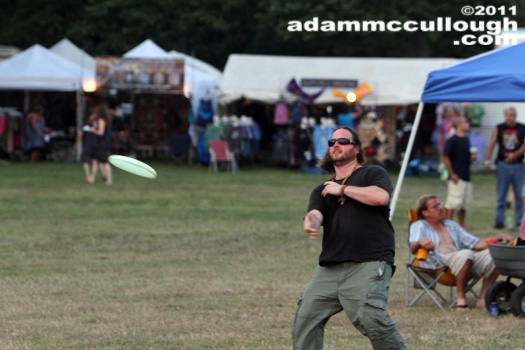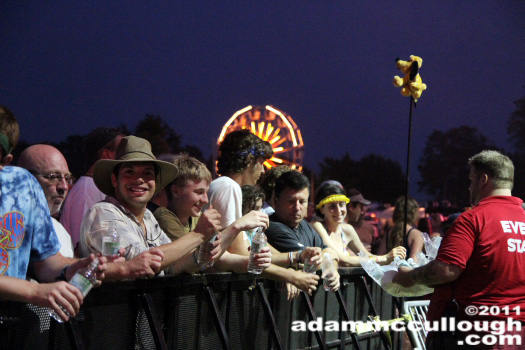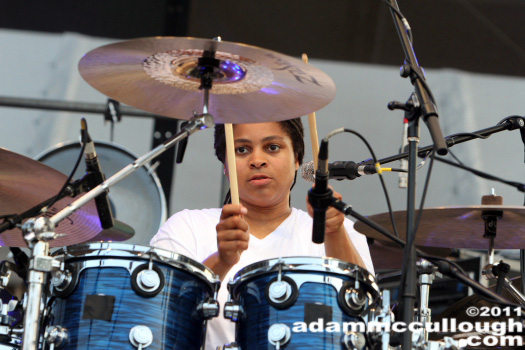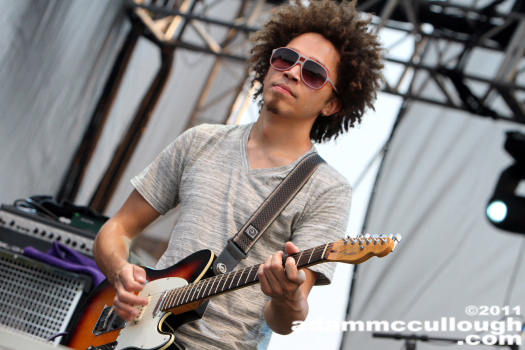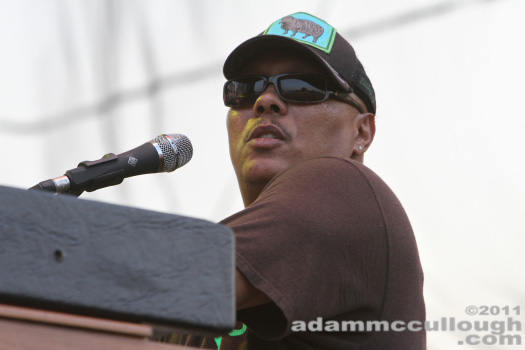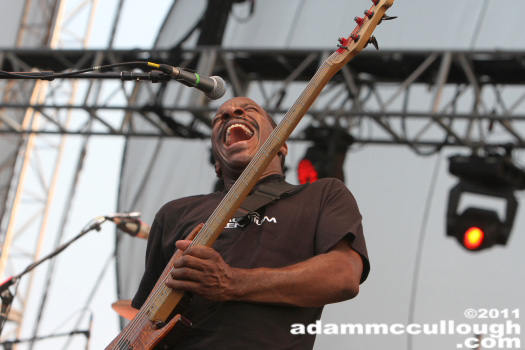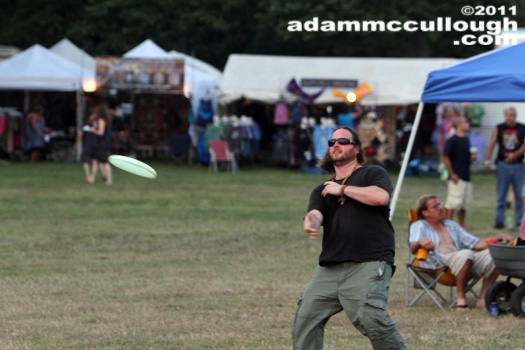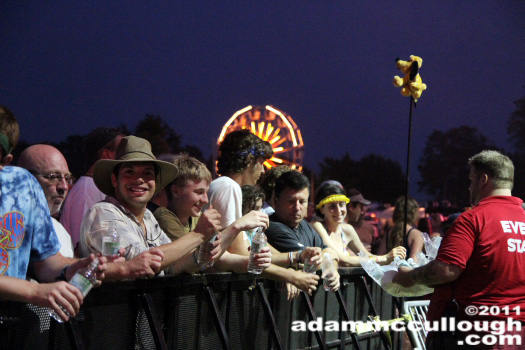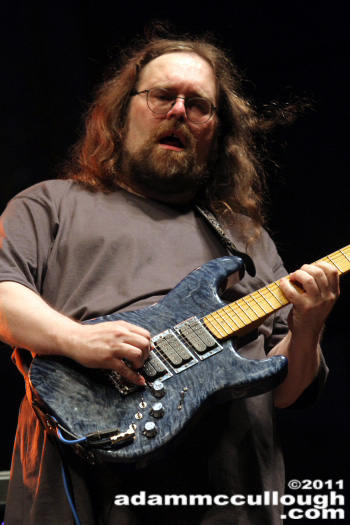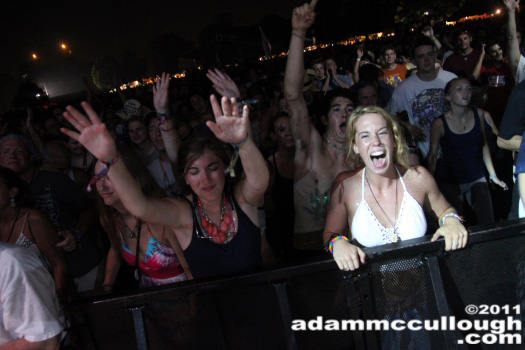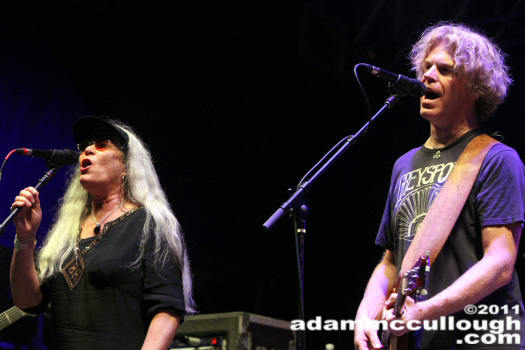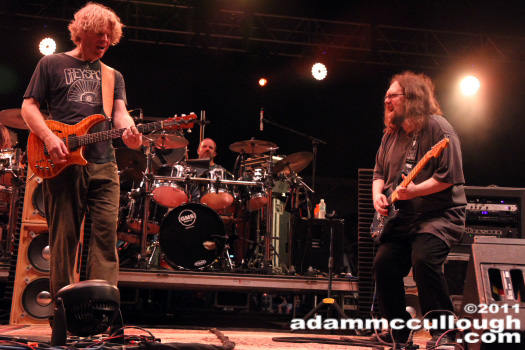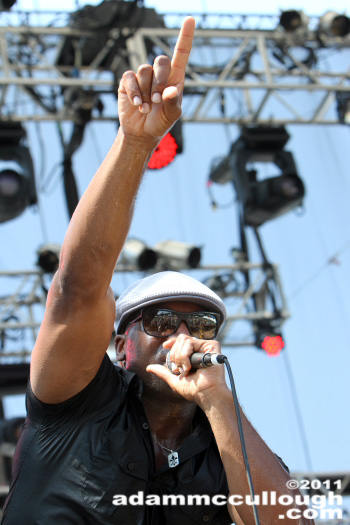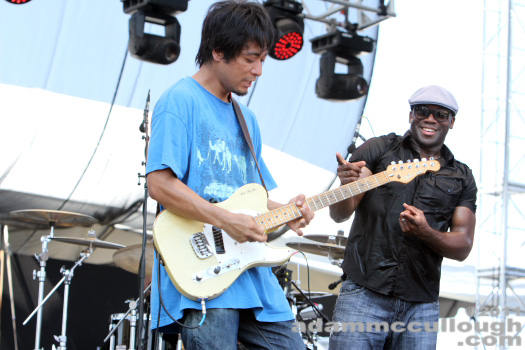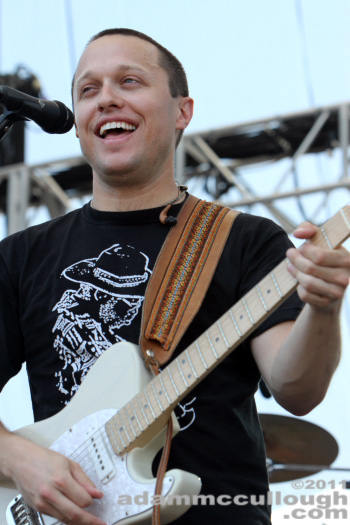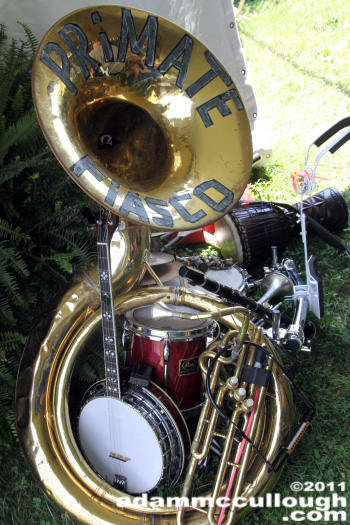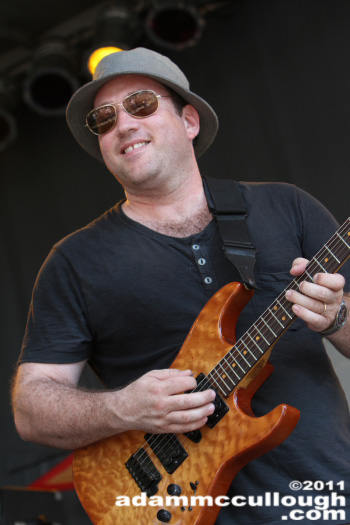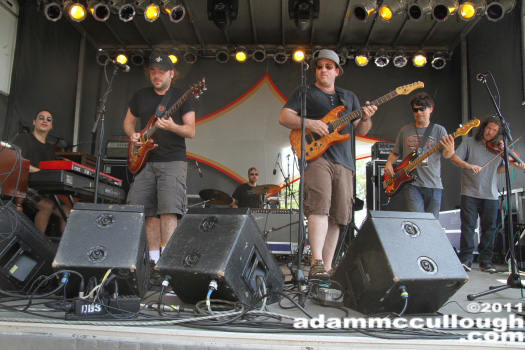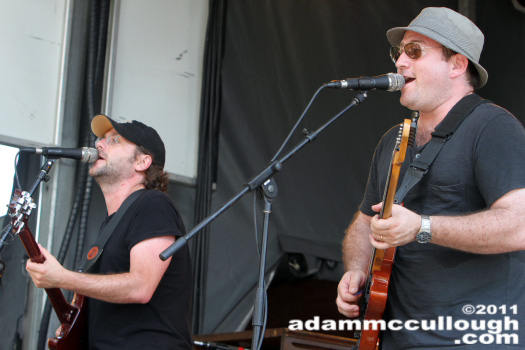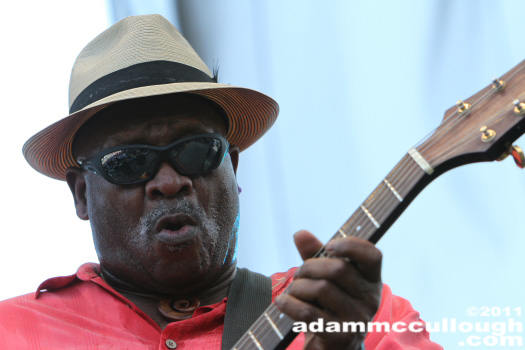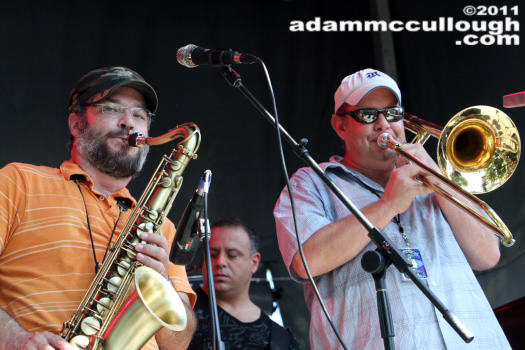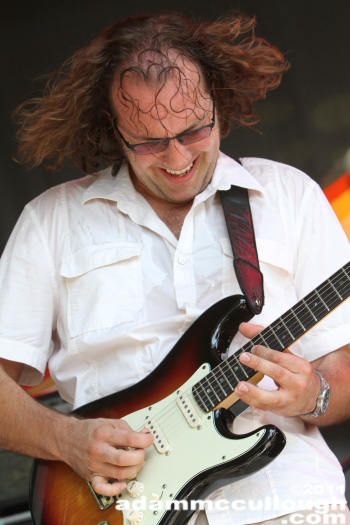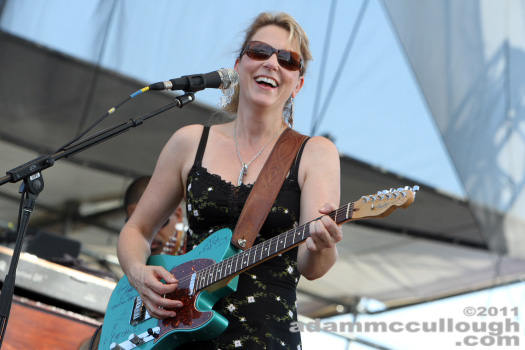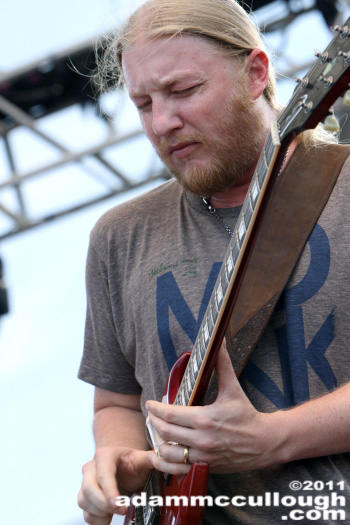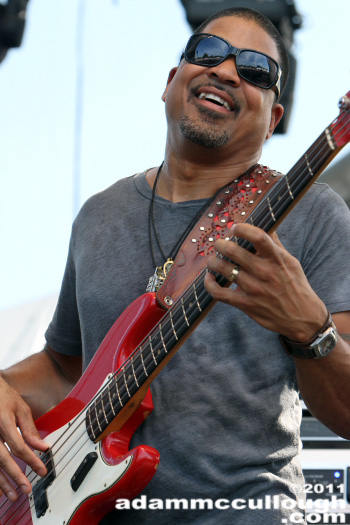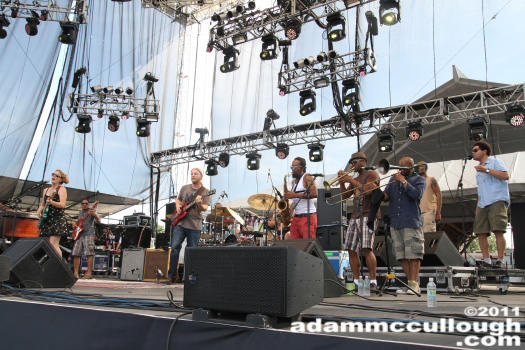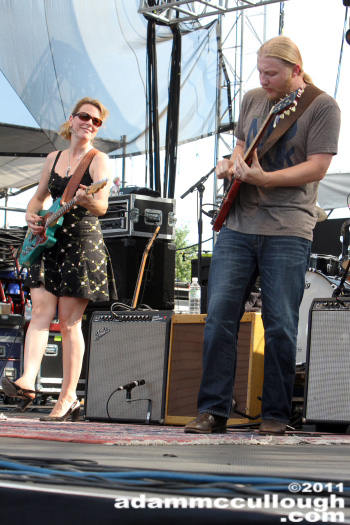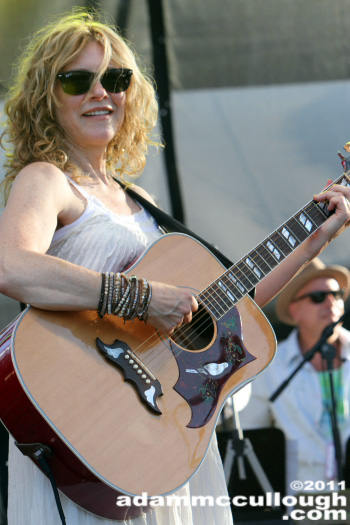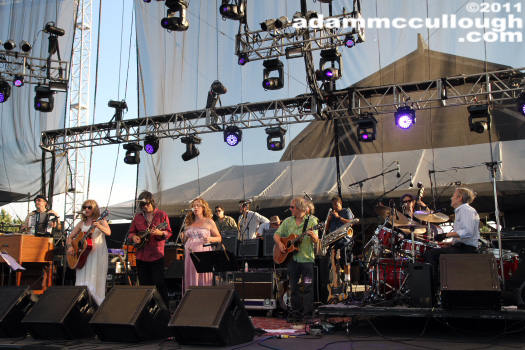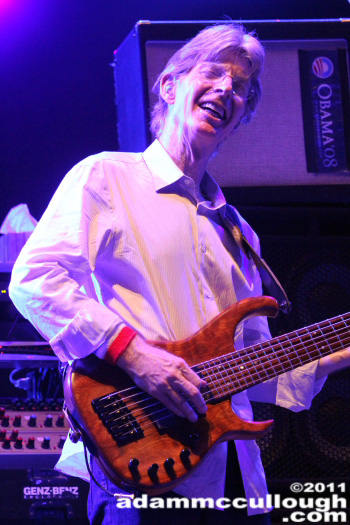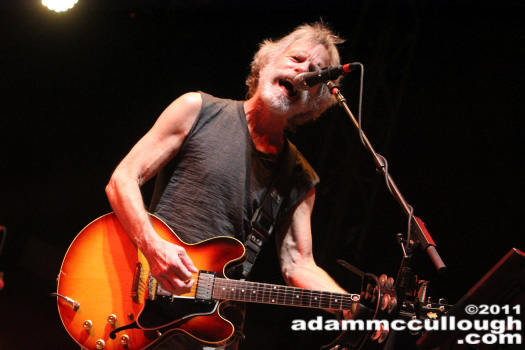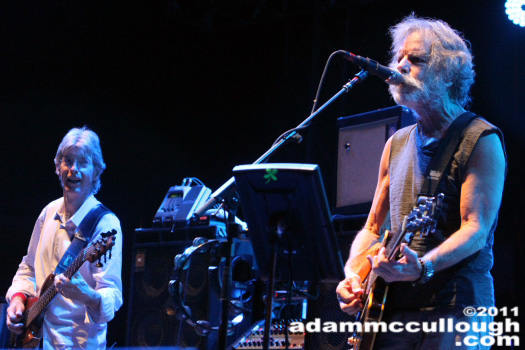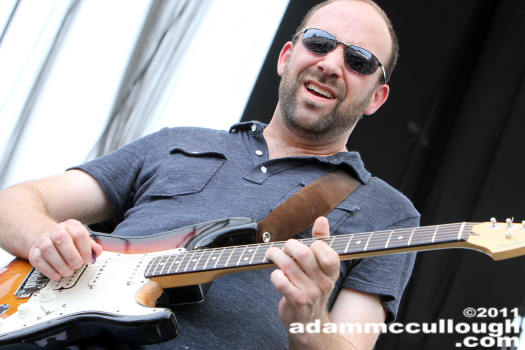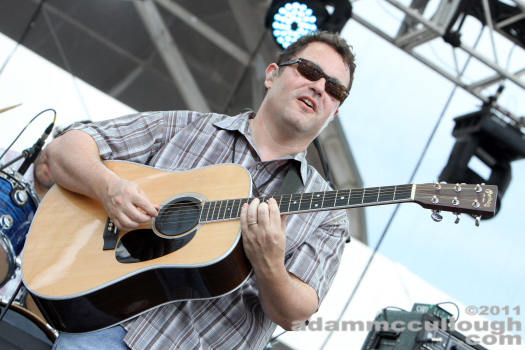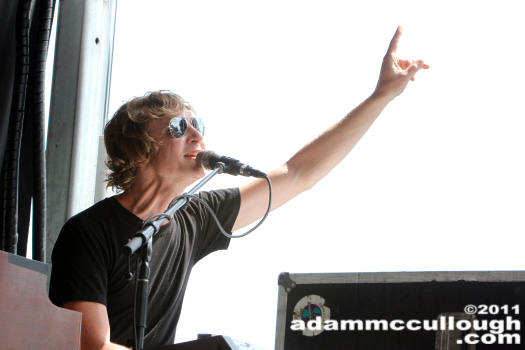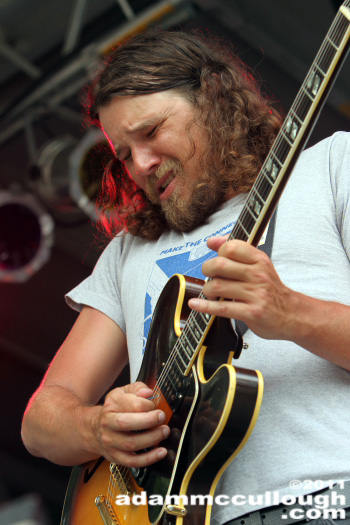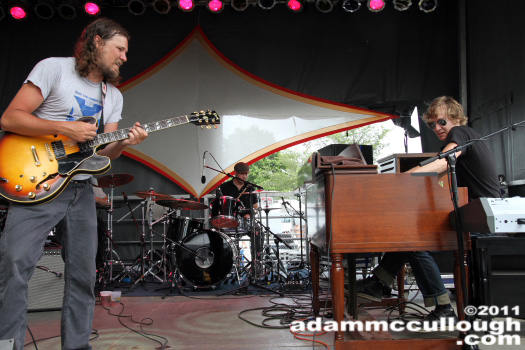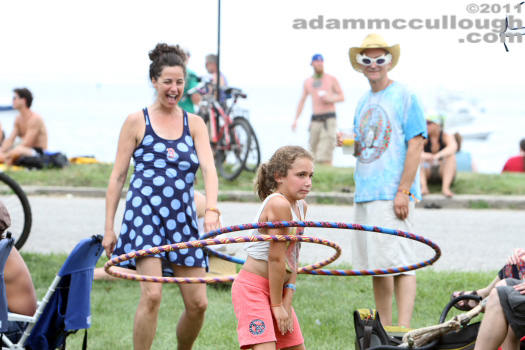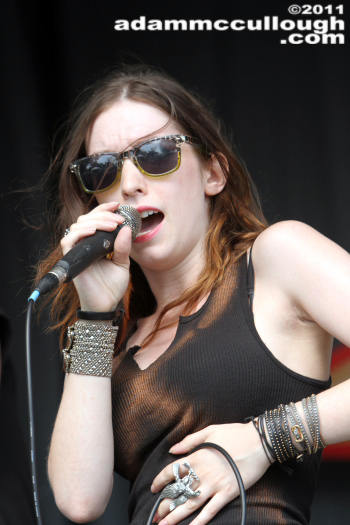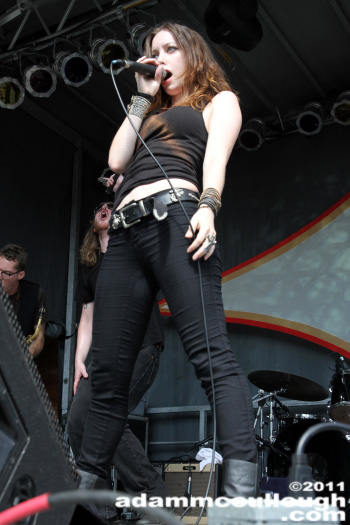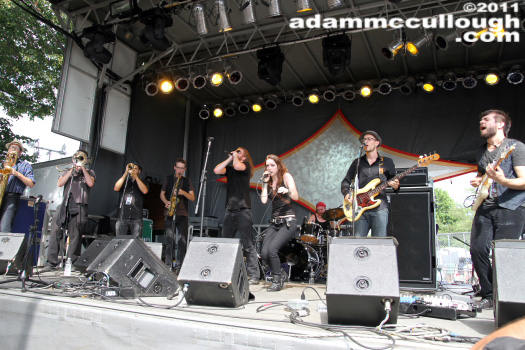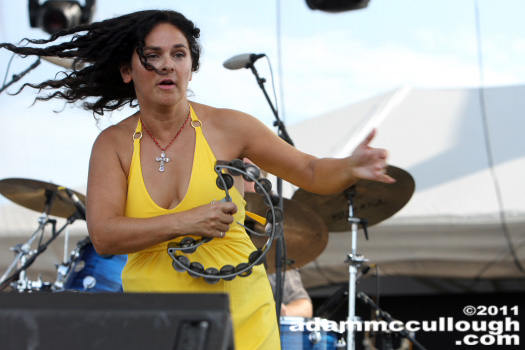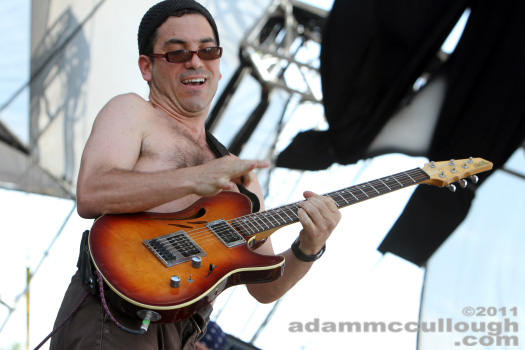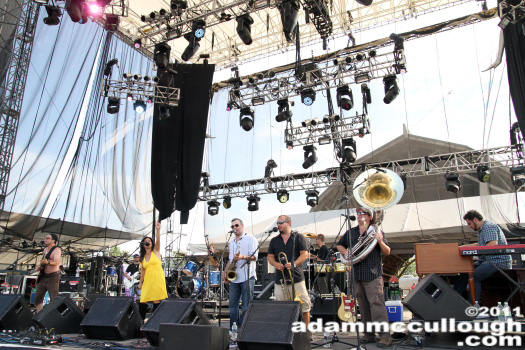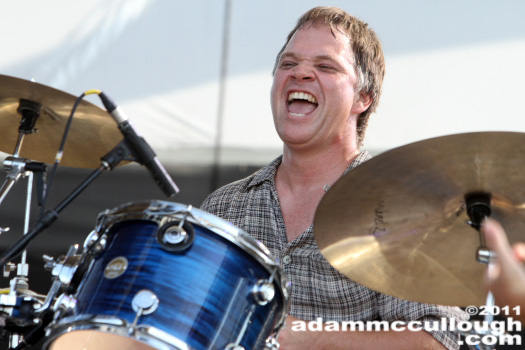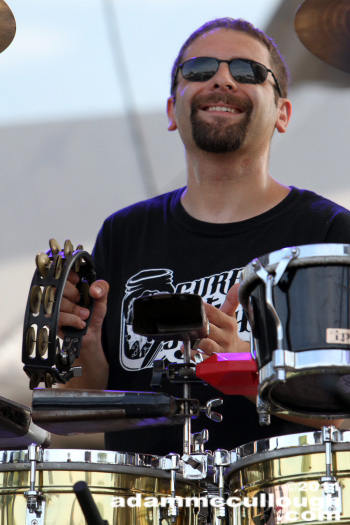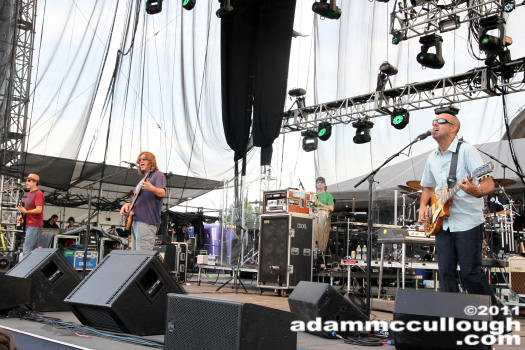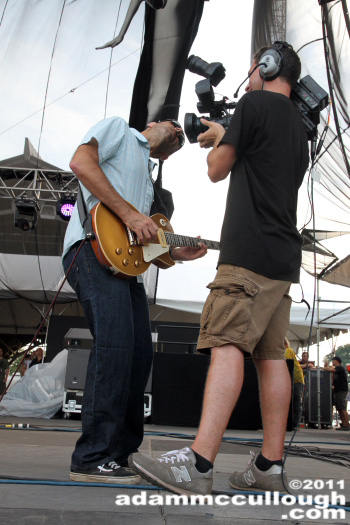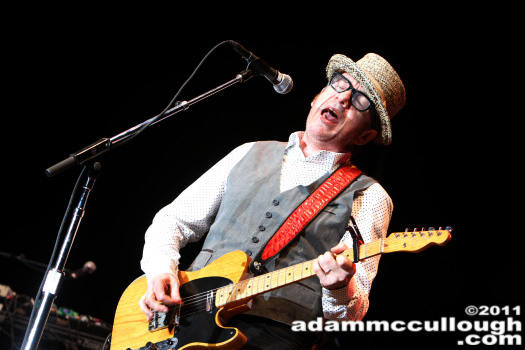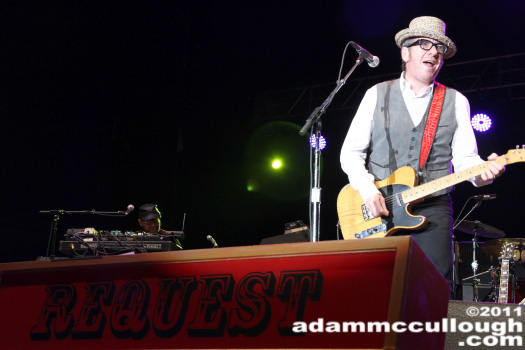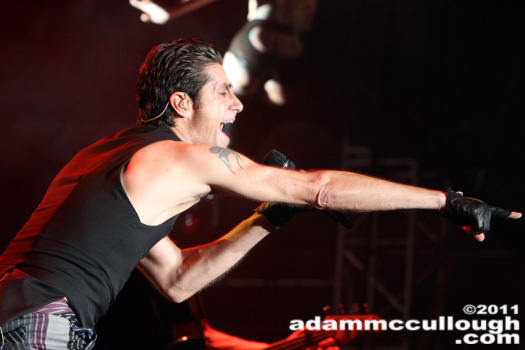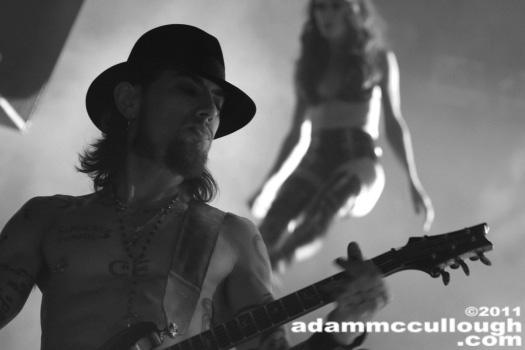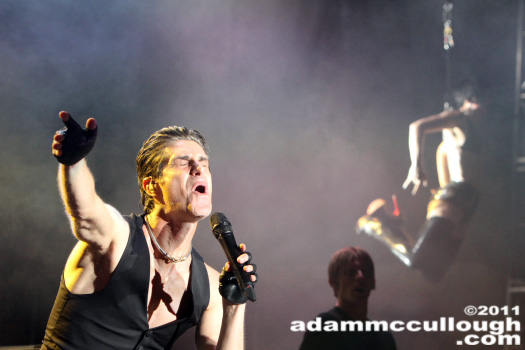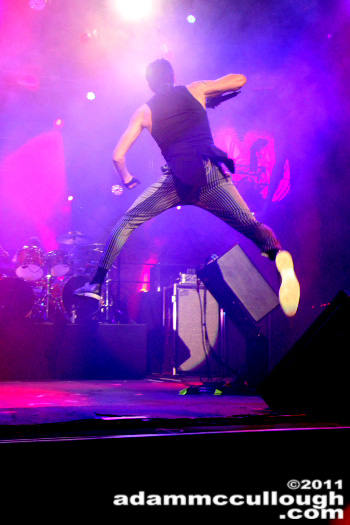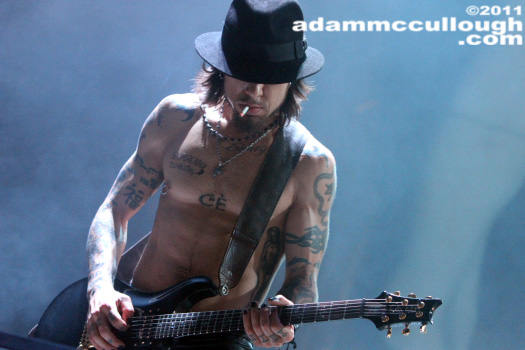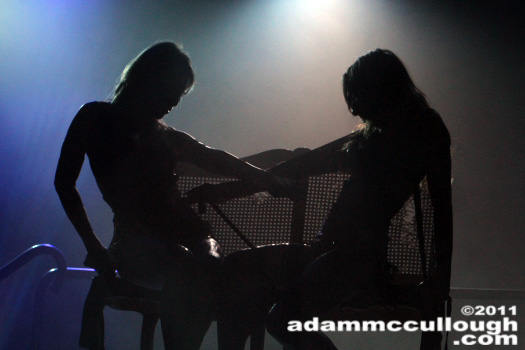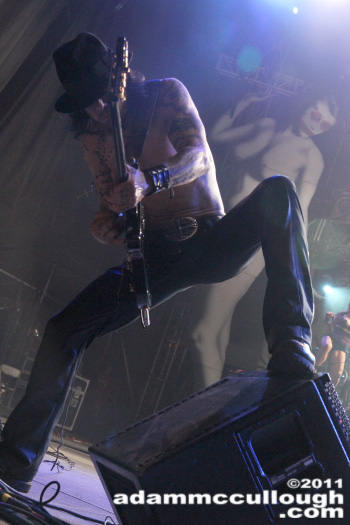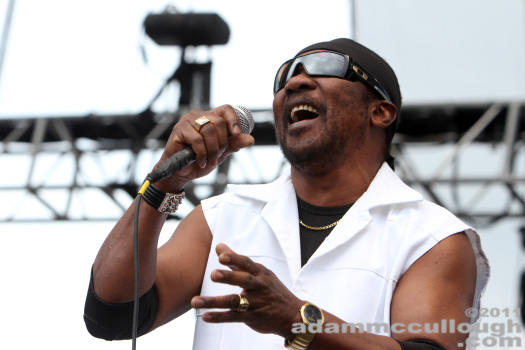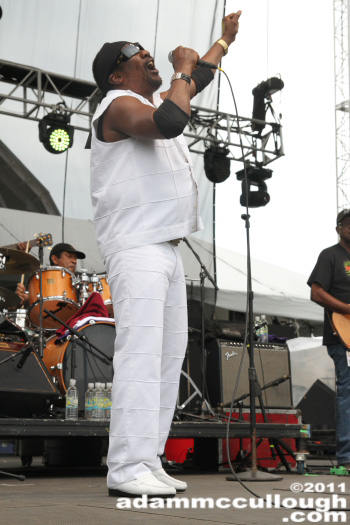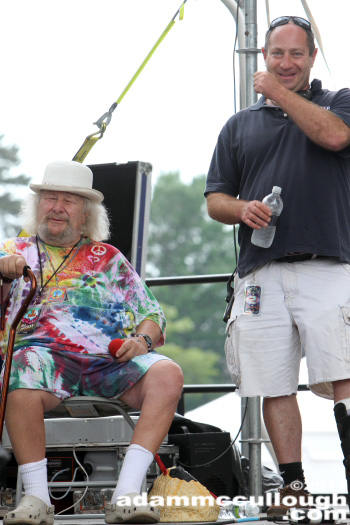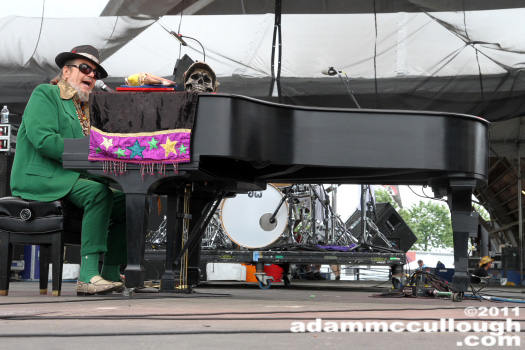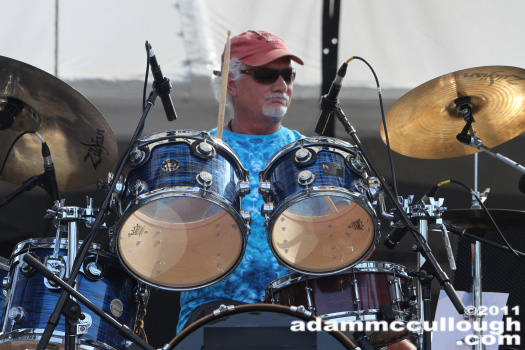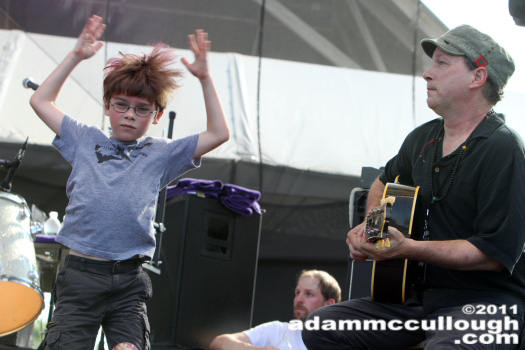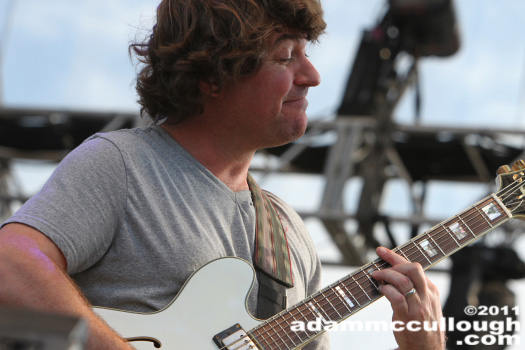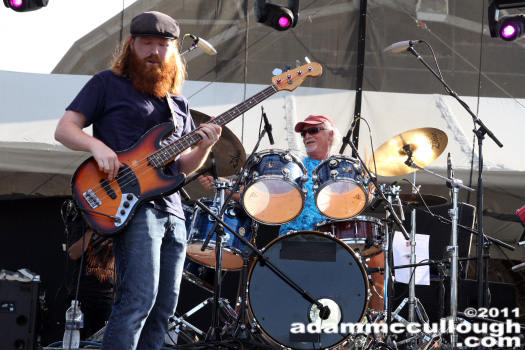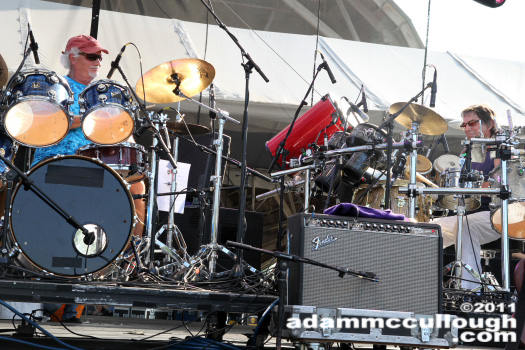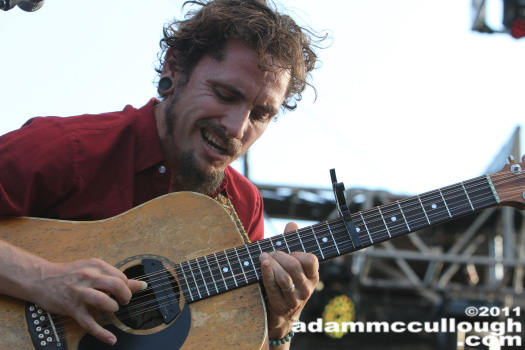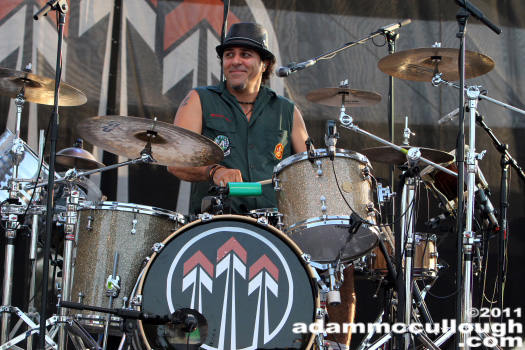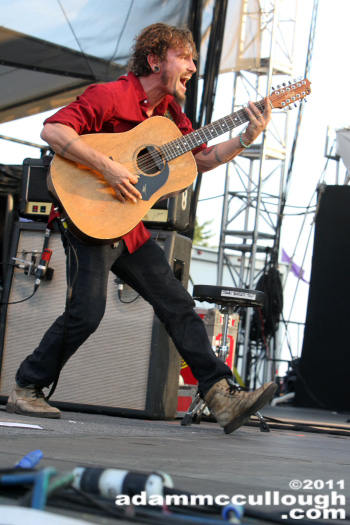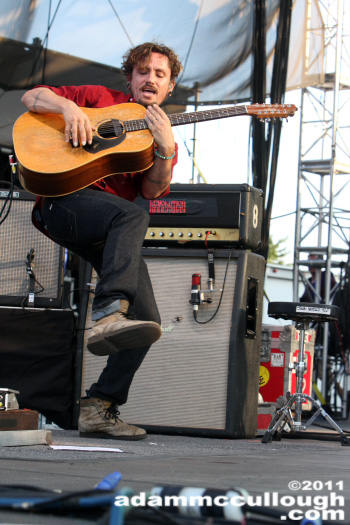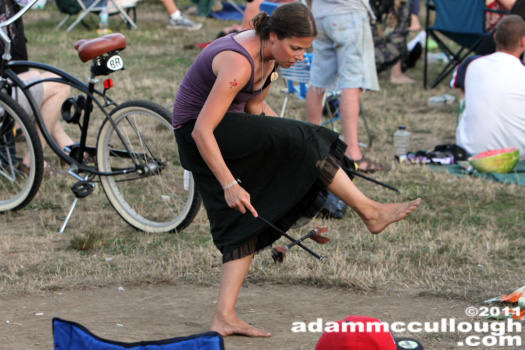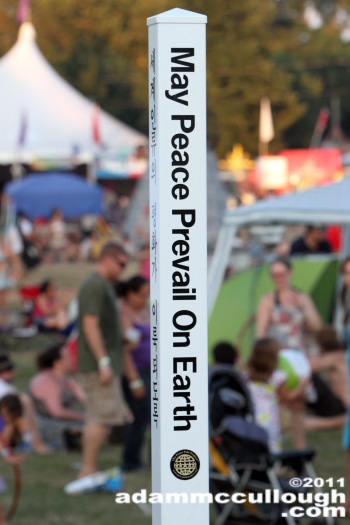 "Believe it or not' I don't have Hep-C." - Perry Farrell

In the weeks leading up to "The Vibes" (that's what the kids call it)' I was testing the limits on human consumption of both homemade rice pudding and Don Julio Blanco Tequila (answer: endless). But no amount of comfort food and cactus juice could have prepared me for the brutal weekend of tarring (skin singeing temperatures) and feathering (with dust and music' that is -- not actual feathers' duh) that took place in Seaside Park during the record-setting heat wave that socked the Northeast last weekend.
Let's back this up. 16 years ago' I hit up SUNY Purchase for the Deadhead Heaven Festival' precursor to the now-summer-staple festival' Gathering of the Vibes. Memories from this era are spotty and vague' but I can clearly recall watching Ominous Seapods play a super-rockin' set (Dana Monteith was sporting the Shaun Cassidy hair) in a brick courtyard' before walking around the building to watch moe. play while the sun set. Fucking epic shit. Why even attempt to top this?
The following year' I caught the Seapods at GOTV in Croton Park on the Hudson River. After OSP rocked the stage' I specifically remember finding something better to do' rather than watch the Disco Biscuits. This ended up being: sitting on the grass backstage and pondering the booming popularity of ecstasy with some of the artists on the bill.
Since then' my friends go to the Gathering of the Vibes almost every year' and are struck by some sort of cursed weather pattern of shit' seemingly sent down by the hands of a giant maniacal invisible spaceman who has it out for tens of thousands of dirty fucking hippies. Usually it's a hurricane' tornado' cane toads' or just lightning so intense that people bail on the festival altogether' rather than risk dying from exposure to the elements. Other friends come back with uber-groundscores from those who fled' mostly consisting of coolers' wagons' and occasionally a brand new tent. A brand new tent that may have a few hundred spent balloon carcasses still zipped-up inside' but a brand new tent nonetheless.
For one reason (OCD) or another (laziness)' I've found myself avoiding The Vibes for quite some time. This year's lineup' though' was something special. My eyes had been set on Saturday's planned explosion of excellence when almost God Street Wine was announced for Friday. Being a huge GSW fan' this of course made Friday's lineup of the Tedeschi Trucks Band' Taj Majal Trio' Ryan Montbleau Band' & Levon Helm with Bob Weir into a "I can't miss any of this" situation. I was very happy the Deadheads would have their Furthur to noodle out to' but it wasn't any sort of draw for me. I'll try to be nice. [Editor's note: as a Deadhead' I'm being nice and giving Guppy a pass on this one…] [Guppy's note: don't you think I've tried?? Do you have any idea how much easier my life would be if I could get into the Dead? For one thing' I wouldn't have to keep explaining myself to every Deadhead who stares at me slack-jawed and silenced' like I've just dug up Jerry's grave to take a piss on his bones. Oh' how I genuinely wish I loved the Dead!]
Anyways' this would be official business' of course. A media pass and my friend Mark's hotel room (thanks' Mark!) would definitely ease the descent into the cavernous depths of clichéd Festival Life (after reading everything up to this point' you can imagine my disdain for the port-a-potty-- thanks' Clifford Ball!).
Thursday was spent telepathically trying to bring the collective temperatures in the Northeast down to 72 degrees F. It did not work.

Friday morning I hauled serious ass through Westchester to I-95 North because no amount of traffic (or lack of sleep) was going to keep me from seeing 4 original members of God Street Wine' with special guests Jason Crosby (violin) and Joe Russo (drums' muthafucka!) hit the stage at noon. The drive itself brought back sweet GSW memories from high school. White Plains (
Fore n' Aft
)' Port Chester (
7 Willow Street
)' Greenwich (
Arch Street
). Appropriate landmarks for such a destination. It was nearly 10:30AM when I pulled into Bridgeport' CT. The temp on my car dash read 98 degrees F. No shit--
totes F
. I hid for a little while in the A/C' downed my last gulps of hot coffee while I could still enjoy them' and got out of the car. "I'm fucked." I said to no one in particular' as my sunglasses fogged up.
My walk to the Green Vibes stage quickly became a recognizance mission' mapping out spots of shade along the path for later use' and of course' checking out the food trucks on the way. There was bacon to be had somewhere' and I would find it.

But more importantly at the moment' there was Wine to be had. God Street Wine disbanded in '99' have made sporadic appearances since' most of which are clustered over the past 2 years. Drummer Tomo' currently lives in Berlin' which makes get-togethers a little more difficult. The remaining members have been appearing before sold-out crowds' every few months in the NYC area. Master Violinist Jason Crosby has joined them on such occasions. On this day' the rumor flying around was that Furthur member' Joe Russo' would be joining them on drums for a bunch of songs towards the back end of the set. He is apparently a big GSW fan from back in The Wetlands days and had claimed to know how to play "anything from
Bag
." (GSW's debut album). Excited Winos said their "hellos" and milled about in the refreshing breeze coming off LI Sound. The tequila in my flask was still kind of cold from the cooler. This was working.
The boys sounded fantastic to begin with' but the energy got a fantastic kick in the ass the second Russo started wailing on a kit. They did 4 songs from Bag. ("Fortress of Solitude'" "Waiting for the Tide'"" Nightingale'" & "Borderline"). Russo nailing every change' even singing along -- every word! "Why is this the first time they've done this??!?" was essentially the question amongst the large crowd of dancing people' some hearing GSW for the very first time. By the end of the set it had turned to a threatening toned demand of' "They'd BETTER do this again!" Yes' they'd better… or else.
Shit man' it was downright temperate at the Green Vibes stage' but it was time to head over to the Main stage and catch whatever was left of the Ryan Montbleau Band's set. He's the Pied Piper of Chicks' you see. I needed to be there. I needed to git down. RMB was calling.

Holy fuck it was hot on the field! There was a fairly small patch of shade directly in front of the stage at that point' so people were trying to squeeze into that to dance' because the second you crossed that line into the sun' the heat became unbearable. Now' more than ever' I wanted to grab a hula-hooper by the arms and scream "WHY' DEAR GOD? WHYYYYYY??!!!!" but it just seemed like
so much work
. This heat madness almost made walking around in a bikini seem reasonable…
Almost.
Ryan Montbleau Band absolutely ROCKED the Main stage. John & Scott Aruda shined on horns and Fuzz from Deep Banana Blackout shredded in place of RMB regular Lyle Brewer' who was absent' because he is pregnant. I really wish their set didn't overlap GSW's' because I could have used a full show. Ahh' festival conflicts. So it goes.
By the time RMB was done' it was time to rest. It was still early' but the heat was getting oppressive and dangerous. MC Wavy Gravy kept reminding everyone to drink lots of water. It had become abundantly clear that there was no conventional way to cover this festival. There was too much heat to see all the music' and too many people to watch all at once. My dream of asking Bobby Weir "What's with the cutoffs' dude?" was already crushed' dead. We snagged some ice cream bars and hid under a tree for the duration of The Taj Mahal Trio' who sounded awesome. Dirty-sexy-southern-bluesy-soulful goodness. It made sense in the heat' because it was made for the heat. Deep & satisfying. Something three bad Jews hiding under a giant tree could totally relate to.
related articles
Shows: moe.
Shows: Catskill Chill 2014
Shows: moe.down 15
Shows: moe.
Shows: moe.
More on:
moe.
,
Jane's Addiction
,
Dumpstaphunk
,
Ryan Montbleau Band
,
Deep Banana Blackout
,
John Butler Trio
,
Rhythm Devils
,
Dr. John
,
God Street Wine
,
Sister Sparrow and the Dirty Birds
,
Toots and the Maytals
,
Tedeschi Trucks Band
,
Dark Star Orchestra
,
Big Sam's Funky Nation
,
Furthur
,
Elvis Costello
,
Kung Fu
,
Rubblebucket
,
The Primate Fiasco
,
Assembly of Dust