Shows
Strange Creek 2011
May 27-29, 2011
at Camp KeeWanee in Greenfield' MA
by Matthew Solomon
|
photography by Dara Palermo
June 17, 2011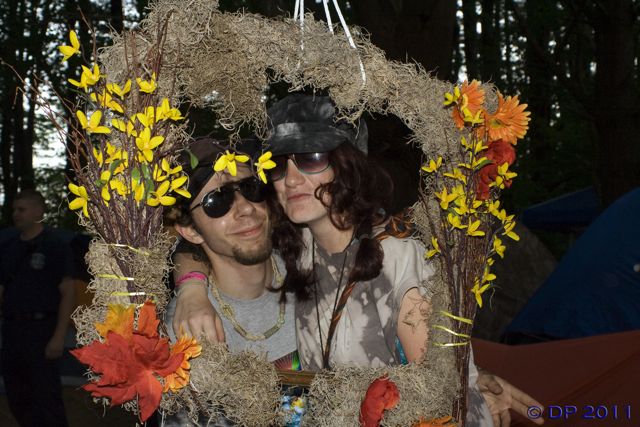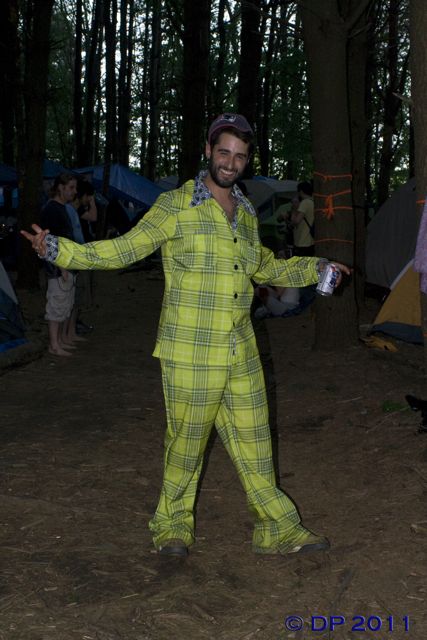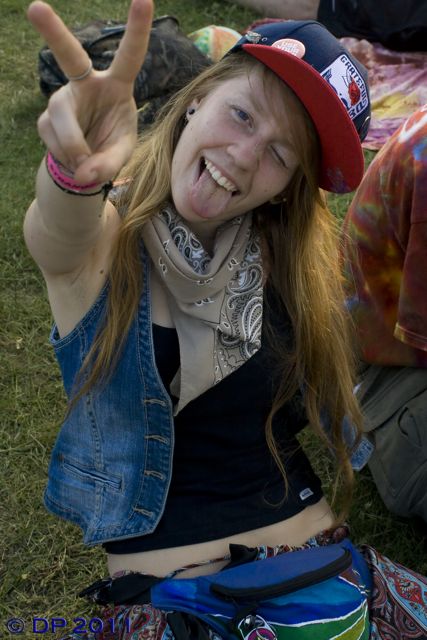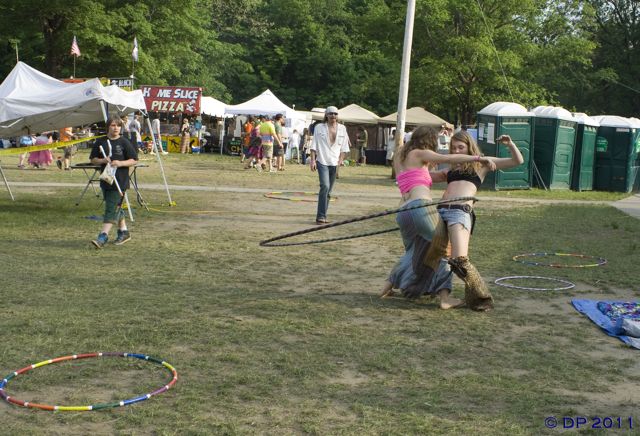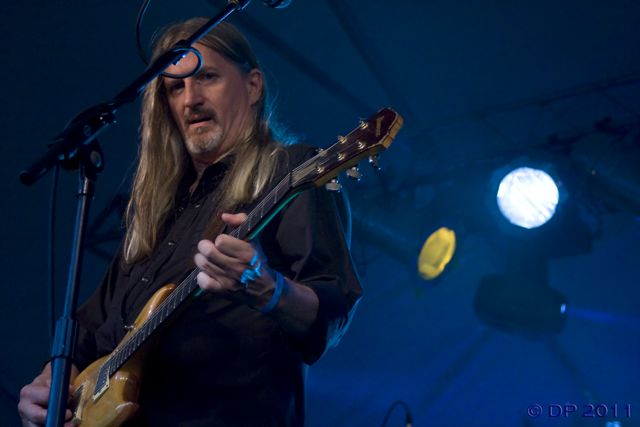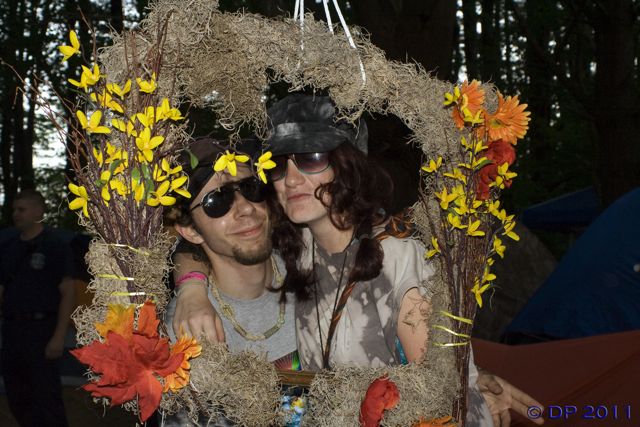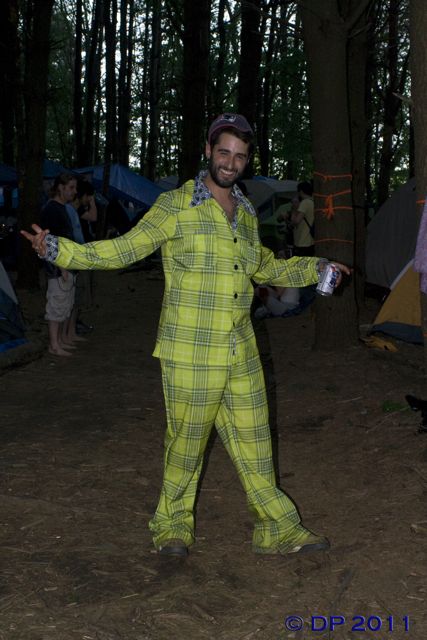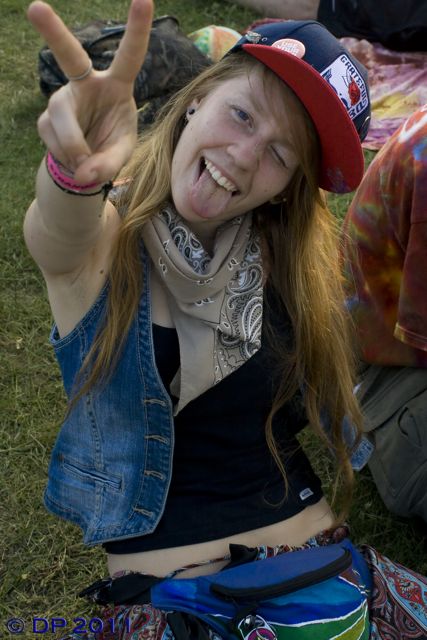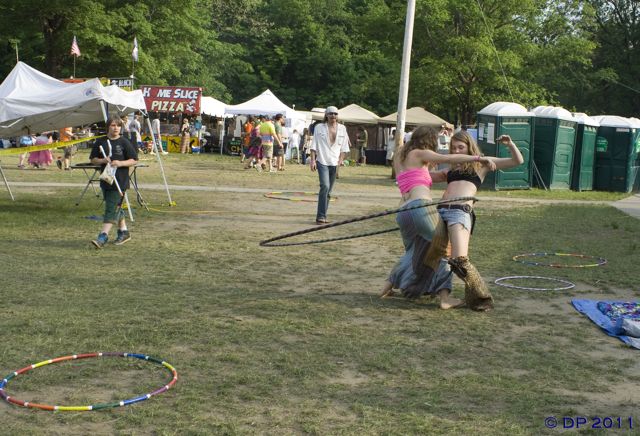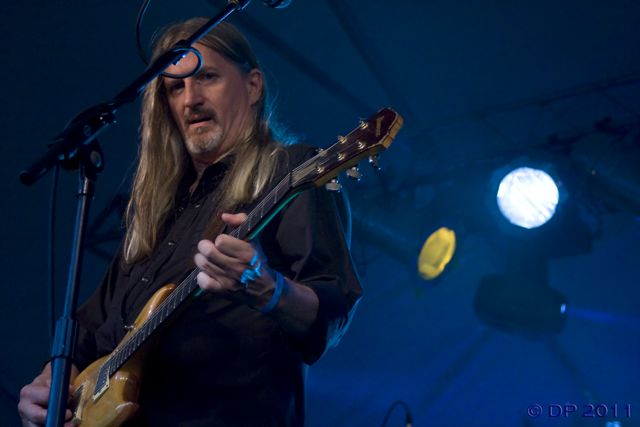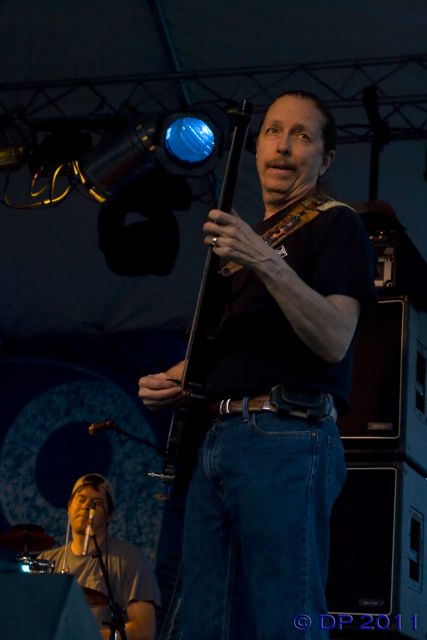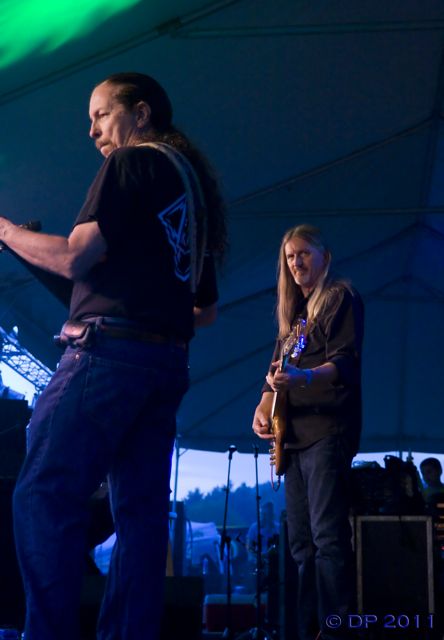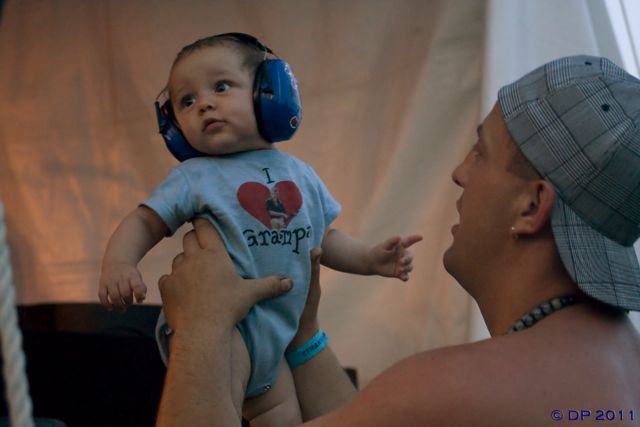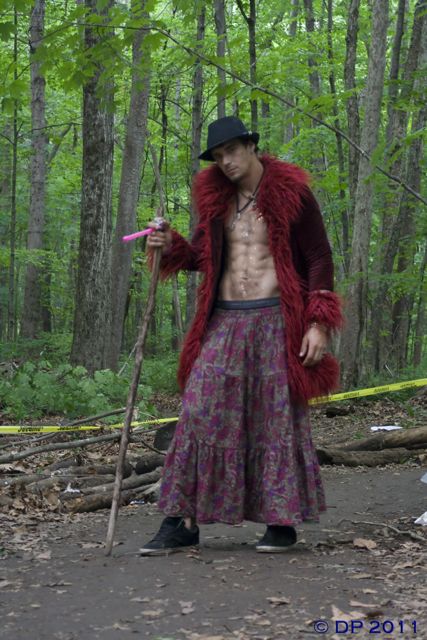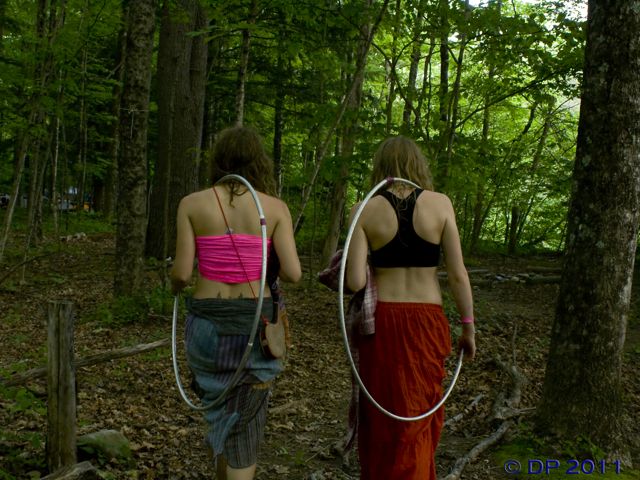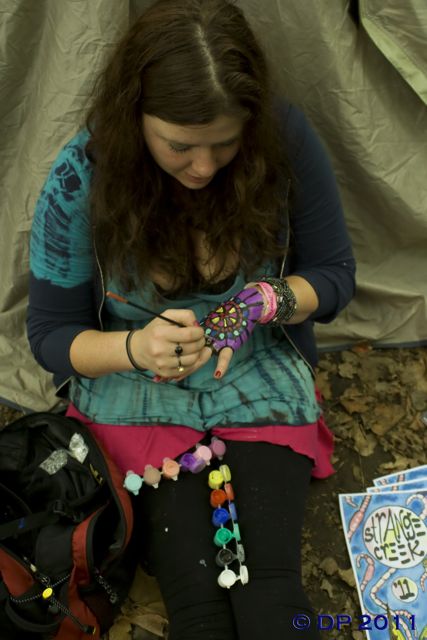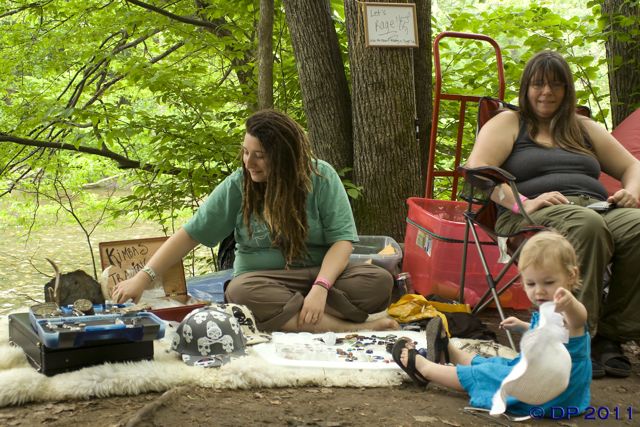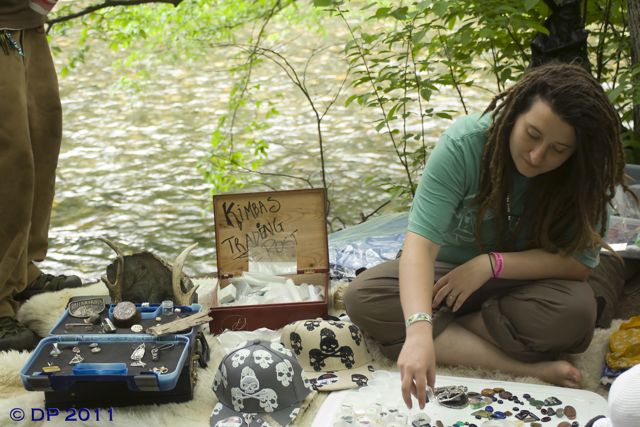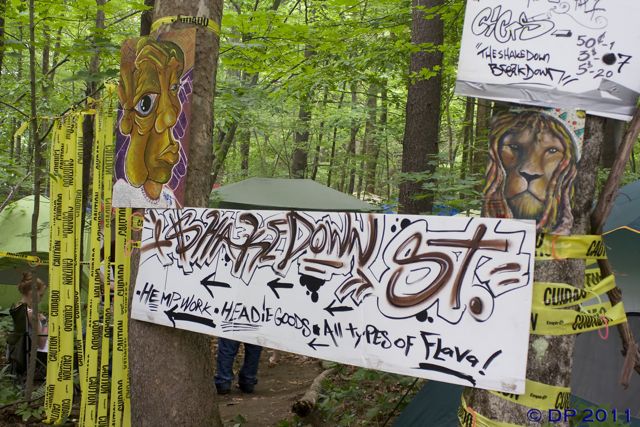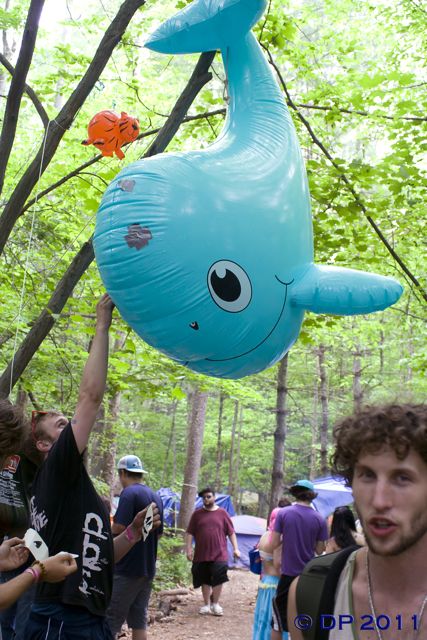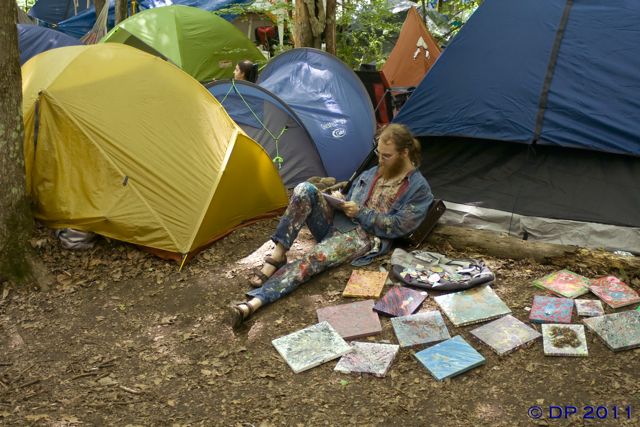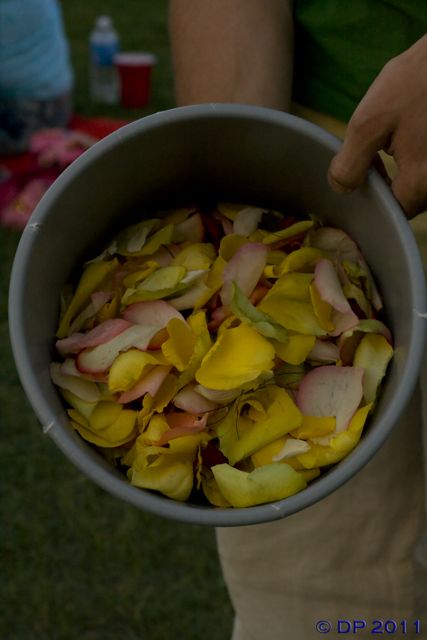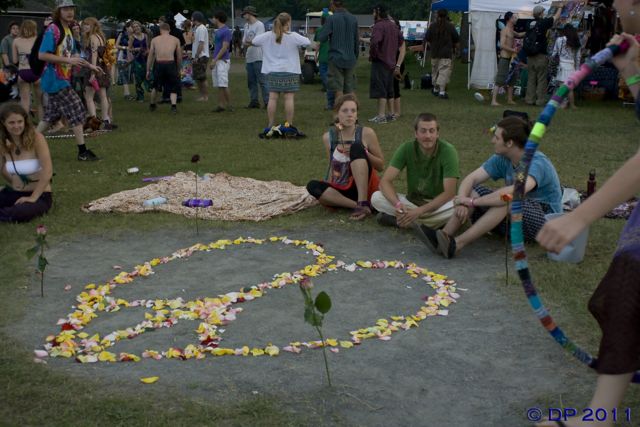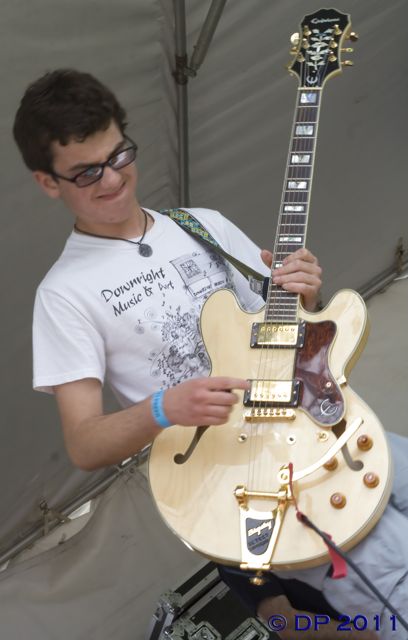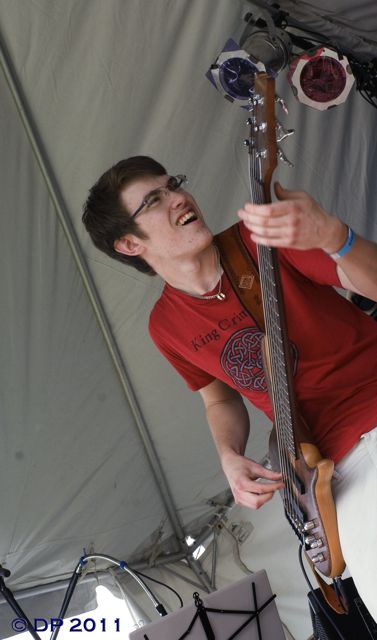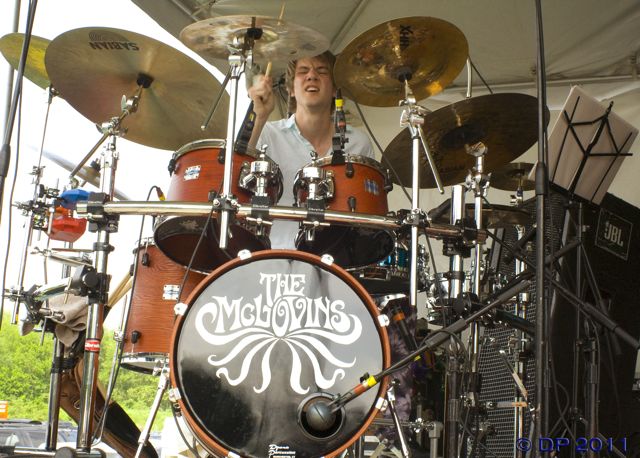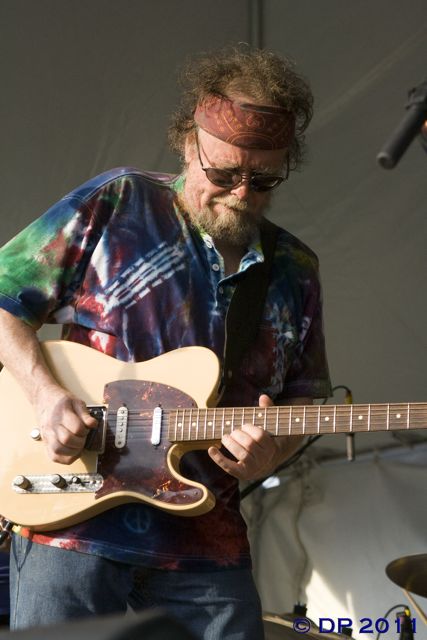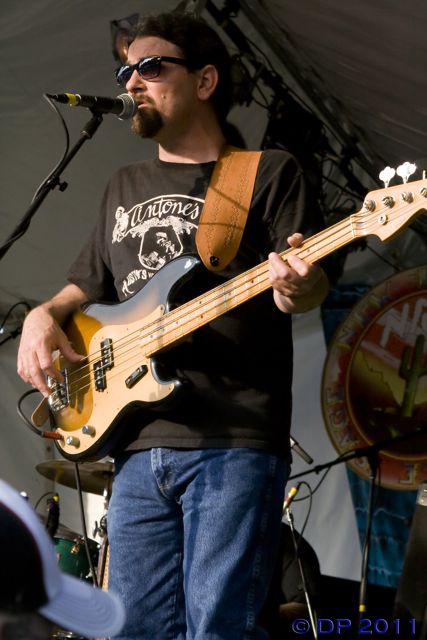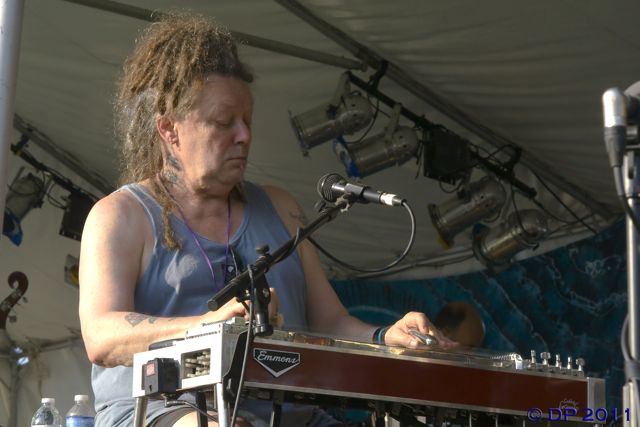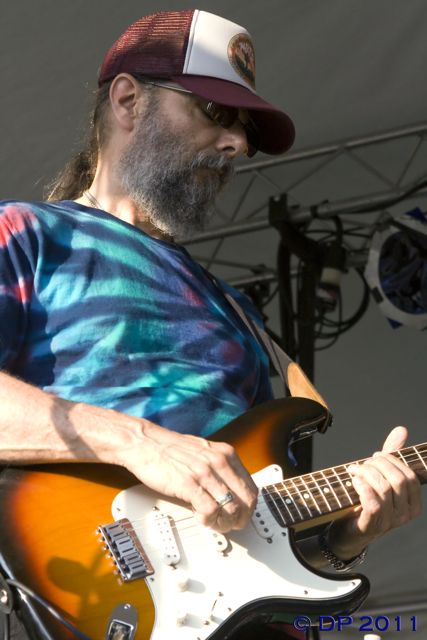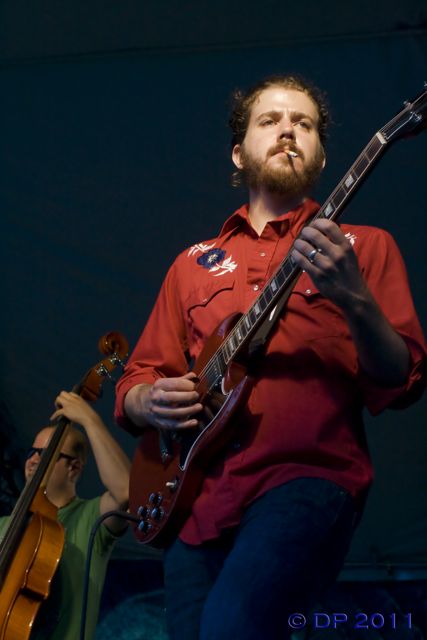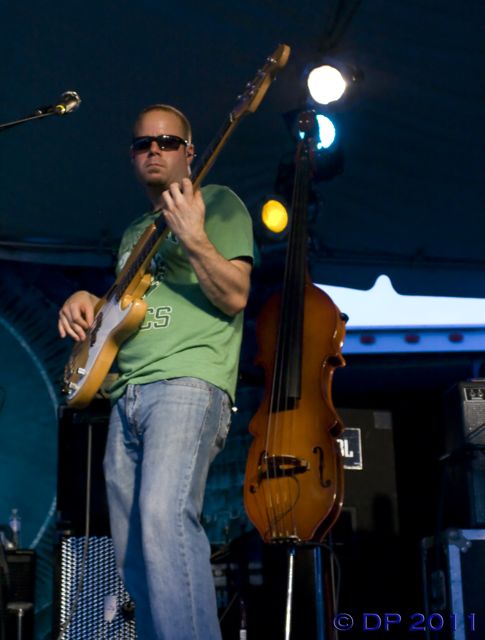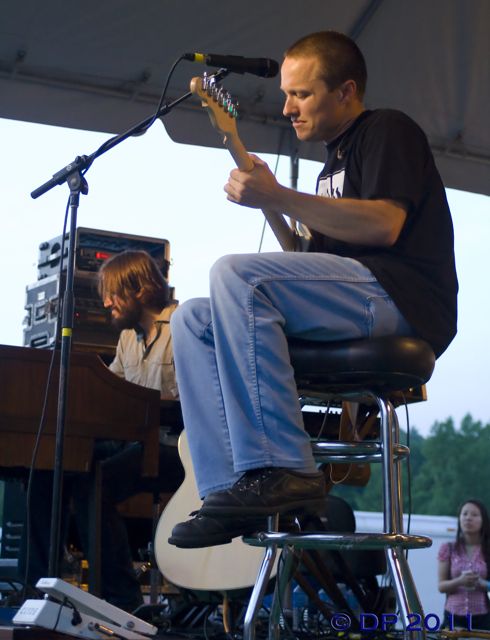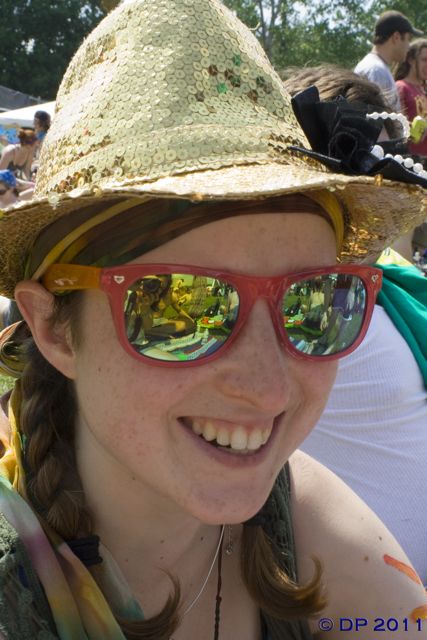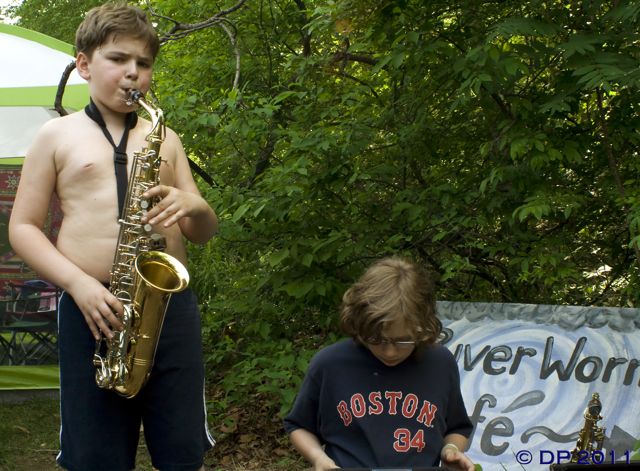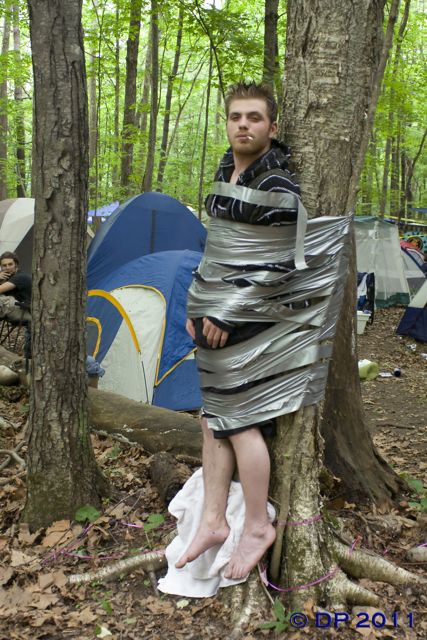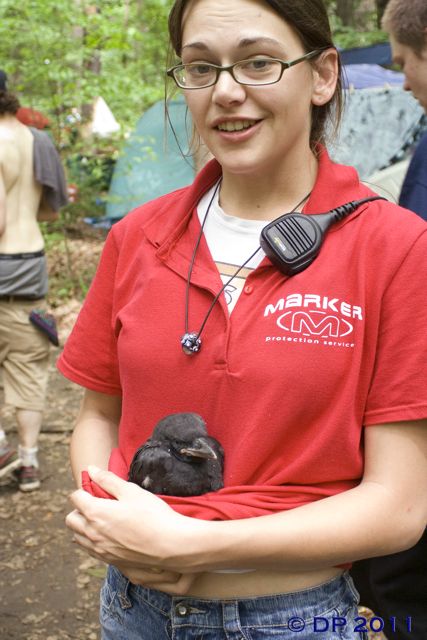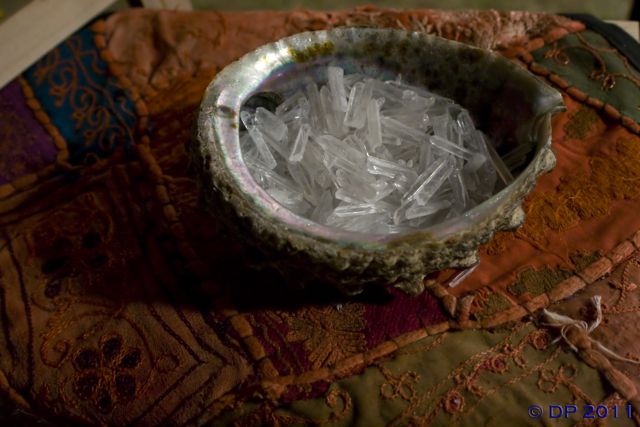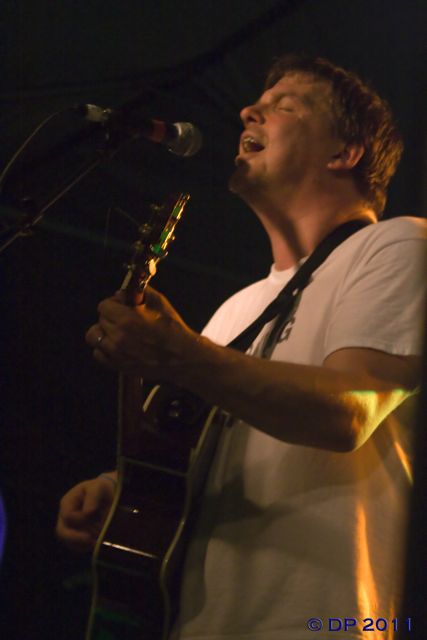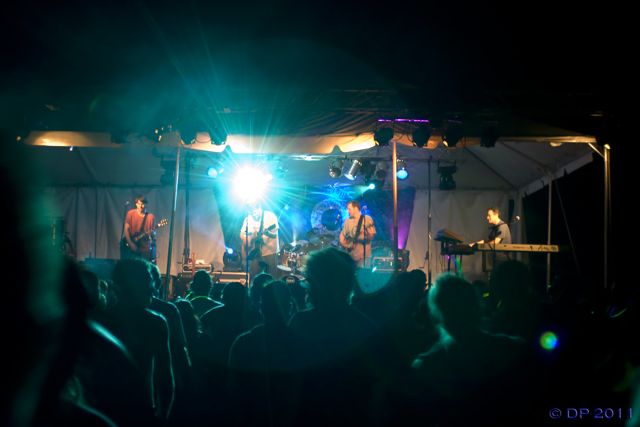 It's four in the morning on the last night of the annual Strange Creek music festival and the cool' countrified air is electric. While most of Western Massachusetts lays unconscious in the dead of sleep' for the survivors of the 4'200 music freaks and geeks here at Camp KeeWanee the annual celebration rages on.
The glowing late night cabins are packed with masses of steaming' sweaty bodies' dancing to the sweet rhythms and pulsing beats. Elaborate feathered headdresses' strange furry animal tails' masks and other assorted costumes draw your attention to the beautiful bodies they accentuate rapidly grooving and grinding as if in a dream. Down by the giant' blazing bonfire' one can find drum circles' fire dancers' glass blowers' hula-hoopers' and an array of world cuisine to munch on or just a nice place to plop down and relax by the hearth. Others relax and rejuvenate down on the banks of the strange creek itself' where Buddhist inspired rock sculptures and wafting herbal essences create a calming and soothing atmosphere for all to enjoy. At Strange Creek it's like a world away from the world; a community where the rules are a little different' a place where most people are just trying to let loose and have a good time.
Over on the main stage concert field where the music has officially stopped for the night a few fans soak up a special treat. Sneaking up on the gathering one feels a gentle' warm buzz and hears a suspiciously quiet murmur. What's going on over here? Some type of magic show I wonder? Nope. Well not quite… In the gentle glow of the purple moonlight Ryan Montbleau sings with no mic or amp' just the simple combination of his powerfully serene voice and an acoustic guitar. Nobody else makes a peep as we listen intently to the raw talent and sheer emotion of this incredible gift. A couple of his buddies from his own band and Strangefolk show up and join in the fun' "Uh oh' here comes the heavy artillery," Ryan exclaims.
Just a few days earlier' The Alchemystics kicked off the first night of the Memorial Day weekend indiscriminately offering up their positive vibrations to everyone who was lucky enough to be within ears blast. Blending their uniquely crafted sound of traditional world music' roots-reggae' house' dub and socially conscious hip-hop with soulful melodies' catchy hooks and fresh' driving rhythms' The Alchemystics make music for all the right reasons: fully embracing their artistic power to create social change through music. This is music for the people' by the people. At Strange Creek you can find these guys camping out in the depths of the woods with the rest of us strange folk' mingling at a late night cabin show or just chatting it up with their many fans down by the fire.
One of my favorite parts of music festivals is stumbling upon those new bands that you get to take home with you and investigate further. One of my new discoveries at this year's Strange Creek was Kung Fu' the New Haven based jazz-funk-prog-rock super group featuring Tim Palmieri (guitar) and Adrian Tramantono (drums) of The Breakfast' Todd Stoops (keys) of RAQ' Rob Somerville (sax) of Deep Banana Blackout and Dave Livolsi (bass) of Scofield/Jazz is Dead. Forming out of a jam session in 2009 these guys are bringing fusion back with a sound that's refreshingly new but at the same time has a Herbie Hancock Headhunter feel spliffed with some Medeski Martin & Wood sprinkled with a little Jaco Pastorius flavoring on top. They're hitting festivals hard this summer -- Gathering of the Vibes' The Big Up and Liberate -- and are worth checking out.
Playing Saturday and Sunday afternoon sets to rather small but appreciative fans' The New Riders of the Purple Sage picked' plucked' slapped and beat their blend of knee-slappin' country-rock dance music with a pedal steel twist as music lovers of all ages gathered in unison. It's a beautiful thing when bands like the New Riders can bring together multiple generations of fans side by side. A band steeped in musical history' the New Riders have been around since the summer of 1969 when John Lawson teamed up with the little known pedal steel guitarist' Jerry Garcia' to tour the Bay Area bar and club scene. Before long' after a few lineup changes' they were touring with bands like the Grateful Dead' Janis Joplin and The Band while taking part in historical musical events such as the mobile Canadian locomotive powered Festival Express.
In perfect harmony with the spirit of the weekend was the band that everyone in attendance owed their thanks. Playing mostly originals but also mixing in some stretched-out covers by The Dead and Talking Heads' local New England music legends' Max Creek' made a serious impression with their rhythmically tight' improvisational explorations. Scott Murawski (guitar) and Mark Mercier (keys) made legs quiver and souls shudder with their rabble-rousing lead melodies and stirring lyrics. Having played an estimated 3'000 shows since their first performance at the Maple View Ballroom in Washington' MA in 1971' they have since created a following of fans that live and breathe Max Creek religiously. This is one of the most pleasant and harmonious rock and roll followings still around; a teddy bear picnic-esq family gathering that kids have been raised on and now all grown up bring their kids to. One of the first true rock & roll jam bands' all contemporary musicians playing the live-improv' experimental style have been influenced' knowingly or not' by these remarkable musicians.
Chelsy Lau proved to be one of the busiest' hardest working performers over the weekend leading three bands' Fungus Amungus' Sauce and Beat Drops with her vocal monstrosities and hypnotizing stage presence. With incendiary lead vocals and finger lickin' good' booty shakin' grooves these bands put Providence' Rhode Island funk on the map. Fungus Amungus' the 7-piece saxophone drenched ensemble has been voted "Best Jam Band" in New England by the Providence Phoenix for two consecutive years. Combining elements of jazz' soul and reggae in addition to their obvious funk roots' Fungus Amungus is a dance band at heart that takes you through the full range of emotions with audaciously blended harmonies that stir the soul and cleanse the spirit.
My favorite discovery over the weekend was the flavorful Boston based Caribbean influenced' Rising Tribe. Having her roots in St. Thomas' Tiffany Gassett' the founder of Rising Tribe' is a remarkable vocalist' leader and songwriter who compliments her bands free spirited' Calypso' reggae-rock sound incredibly well. They combine soulful vocal harmonies with silky' sensual instrumental rhythms and island influenced beats. Fun and fresh with an uplifting message' Rising Tribe will make you feel like partying with a booze filled coconut in hand from the very first note. Rising Tribe was one of the most original sounding bands I heard over the weekend' and I was impressed with their powerful barrage of female vocalists who still managed to keep their music edgy and tough' not too feminine or soft in any respect.
Watching Scott Murawski of Max Creek push his son's wheelchair front and center before he goes on stage is a tradition for the guitarist by night' computer programmer by day. I couldn't help but smile and feel good watching this proud father and proud son share what's special to them -- a truly extraordinary band and some silly little piece of music. Still around making that music after 40 years' Max Creek is just doing what they love to do and throwing one hell of a party while they're at it. I guess the best way to sum up this weekend and the spirit of Strange Creek (which has its sister festival' Wormtown' in the fall) is thru the words of Zach Deputy' the Wormtown/Strange Creek legend' as sung by the Strange Creek kids choir on Sunday afternoon: "Follow me down' down' down to Wormtown' it's a party like nobody's business' the days are long and the nights are endless so let's head down to Massachusetts…"