Blog

Listening Parties for Akron/Family's ...Shinju TNT
by Mike McKinley
January 3, 2011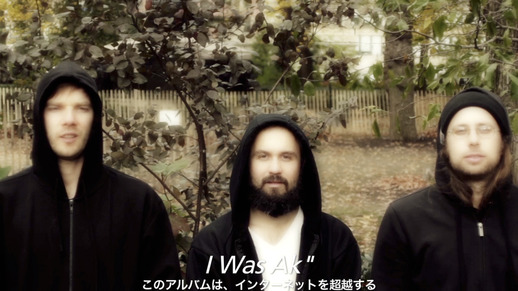 Akron/Family - "So It Goes" from ...Shinju TNT
Official Video for "So It Goes":

State of Mind and
Angioplasty Media
will host the Burlington listening party for Akron/Family's new record (out February 8th on Dead Oceans) at Parima's Acoustic Lounge. It's free! (Here's the
Facebook event page
if you feel inclined to invite some people).
There will listening parties all over the place on January 7th, 8th and 9th -- if you're interested in throwing one or locating one near you' here's the info from
Akron/Family
:
Friends' family' and loved ones are going to be hosting listening parties for Shinju TNT all around the US the weekend of Jan 8th. Please come out and join/hang/listen.
If one is in your town' please help spread the word on facebook or twitter' and if there is not one in your town' don't get bummed' get proactive in this new year---->set one up. We still need places in Florida and Maine' and Missoula and Tahoe!
All you need is a stereo' a public place where people can join you' and a copy of the record that we will send you. Even a boombox in a parking deck is cool with us. But everyone has to burn the cd at the end and take a picture of it on fire so there are no leaks. We'll host all the photos : )

If you want to set one up' email us here:
shinjutnt@gmail.com
Below are details so far.....we will send out final details next week!

01/07 Missoula, MT- The Badlander, 9pm
01/08 St Paul, MN- Black Dog Coffee and Wine Bar, 4pm
01/08 Hamden, CT- Yoga Studio, 5pm
01/08 Asheville, NC- Harvest Records, 6pm
01/08 Summertown, TN- The Farm School, 6pm
01/08 Brooklyn, NY- Zebulon, 7pm
01/08 Cleveland, OH- Loop in Tremont, 7pm
01/08 New Orleans, LA- Sound Cafe, 7pm
01/08 Long Beach, CA- It's A Grind Coffeehouse, 7pm
01/08 Detroit, MI- The Burton, 8pm
01/08 Tarrytown, NY- Coffee Lab Roasters, 8pm
01/08 Providence, RI- The Apartment, 8pm
01/08 Chicago, IL- Blind Robin, 9pm
01/08 Eugene, OR- The Yellow House, 9pm
01/08 Winnipeg, MB- Jonnies Sticky Buns, 9pm
01/08 San Diego, CA- Media Arts Center San Diego, 10pm
01/08 Portland, OR- Tiga, 10pm w/ DJ Survival Sklz
01/09 Summertown, TN- The Farm School, 6pm
01/09 Williamsport, PA- Uptown Music Collective, 6pm
01/09 Oakland, CA- Commonwealth Cafe & Pub, 6pm
01/09 Ann Arbor, MI- Elmo's, 7pm
01/09 Washington DC- The Space, 7pm
01/09 Edinburg, Scotland- Cafe Diablo, 8pm
01/09 Burlington, VT-Acoustic Lounge @ Parima Thai Restaurant, 8pm
Parima
01/09 Durham, NC- Pinhook, 8pm
01/09 Red Bluff, CA- Tips Tavern, 8pm
01/09 Seattle, WA- The Unicorn, 9pm w/ DJ CMRTYZ
US TOUR DATES 4 AKAK SHINJU TNT DREAMERS
2/17/2011' Brooklyn' NY' Knitting Factory
2/18/2011' Boston' MA' Brighton Music Hall
2/19/2011' Montreal' Qc' Il Motore
2/20/2011' Toronto' ON' Horseshoe Tavern
2/21/2011' OFF' OFF' OFF
2/22/2011' Detroit' mi' Lager House
2/23/2011' Bloomington' IN' The Bishop
2/24/2011' Chicago' IL' Lincoln Hall
2/25/2011' Minneapolis' MN' Cedar Cultural Center
2/26/2011' Iowa City' IA' The Mill
2/27/2011' OFF' OFF' OFF
2/28/2011' St Louis' MO' Billiken Club
3/1/2011' Cincinnati' OH' MOTR Pub
3/2/2011' Columbus' OH' Wexner Center for Arts at OSU
3/03/2011' Cleveland Heights' OH' Grog Shop
3/4/2011' Philadelphia' PA' The Blockley Pourhouse
03/05/2011' New York' NY' Bowery Ballroom
3/24/2011' Seattle' WA' Neumo's Crystal Ball Reading Room
3/25/2011' Vancouver' BC' The Biltmore Cabaret
3/26/2011' Portland' OR' Wonder Ballroom
3/27/2011' OFF' OFF' OFF
3/28/2011' Salt Lake City' UT' Urban Lounge
3/29/2011' Denver' CO' Marquis Theater
3/30/2011' OFF' OFF' OFF
3/31/2011' Dallas' TX' The Loft
4/01/2011' Austin' TX' The Parish
4/2/2011' tba
4/3/2011' Santa Fe' NM' Corazon
4/4/2011' Phoenix' AZ' Rhythm Room
4/5/2011' OFF' OFF' OFF
4/06/2011' Los Angeles' CA' Echo
4/7/2011' Santa Barbara' CA' Soho Restaurant & Music Club
4/8/2011' San Francisco' CA' Independent
4/9/2011' Oakland' CA' The New Parish