Blog

Explode Into Colors: Not Your Average West Coast Drum Circle
by Evangelos Dimitriadis
November 15, 2010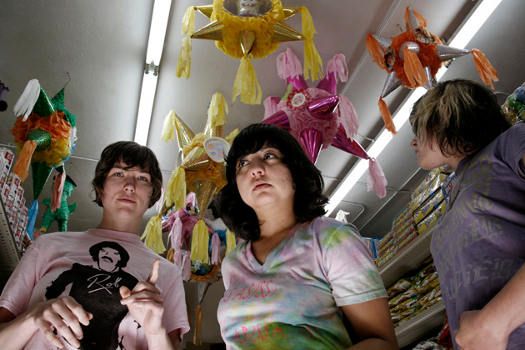 I am a maniac when it comes to music' I have accepted it. I'm all over the place with my taste' and I like it that way (I can't help it and I don't want to). Recently in my adventures of finding something new for my head I came across Portland, Oregon's Explode Into Colors. The female trio of Claudia Meza' Lisa Schonberg' and Heather Treadway sadly enough have stopped performing under this guise though...
According to their Myspace:
"Explode Into Colors ended on 6/5/2010. They will all continue making and doing and are extremely grateful for all the support and interest this project has received. Thank you."

And that's a damn shame. Together' they made some serious tribal-psychedelic-noise rock. Here is the song "Sharpen the Knife" and a cool live video for you to get a sample of what they were all about. Hope to see them play again one day. Until then you may check out Lisa Schonberg's new group,
STLS.