Blog

Listen: Younger Brother - "Night Lead Me Astray"
by Mike McKinley
December 1, 2010
Check out the title track from
Younger Brother's
new EP
Night Lead Me Astray
. Expect the full LP out in the early part of 2011 (see press release below).
Younger Brother - "Night Lead Me Astray"
Full press release
Younger Brother's
Night Lead Me Astray
EP' their first studio release since 2007 and the first to feature contributions from members of the Disco Biscuits' Brothers Past' and the Benevento-Russo Duo' is now available digitally from their own Younger Brother Records. The release is a preview for their upcoming full-length Vaccine' expected in early 2011 along with an accompanying worldwide tour.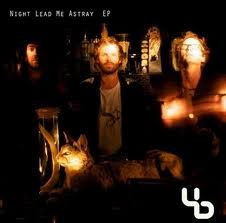 Simon Posford (Shpongle' Hallucinogen)' Benji Vaughan (Prometheus)' and Ruu Campbell (Leftfield) are the creative driving force behind this electronica-infused post-rock project' a unique underground electronic dance band who have spent the past several years carving out their very own musical identity across the world.
In late 2008' these three UK principles enlisted the help of their American live band members to join them in London for work on the followup to their 2007 album The Last Days of Gravity (Twisted Records UK). On Election Day evening' guitarist Tommy Hamilton' bassist Marc Brownstein' and drummer Joe Russo took off for England and began recording what would become Younger Brother's first studio album to feature extensive live instrumentation.
In the two years since' the electronic wizards Posford and Vaughan have been crafting and refining the sonic environment in which these live tracks reside and interact' and while the resulting album Vaccine will not be unearthed until early 2011' they are proud to offer a preview with the Night Lead Me Astray EP.
The release features three versions of the title track (the album version' a radio edit' and a remix done by the band themselves)' another track from the upcoming release ("Pound A Rhythm")' plus a remix of "All I Want" (from The Last Days of Gravity) by fellow British live electronica band Cicada. The EP is available digitally at iTunes' Amazon' Beatport' and other digital retailers.