Blog

Listen: SCI's "Barstool" from Rhythm of the Road - Vol 1
by Mike McKinley
November 9, 2010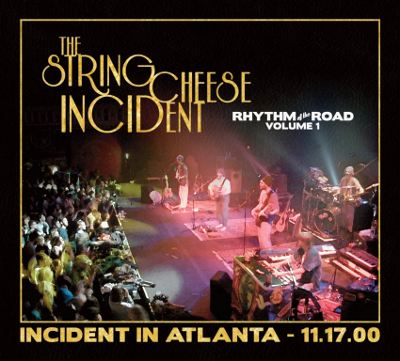 String Cheese Incident's
Rhythm of the Road - Volume 1, Incident in Atlanta 11/17/00
is out today on SCI Fidelity Records.
I've never been the biggest SCI fan. I saw a few good shows back in the late 90s and early 00s, and then I trailed off for a few years. But this band has a wonderful way of piquing my interest just enough and then bringing me back, at least one-foot-in back. Their 2005 Malcolm Burn produced One Step Closer is one of my favorite records of the 2000s. When I tell people that they look at me like I have two-heads, "SCI made a great studio album?" You bet your ass they did -- Malcolm Burn doesn't fuck around.
The studio album stigma is no surprise as SCI came out of the jam world, where it's all about the live performance and the collective experience. "Incidents," as the band and audience refer to them, are always shooting for something big and unique. They've always set out to do something special and create some magic at their shows.
You can hear it on this first release of the new live series Rhythm of the Road. It's hard to explain how amazing and fresh this show from ten years ago sounds -- it's such a pleasant surprise. The band is dialed-in -- they're super tight, confident and focused. They were in thick of being completely in tune with each other and their audience. You can feel the energy of the room listening to this recording. They make 15 minutes of improvised music go by in a flash, they throw in surprises like Zeppelin's "Ramble On" and stretch out Coltrane's "Impressions" into some interesting territory. They also have banjoist Tony Furtado sit in a bunch. It's a band and audience firing on all cylinders in Hotlanta. Here's "Barstool" -- a sample from the first set:
String Cheese Incident - "Barstool"


Show setlist:
Set 1: Smile, Joyful Sound -> Orange Blossom Special*, Barstool, Pygmy Pony, Missing Me > Ramble On

Set 2: Outside And Inside, Impressions -> Glory Chords Jam -> Midnight Moonlight*, This Must Be the Place (Naive Melody) -> Miss Brown's Teahouse, Wake Up, Black Clouds*
Encore: The Old Home Place*, Shenandoah Breakdown*, Shakin' the Tree*

*featuring Tony Furtado on banjo and guitar