Shows
Phish
October 29-31, 2010
at Boardwalk Convention Hall in Atlantic City' NJ
by Mike McKinley
|
photography by Andrew Hill
November 8, 2010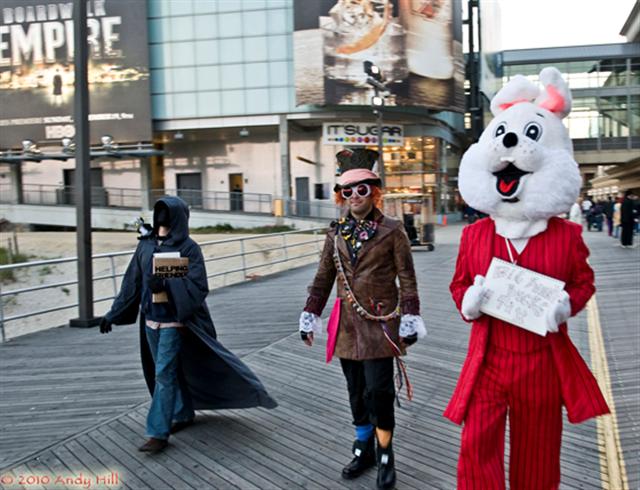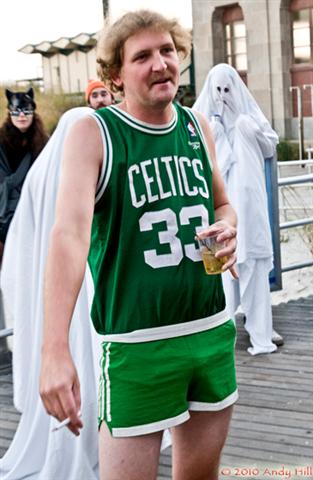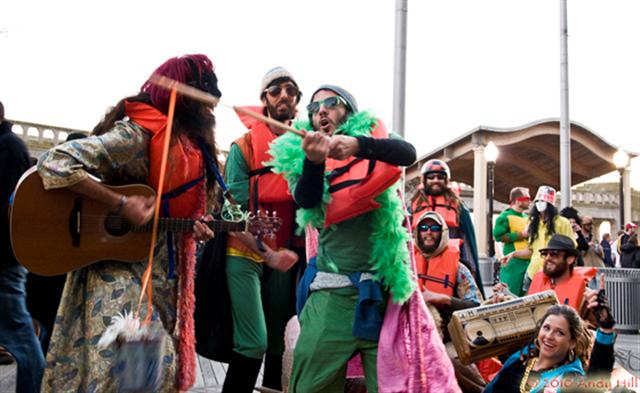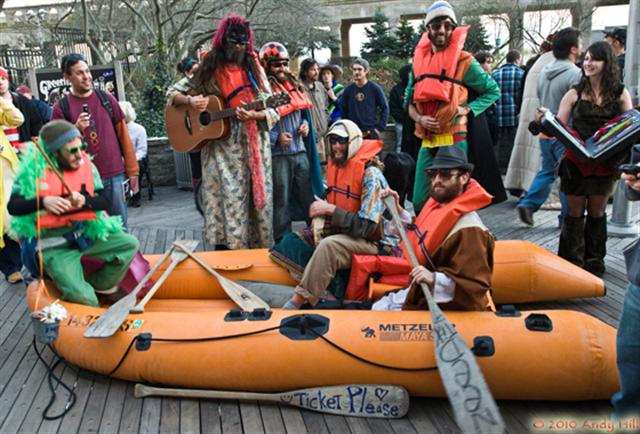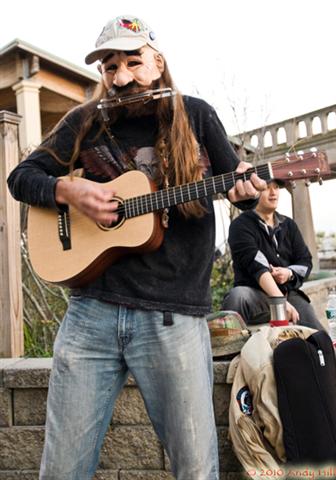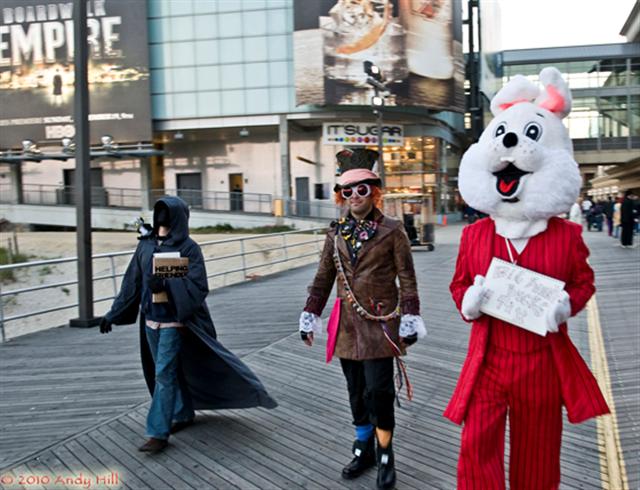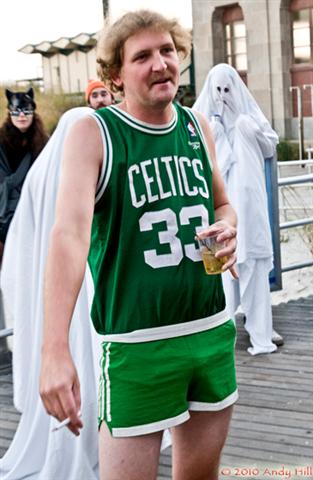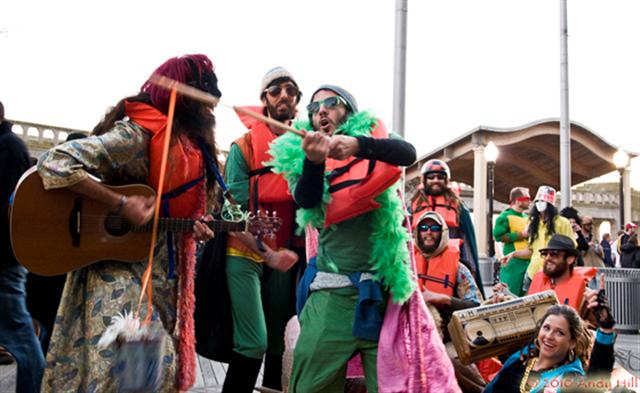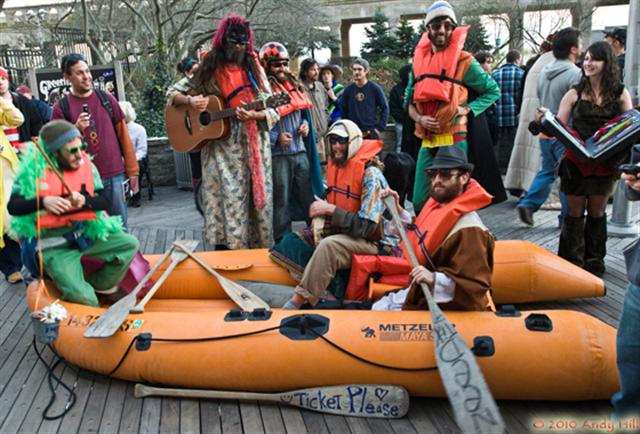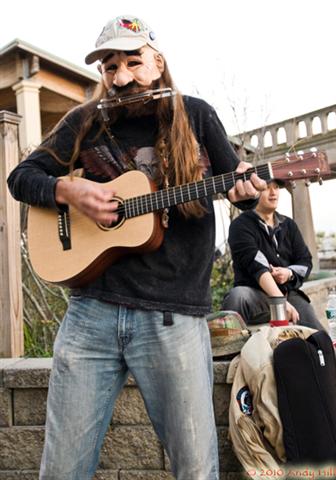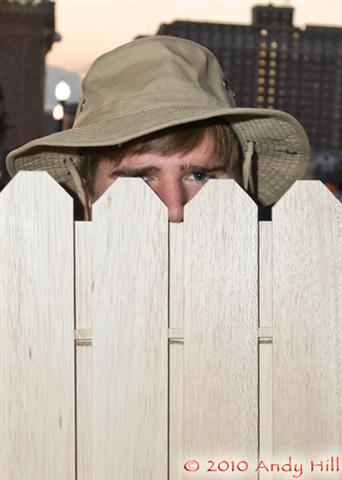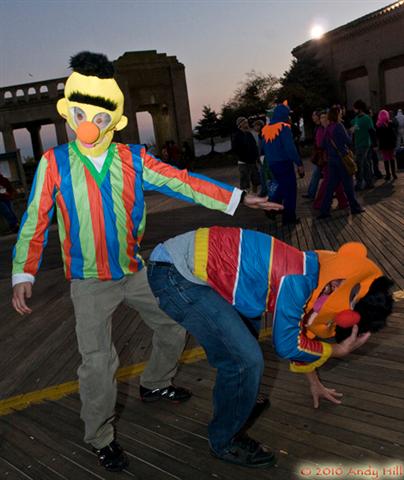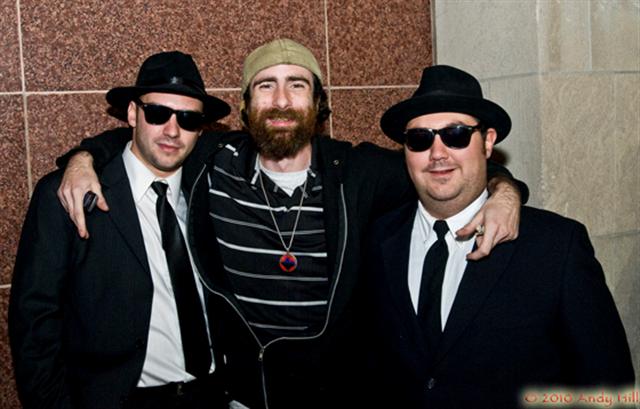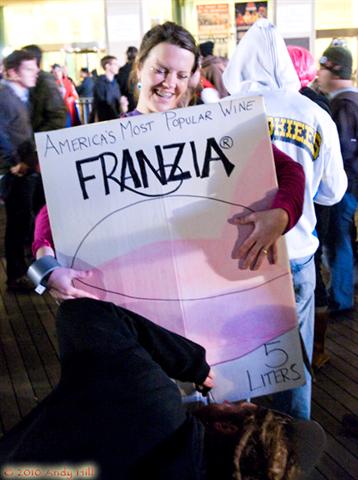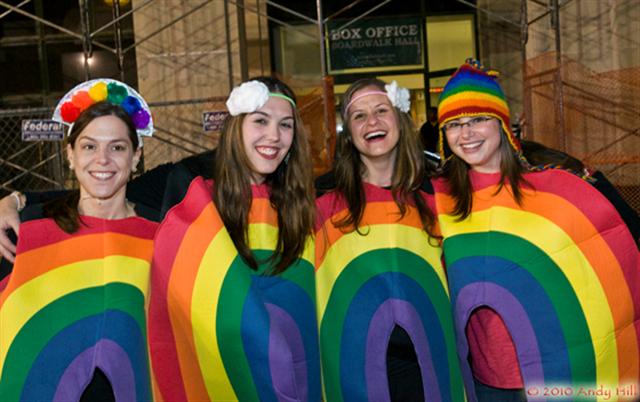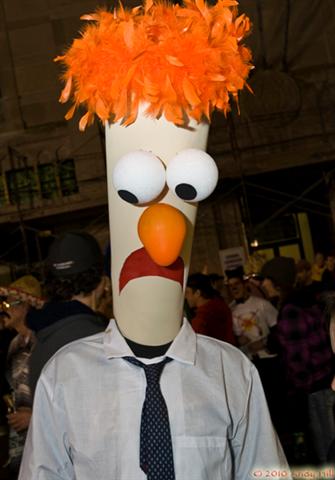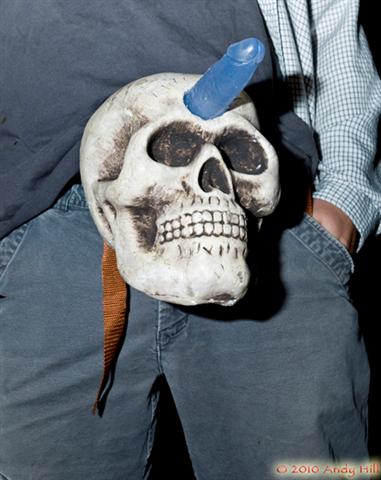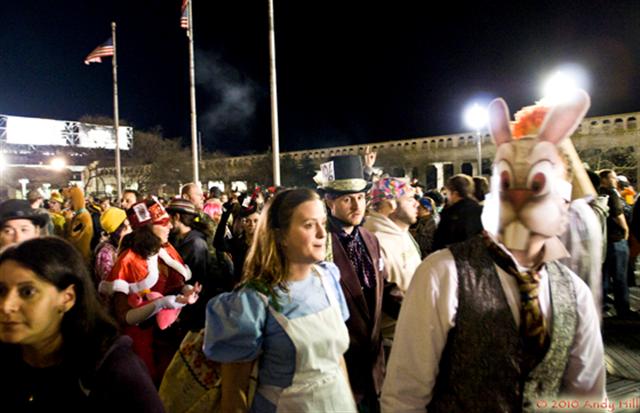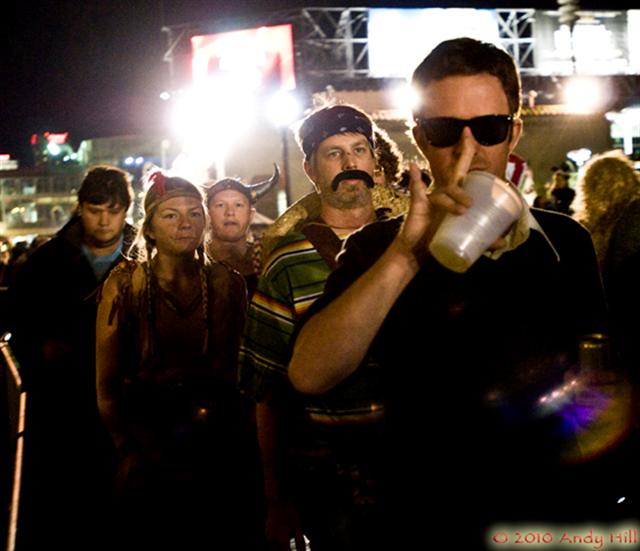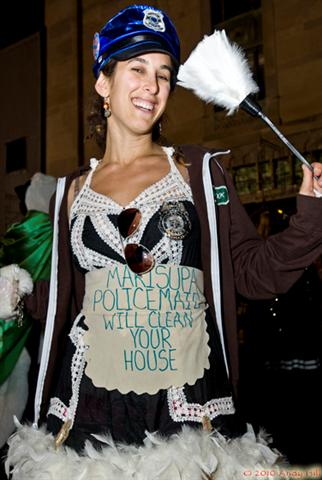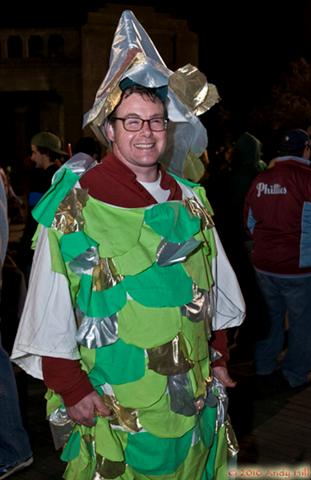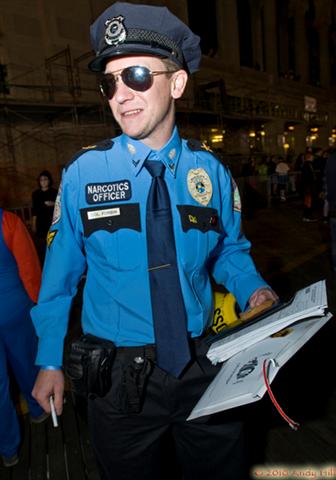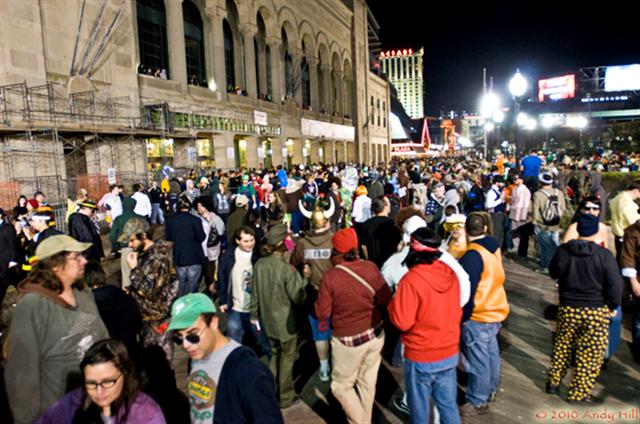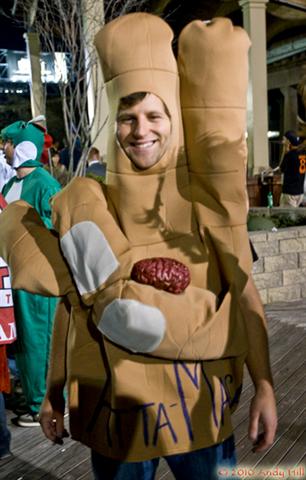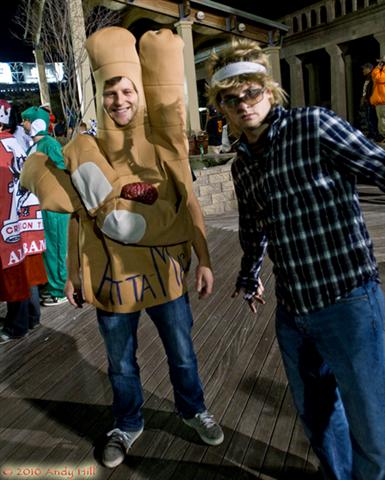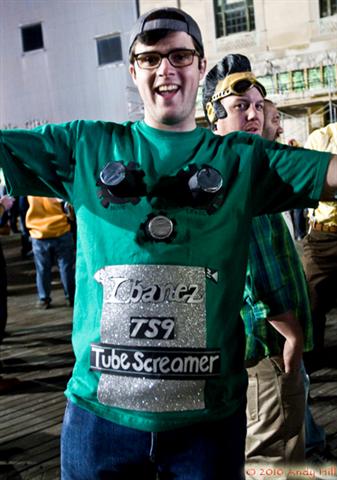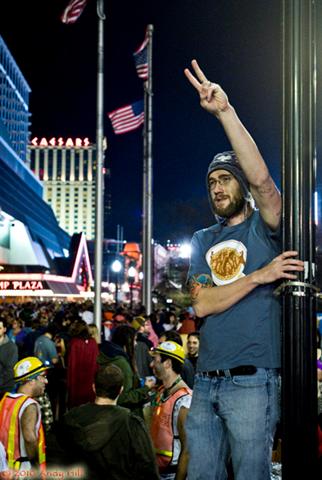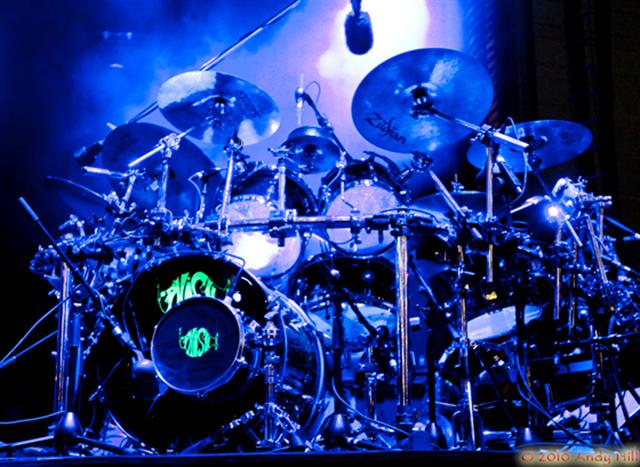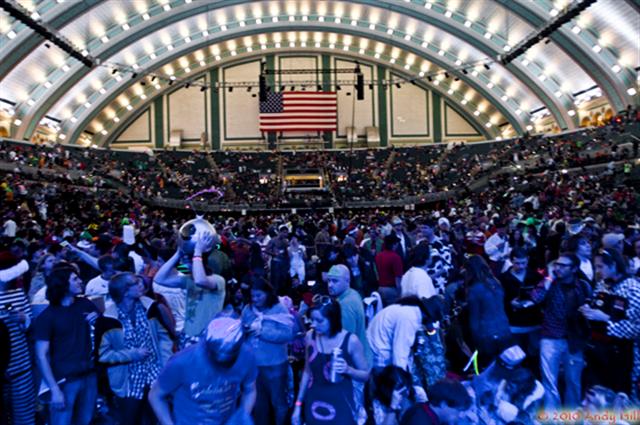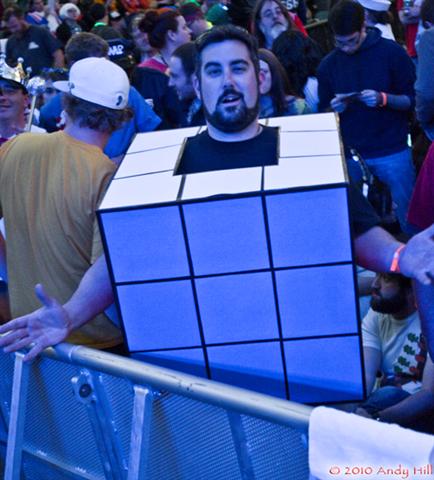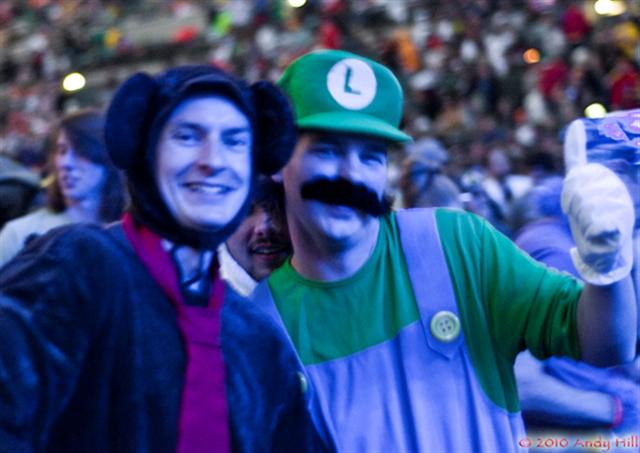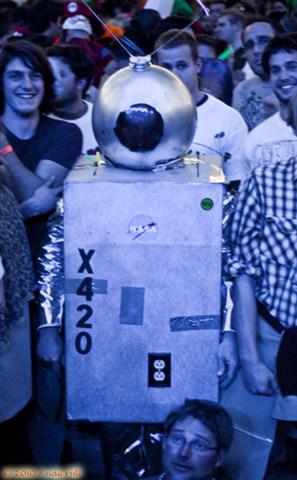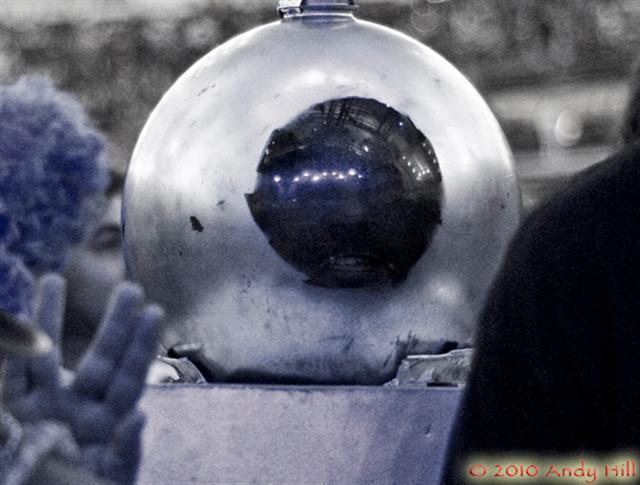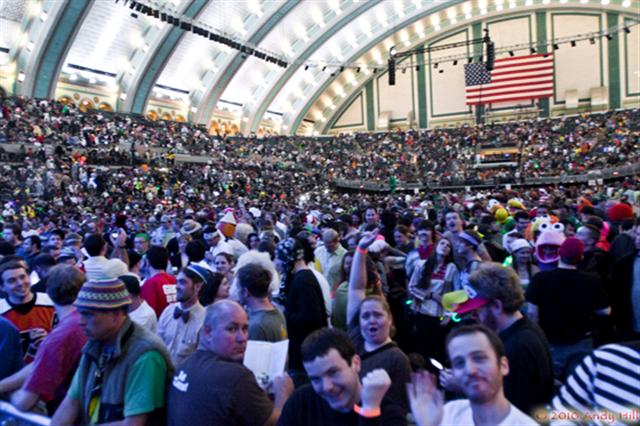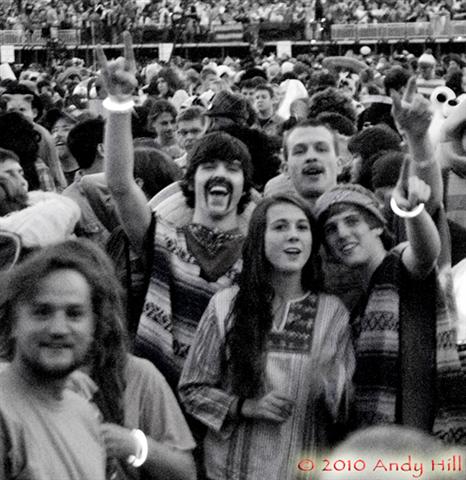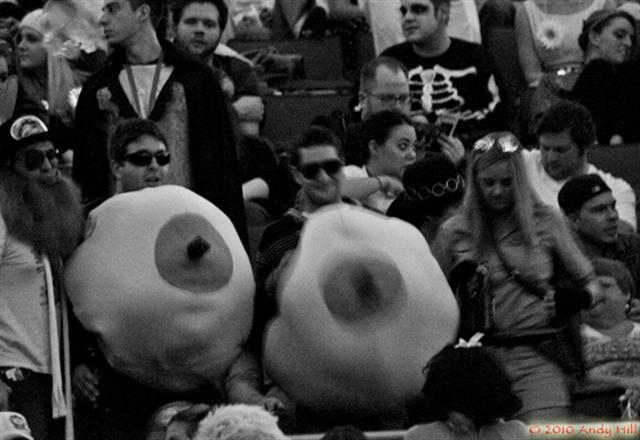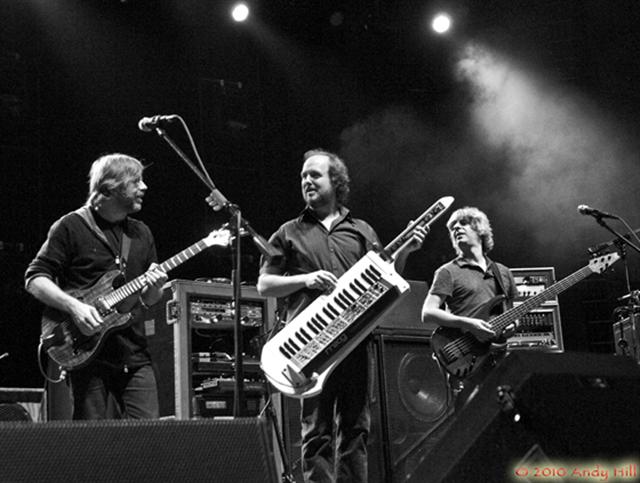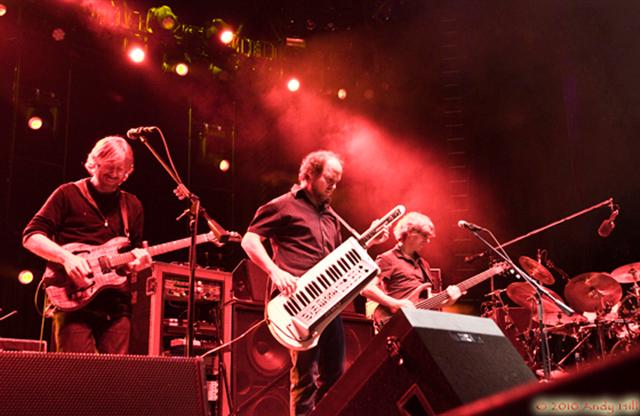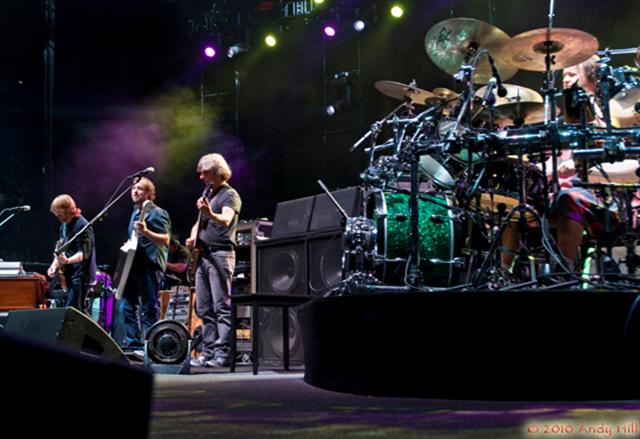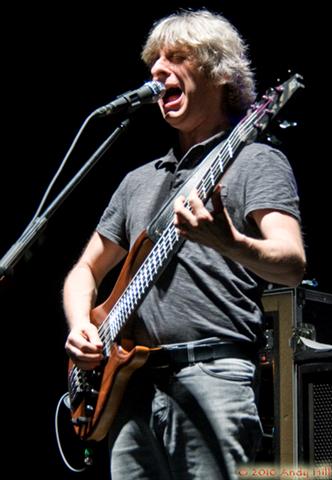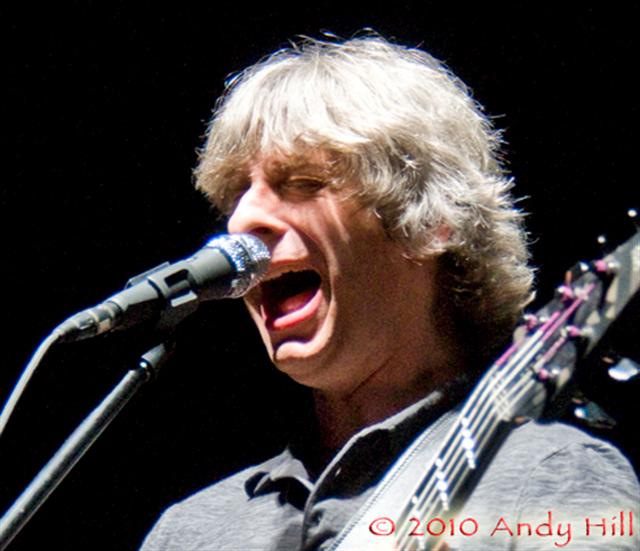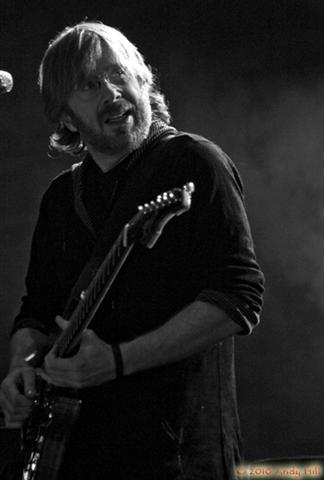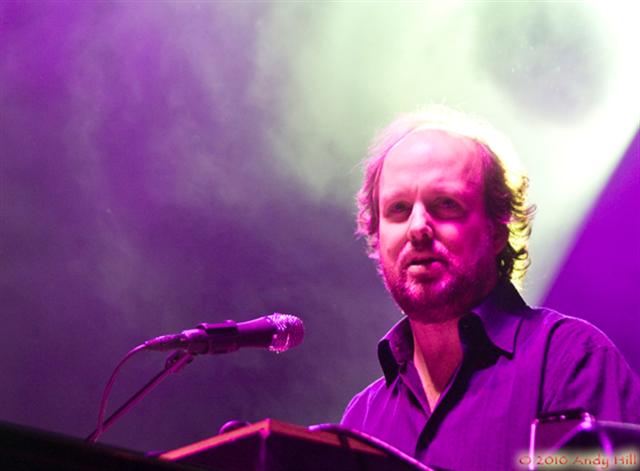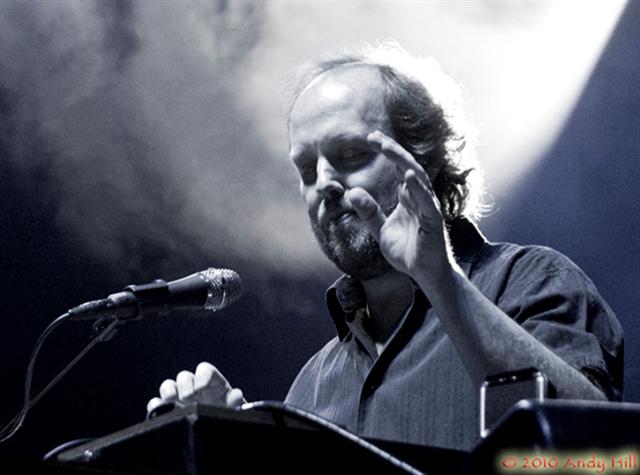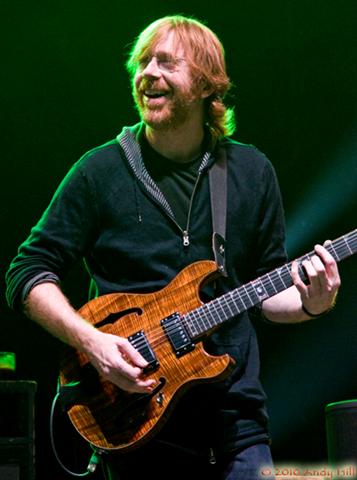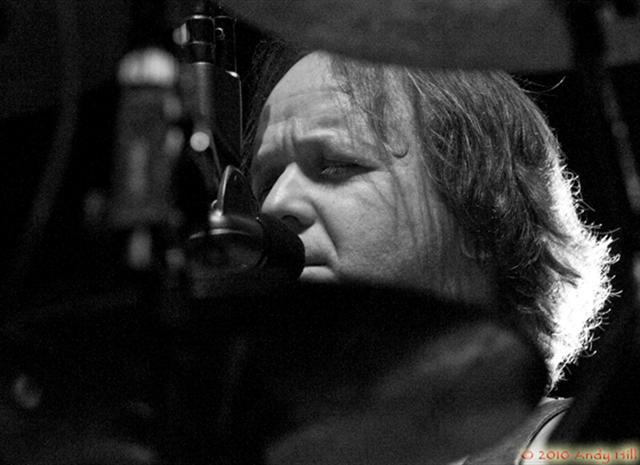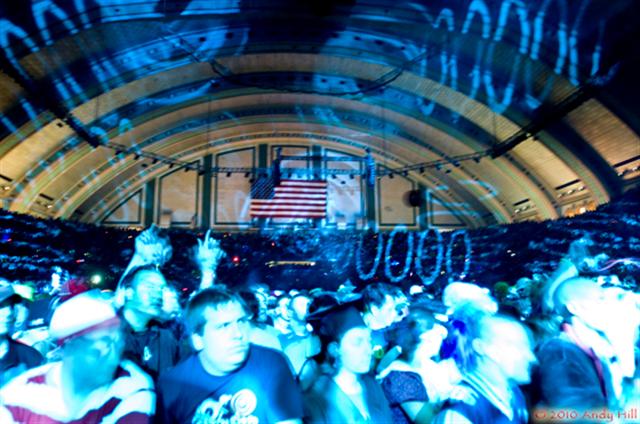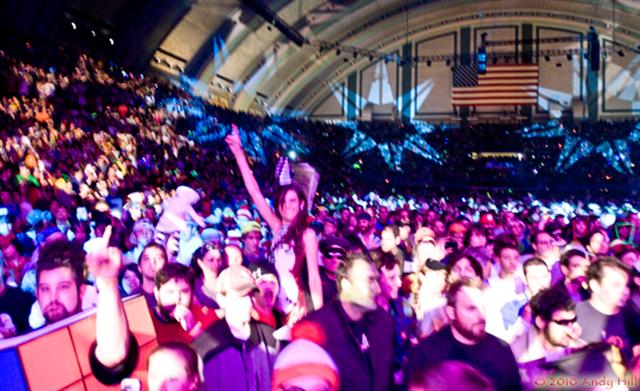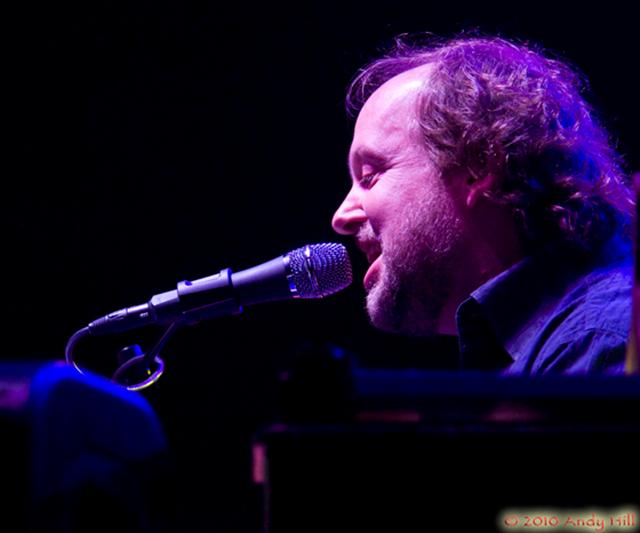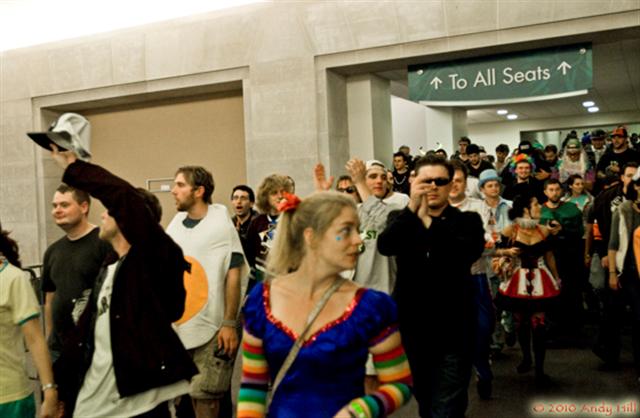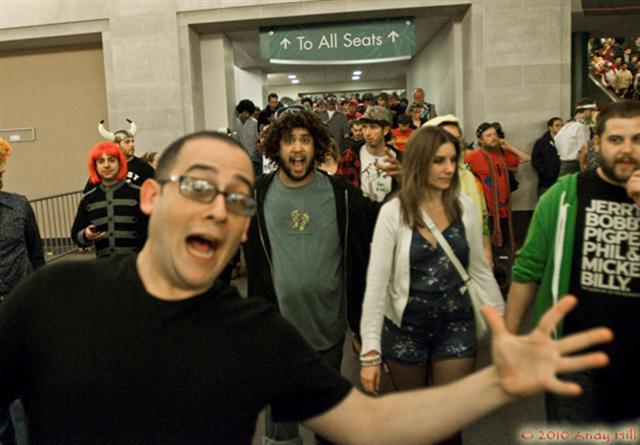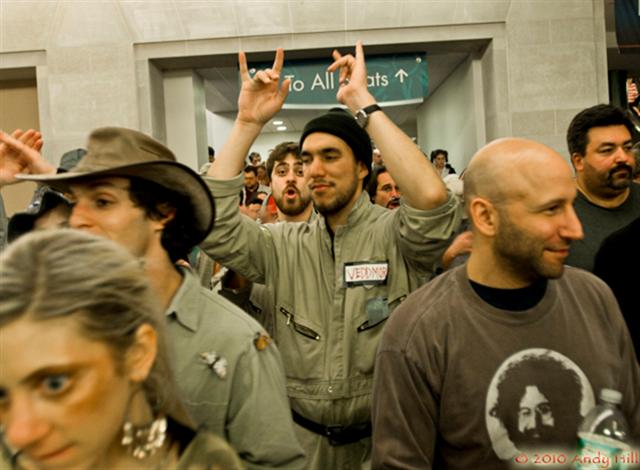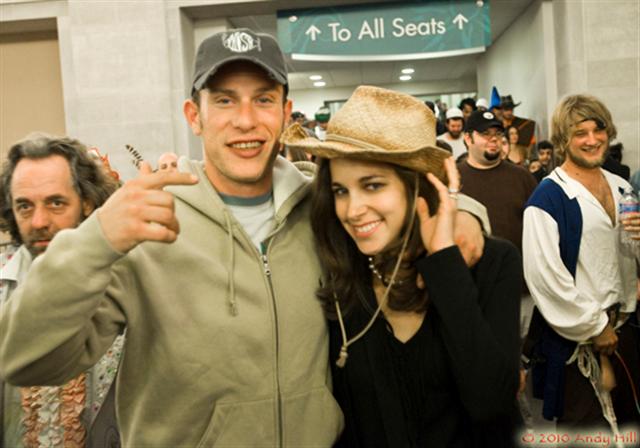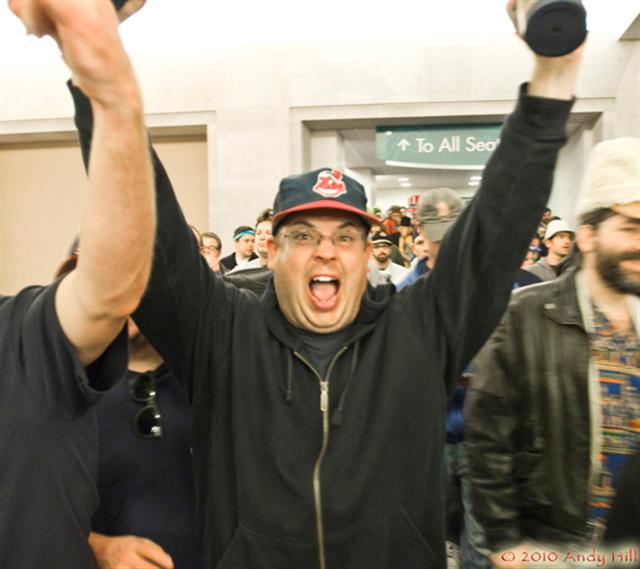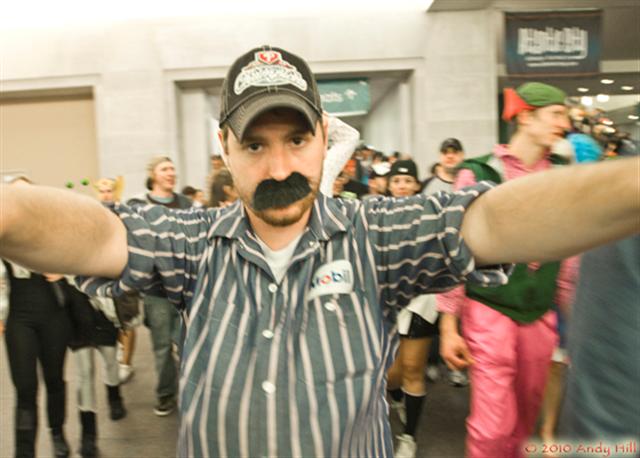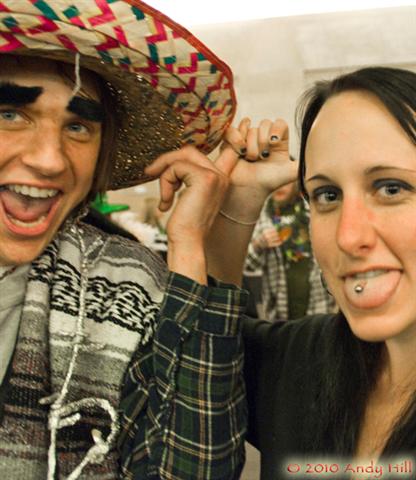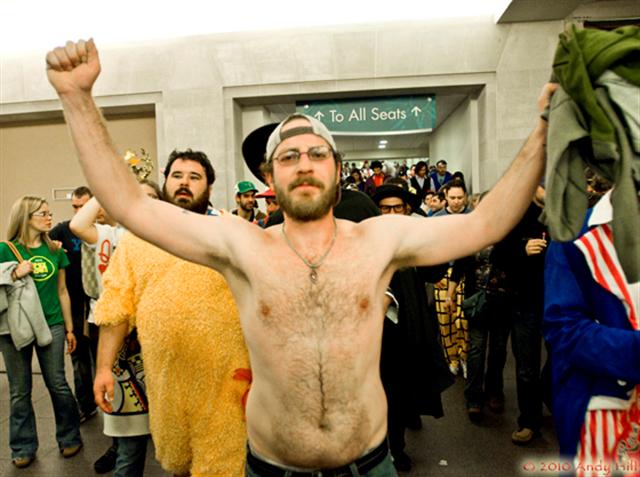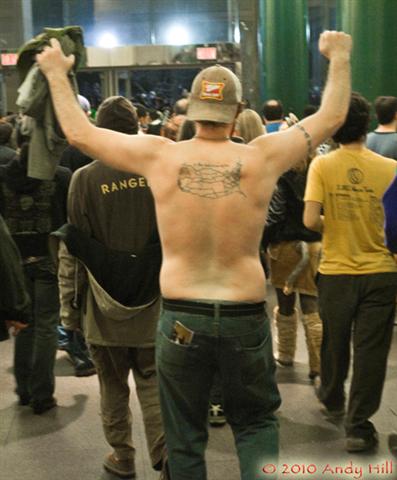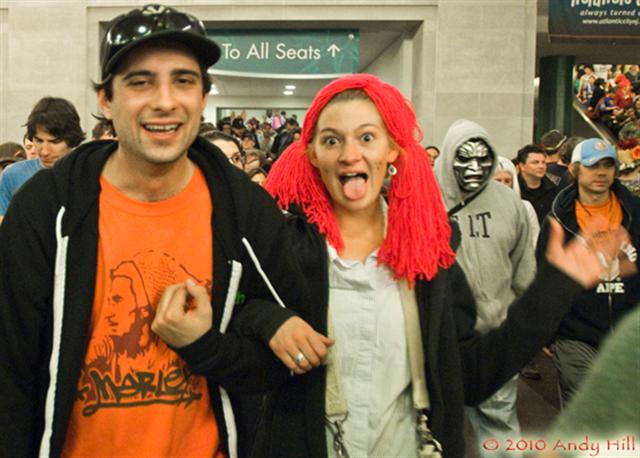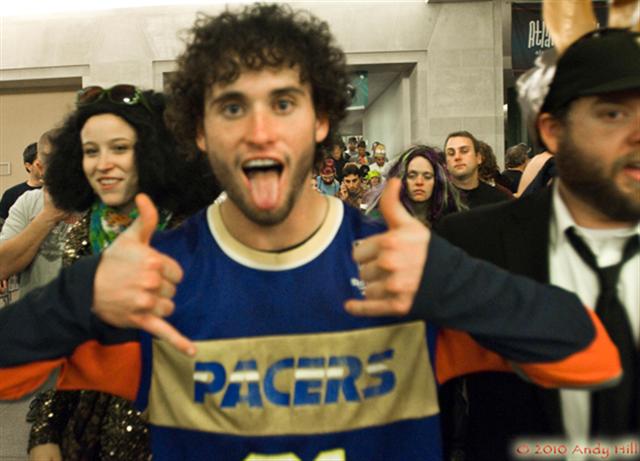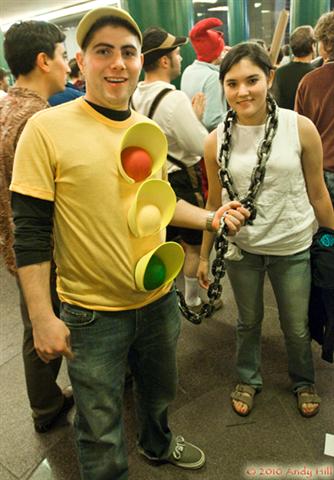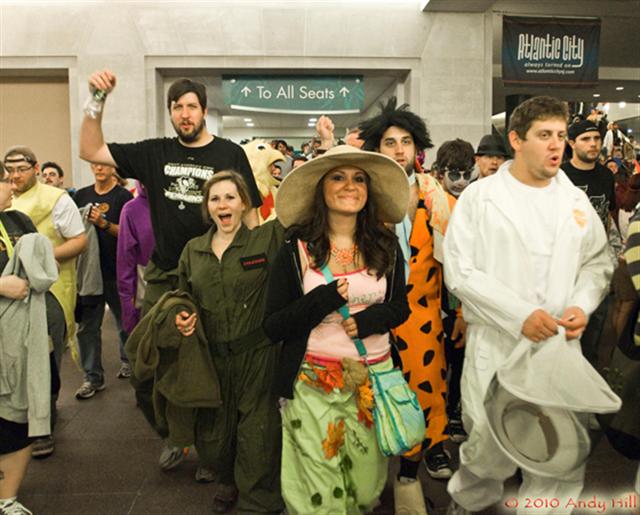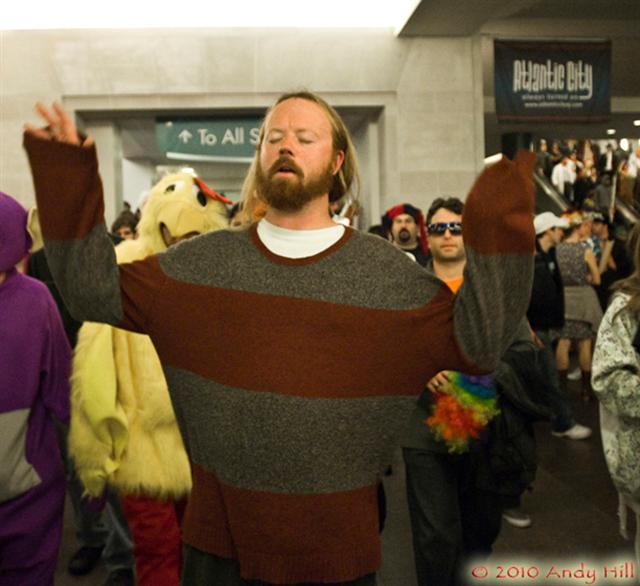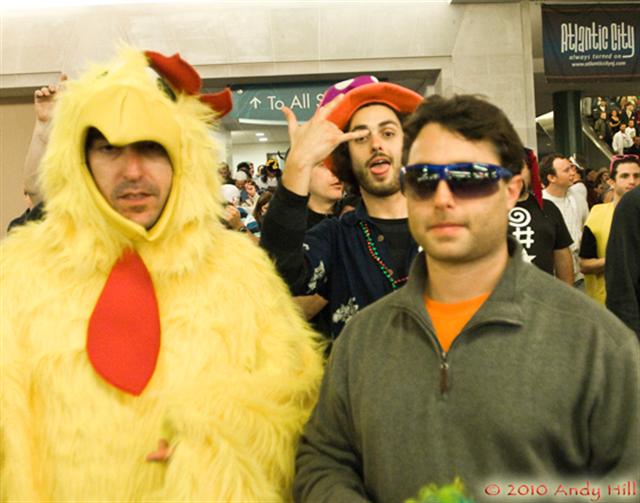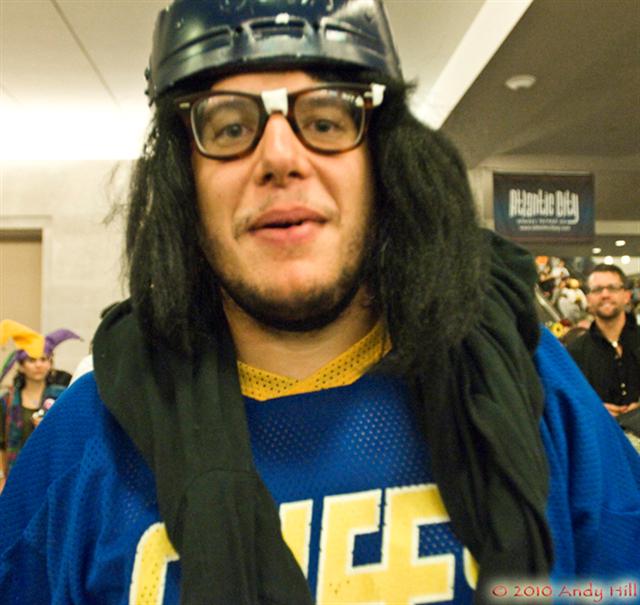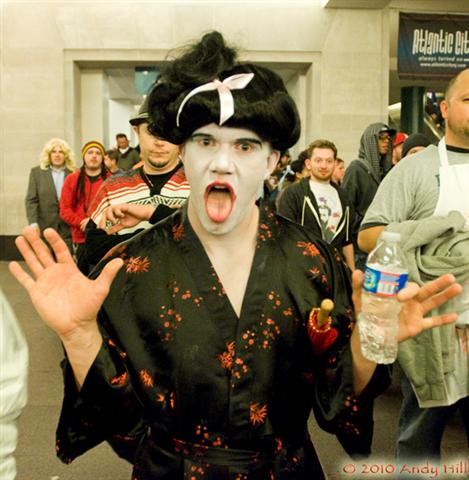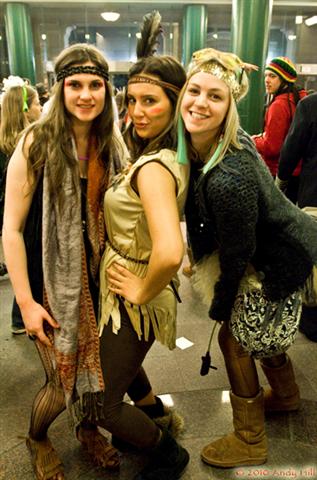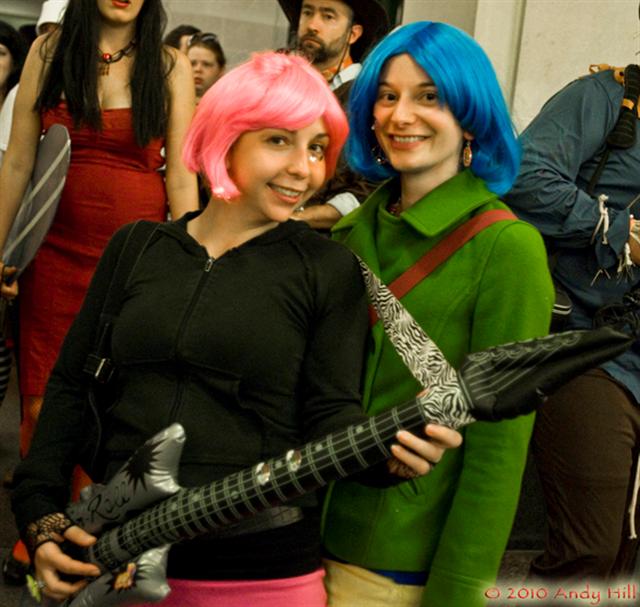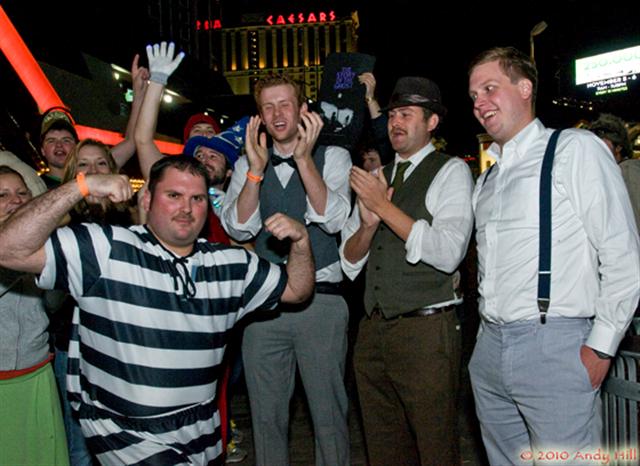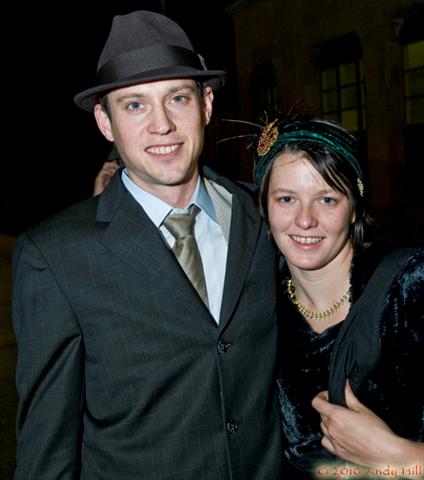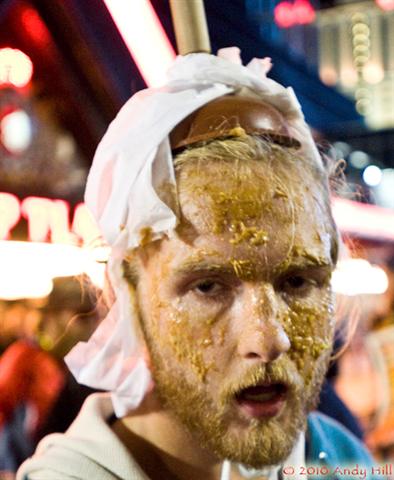 Phish's three-night Halloween run at the Boardwalk Convention in Atlantic City was the most solid run of shows they've had since their return in March 2009. Each show was perfectly paced, mixed with both jaw dropping compositional execution and improvisation, in-the-moment reaction and energy with the crowd, great song choices and a ton of surprises. Night one could be put under the "standard" great show category, while night two was the goofier, Led Zeppelin-infused show, and the culmination was night three, which was magic -- covering Little Feat's Waiting For Columbus in its entirety and performing two amazing sets of their own.
They kept the "musical costume" set well hidden this year, leaving fans anticipating and playing the guessing game for weeks leading up to the show. Genesis, Jimi Hendrix, Led Zeppelin, Prince and King Crimson got thrown around the rumor mill a lot. Playing Little Feat was definitely a surprise. After hearing them rip through the album, it all makes perfect sense. Little Feat flew under the radar most of their career -- a band that was all about making great music together, playing live and having a celebration with their audience. When they did appear on the proverbial radar, most often they were misconstrued, underestimated, simplified and/or lumped into a generic genre. Like Phish, they're a band you have to live and breathe with to understand and appreciate the immensity of the music they pump out.
Case in point, when a friend who was unfamiliar with Little Feat asked me to describe them once we received the "Phishbill" (the Phish version of a Playbill: announcing the album, an article about it by David Fricke, list of guest musicians, and more), I found myself going about it the same way I would describe Phish: listing genres, sounds and influences, as well as saying things like "one-of-a-kind chemistry and great songwriting" and "soulful rock and boogie mixed with jazzy funk and a hint of New Orleans…" and so forth. And I still did not feel like I gave the music justice or an adequate description. I think that parallel in rock 'n' roll music between Phish and Little Feat made this live album a perfect choice. Phish has proven thus far -- now with Little Feat joining The Beatles, The Who, Talking Heads, Velvet Underground and the Rolling Stones as musical costumes chosen by Phish -- that if they're going to play an entire album, it has to be something that all four of them pour their heart and soul into. You could see as they worked through the album just how much Little Feat's music has impacted and influenced each one of them in a unique way. And they delivered, absolutely crushing it with the energy and attitude the record deserves.
It will be interesting to see what songs from Waiting For Columbus will stay in rotation in the future -- they all felt good enough to stick around. That set was certainly the highlight, among many. Here are some observations on the rest of the three-night run.

Night one: The first set was brought up a notch with Traffic's "Light Up or Leave Me Alone" and the perfect combo of "Moma Dance" into "Cities." As far as I'm concerned, they can drop a "Corrina" deep into the second set anytime. They play this song with so much soul, it gives me chills. Also, it feels like "Prince Caspian" is a consistent second set momentum killer. It's not bad, and it's not like it doesn't pick up steam. It just always feels awkwardly placed. But everything felt right about the "Slave to the Traffic Light" and "Fluffhead" show closers.
Night Two: The Zeppelin "Tweezer" (with "Heartbreaker," "Ramble On," "Thank You," and "Stairway" mixed in) was a had-to-be-there moment, along with all the other teases/songs played throughout the night ("Whole Lotta Love, "Good Times, Bad Times"). Like the Manchester show on 10/26/10 or the Hartford "Psycho Killer->Catapult->Icculus" show from 8/14/09, if you go back and listen, it probably doesn't translate. However, while it was all going down, it was raging. Obviously they didn't rehearse Zeppelin as much as Little Feat, but nobody in that audience seemed to give a shit because it was that much fun.
Night Three: In addition to the Waiting For Columbus set, this show was filled with gems. The one-two-three blast of covers that they've made their own over the years, Ween's "Roses Are Free," Son Seals' "Funky Bitch" and Stevie Wonders' "Boogie on Reggae Woman," was a great set up to "Stash." While "Stash" usually heads into darker areas of improvisation, like four people expressing their inner turmoil, this version subsided to a lighter refrain. The tension was a bit more optimistic than confused, and a bit more hopeful than helpless. The outcome was a passage of really beautiful music, yet with an undertone telling you to beware of its claws and sharp teeth. This one is up there with the Fenway Park "Stash" for best ones of Phish 3.0. In the third set "Gotta Jiboo," they built up and layered over its simple groove, adding so many different textures and subtexts, culminating in a circular wave of music with several moving parts. The ride getting to that point was oh so sweet, and when it hit a climactic pinnacle you couldn't help but bask in the collectiveness of being super dialed-in -- a wonderful moment of profound musical communication.
If you're like me and longing for the more exploratory group improvisation that is so prominent in Phish's history, Halloween weekend, much like Phish 3.0, didn't delivery too many new revelations. However, they more than made up for it in execution, spontaneity and energy. These shows left me with that familiar Phish feeling, that I keep wondering if I will ever shake, saying to myself, "I can't wait to do that again." There's no other band like Phish, and certainly, there's no other band that comes close to what they pull off on Halloween.