Shows
LCD Soundsystem w/Sleigh Bells
September 27, 2010 at Memorial Auditorium in Burlington' VT
by Mike McKinley
|
photography by Ben Resnik
October 6, 2010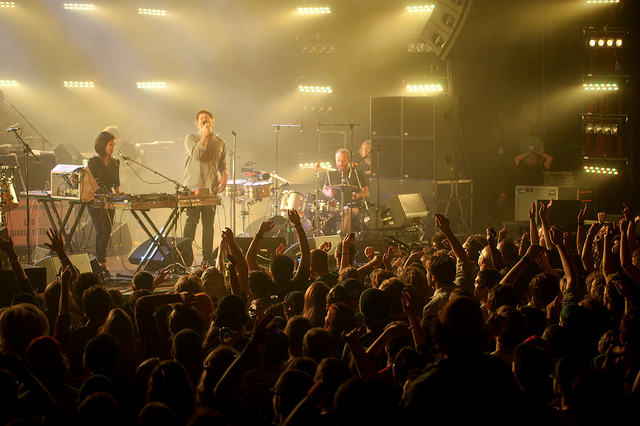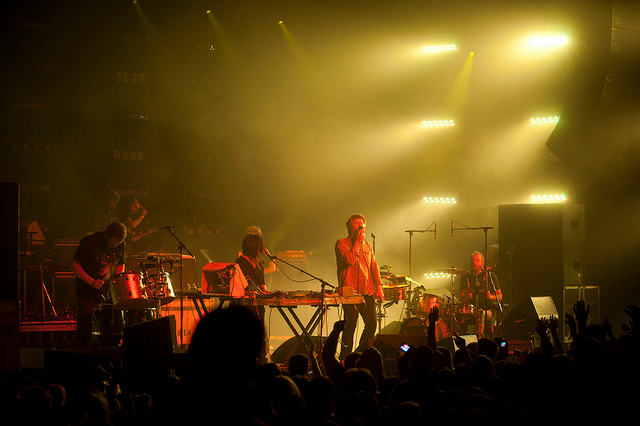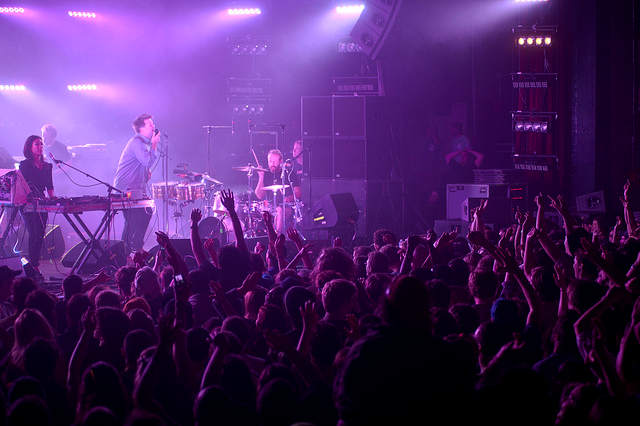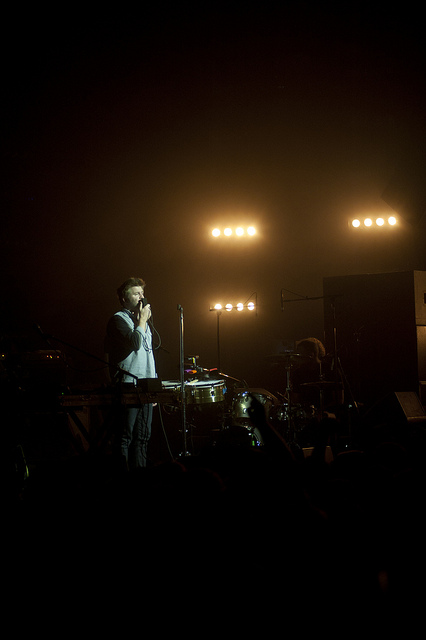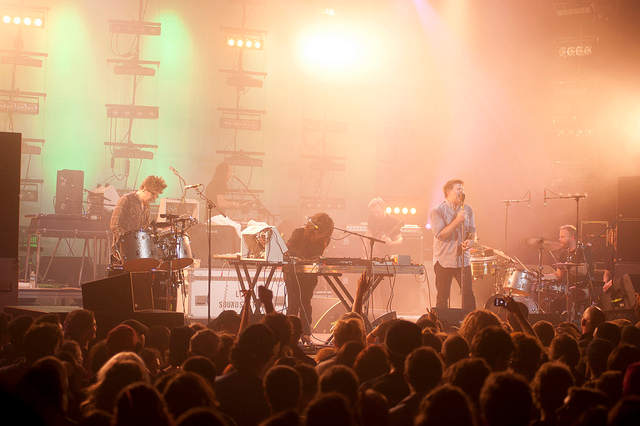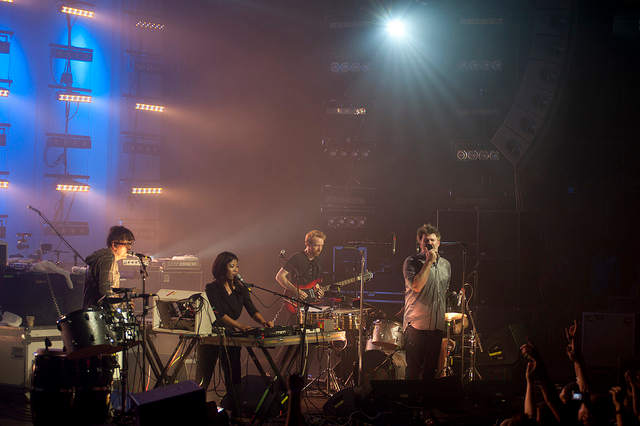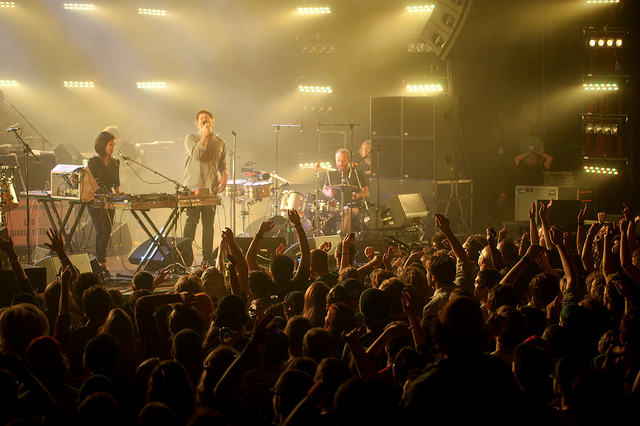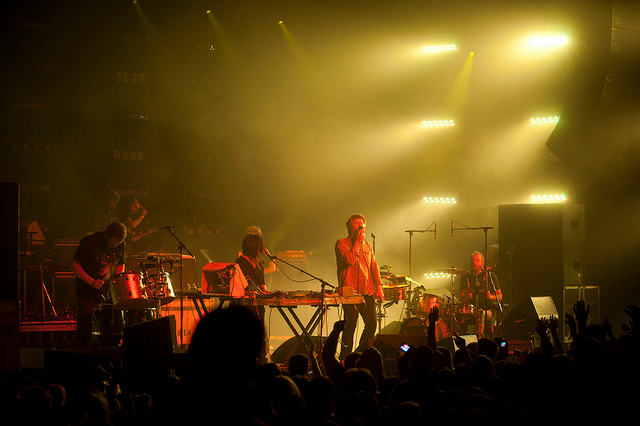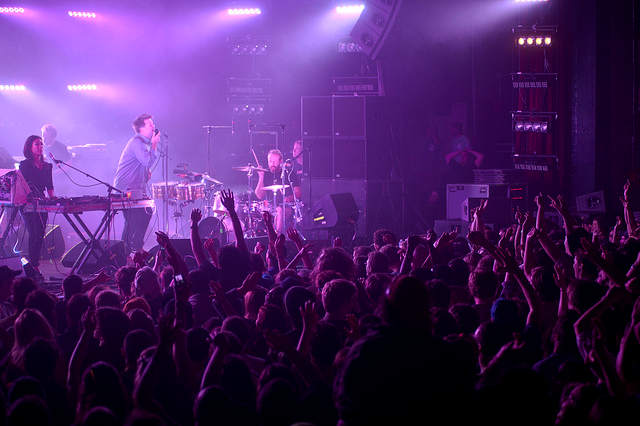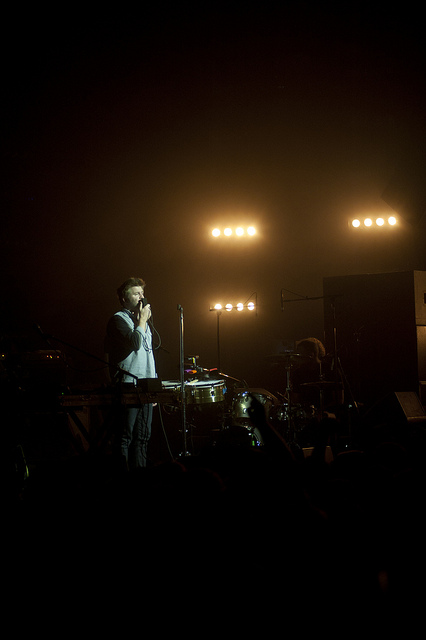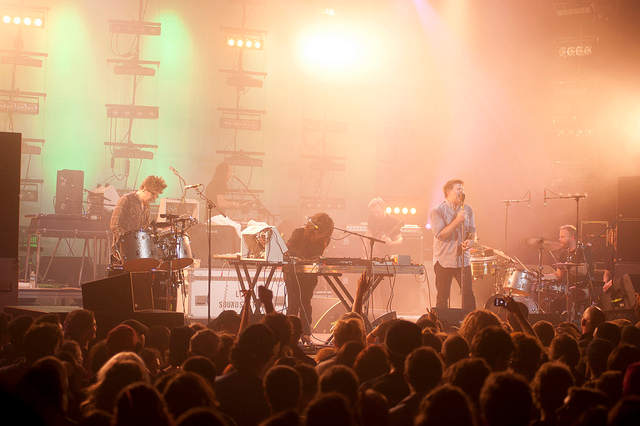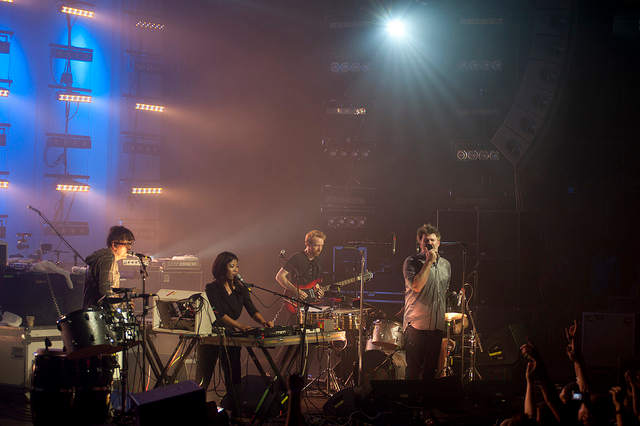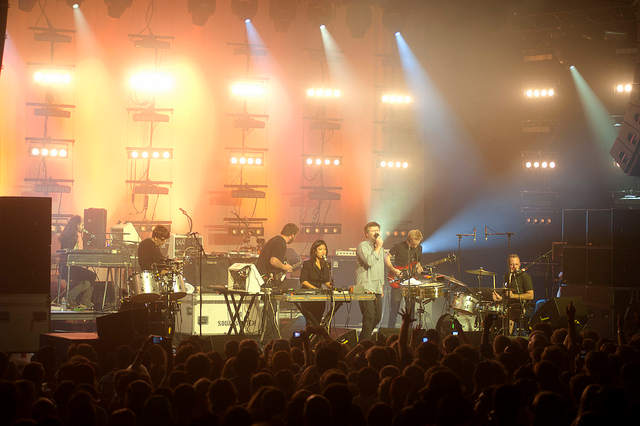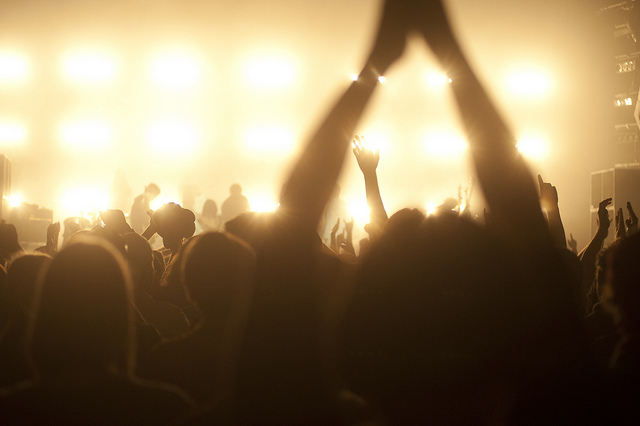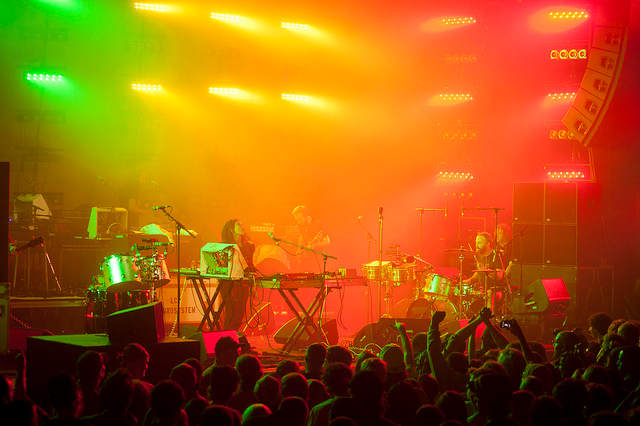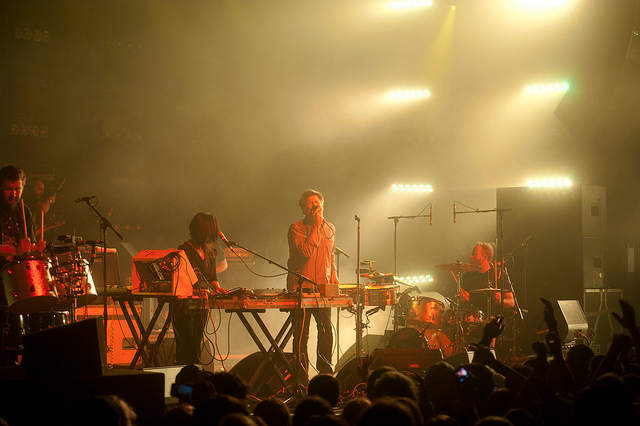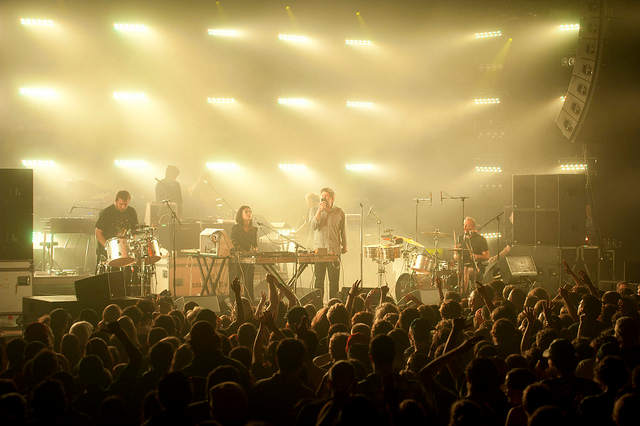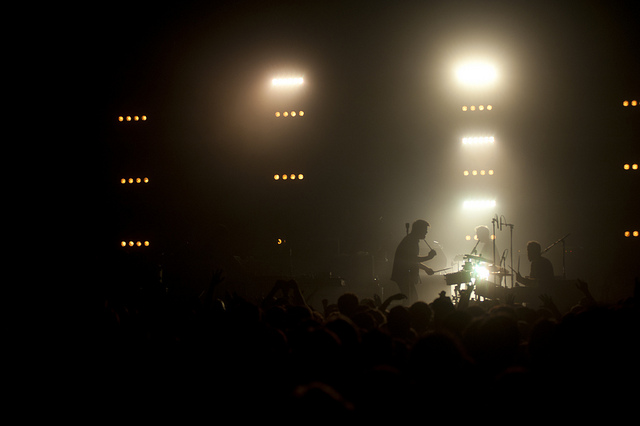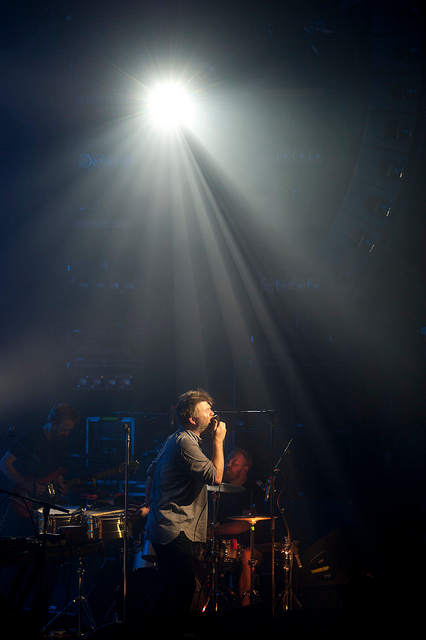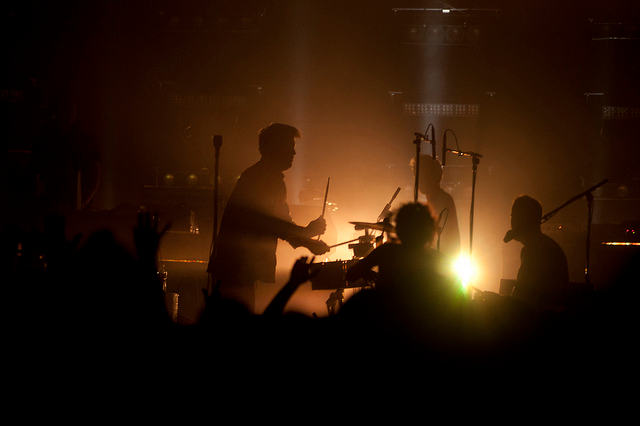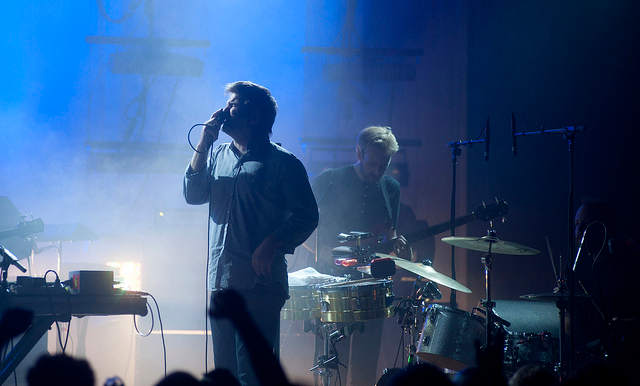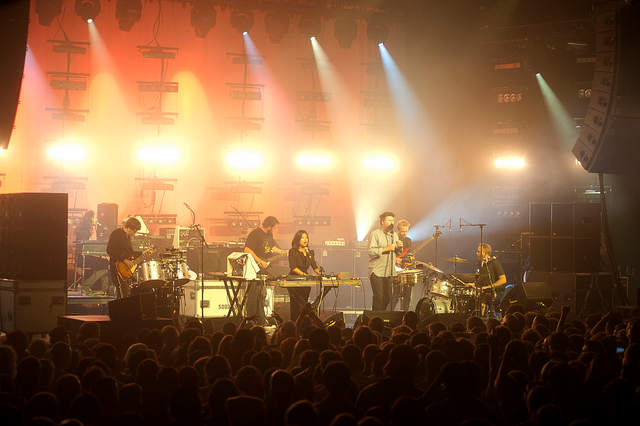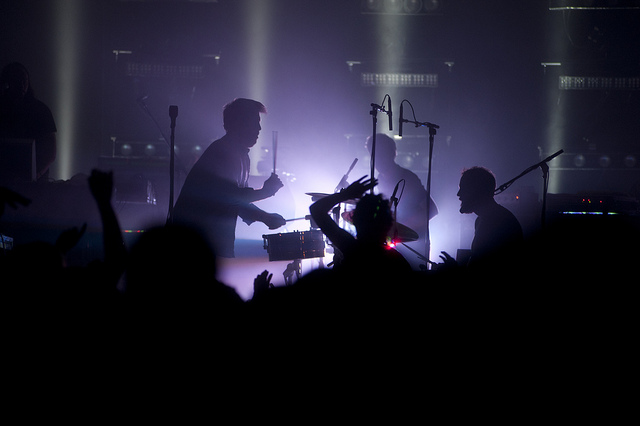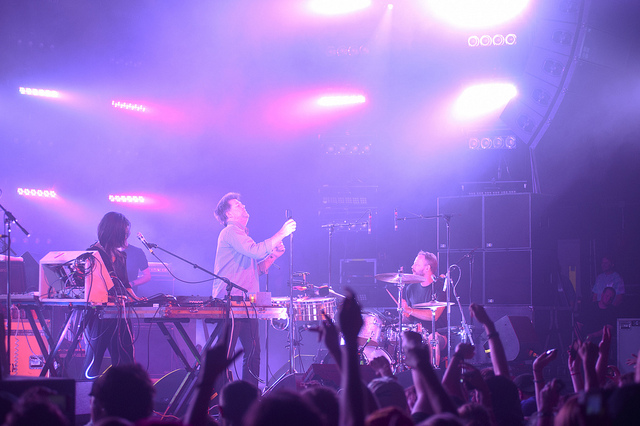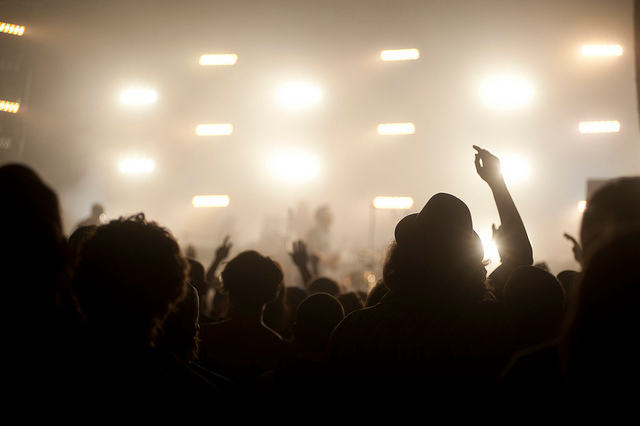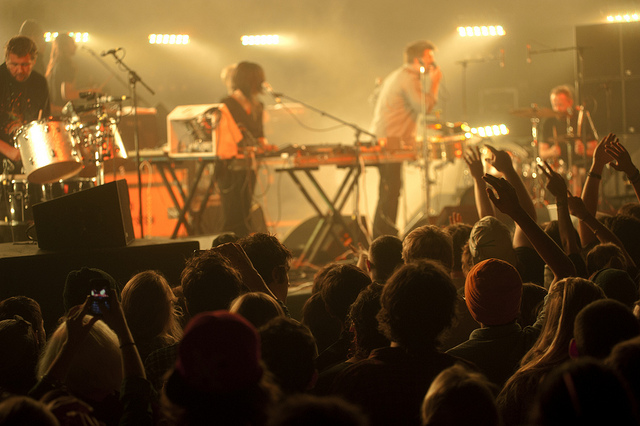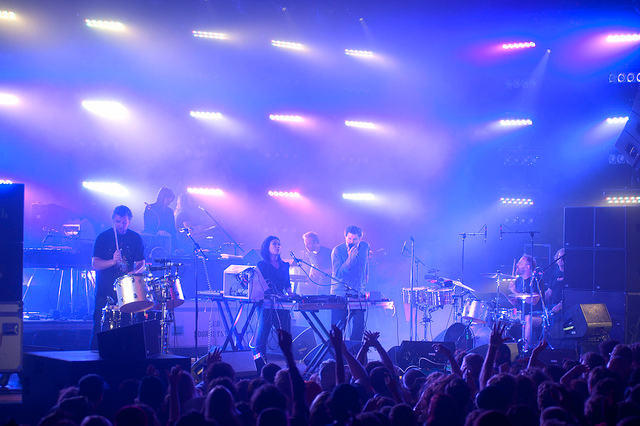 A friend played me a song by Sleigh Bells recently and it knocked my socks off. The tune was a twisted up' fresh sonic blast that came blaring out of the stereo with urgency. Hearing that one track was enough to not want to miss their opening set for LCD Soundsystem at Memorial Auditorium.

When I walked in they were already onstage going for it. My first observation: they're
way
too fucking loud. Here I am in my thirties and I feel like the grandpa -- I've been seeing this shit more and more lately with young' competent' and even great bands using abrasively loud volume as part of their… I don't know' statement? It's not edgy' and it doesn't give you any style or attitude points. Seriously' turn the shit down a notch. When LCD came on the sound was perfect: loud' tastefully loud' but not piercing. Learn from the headliner.
Sleigh Bells' singer Alexis Krauss proved to be a great performer -- she had the crowd at her fingertips. Her movements suggestive and sexy' she controlled the stage like some dark' mysterious goddess. Beside a few cliché moves (the non-ironic "Let me hear you! Everybody scream! Now this side of the room'" etc.) taken for the billionth time from early 90s hip-hop' her stage dynamic was riveting. And so was the music despite its decibel level. Derek Miller's guitar playing was blistering and metallic -- he thrashed over interesting' electronic beats while Krauss used a lot of chants and moans to build tension. His playing also was a reminder you can't go wrong with a good' simple' powerful guitar riff. Their short set was one interesting sounding song after another.
LCD Soundsystem slowly took the stage one by one over the intro to "Dance Yrself Clean." The minimalist groove that carries the first few verses was the perfect 3 to 4 minutes to lead into the show. It felt as if everyone in the audience was completely ready for the beat to drop. I sat there in anticipation like everyone else thinking' "How big is this going to be?" This was the first time in the night that LCD proved that they understand how to make sections of their songs have maximum impact. When the beat finally dropped' it was huge.
Not that LCD Soundsystem is an arena rock band' but it felt that big. It made me think of The Who's "Won't Get Fooled Again" when you know Roger Daltrey is going to hit that monstrous scream before the band kicks it back into high gear' but while you're there anticipating it' you have no idea if it's going to as big as you know it can be. Well' LCD Soundsystem exceeded that notion' the beat dropped and a collective letting-go-to-the-music in the audience happened in the most natural and righteous way. A total rock 'n' roll moment. Arms went flying in the air' asses started shaking' big smiles on faces' etc. Simply put' these guys are the real deal.
And it's such smart' witty music. While it was Monday night and many people decided to sit this one out because it was that dreaded night of the week and the $40-ish ticket price' one of the most happening shows of the year in Burlington was going down. And it was absolutely raging five minutes into it. When James Murphy sang in the first song "And if we wait until the weekend' we can miss the best things to do'" it couldn't have felt more profound and appropriate.
The next hour and a half or so was perfectly paced with one great tune after another. From "Get Innocuous" to "Daft Punk is Playing At My House" to "Yr City's A Sucker" each song found its sweet spot in that one-of-a-kind LCD magical way: build both tension and beauty through repetition. Let that thick' polyrhythmic groove penetrate into brain for 7 or 8 minutes before taking it a step deeper.
I can't recall a time when Memorial Auditorium -- a notoriously terrible sounding gymnasium -- sounded so good. That seemed to be another point of contention for people on the fence about going to this show -- that it would be a muffled' bad sounding performance. But not the case at all' I mean' they do call themselves Soundsystem.
The encore -- "Someone Great'" "Losing My Edge" and "Home" -- was a trifecta of awesomeness and in a lot of ways' a great summary of the show. It was an equal dose of emotional sincerity and sarcasm -- songs that feel as natural and real as hanging out with a group of your good friends. And that was a great way to close a show that reminded me why I love live music so much. It was that familiar great feeling of leaving the venue and pouring out into the streets with a bunch of other sweaty bodies that were reveling in the afterglow -- that rare experience you always hope to get' where you talk about it all the way home and tell all your friends that weren't there that you wish they were.